Danang is a coastal city in central Vietnam. It boasts some of the most beautiful beaches, breathtaking mountains, and historic landmarks.
Are there places to visit in Danang? This destination will indeed have something for all visitors, whether you are an adventure seeker or a history buff.
This article will explore some must-visit Danang tourist attractions, from sightseeing spots to religious landmarks. Here are some of the best places to see in Danang:
Ba Na Hills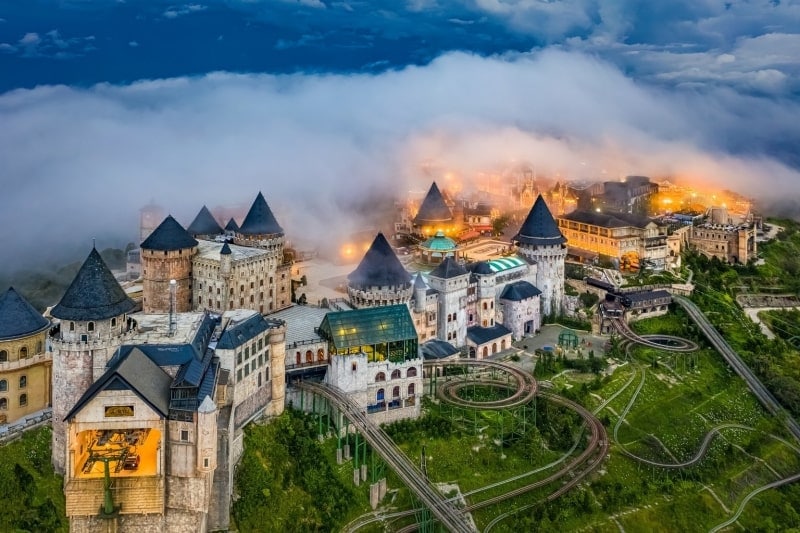 Danang is a lovely city with a fascinating history. One of the most popular tourist destinations is Ba Na Hills.
This area is a hill station and resort offering a breathtaking panoramic view of the city from 1,487 meters above sea level.
You can enjoy the fresh mountain air while taking in the stunning scenery. Ba Na Hills is famous for its Golden Bridge, supported by two giant stone hands.
This unique structure has become an iconic landmark in Danang and a popular spot for tourists to take photos.
In addition to the Golden Bridge, there are many other attractions in Ba Na Hills. You can explore the French Village, designed to resemble a quaint French town.
You can also visit Fantasy Park, an amusement park with various games suitable for all ages.
The distance when getting from the center of Danang to Ba Na Hills is approximately 25 kilometers (15.5 miles). It takes 45 minutes to reach Ba Na Hills from Danang by car.
Marble Mountains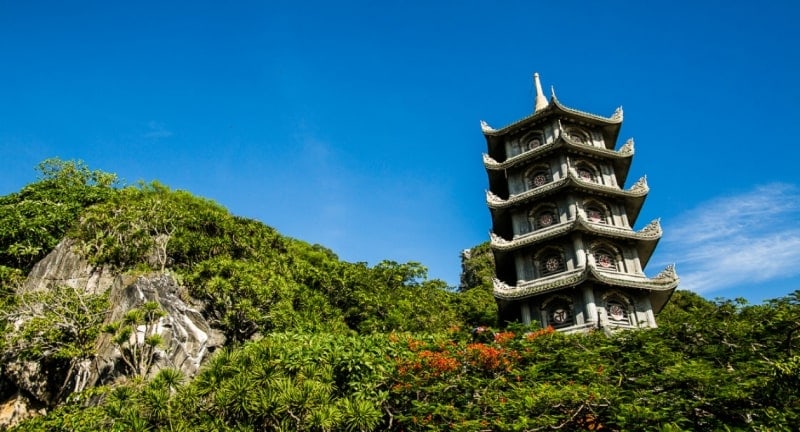 When visiting central Vietnam, tourists should not miss the Marble Mountains.
The cluster of five hills made of marble and limestone is a natural wonder that offers more than stunning views from the top. You can explore the caves and marvel at the intricate carvings made inside.
The mountains also have several beautiful pagodas, including the famous Buddhist pagoda on Thuy Son Mountain.
With its rich history, natural beauty, and cultural significance, Marble Mountains is an attraction for everyone.
Son Tra Peninsula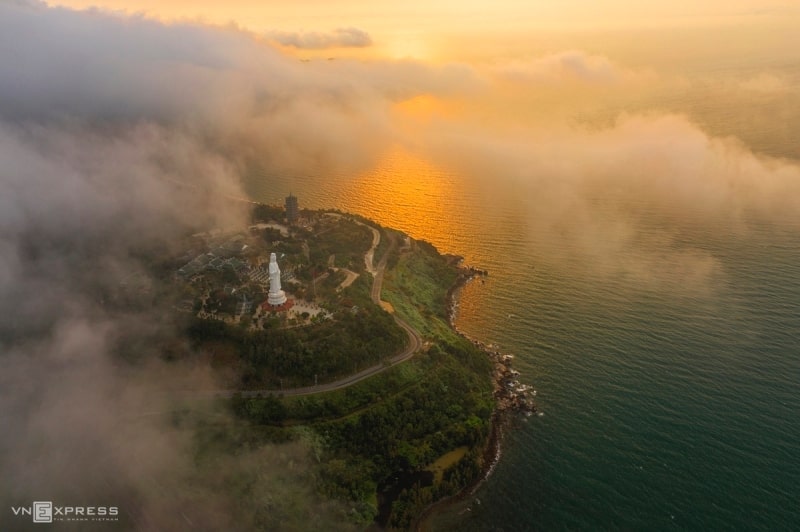 This place is a must-visit destination for tourists who want to witness the stunning beauty of the ocean and the city.
The pristine beaches, lush green forests, and diverse wildlife make Son Tra Peninsula a nature lover's paradise.
The peninsula is also home to the rare and endangered Red-Shanked Douc Langur, also known as the "costumed ape" due to its striking appearance.
Whether a seasoned traveler or a first-time visitor, it will leave you spellbound with its awe-inspiring views and fascinating history.
Linh Ung Pagoda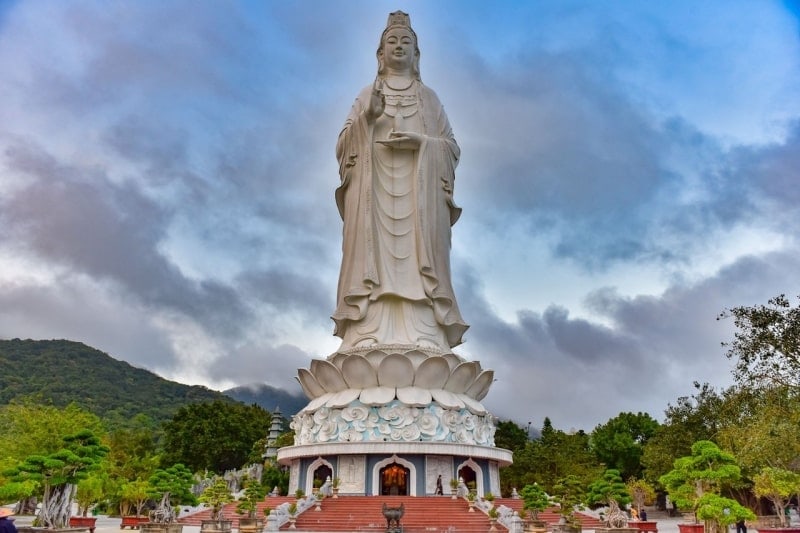 Linh Ung Pagoda is a magnificent Buddhist temple on the stunning Son Tra, known for its breathtaking beauty and tranquil setting.
The temple is famous for its iconic 67-meter-tall statue of Lady Buddha – the tallest in Vietnam, and a source of awe and wonders for all visitors.
The temple complex is a popular destination for tourists and locals, who admire the intricate architecture and stunning craftsmanship on display.
Besides, you can also take in the breathtaking views of the vast ocean and the surrounding landscapes. It's undoubtedly a sight to behold!
Danang Cathedral
Danang Cathedral, also called the Cathedral of the Immaculate Conception, is a stunning example of the fusion of European – Vietnamese architecture.
This Catholic church is located right in the heart of Danang. It's a popular tourist attraction, drawing visitors worldwide to marvel at its intricate details and unique design.
Despite its European influences, the Cathedral of the Immaculate Conception reflects Vietnam's rich cultural heritage and is a critical landmark in its religious history.
Danang Beaches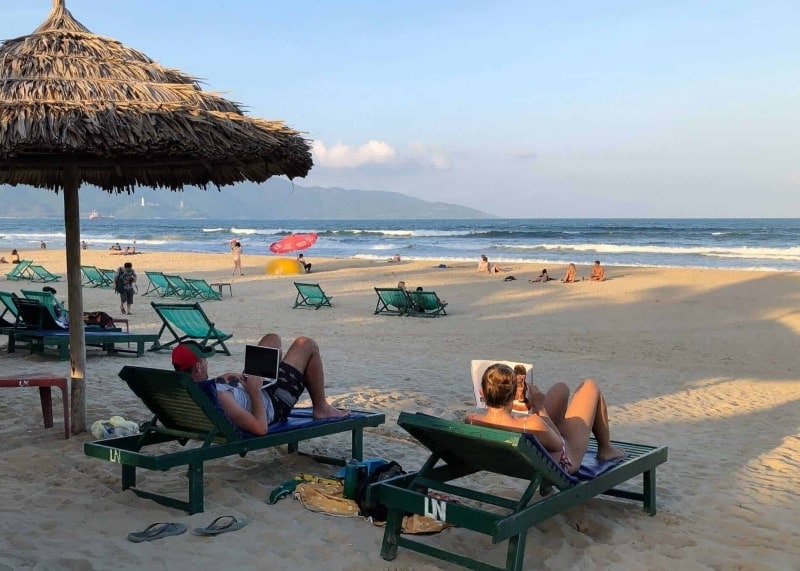 Danang is famous for its beautiful beaches. One of the must-visit beaches in Danang is My Khe Beach. It boasts soft white sand and crystal-clear water, perfect for swimming and sunbathing.
Besides, Non-Nuoc Beach, located at the foot of the Marble Mountains, is another stunning beach worth visiting.
The picturesque scenery and calm waters make this destination ideal to unwind and soak up the beauty of Vietnam's coastline.
Danang Bridges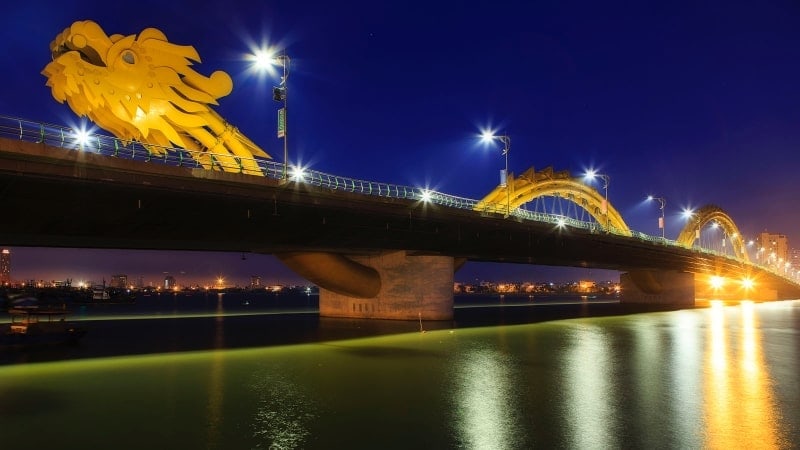 You can see some of the most beautiful bridges in Vietnam in this city. The Dragon Bridge is an iconic bridge that spans the Han River.
The bridge is known for its unique design and the dragon-shaped steel frame that breathes fire and water on weekends.
The Thuan Phuoc Bridge is another impressive bridge in Danang. It's the longest suspension bridge in Vietnam, spanning over 1.8 kilometers. You can enjoy the stunning ocean and city views from the bridge.
In A Nutshell
In conclusion, Danang is a beautiful city that perfectly blends natural beauty, history, and culture.
Whether you're looking to explore the mountains, relax on the beach, or visit religious landmarks, Danang has something for everyone.
Hopefully, this post has given you insight into some of the must-visit Danang attractions. Do you plan a trip to Vietnam? Let's add Da Nang to your itinerary!
RELATED ARTICLE