Da Nang is a coastal city in central Vietnam, famous for its long and sandy beaches, turquoise waters, and stunning scenery. If you're looking for a tropical getaway with stunning scenery, delicious food, and friendly locals, look no further than Danang, Vietnam.
That's why Vietnamtour.in has compiled this list of the top 11 beaches in Da Nang that are perfect for Indian tourists. Whether you want to relax, surf, snorkel, or party, there's a beach in Da Nang for you!
My Khe Beach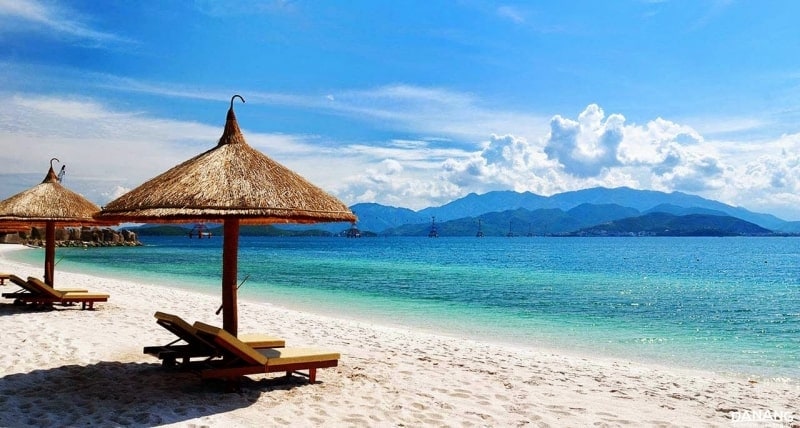 A paradise for beach-goers – My Khe is the most famous and popular beach in Da Nang. It has a long stretch of white sand, clear blue water, and gentle waves and plenty of amenities nearby. Therefore, the beach is safe for participating in water sports like jet skiing, parasailing, or snorkeling. The gorgeous coral reefs also make for an amazing experience.
Along the seashore, you may relax and take in your vacation at hotels, eateries, bars, boutiques, and spas that are all in your budget. My Khe Beach is the best option because it is easily accessible and only 6 km from both the city center and the airport.
>> Read more: 16 Best Things To Do In Da Nang: Let's Discover the City's Gems
Non Nuoc Beach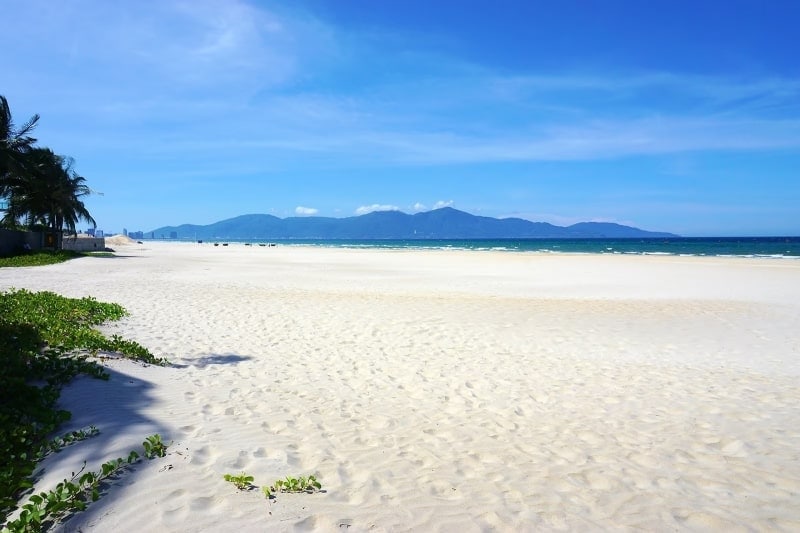 Non Nuoc Beach in Danang is regarded as one of the most stunning beaches in the world, located at the foot of the Marble Mountains – a cluster of five hills made of marble and limestone. It's famous for its scenic setting; soft sands, a gentle slope, mild waves and a peaceful atmosphere…You can also explore the nearby caves and pagodas that are part of the Marble Mountains complex, or visit the stone carving village where you can buy some souvenirs.
Non Nuoc Beach is also home to some of the best seafood restaurants in Danang, where you can taste fresh and delicious dishes like grilled squid, steamed clams, and fried fish at reasonable prices.
Bac My An Beach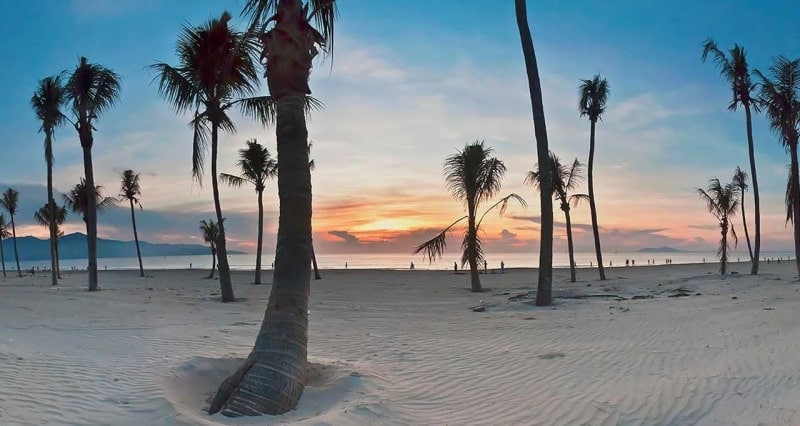 Located near My Khe Beach, Bac My An Beach is another scenic beach in Da Nang, It has a similar vibe and features as My Khe Beach, but it's less crowded and more spacious. Along the beachfront, you can find many hotels and resorts ranging from budget hostels to five-star resorts.
Not only attracting tourists with its beautiful and picturesque, Bac My An Beach also attracts you with its richness in cuisine and diverse travel services at affordable prices. Especially, there are numerous well-known Indian restaurants around which serve authentic Indian food. If you are "cherishing" the best Vietnam family holiday tour for your whole family you must visit Bac My An Beach.
Thanh Binh Beach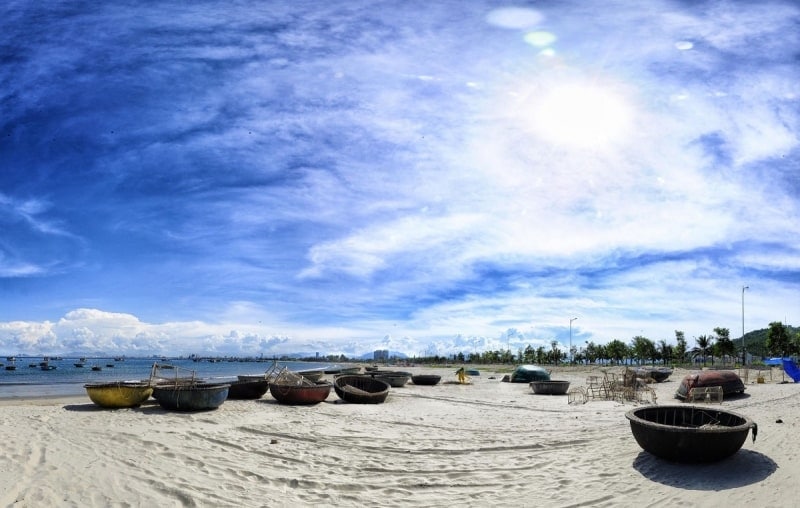 Located close to the city center, Thanh Binh Beach is regarded as one of the safest beaches. This is because the area's sea is relatively windy, has gentle waves, and is free of potentially harmful whirlpool zones.
As with most beaches in Da Nang, it's frequented by locals, especially on weekends and holidays, when they come to picnic or socialize. It will be comfortable and relaxing to walk along the promenade which has benches, statues, and gardens to see the Han River Bridge and enjoy the fresh air In the evening. Because the beach is not extremely crowded or noisy, it is primarily home to mid-range hotels and regional seafood restaurants. As a result, this is a good place for adults to chill out and heal.
Lang Co Beach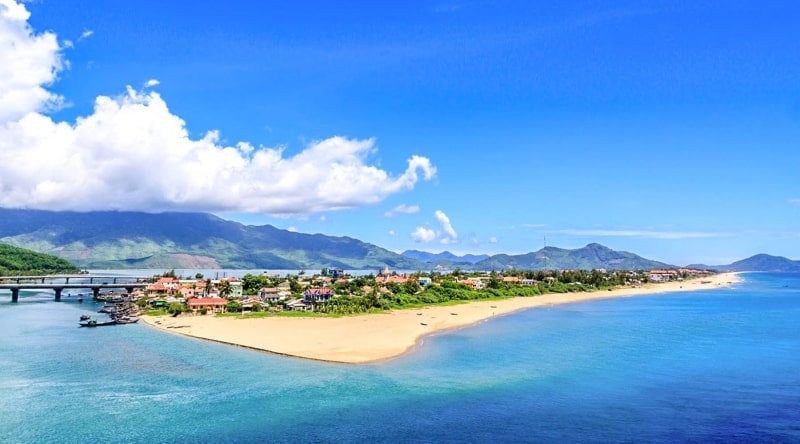 Lang Co Beach is a bit further away from Da Nang, about 60 km north of the city. But it's worth the trip to experience one of the most beautiful beaches in Vietnam. It is part of a long bay that curves around a lagoon, creating a stunning landscape with golden sand and turquoise water.
Lang Co Beach is also very tranquil and relaxing, as there are not many tourists or locals around. You can enjoy swimming, boating, fishing, and camping here or visit some nearby attractions like Hai Van Pass, and Bach Ma National Park.
Xuan Thieu Beach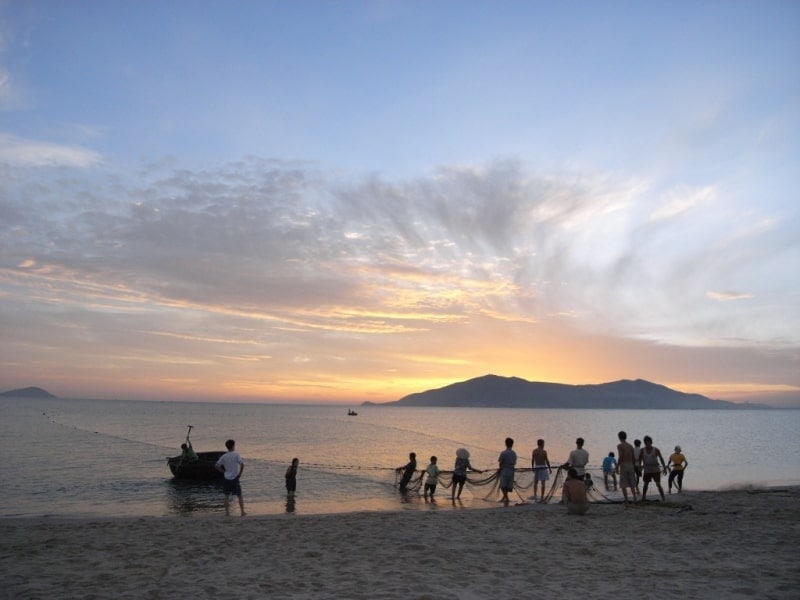 This beach is also known as Red Beach, because of the reddish hue of the sand at sunset. It's one of the most beautiful and romantic beaches in Da Nang, where you can enjoy the breathtaking views of the sun setting over the horizon. That will be delightful for couples who chose Xuan Thieu Beach as a dream destination for their honeymoon tour package.
With few visitors and merchants, the beach is also calm and clean. Along the shore are numerous neighborhood seafood eateries where you may enjoy a delicious meal while listening to the waves and sightseeing.
Nam O Beach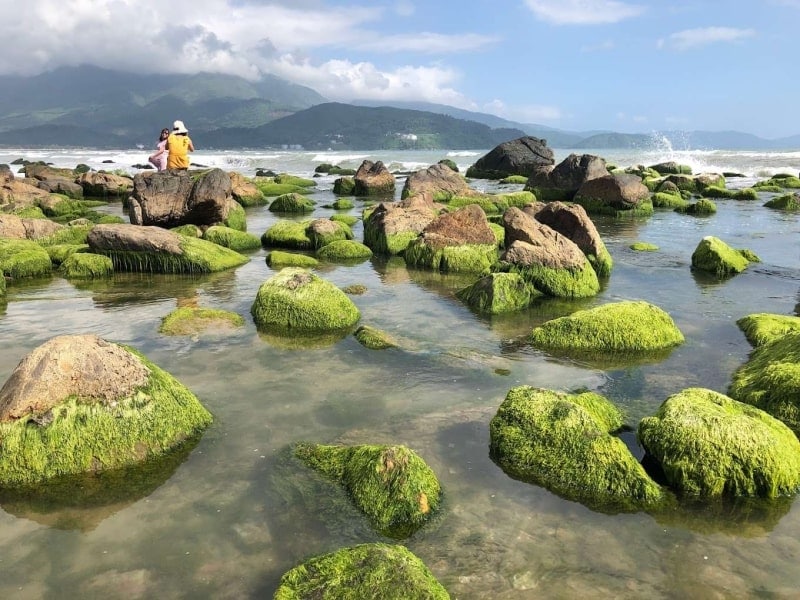 Nam O Beach is an old Danang beach that will immerse those who love adventure and authenticity the first time they come here. It's located in a fishing village that has a rich history and culture. You can witness the daily life of the locals, who still use traditional methods to catch and process fish sauce. With the rocky beach wild, strong waves and winds, this beach is a bit off the beaten track, but it's a hidden gem.
To plan a picnic away from the bustle of the city, Nam O Reef is the perfect location. You will experience tranquility and relaxation in the lyrical setting of nature with the sound of the lulling ocean waves after several hours of hard working days.
Tien Sa Beach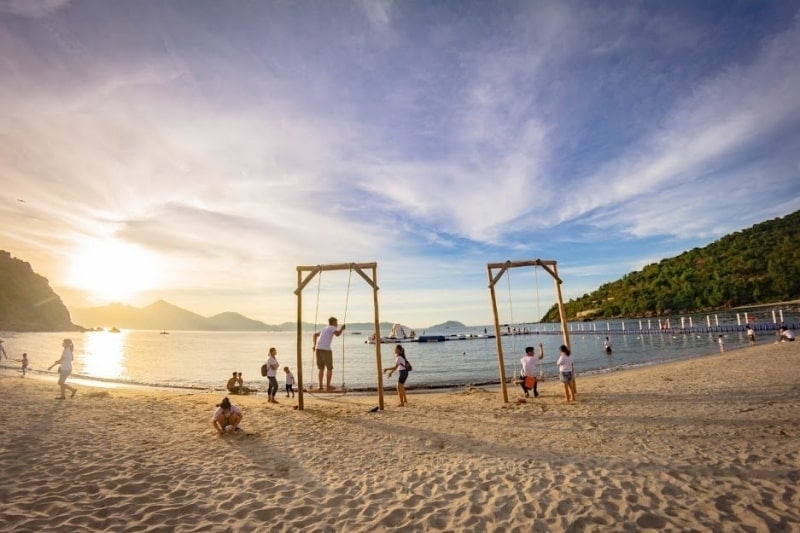 Tien Sa Beach is a tourist destination with a strong attraction for tourists coming to Da Nang. Located in the north of Son Tra peninsula, this place is famous for its poetic and beautiful scenery like a paradise. Not only is it a place for tourists to visit and organize picnics, but Tien Sa Beach also has many interesting entertainment activities. This will be an opportunity for you and your friends to have fun doing thrilling games like jet skiing, paragliding, scuba diving and fishing with fishermen.
Visit the Tien Sa Lighthouse, which is the oldest lighthouse in Vietnam, is also an attractive activity for those who love to discover long-standing values.
Son Tra Beach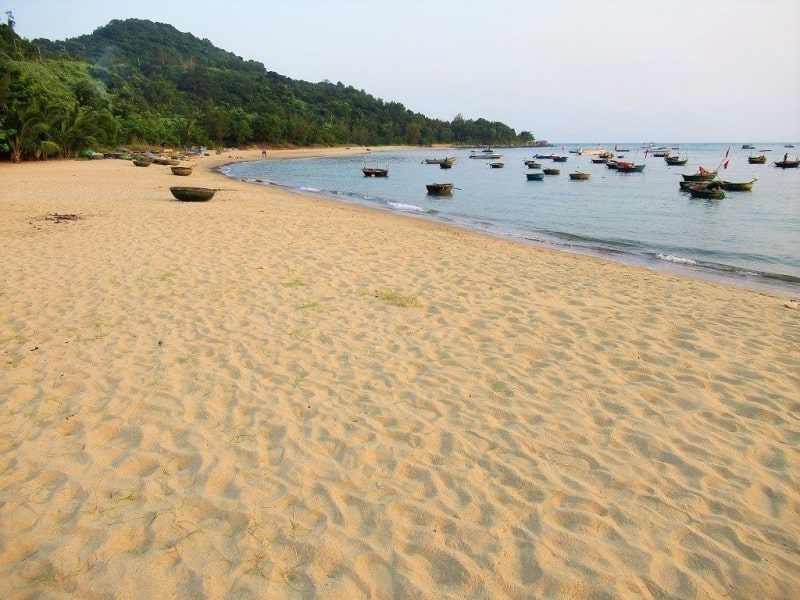 Son Tra Beach is part of the Son Tra Peninsula which is filled with stunning Danang beaches. Additionally, it is a nature preserve that is home to many different species of wildlife, such as monkeys, birds, and coral reefs. Grassy green mountains and woodlands surround the shore, creating a tranquil and picturesque scene. You can also rent a kayak or paddleboard to explore the coastline.
Son Tra Beach is also close to some of Da Nang's most well-known attractions, including the Linh Ung Pagoda with its giant Lady Buddha statue and the Ban Co Peak with its panoramic views of the city. So, this place is ideal for you to experience the wild side of Da Nang.
Pham Van Dong Beach
Pham Van Dong Beach is situated in the city's centre and location thanks to the mountains and rivers that surround it, which makes it easier for traffic to travel from one location to another. Additionally, there are large funding sources for public works projects, which together make for Da Nang's most innovative public beach. Events such as international parasailing, paragliding or sand painting are also often organized and attract many interested people and tourists.
Phuoc My Beach
Not too crowded and noisy, Phuoc My beach in Danang has special appeal due to the natural beauty of the extensive expanses of fine white sand and pure, blue water. From Da Nang city center, you can easily go to Phuoc My Beach located on Son Tra peninsula. Therefore, it is conveniently combined with visiting many famous Da Nang tourist destinations such as Linh Ung Pagoda, East Sea Park…
It would be great if you could enjoy fresh, affordable seafood at nearby restaurants and eateries with a diverse menu including many delicious dishes with your friends.
These are Top 11 the best beaches in Da Nang that you should check out on your next trip to Vietnam.
RELATED ARTICLES