Because of the great number of fascinating activities at numerous places, Vietnam is giving you a headache of not knowing what to experience first. Don't worry because this detailed guide is going to be your light at the end of the tunnel. Vietnam has always been recognized as one of Asia's top travel destinations by both domestic and international tourists. This beautiful country offers unique adventures at every turn which can keep you busy all day long exploring.
Whether you are yearning for a lazy day of sunbathing on one of the most beautiful beaches in the world, conquering the majestic mountains known as "the Indochina Roof", or exploring unique customs of native people, your Vietnam tour packages from India will be packed with surprising and unforgettable experiences!
We will recommend some of the best things to do in Vietnam when traveling over the country. Let's scroll down to discover the best activity!
Hike through Cat Ba Island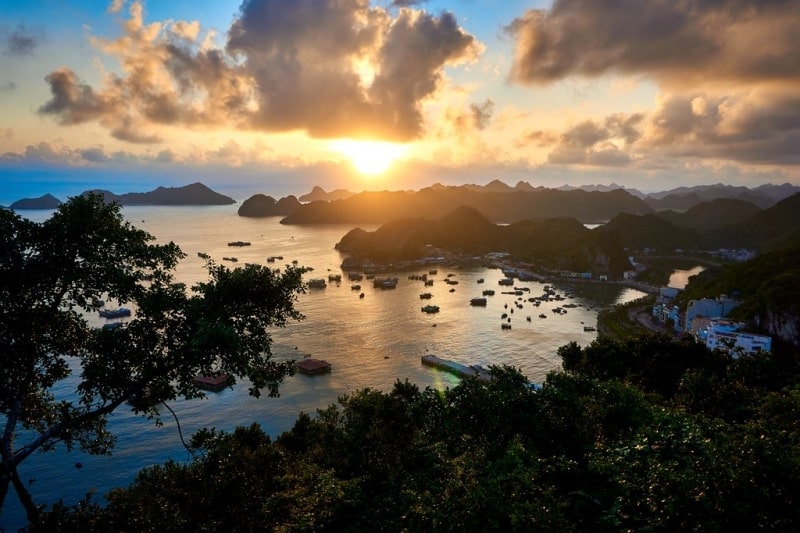 Cat Ba Island is a stunning and top-rated tourist destination in Vietnam with something for everyone. For nature lovers, the island is home to the breathtaking Cat Ba National Park, recognized as a UNESCO Biosphere Reserve.
With its various hiking paths, this park has unmatched natural beauty. They cater to the casual stroller and the severe hiker wanting a challenge.
These trails offer an unforgettable experience. It takes you through stunning forests and awe-inspiring cliffs with views that will leave you breathless.
If water activities are more your style, this island covers you! The crystal-clear waters surrounding Cat Ba Island are perfect for various water sports, such as kayaking and swimming.
Visit Ha Long Bay & its equally spectacular neighbor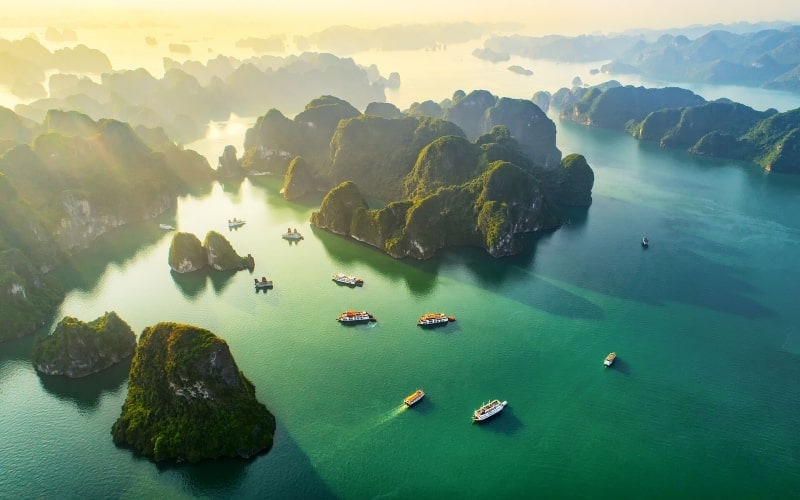 Halong Bay is, without a doubt, one of Vietnam's most remarkable natural wonders. It is a famous UNESCO World Heritage Site. Also, it's one of the World's Seven Natural Wonders.
It is highly recommended to take a boat tour to experience the full beauty of Halong Bay. You can see the various islands up close and marvel at their unique features, such as hidden caves and pristine beaches.
The neighboring Bai Tu Long Bay is an excellent option for those exploring further afield. You can also enjoy activities in this bay, such as kayaking and exploring the local fishing villages.
Hike and cycle at Mai Chau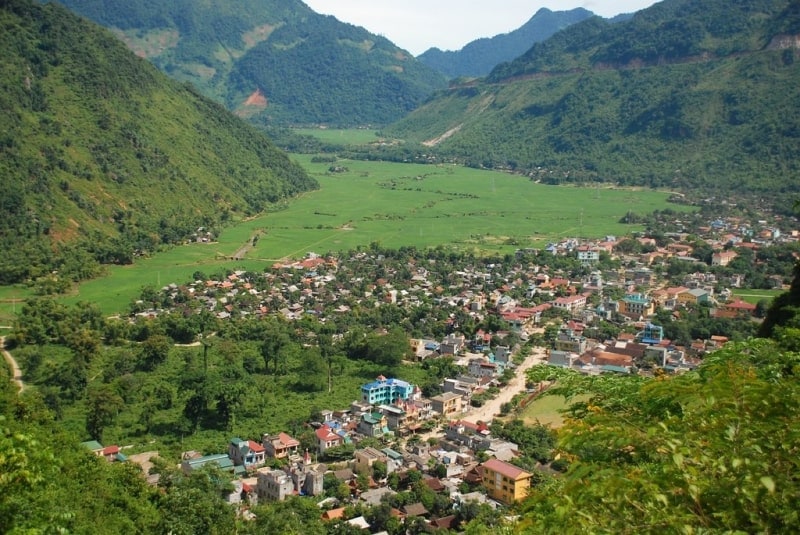 Mai Chau is a charming and tranquil village in the Hoa Binh Province of Vietnam.
Its breathtakingly beautiful rice paddies are a sight to behold. The traditional stilt houses are a testament to the region's rich cultural heritage.
You can indulge in many outdoor activities to explore the region's stunning natural beauty. In addition, the village is home to a vibrant community. It's also famous for its warm hospitality and delicious cuisine.
It offers visitors a firsthand experience of Vietnamese cuisine's rich and diverse flavors.
Trek in Sapa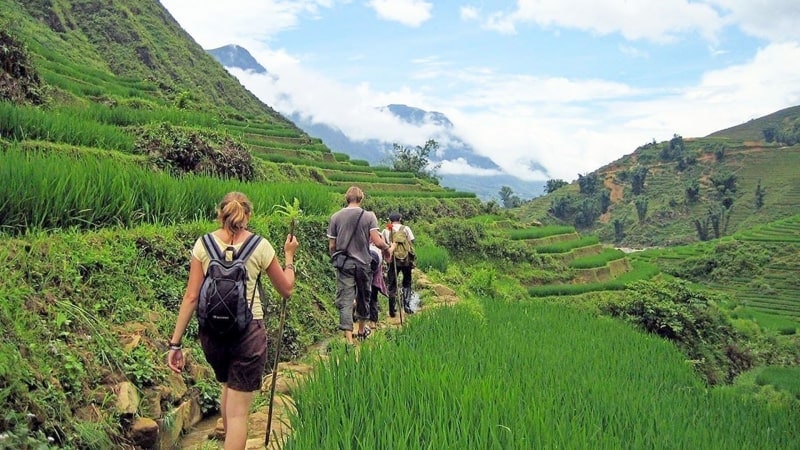 Sapa is a charming town situated in the Lao Cai Province of Vietnam. It attracts tourists due to its stunning natural beauty and picturesque landscape.
Rice terraces are among the main attractions of the town. They are a testament to the ingenuity of the local farmers who transform the landscape into artwork.
Sapa is also a popular destination for trekking. Thus, whether a seasoned hiker or a beginner, you will find a trail that suits your experience and fitness level.
The trails range from easy to complex, and the scenery is spectacular. You will see waterfalls, forests, streams, and the rice terraces that have made Sapa famous.
Savor a cup of hot coffee and watch the sunrise in the cloud paradise of Ta Xua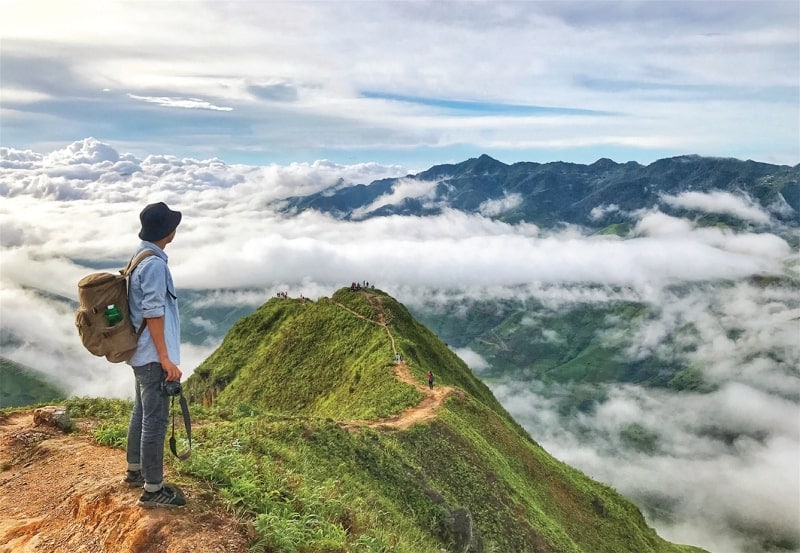 Upon arrival in Ta Xua (Son La), you need a little luck to see the dreamlike and splendid sea of clouds at the peak of the mountain. In the evening, just sit on the homestay's bamboo balcony, watching the sea of white clouds billowing under the silver moonlight, or early in the morning when everything remains fuzzy, set out for the challenging mountains in the freezing weather.
The feeling of gathering with your companions to take a sip of rich coffee and wait for the dawn to appear on the sea of clouds slowly promises a one-of-a-kind experience. The surreal scenery of a halo appearing on a pure white cloudy carpet floating in the air gives you the feeling of getting lost in a paradise. This not-to-miss experience must be included in the list of top 10 things to do in Vietnam.
Relax in one of the most splendid freshwater lakes in the world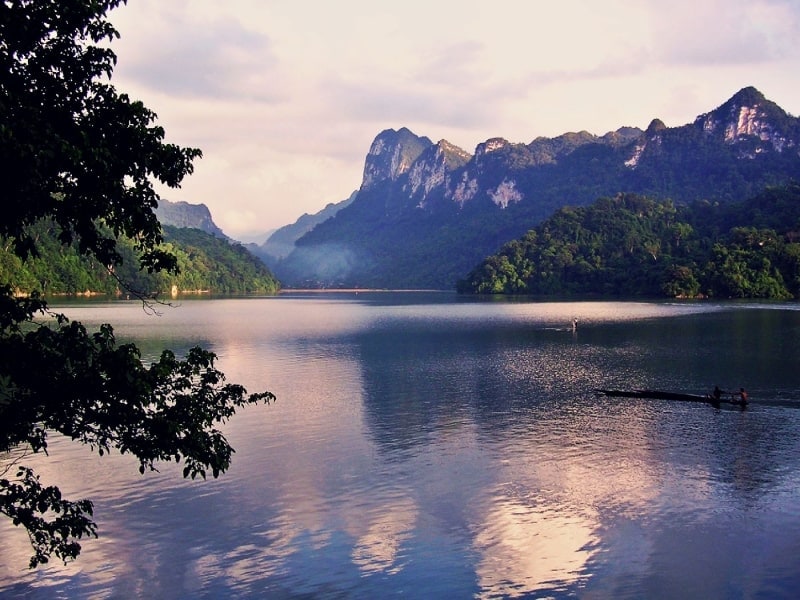 When it comes to tourism, Ba Be Lake may not be considered an attractive destination for Vietnamese people. But when you arrive here, you will thoroughly understand why for some people, this beautiful lake has a unique charm.
Eating and resting at houses on stilts, gathering with friendly and generous local people, and taking a boat trip around the lake is everything you can experience here. It seems to be boring for some people, but if you are running away from the hustle and bustle of city life, there is nowhere better than Ba Be Lake, that's for sure.
Ba Be Lake appears as a peaceful and rustic place, with no hotels, throngs of visitors milling around or tourist services like other places. Here there is only nature and endless stretch of green trees blending with the calm and quiet lake. Looming in and out are the wooden stilt houses of the locals, adding even more charming scenes.
Try out Vietnam's best Pho in Hanoi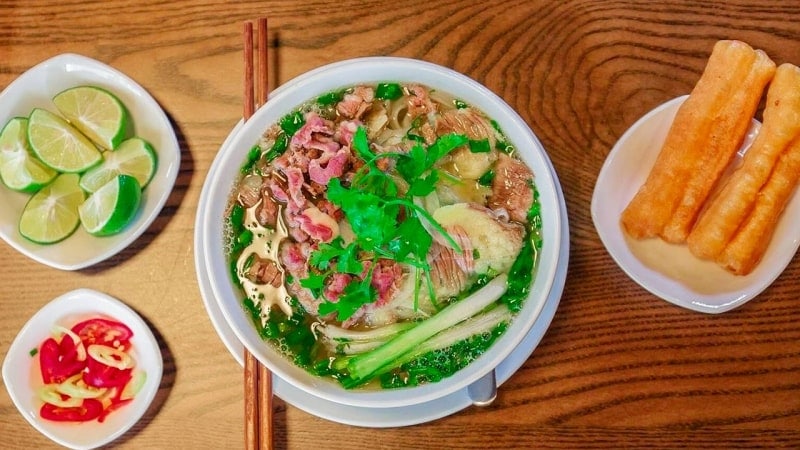 Pho is a Vietnamese traditional dish, which can be enjoyed at any time of day. This dish is popular for its convenience and delicious flavor made from 4 main ingredients – clear stock, boiled beef, rice noodles, and fresh herbs.
Each restaurant in Hanoi is proud of their own secret recipe of Pho, but you can find the best one at Pho Thin on Lo Duc. This place is always crowded with food lovers because of its Pho's unique smokiness.
Send wishes through colorful lanterns in Hoi An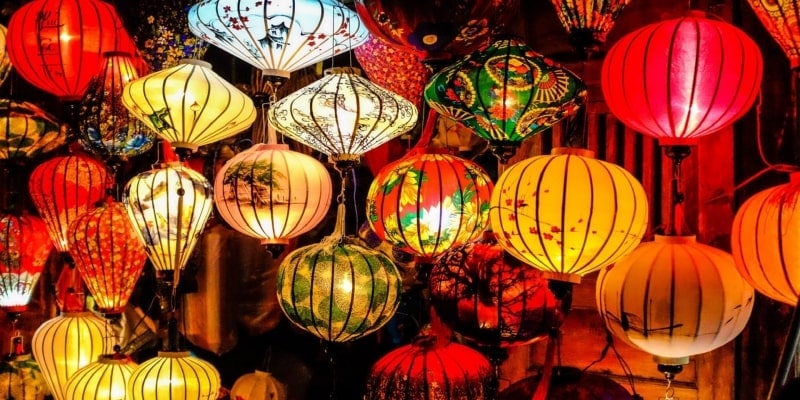 Whenever Tết (Vietnamese New Year) comes in the air, Hoi An transforms itself into a giant lantern full of colors and light for the Lantern Festival. The celebration lasts for 7 days, with the road from Hoi An Bridge to the Hoai River Square lit up and decorated with thousands of beautiful lanterns. More than 50 workshops participate in this huge event and each workshop tries to craft the gorgeous lantern. All of the lanterns amaze tourists with bright and cheerful colors as well as traditional designs.
The center of the Festival is in the old town, between the Japanese Covered Bridge and the Cau An Hoi Bridge. Every corner in Hoi An seems to burst out with a festive and chaotic spirit, with cheerful singing and delicious food stalls that attract a huge number of both locals and visitors. The most spectacular view is thousands of lanterns floating on the river. To get a better experience, you can hire a sampan boat and light a lantern for yourself.
Don't worry if you can't get to the big Lantern Festival in the New year because many smaller lantern festivals are held every full moon. So you can enjoy the romantic scene in the movie "Tangled" in real life whenever you visit Hoi An.
Admire the Golden Hands Bridge in Da Nang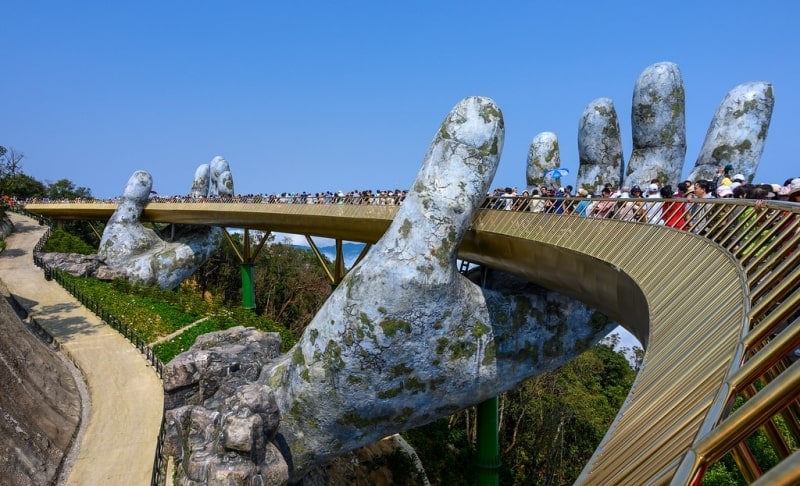 Da Nang is a vibrant city known for its stunning beaches and impressive landmarks. One of the most popular tourist attractions in Da Nang is the Golden Hands Bridge.
This unique bridge is supported by two giant stone hands that appear to be holding the structure up. The bridge also provides stunning views of the neighboring mountains and verdant trees.
>> Read more: Top 12 Bridges in Vietnam You Should Not Miss in 2023
Drop into the World's Largest Cave in Phong Nha National Park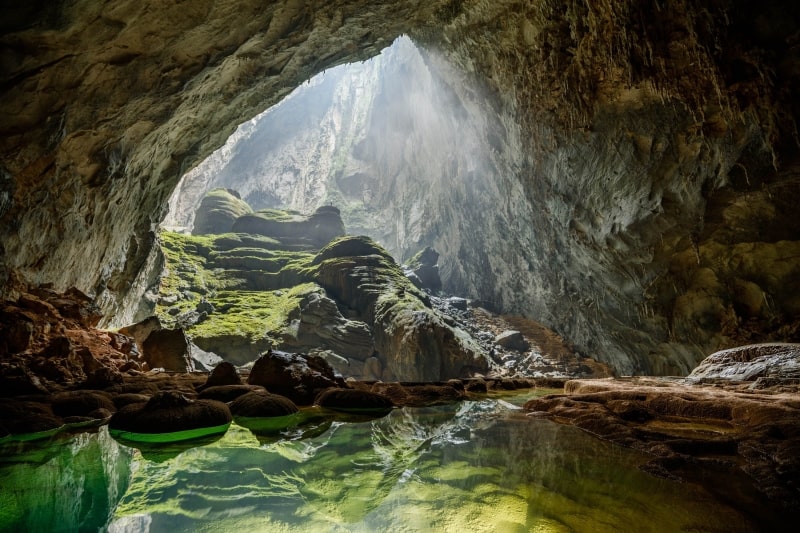 Quang Binh Province is a wild region of dense jungles of Vietnam, closer to the border of Laos. This land is well-known for its hundreds of unexplored deep caves, one of which is the world's largest cave – Son Doong. The cave contains a cavern so tall that a skyscraper can fit in perfectly. Phong Nha town is the center of the areas' caving adventures. You can hire your guide and necessary equipment to explore the cave.
If walking underground doesn't appeal to you, give trekking a shot. The surrounding jungles are popular for beautiful waterfalls and an active population of monkeys.
Visit the coffee-making heartland – Buon Ma Thuot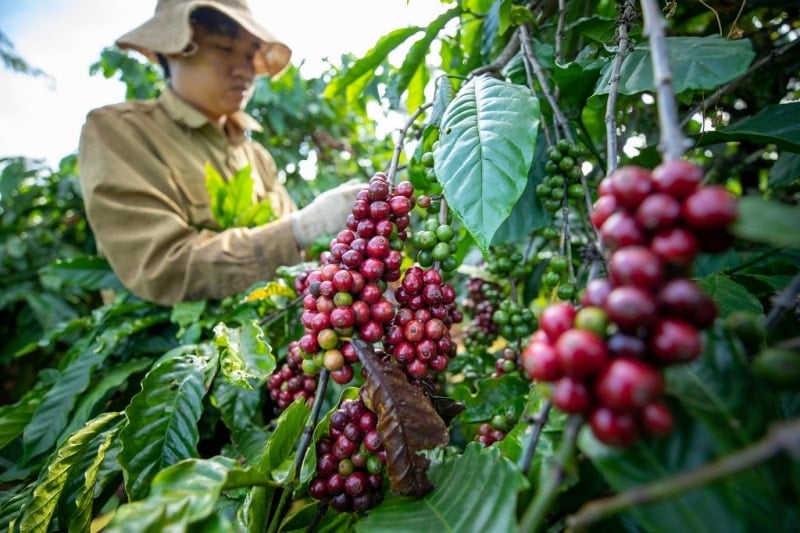 Buon Ma Thuot is a city in the central highlands of Vietnam known as the country's coffee-making heartland.
You can tour coffee plantations and learn about coffee making. You can also sample some of the greatest coffee in the world.
The city is also home to the Ethnographic Museum. It showcases the culture and traditions of the region's ethnic minority groups.
Cycle around the ancient citadel of Vietnam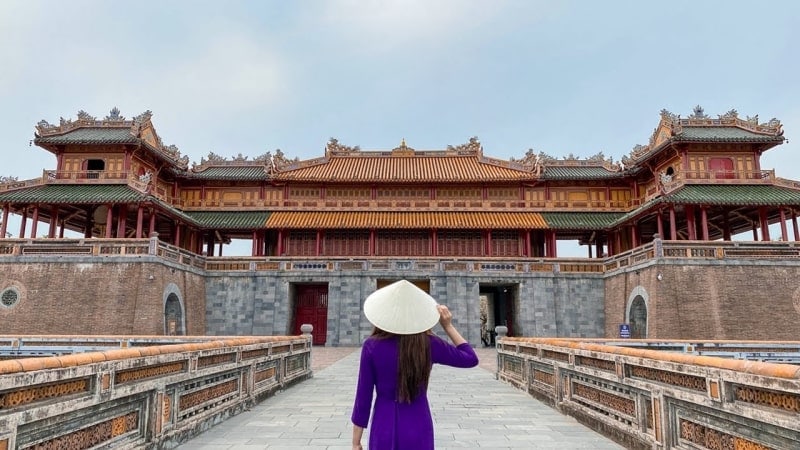 Halfway between the two biggest cities of Vietnam, Hanoi and Ho Chi Minh, Hue marked the division between the North and the South in the Vietnam Wars. Lying along the beautiful Huong River, Hue has always played an important part in Vietnamese history, which is dotted with meaningful historical sites.
This city is a great place for a short journey. Set off in the cool morning and cycle out of town for 3km to visit Tiger Fighting Arena, which is Vietnam's version of Colosseum, where elephants and tigers fought to honor the monarchy's reign. Next, cycle to Tu Duc Tomb before stop by Vong Canh Hill to enjoy the entire view of Huong River.
Travel by train to the "French countryside" in Da Lat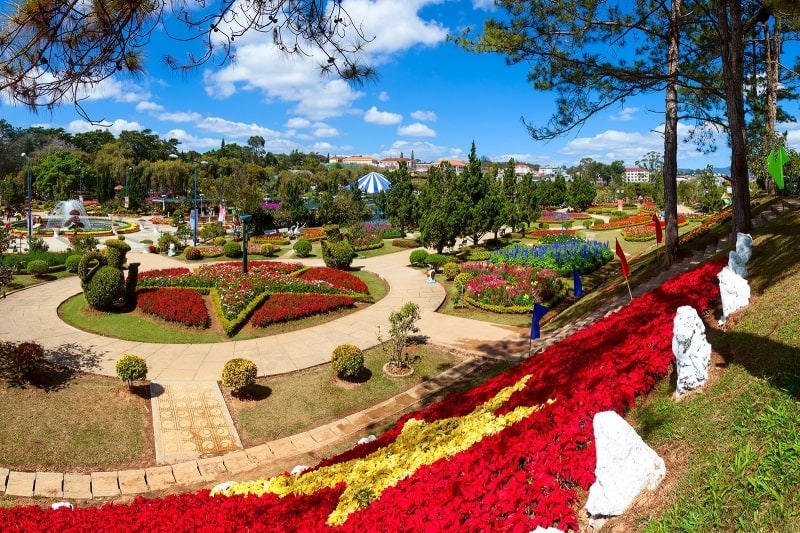 This train is considered a must-experience when you visit Da Lat – the city of flowers. Only 7 km from Indochina's oldest station to Trai Mat is enough to make your heart dance in joy. Bright sunshine and cool weather will bring you a more unforgettable experience. Stand close to the junction of two carriages, watch the peaceful landscape pass by before your eyes.
Small houses with beautiful flower pots in front of the house, blooming flower fields, and wildflowers on both sides of the roads are enough for you to feel the tranquil and typical spirit of Vietnam's countryside.
Watch the night sky over the crater millions of years in Ly Son Island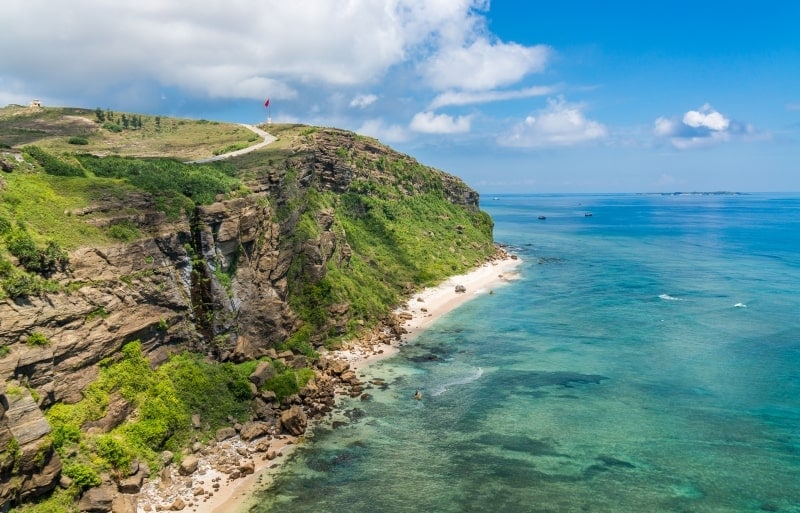 In Ly Son Island (Quang Ngai), instead of spending half of the day on the island as most tourists do, it's advisable to try camping and staying there at nightfall. After around 4 pm when everyone leaves, only you and the island is left behind with golden fine sand beaches and emerald clear water.
Bring your camp to the lava sites that jut out to the sea, listen to the waves crashing against the shore, drink beer, and admire the sky full of stars. What an impressive experience! The dawn on the island is also equally beautiful and memorable with a cup of hot coffee while waiting for the sunrise from the horizon.
Understand Vietnam's bloody past in Ho Chi Minh City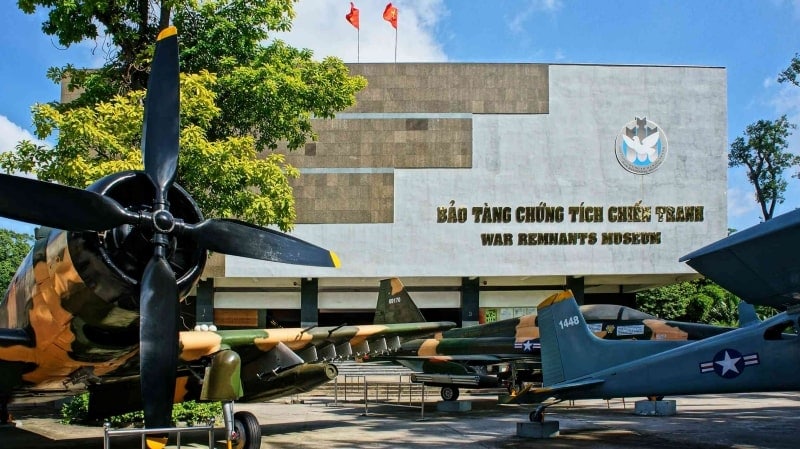 Ho Chi Minh City is the largest city in Vietnam. During the Vietnam War, it formerly served as South Vietnam's capital.
The city is home to several museums and historical sites that glimpse Vietnam's bloody past. The War Remnants Museum is a must-visit attraction. You can see exhibits related to the war, including photographs, weapons, and other artifacts.
Spot rare primates in Cat Tien National Park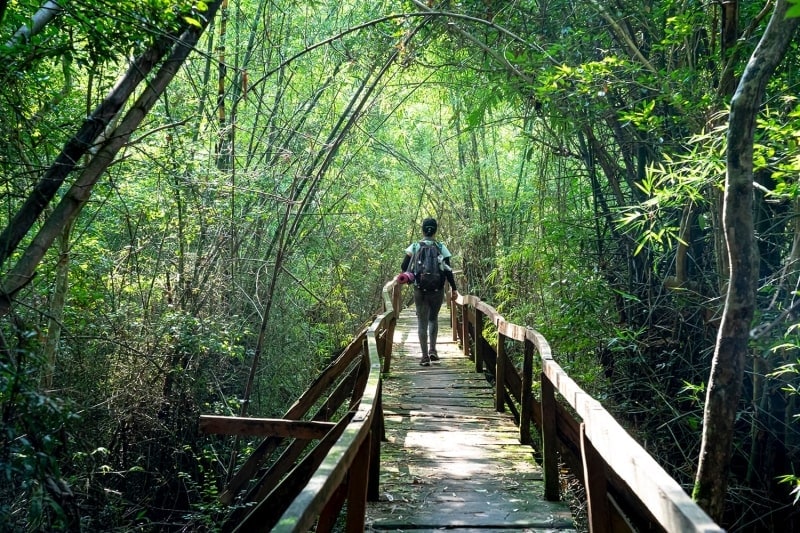 Cat Tien National Park is a UNESCO Biosphere Reserve and protected area home to diverse wildlife, including some of Vietnam's rarest primates.
The park is on the border of three provinces in southern Vietnam. It is an ideal destination for nature lovers and wildlife enthusiasts.
You can take a guided park tour to spot animals like gibbons, macaques, and langurs.
Embrace tranquility on Phu Quoc Island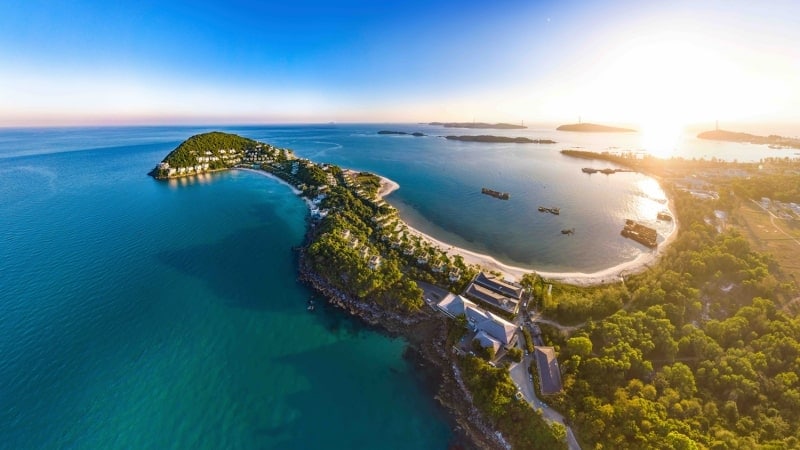 Phu Quoc Island is a tropical paradise off southern Vietnam's coast. It's famous for its stunning beaches, lush green forests, and crystal-clear waters. In addition, Phu Quoc is also one of the 10 most beautiful islands in Vietnam.
You can spend days lounging on the beach or hiking through the island's national park. You can also sample some of Vietnam's best seafood cuisine at one of the island's many restaurants.
>> Read more: Top 10 Beaches in Vietnam For Beach Holiday From India
Visit Cu Chi Tunnels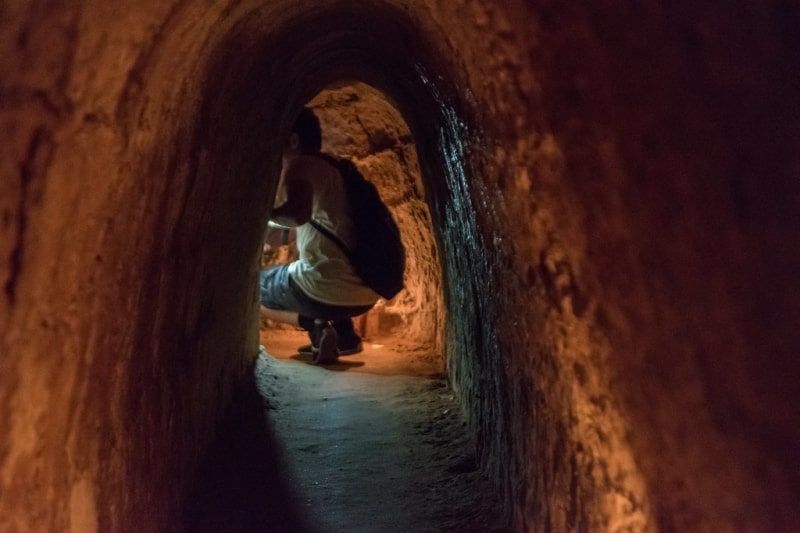 Cu Chi Tunnel is a network of underground tunnels used by the Viet Cong during the Vietnam War.
The tunnel system is in the Cu Chi district of Ho Chi Minh City. It is now a popular tourist attraction.
You may go on a guided tour of the tunnels to discover more about the Viet Cong troops' everyday lives during the war.
Cruise the Mekong Delta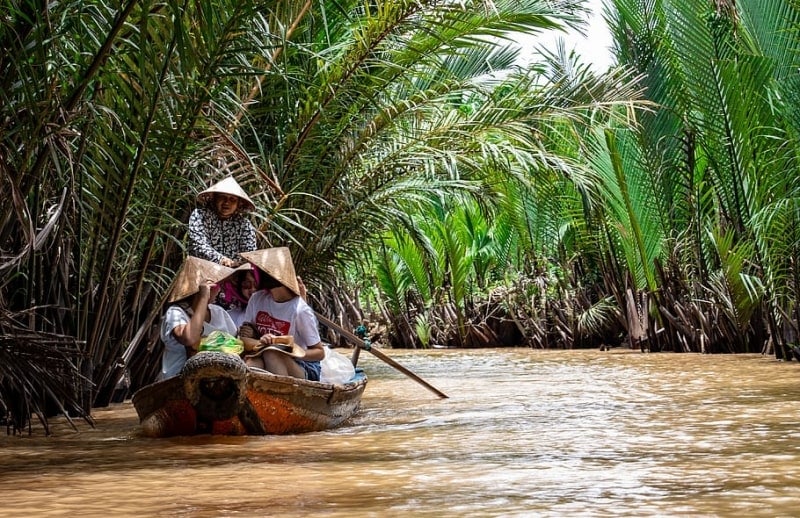 The Mekong Delta is a complex and vast network of rivers and swamps.
Taking a boat tour is the best way to experience the delta, as it allows visitors to explore the numerous canals, visit bustling floating markets, and witness the daily life of the locals.
Besides, the delta is famous for its delicious and unique cuisine. It includes a variety of fresh seafood and tropical fruits.
Shop at Ben Thanh Market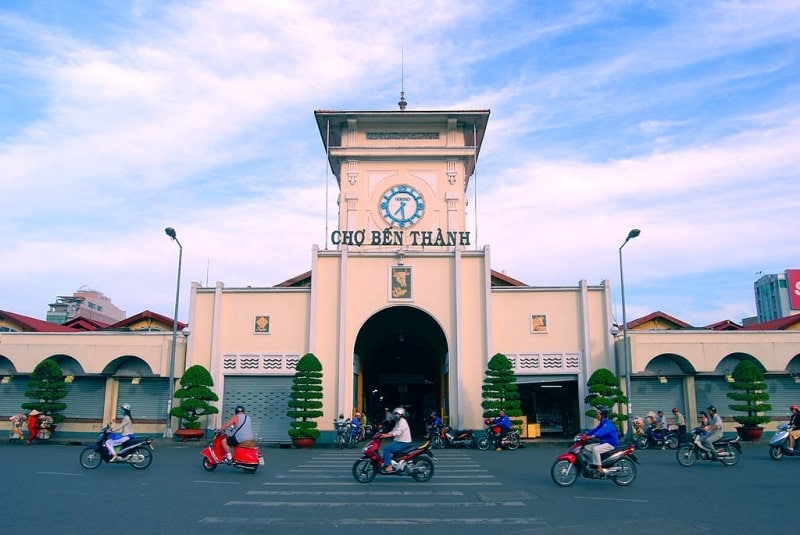 Ben Thanh Market is one of Vietnam's oldest and most famous markets in the heart of Ho Chi Minh City.
The market offers many products, including traditional Vietnamese handicrafts, clothing, jewelry, and souvenirs. You can also sample some of Vietnam's famous street food at the market stalls.
In A Nutshell
Vietnam is a stunning nation with attractions for all types of tourists. The Northern, Central, and Southern regions offer unique experiences to make your trip unforgettable.
Vietnam offers many activities, whether you want to learn about its fascinating past, savor its delectable cuisine, or take in the scenery.
Pack your bags! Get ready for an unforgettable journey with our Vietnam tour packages!
RELATED ARTICLE