Da Nang is a beautiful coastal city located in central Vietnam. It's a famous tourist destination among domestic and international travelers.
Whether searching for relaxation or adventure, this beautiful city has something for everyone. It's time to dive into this article to discover things to do in Da Nang for an unforgettable trip! Let's read to get more detail!
Things To Do In Da Nang
Here are the best activities to experience and enjoy in this coastal city you never want to miss during your trip!
Mountain Discovery
For travelers looking for a unique experience, exploring the mountains in Da Nang is a must. Here are three mountains that should be on your itinerary.
Visit The Ba Na Hills
Ba Na Hills is among the famous tourist destinations for many good reasons. It is a must see when traveling to Da Nang. The Ba Na Hills will offer stunning views of the surrounding mountains and lush greenery.
You can take the Ba Na cable car, the record for the longest and highest non-stop cable car, to reach the top. Once at the top, you can explore the French Village, Fantasy Park, and various restaurants and cafes.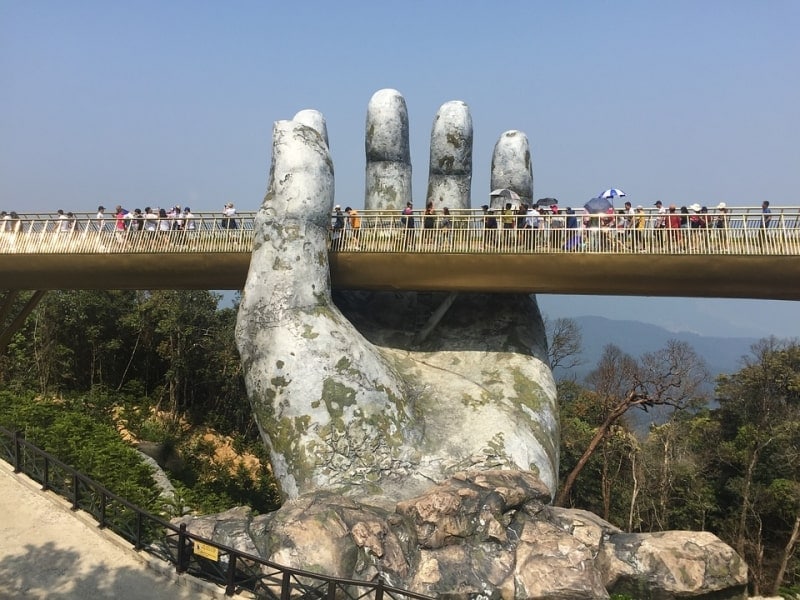 Ba Na Hills
Climb The Marble Mountains
The Marble Mountains are a group of five mountains made of limestone and marble. These mountains are a well-liked tourist destination and a pilgrimage site for the locals.
While the ascent is challenging, it is worthwhile. You can take in breathtaking panoramic views of the surrounding area. Besides, be sure to visit the temples and pagodas within the mountains for a truly spiritual experience.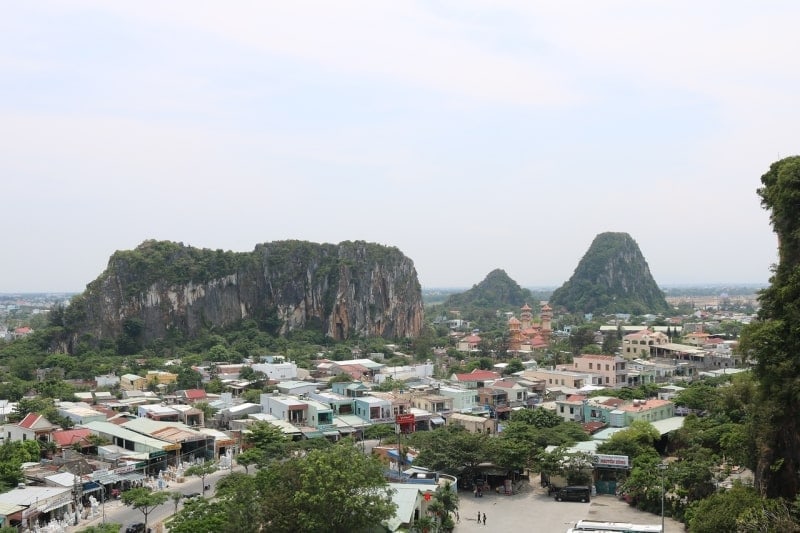 Marble Mountains
Travel To Son Tra Mountain
Son Tra Mountain, known as Monkey Mountain, is just a short distance from Da Nang city center. The mountain is home to diverse flora and fauna, including the endangered Red-Shanked Douc Langur.
You can take a motorbike and enjoy the winding roads and stunning views to reach the top. Once at the top, you can visit the Linh Ung Pagoda, home to the tallest statue of the Goddess of Mercy in Vietnam.
For those looking to escape the city's bustle, Son Tra Mountain provides a distinctive experience.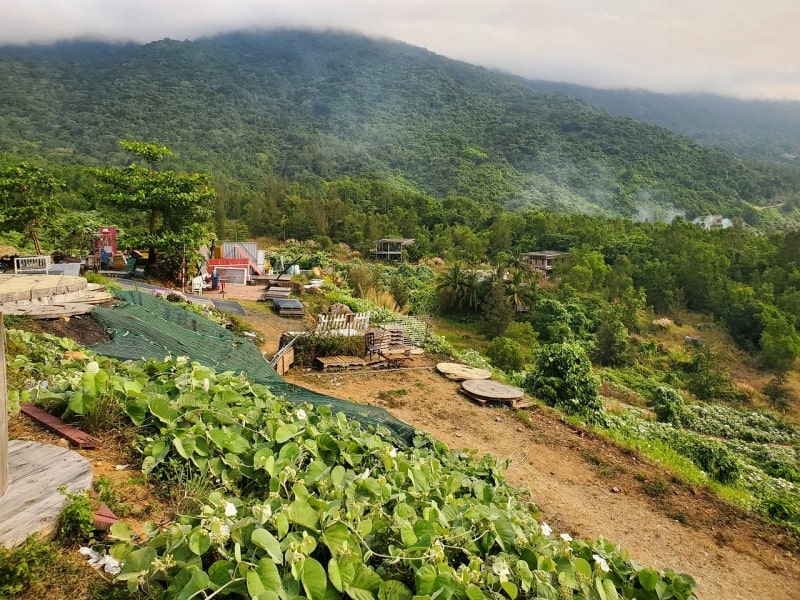 Son Tra Mountain
Religious Places 
Besides its natural beauty, Da Nang is also home to several religious places that attract visitors worldwide. Here are religious places you must visit in this city.
Check Out The Linh Ung Pagoda
Linh Ung Pagoda is one of the most famous religious sites in this coastal city, located on the Son Tra Peninsula. A statue of the Goddess of Mercy that is 67 meters tall resides within the pagoda. It's visible from many miles away.
You admire the intricate architecture of the temple and soak in the peaceful atmosphere of the surrounding gardens.
It's an excellent chance to explore the 18 Arhats, each with its unique facial expression and position, with many of them portrayed as smiling.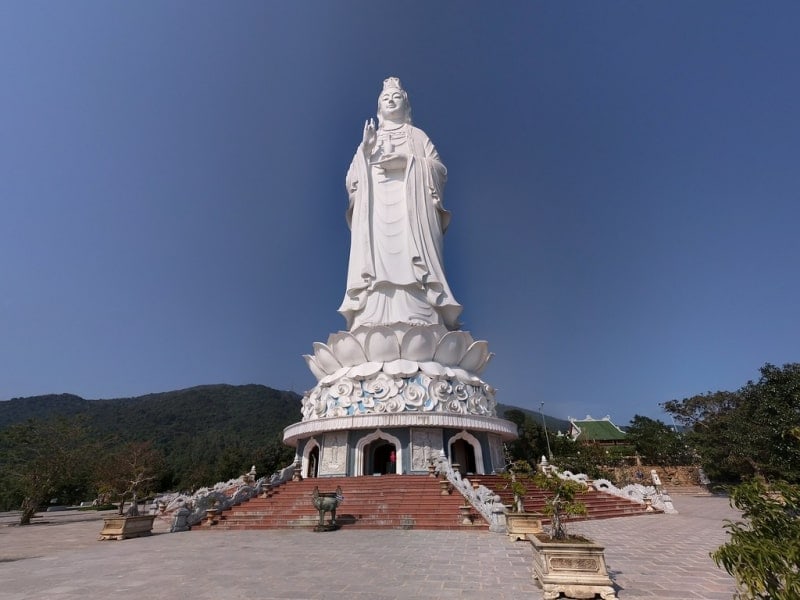 Linh Ung Pagoda
Admire The Phap Lam Pagoda
Phap Lam Pagoda, or the Pagoda of the White Buddha, is among the oldest and most important pagodas in the city.
This pagoda is in the city's heart and close to the Han River. It's famous for its intricate architecture and carvings.
The pagoda has a tranquil atmosphere. Thus, it's among the fantastic destinations to unwind and meditate.
Phap Lam Pagoda also has a beautiful garden, a great place to walk and enjoy the peaceful surroundings.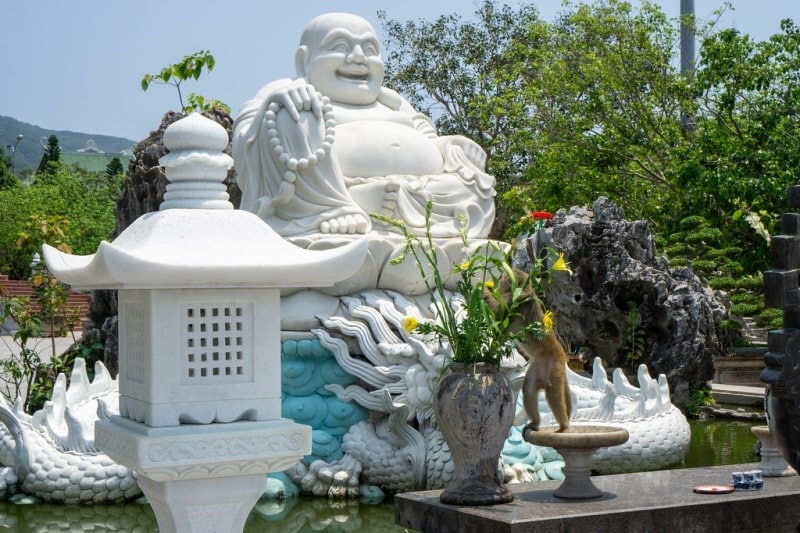 Phap Lam Pagoda
Visit The Da Nang Cathedral
Da Nang Cathedral, also known as the Rooster Church, is a Catholic church in the city's heart. The church was built in the French colonial style. It boasts among the most beautiful churches in Vietnam.
Da Nang Cathedral's peaceful atmosphere is a great spot to escape from the city's busy streets. You can admire the stained glass windows and the church's beautiful interior, filled with religious statues and paintings.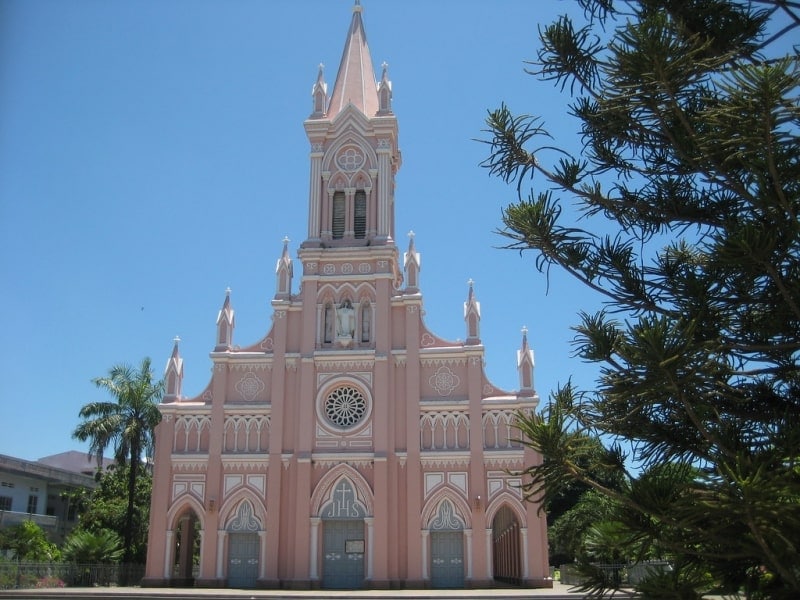 Da Nang Cathedral
Travel To My Son Sanctuary
My Son Sanctuary is an ancient Hindu temple complex about 40 km from Da Nang. The complex was constructed between the fourth through fourteenth centuries. It is one of the most important sites of the Champa Kingdom.
The temples are made of red brick and adorned with intricate carvings and sculptures. Lush green forests surround the complex and are a great place to explore and learn about the history of Vietnam.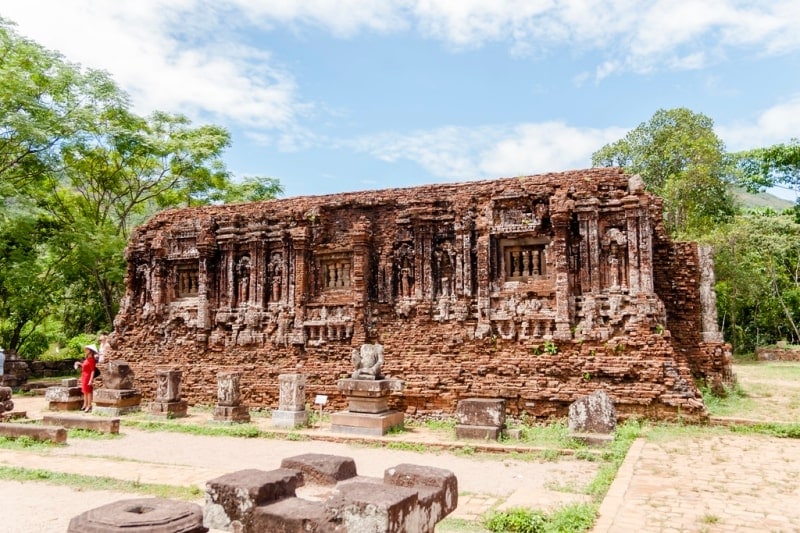 My Son Sanctuary
My Khe & Non Nuoc
Whether you want to soak up the sun on a beautiful beach or relax and enjoy the natural beauty of Da Nang, My Khe, and Non Nuoc are two must-visit destinations for any traveler.
Sunbathe On My Khe Beach
My Khe Beach is among the most beautiful beaches in Vietnam. It's a perfect spot to soak up the sun and relax in Da Nang weather.
After taking a break on the sand, you may try different water sports, like parasailing or paddleboarding, which is also a good idea.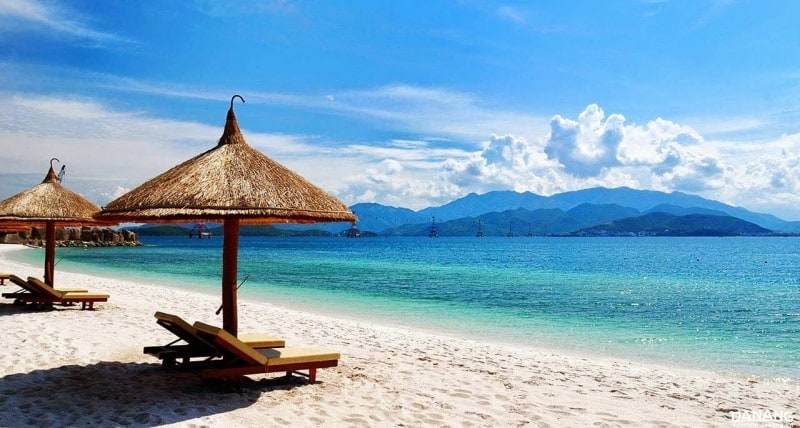 My Khe Beach
Relax At Non Nuoc Beach
Another fantastic beach in this coastal city is Non Nuoc Beach, just a short distance from My Khe. While it may not be as well-known as My Khe beach, Non-Nuoc Beach is just as beautiful and offers a more laid-back atmosphere.
Towering cliffs and beautiful green hills surround the beach. It provides a stunning natural backdrop for your day of relaxation. Furthermore, you can experience various exciting water sports, including surfing and windsurfing.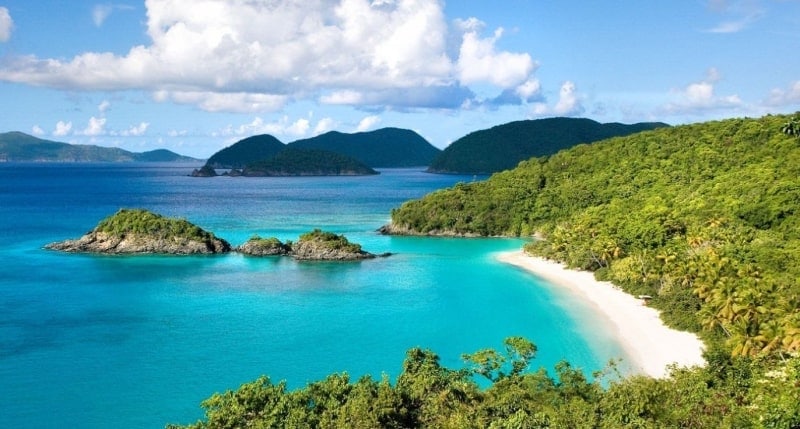 Non Nuoc Beach
Sightseeing
Da Nang also offers plenty of sightseeing opportunities for travelers. The city has must-see attractions, from the stunning Cham Islands to the impressive Dragon Bridge.
Take A Trip To The Cham Islands
One of the top sightseeing activities in Da Nang is a trip to the Cham Islands. These islands are located about 18 kilometers off the coast of Da Nang and are a UNESCO World Biosphere Reserve.
Cham Islands are famous for their crystal-clear waters and beautiful coral reefs. You can take a boat tour of the islands. It's also an ideal spot for snorkeling or exploring the local fishing villages.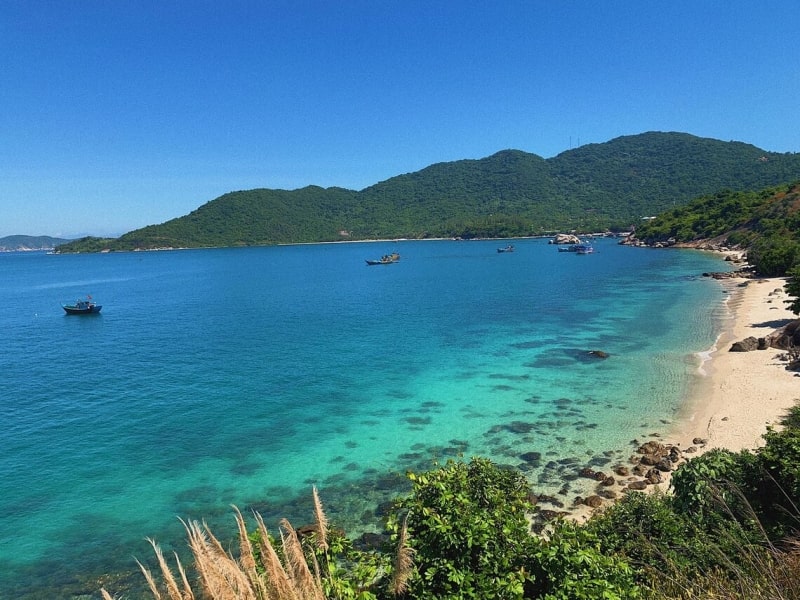 Cham Islands
Visit The Cham Museum
The Cham Museum in the coastal city is home to the world's extensive collection of Cham artifacts. The museum's exhibits showcase the art and culture of the Cham people, an ethnic group that once inhabited Central Vietnam.
Visitors can admire sculptures, pottery, and other artifacts from the 7th century.
Watch The Show At Dragon Bridge
The Dragon Bridge is among the most iconic landmarks in this coastal city. It's an ideal destination for sightseeing.
Every weekend night in Da Nang, the bridge comes alive with a spectacular light and fire show, complete with music and dancing.
Discover The Han River Bridge
One of Da Nang's most recognizable structures and a fantastic site to go sightseeing is the Han River Bridge.
The bridge is spectacular at night, providing a breathtaking perspective of the city skyline when lit up with vibrant lights.
It's a fantastic opportunity to taste the native way of life and take in the breathtaking Han River vistas.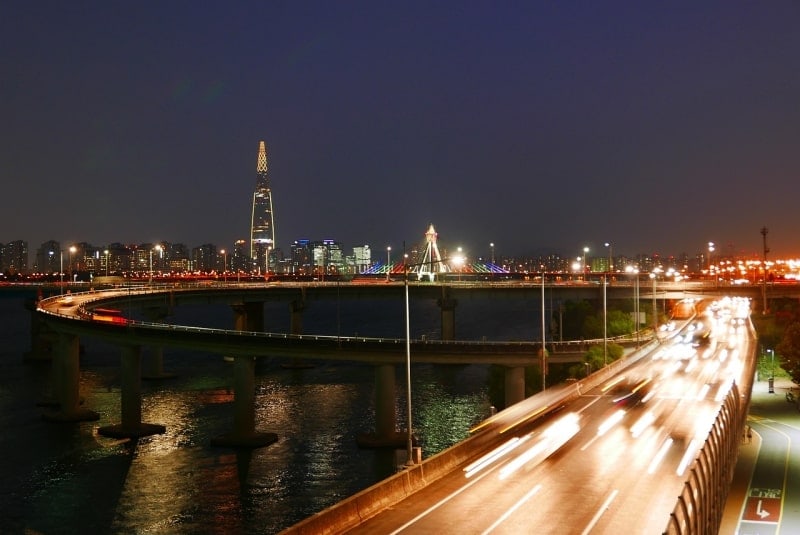 Han River Bridge
Visit Asia Park
For those looking for fun and exciting sightseeing activity, Asia Park is a great place to visit. Asia Park, a well-known theme park with various activities for tourists of all ages, is about 20 minutes from the Da Nang city center.
The park features rides, shows, and exhibits inspired by different Asian cultures, restaurants, and shops.
This amusement park features over 20 rides and attractions. So you can have a fantastic experience there with your family or friends.
Visit Han Market
Han Market is a bustling marketplace. There are various goods here, like clothing, souvenirs, fresh produce, and street food. It's a great place to experience the local culture and shop for unique gifts to bring back home.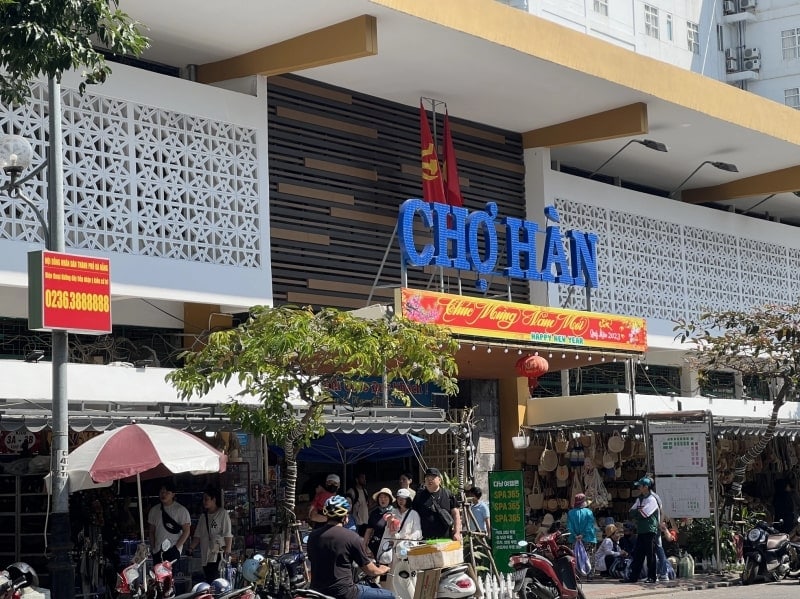 Han Market
Visit The Ho Chi Minh Museum
Last but not least, travelers should not miss seeing the Ho Chi Minh Museum. You can learn more about Ho Chi Minh's contribution to the nation's freedom war. It's great to see artifacts related to his life and work here.
FAQs 
Is It Worth Visiting Da Nang?
Yes! Da Nang is a hidden gem in Vietnam that is worth visiting. Thanks to its stunning beaches, delicious food, and rich history, it has everything for travelers.
What Is Da Nang Famous For?
Here are the main things that Da Nang is most famous for:
The Marble Mountains
My Khe Beach
Dragon Bridge
Cham Museum
Ba Na Hills
And more.
How Many Days In Da Nang Is Enough?
It depends on your interests and travel style. However, to experience everything this city offers, consider spending at least 5 days/4 nights in this city.
Does Da Nang Have A Nightlife?
Yes! Da Nang has a vibrant nightlife scene. Several bars and restaurants stay open late at night.
What Is The Best Time To Visit Da Nang?
The best time to visit Da Nang depends on your personal preferences. If you are looking for good weather, visit during the spring season from February to May.
If you want to attend festivals and events, plan your trip around the Lunar New Year or the Da Nang International Fireworks Festival. And if you want to avoid crowds and save money, visit the city from September to November.
Wrapping Up
Whether relaxing on the beach, exploring the culture and history, or enjoying the local cuisine and nightlife, Da Nang has everything!
It should come as no surprise that this stunning city is among Vietnam's most well-liked tourism destinations.
So what are you waiting for? Book your trip to Da Nang today and experience all that this fantastic city has to offer!
RELATED ARTICLE