Beaches in Vietnam consistently rank among the most beautiful in the world. Regarded as an Asian travel paradise, Vietnam welcomes tourists with its sun-drenched beaches and crystalline waters.
Do you want to explore its irresistible charm? Look at the top 10 best beaches in Vietnam that Indian tourists should experience on the trip to Vietnam.
Lang Co Beach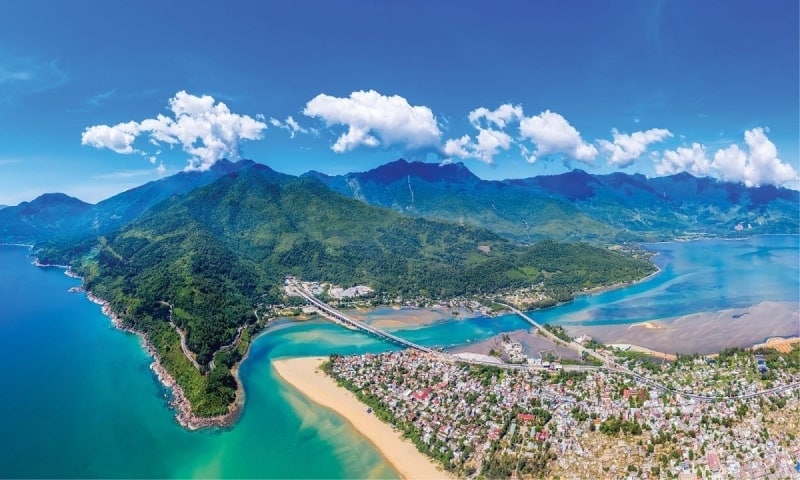 Location: Lang Co town, Phu Loc district, Thua Thien Hue province.
Best time to visit: April to July
Lang Co Beach is the hidden gem on the way from Hoi An to Hue. If you travel nearby, take advantage of the opportunity to visit this beautiful beach in Vietnam. In 2009, Lang Co was rated as one of the most beautiful bays in the world by WorldBays.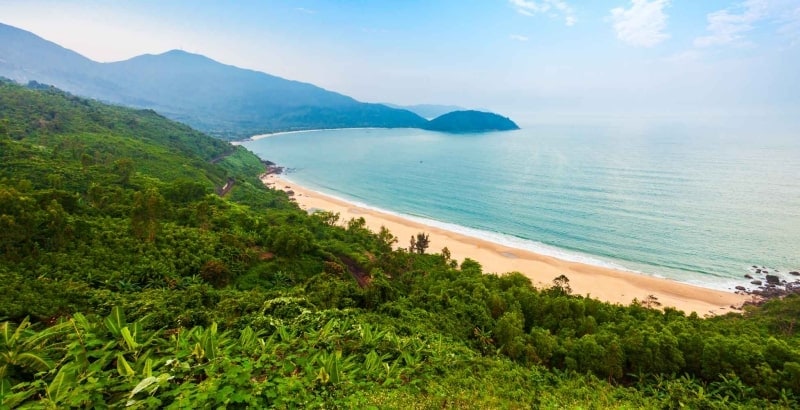 Lang Co beach stands out as a fairyland with white-sand stretch, crystal-clear waters and grand mountains surrounded. Come here, tourists like strolling on the beach, watching spectacular views and enjoying the slight breeze. Its tranquillity and serenity can help you remove all the burdens and escape the hustle and bustle of daily life.
Furthermore, with its clear waters and gentle waves, it's the perfect spot for swimming. Afterward, you can indulge in fresh seafood at numerous nearby restaurants at affordable prices. Stop by one of the best beaches in Vietnam; you'll have memorable experiences on your trip.
An Bang Beach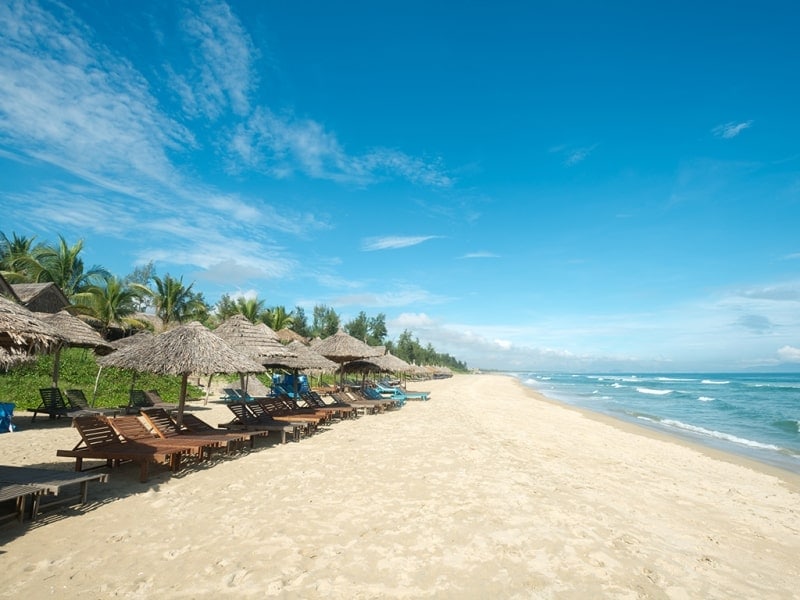 Location: Cam An Ward, Hoi An City, Quang Nam Province, just 3 km away from the center of Hoi An ancient town.
Best time to visit: March to September
Another top beach in Vietnam you can't miss out on is An Bang – a beach ranked 86th in the Top 100 Best Beaches in the World in 2016 by CNN. An Bang Beach received the love of tourists for its rustic beauty and village feel.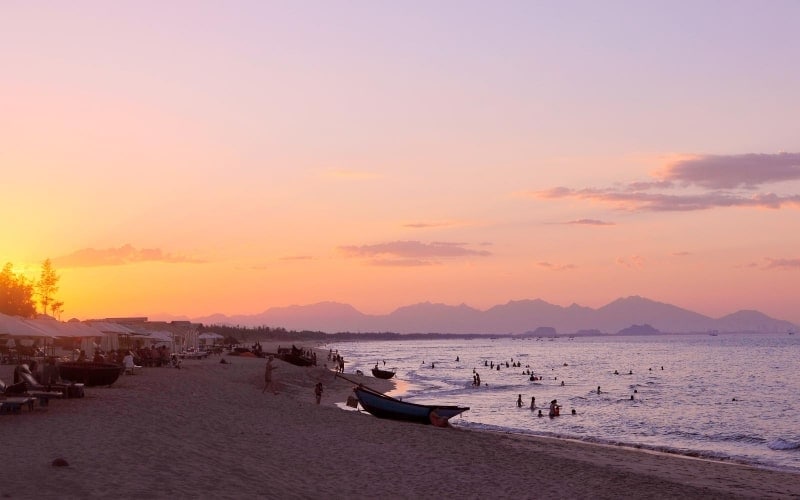 This beach offers a wide range of activities to cater to various preferences. You can swim under the clear water, sunbathe on the coastline or enjoy cold drinks with friends. For those craving adventure, An Bang Beach has parasailing and jet skiing.
For your meals, you'll find an abundance of restaurants and bars to choose from, including the opportunity to savor authentic Indian cuisine at budget-friendly prices. If you visit Hoi An ancient town, why don't you enjoy a day on An Bang Beach?
Cua Dai Beach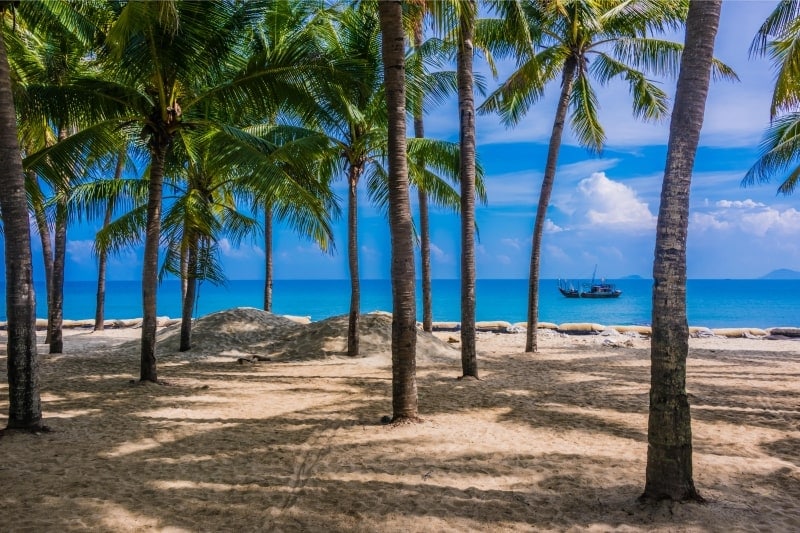 Location: Cam An Ward, Hoi An City, Quang Nam Province, about 5 km away from the center of Hoi An ancient town.
Best time to visit: March to September
Recognized as one of the 25 most beautiful beaches in Asia by TripAdvisor travelers, Cua Dai Beach is a fantastic destination for sea lovers. This place maintains its pristine charm, boasting soft white sands and clear turquoise waters, making it an ideal spot for swimming and snorkeling.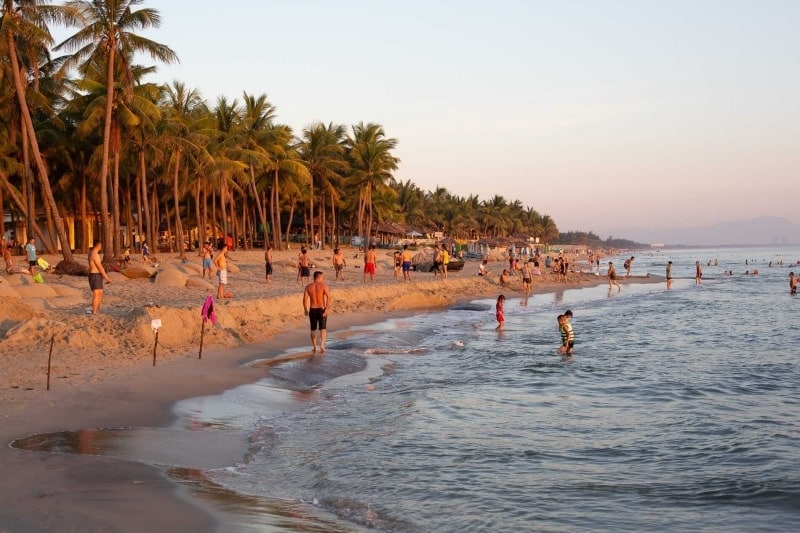 At Cua Dai Beach, you can relax on sun loungers while enjoying idyllic backdrops or admire the breathtaking sunset at local restaurants and bars. Don't hesitate to seize the opportunity for an unforgettable experience at this captivating beach in Vietnam!
My Khe Beach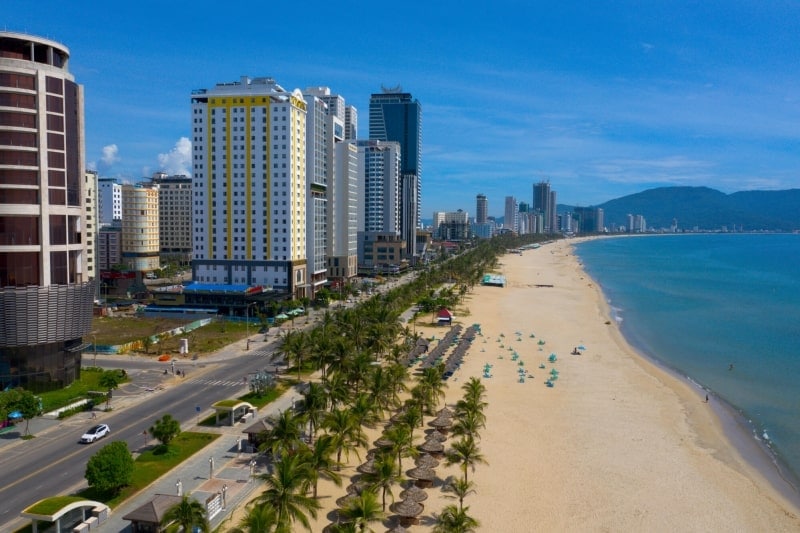 Location: Vo Nguyen Giap Street, Phuoc My Ward, Son Tra District, Da Nang City, about 3 km away from the center of Da Nang.
Best time to visit: April to September
My Khe Beach in Vietnam was nominated as one of the most beautiful beaches on the planet by Forbes. This renowned beach is celebrated for its giant white sand, gentle waves, and crystal-clear waters.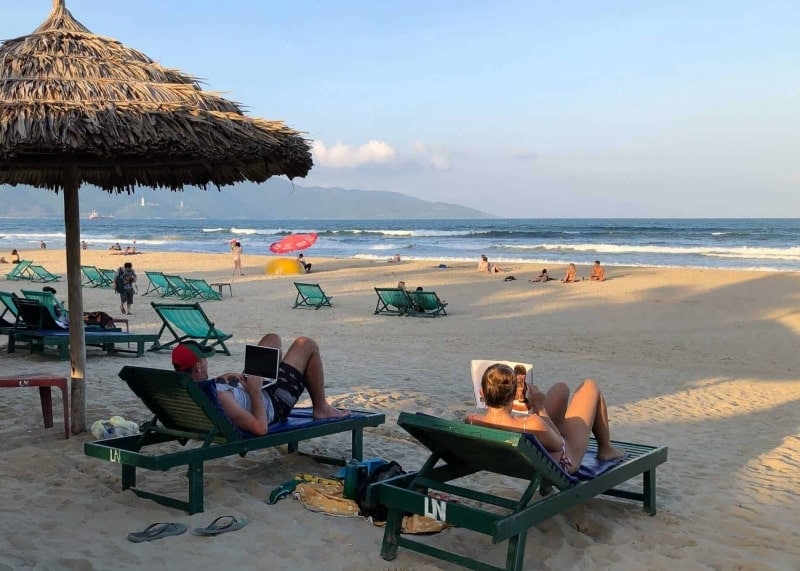 When you visit My Khe, you'll be captivated by the pristine cleanliness of the beach, tempting you to spend the entire day swimming in its gin-clear waters. On TripAdvisor, many tourists are enchanted by the mesmerizing allure of My Khe Beach, particularly during sunrise and sunset.
Moreover, My Khe Beach's unique natural surroundings are ideal for many entertaining activities for adventure enthusiasts, including parasailing, jet skiing, water-skiing, windsurfing, parachute jumping, diving, and more. A visit to My Khe Beach promises an experience well worth trying!
Doc Let Beach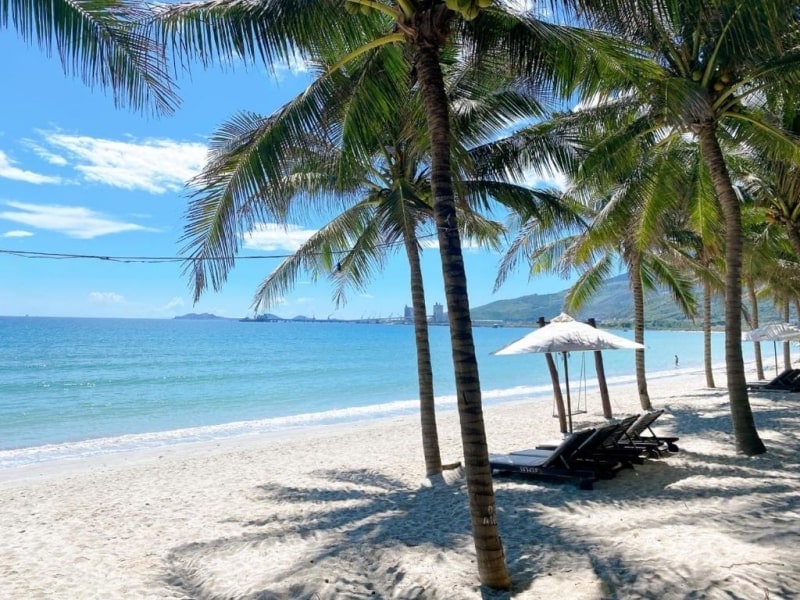 Location: Ninh Hai ward, Ninh Hoa town, Khanh Hoa province, about 49km from Nha Trang city centre.
Best time to visit: January to September
Tourists praise Doc Let Beach as one of the top beaches in Vietnam for several compelling reasons. Its pure and pristine beauty, characterized by soft white sand, crystal-clear waters, and dense rows of lush trees, is truly captivating. The tranquil turquoise water is so clear that it allows visitors to observe small sea creatures, making it an irresistible destination for those who enjoy swimming and snorkeling throughout the day.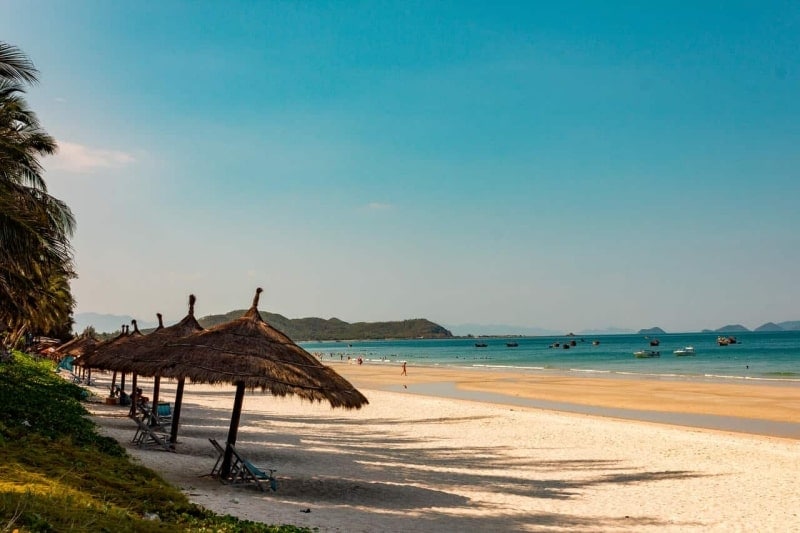 One standout feature of this beach is its shallow water level, which is not only safe for kids but also welcomes non-swimmers to play and swim without worry. Additionally, Doc Let is a perfect beach for sporting activities, offering options such as beach volleyball, jet-skiing, parachuting, and even the opportunity for night camping.
With breathtaking scenery and various entertaining options, Doc Let is the beach in Vietnam you should visit at least once.
Hon Chong Beach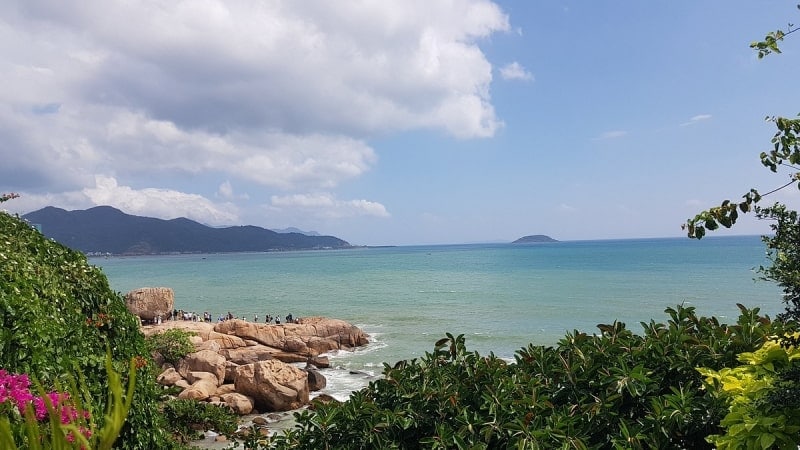 Location: Vinh Phuoc ward, Nha Trang city, Khanh Hoa province, 4km from Nha Trang city centre.
Best time to visit: January to September
Hon Chong is an exotic beach in Vietnam where large rocks of different shapes are stacked on each other, running from the high shore to the sea. It'll be a wonderful experience for tourists to lie down on a giant rock and watch the natural beauty.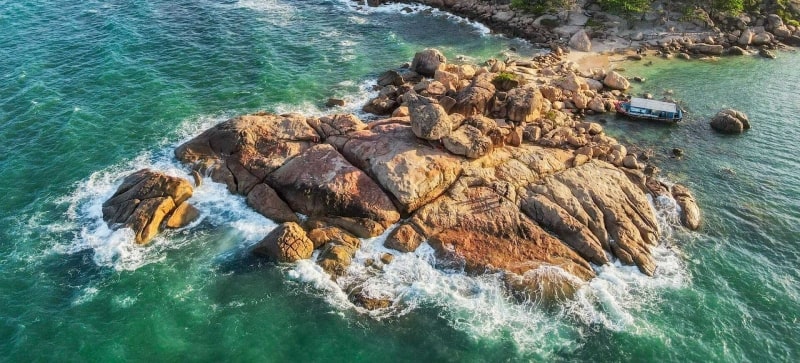 Besides, Hon Chong has stunning beaches with clear sea and white sand. You can indulge yourself in cool water and enjoy the fresh breeze. Like other beautiful beaches in Vietnam, Hon Chong has marvellous views for taking photos, especially in sunrise and sunset moments. Your trip to Nha Trang will be perfect when you visit this natural scenery.
Ky Co Beach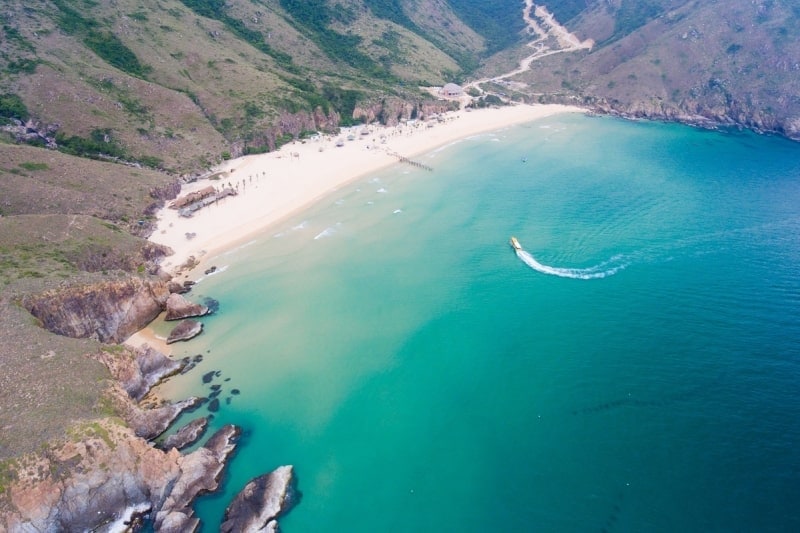 Location: Nhon Ly commune, Binh Dinh province, about 25 km from Quy Nhon city
Best time to visit: April to early September
In the list of the top beaches in Vietnam, Ky Co Beach has garnered applause from local and international tourists. When coming here, you'll speak out, "Wow, what amazing scenery!". Ky Co is gorgeous, with crystal-clear water and surrounded by majestic hills and mountains. This beach is praised as a fairyland where you can take stunning photos in any corner.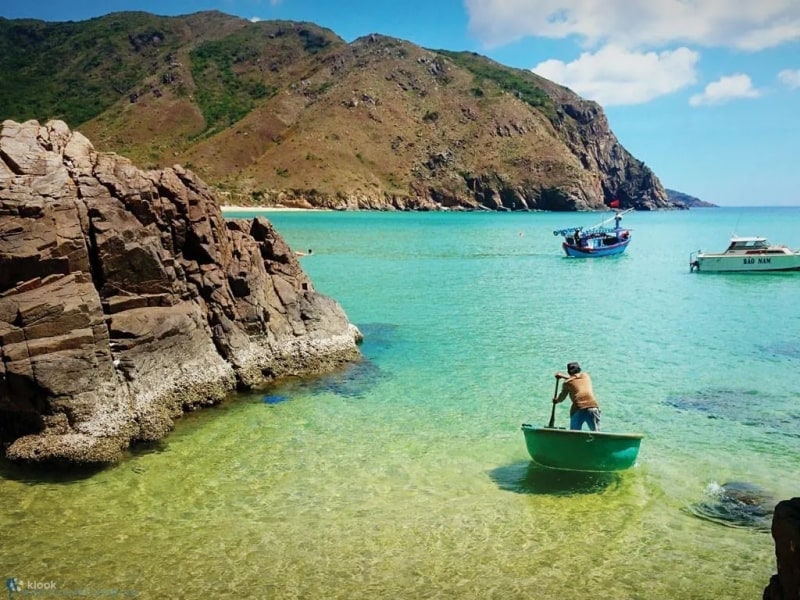 Moreover, Ky Co beach provides many captivating activities such as swimming, scuba diving, jet skiing, parasailing, water-skiing, parachute jumping, etc. Also, camping overnight in Ky Co will be a memorable experience. Listen to the sound of waves at night, watch the sunrise on Ky Co beach in the morning, and thoroughly enjoy the wild beauty of this place.
Mui Ne Beach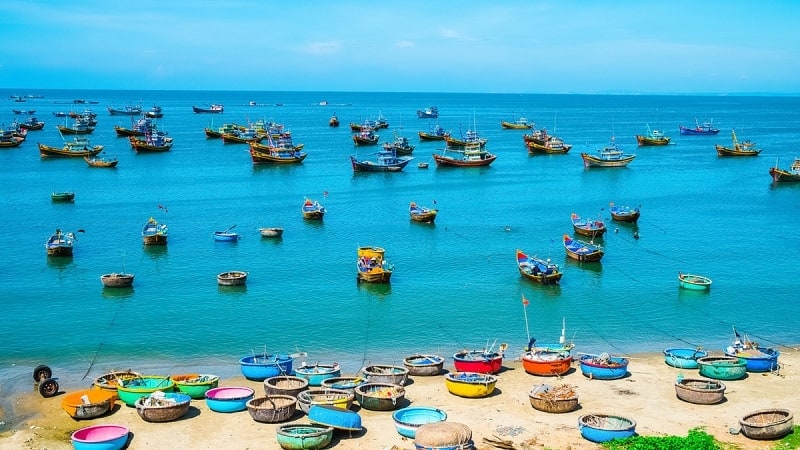 Location: Mui Ne, Phan Thiet City, Binh Thuan Province.
Best time to visit: April to June for swimming, November to January for surfing.
Mui Ne Beach, also known as Fishing Village Beach, is one of the best beaches in Vietnam. The golden sand, clear water, and fresh breeze make it an excellent place for sunbathing and swimming.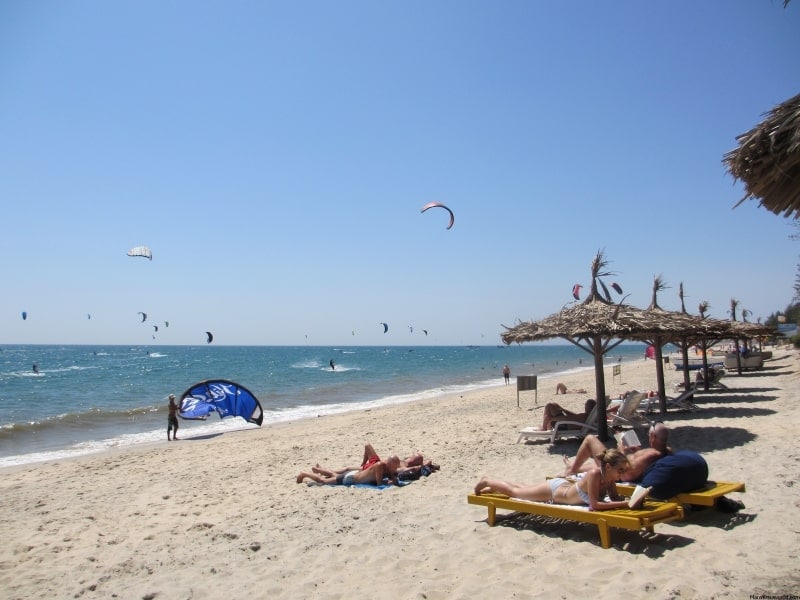 Another exciting thing about this beach is you can learn more about the fishermen's lives, savour delectable seafood and take in the serene and rustic atmosphere. Thrill seekers can join in water sports such as kitesurfing and windsurfing here. If you have time, visit a neighbouring beautiful beach — Hon Rom, located in Phan Thiet City.
Don't miss out on this hot spot on your journey to southern Vietnam!
Long Beach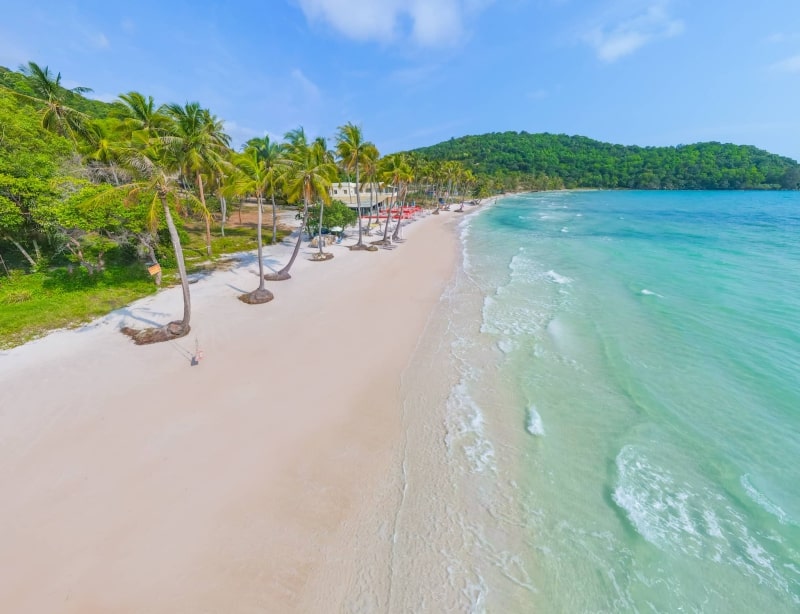 Location: Phu Quoc Island, Kien Giang Province
Best time to visit: October to early April
With a 15-kilometer-long coastline and clean water, Long Beach is the next excellent beach in Vietnam for tourists. Situated on the Pearl Island Phu Quoc, Long Beach is famous for numerous entertainment, from water sports to outdoor activities. You can indulge in activities such as swimming, kayaking, coral sightseeing, beachside cycling, or even hosting an outdoor barbecue party.
>> Read more: The 10 Most Beautiful Islands in Vietnam From North to South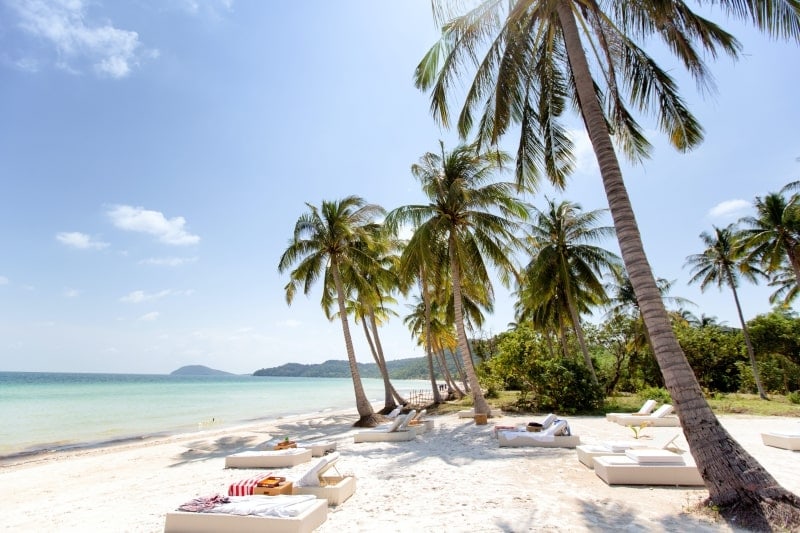 Flanked the coastline, there are many restaurants and bars serving from Asian cuisine to European foods. It's the perfect opportunity to savor a delicious meal or enjoy a signature cocktail while taking in the soothing sea breeze. Yeah, let's check out this beach.
Starfish Beach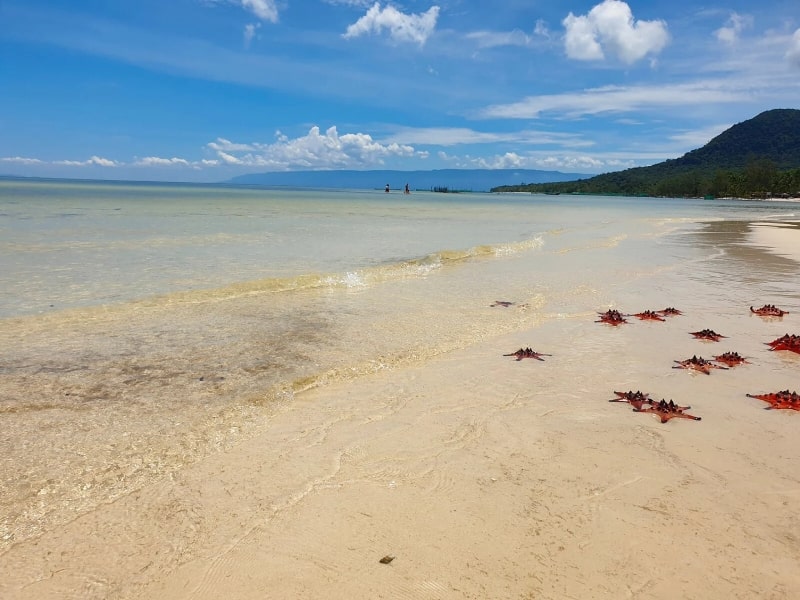 Location: Bai Sao hamlet, An Thoi town, Phu Quoc city, Kien Giang province.
Best time to visit: June to October for swimming, September to October for seeing starfishes
Starfish Beach, renowned as one of the best beaches in Vietnam, captivates visitors with its unspoiled beauty. The name "Starfish" is derived from the remarkable ecosystem where numerous starfish can be found scattered beneath the water's surface.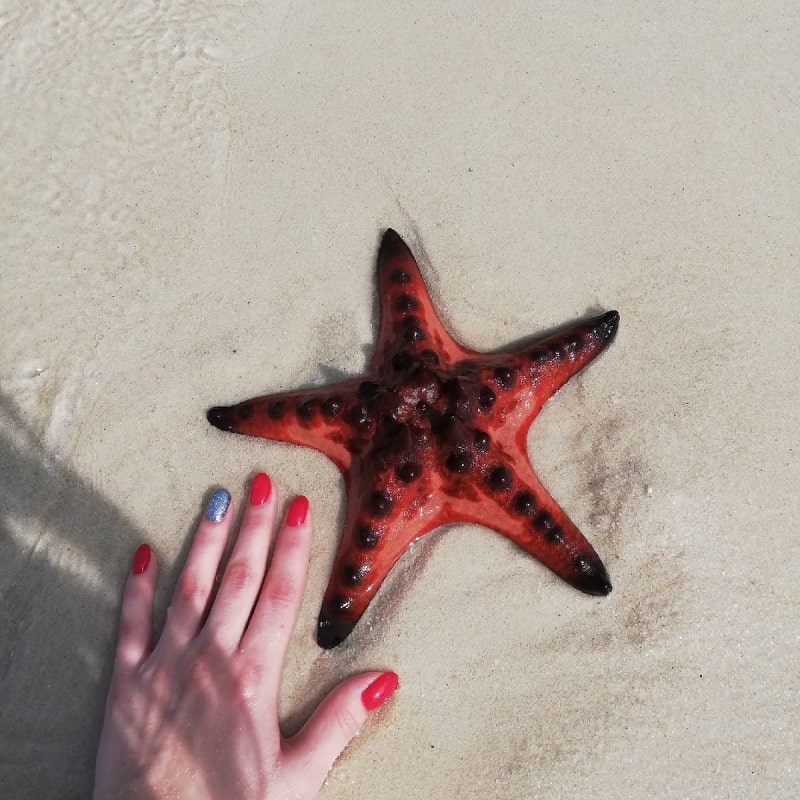 Star Beach is home to abundant flora and fauna species, especially lively orange starfish. With gin-clear turquoise water and rich marine life, this beach is perfect for swimming, snorkelling and diving. Why don't you visit this amazing beach for your trip to Vietnam?
Note: When you see the starfish, DO NOT grab, move, step on or lift them out of the water. Starfish will die within a few seconds of being out of the water.
Wrapping Up
Immersing yourself in the stunning beaches is a must-do in your journey to Vietnam. Pick at least one from the top 10 beaches in Vietnam and take your backpacks to explore it now! Have a nice trip to Vietnam!
RELATED ARTICLES