Hanoi, which boasts a depth of 1000-year-old history and culture, offers visitors a dizzying variety of attractions. There are a lot of places to visit in Hanoi, such as temples, theaters, historic citadels, and ancient streets.
Vietnamtour.in offers the ultimate tours in Hanoi to help you learn about the city's rich history, vibrant culture, and flavorful cuisine. But first, dive deeply into the list of the top Hanoi attractions for further sightseeing suggestions.
Hoan Kiem Lake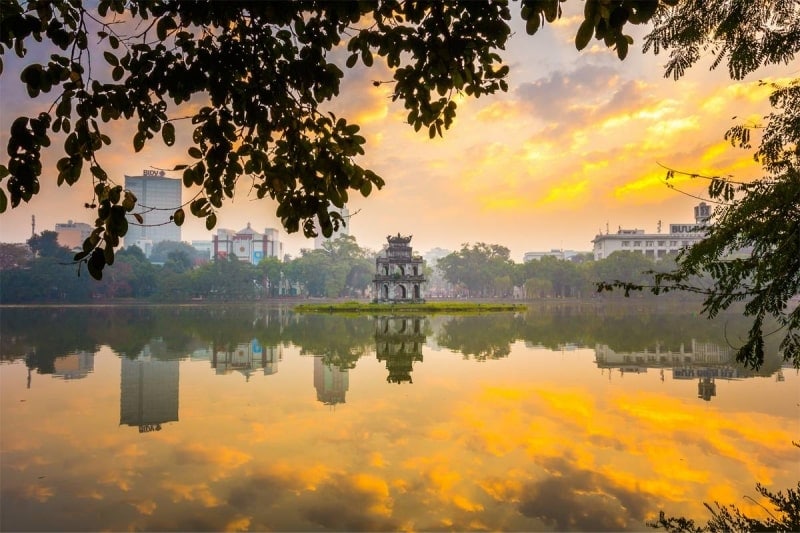 There are so many stunning locations that are worth visiting. However, Hoan Kiem Lake best captures the "essence" of a charming Hanoi.
According to legend, the Dragon King handed Emperor Le Loi a miraculous sword in the middle of the 15th century, which he used in the war against China.
The Ho Hoan Kiem (Lake of the Restored Sword) was given to this lake after the war when a huge golden turtle took the sword back to return it to its owners.
Hoan Kiem Lake is a remnant that has seen numerous ups and downs throughout Hanoi's history. You must take advantage of this spot because it is one of the city's emblems.
You may walk around the lake to enjoy the scenery and explore the nearby Old Quarter. You will get the chance to learn about the distinctive culture, architecture, food, and lifestyle.
Let's do a food tour around Hanoi with Must-try Food in Hanoi to Taste of Authentic Flavors.
Old Quarters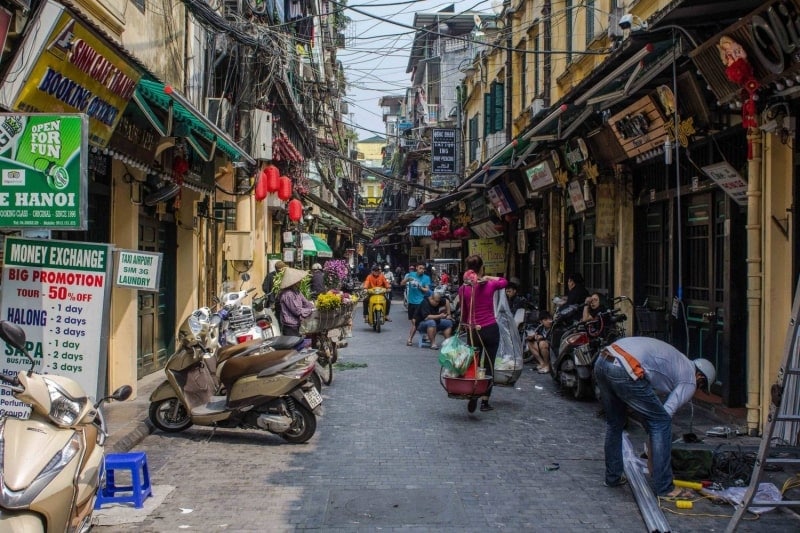 The Old Quarter reflects Vietnam's colorful heritage. After gaining independence from China in the eleventh century, Emperor Ly Thai To relocated the capital from Hoa Lu to Hanoi.
The Old Quarter quickly became known as a hub for arts and crafts, which drew talented artisans to live and work there. Migrants frequently originated from the same village, worked together in guilds, lived in one neighborhood, and specialized in a single item or service.
The Old Quarter is known as having "36 Old Streets" because of these historic streets. Many still have the name of the product they were known for, which reflects local artisan customs and history.
Hoa Lo Prison Relic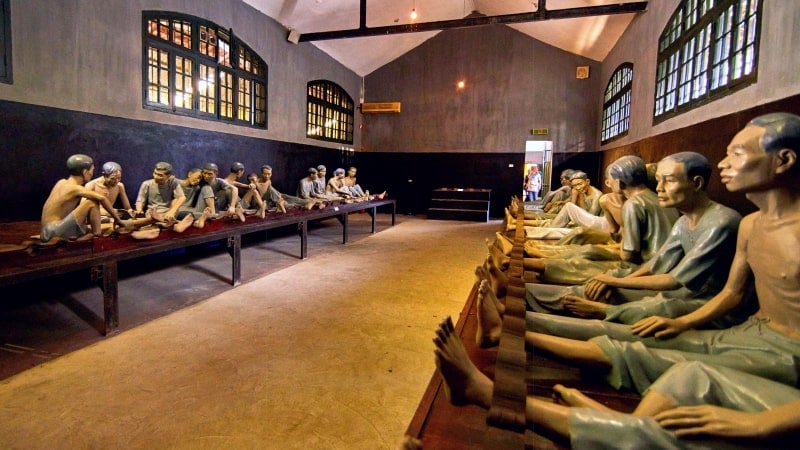 The French constructed Hoa Lo jail in 1896 to house hundreds of Vietnamese patriots and revolutionaries. This historical relic saves the evidence about the lives of Vietnamese patriots during the First Indochina War.
Hoa Lo Prison is conveniently situated in the center of Hanoi, about 15 minutes from Hoan Kiem Lake. As a result, visitors may readily access this attraction from any part of the city.
The opening of night tours is one of the best ideas to appeal to tourists. Night tours last from 07:00 PM to 08:30 PM every Friday and Saturday.
Visitors will see the like-hell life of former political prisoners while joining these night excursions. The plays that incorporate realistic light and sound effects will arouse your emotions.
>> MAY YOU LIKE: Hanoi Nightlife: 10 Things to do at Night in Hanoi for Indian Travelers
Hanoi Opera House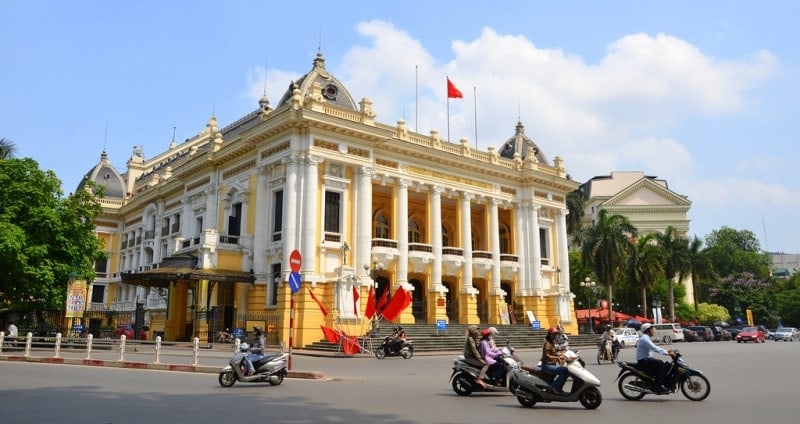 The Hanoi Opera House is evidence of the interaction of Western and Vietnamese arts. It has hosted several notable cultural performances and is one of well-liked tourist places to visit in Hanoi.
The architecture of the Tuylory castle, the Opera de Paris, and the old Greek Gothic inspires the building. You may see classic French art with complex and clever carvings at the entrance to the Hanoi Opera House.
The main foyer has a big, intricately gold-plated chandelier in the middle. A broad T-shaped staircase runs through the lobby's center, leading to the second story.
The second story is where important occasions like signing ceremonies or banquets for senior officials occur. The main performance hall on the third story has a seating capacity of 598 people.
The Hanoi Opera House is open from Monday through Friday. However, it may also be available at other hours depending on how the management board has set things up.
Trang Tien Plaza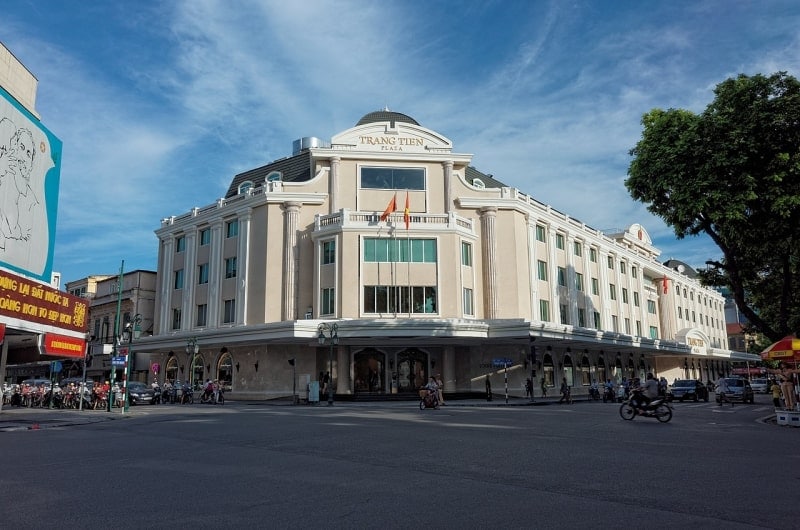 Trang Tien Plaza is one of the first retail malls in Vietnam. It is among the best places to visit in Hanoi for considerable historical and cultural significance.
The building is situated in the Hoan Kiem District's old town district. It has a view of Hoan Kiem Lake and is a short distance from the Hanoi Post Office.
Trang Tien Plaza, which now has three fronts, is where numerous Hanoi merchants with various services congregate. It draws customers in due to its opulent setting, which gives them the impression that they are shopping in a grand mall in Paris.
Ho Chi Minh Mausoleum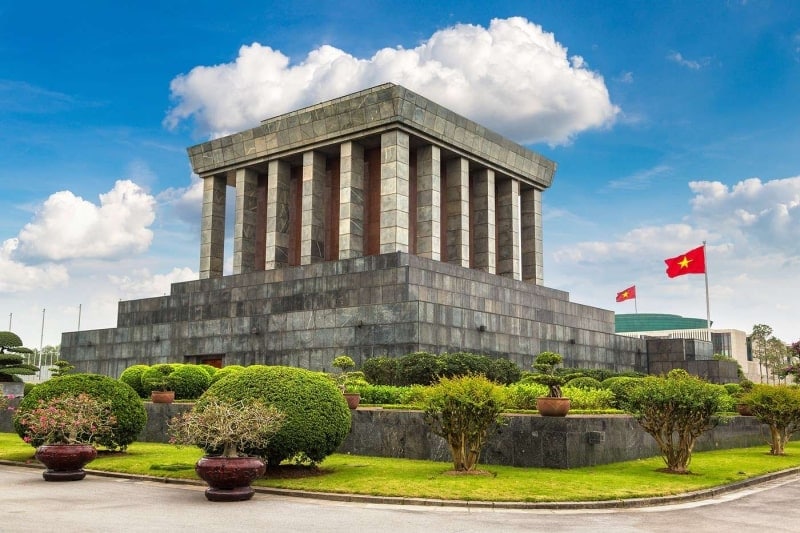 Ho Chi Minh Mausoleum is a must-see historical landmark in Hanoi. It is renowned for honoring President Ho Chi Minh.
You can express your respect and thanks to the father of the Vietnamese people who guided the country to freedom and unity.
Although it's free for tourists to visit the Mausoleum, you must follow some rules. There is a rigorous security check upon entry, and no short skirts or tank tops are permitted.
Only bring along a few expensive goods. In addition, talking, pointing, or taking pictures within the mausoleums is highly forbidden.
Temple of Literature
The temple is south of Thang Long Imperial Citadel, about 2-3 kilometers west of Hoan Kiem Lake. Walking there from Hoan Kiem Lake would take around an hour.
Emperor Ly Thanh Tong established the Shrine of Literature in 1070 to honor the Chinese scholar Confucius. His son founded the Imperial Academy in 1076 as a royal school for only the aristocracy.
The Imperial Academy was regarded as Vietnam's first university. The Temple of Literature has maintained its priceless architectural and cultural value despite the wars and catastrophes.
It is one of the most appealing tourist sites in Hanoi. Anyone interested in the architecture or culture in the city should attend the Temple of Literature.
Water Puppet Theater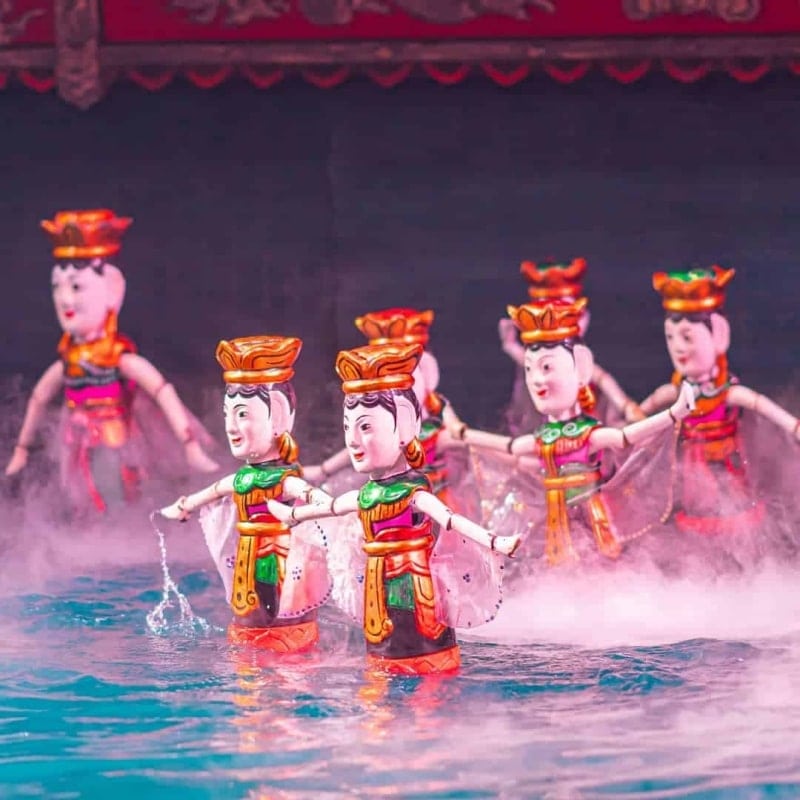 The theater was founded in 1969. Thang Long theater artists have done several water puppet plays since 1990.
Thang Long Water Puppet Theater is a well-known destination for local and international tourists. You may visit there to watch water puppet performances.
Every year, around 150,000 spectators come there for 500 performances. In addition, the theater's artist has performed water puppetry in France, Japan, the United States, Australia, and Spain.
The daily lives of Vietnamese farmers and other traditional subjects have long been the main inspiration for the plays. The artists use music, light, and a combination of actors and puppets in current performances to make them more interesting to watch.
Museums
Many museums in Hanoi focus on anything from anthropology and archaeology to the war. I recommend visiting the following museums:
Vietnamese National Museum of Fine Arts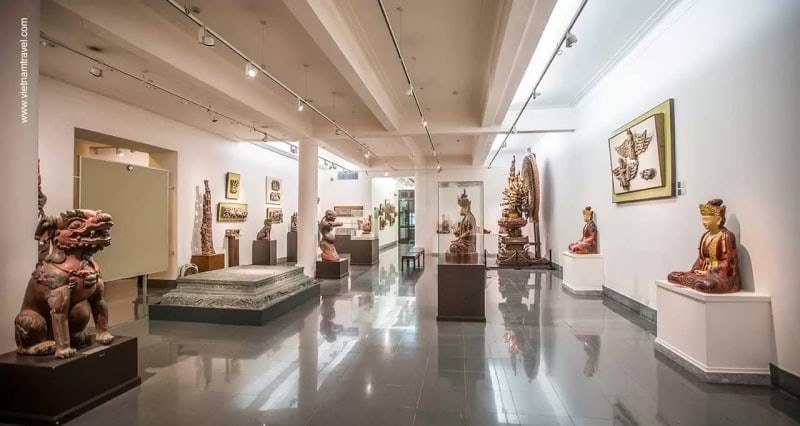 It is a treasure mine of traditional, religious, modern, and contemporary Vietnamese art housed in a colonial building that the French Ministry of Information formerly utilized. Visiting there, you may see historic Champa carvings, folk paintings from the 20th century, or contemporary abstract art.
Vietnamese Women's Museum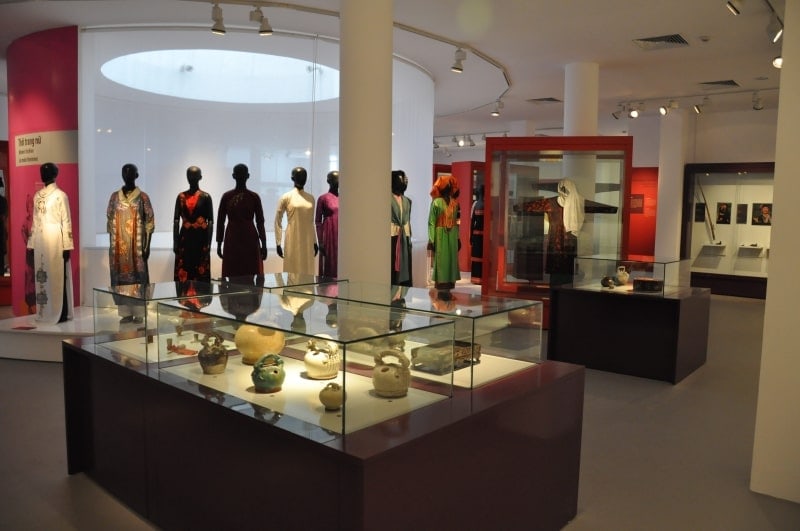 The museum exhibits collections working on ethnic minorities, Vietnamese mothers, and female street sellers. They provide a fantastic insight into Vietnamese history and culture.
One Pillar Pagoda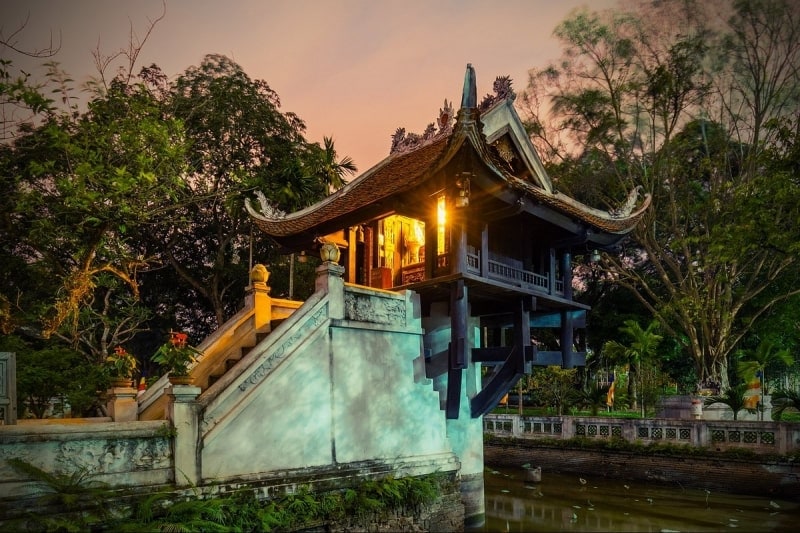 The One Pillar Pagoda is located in the heart of Ba Dinh. You may reach the pagoda around 15 minutes from the Old Quarter or the city center.
The One Pillar Pagoda has existed since the Ly dynasty, representing a significant advancement for Buddhism in Vietnam. A golden statue of Quan Am Bo Tat and other religious relics include a copper censer, ceramic vases, and gold-plated lotuses on the inner altar.
The complex includes a Bodhi tree that President Rajendra Prasad of India gave to President Ho Chi Minh during his visit to India in February 1958. The Bodhi tree is a symbol of Buddhist compassion and wisdom.
The pagoda is situated in the center of a lotus pond. Lotus represents purity, good fortune, and enlightenment in Confucianism and Buddhism since it blossoms and spreads its fragrance despite growing in a dirty environment.
Nowadays, this monument is a must-see religious destination for local pilgrims and international tourists. On the first and fifteenth days of each lunar month, the inner building will host the worship ceremony twice.
Additionally, anybody may visit One Pillar Pagoda whenever it is open. It is open to tourists daily from 08:00 AM to 06:00 PM.
One Pillar Pagoda is one of places to visit in Hanoi that you shouldn't miss.
Ngoc Son Temple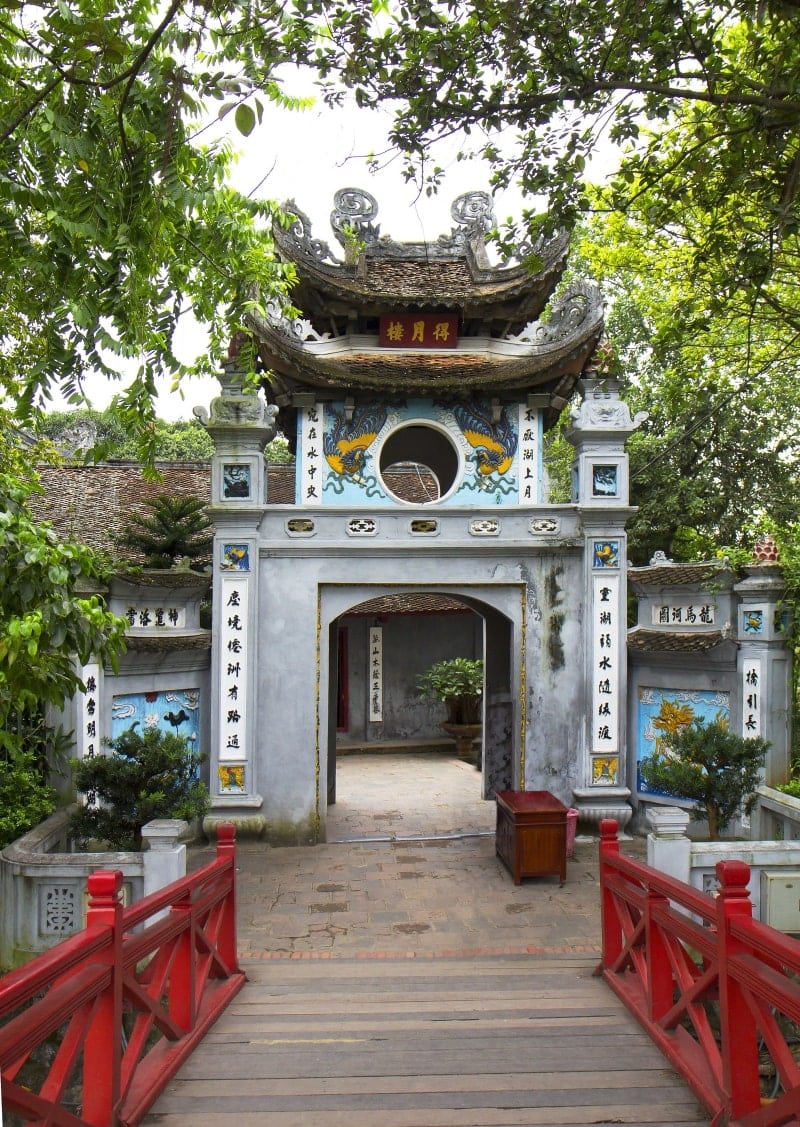 Ngoc Son Temple, which was built in the 19th century, honors Tran Hung Dao. The Temple also honors the God of Prosperity in Taoist philosophy.
The Temple received a comprehensive renovation in 1865. The Huc Bridge was another building built during the period, making up a magnificent collection of artifacts depicting the capital's spiritual life over its 1000-year history.
The Temple appeals to locals and tourists because of its traditional architecture. People visit this worship site to pray for luck and mental health.
It is easy to get there using any transportation. However, if you plan to visit it on weekends, you should know that vehicles cannot access certain streets around Hoan Kiem Lake from 07:00 PM on Friday until 11:59 PM on Sunday.
Tran Quoc Pagoda
The pagoda was built from 541 to 545 Under the rule of King Ly Nam De. This Tran dynasty's Buddhist capital has more than a thousand years of history. Many Vietnamese kings visited Tran Quoc Pagoda during the Tet holiday because of its spiritual scenery.
Despite urbanization, the pagoda retains its distinctive architectural features after over a thousand years and is among the best places to visit in Hanoi. It is now regarded as a symbol of Vietnam's capital, both historically and currently.
The pagoda draws many people each day because of its prime placement right next to the glittering West Lake. The pagoda is especially packed on the first and fifteenth days of each lunar month when Buddhist monks and visitors come for sightseeing and shopping.
These two days are an excellent opportunity to learn about Vietnamese religious traditions. But staying away from this place these days is a good idea if you prefer small crowds.
You need to adhere closely to the proper dress code. Please remove your hats, umbrellas, and shoes before entering the shrines.
Saint Joseph's Cathedral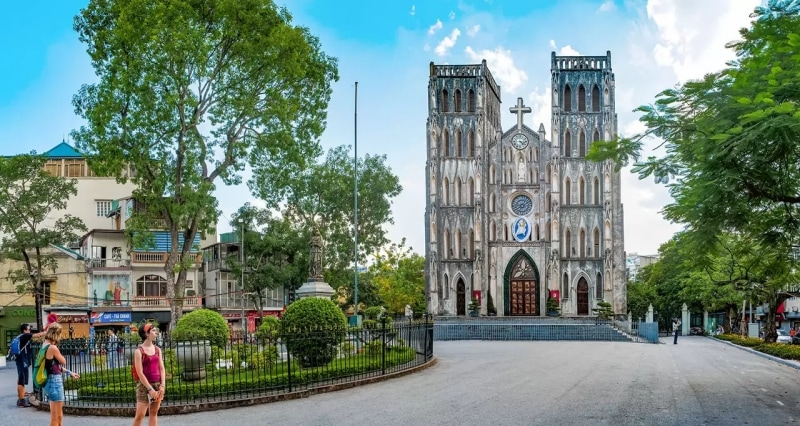 Saint Joseph's Cathedral is a prominent symbol of the Gothic architectural style that originated in Europe. The inside of St. Joseph's Cathedral is decorated with images of Jesus Christ, colorful glass windows, and lofty domes.
A copper statue of Mother Maria stands in front of the church. The church's outer walls were constructed of brick and plaster.
It is now a historical landmark in Hanoi that reminds people of the city's past grandeur. It leaves a long-lasting memory when you leave this busy metropolis.
Conclusion
Hanoi is one of the cultural centers of Vietnam. Travelers may experience a remarkable fusion of East and West when they visit Hanoi.
This city has stunning architecture and an array of historical museums. It presents a tasteful fusion of Asian Pagodas, French Colonial remnants, and Soviet block structures.
Make your list of places to visit in Hanoi to experience real Vietnam with its extensive history and rich culture. Have a nice trip to Vietnam!
RELATED ARTICLES