The blissful country of Vietnam has something for every traveller whether you're a foodie, a nature lover, a fan of beaches of an adventure seeker. This beautiful land is not just all about bustling cities or pristine beaches, it's also well known for majestic mountain ranges. Conquering the spectacular mountains in Northern Vietnam should be on the bucket list of things to do in Vietnam. Check out the most famous mountains in Vietnam if you're planning a truly breathtaking adventure.
Fansipan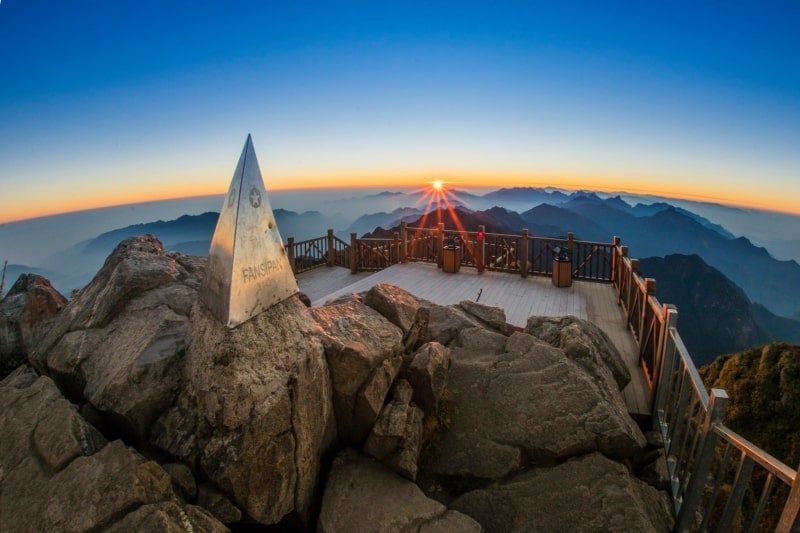 Located about 9 kilometres west of Sapa town, Fansipan Mountain is the tallest mountain in Vietnam and belongs to Hoang Lien Son Mountain Range. Standing at an impressive 3,143m in height, this gigantic wonder is touted to be "the Rooftop of Indochina".
Conquering the mountain is a challenge itself as the trek may take you 2-3 days if you're physically fit. It's tough but it's worth. You can't even imagine what waiting for you at the summit- it's definitely a wonderful world.
Today, everyone has a chance to conquer the summit thanks to the massive cable car system in Fansipan Mountain. It got the Guinness World Records for the longest three–rope cable car in the world.  For aspiring climbers, make sure you pack everything for a long adventure from shoes, clothing, scarf, tents, blankets, food, water, camera, etc.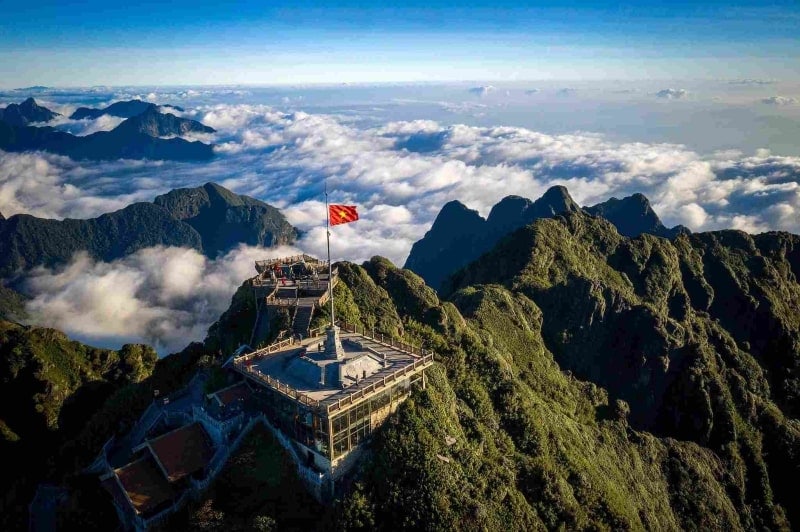 How to get to Fansipan
From the starting point of Hanoi, you can either take an overnight train or bus to Lao Cai Province. Continue a car drive to get to Sapa and one more ride from Sapa to the hiking point in Fansipan mountain.
Pu Si Lung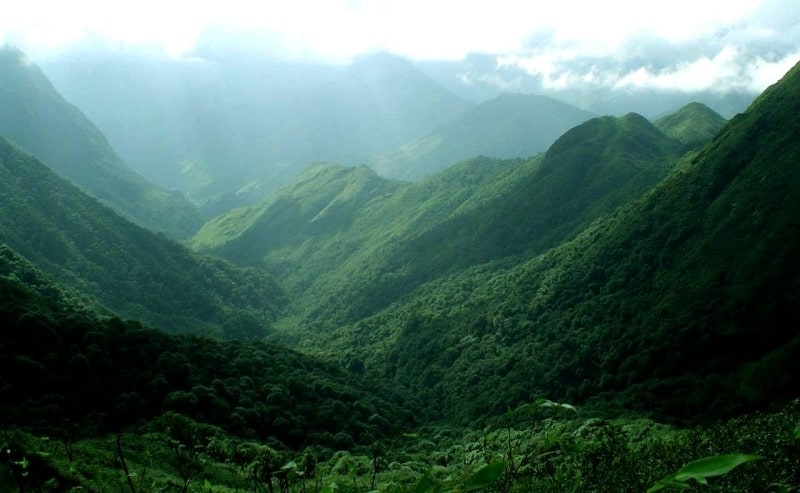 Located at the height of over 3000m in Lao Cai Province, Pu Si Lung is the highest peak of the border between Vietnam and China. This wild, pristine and mysterious mountain is a go-to destination for many adventure enthusiasts.
In addition to the breathtaking trails, Pu Si Lung turns out to be home to wild nature with many wild animals such as monkeys, bears, squirrels and tigers. The trekking is quite challenging for its length and difficulties but it's worth. The harmonious singing of birds along the trails and the grandeur of nature will wash out all your journey fatigue.
Note: To explore this mountain, you must apply for permission from Lai Chau Military Staff Committee.
How to get to Pu Si Lung
From Hanoi, take a bus or overnight train to Lao Cai. Continue your drive to Sin A Chai Village in Muong Te, Lai Chau from which start your trekking to Pu Si Lung.
Ta Xua Peak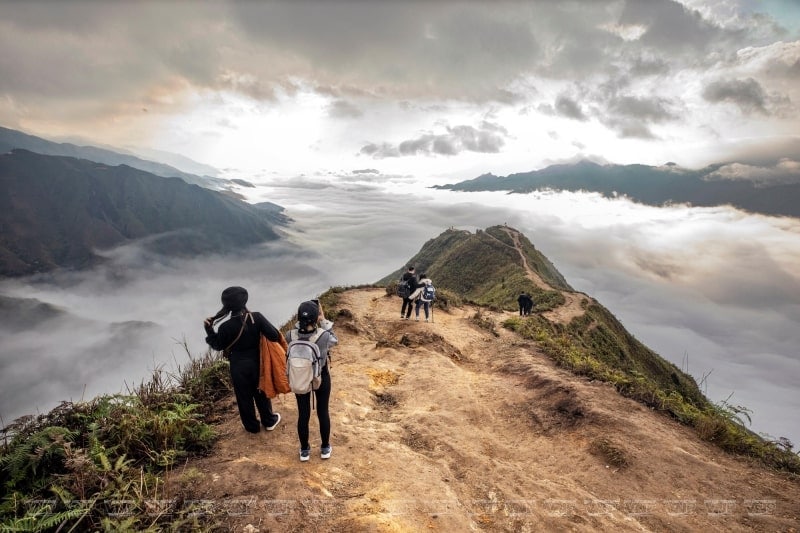 Listed as one of the top 10 tallest Vietnam mountains, Ta Xua is an incredible place for cloud-hunting adventure. This mountain range includes 3 peaks creating a line that looks like the rough back of a dinosaur. What makes it one of the most sought-after destinations amongst mountain climbers is perhaps the surreal phenomenon around its mountains: the formation of thick clouds, just like a White Clouds Sea. The Instagram- worthy landscapes make it no less than heaven.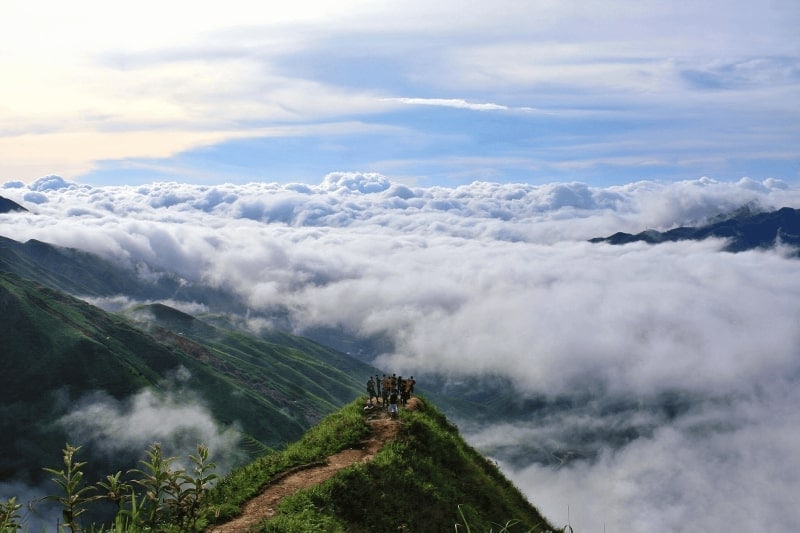 How to get to Ta Xua Peak
From Hanoi, get a ride to Bac Yen (by motorbike, by bus or by car), then continue your drive for around 15 kilometres to the last destination in Ta Xua from which your trekking really starts
Mua Mountain (Mua Cave)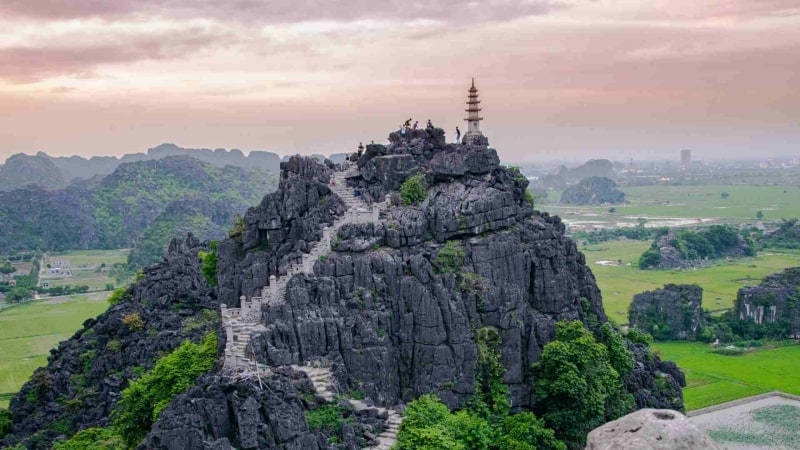 Mua Mountain is not just a must-see destination in Ninh Binh, it's also an enticing place for trekkers to come and conquer the peak of the mountain. The mountain is home to a famous complex that consists of intricate cave systems and majestic limestone mountains. Following a winding road dotted with rocky hills and 500 steps, you'll get to the mountaintop.
Feast your eyes on one of the most iconic views in Vietnam- mind-blowing landscapes of towering limestone karsts, verdant paddy fields, and a winding river. The stunning cave system is also worth a visit during your discovery of this hidden gem.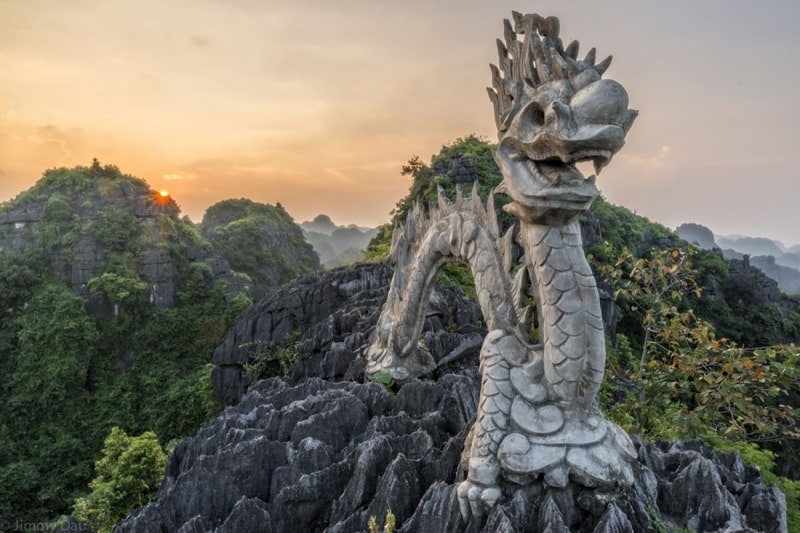 How to get to Mua Mountain
From Hanoi, you can easily approach Mua Cave with a car dive or a motorbike ride or join a Ninh Binh tour that connects to other attractions in the city.
Ba Vi Mountain Range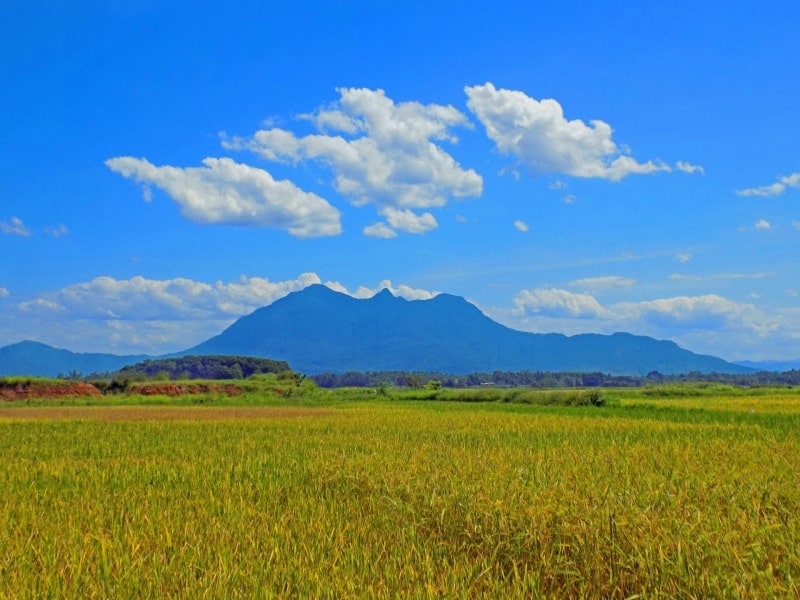 Situated about 50 kilometres west from Hanoi, Ba Vi Mountain Range consists of three summits: Dinh Vua, Tan Vien and Ngoc Hoa. Covering an area of 10.800 hectares, Ba Vi mountains offer tourists a pleasant climate all year round, tranquil scenery and breathtaking natural beauty.
Ba Vi Mountains are home to the stunning Ba Vi National Park featuring incredibly rich flora and fauna with 1,209 species of plants and 63 species of mammals.
The national park offers a great escape from the hustle and bustle of Hanoi city with cool fresh mountain air in a mysterious atmospheric background of clouds and tropical rainforest and natural streams. A delightful trek along the scenic trail to the mountain peak will be full of experience and enjoyment.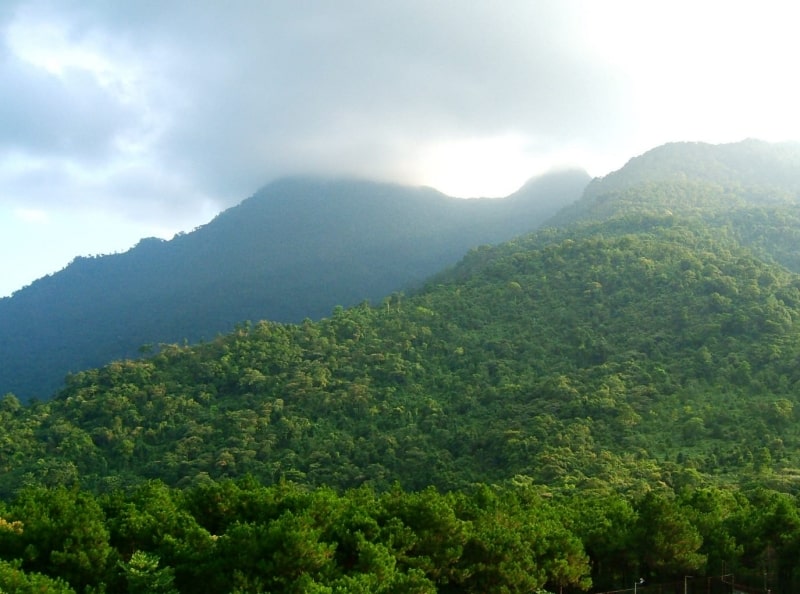 How to get to Ba Vi Mountain
From Hanoi, you can rent a private car or a motorbike to get directly to the park and start your jungle discovery.
Bach Ma Mountain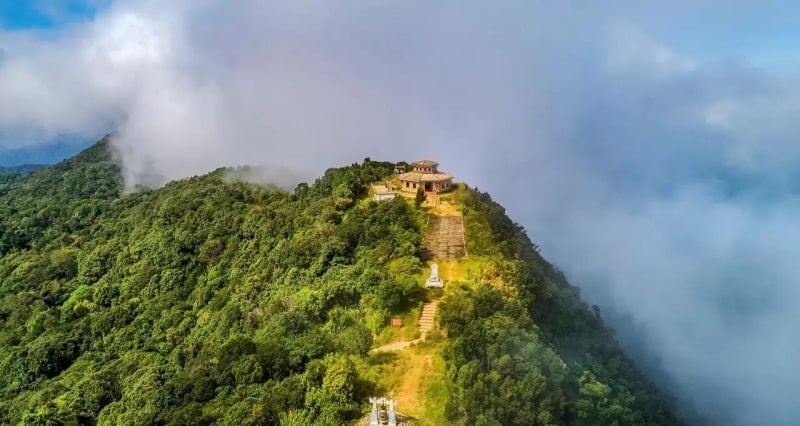 Located at an altitude of 1450 meters above sea level, Bach Ma mountain range features typical weather on 2 sides of the Mountain and the variety of habitats, ranging from the coast to the high mountain which makes it incredibly rich in biodiversity. It's often included in Vietnam mountain tours thanks to its legendary history, exotic nature with spectacular beauty, astoundingly pristine atmosphere and cool climate all year round.
This largest mountain in Vietnam is home to the hidden treasure of Bach Ma National Park – an enticing place to delve into the diverse biodiversity and ecological system of the region. The evergreen tropical forests and jungles, stunning waterfalls, exotic flora and fauna, and delightful trekking trails make it an ideal place for those who love the wild and stunning nature of Bach Ma Mountain.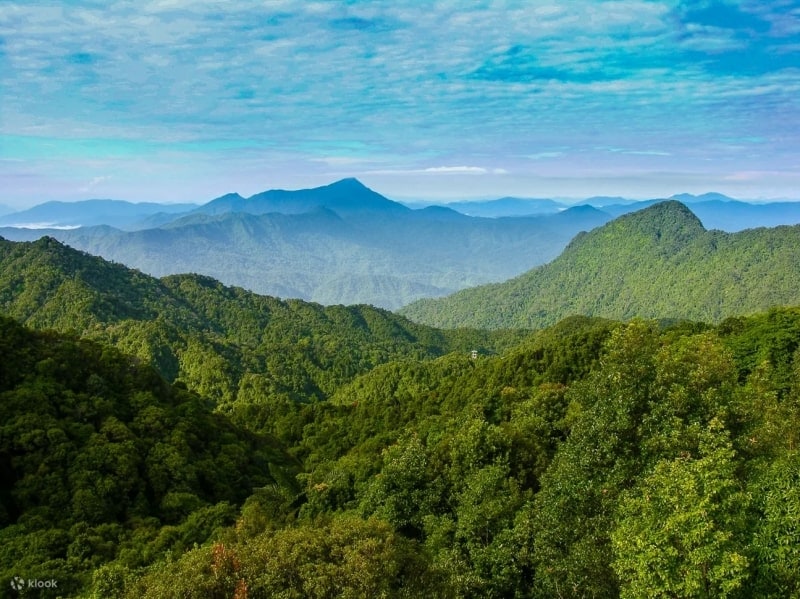 How to get to Bach Ma Mountains
From Hue, you can get a private car to reach Bach Ma Mountain which may take you 90 minutes
Marble Mountains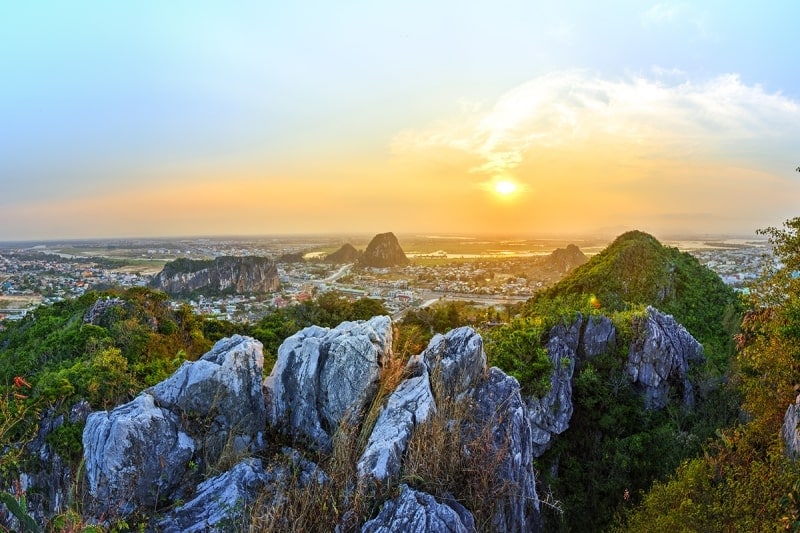 Marble Mountains, just off the coastal road of Danang Beach, are a cluster of five craggy pagoda-topped mountains named after 5 elements Kim (metal), Thuy (water), Moc (wood), Hoa (fire) and Tho (earth. All of the mountains have cave entrances and countless tunnels.
There is also a marble staircase leading to the summit of Mount Thuy which boasts several Buddhist temples, Hindu grottos, stone sculptures, amazing caves, and stunning views of the surroundings. With an interesting legendary story, intricate cave system and fantastic hiking routes on offer, the mountains should be on the list of any adventurers traveling around Danang.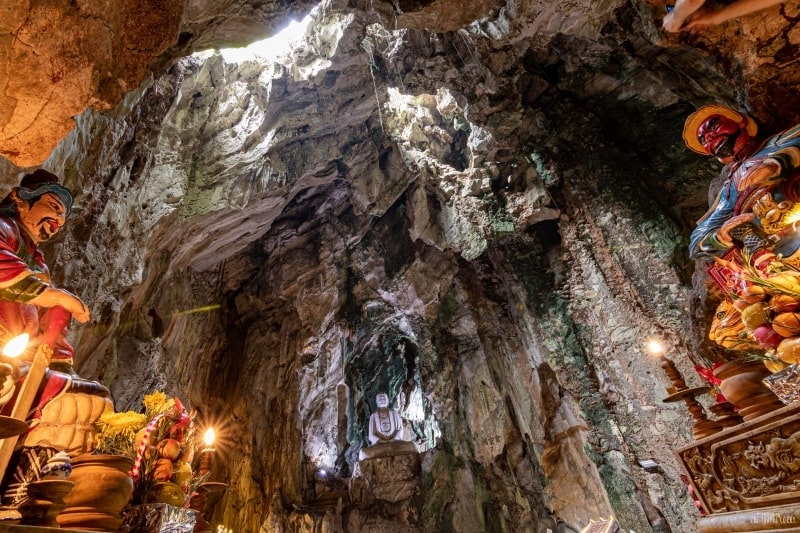 How to get to the Marble Mountains
Just 8 kilometres to the southeast of Danang centre, you can easily access the mountain with a motorbike, a car or a bus.
Monkey Mountain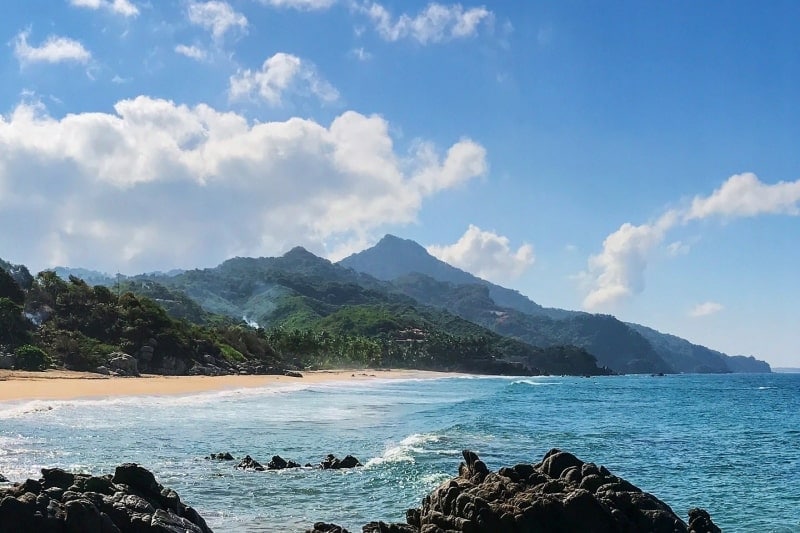 If the Marble Mountains is a well-known tourist attraction in the South of Danang, Monkey Mountain is just out from the mainland north of China Beach. Nestled on a lovely peninsula, Monkey Mountain is a well-worth place to enjoy the exotic views of Cham Island, Danang City and beaches and Son Tra Peninsula itself.
With a perfect location, it's a popular retreat for tourists and locals alike looking to beat some heat and stay away from the crazy noise of the big city.
This verdant mountain is surrounded by several secluded beaches like Bai Bac, Bai But, Bai Nam, and Tien Sa Beach. You can choose to hop on a motorbike, follow the winding and sloping roads surrounding the mountains to reach the summit or enjoy the verdant trails to stay close to nature.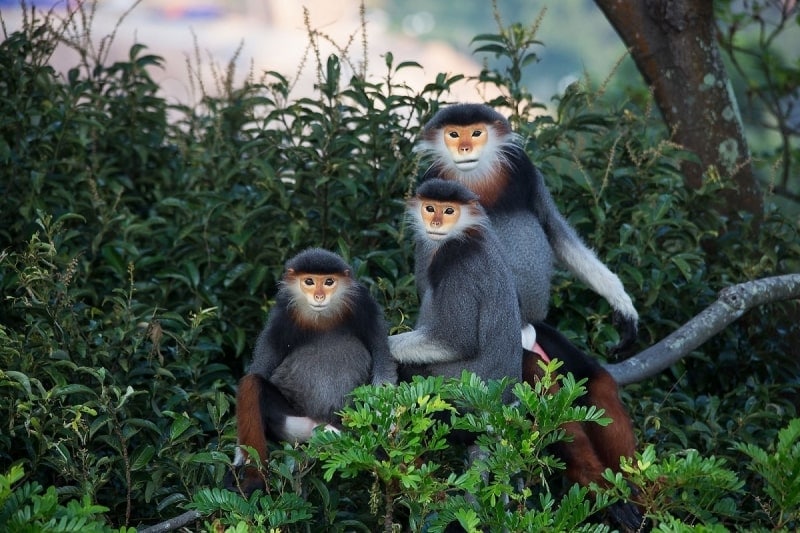 How to get to Monkey Mountain
From Danang, take a 35-minute drive to the Mountain where you start your trek. Alternatively, hire a motorbike get deep into the mountains, explore any paths you want.
Ba Na Hills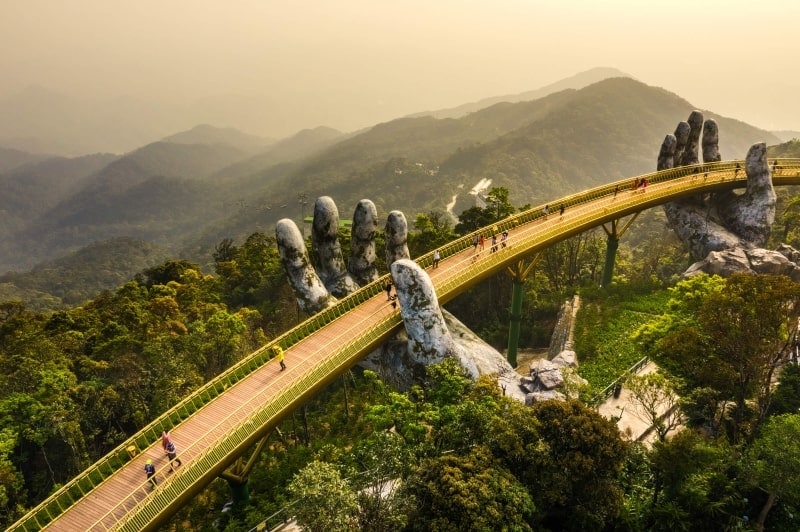 With no doubt, Ba Na Hills is one of the major mountains in Vietnam and also a fascinating attraction in Danang City. Located 1489 meters high on Nui Chua Mountain, Ba Na Hills are considered "One temperature place in the tropical forest" thanks to its cool climate all year round. Staying in Ba Na Hills, you can enjoy four seasons within a single day. With stunning mountain views, Ba Na Hills attract more and more tourists to come and enjoy.
Finding a place for adventure and relaxation? Look no further as Ba Na Hills is exactly for you. Exploring Ba Na Hills, you will not only enjoy the spectacular views of mountains, greenery, and cities but also join a plethora of recreational activities in one of the most amazing amusement parks in Vietnam.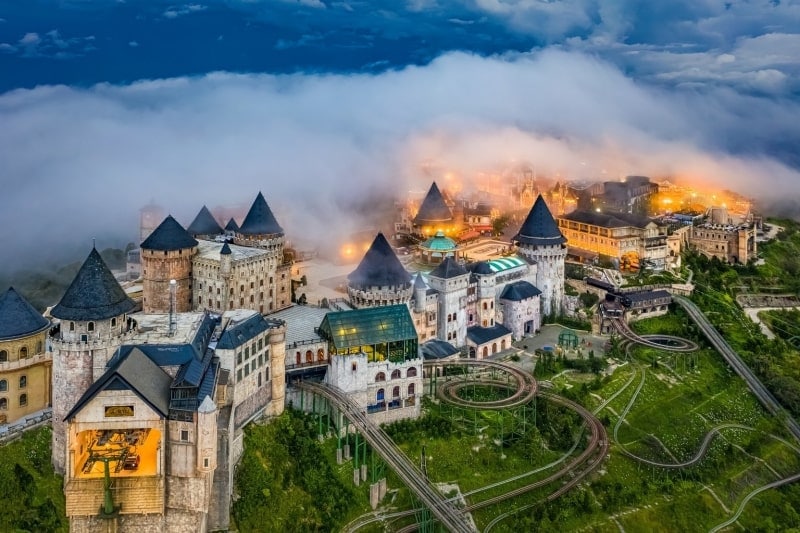 How to get to Ba Na Hills
Just 20 kilometres from Danang downtown, Ba Na Hills can be reached via a taxi, a motorbike or open bus.
Langbiang Mountain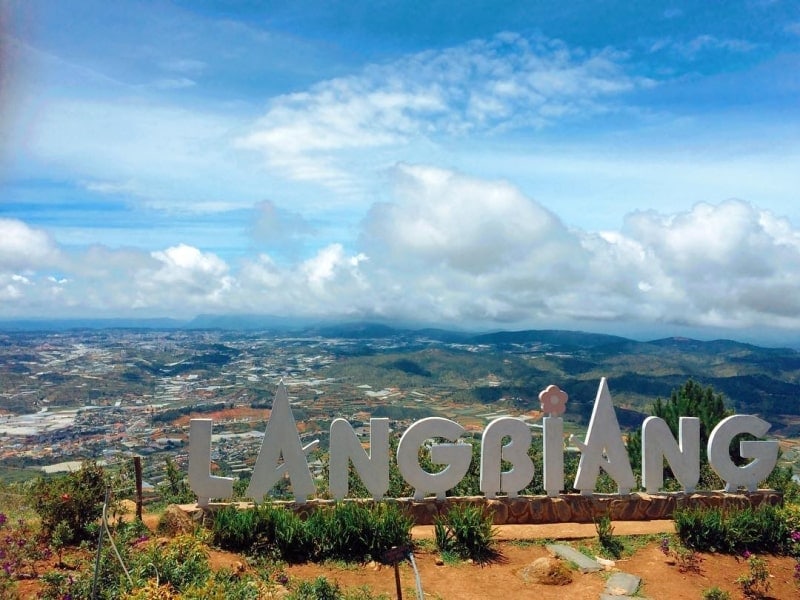 Located on the beautiful Lang Biang Plateau, Lang Biang Mountain is a gem of Dalat City. Imposingly standing at an altitude of 2287 meters above sea level, Lang Biang Mountain is considered the roof of Dalat. The mountain is enchanting for its pleasant climate, bewitching nature and marvelous views of the whole city, forests, and rivers.
With three mountain peaks, Lang Biang is a mecca for both nature lovers and adventure seekers. You can reach the mountaintop via jeep or motorbike on a paved road or test your muscles with a hike via dirt tracks or off-beaten trails to a less-known peak. It's well worth your effort.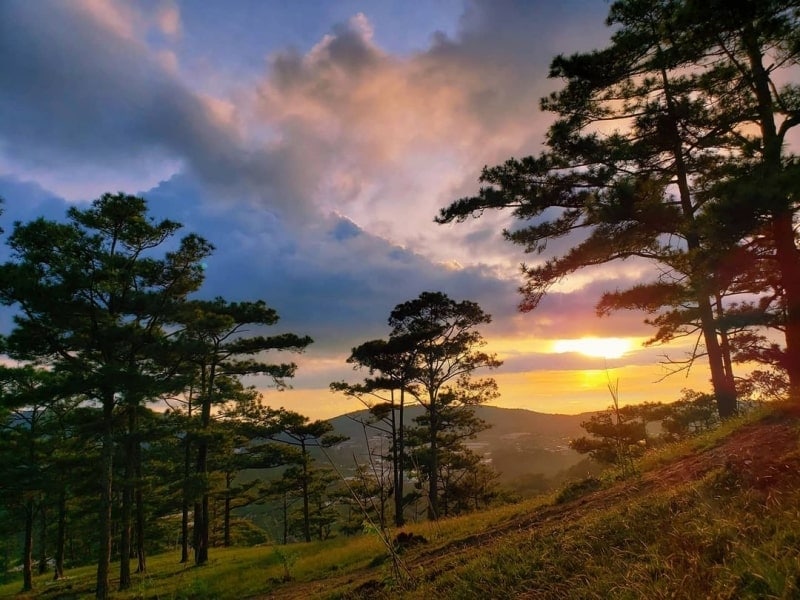 How to get to Langbiang Mountain
The mountain is just 12 kilometres from Dalat Center which can easily be approached with a car drive or a motorbike ride.
Make the most of your holiday with a visit to at least one of the breathtaking mountains in Vietnam for a breathtakingly adventurous experience. Travel with VNIN and get our dedicated guide to any place that takes your fancy.
RELATED ARTICLES