The blissful country of Vietnam is enchanting not only for its remarkable natural landscapes, intriguing and unmatched culture, but also a plethora of pagodas, temples and religious sites which showcase intricate carvings, well-kept architecture and spiritual values. Temples in Vietnam should be on the bucket list of any history and culture buffs from Buddhist monuments to Hindu shrines with a strong connection between two cultures- Vietnam and India.
This selection of best Vietnam temples includes famous sites in the mega-cities of Hanoi, Ho Chi Minh and other remote areas like Ninh Binh, Quang Ninh, Khanh Hoa, Binh Thuan. Unlike other tourist attractions in Vietnam, most of the temples in Vietnam are free for travelers to visit, explore and cherish. Make sure you don't miss out on these ten best ones in the country with its own unique legend about its culture, people and history during your Vietnam tours from India.
The Most Famous Buddhist Temples in Vietnam
Buddhist temples can be found at every corner of the country, but the majority of them are in the north of Vietnam
Bai Dinh Pagoda
Nestled in the verdant land of Ninh Binh, Vietnam, Bai Dinh is counted as one of the most popular religious sites for Buddhists and tourists alike. It is a spiritual and cultural complex with countless holy statues of Buddha. Covering an area of 1700 acres, the temple is the largest of its kind.
The complex is built in traditional Vietnamese architectural style including Bodhisattva Avalokitesvara temple, a temple dedicated to Lord Buddha and Phap Chu Temple. Apart from the rich culture and timeless spiritual values, the temple also boasts the majestic views of the mountains, hills and greenery. There are also fabulous trekking trails leading to the hidden forest of Ba Chua Thuong Ngan with opportunities to discover mysterious limestone caves.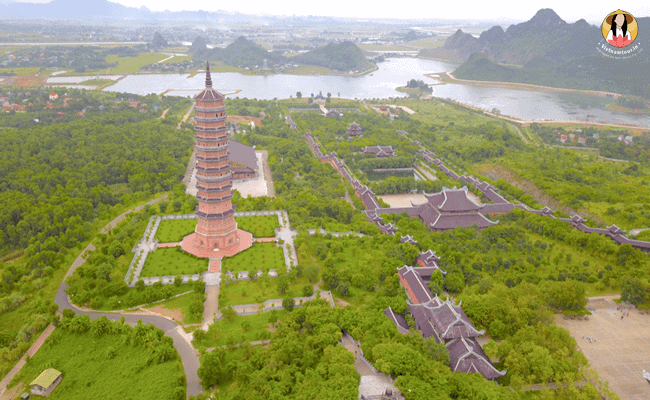 Location: Gia Sinh Commune, Gia Vien District, Ninh Binh Province
Timings: 07:00 AM to 06:00 PM
Note: Visiting on the sixth day of the Lunar New Year, you can encounter a vibrant festival with delightful blessing ceremonies, traditional music and lively dance performances.
Perfume Pagoda
Located about 70km from Hanoi, Perfume Pagoda (also known as Huong Pagoda) is an important religious site with a complex of Buddhist temples, grottos, and shrines scattered across Huong Tich Mountain. The wonder of Creator is an architectural harmony between nature and human adding more sparkling and vivid colors to this magnificent complex.
Lying in the lap of a valley with soaring limestone karst and lotus fields making it a postcard-perfect place to stunning photo opportunities.
To reach the pagoda complex, tourists have to take a boat trip down a narrow steam surrounded by immense rice fields, temples and green grass. Huong Pagoda is the center of a sacred site with a maze of Buddhist temples built into the amazing cliffs of Huong Tich. Tourists with limited time shouldn't miss out on Huong Tich Cave with stunning stalagmites and stalactites and a beautiful uphill walk to the Perfume River.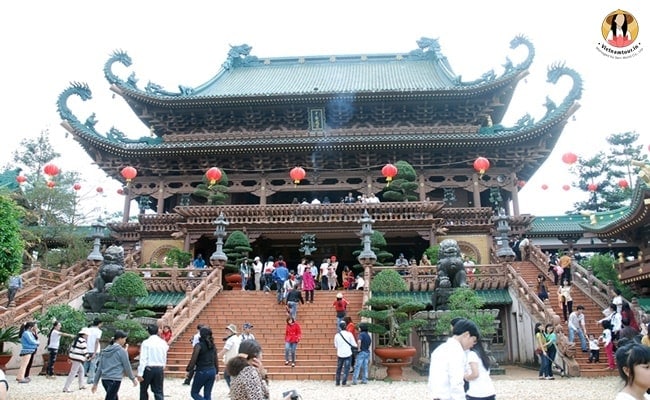 Location: Huong Son, My Duc, Hanoi Vietnam
Timings: 06:30 AM to 05:00 PM
Note: Huong Pagoda Festival often takes place from January 6th to the end of March in lunar months. You can join this stunning festival if you go in the festival season for the most vivid and unique atmosphere ever.
Thien Mu Pagoda
Thien Mu Pagoda is an ancient Buddhist temple in Vietnam lying on the bank of Perfume River. Just 5 kilometers from Hue city, the pagoda is a well-kept tourist attraction. The seven story-pagoda is one of the tallest and oldest religious shrines in the country during your Vietnam tour packages from India. The pagoda also served as a home to a Buddhist Monk – Thich Quang Duc who killed himself in 1963 to struggle against the torture of Buddhists. Its unique and mysterious legend make it the symbol of the city.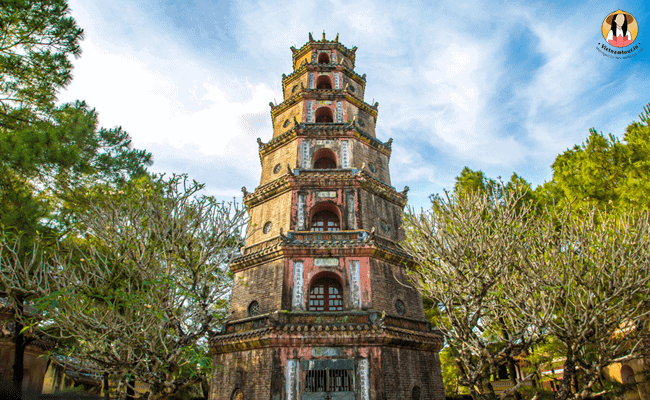 Location: Kim Long Road, Hue, Vietnam
Yen Tu Pagoda
Perched on the majestic mountain range in the North of Vietnam, Yen Tu is served as the Buddhist center of Vietnam and known for its idyllic natural landscapes, historical ruins and ancient Buddhist shrines. Situated at an altitude of 1,068m above sea level, it takes tourists a quite hard trek to the top of the mountain with mind-blowing views of white cloud surroundings. A visit to the pagoda is a true pilgrim's journey which likes no than a journey to heaven- where every moment creates inspiration.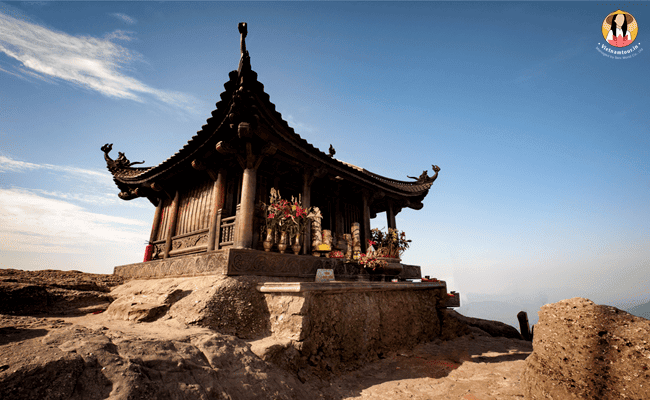 Location: Thuong Yen Cong, Uong Bi City, Quang Ninh Province, Vietnam
Note: Best time to visit Yen Tu is during spring when the weather is mild –impeccable for hiking up the mountains. Yen Tu Festival also falls on this time and lasts for three months. But you should avoid visiting in the first week if you don't want to get stuck in the crowds.
One Pillar Pagoda
Rising from one pillar in a tranquil lotus pond, One Pillar Pagoda is a historic Buddhist temple in Vietnam situated right in Ho Chi Minh Complex in the capital city. Its unique structure makes Indian tourists think of a lotus flower rising out of the water. Along with Perfume Pagoda, this tiny pagoda is also one of the most iconic temples in Vietnam. Apart from the enticing architecture and the historical values, its tranquil natural setting is also an ideal stopover during your Vietnam tour packages.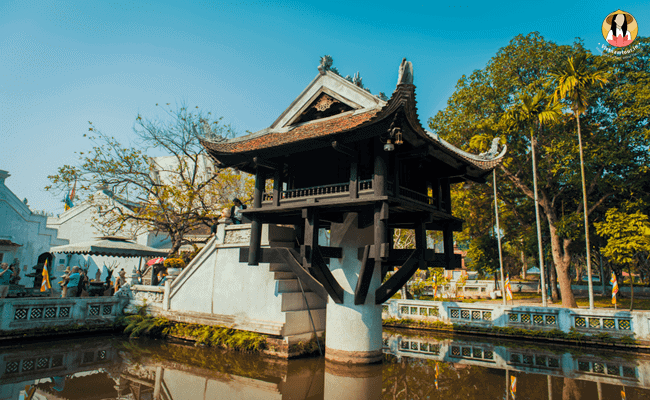 Timings: 08:00 AM to 05:00 PM
Location: Doi Can, Ba Dinh, Hanoi
Apart from the historic Buddhist temples, Indian travelers can also find a long list of Hindu Temples in Vietnam scattering mainly in the south of Vietnam. Like many other temples and pagodas, you do need to pay any fee when visiting Hindu Temples in Vietnam, but make sure you dress proper clothes and take off your shoes before entering the prayer halls.
Check out the best-known Hindu temples in Vietnam for Indian travelers:
Mariamman Temple
Dating back to the late 19th century, Mariamman Temple once used as a trading place, is now one among the famous Hindu temples in Vietnam dedicated to Hindu goddess Mariamman. This is an ideal place for Indian travelers to capture their nation's soul and spirit as the temple reflects the south Indian culture.
If you're finding a religious place to remind your country's tradition, this magnificent temple is right for you. Its statues of all Hindu gods and goddesses and unique stonework which shows the incredible craftsmanship make it a perfect place for seeking peaceful atmosphere and learning Indian culture and architecture.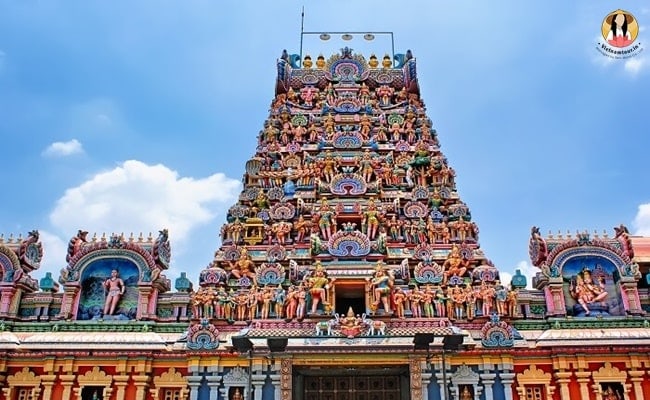 Location: 45 Truong Dinh, Ben Thanh Ward, District 1, Ho Chi Minh City, Vietnam
Timings: 7:00 AM – 12:00 PM and 2:00 PM – 7:00 PM
Po Nagar Tower
This holy religious site was built by the Cham King dating back to 2nd century AD. It was named after the goddess Yan Po Nagar- who is considered the mother of the country. The tower now is one of the ancient Hindu temples in Vietnam, also a popular religious site of many culture buffs. Its striking stone and brickworks fascinates any tourists.
Just 25 meters from the tower, is another sacred temple which was once a worshipping place of the Goddess Po Nagar. It was said to be a revered place to bless women with a baby as there is a tower of the goddess of fertility- Cri Cambhu. Annually, there is a religious festival in Thap Ba where tourists can witness the worshipping of Cham people.
Location: 2/4 Street, Vinh Phuoc, Nha Trang City, Khanh Hoa, Vietnam
Timings: 8:00 AM to 6:00 PM
Entrance fee: VND 22000
My Son Sanctuary
My Son Sanctuary is one of the most popular ruined Hindu temples in Vietnam which was constructed between the 4th and 14th century AD. These historic temple ruins are dedicated to Lord Shiva and other gods.
Originally built in the 4th century, the ruin was destroyed in a fire and then reconstructed with stone by the king of Champa kingdom. For the certain values of culture, history and religion, this site is listed as one of UNESCO World Heritage Sites in Vietnam. In spite of the fact that it remains the ruins now due to the bombed destruction by Americans, it never fails to lure archeologists for its extraordinary stonework.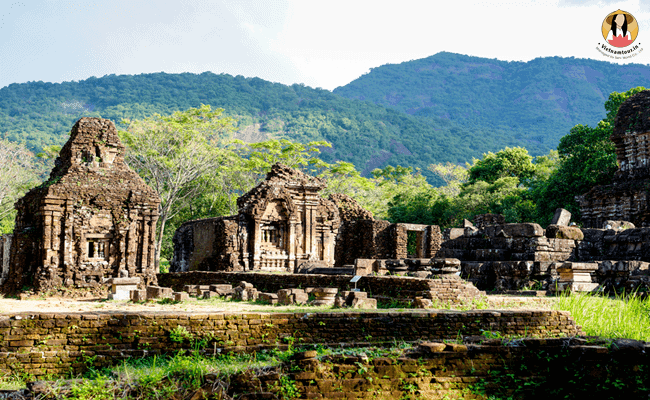 Location: Duy Phu Commune, Duy Xuyen District, Duy Xuyen, Vietnam
Timing: 6:00 AM to 5:00 PM
Entrance fee: VND 150,000
Subramaniam Temple
Centrally located in the bustling city of Saigon, this colorful temple was built by Indian merchants in the 19th century. The striking feature of Subramaniam temple is the vivid images of navagrahas wearing colored silk robes. Getting close to the temple, you can also see the beautiful pictures of different Gods of Lord Shiva, Krishna, Shiva or Goddess Laxmi. After many years of abandonment, the shrine now just comes back and becomes one of the attractive religious sites around Saigon City.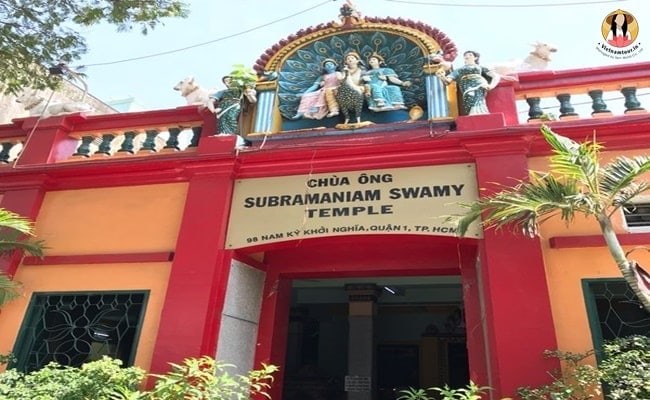 Location: 98, Nam Ky Khoi Nghia Street, District 1, Ho Chi Minh City, Vietnam
Timings: 7:00 AM to 6:00 PM
Poshainu Cham Towers
Located seven kilometers from Phan Thiet city to the northeast, Poshanu Cham Tower is a group of ruined temples from the era of Champa kingdom. Perched on the top of Ong Hoang Hill, the relics include 3 ancient worship towers dedicated to Hindu Deities of Lord Shiva, Agni and Nandi. All the towers reflect the intricate and unique architecture and the skillful art of ancient Champa people.
Along with Po Dam Towers and My Son Sanctuary, these historic relics are counted as significant cultural attractions of the ancient Champa Kingdom. They are also common places of religious festivals where Cham people come to offer their prayers for health and wealth.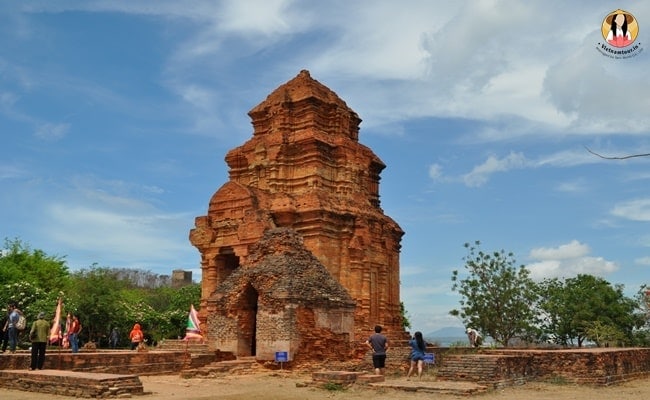 Location: Phu Hai, Mui Ne, Phan Thiet, Binh Thuan, Vietnam
Timings: 7:00 AM to 5:00 PM
Entrance fee: VND 10,000
Conclusion
Now, you can make clear of where to visit while traveling in Vietnam to find a unique experience and good blessings from God. Just plan for your Vietnam travel with an ultimate historical journey to the most famous temples in Vietnam. For more useful tips and blogs, feel free to check out our ultimate Vietnam travel guide for Indian travelers.
RELATED ARTICLES