With long coast from North to South country, Vietnam is not only famous for the beautiful natural landscapes but also well-known for its untouched beach resources and breathtaking limestone bays. If you are planning your tours to Vietnam from India, taking a Halong Bay cruise is one of the must-do things that you will not wanna miss. But how to choose the best cruise for your trip? Don't worry, below is some Halong Bay cruise recommendation for Indian traveler, the most highlights that will help you have a memorable cruise.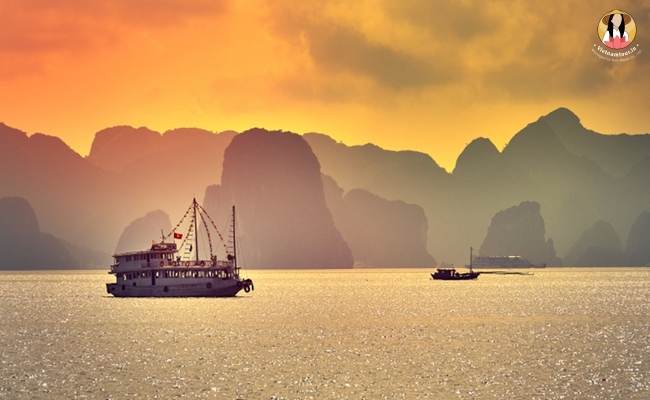 First of all, you should know that there are hundreds of ships and cruises running in Halong Bay every day so you can feel free to choose a Halong Bay day trip or overnight. If your time is limited, a Halong Bay day cruise or a Halong Bay boat tour is not a bad idea. It takes around 3.5 hours for a one-way travel from Hanoi to Halong Bay and a day cruise lasts about 4 to 6 hours. Therefore, be sure to spend at least 1 day to stay in Halong. For your convenience, you can also take a Halong Bay day cruise from Halong City.
If it's too difficult to plan a day cruise in Halong on your own, you can take a full-day Halong Bay island and cave tour from Hanoi instead. Deal with some local tour operators and they will offer you the best one-day Halong Bay tour. You can contact Vietnamtour.in – one of the best local companies in Vietnam focusing only on Indian travelers and they will do all the hardest parts for you.
However, to enjoy all the spectacular things in Halong, taking a Halong Bay cruise overnight is the best choice. There are 3 common types of itinerary: two days – one night, three days – two nights and four days – three nights. According to Halong Bay cruise review of thousands of visitors all over the world, the two days – one-night cruise option is the most popular but you can choose the one that is most suitable for your time.
Best 5-star cruise in Halong Bay
After choosing an appropriate itinerary, the next thing you should consider is the cruise's quality. The best value Halong Bay cruise is often the luxury cruise or 5-star Halong Bay cruise. With delicious food on the boat and luxuriously spacious rooms that offer terraces and balconies, here are some most luxurious Halong Bay cruises for you:
Emperor Cruise
As the name suggests, you will be served with the royal standard while enjoying your trip in this ship. Emperor Cruise boasts the first ever exclusive all-inclusive Vietnamese cruise, which means everything is included in the price.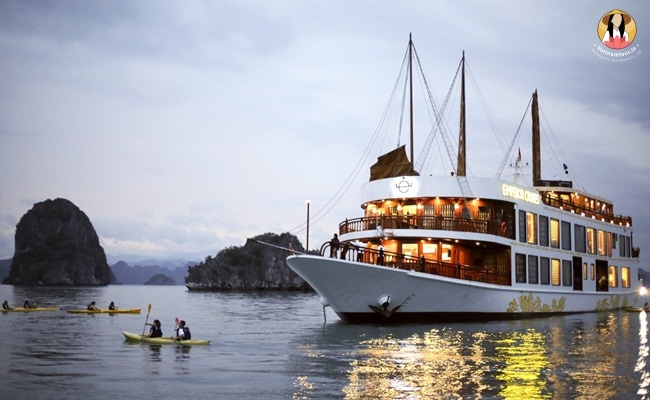 This cruise has three decks with 02 smart restaurants, two bars, a small library, a gym, a kid corner, 02 massage rooms, and 08 luxurious en-suite cabins. Experienced by seasoned leisure travelers, luxury adventurers, honeymooners, sophisticated families, special interest travelers, VIPs, and celebrities, Emperor Cruise will deliver you the most intimate, memorable and safe journey.
Website: https://emperorcruises.com/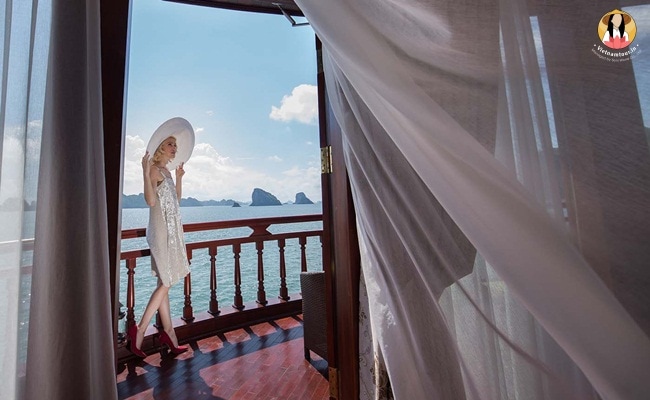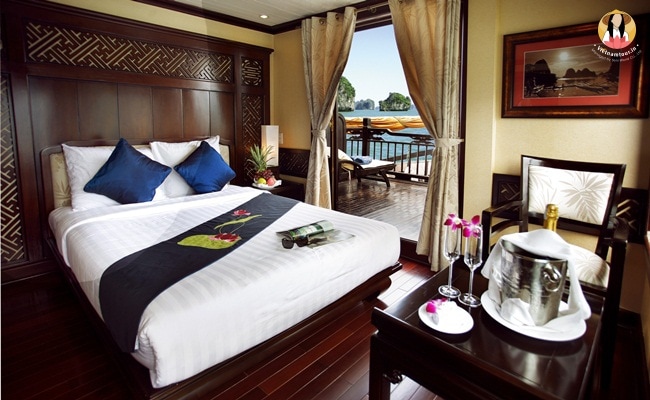 Orchid Cruise Halong Bay
Launched in 2016, Orchid Cruise offers you top-notch facilities and excellent service. You can easily choose different types of luxury cabins such as Suite, Family Suite, Premium, Family Premium or Orchid Exclusive. There is English speaking in-house as well as the tour guide on boat.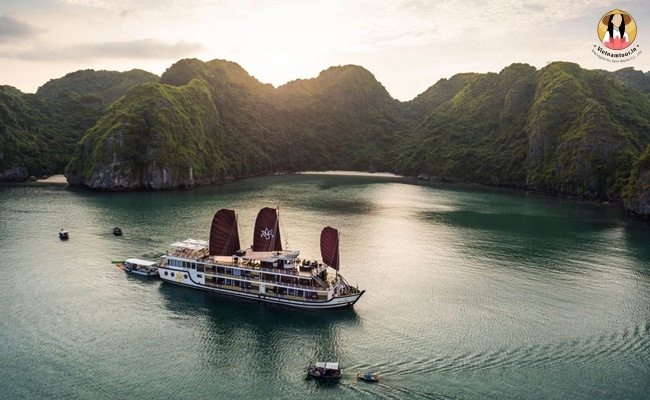 Your trip will be full of joy with activities like Kayaking, Cooking class, Tai chi exercise, Swimming (if the weather permits), Squid fishing, Music entertainment, satellite TV, Local wine experience and Tea ceremony. You can also enjoy a day boat for exploring Viet Hai village and tour guide for the 2 days of 3 days packages.
Website: http://www.orchidcruises.com/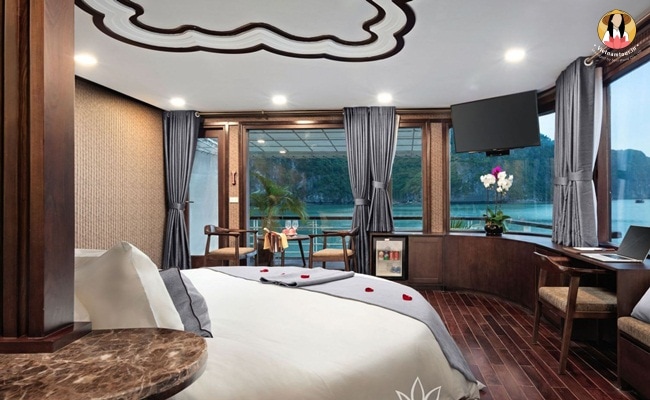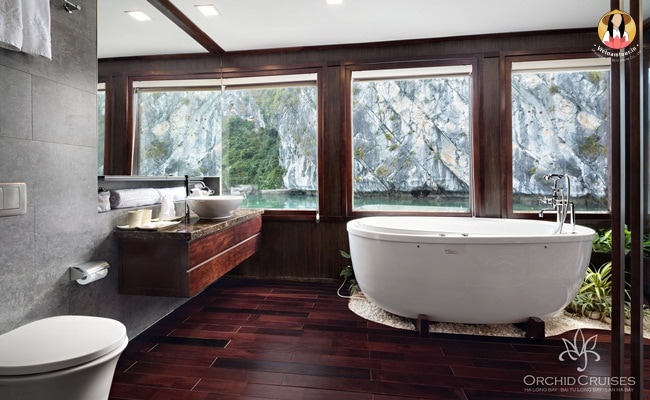 Paradise Cruises Halong Bay
It's no coincidence that paradise cruise Halong Bay is on the top list where to stay in Halong Bay Vietnam. It is the perfect mixture of chic, modern styling and traditional Vietnamese detailing with three different cruises: Paradise Luxury Halong Bay Cruise, Paradise Halong Bay Elegance Cruise, and Peak Paradise Halong Bay Cruise.
Read: 5 Resorts in Vietnam That Treat You Like Rajputana Royalty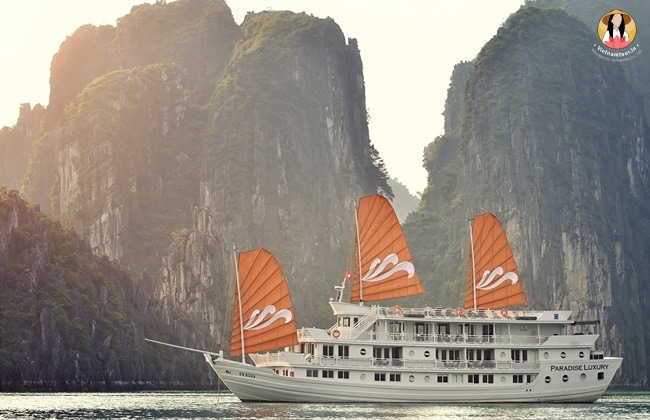 You will be amazed at the Paradise Cruise Halong Bay itinerary, fine dining room, tailored menu options as well as the spacious sundeck including sun beds and comfortable lounge areas with spectacular views of Halong Bay. These ships will bring you a unique and memorable experience while cruising around the magnificent Heritage Site.
Website: https://www.paradisecruise.com/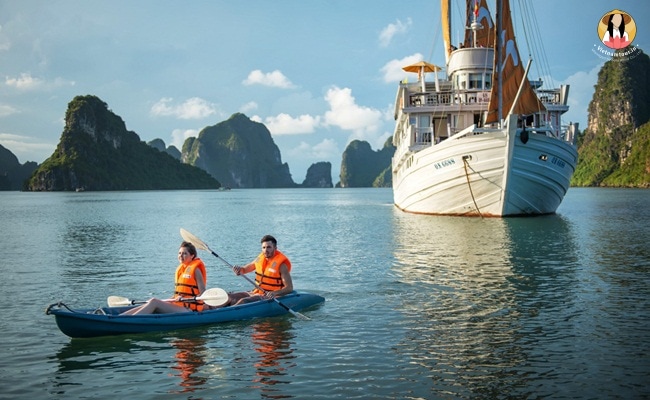 Stellar of the Seas
With the length of 65m and 15m in height, Stellar of the Seas is one of the best luxury cruise Halong Bay. The capacity of this ship is 62 passengers and it can operate in both Halong Bay and Lan Ha bay areas.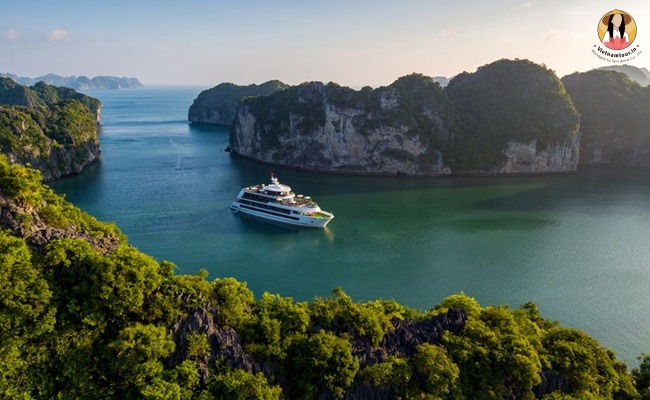 Stellar of the Seas cruise provides full of luxurious comforts such as buffet party, the panoramic bar, beauty spa & massage, mini golf course, seasonal swimming pool, beauty spa & massage and a wine & cigars cellar that will make you redefine the luxury of Halong Bay cruises.
Website: https://www.stellaroftheseas.com/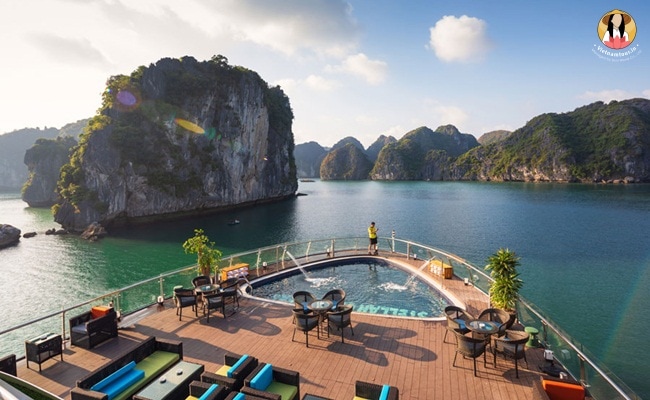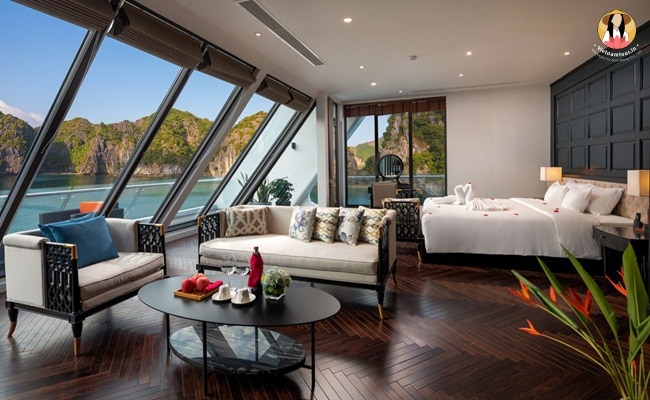 Huong Hai Sealife Legend
Proud to have the highest standards of excellence from start to finish, Huong Hai Sealife Legend Cruises promise to bring you a new experience of luxury to overnight cruises in Halong Bay as well as Lan Ha Bay – the less traveled part of Gulf of Tonkin.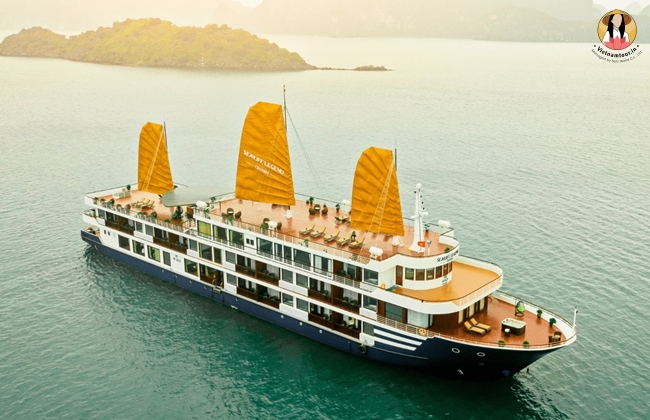 Each room, each part on Huong Hai Sealife Legend Cruises are designed based on the daily life of fisherman that turn the whole ship into a state-of-the-art with the sea creatures as Star Fish, Clams, Jellyfish, Crabs, Prawns… Therefore, taking a trip in Sealife Legend Cruises will definitely your best excursion in Halong Bay.
Website: http://www.sealifegroup.com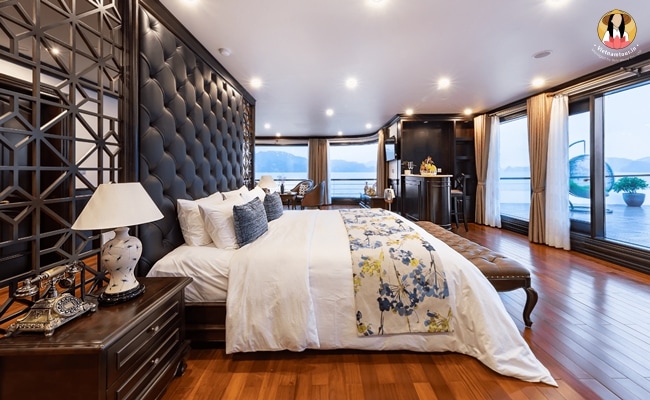 Best 4-star cruises in Halong Bay
If 5-star Halong Bay cruise options are too expensive for your Halong cruise trip, you can consider some suggestions below. These are the best 4-Star Cruises in Vietnam:
La Regina Royal Cruise
La Regina Legend is a glamorous cruise that offers you 5-star quality at a 4-star price. This four-deck ship is a harmonious blend of past and modern, a perfect match of hand-made wooden furniture, brass fixtures, paintings of Vietnamese queens and luxury, comfort features.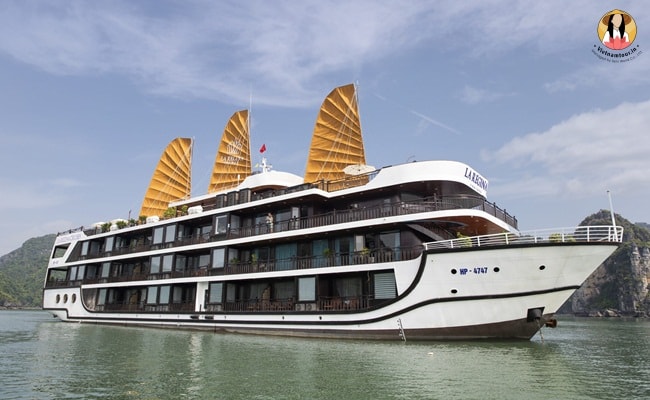 With the operating areas in Halong Bay, Lan Ha Bay as well as Bai Tu Long Bay, La Regina Legend cruise consisting of 27 suites with full bay view, and a spacious private balcony, deserves to be the best 4-star cruise in Vietnam.
Website: https://lareginacruises.com/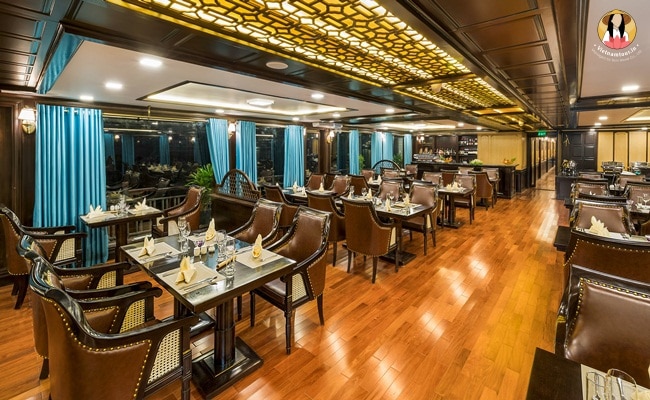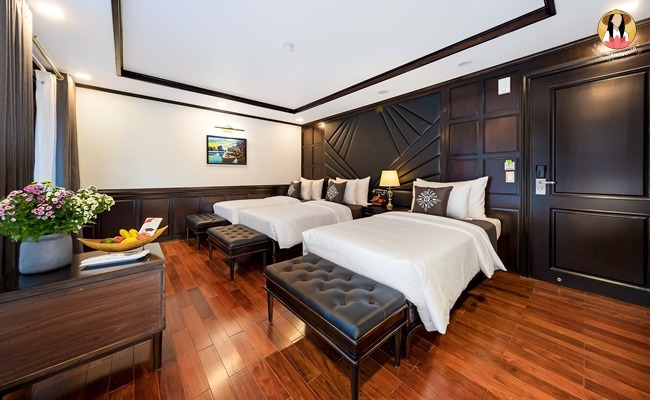 Huong Hai Sealife Cruise
Huong Hai Sealife Cruise is a luxury 4-star cruise that belongs to the same company as Huong Hai Sealife Legend Cruise. Widely known as the leading leisure, entertainment this ship will lead you to the extraordinary seascapes in Halong Bay and landscape of Bai Tu Long Bay.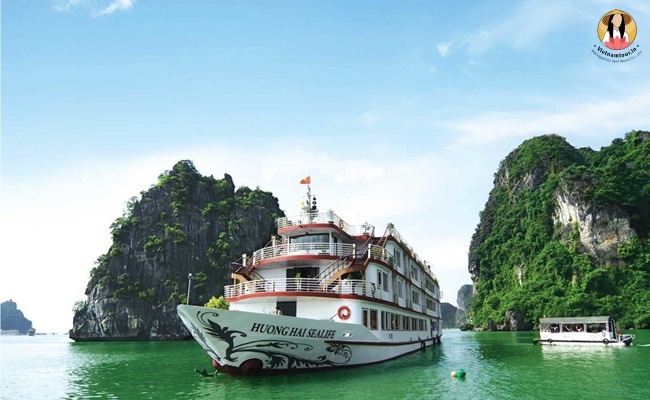 You will have an opportunity to explore all the hidden beauty of these bays such as the floating village, Titop Island, Sung Sot cave (Amazing cave), Day and Night grotto, Ba Trai Dao Islet and Soi Sim Island … A voyage with Huong Hai Sealife Cruise will be your unforgettable cruising experience.
Website: https://www.sealifegroup.com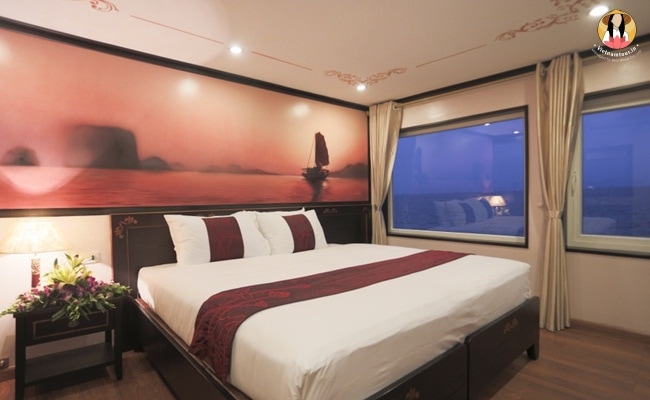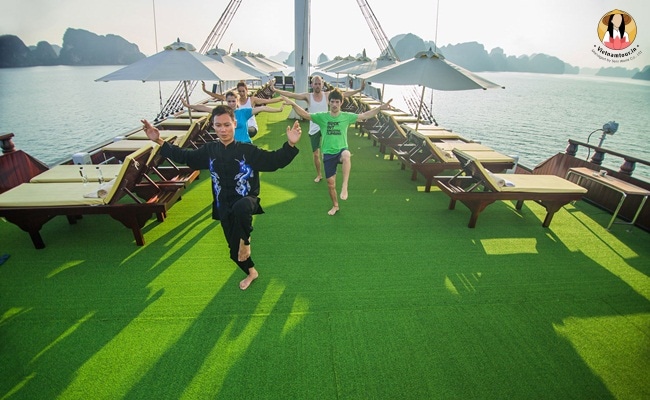 V-Spirit Premier Cruise
Built of the best materials and designed with original oriental sails, V'Spirit Premier Cruise is a brand new cruise that carries the spirit of Vietnam.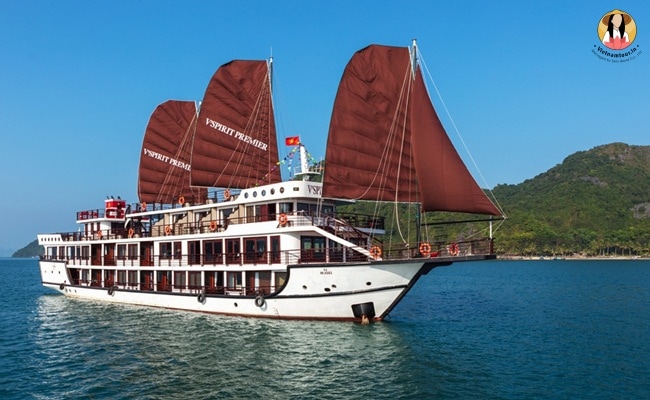 This is one of the few 4 -star cruises sailing through an unknown part of Halong Bay – Lan Ha Bay, an area where possesses a large amount of natural masterpieces. Needless to say, V'Spirit Premier Cruise will bring you a new experience while discovering the untouched beauty not only on Halong Bay but also in Lan Ha Bay.
Website: https://www.vspiritpremiercruises.com/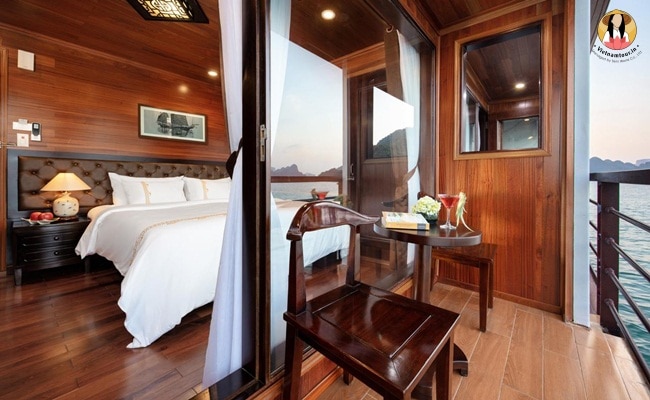 Peony Cruise
Launched in late 2018, Peony Cruise Halong Bay is a luxury cruise comprises 20 European standard cabins with full ocean views and private balcony. This ship will provide you an impeccable experience whilst enjoying the stunning and picturesque view of the UNESCO World Heritage Site.
At the beginning of your trip with Peony Cruise, you will be picked up at your hotel by a mini luxury van. After the warmest welcome from the crews, you can also enjoy tasty food in the Luxury Peony Restaurant, have a relaxation in its Beauty spa room or explore the statuesque mountains, evocative caverns of Halong Bay.
Website: https://www.peonycruise.com/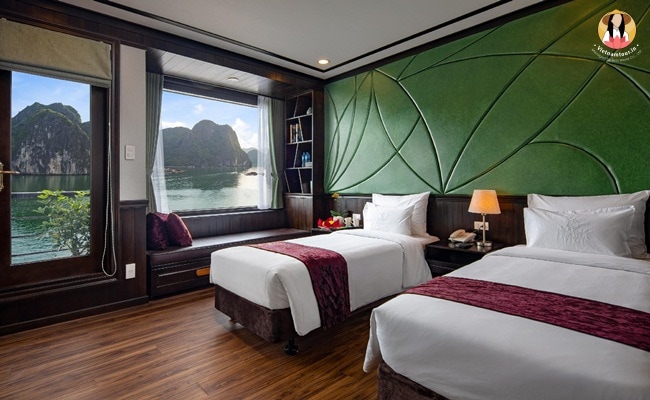 Best 3-star cruises in Halong Bay
Your budget is limited but you still want to enjoy a high-quality voyage in Halong Bay? No need to worry, these 3-star cruises will meet your expectations:
Oriental Sails Cruise
Unlike other 3-star cruises in Halong, Oriental Sails Cruise have received a lot of recommendations and good reviews from hundreds of visitors around the world.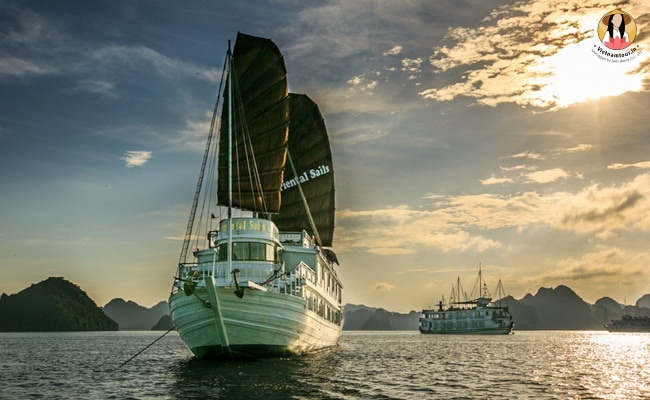 This is a special cruise including 18 deluxe cabins which are full of well-equipped and created from beautiful wooden detailing and high-quality amenities. The highlight of Oriental Sails is its large windows with an extensive view over Halong Bay and a spacious sundeck that allow you to enjoy a lot of activities such as having a cooking class, sunbath, yoga or morning Taichi exercise…
Website: https://www.orientalsails.com/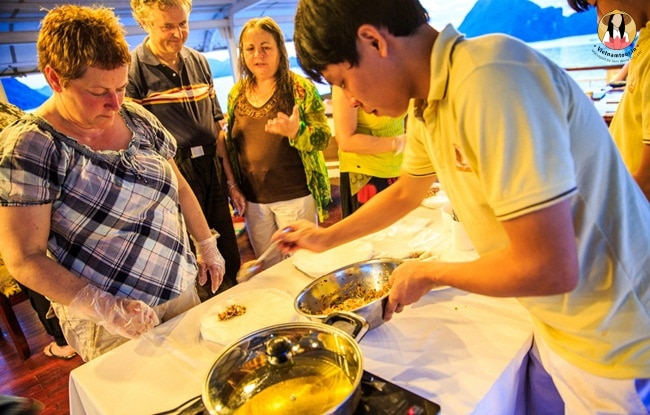 A-Class Cruise
Aclass Cruise consists of 14 luxury guest rooms divided into 3 types of room: deluxe cabin, deluxe Premium cabin, and connecting Suites. This ship offers you the highest standard services as well as the coolest activities such as visiting local floating village, trekking, cooking demonstration… With the cozy restaurant and friendly staff, Aclass Cruise will bring you the first-class treatment throughout your whole voyage in Halong Bay.
Website: https://www.aclasscruises.com/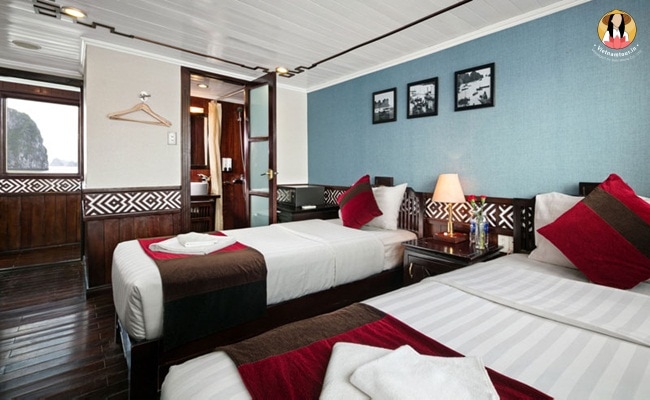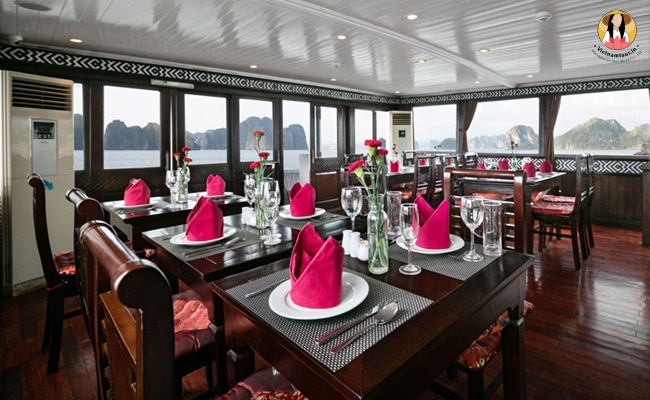 Conclusion
Depending on your budget and interest, you can choose the most suitable cruise to enjoy your journey in Halong Bay. Whether to stay in a 5-star, 4-star or 3-star standard cruise, these ships will definitely bring you the best and most pleasurable Vietnam tour packages.
RELATED ARTICLES