Boasting 3000-kilometre-long coastline, Vietnam is home to some of the most beautiful islands in the world. There are thousands of islands and islets dotted from north to south, featuring mysterious caves, lush jungles, traditional villages or historic temples. Vietnamese islands cater to all kinds of travel from honeymoon, family, leisure travel to adventure. Read on the list of the most beautiful islands in Vietnam and plan for your sun-soaked holiday.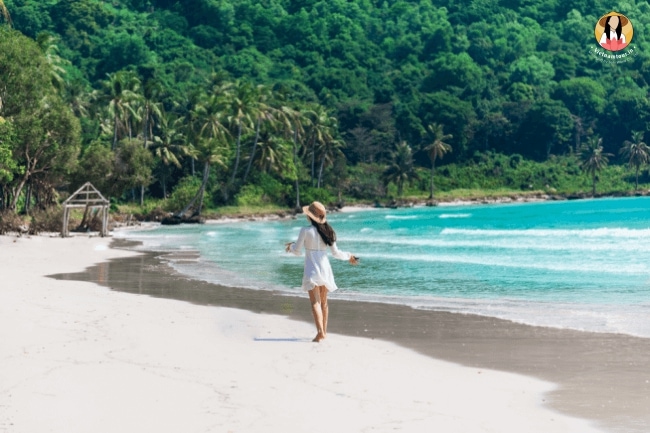 A girl wandering along the white sand beach in Phu Quoc
Top 10 Best Islands in Vietnam
If you're in search of the most amazing island vacation, then these pristine islands will be your perfect island getaways in Vietnam.
1. Cat Ba Island
Set in the area of Halong Bay, Cat Ba Island is one of the most beautiful islands in northern Vietnam. If you're travelling in the north of Vietnam, Cat Ba Island should be on your bucket list. As the largest island in the area, the island is home to the lush national park of the same name, while the rest of the island remains untouched and pristine. If you're looking for a new destination to explore to escape from the dusk of the big city, then the island is the place for you. Breathtaking landscapes of limestone cliffs, charming waterfalls and mysterious grottos dotted with quaint fishing villages, this quiet Vietnam's island is well worth a visit.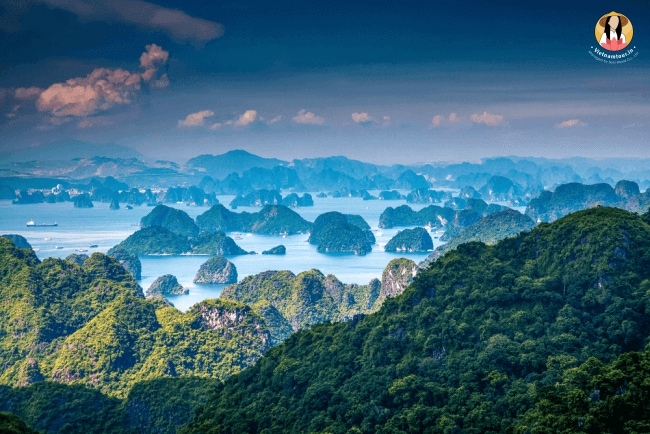 Stunning Karst and Limestone scenery
The best way to explore the island is hopping on a motorbike and get around. Traverse through the scenic landscape, immense green fields and small fishing village, explore the dense jungle or typical villages are what you can expect to do in this Vietnam tropical island.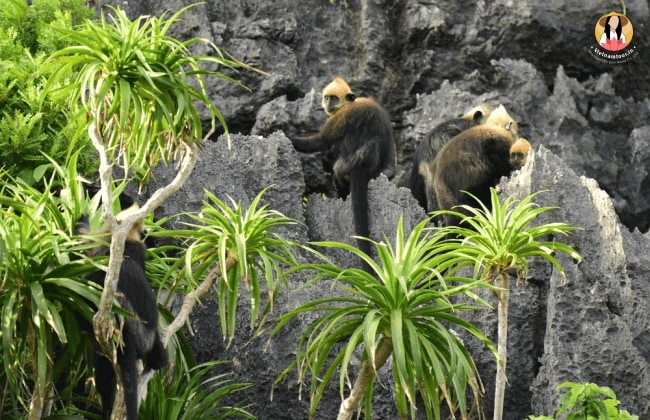 Cat Ba Island normally called as Monkey Island
2. Co To Island
Being home to 50 large and small islands, Co To Island is one of the best island resorts in North Vietnam. This northern island is a popular destination for travellers to come and enjoy the wild nature, fresh seafood and stay close to the friendly locals. Its stunning beaches bordered by the crystal clear waters is a lovely place to kick back and unwind. Adventure seekers can find make their own experience with some thrilling activities such as rock climbing, hiking or trekking into the island. There is a wide range of dining options catering to every budget making the island a must-see place during your trip in Vietnam.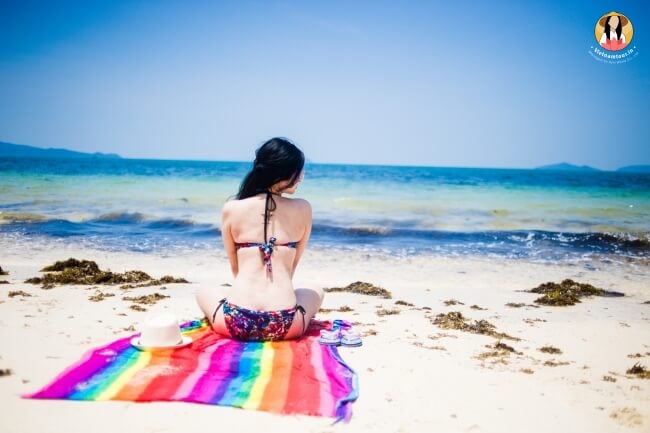 Beautiful girl relaxing on the beach
3. Cham Island
Just 15 kilometres off the coast of Hoian, Cham Islands offer a paradise out of the world outside. Boasting 8 different islands set in pristine ocean, the islands in central Vietnam is an ideal getaway to get out of the city and beat some heat. The pristine turquoise waters that border the lovely sandy beaches along with a diverse marine life offer a great chance for visitors to snorkel, scuba dive or enjoy a refreshing swim.
Featuring a cool climate all year round, immense sandy beaches and lush forests, this paradise islands in Vietnam is a must visit if you're seeking islands near Hoian for a delightful jungle picnic in the greenery and a great time on the beach with your loved ones.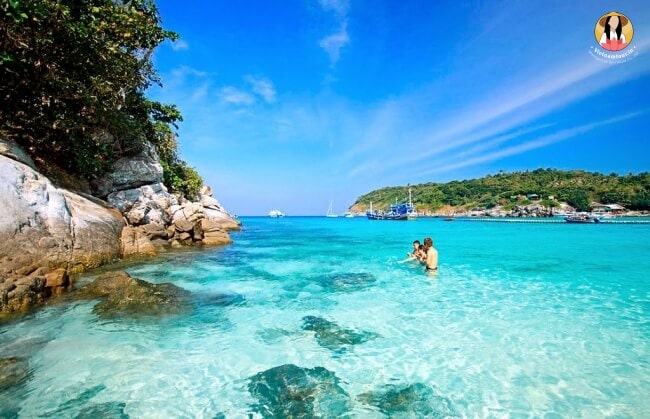 Swimming or Snorkelling in here will be one the most memorable memory for the travellers
4. Con Son Island
Known as the hidden island in Vietnam, Con Son Island – the "Devil's Island" is the largest among the rest of 15 islands in Con Dao archipelago of Vietnam. With crumbling colonial buildings, the island is considered a true hell on earth as it's home to prisons- a reminder of the dark past of the island. This is more a trip for nature lovers and history buffs.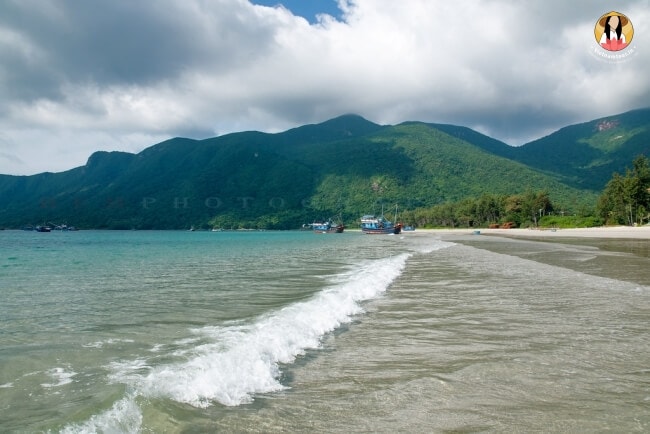 A True Hell on Earth During Vietnam War – Home of thousands of prisoners 
The island is also home to some well-kept coral reefs and full of striking natural beauty with plenty of unspoiled beaches. If you want to enjoy some leisure time on the postcard-perfect white sand, get a sun-soaked holiday on the island's best beaches where you can enjoy a day of swimming, sunbathing and dining on great seafood. Island- hopping and diving are some of the most popular activities on Con Dao Island to uncover the untouched islets and stay close to various wildlife.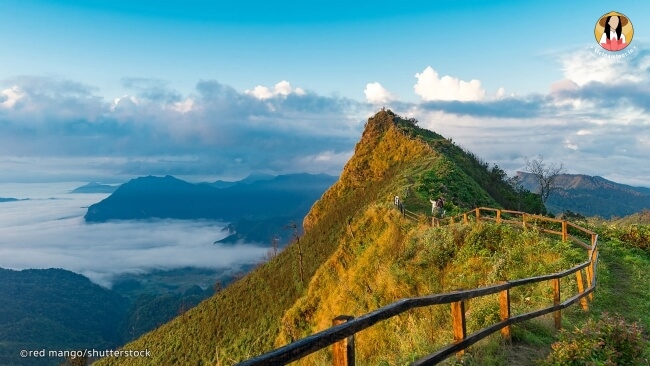 The unresistible beauty of Con Son Island, Photo by Red Mango
5. Mun Island
Listed as the top islands in Vietnam, Mun Island is the hidden gem of Nha Trang- exotic natural heaven with idyllic beauty that allures any travellers taking their step on. In addition to the heart-touching landscape of turquoise waters, fascinating cliffs, caves and grottos, Mun Island boast an incredibly diverse marine species and corals varying in sizes and shapes. Visiting this paradise island in Vietnam, you're offered a one-of-a-kind opportunity to soak up the breathtaking beauty and indulge in a variety of enticing activities including diving, snorkelling to get a true insight into the colourful world of marine life.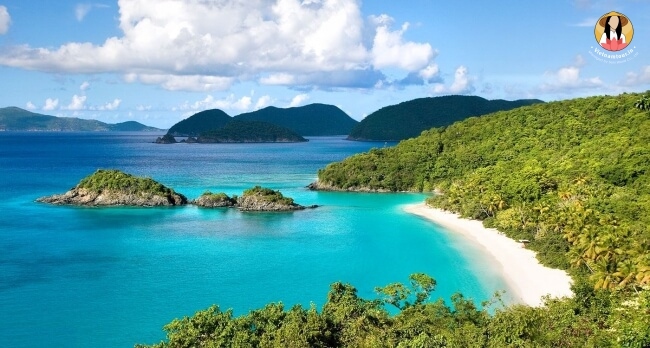 Hon Mun located in Nha Trang which called as Pearl of Vietnam
6. Hon Kho Island
Another interesting place to see the beautiful coral reefs in Vietnam is Hon Kho Island. Located about 16 kilometres from Quy Nhon, Hon Kho is one of the famous islands in Vietnam thanks to its beautiful sandy beaches, crystal clear water and majestic mountain cliffs.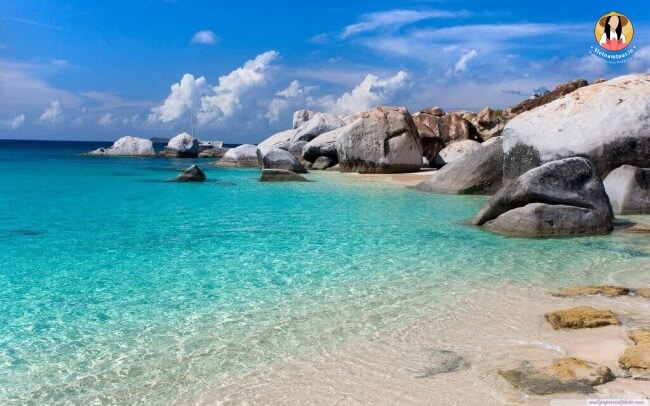 Relaxing moments with pristine and peaceful natural beauty
It's a perfect place for nature fanatics to revel in the pristine and peaceful natural beauty, get some adventure with the imposing mountain cliffs or simply enjoy some relaxing moments with delightful diving or walking along its white sand beach.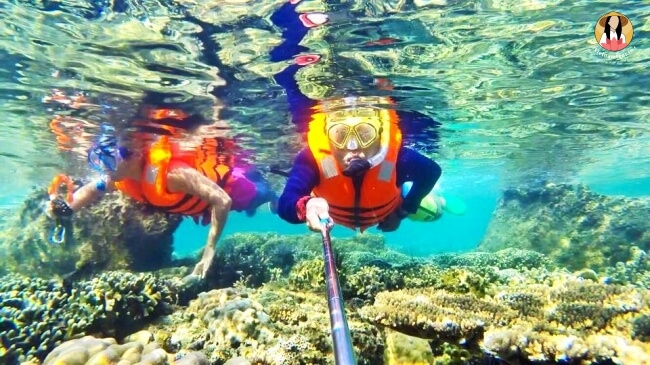 Scuba Diving and Snorkelling are can-not-missed activities during your trip
7. Phu Quy Island
About 120 kilometres from Phan Thiet City, you will come across a nice Vietnam's paradise island – Phu Quy Island. The island is full of pristine beaches with white sand, blue sea, and the lovely sun. Still, remaining less-known for many tourists, the island is a great getaway to explore the gorgeous bays, unspoiled beaches, island vistas, local attractions, meet hospitable locals, enjoy cheap seafood and get an exhilarating sense of isolation. With affordable price, serene atmosphere and an abundance of places to discover, this hidden jewellery deserves to be one of the most interesting islands in Vietnam to visit.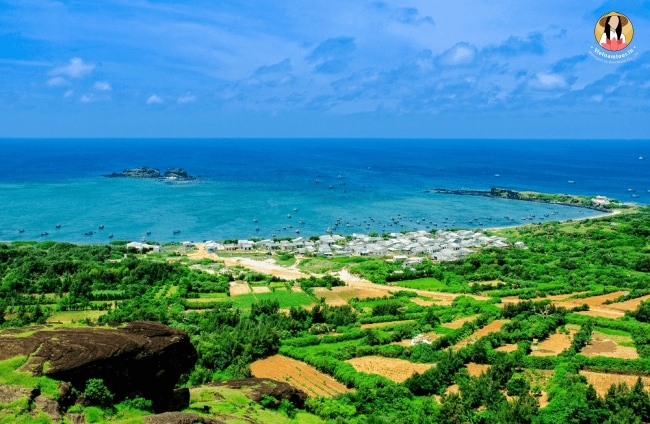 Phu Quy Island is an ideal place for less-tourist area
8. Phu Quoc Island
When it comes to islands off Vietnam coasts, Phu Quoc Island is no doubt the best of its kind. As one of the best, most idyllic islands in southern Vietnam, Phú Quốc Island still remains its off-beaten-track charm with pristine turquoise waters surrounded by palm tree-fringed white sandy beaches which look incredible. This is a postcard-perfect place to get some Instagram-worth moments with tons of things to do from watching the sunset, lounging on the soft sands, get a dip into the blue sea, relaxing on some secluded stretches of white sand or getting some fun with enthralling diving or snorkelling.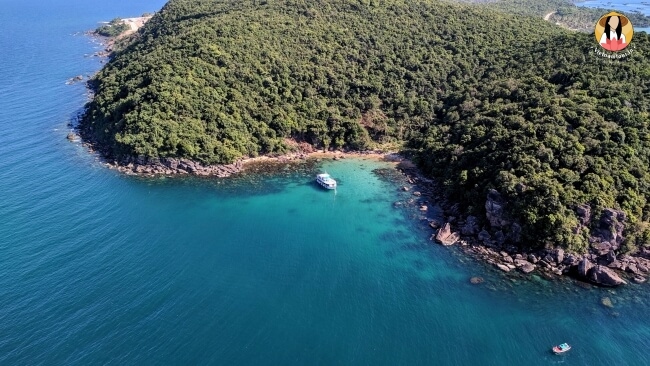 A spectacular view above from Hon Thom Cable Car
Get a comfortable stay at one of the nicest hotels in Phu Quoc Island, gorge on an exotic excursion to its pristine beaches, explore Phu Quoc nightlife or Phu Quoc national park are some favourite things to do in Phu Quoc Vietnam.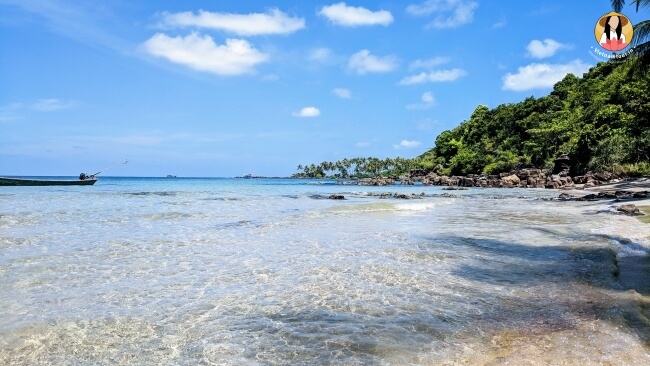 The Maldives of Vietnam
9. Ly Son Island
Lying off the coast of Quang Ngai Province, Ly Son is one of the most popular islands in Vietnam- a paradise island for many travellers. This "natural pearl island" is simply a fairytale-like place blessed with blue sea, white sandy beaches, evergreen garlic fields, majestic peaks, and spectacular scenery. Although its rocky beaches are not an ideal place to relax and lounge, some hills are great for a climb up for a breathtaking view. Its amazing local cuisine, a number of shrines and temples, beautiful garlic fields and inexpensive hotels and restaurants make it a mesmerizing getaway for both locals and foreign travellers.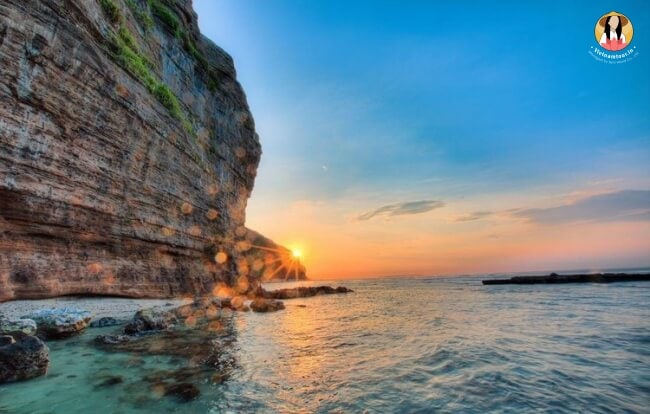 A famous spot for Weeding Picture 
10. Con Dao Islands
Just off the Southern coast of Vietnam, Con Dao islands are the beautiful islands in the south of Vietnam. This idyllic archipelago is home to 16 mostly uninhabited islets boasting expansive beaches surrounded by lush greenery.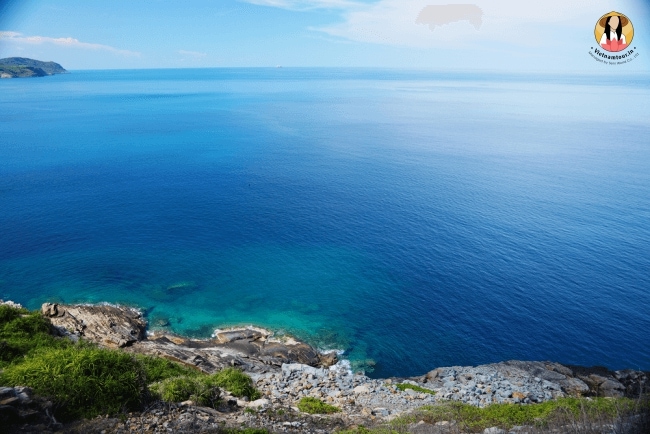 Just simply do nothing and immerse with the sun, the sound of winds and wave
With miles of coastal roads, hiking trails, stunning beaches, untouched coral reefs and secluded islands Con Dao is an enticing place for savvy travellers to relax and kick back. The island also offers some interesting sites to explore from historical relics, old temples, and pagodas as well as delightful wildlife-watching spots.
It is astounded to see a fascinating list of islands in Vietnam. Now that you know where to spend your sun-soaked holiday in Vietnam, tick it off and put it in your customized itinerary, plan anything you're dreaming of.
RELATED ARTICLES