Vietnam is a country with an extensive cultural heritage, and one of the ways to appreciate its beauty is to visit its famous bridges that attract a million tourists annually to Vietnam. They are architectural marvels that showcase the Vietnamese people's creativity and inventiveness.
Here are the top 12 Vietnam bridges you must visit, and tell you why they are worth seeing.
Rong May Glass Bridge (Sapa)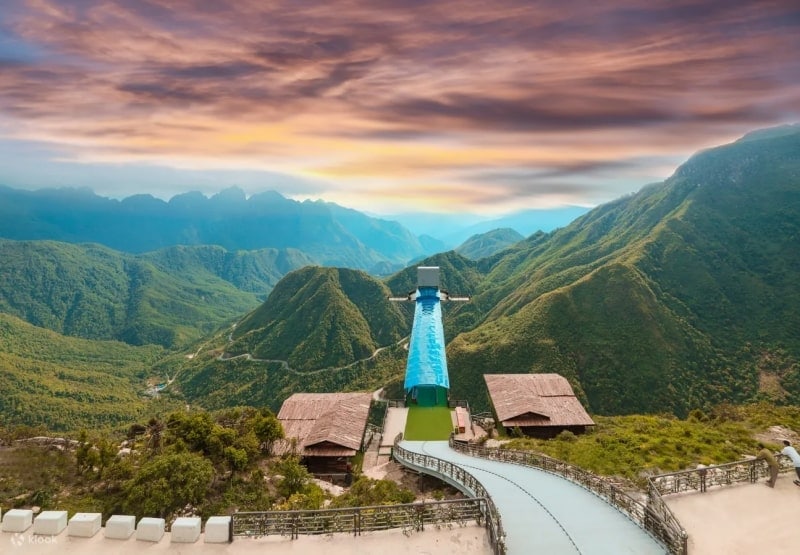 The Rong May Glass Bridge in Sapa, one of the greatest glass bridges in Vietnam, was opened to the public in November 2019. It was a fantastic pleasure to be named It was a fantastic pleasure to be named "One of the world's 15 most beautiful and dangerous glass bridges" by Indian Times.
The walkways are made of transparent tempered glass, allowing visitors to see the deep abyss below and feel like they are walking on clouds. You can enjoy the scenery and experience adventure games like cable cars, skywalks, and zipline … Especially a cloud hunting area that allows you to witness the spectacular phenomenon of clouds forming and dissipating around the mountains. It will be an unforgettable experience with your beloved when you come to Sapa.
Bach Long Glass Bridge (Moc Chau)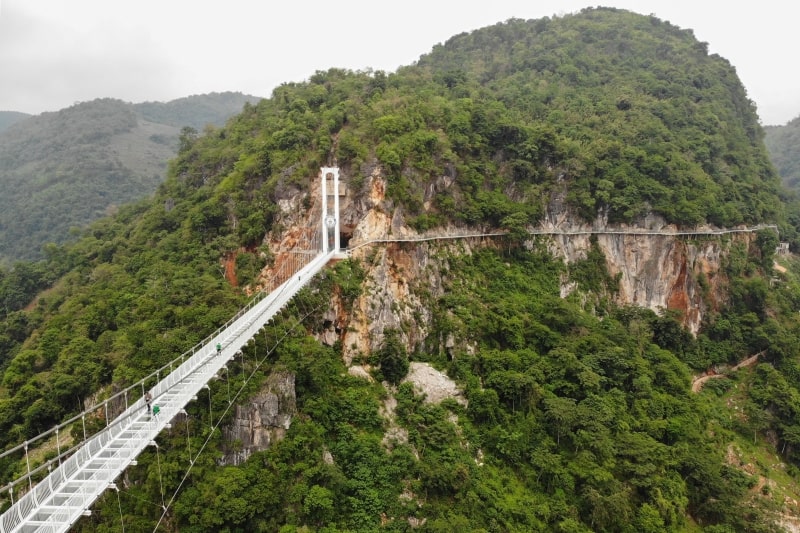 Bach Long Glass Bridge, is the longest glass-bottomed bridge in the world. Located in the Moc Chau, about 200 km from Hanoi. It was opened to the public in April 2022. The glass bridge is famous for its impressive design, located between craggy cliffs and immense mountains and forests. Each stretch of road on the bridge will bring visitors a different level of emotions, from anxiety, a excitement to surprise and offers a stunning view of the valley and the landscape below.
Around the bridge area are featured variety of attractions and activities for visitors of all ages and preferences. Let's add this place to your Northern Vietnam tour packages and experience one of the most unique bridges in Vietnam!
The Huc Bridge (Hanoi)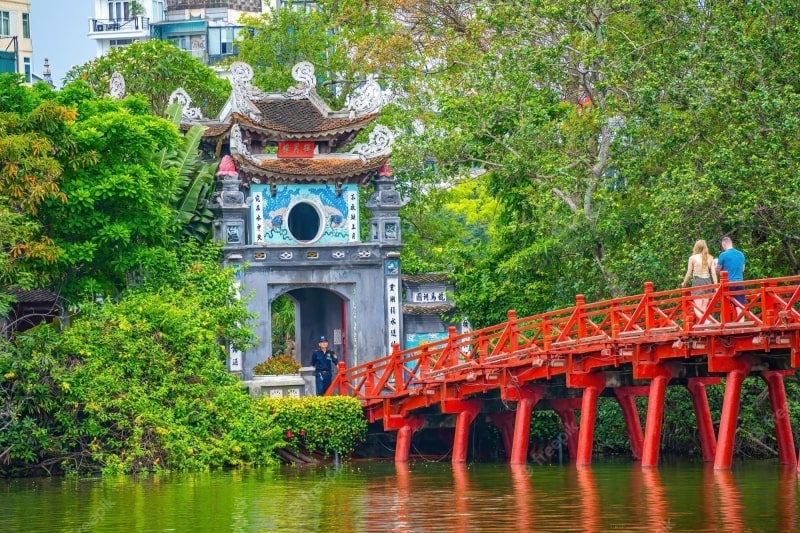 A meaningful symbol of the spiritual, and cultural values of Hanoi people, one of the oldest bridges in Vietnam is The Huc Bridge. It is a red wooden bridge that connects the Ngoc Son Temple with the shore of Hoan Kiem Lake a sacred destination for the Buddhists and a famous tourist attraction in Hanoi. The bright red colour stands out sharply against the lake's blue water and the island's greenery. Simply pick up your camera, snap a photo, and you'll have a lovely memento photo in no time.
For everybody who appreciates aesthetics and history, observe the beauty and elegance of the bridge and temple, as well as the rich and diversified legacy of Vietnam's capital. You might want to check out some of the Vietnam tour packages that include transportation, meals, and other amenities for an affordable price.
>> Read more: Top 10 Famous Temples in Vietnam for Indian Travelers
Long Bien Bridge (Hanoi)

Long Bien Bridge, one of the most historic and significant bridges in Vietnam, was constructed by French colonialists in 1902 to connect Hanoi with the northern regions. It suffered extensive damage during the wars with France and America and witnessed many significant events in Vietnam's history. For more than 100 years, it has been a testament to the resilience and courage of the Vietnamese people.
Today, it is still in use for trains, motorcycles, bicycles and pedestrians these things will let you encounter truly idyllic Vietnamese scenes; farmers selling fruits and vegetables on the bridge, fishermen casting their nets, or couples holding hands and walking along. So, Long Bien Bridge is more than just a bridge. It is a piece of art, a piece of history, and a piece of Hanoi's soul. If you want to experience the authentic and charming side of Hanoi, grab your pals and visit.
Trang Tien Bridge (Hue)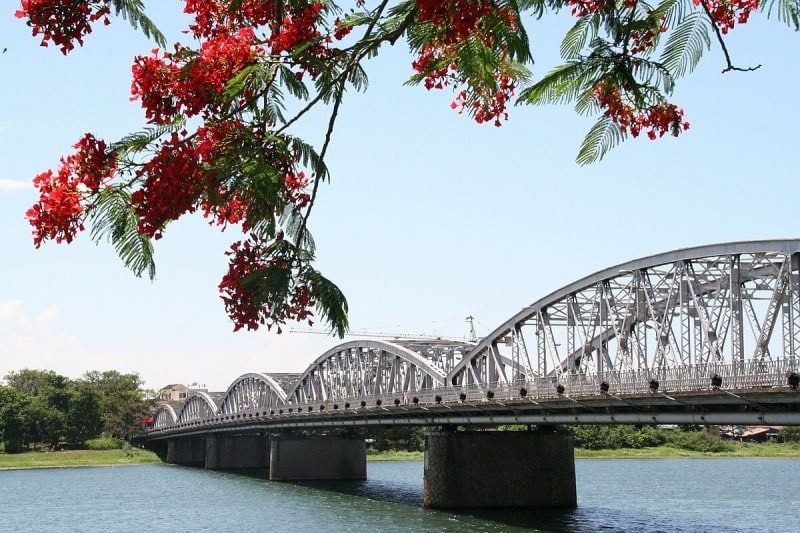 Trang Tien Bridge is not just a Vietnam bridge; it is a bridge steeped in history and culture, reflecting Hue's rich heritage with modern development. It was designed by Gustave Eiffel, the same man who built the Eiffel Tower in Paris. How cool is that? By crossing the poetic Huong River in Hue, the bridge becomes lovely and calm in the morning as it reflects on the river, and it is also adorned with brilliant lights at night, creating a dazzling spectacle that will make your Instagram followers jealous.
If you visit Trang Tien Bridge, you can also enjoy the lively atmosphere of the pedestrian street below, where you may easily find local vendors selling souvenirs, snacks and handcrafted products. You can also try Hue's famous delicacies like com hen (rice with clams), banh beo (steamed rice cakes) or vegetarian restaurants with reasonable prices.
Thanh Toan Bridge (Hue)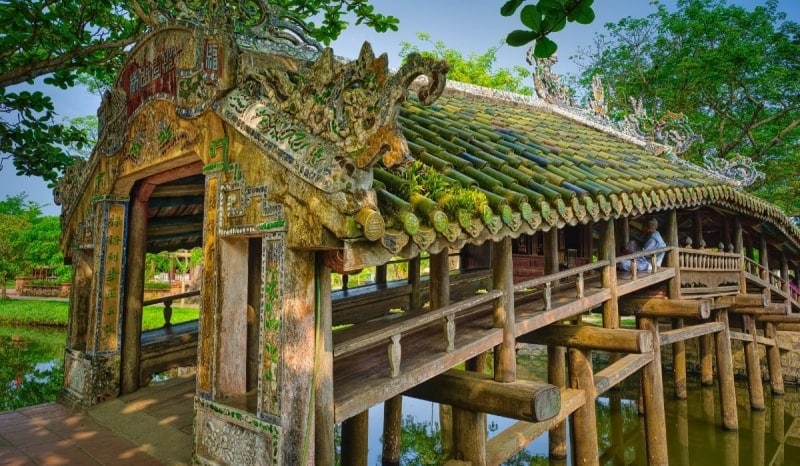 This is another ancient and beautiful bridge in Vietnam, located in Thanh Toan village near Hue. It was built by a noblewoman named Tran Thi Dao in 1776, as a gift to the villagers who helped her husband during his military service. The wooden bridge resembles a traditional house and has a tiled roof. Additionally, there is a tiny museum beside the bridge that features artifacts and data regarding villagers' rural life. Rich vegetation and rice fields surround the bridge, resulting in a serene and picturesque environment.
Thanh Toan Bridge is a perfect place to visit if you want to escape the hustle and bustle of the city and immerse yourself in the rural life of Vietnam. You can rent a bicycle or a scooter to explore the area, laugh at locals who are friendly as well as have your mind blown by the particular Vietnam.
Dragon Bridge (Danang)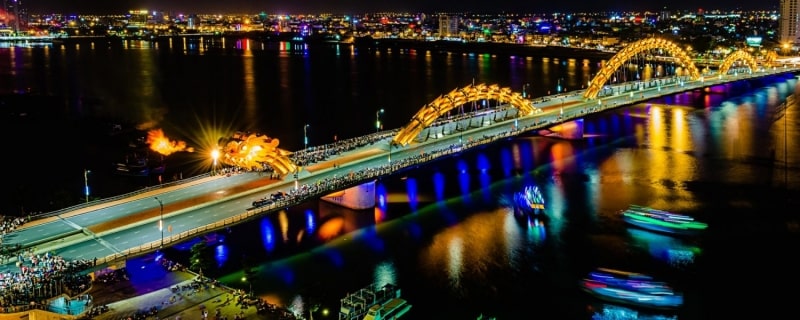 The bridge is a symbol of Da Nang's development and innovation, as well as its rich history and culture. It was completed in 2013, and it spans the Han River. Instead of just being another suspension bridge it makers in the shape of a dragon on both balustrades and from far and near it looks like a long big dragon lying across the river with vehicles going on it.
Every weekend night at 9 pm, the dragon head on the east end of the bridge releases bursts of flames and water in a spectacular show that attracts thousands of visitors and locals. What an incredible opportunity it would be if you were able to witness this breathtaking scenery with those whom you love. Whether you visit it by day or by night, you will be amazed by the beauty and charm of Dragon Bridge – the most famous bridge in Vietnam.
Golden Bridge (Ba Na Hills)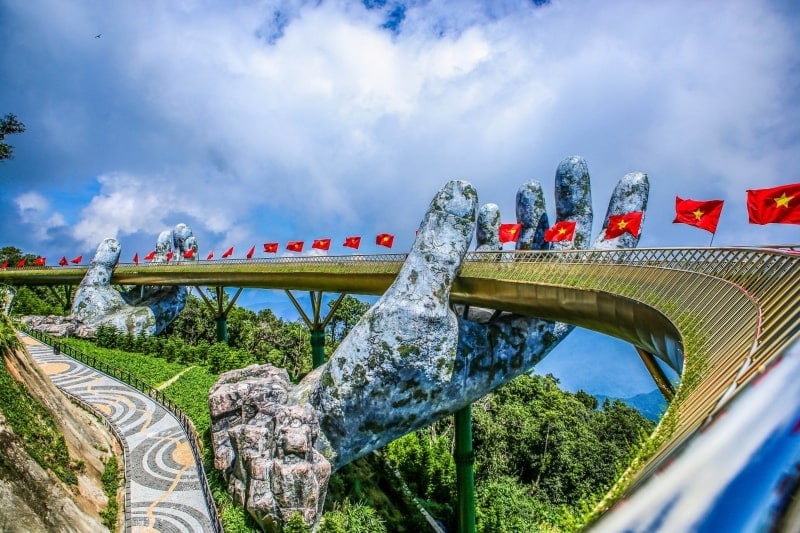 Being recognized by Insider.com as the most unique bridge in the world, The Golden Bridge is a pedestrian bridge that curves elegantly through the green landscape, creating a striking contrast with the golden balustrades. The two giant stone hands that appear to be supporting the bridge from below are its most striking feature, giving it a mystical and fantastical aspect. Despite being built of steel and fibreglass, the hands look incredibly lifelike and fit in well with the surrounding environment.
The bridge is intended to convey the idea of a silk strip between heaven and earth that is blowing in the wind. You must bookmark this place on your Central Vietnam Tours packages with your family to enjoy the scenery together such as a cable car system, a French village, a fantasy park, a flower garden, and many restaurants.
Han River Bridge (Danang)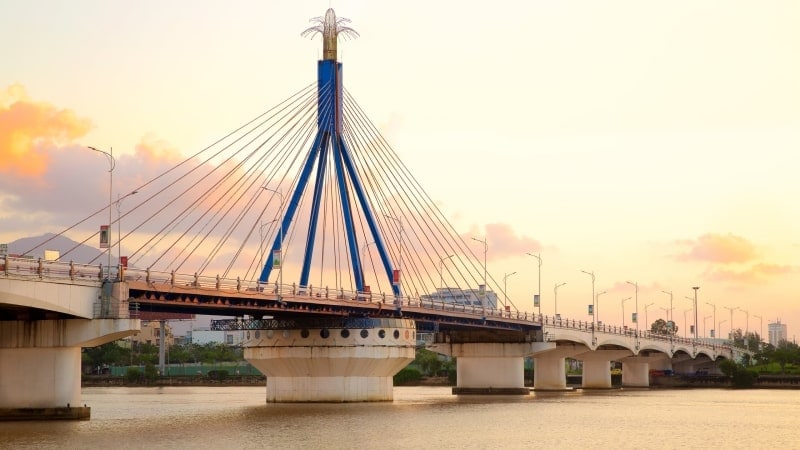 The Han River Bridge is a cable-stayed swing bridge that connects the west and east sides of the city. It was built by the people of Da Nang and opened in 2000. It is the first swing Vietnam bridge and one of the few in the world. What makes this bridge so special is that it can rotate 90 degrees on its axis to allow ships to pass through the river. This happens every night at midnight, and it is a spectacular sight to behold.
Additionally, the bridge is illuminated with vibrant lights, which creates an eye-catching spectacle. You can see the Dragon Bridge and the Thuan Phuoc Bridge in the distance, which are also impressive bridges in Da Nang. The whole scene was breathtaking and unforgettable.
Japanese Bridge (Hoi An)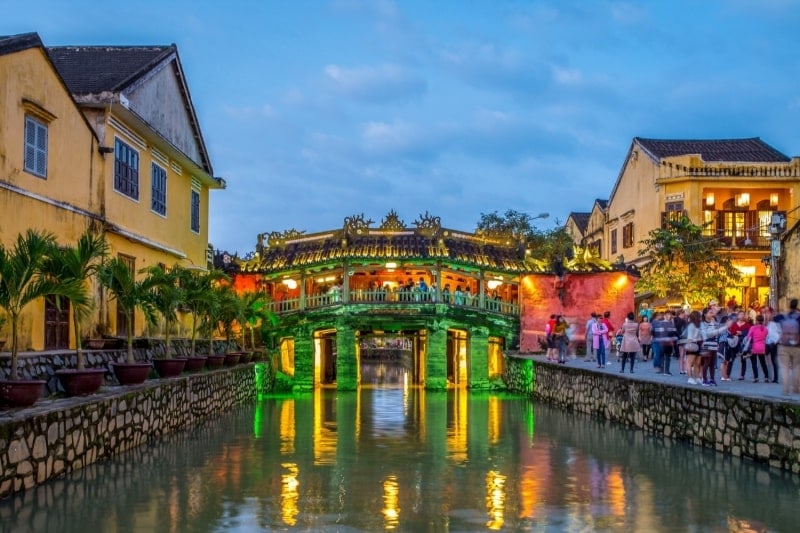 This is one of the oldest and most charming bridges in Vietnam, dating back to the 16th century. It was built by the Japanese merchants who settled in Hoi An, and it served as a link between the Japanese and Chinese quarters of the town. The bridge has survived wars, earthquakes and floods, and has become a symbol of Hoi An's rich cultural heritage.
It is one of the most popular attractions for tourists and locals alike, who admire its unique architecture and colorful decorations. You can also enjoy the lantern festival that takes place every month on the full moon night when the bridge is illuminated by hundreds of vibrant lanterns.
Can Tho Bridge (Can Tho)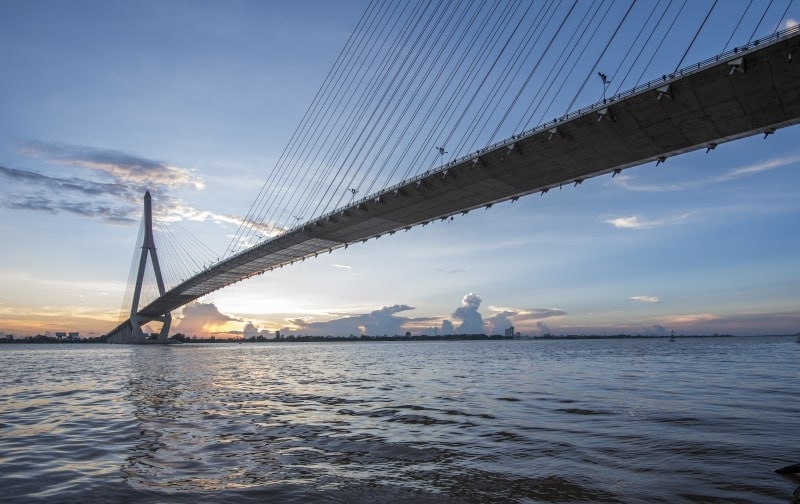 This is the longest cable-stayed bridge in Southeast Asia, and also one of the most expensive bridges in Vietnam. It was opened in 2010, and it connects Can Tho City with Vinh Long province across the Hau River. You can see the boats and barges carrying goods and people along the waterway, as well as the lush greenery and rice fields on both sides of the river.
Can Tho Bridge is more than just a bridge, it is also a cultural icon of the Mekong Delta. The bridge is named after Can Tho City, which is the largest and most important city in the delta. Can Tho City is famous for its floating markets, where you can buy fresh fruits, vegetables, fish and other local products from vendors on boats. The city also has many temples, pagodas, museums and parks that showcase its cultural diversity and charm.
Kiss Bridge (Phu Quoc)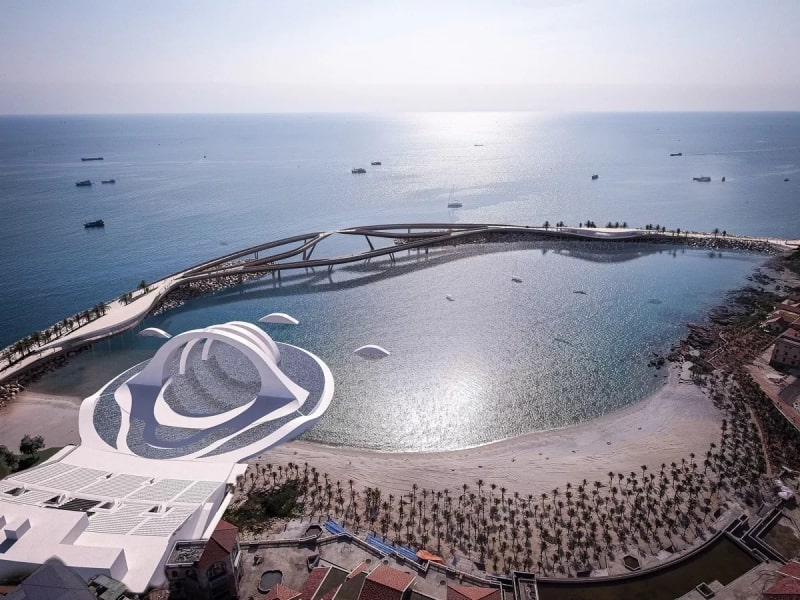 The Kiss Bridge in Phu Quoc is located in the Sun World Hon Thom Nature Park, a cable car and amusement park that offers stunning views of the island and the sea. The bridge is shaped like a giant pair of lips, and it is said that if you kiss your lover on the bridge, you will have a happy and lasting relationship. The bridge is also surrounded by colourful flowers and trees, creating a romantic atmosphere.
This is an ideal destination for couples who want to experience some romance in Vietnam. Whether you want to kiss on the lips-shaped bridge or lock your love on the heart-shaped bridge, you will surely have a memorable time with your sweetheart.
>> Read more: The 10 Most Beautiful Islands in Vietnam From North to South
The following are the Top 12 Vietnam Bridges that you must visit. We hope this article will be useful to you on your upcoming trip to Vietnam!
RELATED ARTICLES