Vietnam in May marks transition periods: from spring to summer in the North, from dry to wet season in the South, and from warm to hot weather in the central regions. Overall, the weather in Vietnam during May is conducive to water activities and outdoor adventures, with temperatures spanning from 12°C to 39°C. In this article, we will provide insights into the climate of each region, tourist crowds, and valuable travel tips for May.
Vietnam Weather in May
Vietnam Weather in May is sunny and hot, with the maximum temperature around 35 – 39°C. In the evening, there might be thundery showers in certain areas. While the climate alternates between sunny and rainy, it's still relaxing and suitable for outdoor activities, water sports and active adventures. Here is detailed information about the weather in each area:
The Mountainous Regions in Northern Vietnam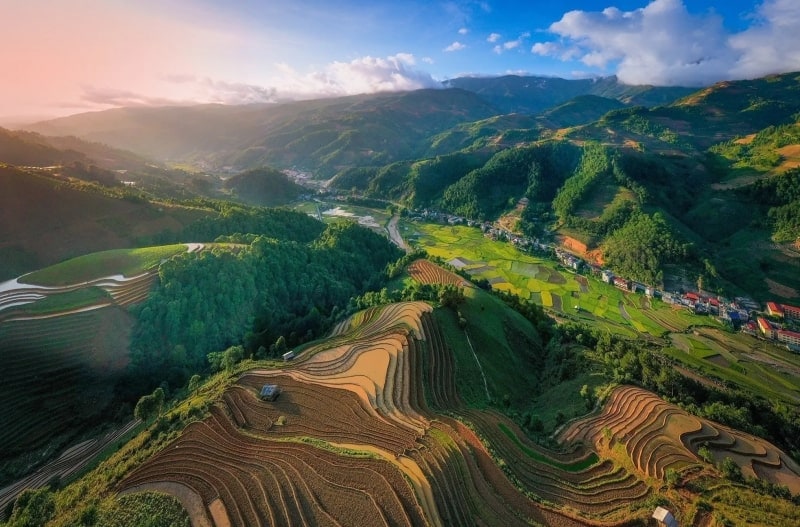 In May, temperatures rise in the northern mountainous regions, with 21 – 31°C ranges. Most days are sunny and cool; in some areas, it is cloudy and rainy. The early morning and night climate is chilly, with temperatures fluctuating from 12 to 20°C.
May is one of the best times to visit mountainous regions in the North. The weather is sublime to admire the natural landscapes, highlighted by stunning terraced fields. This month, Sapa, Mu Cang Chai and Ha Giang are the must-visit destinations.
Northern Vietnam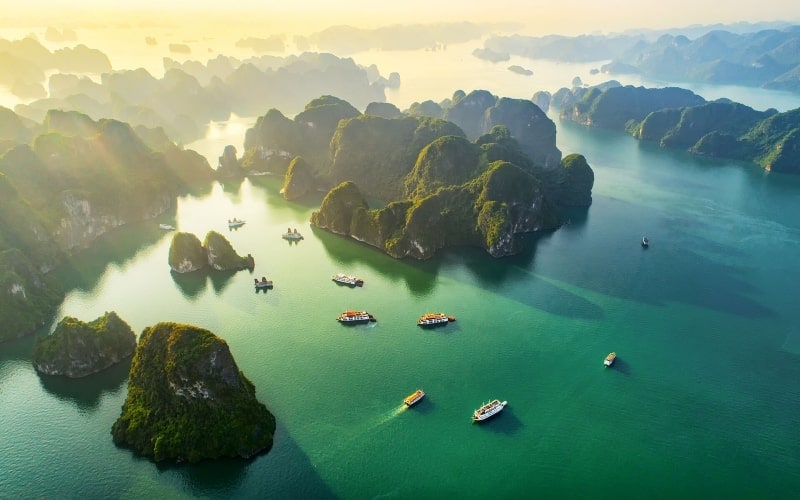 The weather in Northern Vietnam is pleasant, with temperatures ranging from 16 – 28°C. While the region enjoys many sunny days, evenings can be cloudy and rainy.
Hanoi has a cool climate with an average temperature of 22°C. You can catch thundery showers in the evenings, so it's advised to bring a compact umbrella or light raincoat. May is an excellent time to explore Halong Bay with many sunlit days.
Central Vietnam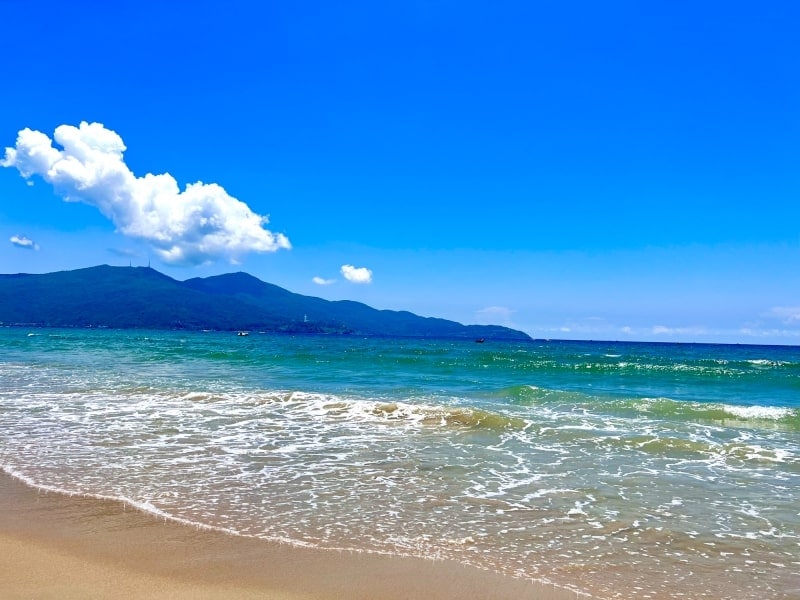 Central Vietnam steps into the hot and sunny season in May. The temperature varies from 21 to 35°C, even reaching over 39°C in some areas. It's bright and cloudy during the daytime, but thundery rain could occur in the evenings.
Hue enjoys a pleasant atmosphere with a 17 – 32 °C temperature range. Hoi An, Da Nang and Nha Trang are hot spots with sun-kissed beaches and blue skies.
Southern Vietnam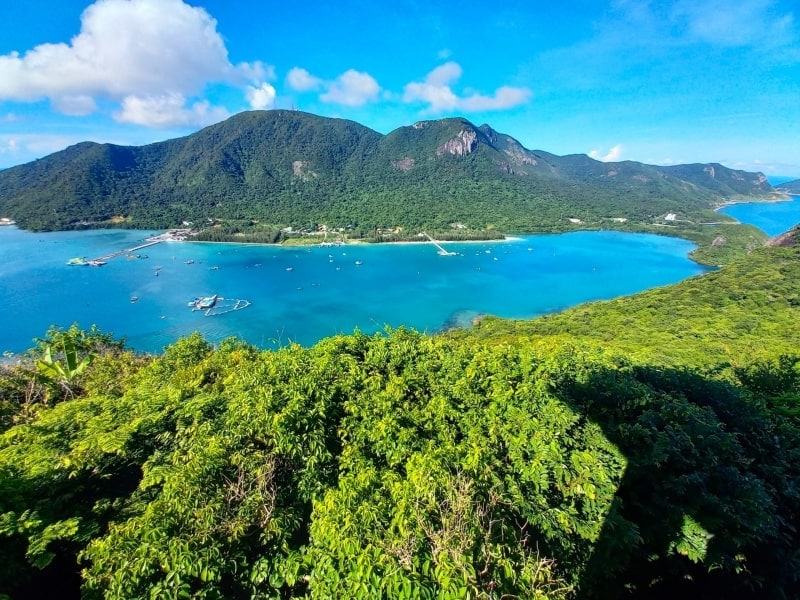 Like Central Vietnam, the weather in the South is hot and sunny in May. The temperature fluctuates from 17 to 30°C, with a maximum of over 37°C in several places. Rainfall is high, with thundery showers in the evenings.
While sudden rains can surprise you, the climate is still pleasant for all outdoor activities and beach relaxation. May is an excellent time to discover Ho Chi Minh City, the Mekong Delta, and Con Dao Island.
Tourist Flow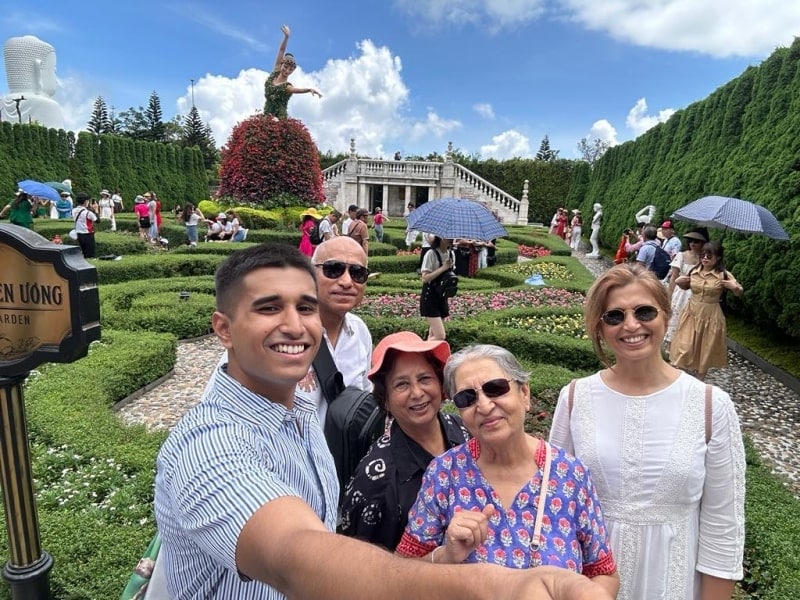 May is still the perfect time to visit all parts of the country because of the relaxing climate and beautiful landscapes. Sun-scorched beaches, charming mountainous views, and vibrant cities with historical heritages tempt foreign travelers to visit Vietnam. In addition, this month isn't crowded with local tourists, giving you a comfortable trip at a reasonable cost.
Due to its special advantages, Vietnam in May attracts many international visitors. In May 2023, Vietnam welcomed 29,000 Indian tourists and 984,100 international travelers. The flow of Indian tourists in May didn't significantly differ from earlier peak months.
May offers more budget-friendly options for hotel stays, transportation, and tourist packages compared to the peak-season months. Booking services in advance can yield attractive deals. However, if your trip coincides with the public holiday in Vietnam from April 29 to May 2, prices may rise due to the increased number of local tourists.
Events and Festivals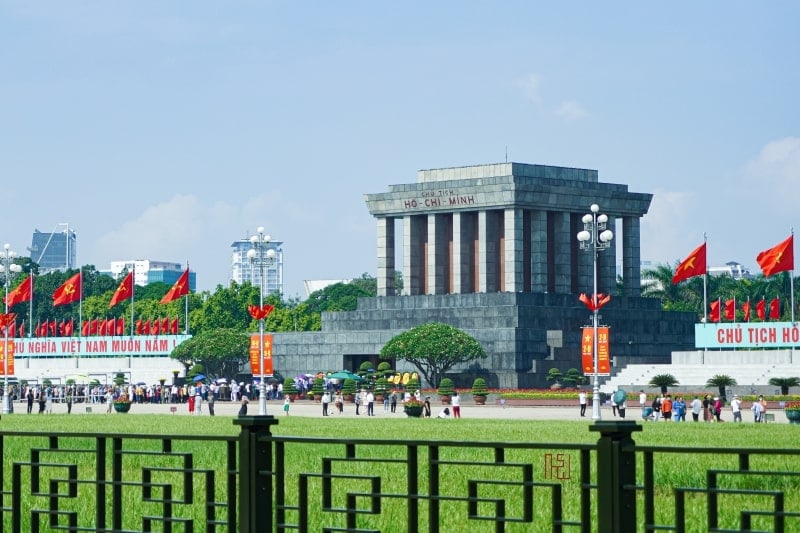 President Ho Chi Minh's birthday celebration (May 19): On May 19 every year, Vietnamese people will commemorate the birthday of the great father and leader of Vietnam – President Ho Chi Minh (19/5/1890), with various activities and campaigns. Among them, the solemn ceremonies take place in Ho Chi Minh Mausoleum and Nghe An – the hometown of President Ho Chi Minh.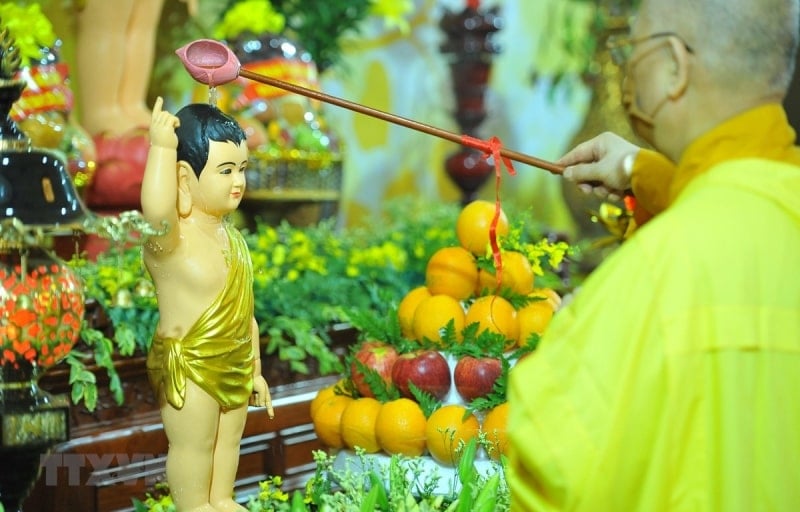 Vesak – Celebrating Buddha's Birthday: Vesak is the festival commemorating Buddha's birth. Buddhists annually host the celebration on the 15th day of the fourth lunar calendar (April or May – varying by year). Many festivals are held in pagodas in Vietnam with multiple activities like releasing flower lanterns on the river, preaching about Buddhism, conducting Buddha bathing rituals, and more. Besides memorising Buddha, this celebration encourages everyone to introspect and share happiness with others.
Travel Tips
Where to Go and What to Do in Vietnam in May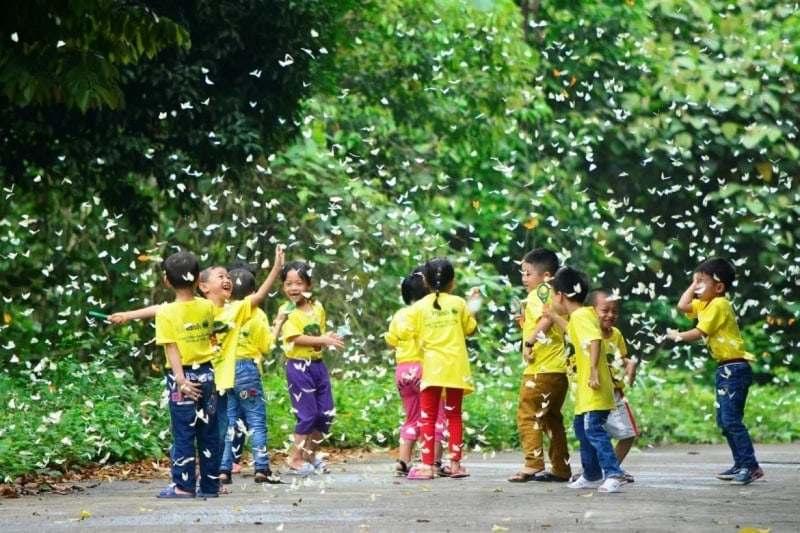 May is a good month for exploring all regions of Vietnam. The days are sunny and warm, with thundery showers in the evenings. Vietnam in May provides a plethora of experiences, from outdoor tours and water sports to active adventures. Let's go through some outstanding destinations for your trip to Vietnam in May:
Mu Cang Chai, Sapa, Ha Giang: May is one of the best times to experience "Falling water season – Mùa nước đổ" in the Northern mountainous regions. The terraced fields are sparkling with various colors under sunlight, creating an alluring picturesque. The ideal places to admire the stunning terraced fields are Mong Ngua Hill in Mu Cang Chai, Muong Hoa Valley in Sapa, and Hoang Su Phi in Ha Giang.
Cuc Phuong National Park: Cuc Phuong Park is situated in three provinces of Ninh Binh, Hoa Binh and Thanh Hoa, with a total area of 22,408 hectares. This place has many natural landscapes, ecosystem diversity, and cultural and historical values. In particular, May in Cuc Phuong National Park is well-known as the "butterfly season", when the number of individual butterflies reaches thousands, forming an extraordinarily unique and charming scene.
Da Nang, Nha Trang, Quy Nhon: The weather in May is sunny and hot at beaches in the central region, suitable for basking, swimming, snorkelling, diving, and other water sports. You can indulge in crystal-clear water and stroll on the white sand stretches in Da Nang and Nha Trang. Additionally, Quy Nhon is famous for Hon Kho and Ky Co beaches, which boast gin-clear waters and spectacular mountainous landscapes.
Halong Bay and Phong Nha-Ke Bang National Park: For travelers seeking adventurous experiences, Halong Bay (Quang Ninh Province) and Phong Nha-Ke Bang (Quang Binh Province) are the ideal destinations in May. The hot and sunny climate lets you discover spectacular caves, participate in water activities, and admire grand natural landscapes.
What to Wear in Vietnam in May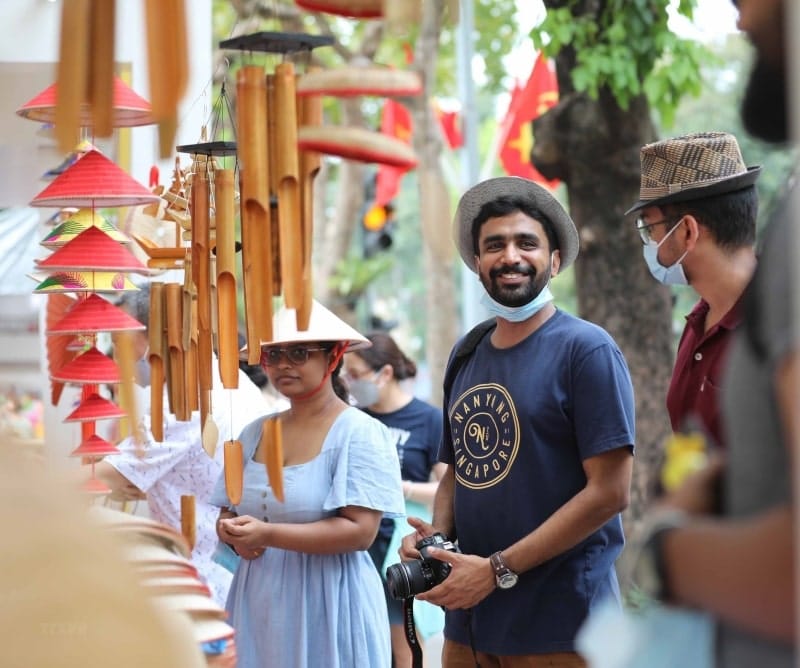 The Vietnam temperature in May ranges from 12°C to 39°C, depending on the region and the time of month. Most parts of Vietnam are sunny and hot during the day and have cool evenings with thundery showers. In the hot and wet climate, you should wear quick-drying clothes such as light trousers, cotton T-shirts, and shorts, and bring a light raincoat or a compact umbrella.
The weather in some mountainous areas of the North is still cold early mornings and nights. Therefore, it's recommended to pack several warm clothes like long-sleeve sweaters, jackets, and jeans. The onset of the rainy season brings more mosquitoes, so remember to bring anti-mosquitoes spray on your trip.
Below are some items you can pack for your trip to Vietnam in May
Mobile phone;
Chargers and Charger Cables;
Sunscreen, moisturiser, bug spray;
Sunglasses, hat;
Swimsuit, goggles, swimming cap (if joining in water activities)
Conclusion
Vietnam in May is pleasant for most leisure activities. You can enjoy the best beaches in glorious sunshine or admire beautiful landscapes without the crowds as in earlier months of the year. Contact us now to book a tour package for your trip to Vietnam in May!
RELATED ARTICLE