Are you looking for a Vietnam souvenir? Shopping in Vietnam is one of the most beloved things to do amongst travelers. Vietnam is not lacking gifts and souvenirs for tourists to bring home since there is a wide range of handicrafts and traditional items. Read on our guide of best things to buy in Vietnam with the best value for money.
Vietnamese coffee – The gifts from Highland, Vietnam
Vietnamese coffee is definitely one of the best things to buy in Vietnam when it comes to Vietnam famous products. You can find this special gift at every corner of the country from the coffee companies, coffee shops, shopping malls to local markets. Make sure to do some research to find a reputable address if you don't want to get fake coffee. Amongst the countless branches throughout the country, Trung Nguyen is the most famous, popular and favorite local coffee brands in Vietnam.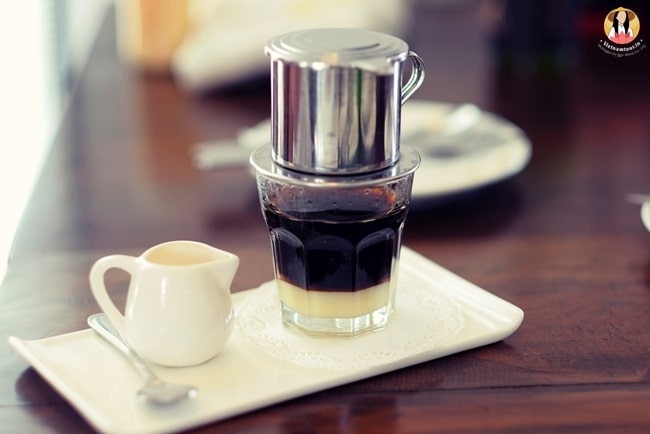 Price: from 4- 21 USD depending on the quality and branch
Where to buy Vietnamese coffee
Café Mai – 79 Le Van Huu Street, Ngo Thi Nham Ward, Hai Ba Trung District, Hanoi
Da Lat Chon Xua Café – 103 Nguyen Truong To Street, Vinh Ninh Ward, Hue City
Hoian Roastery – 135 Tran Phu Street, Minh An Ward, Hoian
Trung Nguyen Café – G7 Counter, 207 Nguyen Van Troi Street, Ward 10, Ho Chi Minh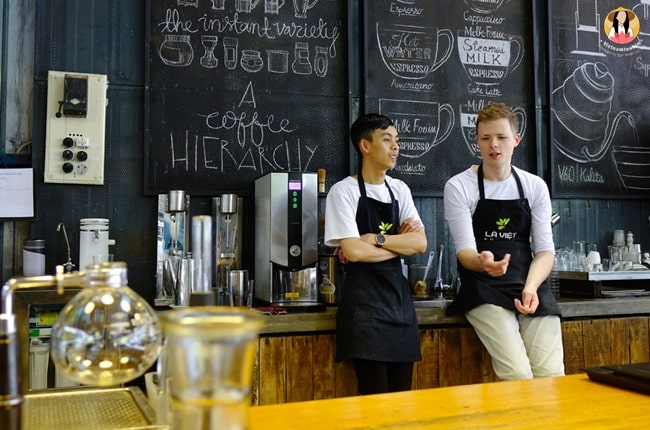 Conical Hat – The iconic feature of Vietnamese culture
Conical hat, locally known as Non la is a symbol of Vietnam which has been engaged in the country's rice-growing culture. Dating back to the 18th century, these Vietnamese charming products are the coolest things to buy as gifts to bring back home or traveling around during downpours or scorching summers. Non la are typically handwoven using palm leaves, bamboo cataphylls and the bark of Moc trees with varying style designs and sizes from region to region. You can buy these at some local markets or buy directly at some traditional villages.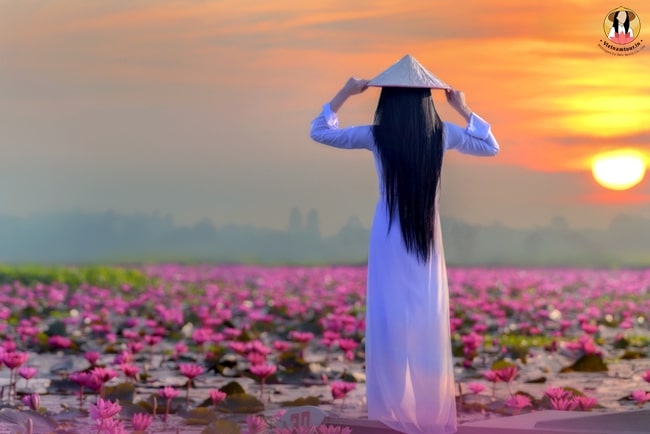 Price: from 0.5 – 2 USD
Where to buy conical hats
Dong Xuan Market – Hang Khoai Street, Dong Xuan Ward, Hoan Kiem District, Hanoi
Dong Ba Market – 2 Tran Hung Dao, Phu Hoa Ward, Hue City
Ben Thanh Market – Le Loi Street, Ben Thanh Ward, District 1, HCMC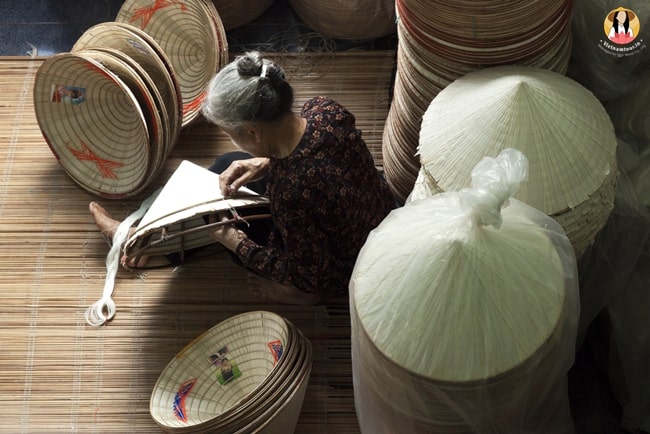 Vietnamese paintings – A reflection of a rich culture
Vietnamese paintings are incredible throughout the country- unique products depicting every moment of Vietnamese life from festivals, lifestyle, to natural beauty. There's also a wide collection of painting varying in materials from oil, sand or silk, each features typical characteristics and charm.
If you're wondering what to buy in Vietnam, then artistic paintings are one of the coolest things. Everything is just awesome from colors, motives, art techniques to interesting stories inside. It's not hard to find a store that sells these paintings whether you're strolling around touristy markets or local galleries and shops.
Price: from 11- 65 USD
Where to buy Vietnamese paintings
Amazing Hanoi – 69 Hang Gai Street, Hoan Kiem District, Hanoi
Hoian Fine Art Gallery – 42 Phan Boi Chau Street, Son Phong Ward, Hoian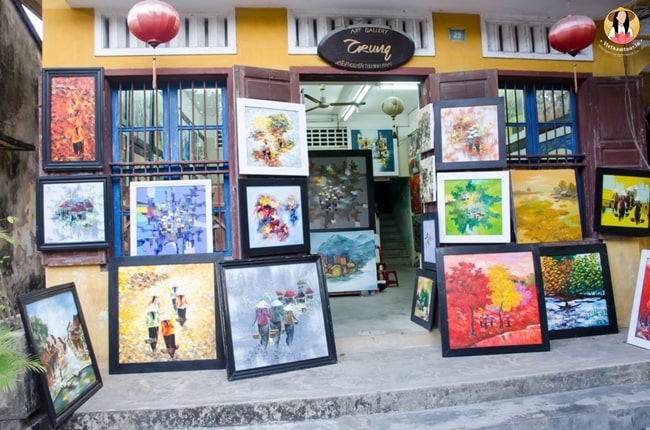 Dried fruit – The Specialty of Hanoians
Dried fruits, also known as "O mai" are typical specialties of Hanoi which is sugared or salted combined with other spices to get impressive taste and flavor. Hanoi is definitely heaven of these healthy and colorful snacks. When shopping in Hanoi, you may marvel at the numerous arrays of food stalls selling these snacks from different fruits: strawberries, mangoes, apricot, plum, peach and more. In Hanoi, dried fruits are not just snacks, they're special gifts on some occasions. Why don't you get some as souvenirs from Vietnam to bring back home?
Price: from 2- 6 USD
Where to buy O mai in Vietnam
11 Hang Duong Street, Hang Dao Ward, Hoan Kiem District, Hanoi
25 Phan Dinh Phung Street, Quan Thanh Ward, Ba Dinh District, Hanoi
82-84 Ham Nghi Street, Ben Nghe Ward, District 1, Ho Chi Minh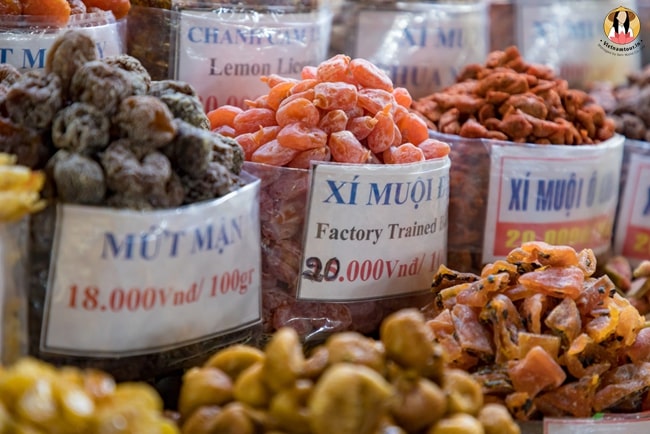 Lantern – An enchanting symbol of local culture
When traveling around Vietnam, you may come across the lovely images of colorful lanterns hanging in front of almost every house in Hoian. It is properly the most famous place for these stunning items because of the inter-culture in this little port town. Made of brocade or silk, Hoian lanterns are unique with diverse designs, shapes, and colors. They're so tempting to get some as delightful souvenirs from Vietnam. Prices for shopping these vary depending on the size, material or design. You can buy them from local gift shops in different cities and bring luck, happiness, and health back home.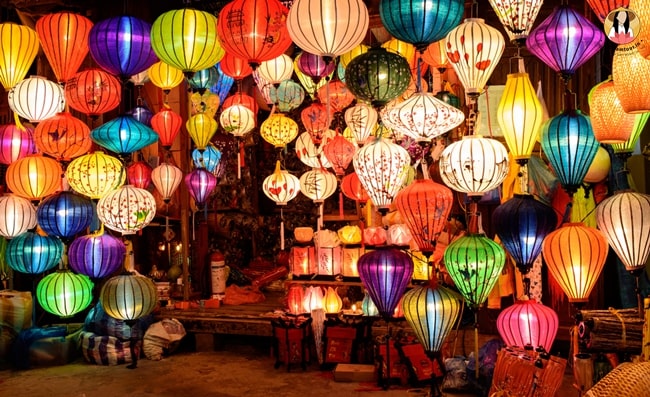 Price: from 1.5- 6.5 USD
Where to buy lanterns in Vietnam
Lantern Lounge – 80 Ma May Street, Hang Buom Ward, Hoan Kiem, Hanoi
Dong Ba Market – 2 Tran Hung Dao Street, Phu Hoa Ward, Hue City
Hoi An Lantern – 276/2 Cua Dai Street, Cam Chau Ward, Hoian
Ben Thanh Market – Le Loi Street, Ben Thanh Ward, District 1, HCMC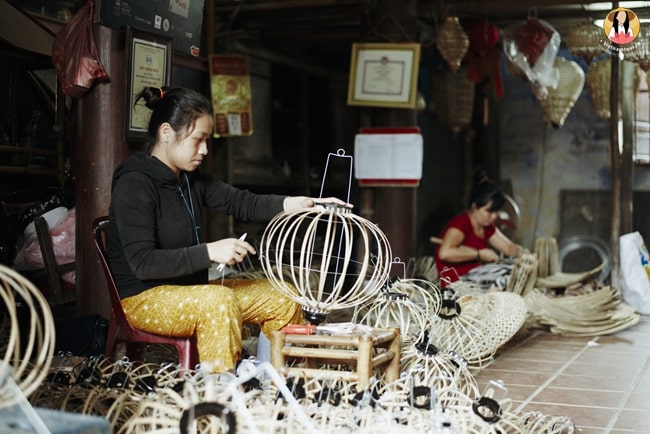 Ao Dai – the traditional costume of Vietnamese women
Vietnamese clothes are one of the great things to buy if you're seeking authentic Vietnam beauty products. Amongst the long list of Vietnamese gifts, Ao dai is the best of its kind.
Ao dai is the national costume of Vietnam dating back to the 18th century. This is an elegant long dress combined with long graceful pants. Ao dai comes with both traditional and temporary styles that enhance the beauty of Vietnamese women.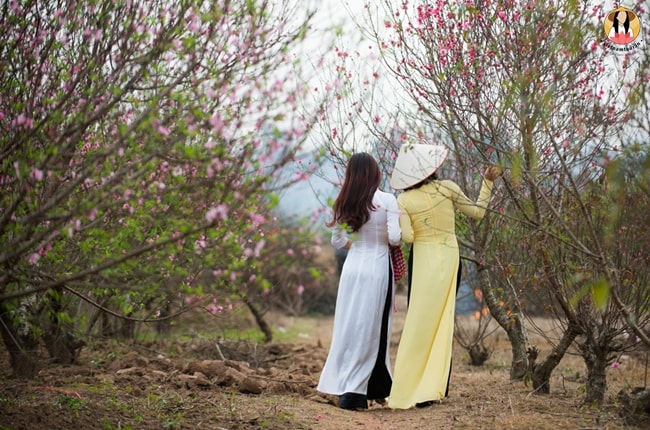 This special outfit is suitable for yourself or for gifts for your loved ones. It is available at many clothing stores throughout the country. You can find the ready-to-wear form or get a tailor-made one as per your favorite material and design.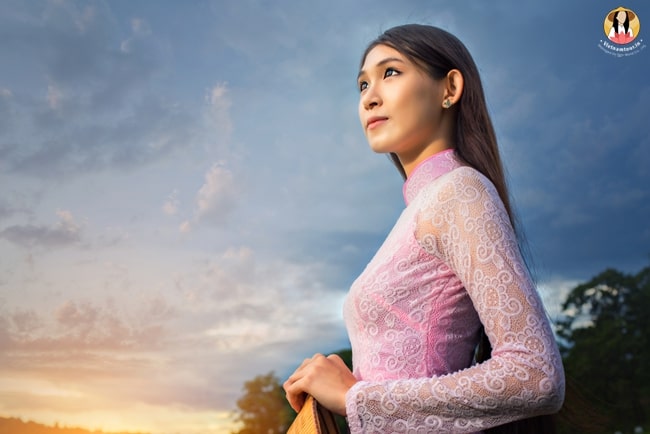 Price: from 22-87 USD/ set
Where to buy Ao dai in Vietnam
Huu la la – 30 Hang Bong Street, Hang Gai Ward, Hoan Kiem District, Hanoi
Ao dai Lien Huong – 111 Pasteur Street, Ward 8, District 3, HCMC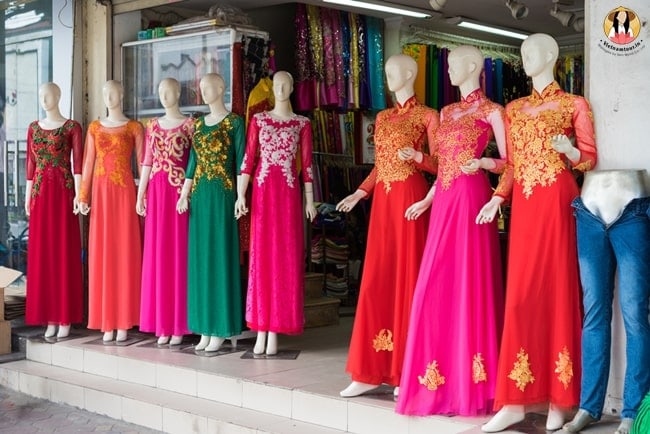 Vietnam Ethnic Handicraft
Ethnic handicraft products are some of the best gifts to buy for those shopping in Vietnam. These special products are mainly made by ethnic minorities living in the mountainous area. You could find a wide range of handicrafts from scarves, bags, clothes, paintings, textiles, etc. with diverse styles and patterns because of the distinctive culture of different ethnic groups.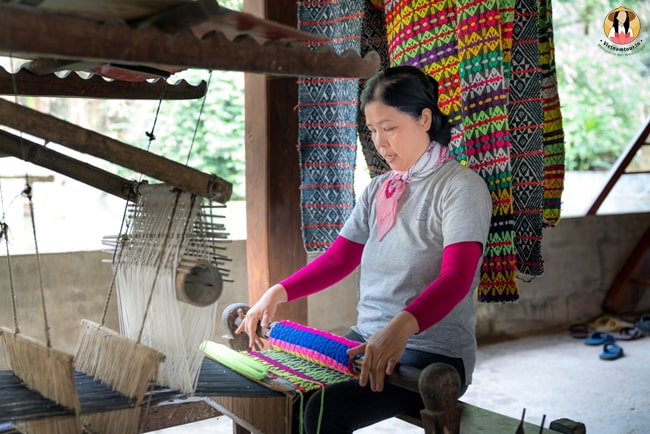 If you're truly into the exotic cultures of Vietnam, then it's an ideal gift to buy. These products are widely sold in almost every shopping spree. But for authentic ones, make sure to check out some Vietnamese gift shops providing true handmade products with higher prices.
Price: from 1.3- 22 USD
Where to buy handicraft in Vietnam
Sapa market- Sapa Town, Lao Cai, Vietnam
Indigenous – 36 Au Trieu Street, Hang Trong Ward, Hoan Kiem District, Hanoi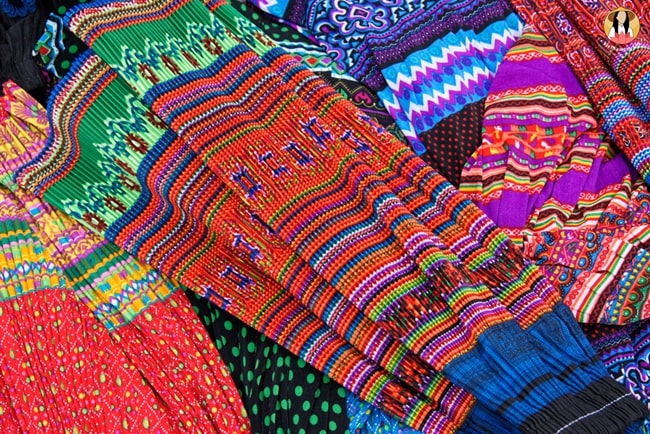 Lacquerware
Lacquer work in Vietnam has a long tradition with the unique style of using resin from Son tree. It is a work-intensive art form created through different stages of development with the careful and hard work of lacquer makers.
Lacquerware is one of the loveliest items in Vietnam, which can be bowls, dishes, vases and much more in stunning colors, distinctive styles, and intricate designs. You can visit some art galleries exclusively displayed a wide collection of this graceful souvenir, or for a true glimpse of this traditional work, make your way to some traditional lacquer villages in Vietnam.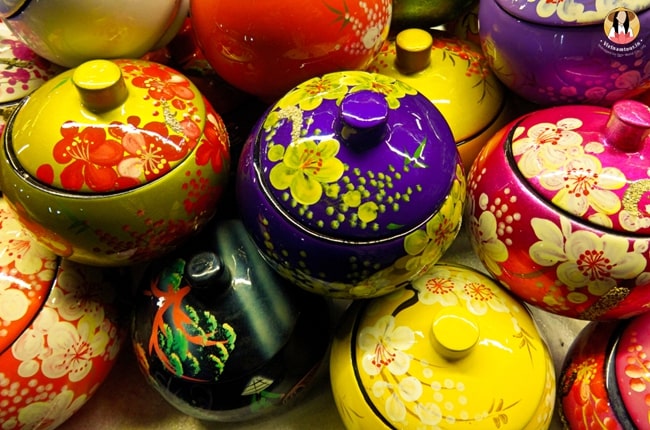 Price: from 8-65 USD
Where to buy 
An Duy Lacquer – 25 Hang Trong Street, Hang Trong Ward, Hoan Kiem District, Hanoi
Lam Kieu traditional lacquerware and sculpture, 41 Tran Phu Street, Minh Ward, Hoian
Minh Phuong Lacquer-ware Gallery – 40 Phung Khac Khoan Street, Dakao Ward, District 1, HCMC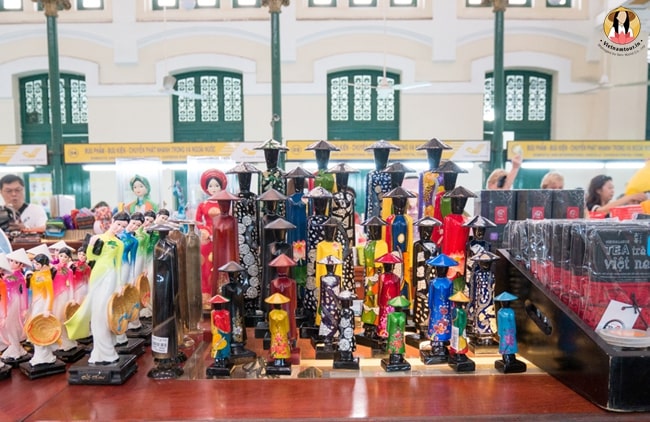 Shopping in Vietnam never fails to bring you delightful shopping experience whatever you're looking for: lovely local items or the best souvenirs from Vietnam. Buckle up right now and plan for things to buy in Vietnam to make the most of your time indulging in the exotic delights.
RELATED ARTICLES