There are so many ideal places to visit in Vietnam. This country is proud of its dazzling metropolises, idyllic islands, and vast national parks.
The beauty of Vietnamese nature and culture is astoundingly diverse. This enchanting country is full of unexpected things.
Our top Vietnam tourist spots listed on vietnamtour.in will help you organize your trip. Let's move on!
Top 21 Places To Visit In Vietnam
Vietnam's territory spans from North to South. It is split into three regions: history, economy, culture, society, population, and geography.
Northern Vietnam
Northern Vietnam is home to the capital of Vietnam, breathtaking bays, gorgeous rice terraces, and an unrivaled landscape. The cultural attractions are varied, ranging from the highland markets to the minority tribes.
Each destination has its unique charms!
Hanoi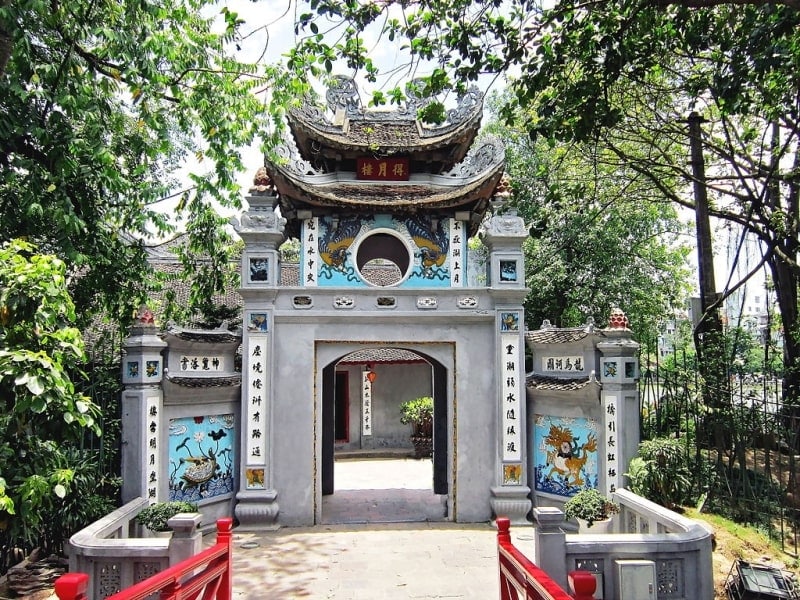 Ngoc Son Temple
Rich in culture and architecture
Many significant cultural landmarks exist, such as the Ho Chi Minh Mausoleum and the Ngoc Son Temple. Around 15 unique museums concentrate on fine art, traditional medicine, and Vietnamese women.
Hanoi has a rich cuisine. It is home to various mouthwatering regional specialties and age-old cuisines.
I recommend trying Banh Cuon (steamed rice rolls) and Pho Ga (Chicken noodle soup) for a flavor of traditional Hanoi. Vegetarian choices are always available for those who don't eat beef or pork.
Then, it's a great idea to enjoy Ca Phe Trung (egg coffee). Its flavor frequently reminds you of tiramisu.
Hanoi is a vibrant paradise of photography. You may take breathtaking photos of the foggy Ngoc Son Temple or the French yellow buildings along the lush alleyways.
The city is one of Southeast Asia's most reasonably priced travel destinations, offering inexpensive lodging, dining, and local transportation.
A single dorm bed will cost you about $7, while a double room may cost you about $28. A local beer is about $1, while a bowl of Pho will cost about $2.
Ha Long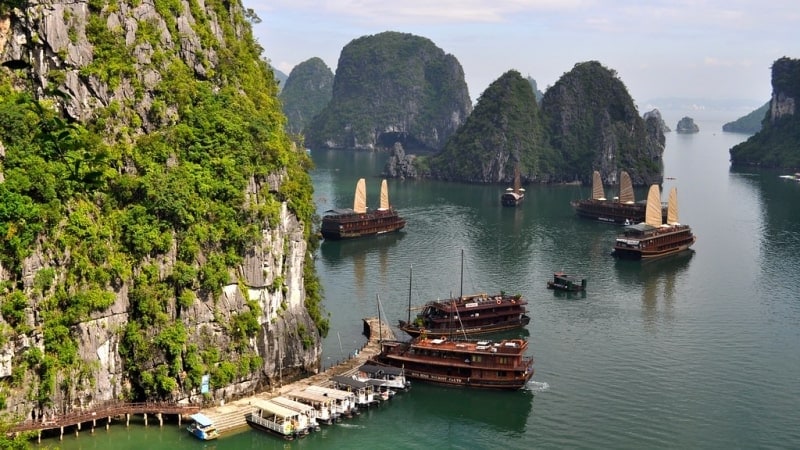 Halong Bay
UNESCO World Heritage Site
Because Ha Long Bay is so beautiful, it has been designated as a World Heritage site twice. It impresses tourists with 3,000 islets of towering limestone from the emerald-green lake.
Relaxing in the emerald water under the sun is an effective therapy. The calm waters of Halong Bay can soothe all the tension from your hectic daily schedule.
Besides, look for a cruise for an exceptional experience along Halong Bay. It is the best type of transportation in the region.
Halong Bay is a popular destination for travelers on a tight budget. The cost per person for two days and one night ranges from $99 to $139. Luxurious cruises range from $160 to $245 per person.
Sapa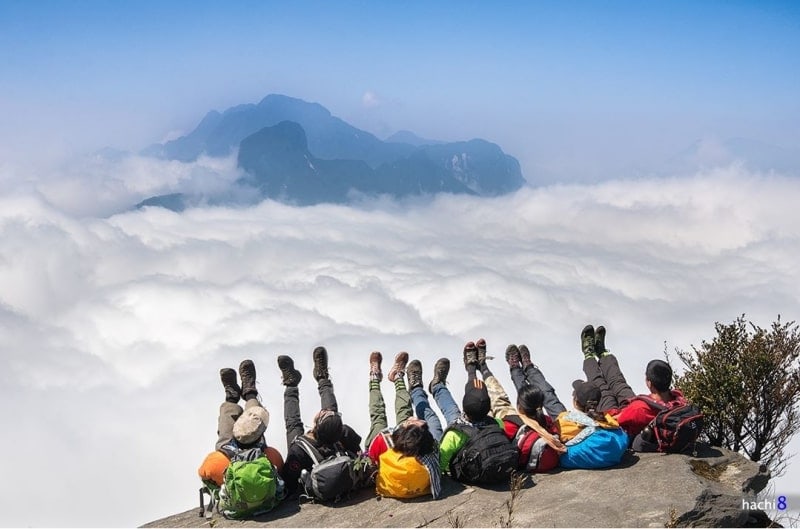 Fansipan
Humid subtropical climate
First, due to its 1600 meters above sea level, Sapa has a humid subtropical climate throughout the year. In the summer (May to August), it rains moderately. It is cloudy in the winter, with frequent mist, frosts, and sporadic snowfalls.
Sapa is renowned for having stunningly gorgeous natural scenery. The Hoang Lien Son ranges, and Sapa's tropical forest cover the spectacular mountains and valleys, creating a stunning landscape.
It will be worth it to go on an adventure tour to climb Fansipan Mountain, popularly called the "Roof of Indochina," or explore gorgeous Cat Cat waterfalls.
Sapa is home to numerous ethnic communities with distinctive traditions, attire, architectural designs, and languages. Most reside in the tiny villages and hamlets in Muong Hoa Valley.
Mai Chau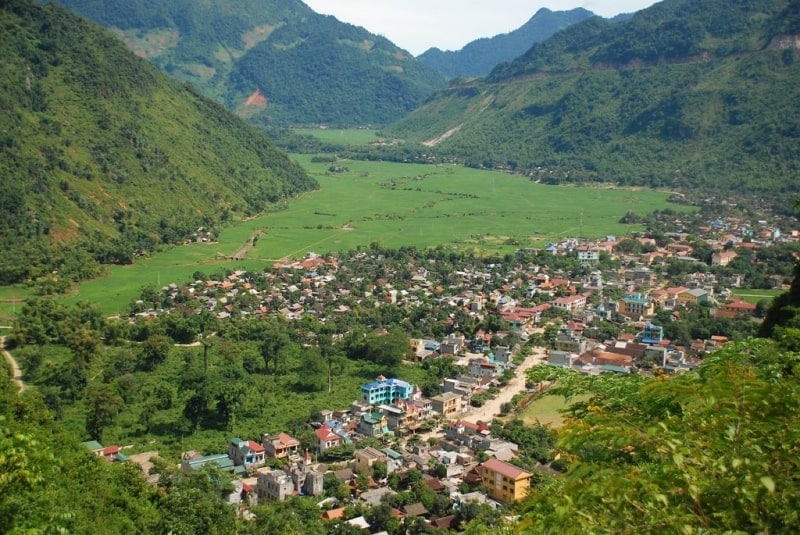 Mai Chau valley
The best destination for relaxing
Mai Chau is approximately 120 kilometers away from the bustling Hanoi. Its tranquil landscape keeps your mind clear of stress.
You may spend the night in a Thai family's homestay. It will also be a fantastic opportunity to learn about another lifestyle.
Suitable for family travel with kids
A trip to Mai Chau is the ideal way to educate your kids. You may encourage them to try new things like cooking local dishes or cycling.
Your kids may love trekking and cycling through the valley since they can observe local people working in the fields. It's an excellent chance to learn how to farm.
Ninh Binh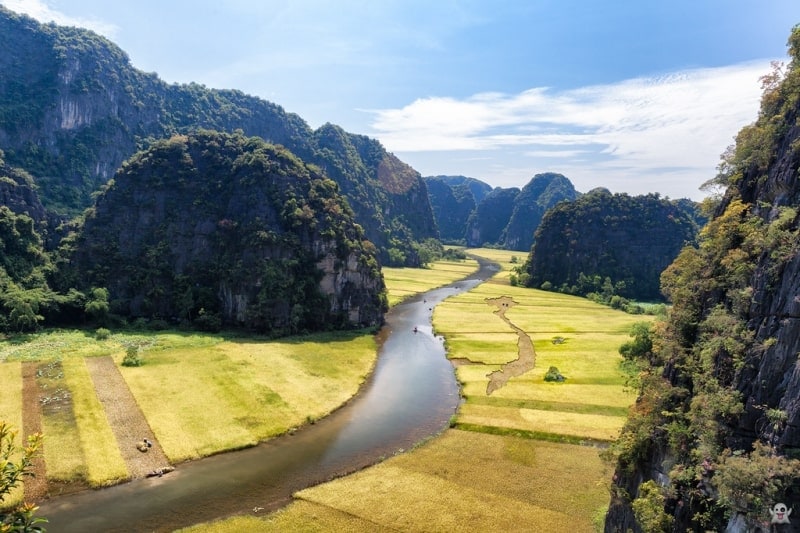 Tam Coc
Ninh Binh is called the "Ha Long Bay on land." Numerous rivers run around hundreds of limestone monoliths crowned by lush vegetation, creating a poetic scenery.
While there are mountains in the West and North, the beaches are in the East and South. It is no exaggeration to say that Ninh Binh has everything.
Ninh Binh's cuisine is proud of the abundance of mouth-watering dishes made of goats. Because the goats naturally grow up on limestone mountains, their flesh is firmer than goats in other places.
Finding an affordable place to stay is easy because Ninh Binh is progressively becoming a tourist destination. Budget hostels with shared beds start at about $8 per night. A private room is available at about $15 per night.
Ha Giang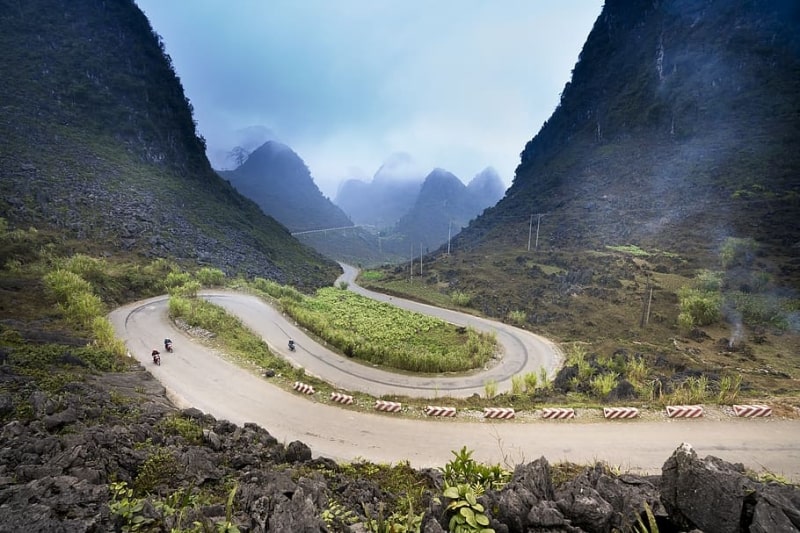 Ha Giang loop
You may find beautiful mountainous terrain throughout Northern Vietnam. But the Ha Giang province has some of the most spectacular mountains.
The passes in this region have an uncanny appeal to adventurers. The Ma Pi Leng Pass, which connects Dong Van and Meo Vac, is the most well-known mountain crossing.
The pristine pace of life with minor tourism exploitation
Since tourism has only recently grown in Ha Giang, everything remains exceptionally pristine. It is a precious experience when you can see the stunning and colorfully attired minorities when driving by.
I recommend visiting the weekly markets in Meo Vac and Dong Van to discover more about these distinctive cultures. You may spend the night at a local homestay to learn about their life.
The very northernmost point of Vietnam
It would be best to visit the Lung Cu flag pole, located in the northernmost point of Vietnam. You will end up seeing beautiful, tranquil countryside and small towns.
Many domestic and international travelers regard the Ha Giang Loop as Vietnam's most fascinating motorbike road.
It's better to go with a guide if you don't have a driver's license or feel unconfident about driving over northern Vietnam's rugged highlands.
Central Vietnam
Central Vietnam is known for its diverse landscapes, ethnic cultures, and culinary traditions. Visitors can explore various secrets at each destination.
Da Nang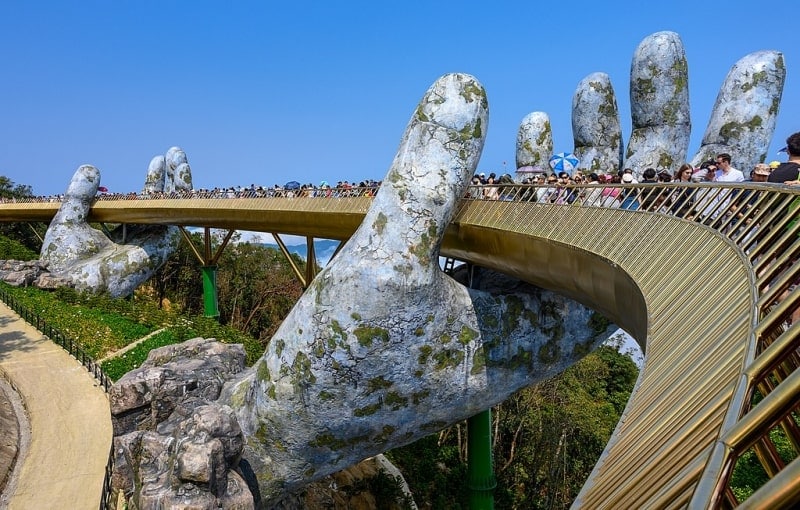 Golden Bridge
Da Nang has beautiful beaches. You will have a memorable summer with crystal blue beaches, pristine sands, and endless sunshine.
Han River, which runs through the city's center and four outstanding bridges, is the symbolic landmark of Da Nang. These symbols remind tourists of a youthful and vibrant city.
You must try Mi Quang Ga (Chicken Quang Noodle) and Banh Mi Hoi An (Hoi An baguette). These delectable dishes present the distinctive culture of central Vietnam.
Hoi An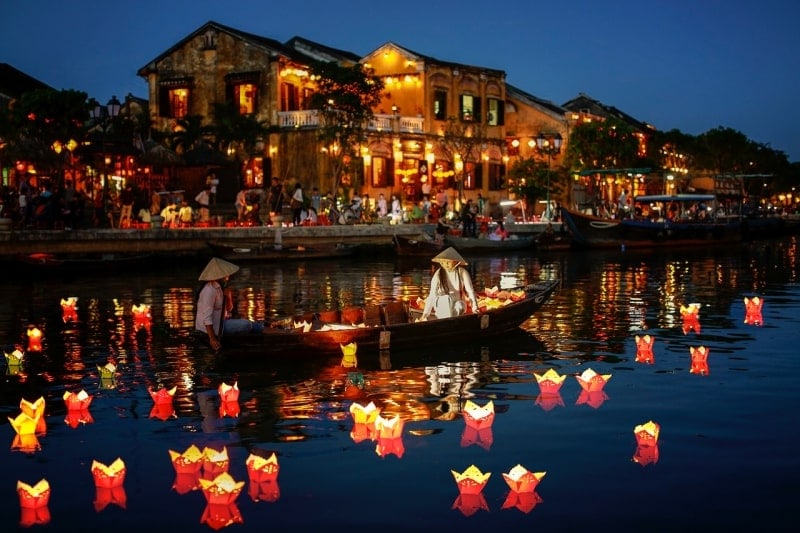 Hoi An at night
The old town of Hoi An is what makes this place so famous. It is home to hundreds of ancient structures, recognized as a UNESCO World Heritage Site.
It feels like you have traveled back in time as you stroll around the old town. There are great places for dinner, gorgeous backdrops for picture shoots, and many shops for buying handicrafts and gifts.
Lastly, you may take a day trip to the My Son temples. These deserted Hindu temples built in the fourth century are among the most impressive sights you'll ever see.
Nha Trang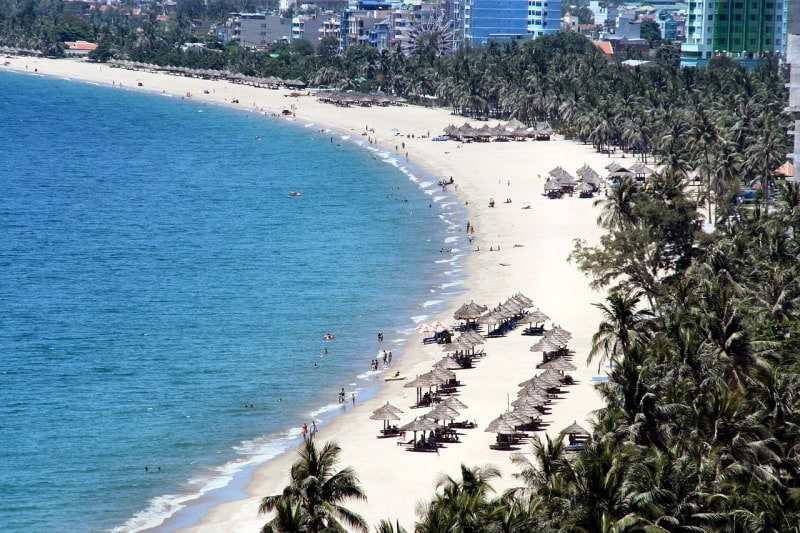 Nha Trang beach
A sandy beach is the most attractive feature of Nha Trang. Every day, crowds of tourists congregate at Tran Phu Beach to enjoy the hot sun and cool water.
Exciting water sports in Nha Trang will exhilarate you. In addition, you may drive 60 kilometers north of the city to Doc Let to admire one of Vietnam's most stunning stretches of coastline.
Nha Trang is Vietnam's capital of seafood. You may find fresh fish and shellfish in the seas off the shore of Khanh Hoa.
Don't worry about hunger in Nha Trang, with all the upscale hotels, restaurants, and streetside cafes available everywhere. It's a good idea to have dinner with the locals for deeper explorations of the culinary potential of the city.
It would help if you tried the mud baths at Nha Trang. The mineral-rich clay provides medicinal and skin-healing advantages, such as improved circulation and moisturization.
After that, immersing yourself in the hot mineral pools may make your day. If you feel exhausted, I recommend booking a chocolate body wrap or a massage.
The Po Nagar Cham Towers constructed by the Cham people in the eighth century are Vietnam famous places. Its stunning architecture incorporates designs of Islam, Buddhism, and Hinduism.
Nha Trang is good at throwing night parties. Sailing Club Nha Trang is the town's focal point for a thriving nightlife scene.
Weekend beach parties at Sailing Club are well-known all around Vietnam. Various locals, foreigners, and tourists are likely to attend these parties.
Hue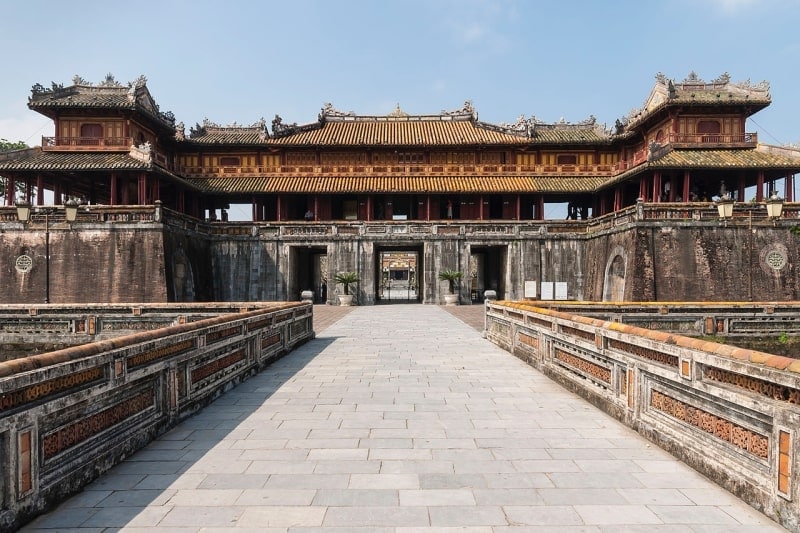 Hue Imperial Capital
Hue was the capital of Vietnam from 1802 to 1945. Traveling there, you must visit the Imperial Citadel first.
This place is a vast complex of structures and temples where the royal family formerly lived. Significantly, the Forbidden Purple City, which sits within the Imperial Citadel, is a UNESCO World Heritage site.
The magnificent seven-story Thien Mu Pagoda, built in the 1660s, is one of the city's emblems. The pagoda perches atop a hill, offering a tranquil haven among the city's busy daily life.
I recommend hiring a motorcycle, scooter, or jeep to drive down the magnificent Hai Van Pass.
It is the highest pass in Vietnam, nearly 1,640 feet tall above sea level. You'll see everything while standing there, including small villages, sanded beaches, mountain ranges, and rainforest jungles.
Thanh Hoa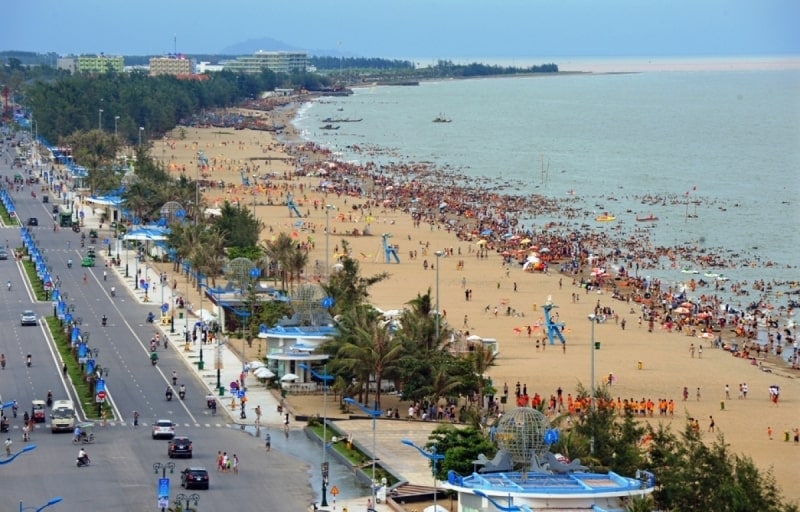 Sam Son beach
Thanh Hoa is proud of its abundance of natural treasures, which include waterfalls, fountains, the ocean, mountains, caverns, and charming hamlets. All of them create magnificent scenery.
Seafood is the staple of Thanh Hoa cuisine. I don't know how to express my addiction to mouthwatering dishes made of squid, prawns, steamed clams, shrimp, and so on. Delicious food may soothe your weary spirit.
If you haven't been swimming in the refreshing blue sea in Thanh Hoa, you're missing out. Sam Son Beach with its expansive golden sand beaches, flowing blue water, gray-hued coconut groves, and casuarina woods is a precious creation of Mother Nature.
Quy Nhon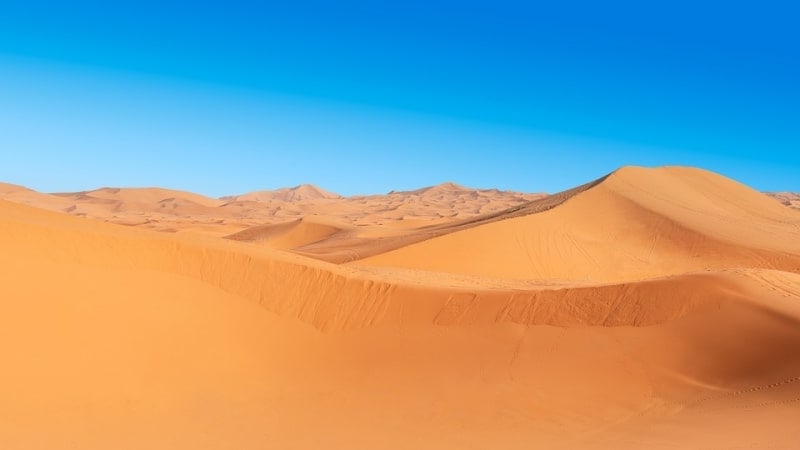 Sand dunes
Quy Nhon will be your ideal destination if you're looking for a beautiful place to explore genuine Vietnam. The enduring shorelines and gorgeous mountains will leave you with a memorable vacation.
The giant dunes next to Nhon Ly Beach are a fantastic place to attempt sandboarding. It would be an unforgettable experience.
Quang Binh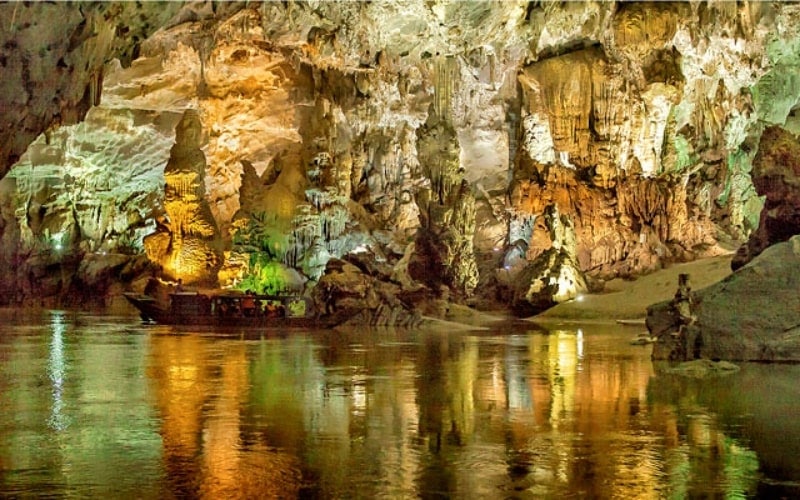 Son Doong Cave
Phong Nha – Ke Bang National Park and Son Doong Cave
The Son Doong Cave and Phong Nha-Ke Bang National Park are well-known attractions in the Quang Binh province. The most comprehensive system of various intriguing caverns makes it the most valuable location in Quang Binh.
Quang Binh boasts a unique dish called Chao Canh Ba Don (Ba Don noodle soup). This dish combines broth and noodles of flour, rice flour, and tapioca starch.
Enjoying a bowl of Chao Canh Ba Don on a cold spring morning is a must-try. Nothing can stop you from swallowing the soft, warm noodles and drinking the hot and spicy soup.
In addition, there are different local specialties in the province:
Seafood
Rice cakes
Noodle soup with snakehead
Honey
Local wine
Mushroom
Da Lat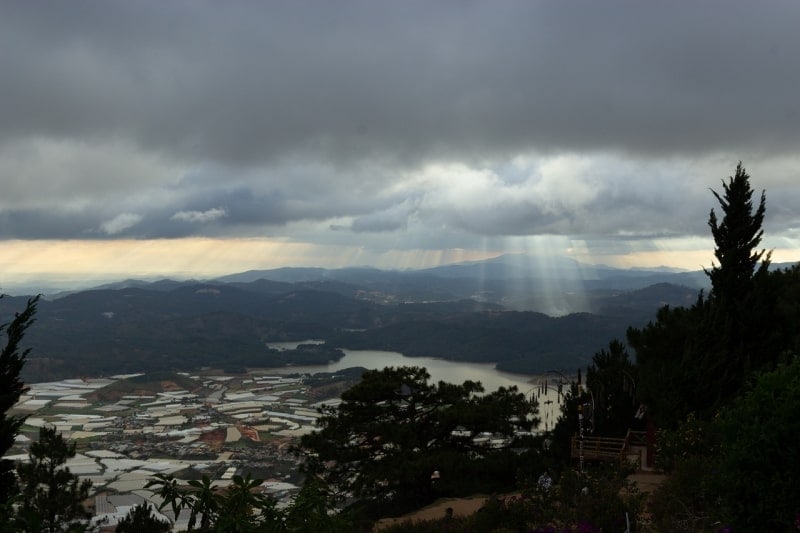 Lang Biang Peak
Da Lat has a temperate climate due to the surrounding mountains and pine trees. The temperature ranges from 5 to 30 degrees Celsius.
Dalat never experiences storms. The East side of Da Lat, which has no mountain, sometimes experiences strong gusts from the ocean.
Clean fruit, vegetables, and coffee
Da Lat is also well-known for fresh fruits, veggies, and coffee. Make sure to sample the local cuisine for the whole Vietnamese experience.
Canyoning combined with sightseeing is one of the best ways to experience Da Lat's natural beauty. This activity offers you the chance to see the spectacular landscape that is made up of hills, pine trees, and waterfalls.
You will have all the best tools to conquer the adventure. After all, you will succeed in improving your courage, excitement, and strength.
In addition to canyoning, Da Lat is known as Vietnam's capital of other adventure sports.
Canyoning
White water rafting
Trekking
Mountain biking
Overnight camping
Southern Vietnam
Southern Vietnam has vast fields, tranquil rivers, and lavish fruit gardens. This region is home to fascinating cultures and valiant historical artifacts.
Ho Chi Minh City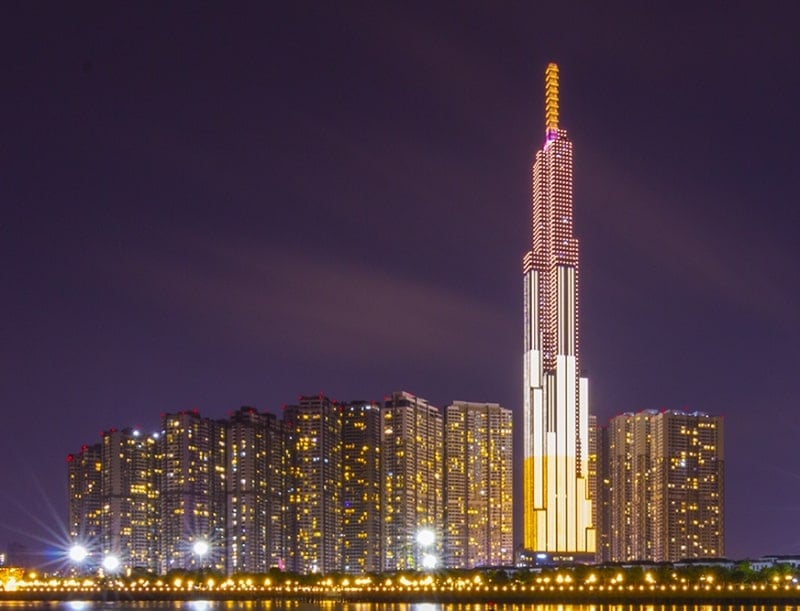 Landmark 81
There are numerous significant historical sites in Ho Chi Minh City. It is ideal for history enthusiasts because it has many attractions, such as the War Remnants Museum, the Independence Palace, and Cu Chi Tunnels.
Ho Chi Minh City has a wide range of traditional and modern dishes. You have many alternatives, from affordable street food to opulent Mediterranean mezze and Carolina-style barbecue pig ribs.
Ho Chi Minh City is incredibly crowded. At night, the city is full of people hanging out from cafés and pubs to lakes and bridges.
There are a ton of pubs and clubs. Pham Ngu Lao Street is the place where the parties last all night.
Binh Thuan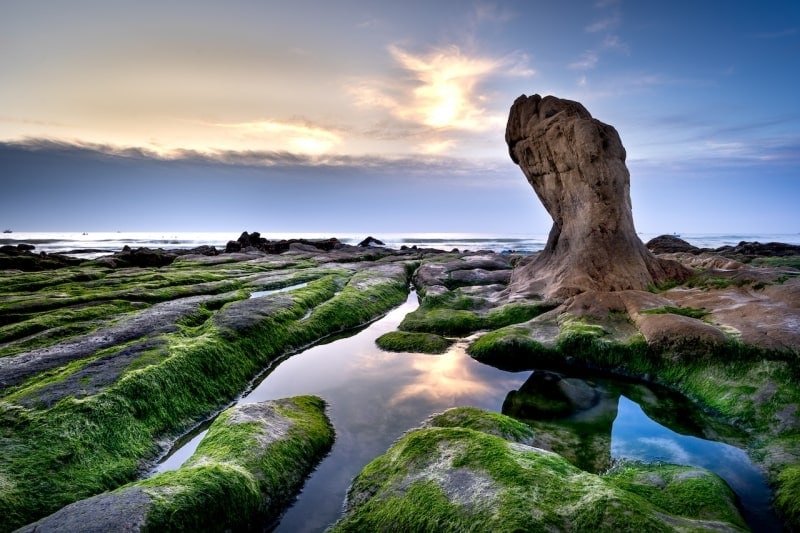 Co Thach Beach
Binh Thuan lures many tourists because of its stunning scenery and varied geography. This region stands out for breathtaking lakes, babbling streams, and windswept rocky beaches.
Phu Quy has stunning scenery and abundant natural resources. The island has thousands of colorful coral reefs living under crystal-clear waters along the picturesque beaches.
Locals refer to the beach in Co Thach as the "seven-color stone" because it has many colorful rocks and thousands of tiny, round, flat pebbles. It's one of the most alluring and distinctive sceneries in Vietnam.
Vung Tau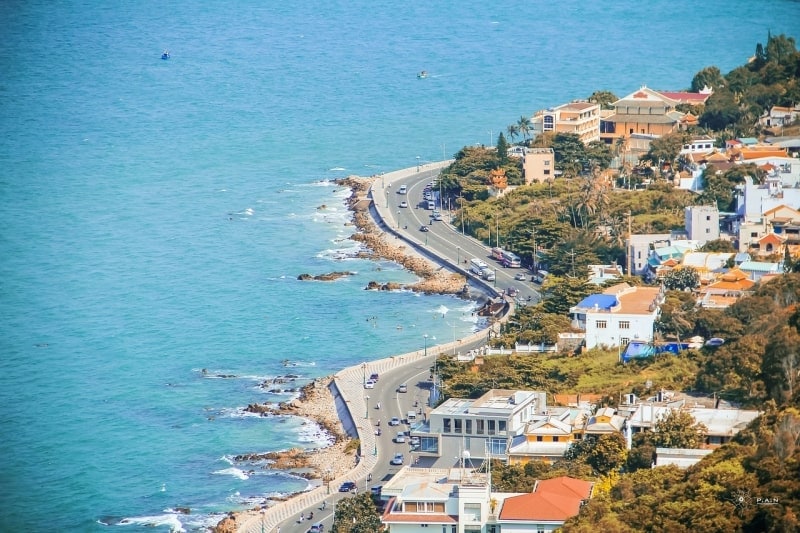 Vung Tau beach
The long, sandy beaches, crystal-clear water, and pleasant surroundings draw tourists to Vung Tau. In addition, you are free to wander through incredibly poetic and magnificent tourist attractions.
You will undoubtedly become engrossed in that enchanting world with only one sunrise or sunset. Space and time are like to stop moving as the sky becomes crimson at dusk.
Vung Tau not only attracts tourists by its beautiful scenery but also by its distinct cuisine. Because it is a beach city, no wonder why seafood is Vung Tau's specialty.
There are a variety of types and prices. Once you have tasted Mai fish salad, Sawfish hot pot, or Squid noodle soup, you will not take them out of your mind.
Tay Ninh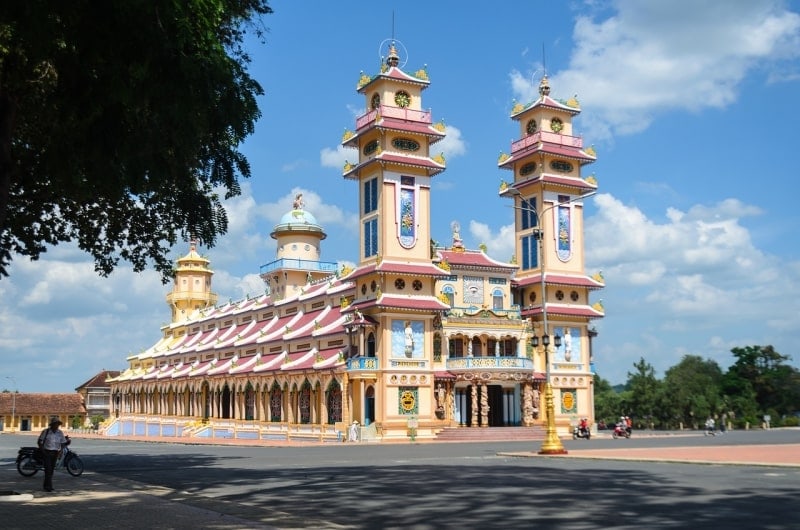 Tay Ninh holy see
Tay Ninh can steal the hearts and souls of many travelers with its abundance of spirituality, mystery, and adventure. Travelers often compare Tay Ninh to a fairytale locale.
Tay Ninh Holy See is a symbol of this region. If you plan a trip to Tay Ninh, visit this creation to explore its beauty.
The tallest bronze Bodhisattva statue
Remember to visit the 72-meter-tall Bodhisattva statue of 170 tons of red copper on the top of Ba Den Mountain. According to Asian Records, this statue has established the record for "The tallest bronze Bodhisattva statue situated on a mountain in Asia."
Mekong Delta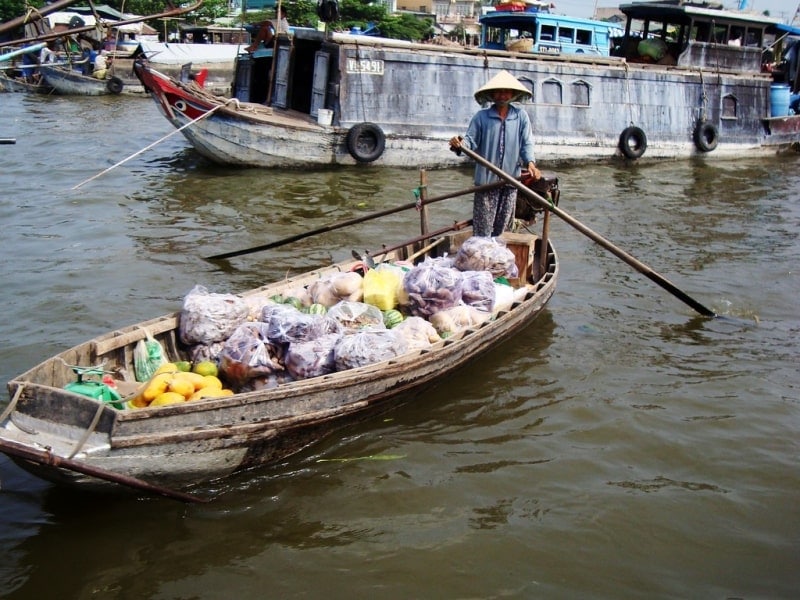 Cai Rang floating market
Mekong Delta is well-known for its stunning natural setting and long-standing rice-growing culture. The significant supply of water is the Mekong River.
The Mekong River splits into nine tributaries. Rice grows when the water recedes, while fisheries flourish during the flood.
Visitors to the Mekong Delta may visit the floating market and historic towns.
The Mekong Delta's food has a distinct flavor inspired by Thai and Cambodian cooking techniques. The area is well known for its abundant tropical fruits, vegetables, and freshwater fish.
Con Dao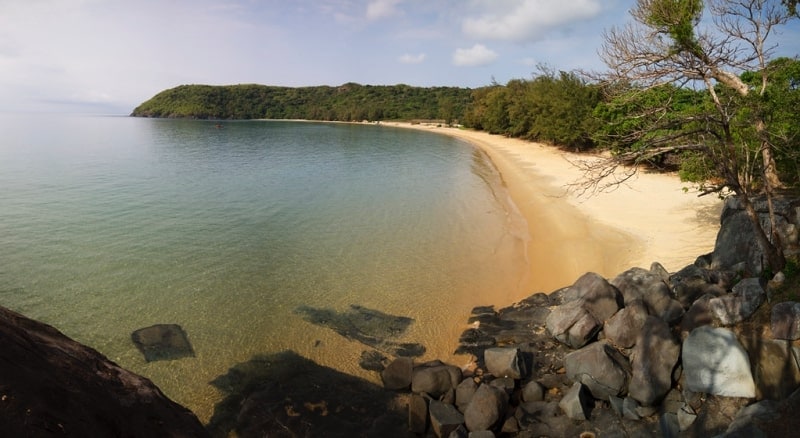 Dam Trau beach
Con Dao comprises 16 islands and islets. This place is well-known for its pristine natural beauty.
Hiking, snorkeling, and visiting wild animals are the most common activities. You may also visit the former Con Dao jail or explore coral reefs.
The most beautiful beaches
Anyone traveling to Con Dao should see Dam Trau Beach. It is one of the top 25 beaches in the world, with its pristine water and vibrant coral reefs.
On the other hand, Nhat Beach, Bay Canh Island, Ca Map Cape (Shark Cape), and Con Dao national park are where you can see rare species up close and take in the breathtaking sunset.
Seafood is usually fresh and great-flavored since it is caught right from the ocean. Con Dao's most well-known specialties are mackerel, oyster porridge, moon crab, snails, and scallops.
Phu Quoc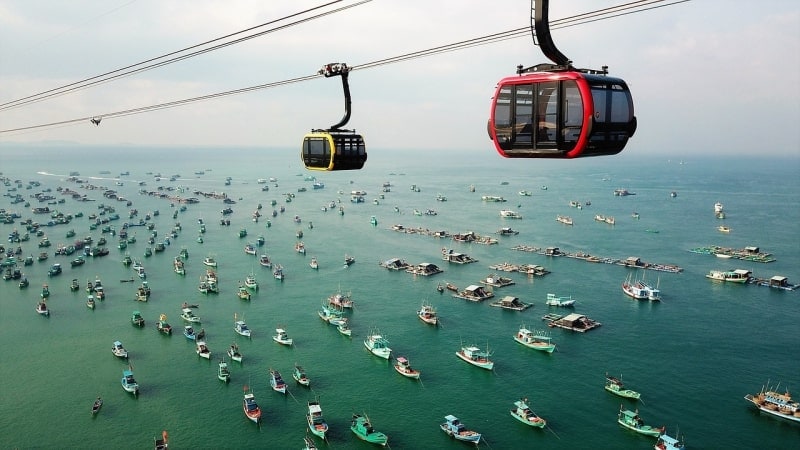 Hon Thom cable cabs
Phu Quoc is most known for its long beaches with white sand. The water is as pure as bathwater.
The crystal-clear water is a perfect window into the colorful underwater world. In that world, a massive network of coral reefs encircles the islands.
There are a variety of activities that get you excited. Various water activities are perfect for thrill-seekers.
If you're ready for a more challenging trip, hike to one of the mountain peaks that form a spine across the park. If you aren't in the mood for exercise, Suoi Tranh Waterfall is an alternative destination.
World-famous for fish sauce
Foodies must try the fish sauce made in Phu Quoc. The unique charm of Phu Quoc fish sauce is that it has natural light amber but not using coloring agents.
I recommend visiting a factory to understand how to do this delicacy. Tourists can purchase Phu Quoc fish sauce to give as a present to their loved ones back home.
Best Places To Visit In Vietnam In Each Season
Vietnam is an ideal destination for year-round travel. Here, we highlight some specific places to see in Vietnam in each season.
In Spring (February to April)
In the final days of January, the northern sky gradually changes to welcome the brisk breeze. It's time to travel to the mountains of the north to celebrate the spring.
Gorgeous flowers are hidden in the soft floating clouds surrounding the stunning mountains and woodlands. Peach blossoms pink Sapa mountains, while Moc Chau is full of white plum and apricot blooms.
In Summer (May to August)
Going to the beach in the summer is the best idea. The vacation can help you to relieve tension and dramatically enhance your health.
If you want to visit the beach, you have a lot of options:
Sam Son
My Khe
Mui Ne
Nha Trang
Phu Quoc
In Autumn (September to November)
Autumn is the peak season of Hanoi tourism. It is when most travelers visit Hanoi since it is neither chilly nor hot.
Hanoi appears infused with the fascinating smell of milk flowers on these particular days. The fragrance of milk flowers soaring along the streets is one of the "specialties" of Hanoi's autumn.
In Winter (November to January)
No matter where you go in the winter, you will still have a singular experience. Therefore, consider picking a place that is appropriate for you.
A winter trip to the North is the best idea. The climate is unpleasant, but it is worth it to experience the snowfall on the top of Fansipan.
Families and groups would be interested in Central Vietnam. You may experience first-rate services at incredibly affordable prices because winter is the low season for tourists.
Finally, November to January is the best time to travel to the South. The bright sky, constant sunshine, and clean air will appeal to you.
FAQs
What are some must-see attractions in Vietnam?
Fansipan
Imperial Citadel of Thang Long
Ho Chi Minh's Mausoleum
Son Doong cave
Halong Bay
My Son temple
Hue Imperial City
Nha Trang beach
Cu Chi Tunnels
Mekong Delta
Phu Quoc
Which is better, Hanoi or Ho Chi Minh City?
Well, it all depends on what you are looking for.
Hanoi is richer in culture and history. On the other hand, many people love Ho Chi Minh City because it has plenty of rooftop bars and a Westernized lifestyle.
What is the most beautiful place in Vietnam?
The top five most beautiful cities in Vietnam include:
Ho Chi Minh – City of bustling nightlife
Hanoi – City of a thousand years of civilization
Da Lat – City of fog
Nha Trang – City of the most beautiful bay in the world
Da Nang – City of bridges
The Bottom Line
In summary, each region has its unique culture, cuisine, customs, and habits. I want to recommend the famous places to visit in Vietnam as below:
Northern Vietnam: Hanoi, Sapa, Ha Long
Central Vietnam: Hue, Da Nang, Nha Trang, Da Lat
Southern Vietnam: Saigon, Can Tho, Phu Quoc
There are many tips to help you choose the destination that suits your preferences the most.
First, consider who you will go with on your upcoming trip. How many days can you spend on the trip? How much budget do you have?
Second, you should carefully research the weather information where you will travel. You will not want to lie in the room to watch the rain. However, if the weather is good, that destination will also be in the peak tourist season!
Finally, think about the experiences you want to have on your vacations. Make a list, and have a nice trip!
Let's find out more inspirational destinations in Vietnam with the list below.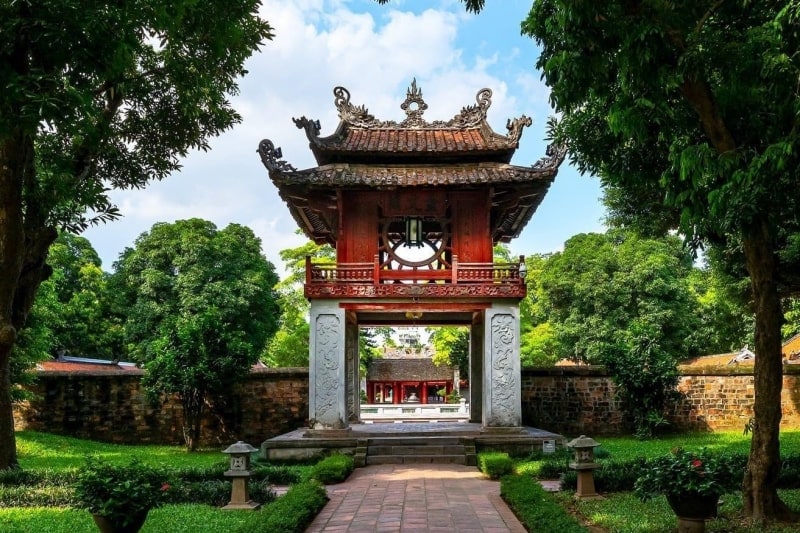 Hanoi – Vietnam's heart and soul
Location: Northern Vietnam
Places to visit: Ho Chi Minh Mausoleum, Hoan Kiem Lake, Tran Quoc Pagoda, Temple of Literature, Old Quarter, Bat Trang Ceramic Village
Things to do: Sample the street food, explore Hanoi's cafe culture, take a cyclo tour, watch the cultural show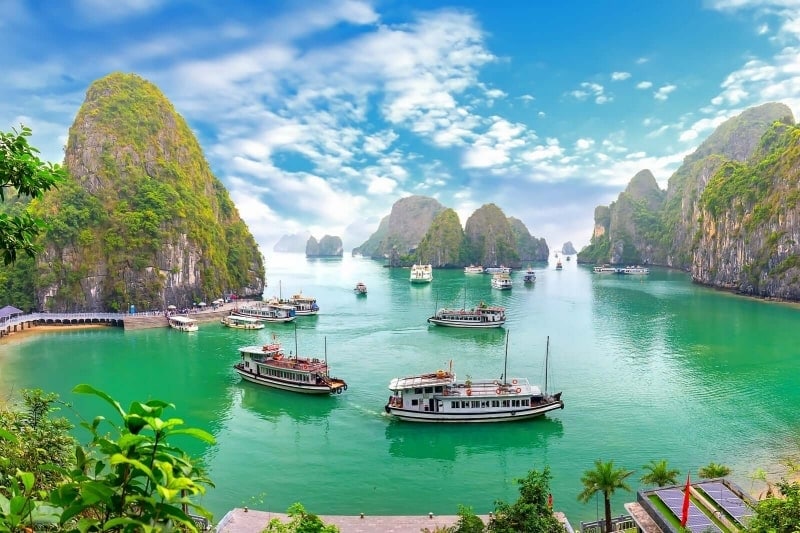 Halong Bay – Where the dragons descend into the emerald waters
Location: Northern Vietnam
Places to visit: Thien Cung Cave, Sung Sot Cave, Tuan Chau Island, Sun World Halong Complex, Quang Ninh Museum
Things to do: Cruise the bay, explore a floating village, paddle out in a kayak, clamber into a cave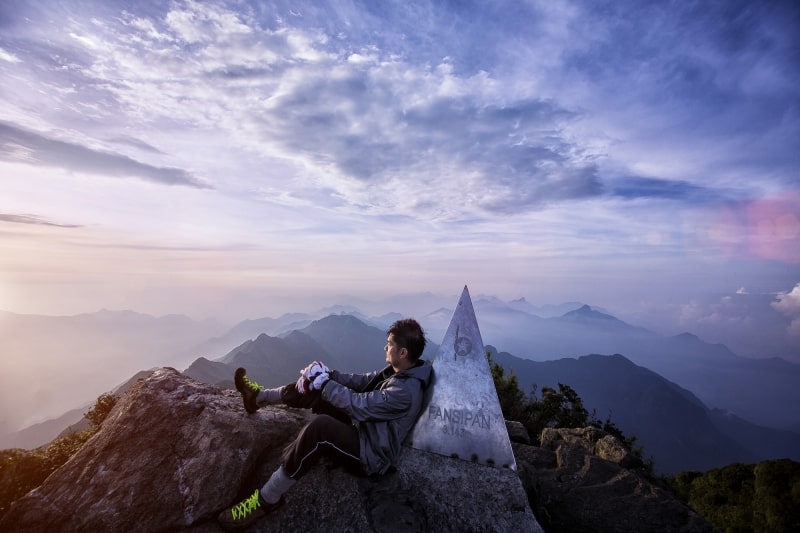 Sapa – Meeting land between heaven and earth
Location: Northern Vietnam
Places to visit: Fansipan Mount, Muong Hoa Valley, Cat Cat Village, Lao Chai Village, Silver Waterfall, Love Market
Things to do: Summit Mount Fansipan, visit an ethnic minority market, go trekking in the hills, stay in a mountain lodge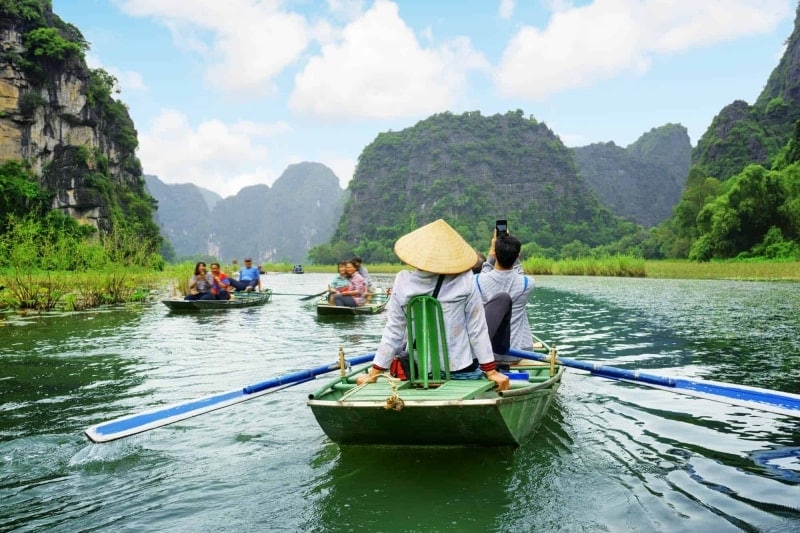 Ninh Binh – Captivating region often referred to as 'Ha Long Bay on Land'
Location: Northern Vietnam
Places to visit: Hoa Lu Ancient Capital, Trang An Grottoes, Bich Dong Pagoda, Mua Caves, Cuc Phuong National Park
Things to do: See the view from Hang Mua, take a sampan tour, visit the ancient capital, pay a visit to the Bai Dinh Temple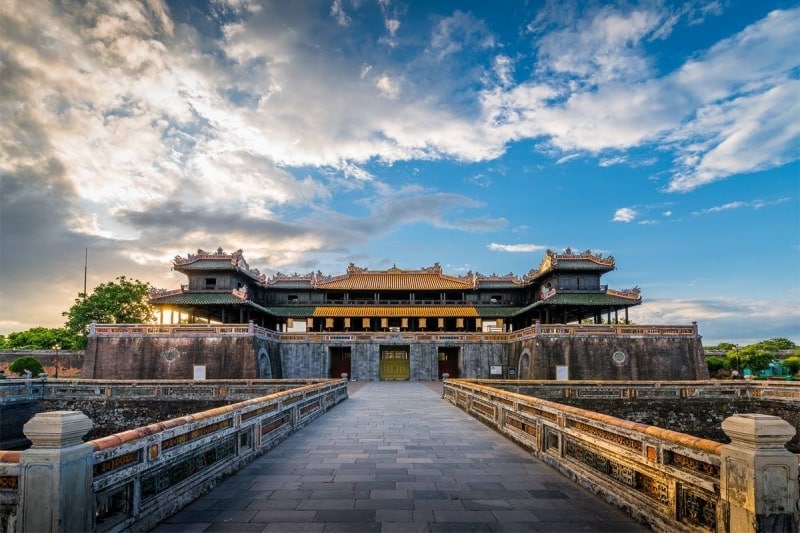 Hue – The imperial city of heritage, The land of poetry
Location: Central Vietnam
Places to visit: Imperial City, Emperor's Tomb, Thien Mu Pagoda, Perfume River, The Thanh Toan Bridge
Things to do: See Imperial Vietnam, eat like a king, explore the city's Buddhist roots, cycle in the rice paddies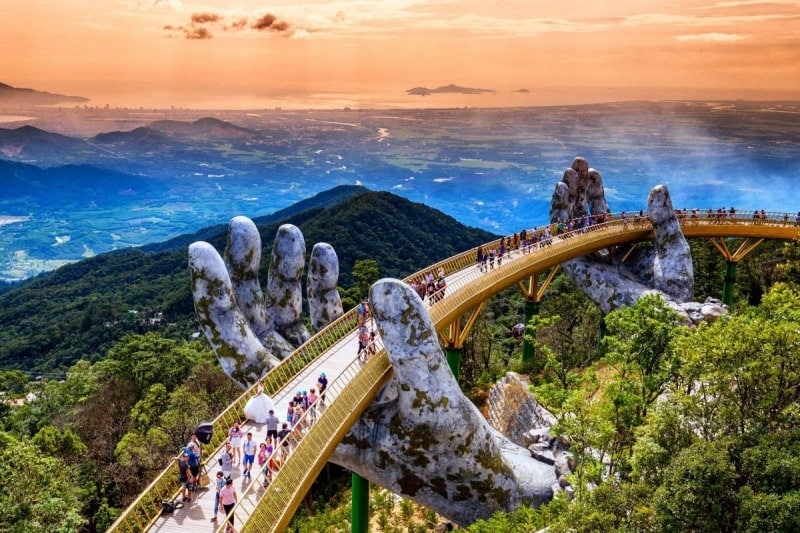 Da Nang – Paradise on Vietnam Central's sparkling coastline
Location: Central Vietnam
Places to visit: Ba Na Hills & Golden Bridge, Danang Cathedral, Marble Mountains, Son Tra Peninsula, My Khe Beach
Things to do: Enjoy the beach, see the Son Tra Peninsula, learn about Cham culture, explore Marble Mountains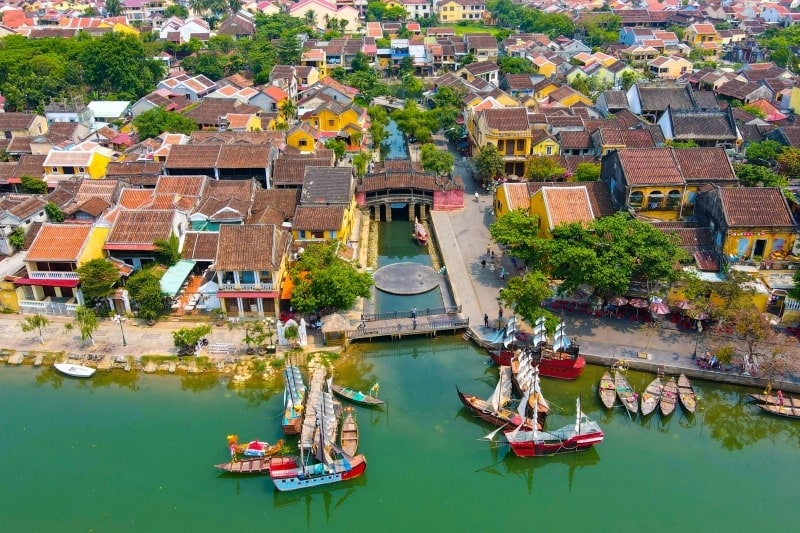 Hoi An – A little old town where history and culture come alive
Location: Central Vietnam
Places to visit: Japanese Bridge, My Son Sanctuary, Cham Island, An Bang Beach, Tra Que Village, Cam Thanh Coconut Village
Things to do: Get lost in the Old Town, cycle in the countryside, marvel at My Son Sanctuary, have tailor-made clothing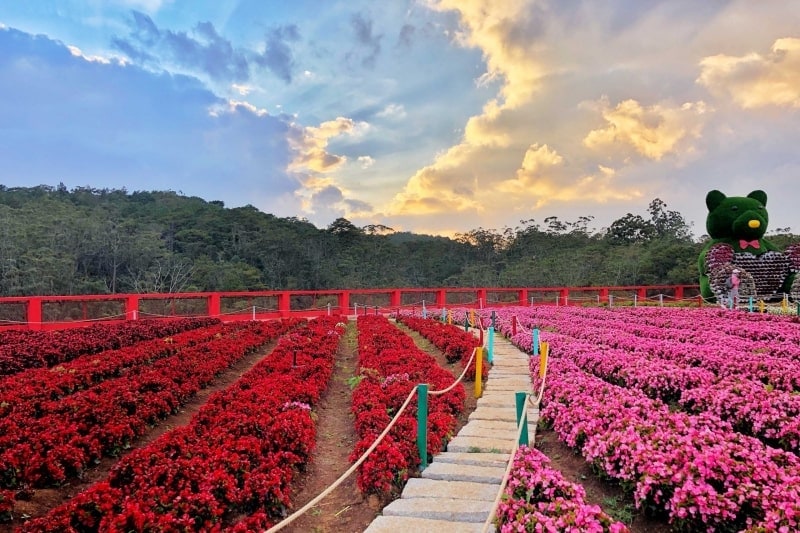 Da Lat – A flowery town of romance. Litte Paris in Vietnam
Location: Central Vietnam
Places to visit: Domaine de Marie Church, Tran Le Xuan Mansion, Linh Quy Phap An Pagoda, Tuyen Lam Lake, Datanla Waterfall
Things to do: Take the alpine slide to Datanla Waterfall, stroll around the valley of love, wander through the Da Lat flower garden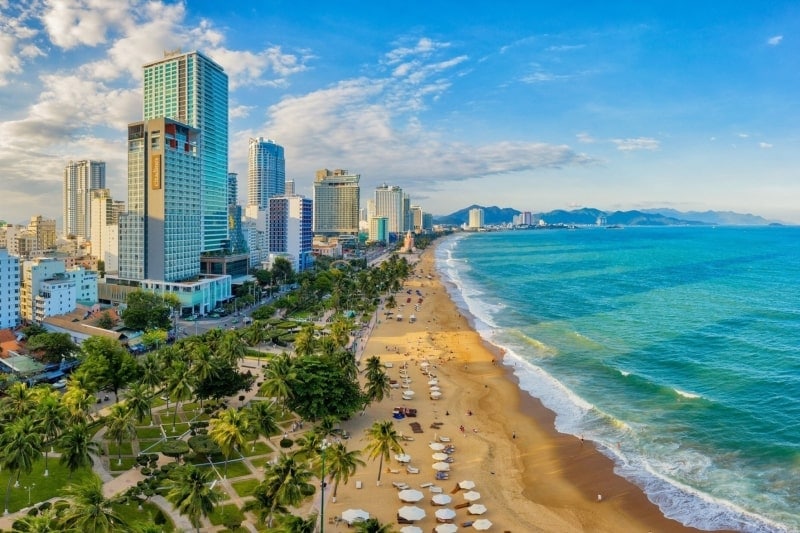 Nha Trang – Eastern Pearl, where the sun, sand, and sea meet to create paradise on earth
Location: Central Vietnam
Places to visit: Bai Dai Beach, Po Nagar Tower, Vinpearl Land, Hon Mun, National Oceanographic Museum of Vietnam, Ba Ho Waterfall
Things to do: Go beach-hunting, try a mud bath, enjoy water activities, visit Po Nagar Tower and Bao Dai villa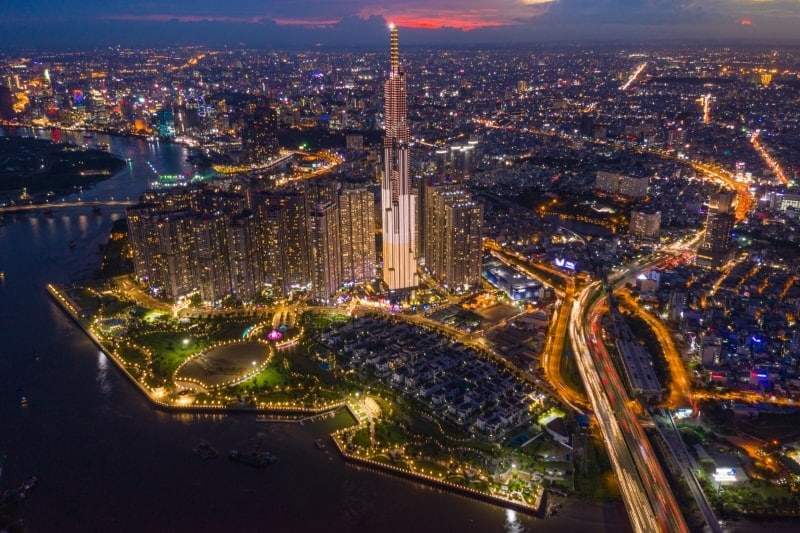 Ho Chi Minh City – The Pearl of the Far East – The city that never sleeps
Location: Southern Vietnam
Places to visit: Notre Dame Cathedral, Independence Palace, Saigon Central Post Office, Ben Thanh Market, Landmark 81
Things to do: See the top landmarks, shop small boutiques, explore the Chinese Quarter, hop on a motorcycle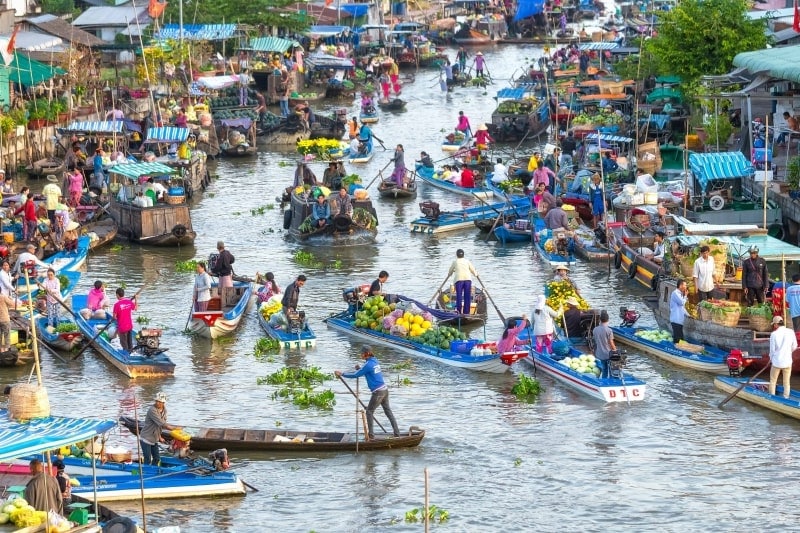 Mekong Delta – Life in the Mekong Delta flows as smoothly as the river that feeds it
Location: Southern Vietnam
Places to visit: Cai Rang Floating Market, Vinh Trang Temple, Ong Temple, Cai Be Floating Market, Binh Thuy Ancient House
Things to do: Exploring Mekong Delta's nature, visit Ba Duc Ancient House in Tien Giang, explore Tra Su cajuput forest
Phu Quoc – Vietnam's pearl island – A heavenly getaway
Location: Southern Vietnam
Places to visit: Vinpearl Safari, Duong Dong Market, Rach Vem Floating Market, Long Beach, Phu Quoc Prison
Things to do: Visit Turtle Island and Fingernail Island, explore VinPearl Safari Phu Quoc, ride the world's longest cable car
RELATED ARTICLE