If you are an Indian citizen planning to visit Vietnam, make sure you read this comprehensive guide to obtain a Vietnam Visa for Indian Travelers.
Vietnam, a beautiful country with rich cultural heritage, history and natural beauty, is just a short flight from India. Every year, this charming country attracts millions of Indian tourists to visit.
We receive a lot of questions about the procedure to apply for a Vietnam Visa from Indian passport holders. Hence, in this article, we will provide a detailed guide to make your visa process smooth and effortless.
Overview
Briefly, information regarding Vietnam Visa For Indian Travelers can be summarized as follows:
| | |
| --- | --- |
| Visa Application Options | Apply for an e-Visa, Apply at an Embassy |
| Requirements | Passport, 2 passport-sized photos, Visa Application Form, Visa Approval Letter, Proof of Bank Statements, Proof of Visa Fee Payment, Travel Insurance (advisory when traveling abroad) |
| Visa Fees | USD 25 (approximately INR 2058) for a 30-day Visa |
| Visa Processing Time | 2-7 working days, excluding weekends and holidays. |
| Visa Validity & Stay | 3 months validity for a single entry visit for a 30-day stay. |
Note: Starting August 15, 2023, Vietnam has decided to extend the validity term of its electronic visa (Vietnam E-visa) from the existing 60 days to 90 days. Therefore, tourists are expected to have more time to travel and explore Vietnam.
Documents & Vietnam Visa Requirements For Indian Citizens
To apply for a Vietnam visa, you need to prepare the following documents:
Indian Passport, valid for at least six more months from the date of travel to Vietnam. You will need a minimum of two blank pages on your passport for the visa stamp.
Two passport-sized photographs (4x6cm) with a white background, without glasses, .jpg format.
Your Vietnam Visa Application Form filled and signed.
Visa approval document issued by the Immigration Department of Vietnam.
Your payslip, proof of your payment for the visa application.
Bank statements for the last three months.
How To Apply For A Tourist Visa Effortlessly
Indian passport holders are required to get a visa to enter Vietnam, and there are different ways to obtain one. Specifically, you can now apply for a Vietnam visa by visiting the Vietnam Embassy or Consulate in India, or through the Vietnam e-visa system.
How To Apply For A Vietnam Visa For Indian Travelers At An Embassy
Step 1:
Indian travelers contact with inviting/sponsoring agencies, organizations, or individuals in Vietnam and provide necessary info (passport information, estimated duration or stay…)
Inviting/sponsoring agencies, organization or individuals in Vietnam then send the application to the Vietnam Immigration Department to request entry approval for foreigners.
Step 2: The Vietnam Immigration Department sends the approval letter to the Vietnam Embassy in India.
Step 3: Applicants submit their documents (visa application, passports, pay fees slips) at Vietnam Embassy to receive their visa. You can submit these documents at the Vietnam Embassy in New Delhi or the Vietnam Consulate General in Mumbai.
Step 4: Pay the fee for the Vietnam visa for Indian travelers.
Step 5: Wait for your visa to be processed.
Step 6: Indian travelers receive their approved Vietnam visa.
How To Apply For A Vietnam e-Visa For Indians (Recommended)
Indian travelers directly apply for an Vietnam e-Visa
After furnishing all required materials as mentioned in the previous section, Indian travelers can follow these steps to obtain an Vietnam e-Visa yourself:
Step 1: Click this link or access https://immigration.gov.vn/ and go to 'E-visa Issuance' then click on the link for 'Outside Vietnam foreigners'.
Step 2: Upload your .jpg images (passport data page and passport photo) and fill out the required fields on the form completely. Review and submit your form.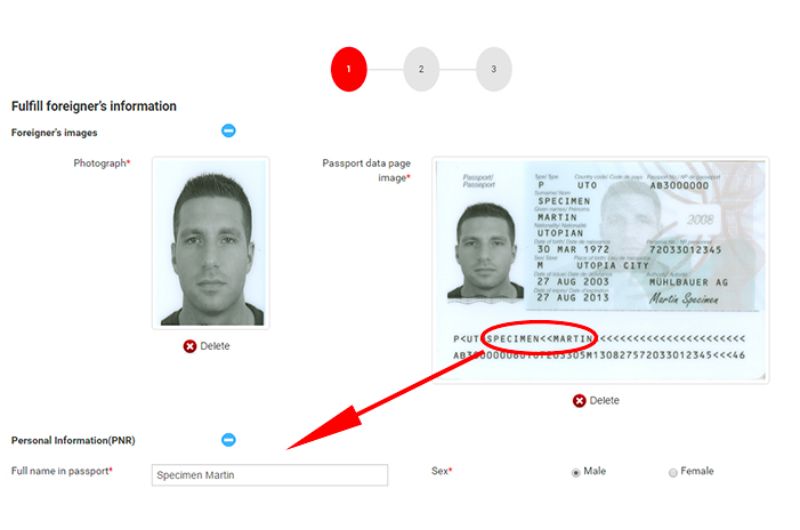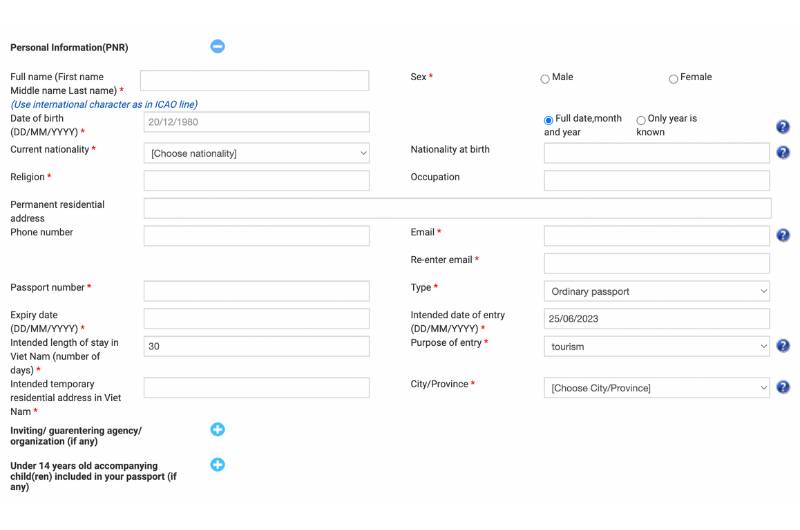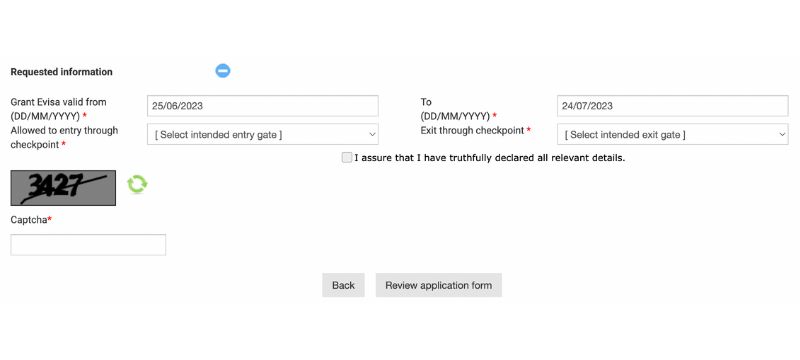 After this step, registration code will be sent to you.
Step 3: Pay the e-Visa fee of 25 USD. Copy down the document code provided.
Step 4: Within three working days you should receive news of your e-Visa application via email. If not, you can also run a search for your e-Visa at this link.
Step 5: Use your document code to locate your e-Visa online. Download and print the e-Visa in two copies for extra safety.
Indian travelers apply for a Vietnam visa via inviting/ sponsoring agencies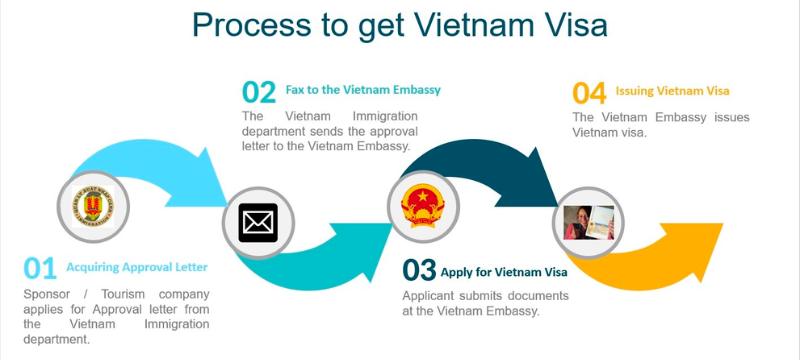 Step 1: Indian passport holders contact inviting/sponsoring agencies and provide necessary information.
Step 2: Agencies use the registered account to access https://immigration.gov.vn/en_US/web/guest/dv-bao-lanh to apply visa for foreigners and pay the visa fees for Vietnam from India.
Step 3: After receiving the e-Visa application result (code), agencies inform Indian tourists about that result.
Step 4: Indian travelers use the provided result (code) to receive and print out the e-visa at https://evisa.xuatnhapcanh.gov.vn/tra-cuu-thi-thuc
Notes on applying for Vietnam Visa for Indian Travelers
Currently, Vietnamtour.in only provides visa assistance services for customers who purchased our packages. However, you can also contact other reputable agencies or apply yourself to obtain a Vietnam Visa. The price for visa services may vary depending on each agency, normally ranging from $30 to $65.
To avoid mistakes and answer possible questions when applying for the Vietnam Visa, we have some notes for you to follow up with your progress:
The date format for every form you need to fill in is DD/MM/YY
You can enter later but not earlier than the arrival date stated on the application form
All pictures submitted to the Embassy or at the airport must have a white background and be taken within 6 months
Every piece of information should be double checked to avoid unwanted disapproval of the visa
Wrapping up
The information above provides Indian passport holders a detailed guide to apply for Vietnam Visa For Indian Travelers. In summary, there are 2 most popular visa application options, including Apply at Vietnam Embassy in India and Apply for E-Visa, with an application fee of 25 USD, processed within 5 or 7 working days. The Visa On Arrival option is currently unavailable.
Vietnamtour.in hopes that with this article, your Vietnam trip will become simple and trouble-free. If you have any questions regarding Vietnam Visa For Application, do not hesitate to reach out to us. We look forward to seeing you soon in Vietnam.
RELATED ARTICLES