Vietnam in February always attracts local and international tourists. Its weather is gorgeous and pleasant, with the spring atmosphere pervading all parts of the country. It's easy to catch the colorful flowers in every corner, especially crimson peach blossoms in the north and yellow apricot blossoms in the south.
With dry and cool air, there's no better time than February to visit sun-kissed beaches and participate in outdoor activities in Vietnam. In this article, we'll provide the necessary information for an ideal trip to Vietnam in February.
Vietnam Weather in February
Vietnam weather in February is comfortable and ideal for all leisure activities. The cold of winter and the warmth of spring blend together to create a pleasant atmosphere. Let's discover the specific weather across Vietnam's different regions.
The Mountainous Regions in Northern Vietnam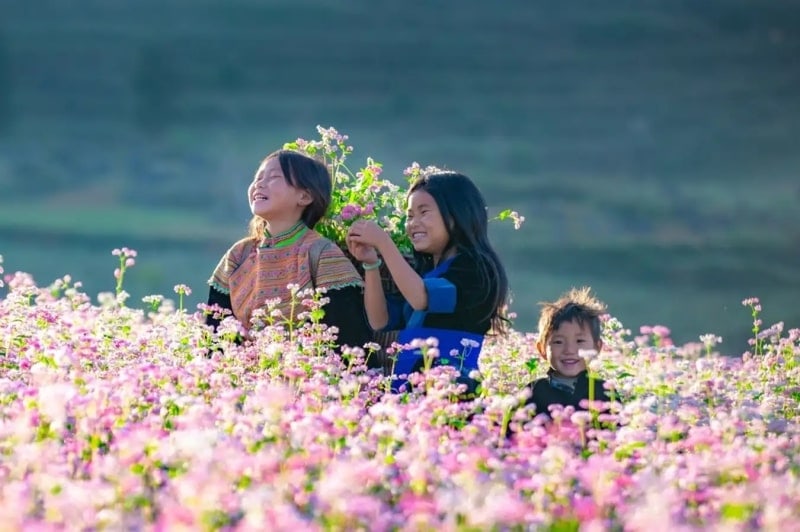 During February, the mountainous northern regions of Vietnam remain influenced by cold, dry air, with average temperatures ranging from 7 to 10°C. Despite the chilly air, life in these areas begins to flourish robustly.
Famous tourist spots like Sapa, Ha Giang, and Mu Cang Chai come alive with vibrant flowers in February. Peach blossoms, orchids, apricot blossoms, and plum blossoms adorn the landscape, painting a rare and romantic picture in these misty towns.
Northern Vietnam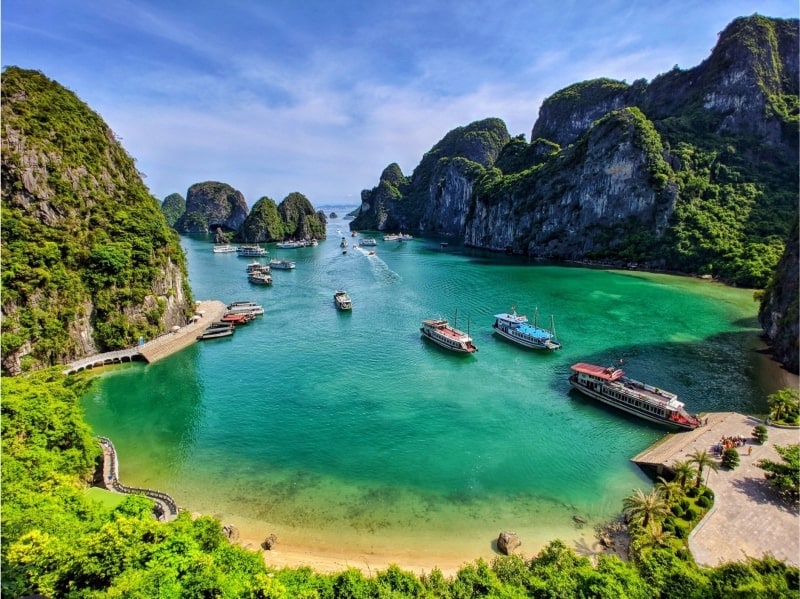 February weather in Northern Vietnam provides a delightful climate, with temperatures spanning from 16 to 23°C. While rainfall is minimal, occasional drizzles might occur. You can expect sunlit days under clear blue skies, ideal for exploring the region's stunning landscapes.
Whether exploring cultural treasures in Hanoi or marveling at the mesmerizing limestone karsts of Halong Bay, the Northern Vietnam weather in February sets the perfect conditions for unforgettable adventures.
Central Vietnam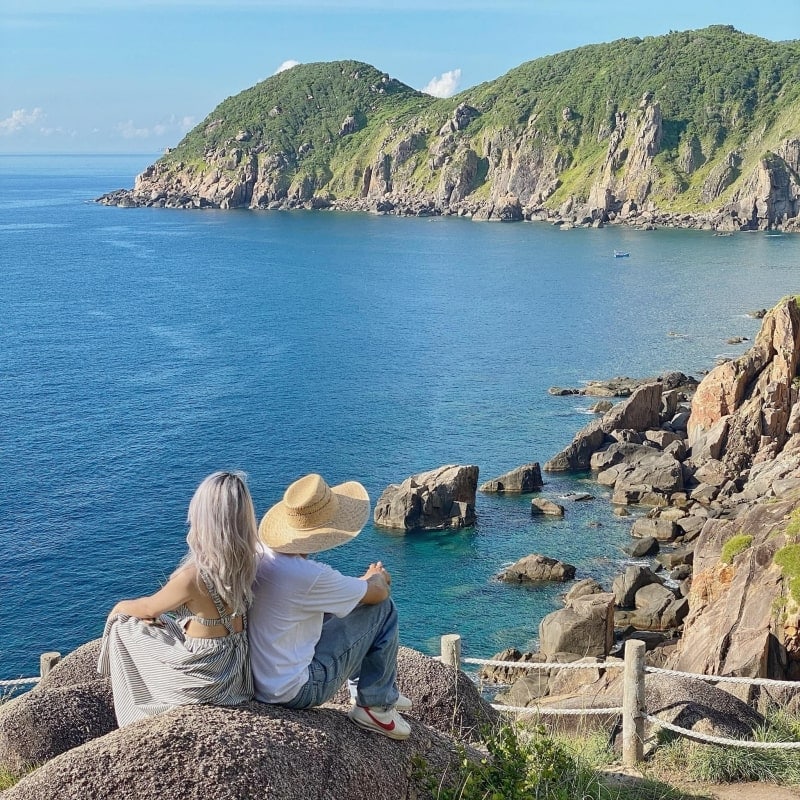 In February, Central Vietnam enjoys favorable weather conditions for travelers. With average temperatures of 24°C, it's an excellent time to visit the captivating destinations in the region.
Hoi An and Da Nang have cool temperatures ranging from 20 to 26°C, while Nha Trang, Hue and Phu Yen boast clear blue skies and minimal rainfall. With the comfortable weather, you can discover the rich cultural heritage, stunning beaches, grand mountains and delectable cuisine in hot spots of Central Vietnam.
Southern Vietnam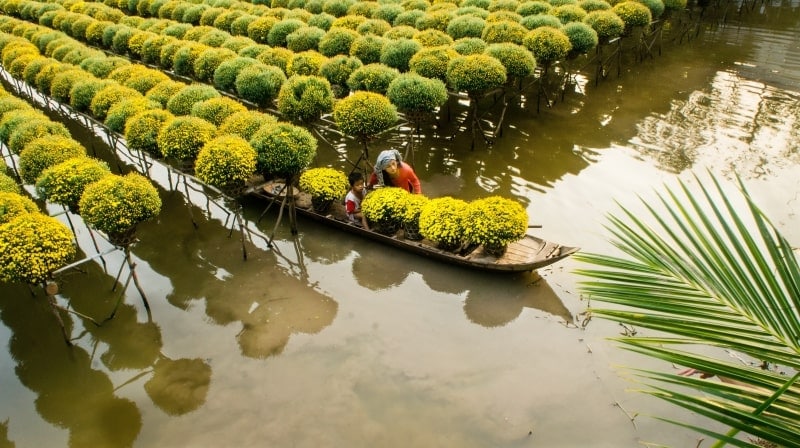 February brings excellent weather to South Vietnam, with the average temperature around 27°C. The tourist attractions have sunny days, clear skies, and cool breezes.
This month is a great time to explore must-visit places in Ho Chi Minh City and neighboring destinations such as the Mekong Delta and Cu Chi Tunnels. In addition, travelers can immerse in the stunning beaches of Phan Thiet and Mui Ne or dive in crystal-clear waters in the islands of Phu Quoc and Con Dao.
Tourist Flow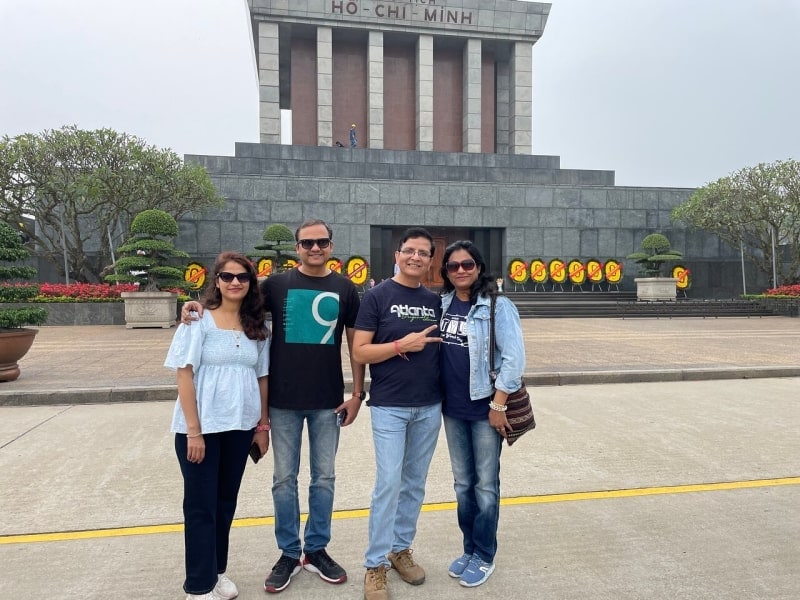 Vietnam experienced a significant tourist inflow in January and February, primarily due to the unique events of the Lunar New Year and stunning landscapes with favorable weather.
In the first two months of 2023, the country welcomed 59,000 Indian visitors and 1.8 million foreign tourists visiting Vietnam.
With the prominent attraction of Vietnam in this period, you should plan for your trip as soon as possible. It's advised to book air tickets, hotels and tour packages at least 3 months before February for the best cost and priority.
Events and Festivals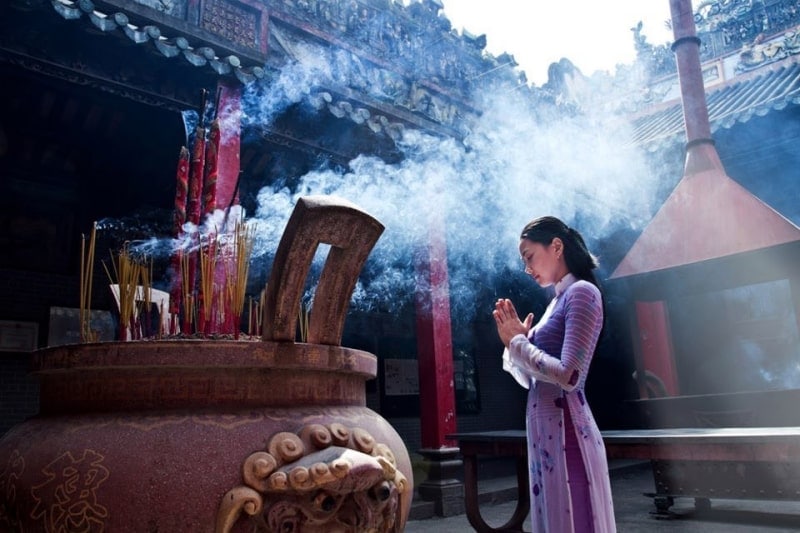 The Lunar New Year, known as Tet, is Vietnam's most significant annual festival, falling between late January and mid-February (with the date varying by year). This time involves many activities and festivities, such as touring vibrant flower streets, enjoying fireworks displays, watching mesmerizing lion dances, and visiting pagodas and temples throughout Vietnam.
Indian tourists can visit famous cities in Vietnam such as Ho Chi Minh, Hoi An, Da Nang, Nha Trang, Ha Noi, Hue, etc., to attend captivating events and savor delectable dishes during the Tet holiday.
Travel Tips
Where to Go in Vietnam in February
Vietnam weather in February is pleasant and dry, making it an ideal time for outdoor and water activities. The regions – offering exciting festivals and boasting gorgeous beaches – attract a crowd of tourists. Here are some great options for your trip:
Central Vietnam: this area is a paradise for sea lovers. Da Nang, Nha Trang, Hoi An, and Hue are hot spots for tourists with stunning beaches (in or nearby), exotic events of the Tet holiday and marvelous landscapes.
Southern Vietnam: Ho Chi Minh City stands out in this region with many extravagant and lively activities to welcome the Lunar New Year. You can tour around HCMC and then travel to breathtaking beaches nearby, such as Phu Quoc Island, Mui Ne Beach or Phu Quy Island.
For those who want to admire magnificent mountain views, consider visiting Sapa, Mu Cang Chai, Ha Giang, Phu Yen, or Da Lat.
What to Do in Vietnam in February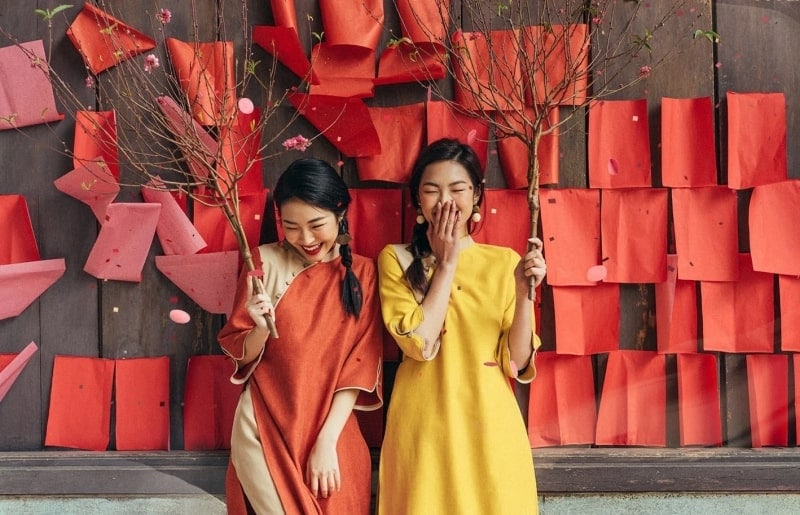 Besides charming beaches and breathtaking landscapes, February offers two extraordinary experiences that you shouldn't miss in Vietnam:
Savoring Exclusive Tet Dishes: Indulging in the delectable Vietnamese dishes exclusive to Tet is the must-try thing in Vietnam in February. These foods include sticky rice cakes (Chung cake), spring rolls (Nem roll), jellied meat, meat stewed in coconut juice and pickled small leeks.
Exploring Cultural Vietnam during Tet: Learning more about Vietnamese culture is an exciting part of your trip. When you wander the alleys and streets in big cities of Vietnam, it's not difficult to catch artisans writing calligraphy for Tet wishes, tour glowing flower markets, or see people wearing Ao Dai and browsing the tourist attractions. Why not consider renting an Ao Dai and strolling along the flower-strewn streets to immerse yourself in the local culture fully?
What to Wear in Vietnam in February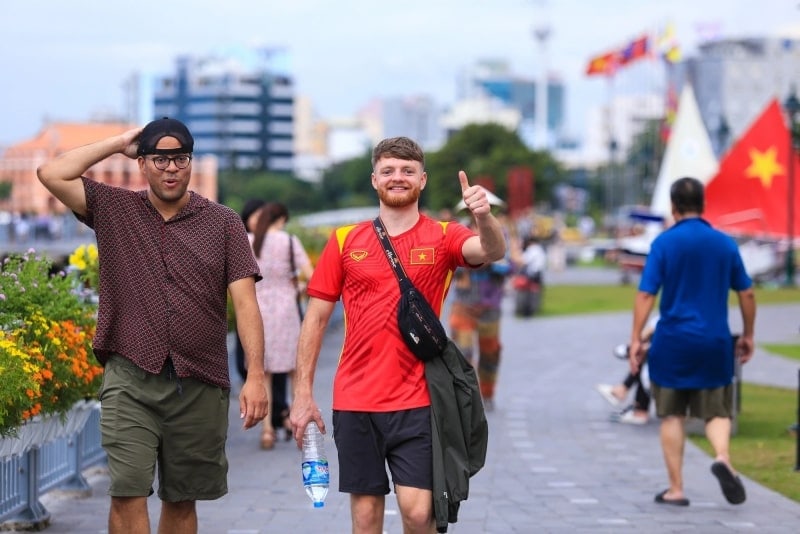 The Vietnam temperature in February is around 24°C, with many sunny and dry days. It's recommended to choose lightweight clothes such as T-shirts, light trousers, shorts, and skirts this month.
Remember to pack warmer items like jackets and jeans when heading to northern Vietnam, particularly the mountainous areas.
In addition, here are some recommendations for items to bring on your trip to Vietnam in February:
Mobile phone;
Chargers and Charger Cables;
Sunscreen, moisturizer, bug spray;
Sunglasses, hat.
Swimsuit, goggles, swimming cap (if joining in water activities)
Things You Didn't Know in Vietnam in February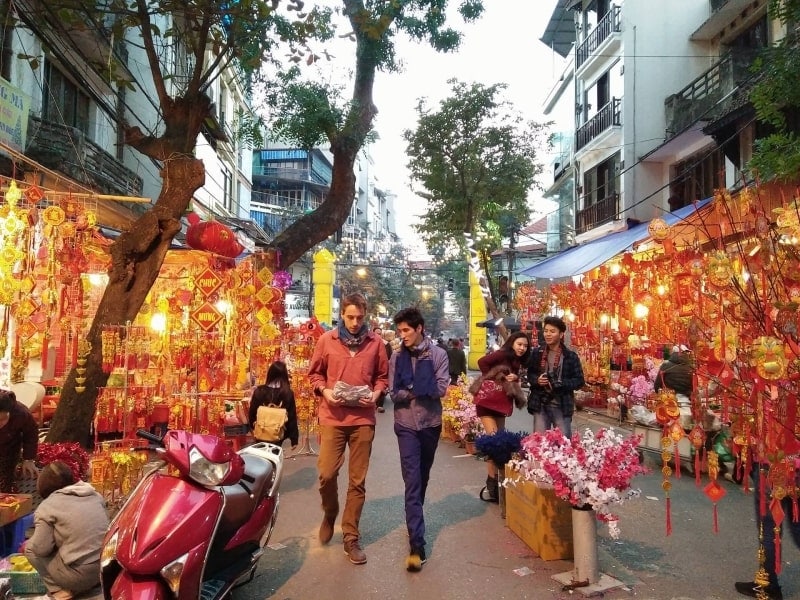 Traveling during Tet will be a unique and thrilling experience but requires careful planning. Arrange your hotel, tours, and transportation well in advance as many establishments close and transportation decreases during the Tet celebration. Preparation is vital to having a smooth and memorable Tet adventure.
For the most convenient journey, booking a tour package is advised to avoid high costs and arising problems in this special time. Call us now for the latest information about tour packages to Vietnam in February.
Conclusion
Vietnam in February brings various beauties from all regions of the country, especially charming beaches and beautiful streets filled with flowers. The first two months of the year allow Vietnamese residents and foreign tourists to exchange culture. So, take advantage of the opportunity to visit Vietnam in February. Book a Vietnam tour package now to ensure the utmost convenience for your trip!
RELATED ARTICLE