Vietnam in April is the perfect combination of a pleasant climate, beautiful views, and reasonable costs. As the first month of the summer season, it welcomes numerous sunlit days, ideal for outdoor activities, water sports, and adventure seekers.
April isn't a peak-season month, but it still attracts many international tourists to explore famous Vietnam destinations. In this article, we will provide you with the necessary information for your trip to Vietnam in April.
Vietnam Weather in April
Vietnam weather in April is hot and dry during the day, with the temperature fluctuating from 25 to 37ºC. Rainfall is high, with thundery showers throughout the country, especially in the evenings. Let's delve into the weather details of each region.
The Mountainous Regions in Northern Vietnam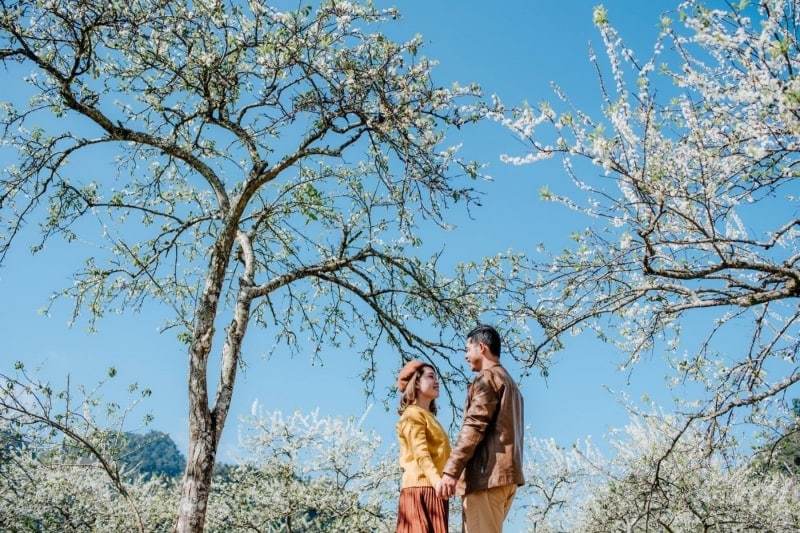 The weather in mountainous regions in northern Vietnam is sunny and cloudy. The temperature is pleasant, ranging from 12 to 28ºC. There are sudden drizzles, and you'll feel chilly at night.
Sapa, Ha Giang, and Mu Cang Chai are beautiful places in this region. The warm sunshine of summer and the chilly atmosphere of mountainous areas create the perfect combination for your journey.
Northern Vietnam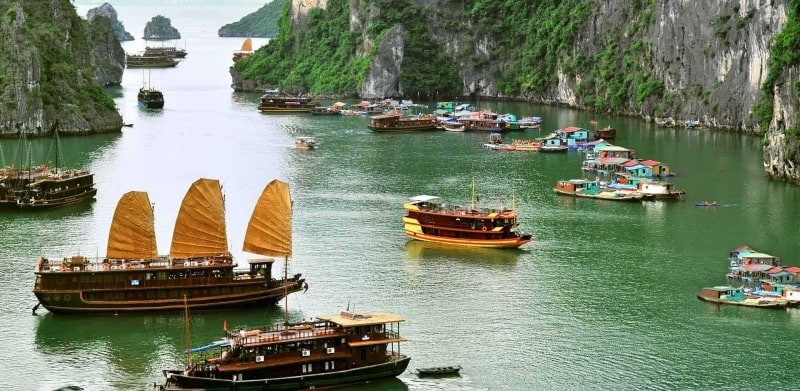 Northern Vietnam is sunny in the mornings and rainy in the evenings in April. The weather is hot and dry during the daytime, with a maximum temperature of 33 – 35 ºC. However, the rainfall is rising in the evening, creating a cool climate with temperatures ranging from 16 to 24ºC.
If you travel to Hanoi or Halong Bay in April, prepare light rainproofs and warm clothes for varying climates within the day.
Central Vietnam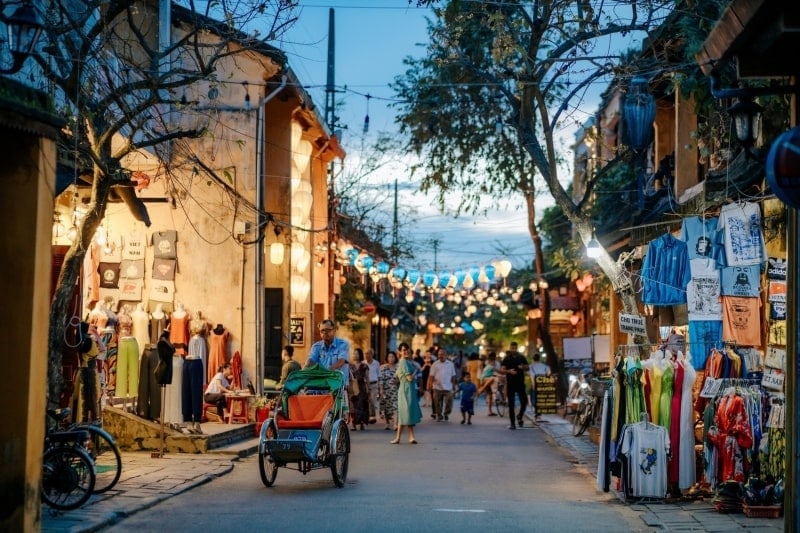 Central Vietnam has the same climate pattern as the North. Its weather is sunny and dry during the daytime but rainy and thundery in the evening. The temperature of the central area ranges from 23 to 34ºC.
Da Nang, Hue, Hoi An, and Nha Trang are suitable for basking and swimming on warm, sunlit days. However, it's not surprising to catch sudden rains in April.
Southern Vietnam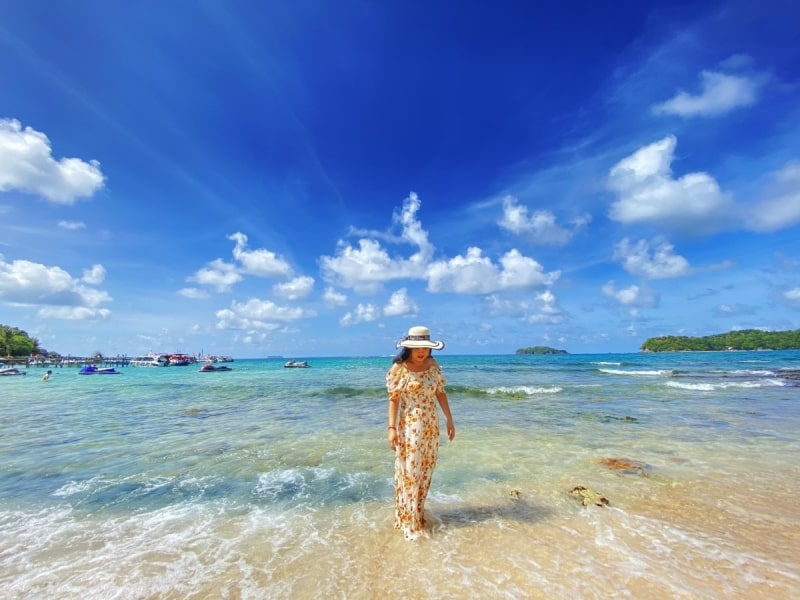 Southern Vietnam is still in the hot and humid season. This area is sunny and cloudy in the morning, with a temperature of 30 – 37 °C. The thundery showers in the evening ease the daytime heat, cooling down into the range of 17 – 25°C.
The weather change doesn't affect the leisure activities in southern Vietnam too much. The key tourist attractions like Ho Chi Minh City, the Mekong Delta, and Phu Quoc Island remain popular with a large number of tourists in April.
Tourist Flow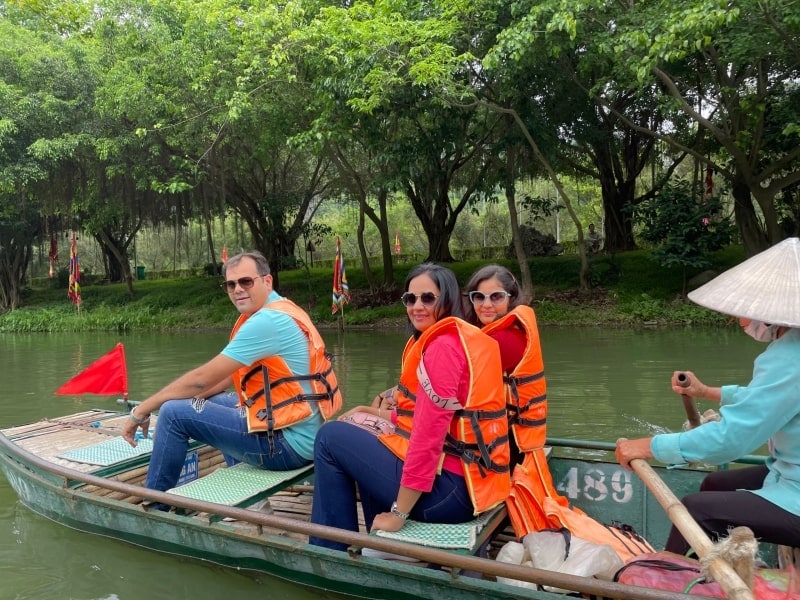 April still enjoys favorable weather and beautiful scenery in all regions of Vietnam. Besides, many visitors from Asian countries choose this month because it's a convenient time. The number of foreign tourists in April is even more impressive than in March.
According to statistics from the Vietnam National Authority of Tourism, in April 2023, there were 29,000 Indian tourists and 984,100 international travelers coming to Vietnam. This month saw a slight increase in the flow of foreign tourists compared to the first months of 2023.
In April, the service costs of hotel, transportation, and tourist packages are more reasonable than in peak-season months. However, to have the best price and many options for your trip, booking services as soon as possible is recommended. Especially if your trip falls on a public holiday in Vietnam – from April 29 to May 2, the tourist crowd is higher due to the contribution of local tourists.
Events and Festivals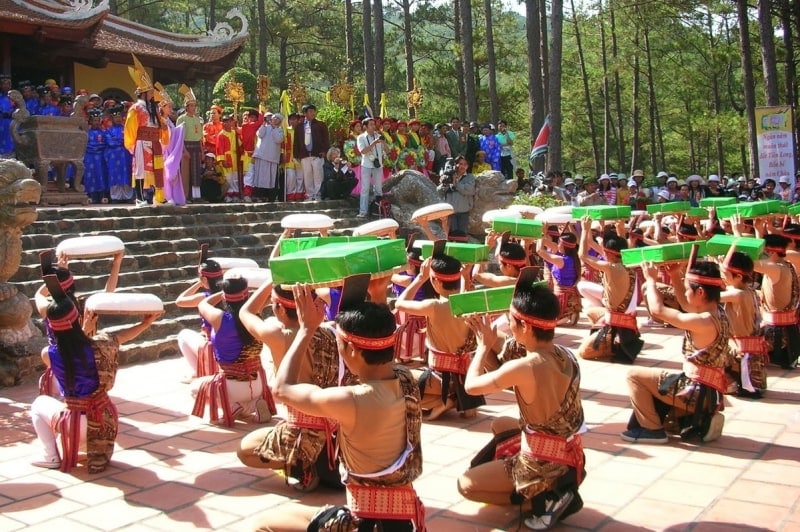 Hùng Kings Temple Festival: It memorised the ancient Hong Bang dynasty – 18 Hung emperors contributed to the country's foundation and defense. This festival lasts many days, from the 1st to the 10th of the third lunar month annually. Still, the key activities take place on March 10 (lunar calendar) at Viet Tri City, Phu Tho Province. The celebration involves many traditional ceremonies and folk games, attracting many local and foreign tourists.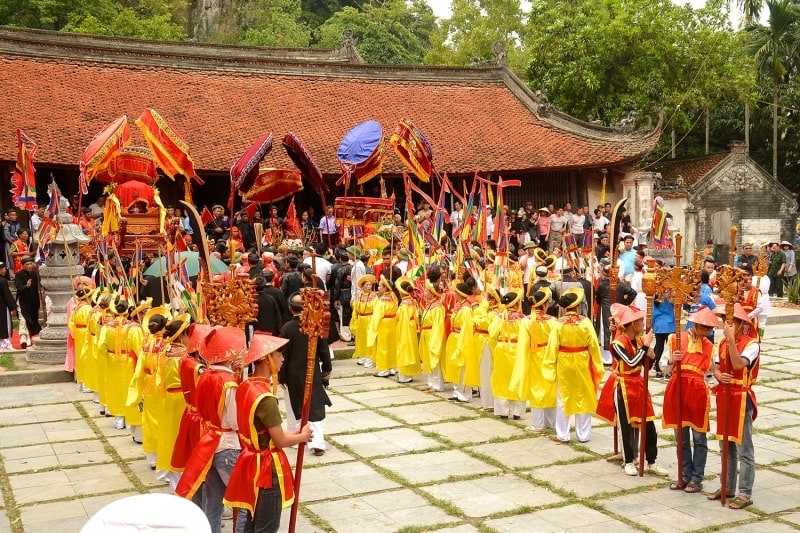 Thay Pagoda Festival: This celebration honors Tu Dao Hanh, a wise Buddhist monk and inventor of Vietnamese water puppetry. The festival is annually held from the 5th to the 7th days of the third lunar month at Thay Pagoda in Quoc Oai district, Hanoi City. It features a series of events and folk games like the unique water puppet shows, chess, bamboo swings, blindfolded hitting clay pots, tug of war and more.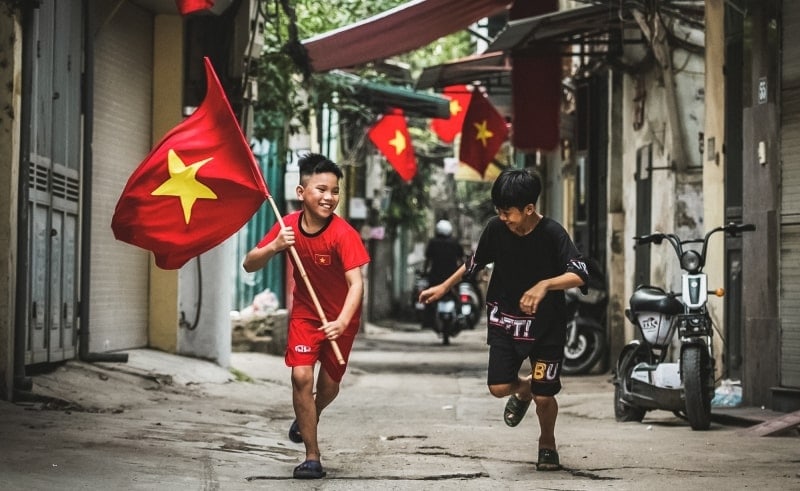 Reunification Day: April 30 is the anniversary of the Southern Liberation and National Reunification (April 30, 1975). It's recognised as one of the most important holidays in Vietnam, and all the big cities around Vietnam host many captivating entertainments such as food festivals, music events, and leisure games.
Travel Tips
Where to Go and What to Do in Vietnam in April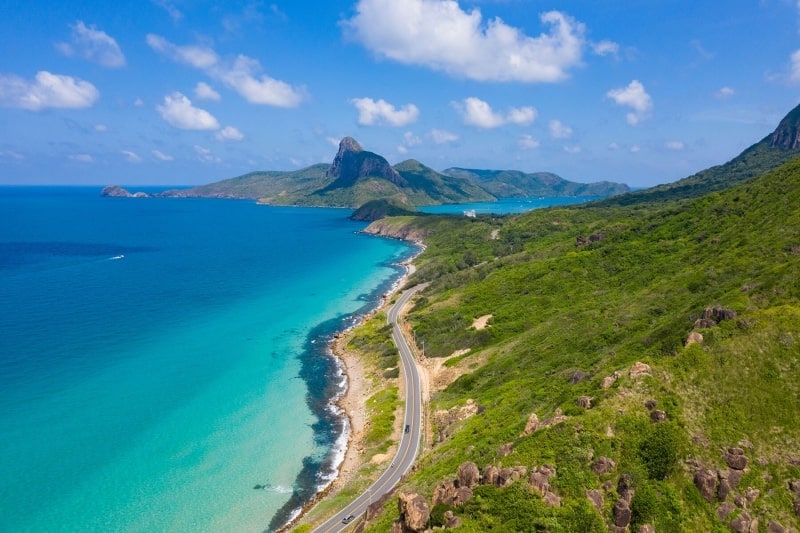 April is still one of the best months to visit all regions of Vietnam. The weather isn't severe and has many sunny days. Vietnam in April can adapt to all your demands, from water activities and outside tours to adventurous experiences. Here are some standout destinations for your memorable trip:
Mu Cang Chai and Sapa: April is the month of the first rains and the important time for terraced fields – often known as "Mùa nước đổ – Falling water season". The scenes of "Mùa nước đổ" are stunning as fairy lands, with terraced fields changing colors under sunlight. The best places to admire these gorgeous fields are Mong Ngua Hill in Mu Cang Chai and Muong Hoa Valley in Sapa.
Da Nang, Nha Trang, Phu Quoc, and Con Dao: The weather in April is sunny and pleasant, suitable for basking, swimming, snorkeling, diving, and other water sports. Indulging in gin-clear water and savoring delicious seafood are exciting experiences on your trip. The tourist destinations are Da Nang, Nha Trang (central region); and Phu Quoc, Con Dao (southern part), boasting the most beautiful. beaches in Vietnam.
Halong Bay and Phong Nha-Ke Bang National Park: April is the ideal time to visit Halong Bay (Quang Ninh Province) and Phong Nha-Ke Bang (Quang Binh Province), UNESCO World Heritage Sites in Vietnam. On dry and sunny days, you can explore spectacular caves, join in water activities, and admire grand natural landscapes in these renowned destinations.
What to Wear in Vietnam in April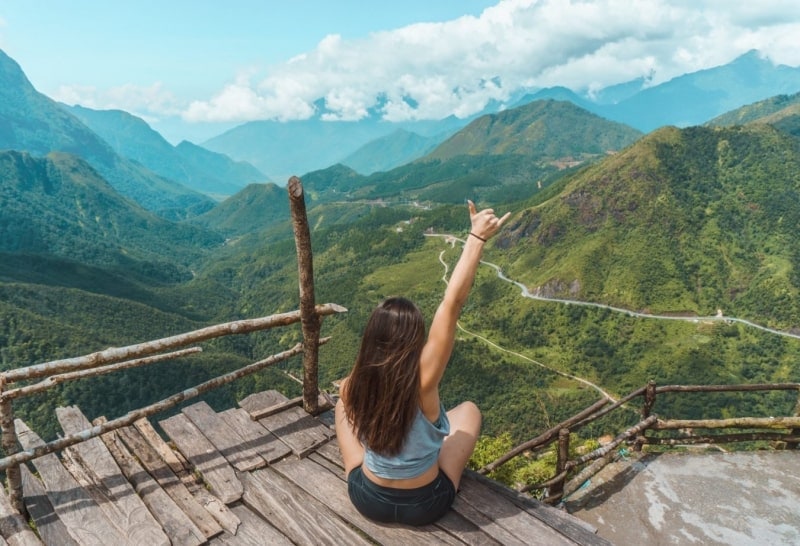 The Vietnam temperature in April varies from 12°C to 37°C, depending on the region and the time of month. Most parts of Vietnam have the same weather pattern – sunny, dry mornings and rainy, thundery evenings. Therefore, it's advised to wear quick-drying clothes such as light trousers, cotton T-shirts, and shorts, and prepare a compact umbrella.
If you plan to visit tourist attractions in the North, don't forget to pack several warm clothes like long-sleeve sweaters, jackets, and jeans.
Furthermore, you can go through some recommendations for items to bring on your trip to Vietnam in April:
Mobile phone;
Chargers and Charger Cables;
Sunscreen, moisturiser, anti-mosquito spray;
Sunglasses, hat.
Swimsuit, goggles, swimming cap (if joining in water activities)
Conclusion
April is one of the most ideal months to explore all areas of Vietnam. This month caters to the perfect conditions for a delightful trip, like a pleasant climate, affordable prices, and less crowded tourist spots. Take a chance to visit Vietnam in April by calling us now!
RELATED ARTICLE