Vietnam is known as one of the most beautiful countries in Southeast Asia. This fantastic country has various mountains, caves, bustling cities and an extended gulf area with golden sand beaches bordering.
The country has three specific regions: North Side, Central part and South Side. Each region has different cultures with its scenic spots from romantic to majestic, which can attract all the foreign tourists.
Not only all the famous destinations, but Vietnamese people and especially local cuisine also fascinate tourist than anything else.
Gordon Ramsay – one of the best chefs in the world said that "My favorite dish in my life was in Vietnam."
Now I'm sure that you are curious about traveling to Vietnam.
Don't worry, this article will bring you the most comprehensive guide for traveling to Vietnam with family in 2023.
Because there are numerous tourist attractions in Vietnam that we cannot list, we will introduce to you three most popular places from Northside to Westside, which are: Hanoi, Hoi An – Da Nang, and Saigon.
Hanoi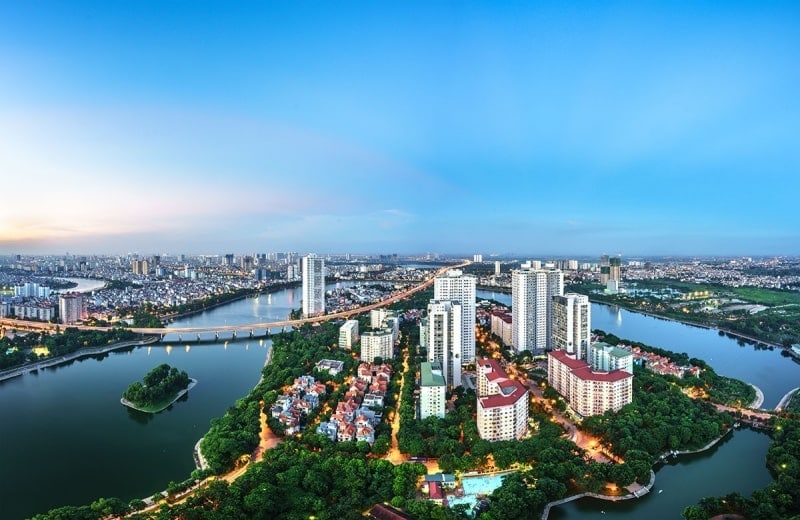 Hanoi – the capital where you can find all characteristics of Vietnam's cultural, economic, political and trade values.
This city not only has the historical significance of a thousand years of civilization but also many other recreational activities.
Even if you visit here the first or second time, Hanoi will welcome you in the most warming way.
The best time to visit Hanoi is in the fall, from August to October. Because at this time, the rainy season in Hanoi usually ends.
At this time, the sunlight is not too intense, and the air is cool. The weather creates the best conditions for visitors to discover the most beautiful things in Hanoi.
Some popular destinations include:
Hoan Kiem Lake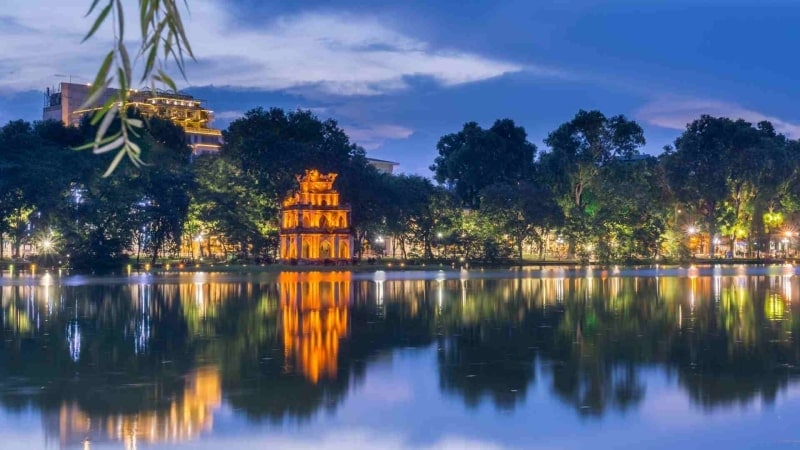 Hoan Kiem Lake is a famous landmark in Hanoi, which connects the old town and the Western quarter planned by the French more than a century ago.
Hoan Kiem Lake lies in the central area of Hanoi capital, so you can come here easily by private means of transportation or public transport.
In the middle of the lake is an ancient Turtle Tower, surrounded by several cultural heritages such as Thap But, Ngoc Son temple, The Huc bridge.
With a fresh and bright space around this lake, Hoan Kiem Lake is a favorite place for young people and foreign tourists also.
Old Quarter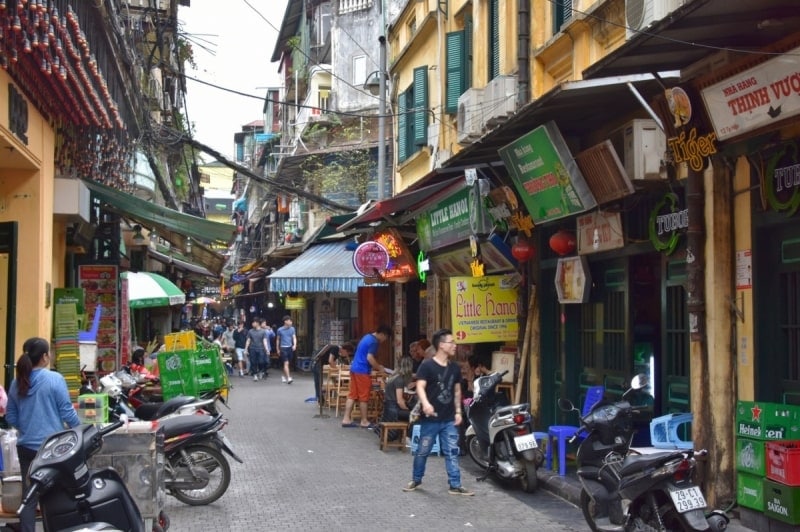 Houses and street corners in this area follow the French architectural style of the nineteenth century. And as I said above, one of the most attractive aspects of Vietnam is the food.
All the most delicious traditional foods of Hanoi all gather in Old Quarter, so you can come here and have a taste of them.
West Lake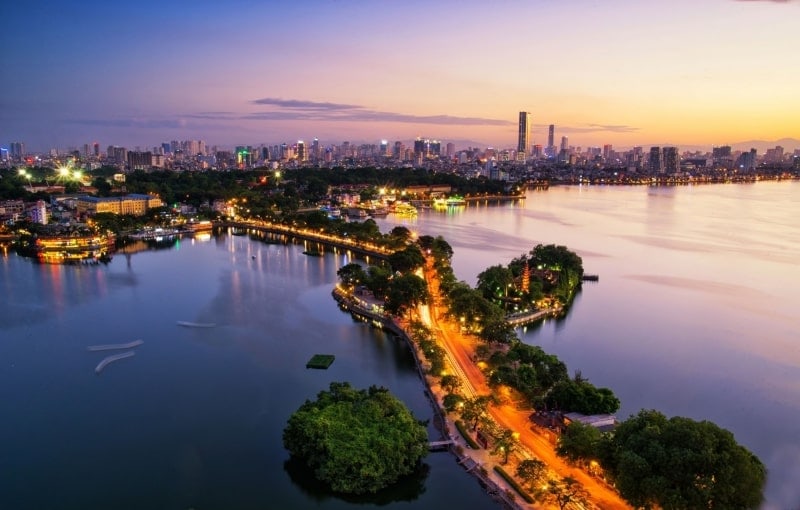 West Lake locates in the northwest of Hanoi, the road around the lake is nearly 20 km long. This is the most romantic place in the capital city of Vietnam. It attracts many tourists because of the charming scenery.
Da Nang
To visit Da Nang, you can choose from many types of transportation such as aircraft, passenger cars or trains, all of which will stop in Da Nang City,  just only 30 km from Hoi An.
You may get surprised when it comes to the cost of visiting Da Nang City, which is very cheap.
A round-trip flight here costs about 2 million Dong, and it may be even cheaper on special occasions.
Da Nang and Hoi An are very popular in recent years. A significant number of tourists visit and instantly fall in love with this place because of the beautiful scenery and the hospitality of local people.
There are many beautiful destinations and activities in Danang you must visit and join when visiting this city.
Son Tra Peninsula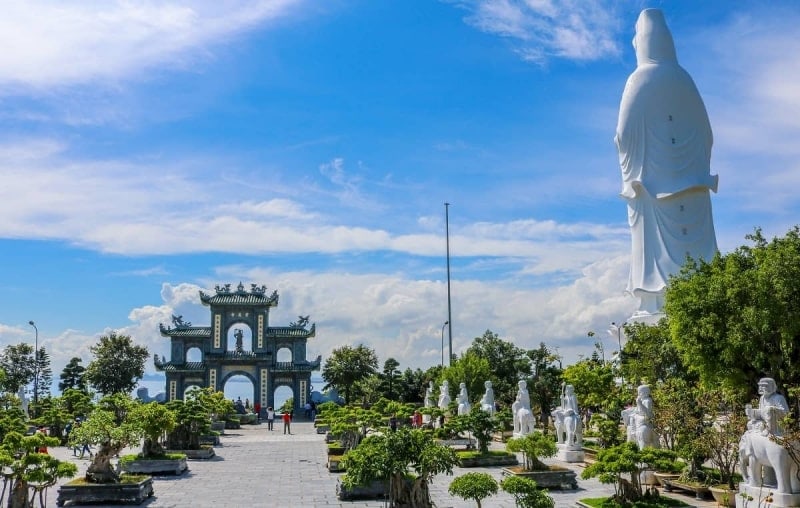 As a green lung of Danang City, the ecological area is home to various wild plants and animals. If you come to the highest place of this area, you can admire the scenery of the entire Da Nang City from above.
If you are a Buddhist believer, you will be interested in the Pagoda of Son Tra. This specific pagoda has a 67m high Buddha statue and an over 800-year-old giant tree.
Dragon Bridge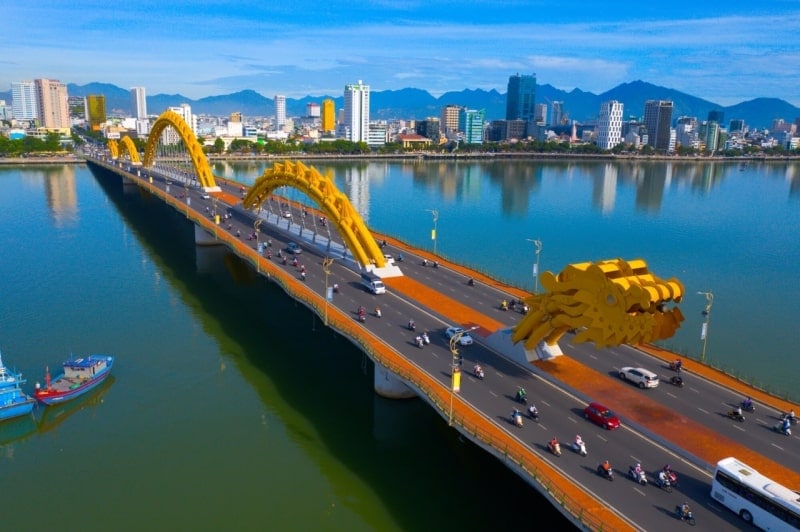 Completed and circulated in March 2013, the Dragon Bridge has six lanes, and two travel directions are recognized as a unique bridge in Vietnam
Why is Dragon Bridge so attractive?
Inspired by the image of the Dragon of Ly Dynasty, only spraying water on the fixed calendar in the week are Saturday and Sunday. At night the Dragon Bridge is lit up with thousands of led lights used to decorate the building. The Dragon on the bridge has a length of 666 meters and is the largest Dragon image in Vietnam so far.
My Khe Beach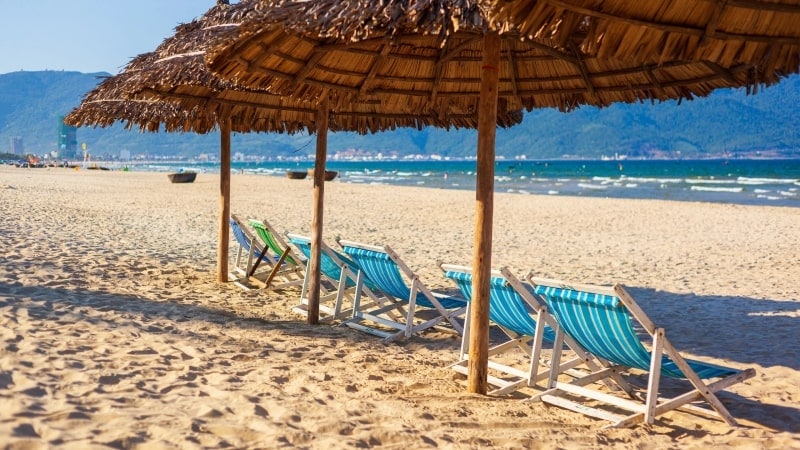 My Khe beach earned the top 6 most charming beaches on the planet voted by Forbes magazine,
My Khe possesses white sand, and the bright blue sea is quite clean. One specific point is the professional rescue teams on the beach are always available at the time of permission.
This sea is undoubtedly a paradise of beach sports such as volleyball, paragliding, surfing,
Discovering nightlife in Da Nang
The nightlife in this city is also one of the unique things about the local tourism industry.
You can have a spectacular view of the Dragon Bridge at night with about beautiful lantern harbor; Da Nang is very eye-catching at night and full of marvelous activities.
Hoi An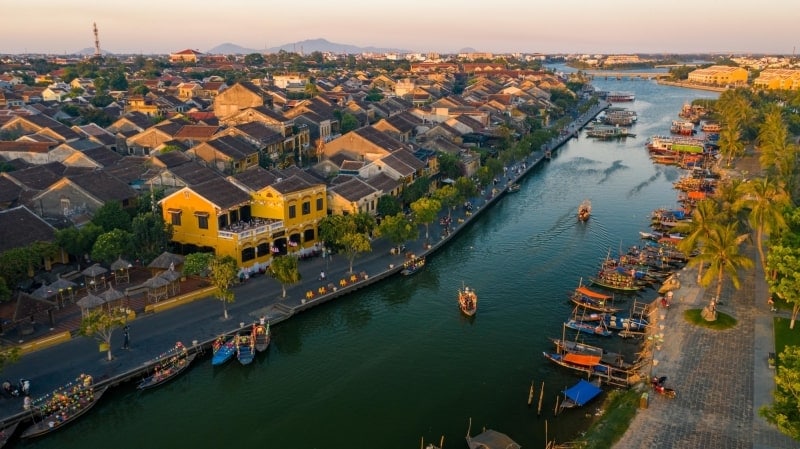 Hoi An has many ancient houses with the structure is a mainly wooden and rustic look, which makes you fall in love with this architecture instantly.
In Hoi An, you can choose many vehicles to travel, from taxis to motorcycle taxis or cyclos. However, instead of using the above cars, Hoi An's travel experience is best to walk or rent a bicycle to roam and explore the city.
Some famous places and activities in Hoi An that can be listed
Cua Dai Beach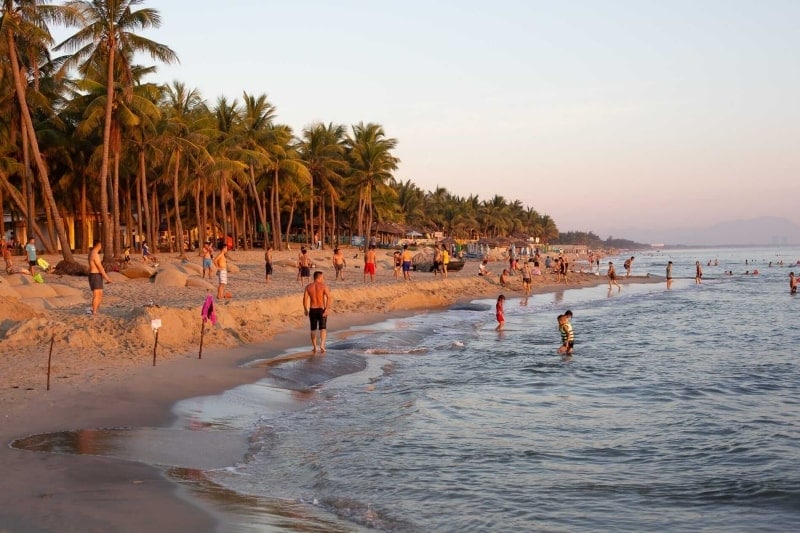 Cua Dai Beach is the most famous beach in Hoi An. Only 5km from the old town, you can come here to enjoy the fresh air and return at the end of the day.
Cua Dai is famous for the blue sea, long sandy, and quite bustling beach. One of the attractions of this area is many kinds of seafood are sold right on the beach.
An Bang Beach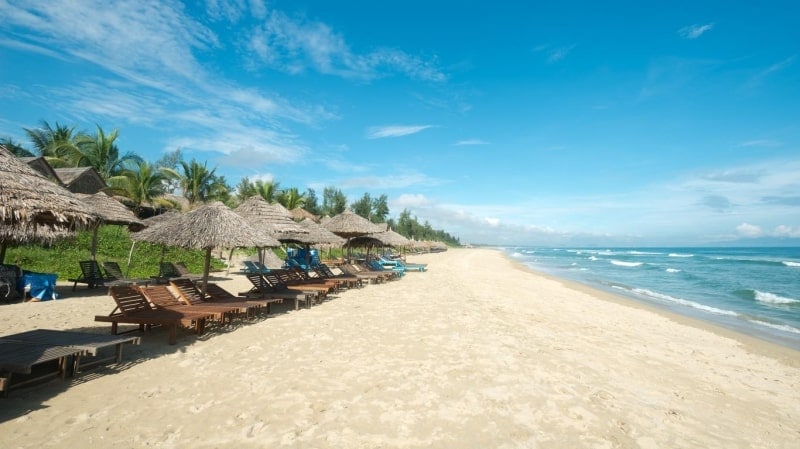 An Bang Beach is trendy in recent years. Compared to Cua Dai, An Bang is more peaceful and deserted.
If you may not know.
This sea also appeared on the list of the 50 most beautiful beaches in the world in 2011.
Cu Lao Cham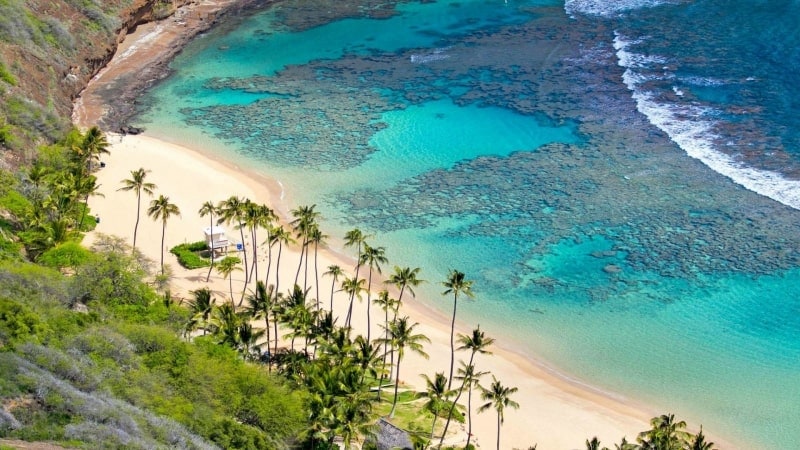 Not far from Cua Dai Beach, you can go to Cham Island to enjoy the quiet and relaxing atmosphere of this natural space.
With eight small islands in the area, you can join the journey to explore the islands or take a stroll on the white sands of the blue sea.
Join the food tour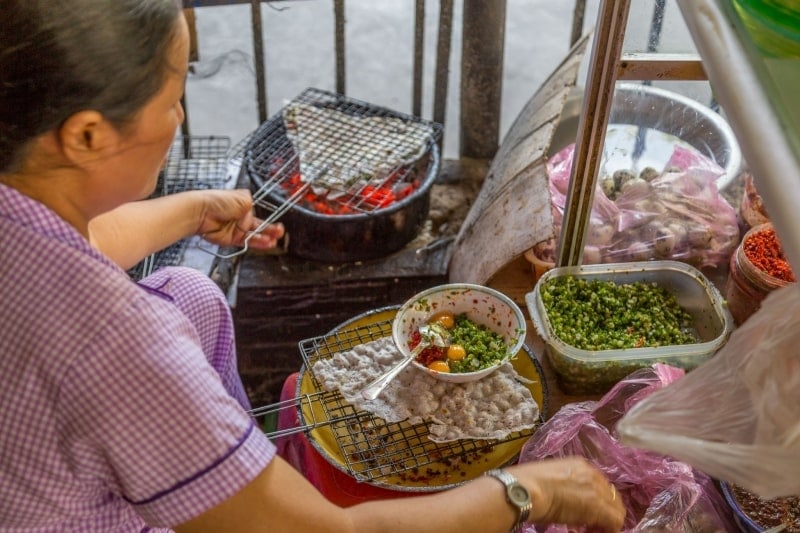 Food tour – a specialized tour will satisfy all those who have a dream to eat and taste new unique cuisine around the world.
Coming to Hoi An, you can participate in this type of journey and use many delicious dishes such as Quang noodles, high floor, cakes such as rose cake, pancake, crackers – fried mussels, … You will never regret going on this trip.
Saigon
Saigon is the center of economy, culture, and tourism. Therefore, this place is full and rich in items, services for various types of entertainment.
Notre Dame Cathedral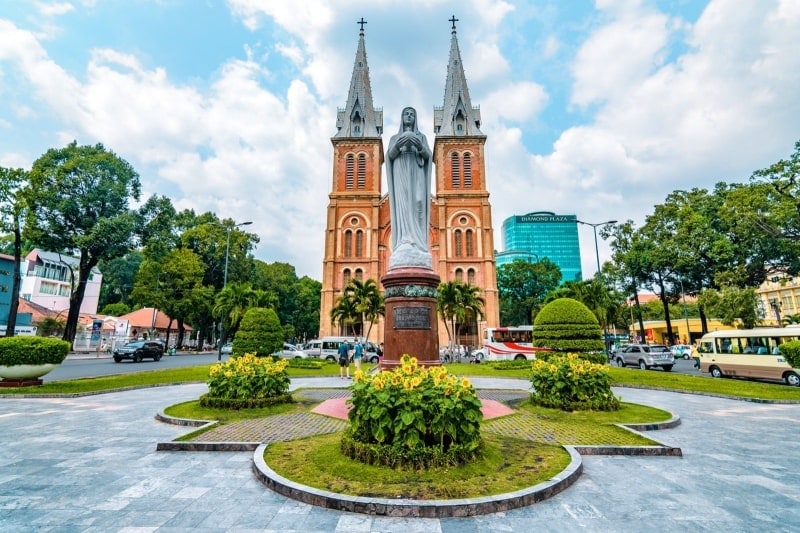 Notre Dame Cathedral Saigon is the largest church in Saigon. As one of only four churches in Vietnam to be ordained a basilica, this church has been through hundreds of years and remains intact today.
Enjoying church cafe
"Church coffee" seems to have become a unique culture of Saigon. you simply sit down anywhere in this area around the Church and enjoy the black coffee with Saigon standard ice-cream coffee.
There are so many places selling coffee around the Notre Dame Church area that you will not be able to count.
Walking at Nguyen Hue Street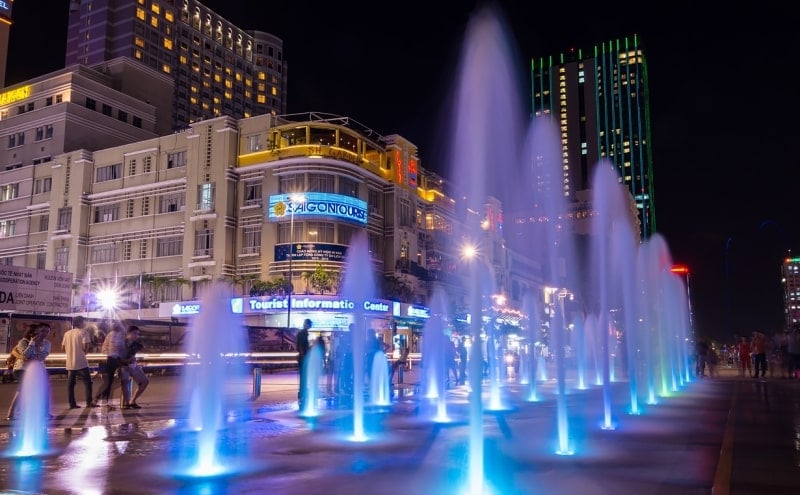 The Nguyen Hue road connects the river to the big theater area and the City People's Committee.
Every Saturday night, Sunday, this place is turned into a proper walking street. Without any motorbike, you can be more comfortable walking on this road.
In Nguyen Hue Street, you can take a stroll under many colorful decorative lights, and admire the art fountains.
But the unique thing is you can immerse yourself in the bustling, youthful atmosphere of Saigon by chattering with friends.
Enjoying the cuisine in Saigon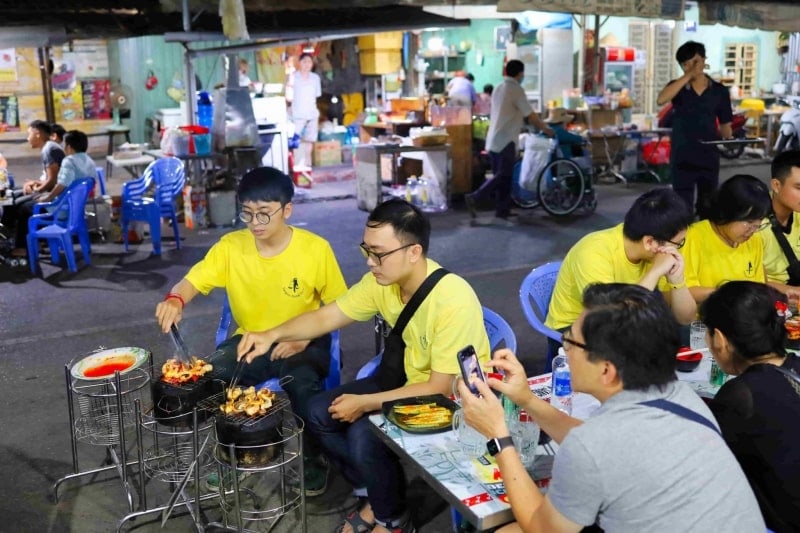 If there is a city in Vietnam where you can eat everything from early morning to late evening without being bored, it will be Saigon.
It is a place that gathers specialties of many localities from north to south, from authentic Vietnamese foods such as broken rice, bread, and Pho to European cuisine such as pizza, sushi, udon noodles, dumplings, curry. You can spend an entire day or even days enjoying food in this city.
Saigon cuisine is also diverse in types; you can have a sumptuous buffet or eat many kinds of street foods.
Even the world-famous travel food blogger Mark Wiens must say that Saigon's culinary journey is one of his most memorable trips. Therefore, if you go to Saigon without spending time eating and drinking, it is really regrettable.
And there are billions of other things you can do in Ho Chi Minh City.
You can as go to cinemas, shopping centers at the top tower such as Diamond, Takashimaya, Vincom…. Along with entertainment activities regardless of night, day, dream or night, from walking near the river, to climbing, sliding indoor ice. All are waiting for you to explore this youth city.
In General
From brief information above, we hope that you can have a memorable journey with your family in Vietnam. If you see this article is helpful, please share it with your friends and family. Thank you.
RELATED ARTICLES