Hoi An is an ancient town in central Vietnam. It is a famous tourist attraction due to its history and heritage. You might be curious about making the most of your time in Hoi An if you visit this beautiful town.
This post will discuss the top 10 things to do in Hoi An when traveling. Now, it's time to delve into it to discover the exciting activities during your trip.
Things To Do In Hoi An
Hoi An's ancient town, delicious food, and beautiful beaches make it a must-visit destination. Below is a list of activities you can consider when traveling to this beautiful ancient town.
Walk Through The Ancient Town
Hoi An's Old Town is a must-see destination that will leave visitors with enduring memories. It was a trading port that had passed through the centuries.
The area is famous for its narrow streets, canals and old buildings filled with nostalgia and vicissitudes. You can appreciate the city's culture and architecture by simply wandering around on foot.
The street vendors add to the experience with their colorful displays of handicrafts and local food.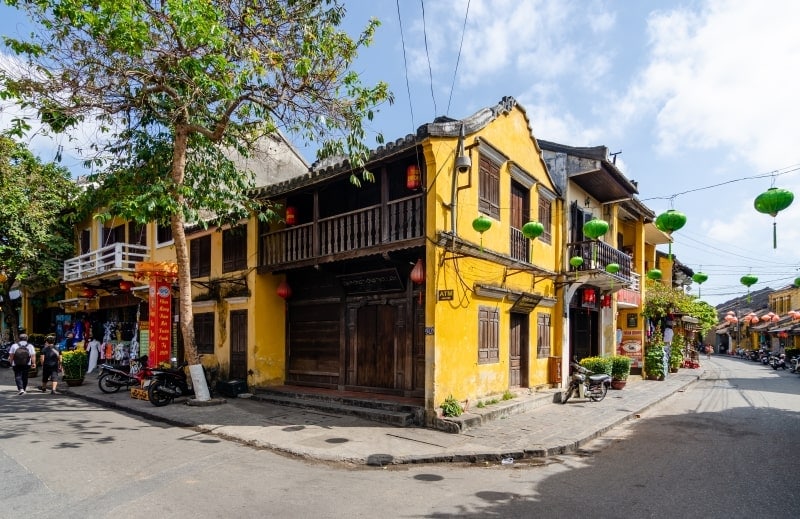 Ancient Town
Visit Tan Ky Old House in Hoi An
Tan Ky Old House is a must-see destination when visiting Hoi An. Its distinctive fusion of Chinese, Japanese, and Vietnamese architectural forms is evidence of the city's long history as a cosmopolitan center.
The house has been passed down through generations of the Tan Ky family, each adding their personal touches to the design and decor.
Walking through the house will bring you back in time and learn about the customs and way of life of the past.
Additionally, the house contains a collection of antiques and artifacts. It offers an intimate glimpse into the daily lives of the Tan Ky family.
The collection showcases the family's appreciation for art and culture, from traditional costumes to ancient pottery.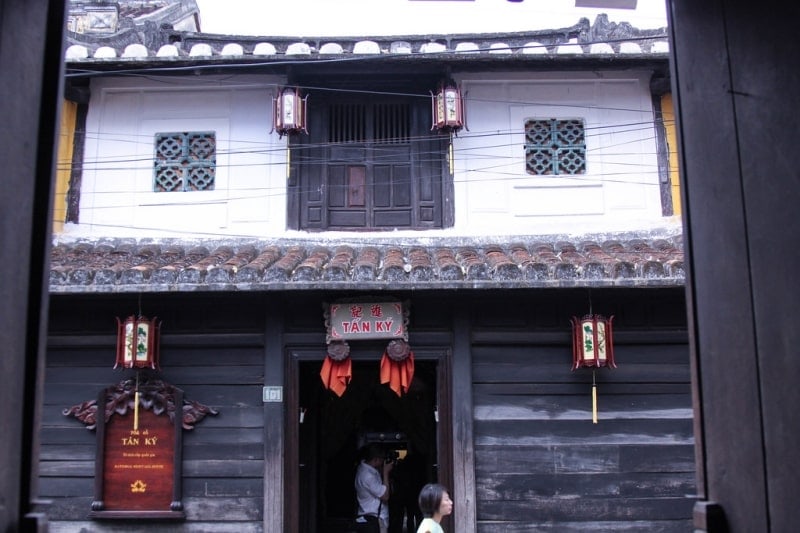 Tan Ky House
Visit Hoi An Silk Village/Coconut Village
Hoi An is a city in Vietnam that is famous for its rich cultural heritage and scenic beauty. Among the many attractions in the city, two of the most popular are the Hoi An Silk Village and Coconut Village.
The Silk Village is where you can witness the intricate process of silk production, from the rearing of silkworms to the weaving of the final product.
You can also purchase silk items, such as clothing, scarves, and bags, made using traditional methods and patterns passed down through generations.
Meanwhile, Coconut Village is a charming spot that showcases the beauty and versatility of coconuts.
The real highlight of the village is undoubtedly the delicious coconut-based desserts and drinks to sample. From refreshing coconut water to sweet coconut candy, there is something for every palate to enjoy.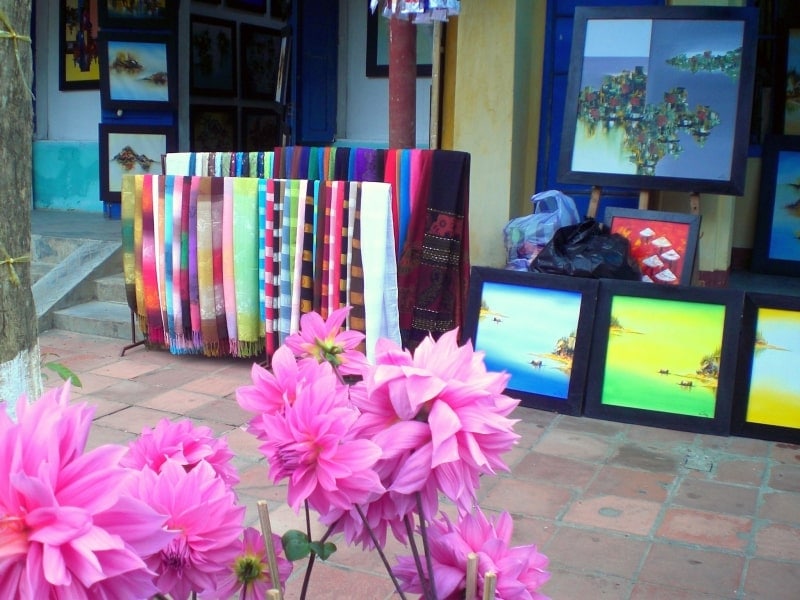 Silk Village
Visit Hoi An Museum
The Hoi An Museum is excellent for learning about the town's history and culture. Also, it's an ideal destination to immerse yourself in the daily life of the people here!
The museum boasts a vast collection of artifacts reflecting the ancient town's rich cultural heritage.
You can find various items, including pottery, porcelain, and traditional clothing.
The museum also features stunning displays of the people's daily life of Hoi An, which give you a glimpse into the culture and traditions of this fascinating city.
So why not take a trip to the Hoi An Museum and discover the secrets of this enchanting place for yourself?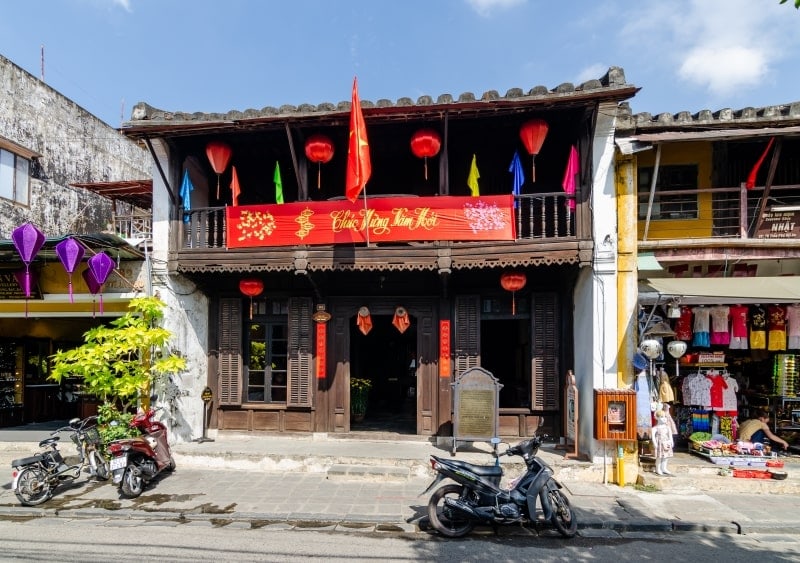 Hoi An Museum
Admire The Japanese Covered Bridge
The Japanese Covered Bridge, located in the charming town of Hoi An, is a must-visit destination for tourists.
It's a beautiful wooden bridge dating back to the eighteenth century. Besides, it serves as a testament to the rich cultural heritage of Vietnam and Japan.
The unique design and structure of the bridge reflect the harmonious blend of the two nations' architectural styles, and its intricate details and carvings are a feast for the eyes.
In addition to its aesthetic value, the bridge has historical significance, serving as a vital trade route during the olden days.
While strolling over the bridge, you may take in the lovely views of the river and the surroundings.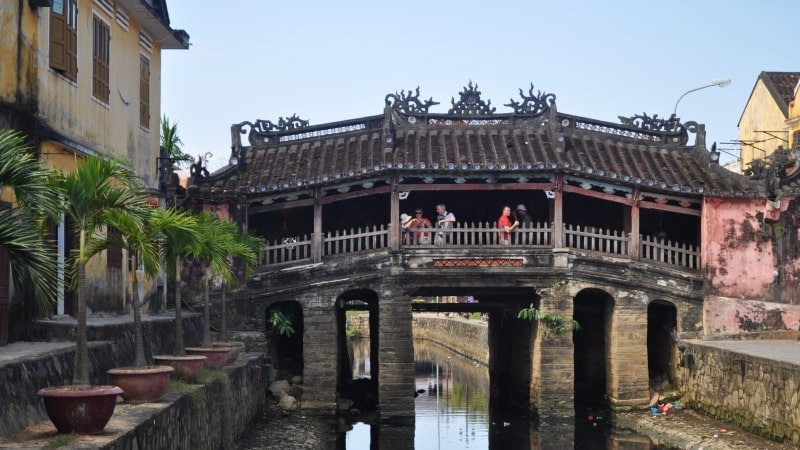 Japanese Covered Bridge
Take A Boat Trip
One of the most memorable experiences in Hoi An is taking a boat trip along the Thu Bon River.
You can get to see the picturesque countryside. Moreover, it's an excellent chance to witness the daily life of locals living along the riverbank.
You can take in the beautiful vegetation and rice terraces that extend as far as the eye can see while cruising along the calm waterways.
You'll also have the opportunity to explore small fishing villages that have remained untouched by modernization.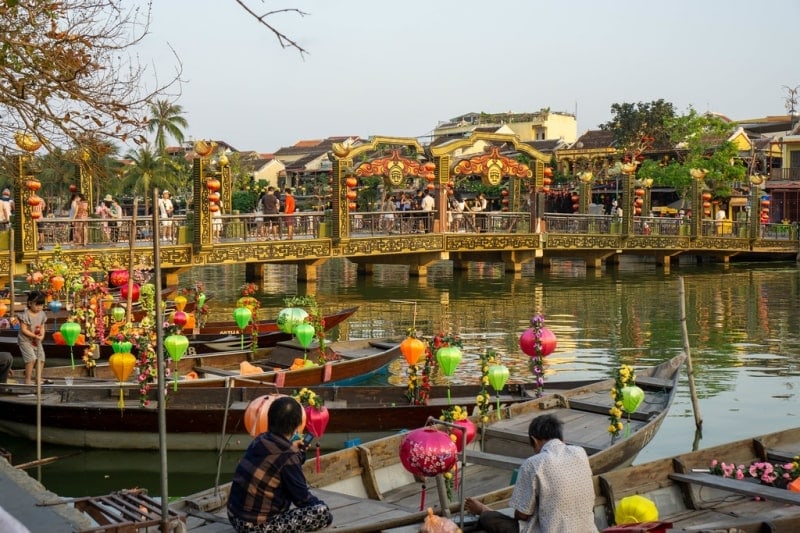 Thu Bon River
Go Cafe-Hopping
Hoi An has a vibrant cafe culture that is well worth exploring. The town's numerous cafés will have anything you seek.
For example, you can enjoy a cup of rich and aromatic Vietnamese coffee at Faifo Coffee, known for its excellent brews and cozy atmosphere.
Alternatively, Rosie's Cafe is ideal for a more laid-back vibe, with a wide range of smoothies and other refreshing drinks. Meanwhile, Cocobox is a must-visit for tea lovers, with a diverse selection of teas worldwide.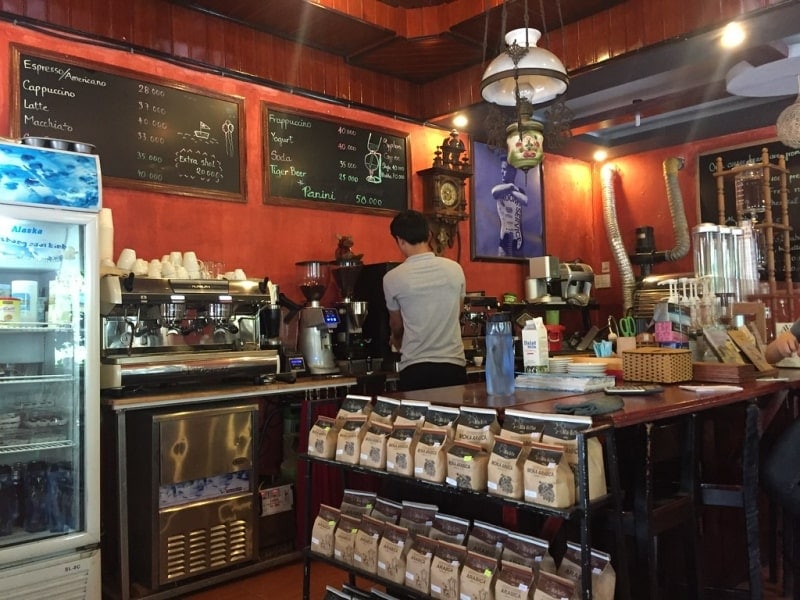 Hoi An Cafe
Shop At The Lantern Market
One of the most famous attractions in Hoi An is the Lantern Market, located in the Old Quarter. You can find various handmade lanterns in different shapes, sizes, and colors made of silk or bamboo.
In addition, you can explore local food, including Cao Lau, a local noodle dish, and Banh Mi, a famous Vietnamese sandwich worldwide.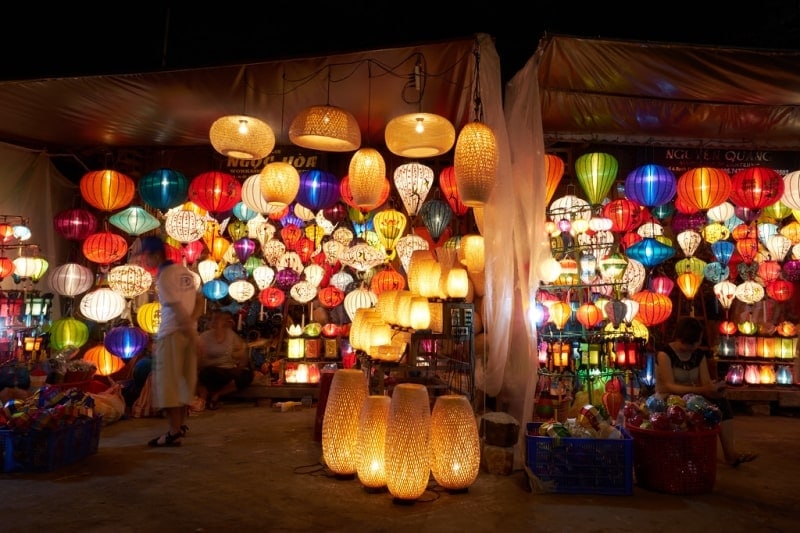 Lantern Market
Shop For Local Handicrafts
Hoi An is famous for the exquisite handicrafts produced by its skilled artisans.
The town is a hub for artists creating beautiful and unique pottery, lacquerware, and wood carvings. The local markets and shops are abundant in handmade items showcasing the town's rich culture.
From intricately designed vases and plates to stunningly crafted sculptures, there is something for everyone. Furthermore, you can witness the artisans in action and take classes to learn about their techniques and skills.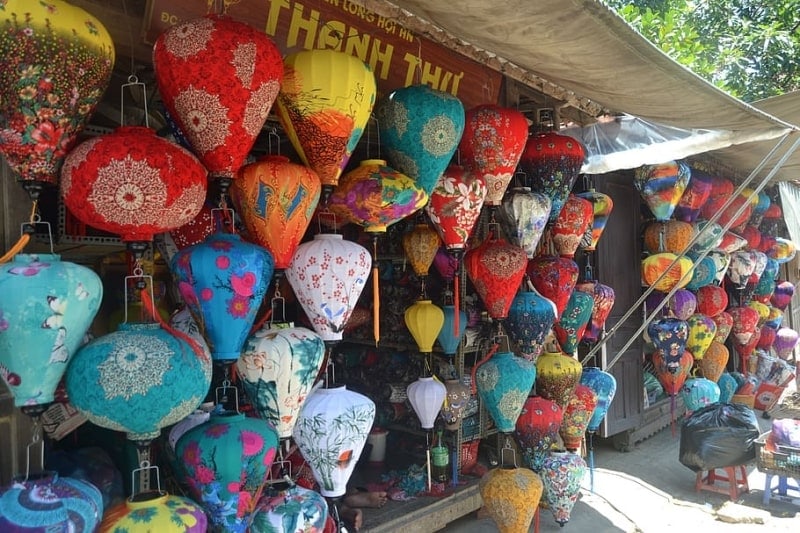 Handicrafts
Relax On The Beach
Besides famous lantern-lit streets and ancient temples, Hoi An boasts several stunning beaches that are well worth a visit.
Whether you prefer a quiet day soaking up the sun or an action-packed afternoon of beach activities, Hoi An has something for everyone.
An Bang and Cua Dai are among the most favored beaches in this ancient city.
An Bang beach is famous for its soft, clear water, and white sand. It's excellent for sunbathing, swimming, or relaxing with a good book.
Cua Dai Beach, on the other hand, is a bit livelier, with a range of water sports and beachside restaurants to enjoy.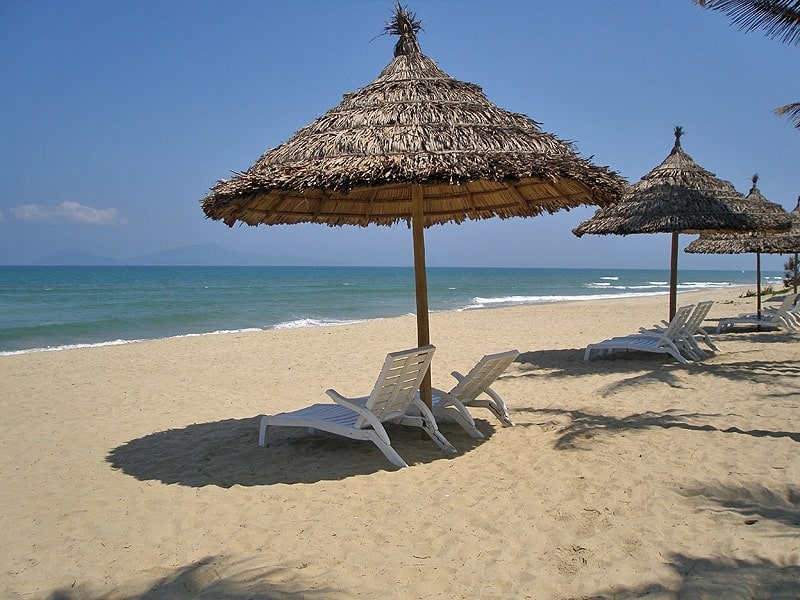 Cua Dai Beach
FAQs
How Many Days Do You Need In Hoi An?
Hoi An is an incredible destination that deserves at least three days to explore its attractions.
What Is The Best Time Of Year To Visit Hoi An?
The best time to visit Hoi An depends on your preferences.
For cooler weather and clear skies, visit during the winter season.
For warm weather and beautiful flowers, visit during the spring season.
For beach lovers, visit during the summer season.
What Is The National Dish Of Hoi An?
Cao Lau is the national dish of Hoi An and is a must-try when visiting the city.
Is It the Rainy Season In Hoi An?
Yes! The rainy season in this ancient town is from September to December, but the weather can be unpredictable.
The Bottom Line
Hoi An is a beautiful and charming town offering many tourist activities. This destination provides everything, whether you're looking for history, culture, delicious food, or a quiet beach holiday.
Therefore, add these 10 things to do to your itinerary for an unforgettable trip. Happy traveling!