There are a lot of things to do in Hanoi with numerous attractions, from the historic neighborhood to the French-inspired structures, appealing to millions of tourists each year.
A bike tour around the city or a food walking tour around the Old Quarter is the must-do thing. You may learn how local people drink coffee and cross the bustling roads. What are you looking for? Here are 11 entertaining and exciting things to do in Hanoi!
Top 11 Things To Do In Hanoi 
In Hanoi, there are several activities to do. You may need at least two or three days to complete the following tasks in the capital city.
Outdoor Activities
One of the greatest cities in Vietnam for maximizing a day is Hanoi. This city offers a variety of activities for visitors to unwind, from touring well-known landmarks to having fun at contemporary entertainment hotspots.
The most intriguing outdoor activities in Hanoi are listed below.
Exploring Sightseeings & Landmarks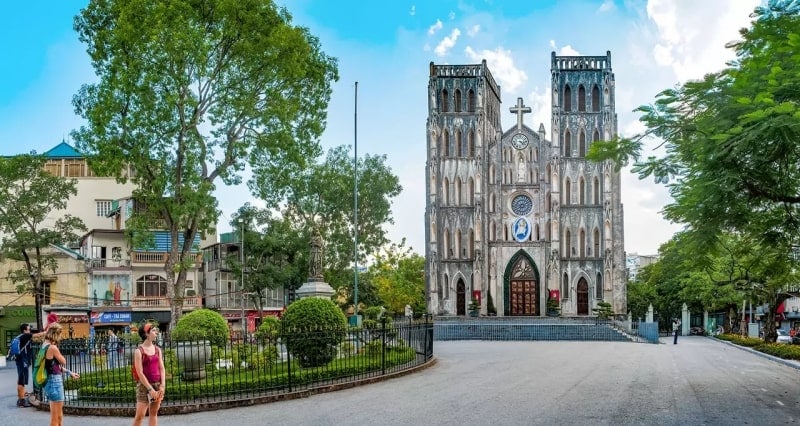 St. Joseph Cathedral in Hanoi
Hoan Kiem Lake
Hanoi's Hoan Kiem Lake draws visitors and locals seeking respite from the bustling city's clamor. With a little island in the middle, the lake is tranquil.
The lake is best viewed by walking around it. Every hour of the day has a distinct vibe. You will observe folks exercising quite early in the morning. Most people merely stroll around the lake in the afternoon to escape the congested streets.
The Turtle Tower, the temples, and the Red Bridge are all magnificently illuminated at night. It is busier now since many residents and visitors come here to unwind after a long day.
Many individuals may be seen moving about or sitting on the benches; some even dance or exercise. Young couples can also come here to go on dates.
The temple and the recognizable red bridge are the most well-known attractions at the lake. You may take a short stroll to the island in the lake near the Ngoc Son temple with the Huc bridge.
Using a cyclo is a pleasant and less strenuous way to explore the lake throughout the summer. You may combine a cyclo trip around the lake with other activities around the Hanoi old city center.
St. Joseph Cathedral
In Hanoi, in general, and the Old Quarter region, in particular, St. Joseph's Cathedral's European elegance makes it a superb location for pictures. These days, both couples and students choose the church as the location for their yearbook photographs.
The church is sparklingly decorated for Christmas, attracting many young people and non-Catholics in Hanoi. The church also has various entertaining events that may be enjoyed by the whole family, close friends, or even courting couples.
Passing up lemon tea when you can go to St. Joseph's Cathedral would be a shame. With only a cup of tea and a seat on the pavement, you may speak with friends, eat some street food, and take in the splendor of the cathedral while being shaded by a cool canopy of green trees.
Hoa Lo Prison
Since 1997, Hoa Lo Prison has been designated as a historical monument. Hoa Lo Prison is now a location that draws people from domestic and foreign countries yearly to visit, study, and learn.
Visitors can snap pictures and see the inmates' daily lives in the cramped cells. You will witness the horrifying iron shackles, several artifacts, and images of captives wearing leg chains and unable to stand or move in this jail.
Temple of Literature 
Confucius and other significant personalities associated with Confucianism and the temple are honored in Van Mieu. You may see the exquisiteness of the sculptures, the doctor stelae in particular, and the beautiful antique Vietnamese architecture.
The temple's first gate, Van Mieu Mon, is a holy building. Most of the main gate's greatest attributes from the past are still there.
You will enter the first courtyard through the gate and the second courtyard after passing through the Dai Trung Gate. The grass, trees, and two lakes on the side of both locations are almost identical, giving Van Mieu its serene and holy ambiance.
You will arrive at one of Van Mieu's distinctive gates after unwinding in the first and second courtyards ' natural settings. A wooden building with four round windows and a scarlet exterior is perched atop the pillars.
When you go to the third courtyard, you will see Thien Quang Tinh, a prominent place. That location stands for humanity, amassing all the priceless information from the cosmos.
After learning everything there is to know about the distinctiveness of old Vietnamese architecture, you may either unwind in Van Mieu's beautiful surroundings or visit the temple's gift stores and museum.
Imperial Citadel of Thang Long
The Imperial Citadel of Thang Long is a collection of artifacts connected to Hanoi's past. It was one of the large-scale structures that several emperors erected throughout history.
The Hanoi Flag Tower, Doan Mon, Kinh Thien Palace, and other monuments are still present in the Center Sector of Thang Long's Imperial Citadel. The Hanoi Flag Tower, created in the shape of a pyramid with a height of more than 33 meters, is a notable piece of the architectural ensemble.
Vietnam should be proud to recognize the Center Sector of Thang Long Citadel as a piece of international cultural heritage. One of the most memorable things in Hanoi is exploring the Imperial Citadel of Thang Long.
Ho Chi Minh's Mausoleum 
The Ho Chi Minh Mausoleum is one of Vietnam's most important buildings. You may improve your understanding of Vietnamese history by going here.
Inside the Ho Chi Minh Mausoleum is a chamber coated in marble. The casket in which President Ho Chi Minh's remains are displayed is glass.
Through the transparent glass, visitors can view President Ho Chi Minh, who is clad in a worn khaki shirt and essential rubber shoes on his foot. Inside the chamber, four soldiers remain on guard at all times.
Go Shopping at Old Quarter
Visit Hanoi's Old Quarter to find well-known Vietnamese coffee. You feel like a part of Hanoi's daily life while in a sidewalk café.
Additionally, the Old Quarter is where you can get the flavor of Hanoi's street food all in one location. Many of the streets in Hanoi's Old Quarter are named after regional foods or goods, like Cha Ca Street, Hang Ga Street, Hang Chao Street, Hang Bun Street, and others.
You go to the street with that name to purchase anything or eat something. Get up early to see the hawkers experience the Hanoian culture. A bowl of Pho Ga (chicken noodles) or a serving of La Vong grilled fish will satisfy your appetite.
Hop-On Hop-Off Bus Tours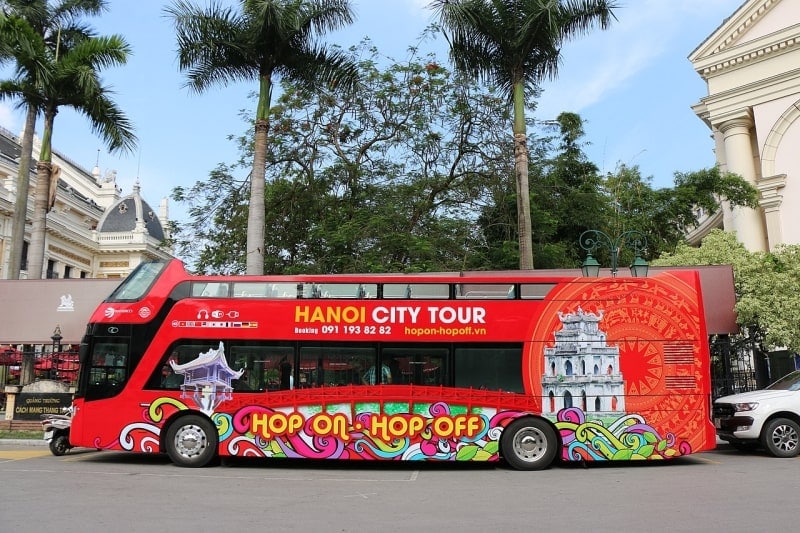 Hop-On Hop-Off Bus
The hop-on, hop-off bus sightseeing tour in Hanoi is a flexible and practical mode of transportation. After leaving Dong Kinh Nghia Thuc Square, the bus travels to more than ten pick-up locations.
The bus will take you to 25 streets and stop at several well-known Hanoi landmarks, including the Ho Chi Minh Mausoleum and Thang Long Imperial Citadel. If your ticket is valid, you can descend at any tourist location and board the following bus to continue your journey.
Private Motorbike Tours
Get aboard a motorcycle and see the most well-known attractions in Hanoi! There's no need to get up early to make the tour.
Choose a tour time that works best with your schedule, whether early in the morning, late in the day, or the evening. I suggest the following popular itineraries:
Start by going to the Hanoi Opera House in the city's center. Before visiting the Ho Chi Minh Mausoleum, you'll travel to the French Quarter.
The One Pillar Pagoda, one of Vietnam's two most well-known Buddhist temples, is next to the tomb. The Tran Quoc Pagoda, the world's oldest Buddhist temple, is the next destination on the journey.
From Ba Dinh Square, you may start the tour. Afterward, proceed past the Long Bien Bridge and pause at a sidewalk café on the well-known Train Street. Take beautiful pictures at the Hanoi Ceramic Mosaic Mural to cap off your visit.
Practicing To Cross The Road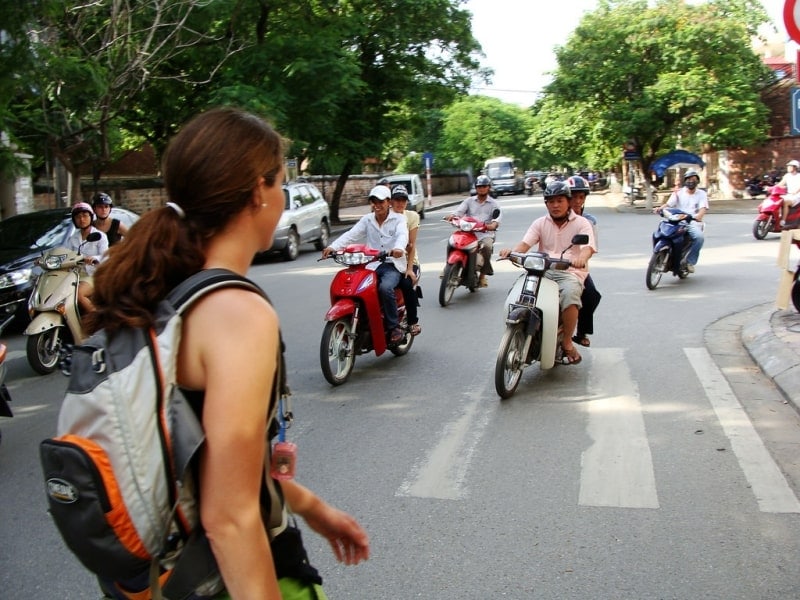 Cross the road
Hanoi's traffic could be more chaotic and congested. Therefore, you should learn to cross the street if you have several days to see Hanoi.
Vietnamese folks are kind and would gladly assist you in crossing the street. First, you could observe natives as they cross the street.
Take time to assess the situation. You can start to cross the street once you notice it is mainly empty of vehicles.
The traffic will generally avoid you. So long as you maintain your speed and direction, they can anticipate where you will swerve.
Indoor Activities
On days when it rains, Hanoi offers a wide variety of indoor activities for you to select from.
Learning To Make Paper 
Ke Buoi Ward has a rich cultural and historical heritage. Thang Long-Hanoi has been known as the Do Yen Thai paper arts town for thousands of years.
Until the 19th century, when new prepress types and printing techniques were introduced, the custom of manufacturing paper grew. The government has brought back the paper-making process to create a tourist attraction.
A memory house serves as a venue for introducing and screening documentaries on artisan communities. Every day of the week, a new publication will be produced with participation from travelers.
Taking A Cooking Class And Having Dinner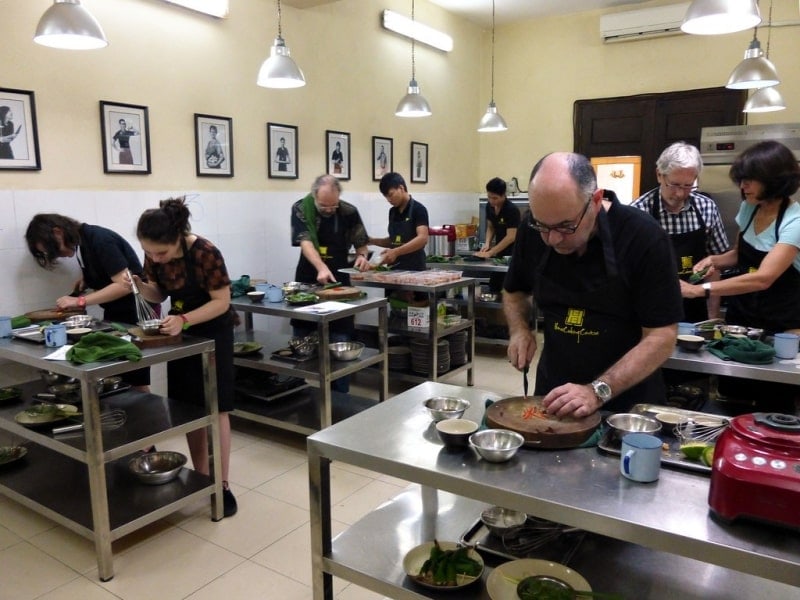 A cooking class
Attend a culinary lesson in Hanoi; your guide will give you individual attention. Your guide will pick you up from your hotel in the morning or the afternoon, depending on the departure time.
In the beginning, you'll purchase supplies from a neighborhood store and discover the essential elements of Vietnamese food. Prepare and cook the food as needed in the kitchen or according to recipes.
You'll settle down to enjoy the results of your effort after the cooking is complete. The tour leader could offer you local wine, herbal tea, coffee, or mineral water.
Watching A Water Puppet Show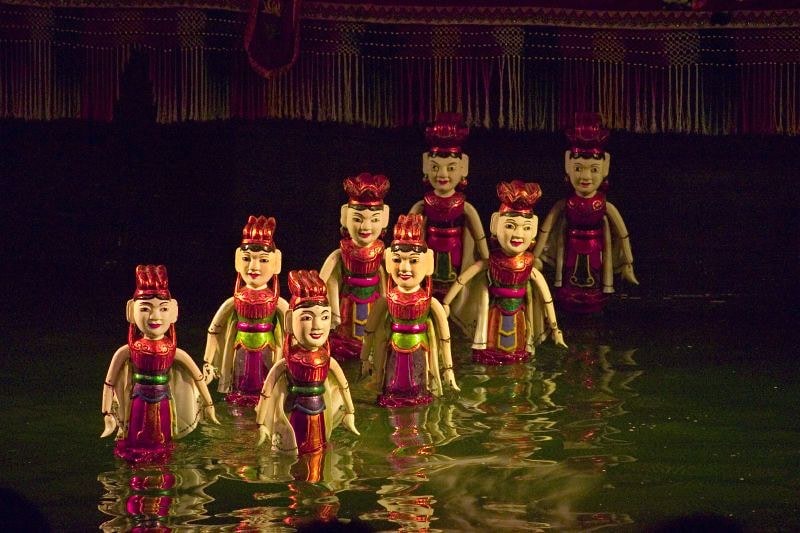 Water puppet show
At the Thang Long Water Puppet Theater in the heart of Hanoi, you may have a unique experience by attending a water puppet show.
A Vietnamese orchestra that plays traditional music on drums, wooden bells, horns, and bamboo flutes provides the background for performances. Additionally, the puppets' performance is narrated by real Vietnamese singers.
Enjoying a classical concert at the Hanoi Opera House
The theater formerly only presented Western-style shows for French officials and affluent Vietnamese. Today, the Hanoi Opera House is one of Hanoi's cultural hubs, regularly hosting domestic and foreign concerts.
Hand-on Ceramic products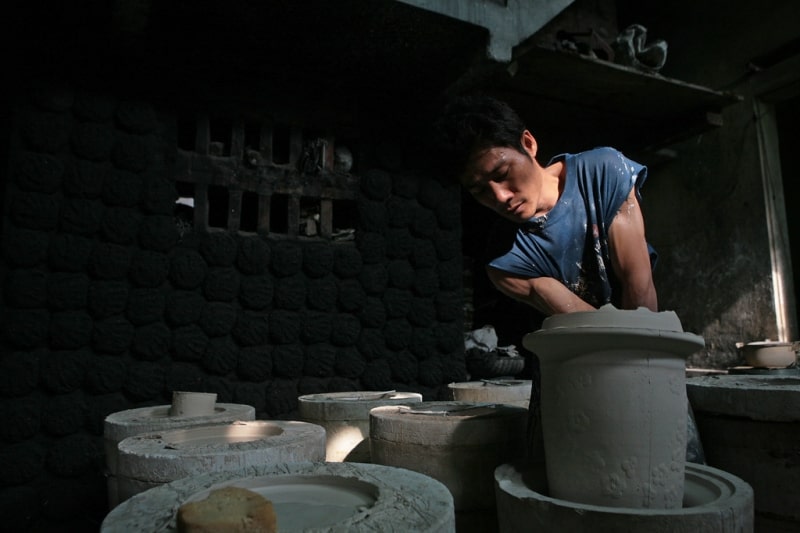 Bat Trang pottery village
A respected handicraft community in Northern Vietnam in Bat Trang Pottery Village may be found. You can become a potter with unforgettable experiences.
You may join the rotating stand's ceramic-making expertise for a meager cost and, with the guidance of an artisan, learn how to produce pottery using old-fashioned techniques.
Visit The National Museum of History
The finest location to learn about Vietnam's exciting history is the Vietnam National Museum of History, which features several exhibitions and displays.
Through a range of artifacts, exhibits, and collections, the museum provides a complete overview of the country's history while highlighting the rich cultural legacy of Vietnam.
FAQs
What is Hanoi best known for?
Vietnam's artistic epicenter is Hanoi. The opulent Fine Arts Museum is home to the nation's most important collection, which includes works by impressionist painters and ancient Cham relics. You also visit Manzi or the Vietnam Art Gallery for something more modern.
Are two days in Hanoi enough?
The answer is yes. Two days is enough for Hanoi if you have a detailed plan in advance. Hanoi is a city where you might easily spend a week without boredom.
Is it safe to walk in Hanoi at night?
Although crimes against visitors are rare, Hanoi is a safe city to explore. However, it is essential for you to be careful.
While it is usually safe to stroll around the Old Quarter's streets at night, staying away from the darker passages after roughly 10 o'clock is better.
Final Thoughts
You may fully comprehend this ancient city by using our list of the top things to do in Hanoi. A fascinating collection that will give you the history of this area with its great attractions and dining.
You may also visit pagodas and temples, examples of traditional Vietnamese architecture. Besides, Hanoi is also renowned for its delectable culinary scene.
We hope you've enjoyed our varied collection of things to do in Hanoi.
Have a nice trip!
RELATED ARTICLES