There are numerous things to do in Ho Chi Minh City. This place has many extremely interesting things to experience for all visitors.
If you wish to understand more about the time of reunification in Vietnam, we recommend visiting monuments, museums, and the Cu Chi Tunnels.
You also take a street food tour and relax at a hip café to experience regional specialties. You can observe the sunset and nightlife while having coffee on the rooftop of the highest building in the city.
It is well worth spending at least three or four days exploring this historic city. At Vietnamtour.in, we recommend the top activities in Saigon below.
Let's dive into the article!
Things To Do In Ho Chi Minh City
Check out the list of top things to do below! Surely, you will make your trip very meaningful.
Sightseeings
Along with the city's oriental traditions, the architectural traces of the French colonial are still visible. We suggest seven of the best sights in Saigon.
Visit Independence Palace And The War Remnants Museum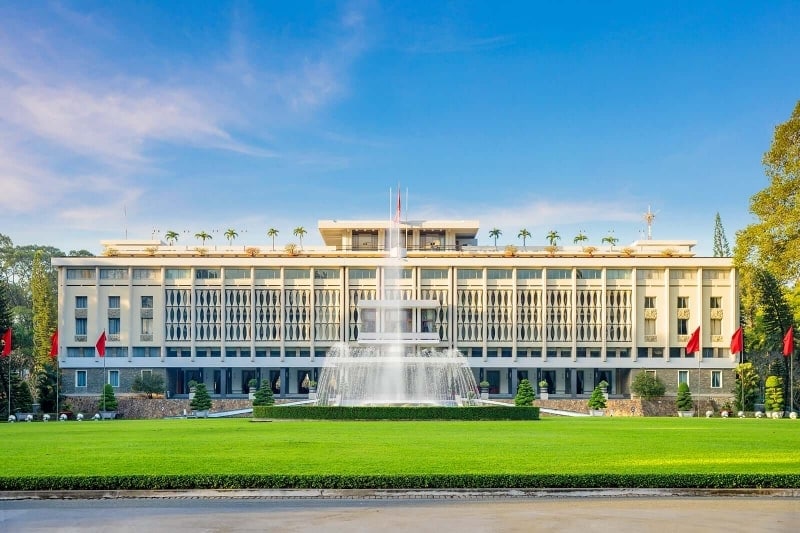 Independence Palace
The War Remnants Museum will help you understand the history of the Vietnamese wars. When you arrive at the museum, you will observe how nations worldwide united in opposing French colonialism and American involvement in Vietnam.
You may see explosives, weapons like rifles and knives, photographs, and details of military campaigns and assaults on the higher levels. A must-see component displays the legacy of Agent Orange's fallout.
The Independence Palace, which is only 7 minutes on foot from the War Remnants Museum, allows guests to tour the grounds in an open-air electric car. The car is the ideal mode of transportation for exploring because it is practical, cozy, and secure for guests.
Taking Photos Of Saigon Notre Dame Cathedral
You will find the Saigon Notre Dame Cathedral in the city's center. French architects built it between 1863 and 1880.
Its design demonstrates Saigon's exposure to French culture and Christianity. All the building materials, including the vivid and energetic red exterior wall bricks, were imported from France.
The Saigon Notre Dame Cathedral is a "holy land" for tourists who like checking in or taking photos. Feeding the friendly pigeons at the Saigon Notre Dame Basilica is another must-do activity.
Sending A Letter To Your House From The Central Post Office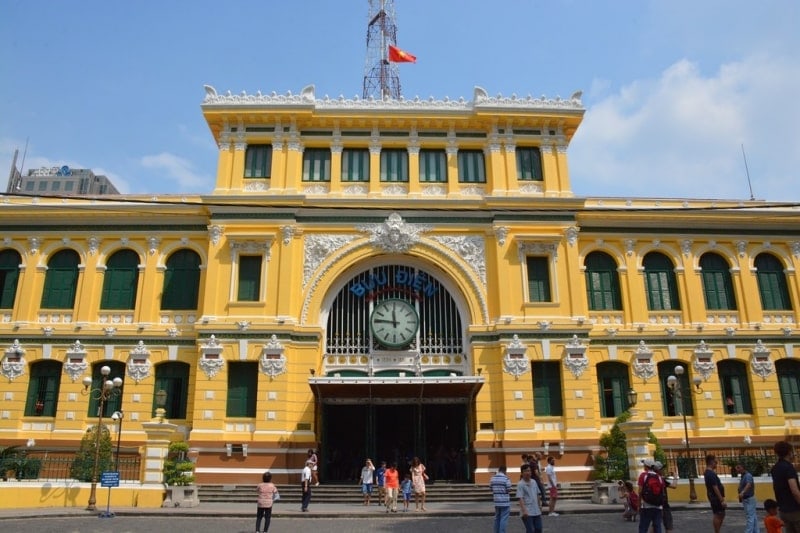 Saigon Central Post Office
The Saigon Central Post Office is one of the most iconic sights of this city. This area is ideal for those who wish to appreciate the stunning architecture, send a postcard, or write a hand letter.
Upon arriving, you may relax on wooden benches. It will seem like time is moving much more slowly because you can see the old Saigon.
Walking along the hallway, you'll find thousands of souvenirs, including postcards, stamps, images, and photos. Due to their low pricing, these goods are always excellent for purchase as gifts for families and friends.
Exploring Buddhist Architecture At Vinh Nghiem Pagoda
Vinh Nghiem Pagoda is one of the representative examples of Vietnamese Buddhist architecture from the 20th century. This pagoda reveres Buddha, Bodhisattvas, and Louhans.
The Grand Hall is where people revere Buddha, Bodhisattvas, and Louhans. The building's interior décor follows astronomy and Mahayana Buddhist doctrine.
Additionally, the seven-story-tall Kuan Yin stupa is a must-see spot. One of Vietnam's largest stupas, the media routinely commends this place for its exceptional construction.
Visit Tan Dinh Church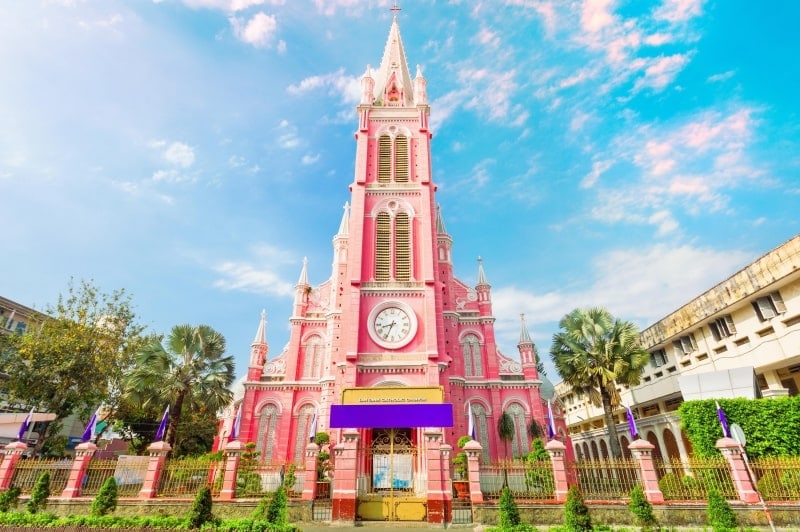 Tan Dinh Church
Tan Dinh Church resembles a pink fairy castle in a clear blue sky. Its color contrasts with the sunshine's yellow hue, producing a dreamy atmosphere.
You will like the striking pink and lovely Gothic design. It resembles Roman construction, giving it a stunning elegance.
As a result, both amateur and professional photographers love this location. Many visitors wait to take the perfect shots.
Watching A Sunset At Bitexco Financial Tower
If you enjoy tall buildings and gorgeous scenery, spend your free time touring Bitexco Financial Tower. This design, inspired by the shape of a lotus blossom, is one of its most distinctive charms.
You can immerse yourself in breathtaking vistas and engaging activities when you visit the tower. This building has many pubs, restaurants, retail malls, and entertainment venues.
The Saigon Skydeck is one of the best places to visit. A telescope on the 49th level will enable you to enjoy the panoramic view of the city, including the Ben Thanh Market, Notre Dame Cathedral, and Saigon City Hall.
It would help if you got a fantastic nighttime picture of the city, filled with sparkling lights and a bustling street.
Admiring Saigon's Night At Landmark 81 Skyview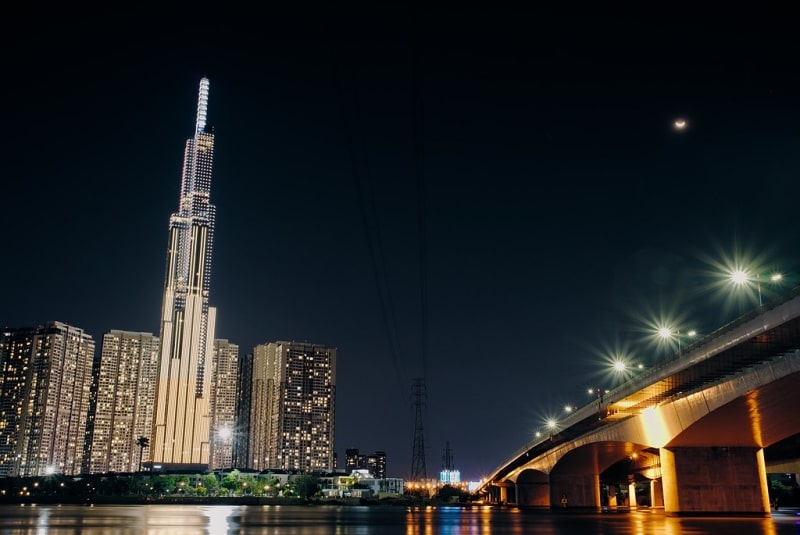 Landmark 81
Landmark 81 Skyview occupies the Landmark 81 building's top three stories. According to records from 2019, the skyscraper is the highest structure in Southeast Asia.
A translucent glass system encircles the observatory, allowing visitors to watch the stunning entirety of the city from above. It's a perfect chance for you to capture the breathtaking shots of Saigon.
Shopping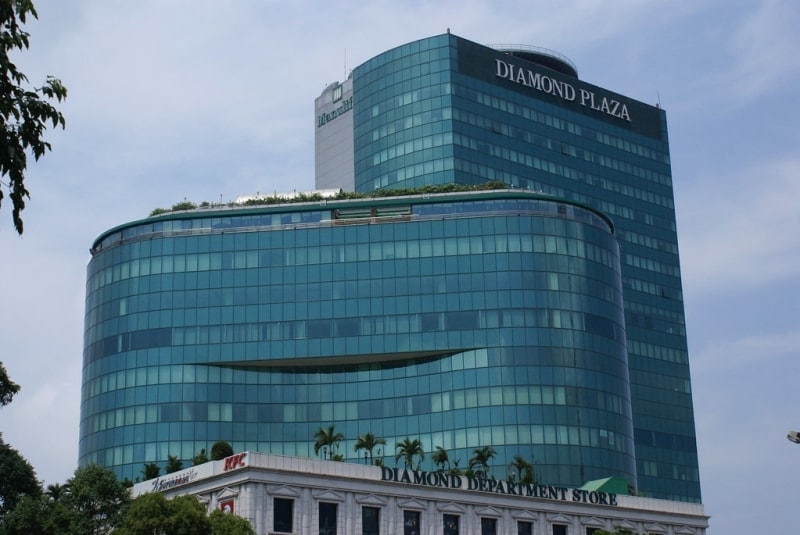 Diamond Plaza
Shopping is one of the best things to do in Saigon. You can find modern malls around Saigon where you buy luxurious and trendy items. We also recommend exploring local markets since they reflect local people's everyday lives.
Explore Ben Thanh Market
Ben Thanh Market is a busy place during the day and night. It is a must-see destination in this vibrant city. There are 12 entrances and four main gates in Ben Thanh Market. The large clock tower is at the main entrance.
You'll find rows of vibrant fabrics and clothes as you enter this gate. You may also purchase Vietnamese packaged foods and delicacies, including coffee beans, tea, fish sauces, and dry products.
You can buy fresh cuisine with fish and meat at the north gate. Meanwhile, the west side entrance is a paradise of hand-craft items.
Generally, the Ben Thanh market has the most outstanding selection of wood and cloth crafts. These handmade items will be the perfect gifts for your friends.
Go Shopping And Have Dinner At Shopping Malls
Takashimaya and Saigon Centre
Takashimaya is one of the most opulent malls in the City. It offers you everything from fashionable clothes to mouthwatering dishes.
Diamond Plaza is one of the oldest, most exquisite, and opulent retail malls. It is the best location for dining, shopping, and watching movies.
In addition, it is a magnificent architectural building that combines Eastern and Western, old and new Saigon, and ancient and modern architectural styles.
The expansive and lush Crescent Mall is a must-see in Phu My Hung. As they arrive at the mall, you will see a sizable garden with overgrown grass and trees, a children's playground outside, little lakes, and mountains.
A benefit of this shopping mall is the significant number of fashionable and accessory retailers. The food court, which offers hundreds of dishes and beverages, is an advantage.
Food Tours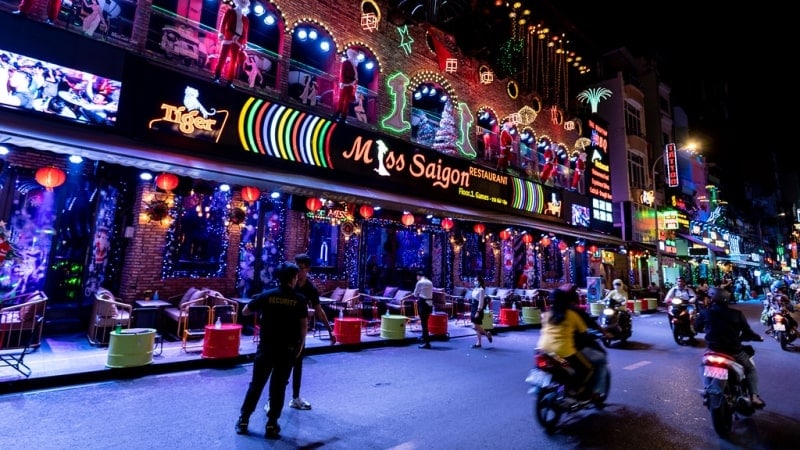 Bui Vien walking street
Riding a motorbike and eating local foods are the best ways to experience Ho Chi Minh City. You'll ride through districts with your English-speaking tour guide and stop at some places to try Vietnam's most well-liked street cuisine.
Having Lunch At Ben Nghe Street Food Market
Both locals and tourists love Ben Nghe Food Market. You may enjoy a superb eating experience with delicacies from different countries and experience the commotion of nightlife.
Bui Vien Walking Food Tour
Bui Vien walking street is one of the busiest streets in the city. The area is boisterous and packed from 7:00 pm to 2:00.
The street has seen a proliferation of eateries, resulting in a rich, diversified cuisine with various foods. The barbeque featuring grilled chicken, hog, beef, and seafood is the most common on Bui Vien Street.
Enjoying a Dinner Cruise on the Saigon River
A Saigon River cruise will be a fantastic option to escape the crowded, busy streets usually filled with visitors. You will get the opportunity to enjoy some delectable cuisine and take in the splendor of the Saigon River during dinner on the river cruise.
Many dinner cruises leave from one of Saigon's two busiest ports, Bach Dang Wharf or Saigon Harbor. The cruise cost varies from 550,000 to 1,500,000 VND per person, depending on the quality.
Taking Part In Cooking Class
We suggest you take a cooking class in Saigon to learn about the subtleties of Vietnamese cuisine. We recommend attending a farm-to-table cooking lesson.
You will collect organic ingredients grown by locals and turn them into mouthwatering recipes. Your skilled and dedicated cooks will instruct you to prepare traditional Vietnamese dishes.
Adventure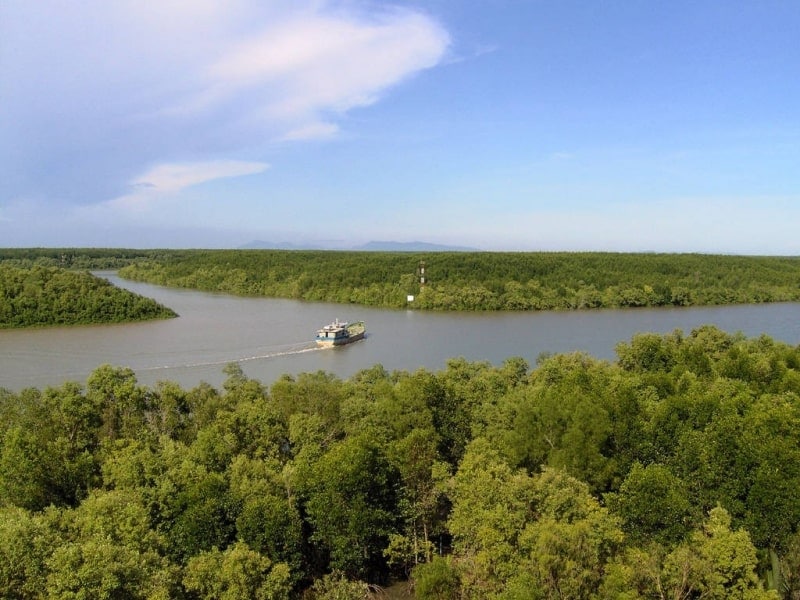 Can Gio
Are you looking for an adventure trip? The following two tours are the most popular among visitors.
Cu Chi Tunnels Half-Day Tour
We recommend you take a half-day tour to the Cu Chi Tunnels to discover the guerilla struggle in Vietnam. The tour guide will help you to enter the underground tunnels to learn about the Viet Cong soldiers' daily lives.
Trek The Can Gio Mangrove Biosphere Reserve
The UNESCO-designated Can Gio Mangrove Biosphere Reserve is a fantastic ecotourism destination for those who love thrilling outdoor activities. This full-day tour includes canoeing through picturesque canals, mangrove forests, and a bat swamp.
Challenge your courage by fishing for carnivorous crocodiles at a crocodile farm. The monkeys in Can Gio will leave you with unforgettable funny memories.
FAQs
Is Ho Chi Minh City a good destination for travelers?
Ho Chi Minh City has long been an important political, cultural, and economic hub of Southern Vietnam. So, it is a fantastic travel location.
How many days should I spend in Saigon?
There are numerous fun things to do in Saigon. We advise visiting the city for around three days to explore all the major sights.
What to avoid in Saigon?
Avoid wearing cameras, expensive items, and over-the-shoulder bags whenever you are strolling, riding on a motorbike, or in a cyclo because thieves can ride mopeds after you.
As soon as you begin crossing a street, don't turn around. Continue walking ahead without pausing or turning around; the traffic will move around you.
Is it safe to drink tap water in Ho Chi Minh City?
In Vietnam, it is unsafe for visitors to drink tap water without further treatment. Bottled water is a good substitute.
Final Thoughts
It's great to visit the historical and cultural sites on foot and acquire exciting anecdotes from the locals. A day to the Can Gio Mangrove Biosphere Reserve or a half-day excursion to the Cu Chi Tunnel are must-dos for adventurers.
The culinary experience is one of the most rewarding things to do in Ho Chi Minh City. So, what do you like to do the most here?
Contact us for the best guide!
RELATED ARTICLES