When speaking of Hanoi, you will immediately think of the crowded capital with hundreds of vehicles. But that is not all. Do not stop here and miss interesting things! When the sun goes down, it is the most beautiful moment in Hanoi. If you ask Hanoians that when the best time to wander around this city is, certainly, the answer is at night. So what are the must-go places and must-do activities to enjoy nightlife in Hanoi for Indian travelers? Let Vietnamtour.in give you some useful suggestions!
1. Enjoy cups of beer in Ta Hien Street 
Ta Hien, also known as "West Quarter" or "beer street of Hanoi Old Quarter", is a suitable place for you and your friends if you want to learn about Vietnamese's lifestyle.
What to do in Ta Hien Street? You can enjoy all kind of beverages, from non-alcohol to some spirits. Although tea and coffee are also available, beer is the most popular drink here, with a fresh cup of Hanoi draught beer or bia hoi for just 50 cents. Coming to Ta Hien Street, you will experience the bustle of Hanoi at night. You are surrounded by the sounds of numerous people singing, laughing and chatting.
What is the difference between Ta Hien Street and others? Various kinds of music are performed during the night. If you are an outgoing person, it is so great. Let's immerse yourself in the lively atmosphere here! Groups of youngsters would come to hang out, take a sip of beer, talk, and give come-hither smiles to you.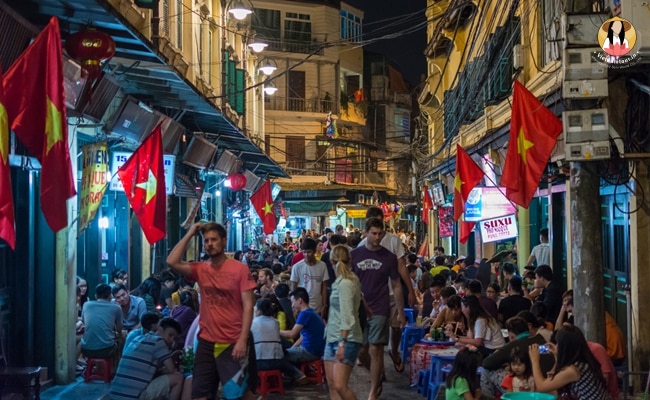 People gathering and drinking beer at Ta Hien Street at night
2. Learn about Vietnamese History at Thang Long Puppet Theatre
Water puppet dance is a type of traditional art in Vietnam. It is an indispensable part of the local culture. Famous historical legends are recreated with wooden puppets and colorful dragons on the water stage.
During the show, local artists have to soak in water to control puppets from behind a screen through string systems. So, if you have a remote view, the puppets seem to move on the water surface. The ticket price is about $4-8/person. For special shows, it possibly rises to $21. This is definitely a not-to-be-missed experience for your trip to Vietnam from India, because you will have a chance to learn more about Vietnam culture, history and traditional music.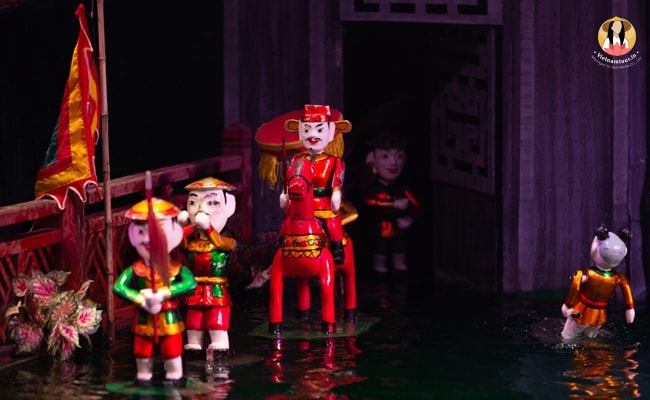 Water Puppet Show – a great spot to learn about Vietnamese culture and history
3. Tong Duy Tan Food Corner – An Ideal Place When You are Hungry at Midnight
Craving for a midnight snack? Look no further than Tong Duy Tan food street.
The street is not long, but there are dozens of attractive foods for both tight-budget and rich people. I recommend a hot bowl of chicken noodle soup at the price of 35,000 VND ($1.5) to fill your stomach at night. After eating, you can go to the coffee shops and relax with your friends.
Still not interested? Pay a visit to Xofa Café. The cafe attracts the attention of passers-by with its rustic charms, the soothing lullabies, the cozy interiors, and, of course, many sofas. There are many aesthetic corners for you to meet up with your friends or enjoy a  romantic date.
4. Buy Some Affordable Gifts in Dong Xuan Market
Usually, the Vietnamese markets only open in the morning, but Dong Xuan market is unique for serving all days with many different items.
Here's one exciting thing. At Dong Xuan market, you can buy various gifts for your relatives as well as your lovers. On the first floor, stalls mainly display electronic devices such as charger, cable, flashlight, speaker. Clothes for adults are sold on the second floor. If you want to buy something for your children, come to the third one.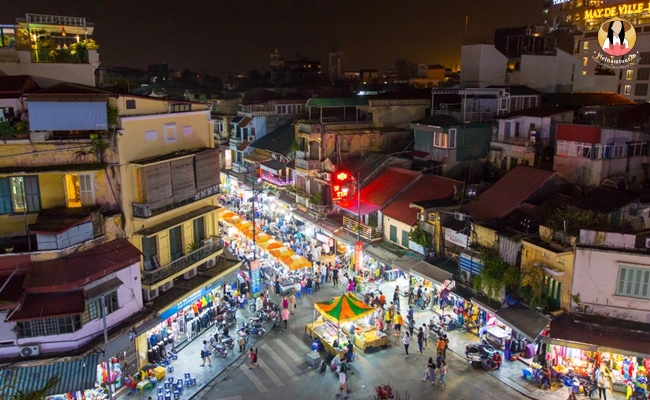 Hanoi night market
The street lights and logo signs light up the whole area. The entire market is bustling and crowding up after sunset with a large number of street vendors selling souvenirs, silk, lacquerware, paintings and so on. This area offers you a lot of things to buy back home for your friends and family. Don't skip!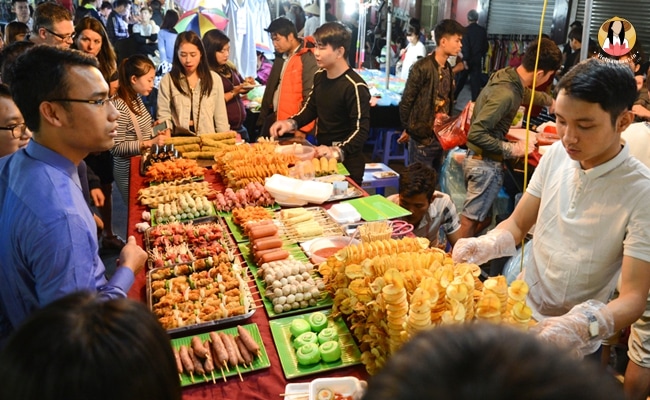 Street Foods in Hanoi night market
5. Entertain at Royal City
Have you ever been to Royal City before? It is a large commercial center in Hanoi locating in Thanh Xuan District, where offers you the chances to entertain with your family, go shopping, and visit the modern Western architecture. On special occasions like Christmas or Mid-Autumn Festival, Royal City is the ideal place for visitors with its beautiful and eye-catching decorations.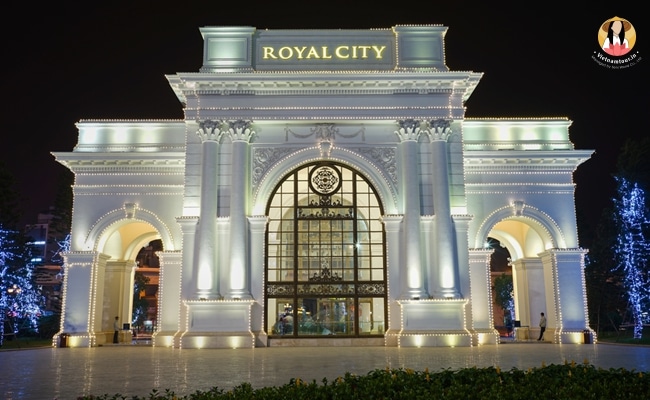 Royal City – The ideal place to go shopping with your family
6. Visit Vietnam Central Circus in 67 Tran Nhan Tong Street
Are you finding a suitable place for your children? Going to circus theatre is not a bad idea. There are multiple performances prepared by talented actors including animal circus, clown, adventure circus, etc. The children will also be very excited about the hilarious clowns and beasts.
A show charges you about $5-8/person depending on the height of audiences. The ticket for shorter children is cheaper than the taller ones.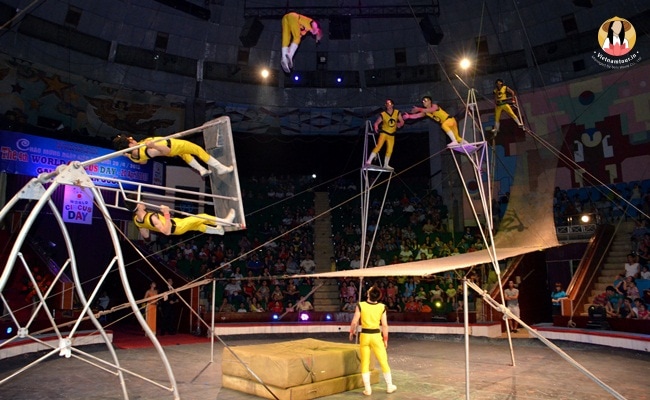 A unique performance at Vietnam Central Circus
7. Spend all nights in Camelia Lounge
Apart from beautiful spots to see at night in Hanoi center, this charming city is also famous for a wealth of bars and night clubs to dance the night away.
If you are not budget travelers and looking for a place in Hanoi to dance, drink and enjoy music, the Camelia Lounge is surely the one for you as it's one of the most luxurious bars in Hanoi designed in Western architectural style. You will surely be overwhelmed with the luxurious furniture, the exquisite combination of the gorgeous chandeliers and the warm wooden walls. You can also enjoy bottles of wine, drinks and premium dishes made by skillful local bartenders.
Besides, there are many great night clubs and bars in Hanoi you can choose to enjoy good music from International DJs, dance as much as you can or just enjoy fresh drinks such as The Bank Hanoi, Apocalypse Now Hanoi, Hero Club, Dragonfly Bar, Hanoi Go Go Bars, Savage Club, The Toilet Club Hanoi, etc.
8. Calm Your Mind in Hoan Kiem Lake
Foreign visitors prefer Hanoi at night because the walking street near Hoan Kiem Lake is amazing to them. What makes it so unique? Here you can participate in folk games and enjoy the popular treat named Trang Tien ice cream.
And it doesn't stop there. You can relax with numerous artistic activities along the walking street. All of these will leave you unforgettable experiences in the capital. The cozy atmosphere with the multicolored lights decorated everywhere give off a whole new vibe to Hanoi at night.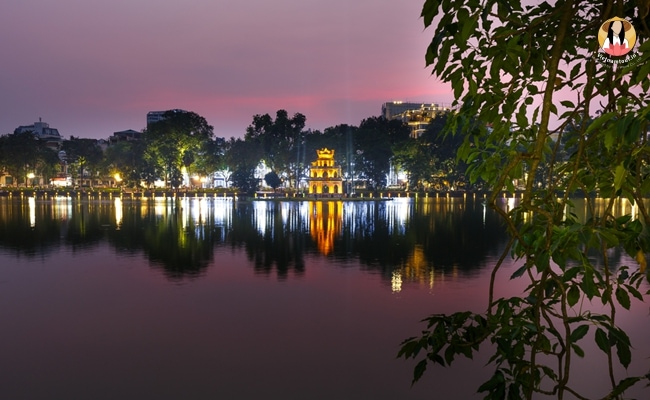 Hoan Kiem Lake at night
9. Buy flowers in Quang Ba night flower market
Quang Ba is a flower market in Hanoi. This market is especially busy when the night falls because it is a supplier of fresh flowers for other provinces. If you love flowers, you can go for a walk around the market from 2:00 AM to 4:00 AM. Most of the flowers come from Nhat Tan, Quang An Village, and other communes in Tu Liem district.
You are wondering why Quang Ba night flower market is a popular destination? When standing here, you will see another side of the ancient city, more colorful and picturesque.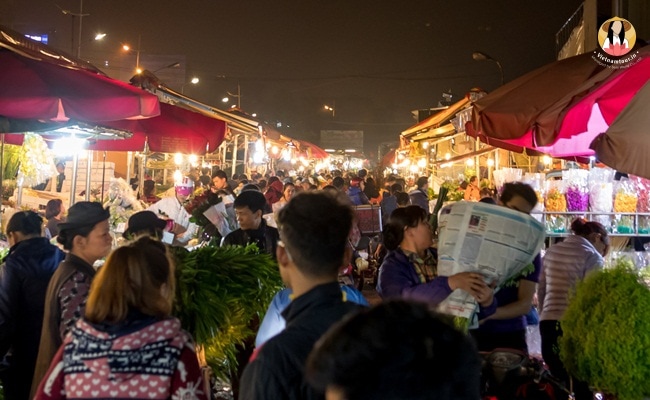 Buying flower at Quang Ba Flower Market
10. Listen to opera masterpieces in Hanoi Opera House
Hanoi Opera House is a perfect suggestion if you want to listen to live music or watch opera performance. But each show has its schedule, so make sure to check the time by asking the concierge.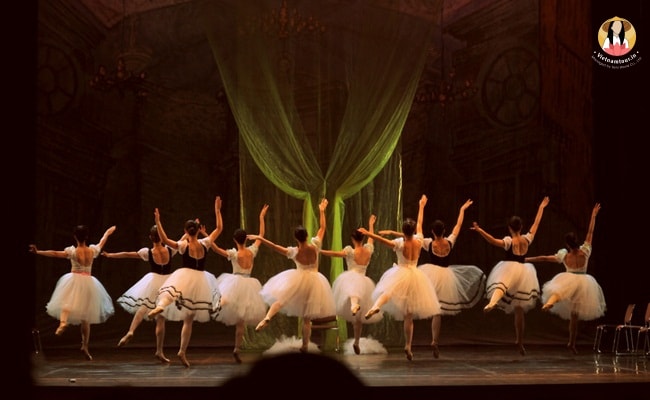 Ballet performance at Hanoi Opera House
Conclusion
There is a variety of places for Indian travelers to go at night in Hanoi. These places are brilliant and attractive to both foreign and domestic visitors. Come and see for yourself right now!
RELATED ARTICLES