Vietnam is one of the first-rate countries to visit, for its charming beauty of natural highlights, culture and of hospitality. Along the S-shaped country are thousands of overwhelming sceneries that can hardly be found in any other place on Earth. 
Believe me, you'll see everything worth it when front marvelous waterfalls and bays; majestic, breathtaking mountains; dreamlike beaches with white, fine sand strips stretching out to the furthest.
Vietnamese charm even lies more in its superb healthy, nourishing food. And the country absolutely worths more than one visit from you for all of its beauty from nature, culture, cuisines and the people. Yet how to reach Vietnam from India in 2023? Well, Vietnam Tours from India will show you the answer.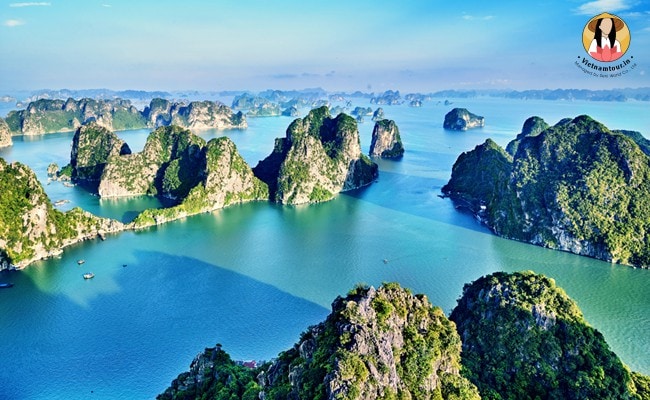 Photo: Vietnam – the land of magnificence
How to apply for Vietnam Visa for Indian Travelers?
Yes, Indian tourists have required a visa before departing to Vietnam. That's why getting a visa is your first step to follow to answer the question: How to reach Vietnam from India? In particular: There are 2 ways you can try to apply for Vietnam Visa, which is traditional ways (through paperwork) and online visa. Let's see!
Traditional ways
The first and very traditional channel to apply for Vietnam visa is to submit papers to the Embassy of Vietnam (in New Delhi) or Consulate General of Vietnam (in Mumbai) and wait for acceptance.
You need to prepare:
Original visa with a minimum validity of 6 months
Completed application form
Passport-sized photos
Visa fee
The process is simple and usually takes 2-3 business days. Here is the contact information:
Embassy of Vietnam in New Delhi
Address: 17, Kautilya Marg, Chanakyapuri, New Delhi, 110 021, India
Tel: +91-11-301-8059
Fax: +91-11-2301 9818
Email: sqdelhi@del3.vsnl.net.in
Consulate General of Vietnam in Mumbai
Address: Wajeda House, Gulmohar Cross Road No.7, Juhu Scheme, Mumbai, 400 049, India
Tel: +91-22-2620-8589
Fax: +91-22-2624-8538
Email: vietnam@mtnl.net.in
Online Visa 
This is the super easy way for you to obtain Vietnam visa. You can do this easily just by following these onsite instructions:
Filling out the Visa form for Vietnam from India
Confirm and Pay the fee online
Receive the Approval Letter via email
Get your stamped visa at the airport
Online Visa is quite popular now because it's convenient and easy. It helps to shorten a large amount of time and effort compared to the traditional way.
Furthermore, there is a service called Visa on Arrival these days, which we highly recommend you to choose. You can easily pick up your visa at Vietnamese International airports in Ha Noi, Da Nang, Nha Trang, and Ho Chi Minh.
How to reach Vietnam from India in 2023
As Vietnam lies in the East of Indochina peninsula, it is easily reachable both by air and by sea. You can also visit the country by the route from Campuchia or Laos – the nearby countries. Here's how!
By air
– From Kolkata with Indigo
Since October 3, 2019, Indigo launched non-stop flights from Kolkata to Hanoi which makes tours from Kolkata to Vietnam never been easier.
From now on, you don't need to take a long flight with transits in other countries. With hassle-free, direct flights from Kolkata to Vietnam, your travel experience in this beautiful country is endless. Please do not hesitate to contact Vietnamtour.in to design your journeys to Vietnam or let us help you to make your dream trip come true. We are always ready to provide you with further information and tailor-made itineraries for your holiday!
– From Delhi with Vietjet Air
Not only Indigo Airlines launched direct flights from India to Vietnam, recently, Vietjet Air has also commenced direct flights from Delhi to Ho Chi Minh and Hanoi.
With new direct flights, passengers from India can fly to Vietnam without transit as before. This helps Indian passport holders save time and costs when traveling to the Vietnamese tourist paradise.
Since December 6, 2019, Vietjet offered 4 weekly round-trips from Ho Chi Minh City to Delhi on Mondays, Wednesdays, Fridays, and Sundays with the flight time of around 5 hours.
The Hanoi- New Delhi route was also launched on December 7, 2019, with 3 weekly flights on Tuesdays, Thursdays, and Saturdays with new aircraft and add-on services.
However, from April 2020, Vietjet Air is planning to launch direct flights from Delhi to Hanoi and Ho Chi Minh City all days.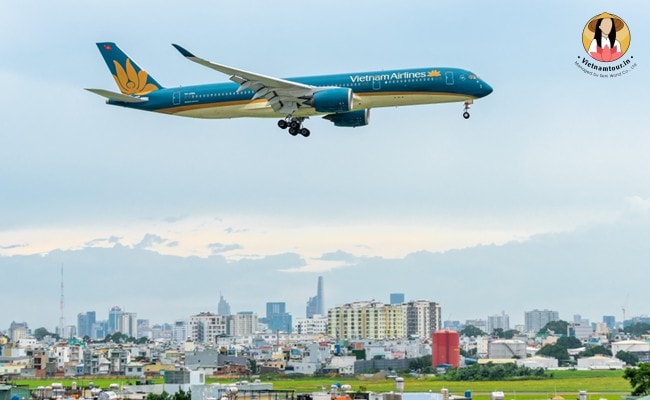 By sea
As I mentioned above, you can easily reach Vietnam via waterway thanks to the country's perfect geographical position. You can reach Vietnam by sea with a ferry or cruise departed from Cambodia sailing along the Mekong Delta.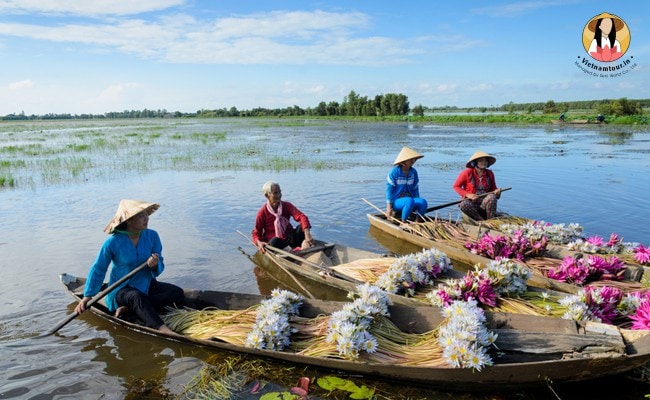 Explore Vietnamese life via the waterway along the Mekong Delta
Well, I think this type of trip would be an excellent choice for those who love unique vivid water-based life of Mekong-Delta countries. The travel takes 7-8 hours with the approximate cost from US$45 to US$100, depending on whether you opt for a ferry or a cruise.
By road
With one side facing the sea, Vietnam is ideally accessible from Laos and Cambodia only. You can arrive at one of these 2 countries and take a bus crossing their borders. However, we recommend that you'd better travel from Cambodia as it's much easier.
The trip will last for 12 hours or more, depending on your traveling speed. The usual fee will be up to US$28 for a bus trip, and there you will be enjoying the exciting landscapes.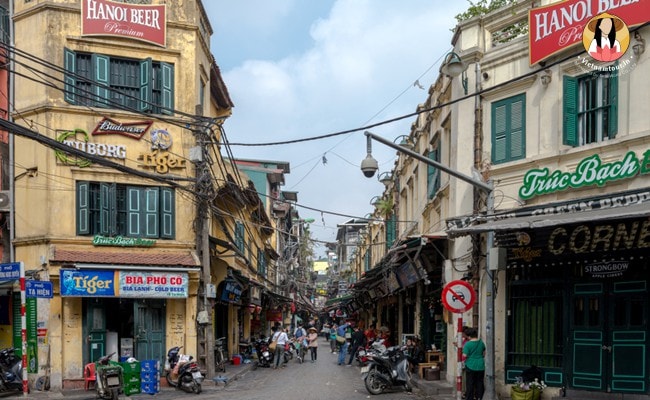 Tips when traveling to Vietnam from India 
It's important to be well-prepared before your arrival in Vietnam, not just the visa and means of transportation. You'd better be sure about where you will go, what food you will eat, which places you will set foot on.
Don't worry, I'm here to help you with your trip plan. Here's the thing:
Where to go? 
It's super difficult for travelers to plan their trips when coming to Vietnam, simply because the country itself has too many charming destinations with different colors of culture and history to explore. Still, there are some must-visit places that you can't miss:
Hanoi
With its thousand years of history and culture, standing through courses of history, Hanoi – the capital city, can pretty much sum up How Vietnam looks like.
You will be immersed in bountiful historical and cultural artifacts, buildings and houses around the city, in the Old Quarter. In every corner of the city – every tree, every house lies a story of culture and history.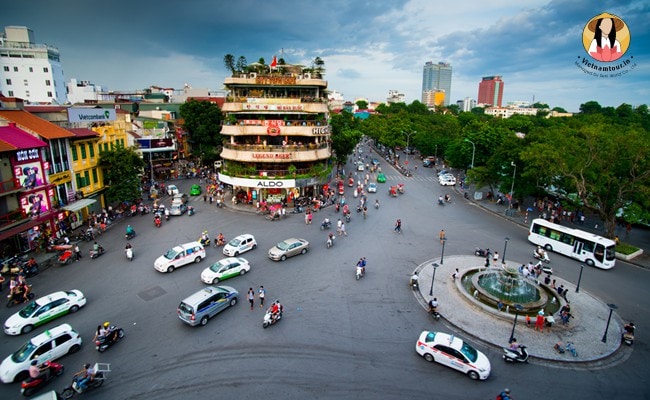 Hanoi – where you can feel the very breeze of Vietnam
Travelers from all over the world visit Hanoi almost all the time, but if you want some advice from me, it would be best to be here in fall and winter.
Sapa
Open your eyes, the scene of a whole blue high sky embracing majestic layers of mountains will overwhelm you. Sa Pa is surely the most fantastic destination for you to deeply enjoy the elegant, tranquil beauty of nature blended with the fresh, exotic vibes of ethnic minorities here.
You can also get to the rooftop of Indochina – the Fansipan Mount. You can either choose a cable tour or book a 3-day hike to reach the mount. I ensure you this is absolutely try-worthy.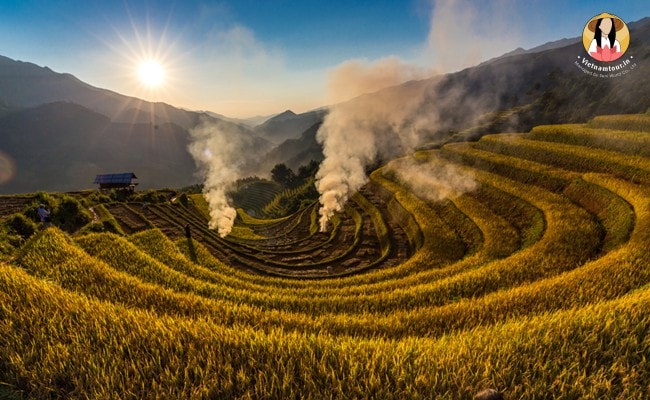 Embrace yourself in the breathtaking, magnificent nature of Sa Pa
Halong Bay
Traveling to Vietnam without visiting this iconic landmark would be a great regret. Halong Bay has been well-known as one of the primmest world heritage sites. With hundreds of karsts rock formed into shapes (that have been iconized in tales) and islets rising out of turquoise water, your Vietnam beach holidays will be extremely rewarding.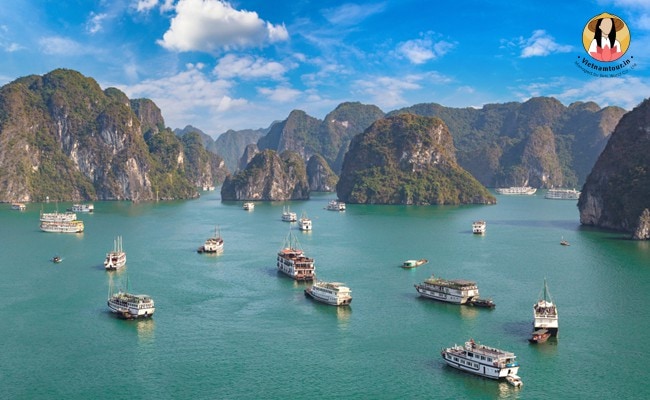 Halong Bay – the first-rate World Heritage Site in Vietnam
Quang Binh
This province is the motherland where thousands of caves have been formed inside limestone mountains for billion years ago. It's not a lie if you hear someone says: "Visit here, your life will be brightened". It's the fairyland of stalactites that hide worlds of mysteries and tales.
Phong Nha – Ke Bang, Son Doong, Thien Duong, etc. are just some names among dozens of sites you must visit here. And you will see that my words don't lie at all.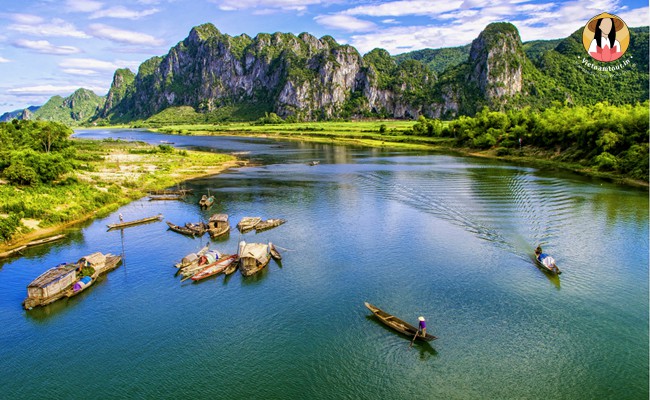 Quang Binh –  the land of natural masterpieces
What to eat
Vietnam never lets you hungry, as all along the country you can always find fine, tasty cuisines. Vietnamese food will leave you the feel of freshness in ingredients, balance in tastes and vivid in decoration, which can be summed up in only one word: excellent!
The most famous dishes including Pho, Banh my, Bun Bo Hue, Banh Xeo, Goi Cuon, etc. In each city, each province in Vietnam there is quite a few signature cuisines that are also must-try.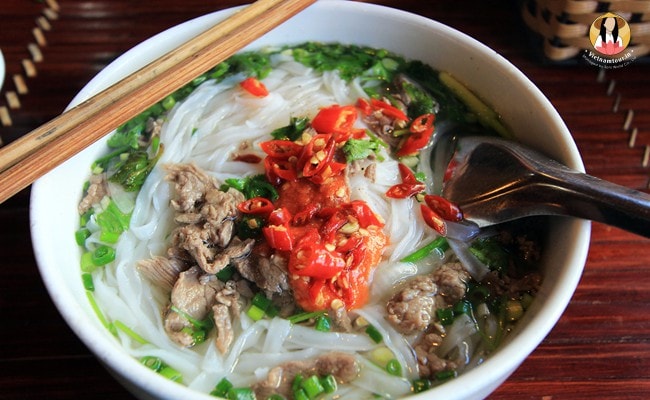 Photo: Pho – the transquisite drop of Vietnamese cuisines' soul 
Well, I guess that's pretty much everything you need to prepare for your next travel to Vietnam. Get a visa (online or offline), decide how to reach Vietnam from India in 2023, then list out special places to visit and delicious dishes to try there – then I guess you can well enjoy the travel.
Share to save this post now, and comment right here if any arise. I'm always ready to answer your questions!
RELATED ARTICLES