Vietnam is famous for numerous beautiful natural views and a variety of unique dishes. This is the reason why Vietnam is an ideal place for tourists to visit. An abundance of cuisine with unforgettable flavors has gradually brought Vietnamese culture closer to the world. The local foods in 63 provinces vary greatly. The great number of available dishes will make you confused.
So which Vietnamese foods should you choose to enjoy? Here's the answer; if you do not know how to get information related to the best local foods, Vietnamtour.in would like to recommend the list below.
Bun Cha – Hanoi-Style Grilled Pork with Rice Noodles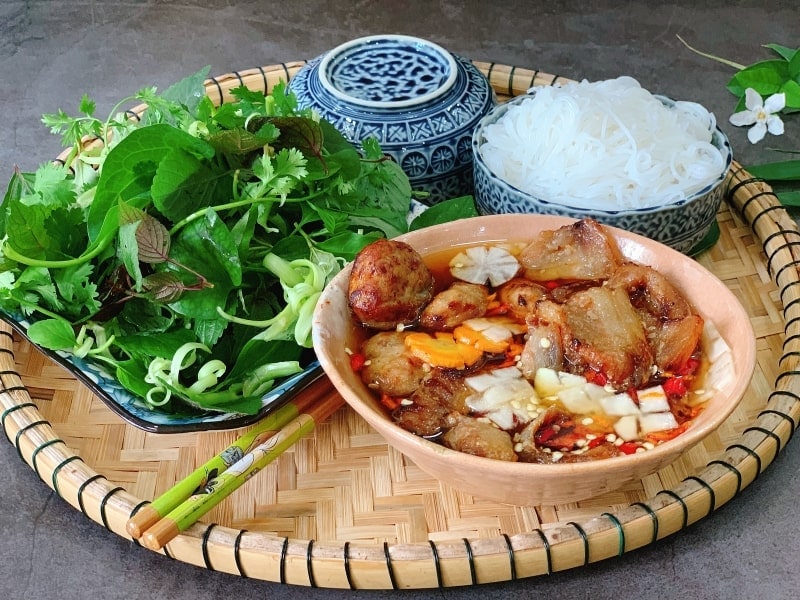 How to make Hanoi-Style Grilled Pork with Rice Noodles? For meatballs and grilled meatballs, you have to choose bacon and soft chuck meat. You can marinate the meats with fish sauce, pepper, and onions. After grilling, place them into the cup of sauce. The sauce must be a harmonious combination of the salty taste of fish sauce, the sweetness of sugar, the sourness of vinegar, and the spicy chili.
It doesn't stop there; to get more flavors for a cup of sauce, people often add papayas and carrots. You should use some crushed peanuts and vegetables such as lettuce, marjoram, perilla, basil, etc. Still not convinced? I highly recommend it to you because it is cheap and easy to find in Hanoi.
Bun Bo Hue – Hue-Style Beef Vermicelli Soup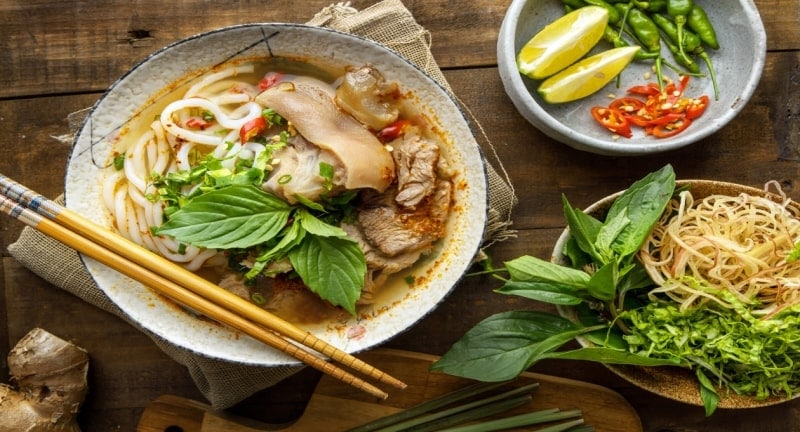 Let's jump right in; Hue-style Beef Vermicelli Soup is a dish with the typical taste of Hue. It is very sophisticated in the processing stage. A beef vermicelli soup bowl is abundant in the aroma of lemongrass, the spicy flavor of chili, the fatty taste of meat, meatballs, cooking oil, and pig blood curd.
First, the "soul" of Hue-Style Beef Vermicelli Soup is the soup. It is made by stewing pork bones and beef bones with some vegetables. The broth is clear, sweet, and not fat. Here's the thing; the main spices of Hue-Style Beef Vermicelli Soup include sauce, lemongrass, chili, and fish sauce. Why is lemongrass used in this dish? The essential oils of lemongrass have a strong aroma to neutralize the smell of fish sauce. The beef mixes with a little fish sauce and pepper and then becomes soft and sweet.
Quang-Style Noodle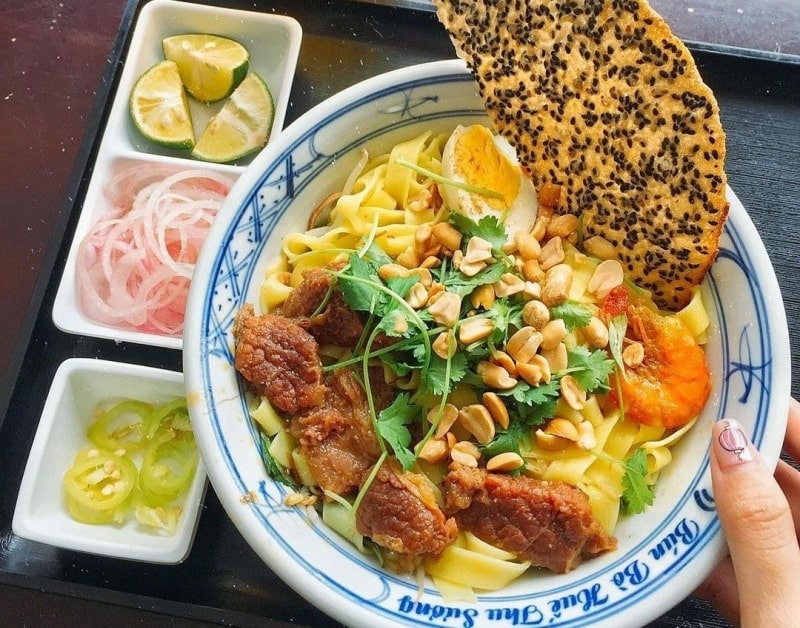 Quang-Style Noodle is a dish that introduces you to Quang Nam and Central provinces. Quang-style Noodle is made from rice but has a distinct flavor. Quang Nam province is the origin of this kind of food. How do you make the noodles? Use delicious rice soaked softly in water, grind it into fine flour, make it into a piece of noodle, then slice horizontally to have thin noodles about 2 mm in width. Its color is white or yellow.
Quang-style Noodle includes shrimp, pork or chicken, crushed rice paper, roasted peanut, and spices. The delicious broth is a secret to making noodles go into your hearts. But wait, there's more; this dish will be delicious if served with lettuce, lemon, chili, basil, cilantro, bean sprouts, chopped spinach, banana blossom, and herbs such as mint leaves, houttuynia, cabbage, coriander, and onion.
It is not hard for you to find out where to eat during your tour to Central Vietnam. You can come to Quang-Style Noodle food courts in Hoi An Ancient Town to enjoy the distinctive flavor of this dish.
Sliced Pork Rolled With Rice Paper in Danang City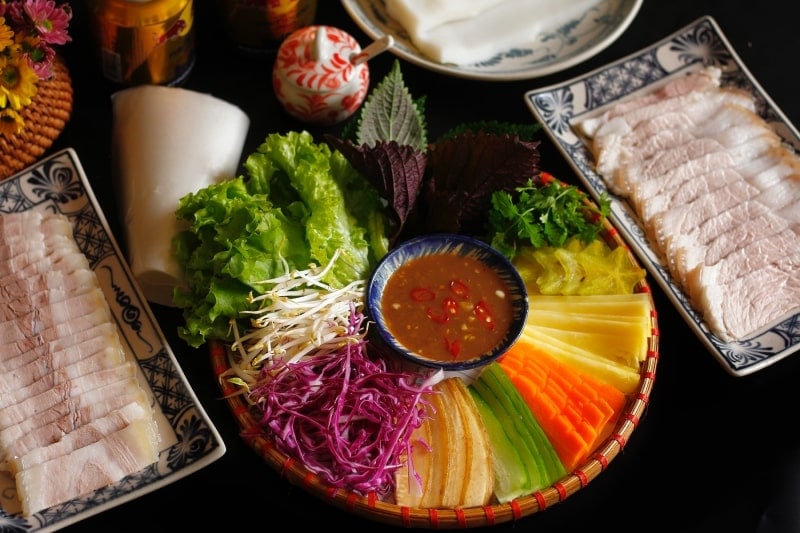 Sliced Pork Rolled With Rice Paper is a delicious specialty in Danang City. Its main ingredient is boiled pork. This dish will be great if you eat it with cucumbers, green bananas, lettuce, basil, peppermint, perilla, etc. And it doesn't stop there; the unique attraction of this dish is anchovy sauce. But wait, you should use ginger, lemongrass, pineapples, chili, and carrots to make this sauce more appealing.
How do you eat it? First, spread rice paper. Next, arrange vegetables, cucumbers, green bananas, pineapples, and meat on the top of rice paper, then tightly wrap, dip in anchovy sauce, and enjoy your meals.
The cost is about $3 for 7 or 8 rolls, which can make you feel full after eating. It is quite cheap, isn't it? The dish is very popular in Danang, so you can easily find some restaurants or street vendors to enjoy.
Spring Rolls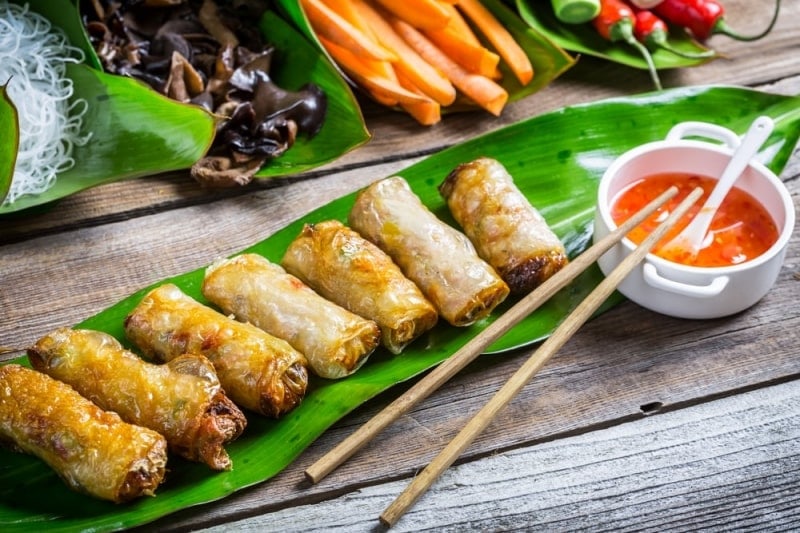 If you're looking for a traditional delicacy that served in Vietnam for hundreds of years now, then look no further than Spring Rolls. These mouth-watering rolls are a mixture of minced pork, mushroom or jew's ear wrapped in rice paper. The chefs have to fry them until the cover is brown and crunchy. You can taste spring rolls immediately once it's deep-fried, but it is even better when you dip these rolls in a small bow of seasoned Vietnamese fish sauce. Beyond the fun crunchy sounds when eating, the unique flavors of Spring Rolls are impeccable.
Banh Xeo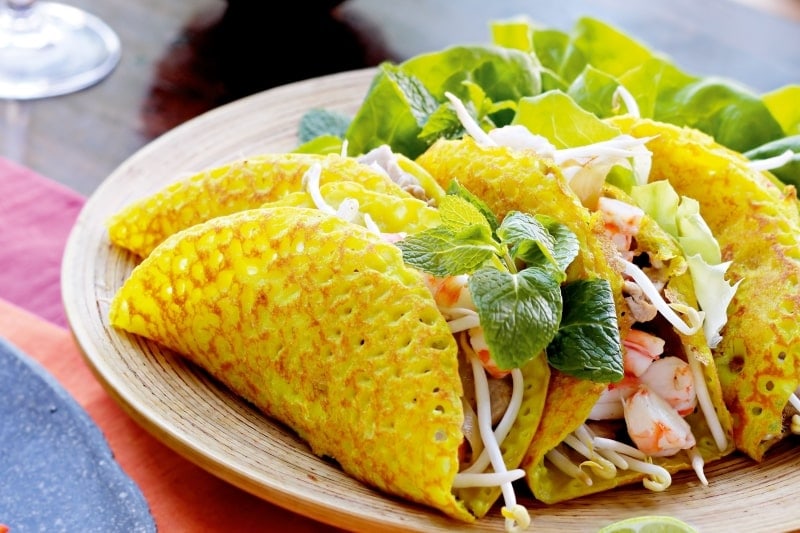 Banh Xeo is one of the favorite Western-friendly dishes to most of the tourists to Vietnam thanks to its exclusive flavor and reasonable price. It is a special kind of Vietnamese pancake, which is made of rice flour and turmeric. Inside the pancake, we often have minced pork, shrimp and beansprouts. Banh Xeo is served with a bowl of dipping fish sauce, vegetable pickles, and fresh herbs. You can also add more spices, pepper, chili, vinegar or sugar to fulfill your own taste.
Banh Mi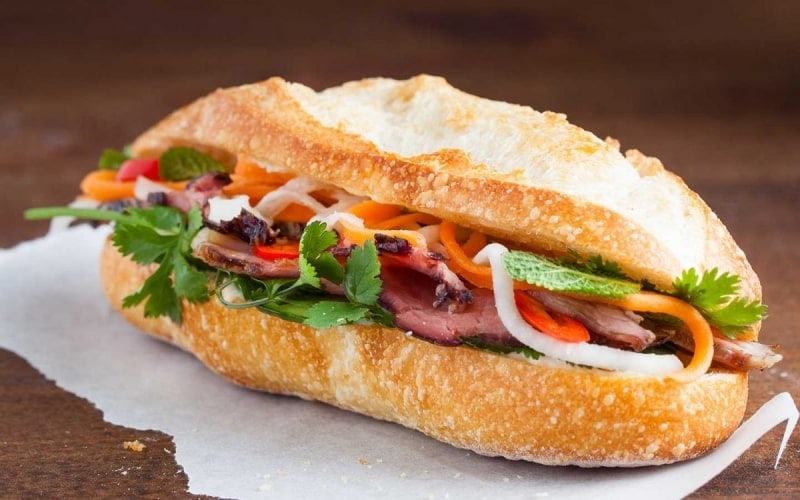 Banh Mi is widely well-known all over the world as an attractive baguette of Vietnam. Banh Mi can be found in every corner of the country, from the rural towns of Northern Vietnam to the bustling cities of Ho Chi Minh and Hanoi, to the tranquil land of Mekong Delta. There are many types of Banh Mi in Vietnam so you will have a lot of choices depending on your own tastes. Banh Mi is often packed with vegetables, Vietnamese sausages, BBQ Pork, cucumber, and some spicy sauces. At only $1.5, you will have nothing better than a jam-packed banh mi in Vietnam.
Hu Tieu Nam Vang
This noodle dish is derived from the Chinese people, but during the past few decades, this dish has gradually absorbed into the culinary culture of Vietnamese people with many different variations.
The main ingredient of this dish is pork, shrimp, sliced pork, chopped pork, and pork ribs broth. Depending on the processing of the region, this dish may be added with quail eggs, squid, pork liver,… But the most characteristic of this dish is the special aroma of fried garlic. Thanks to such a small and important ingredient, a bowl of Hu Tieu has a delicious taste that is hard to find in any other dish.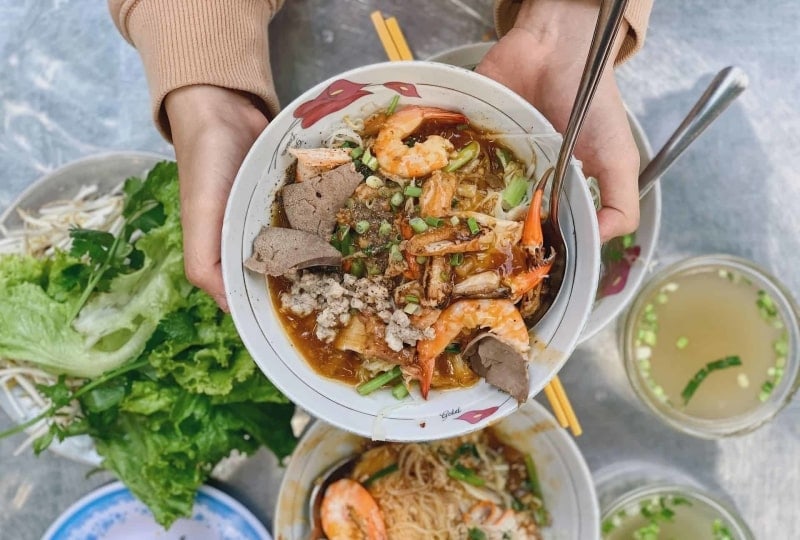 Xoi Xeo
When wandering around the streets in Hanoi, it's not hard to spot a vendor selling Xoi Xeo – the cheapest and top-rated Vietnamese street food for breakfast in Hanoi.
The special feature of Xoi Xeo is sticky rice seed, yellow-seeded by soaking with turmeric. These fragrant sticky rice seeds when given to customers will be added with green bean slices and pureed grips prepared in advance. Finally, fried onion is sprinkled all over the dish. It's even better when Xoi Xeo is wrapped in a lotus leaf as it used to be in the past. It is good to enjoy a small package of sticky rice, taste fleshy of the bean paste blended with sticky rice along with the crunch of the fried onion.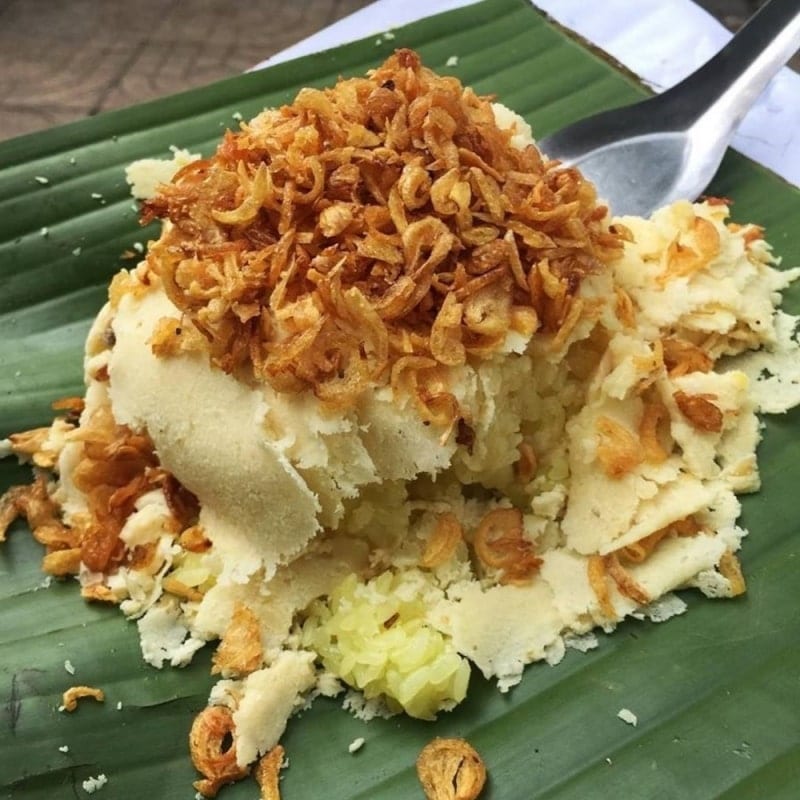 The Vegetable Hotpot in Dalat
If you are a vegetarian, Dalat is a good place for you to visit. You will have a memorable experience when trying the vegetable buffet in Dalat. Green vegetables in Dalat are very fresh. You can eat a vegetable buffet with different tastes of hot pots. This dish is an ideal option when dining in the late and cold evening with a temperature of about 15 degrees Celsius.
Wait! The most delicious vegetable buffet is served at Léguda Buffet Restaurant, located on Floor 1, Dalat Cable Car Station, Dalat city. Price ranges from 39,000 VND to 200,000 VND (about from $1.68 to $8.61), which is affordable, even for those with a tight budget. For those who are not vegetarian, you can order pork, beef, seafood or pork ribs to eat along with the fresh vegetables on the table.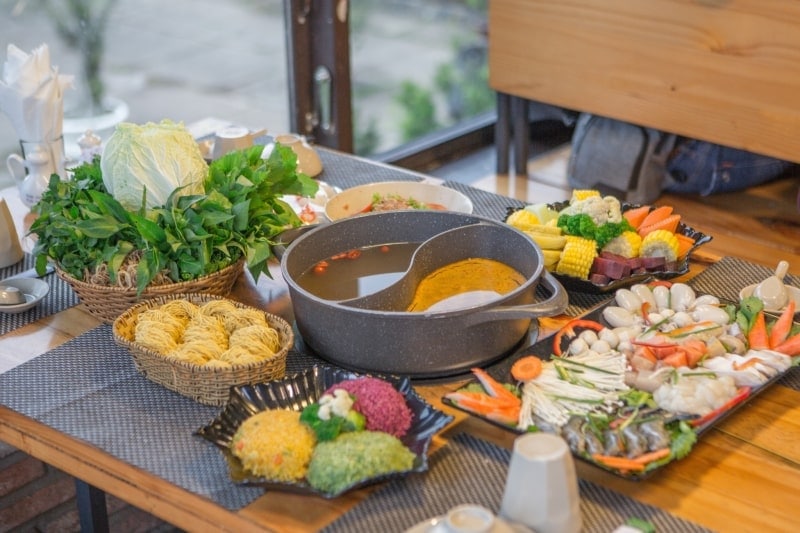 Conclusion
When traveling to Vietnam, you should visit some popular destinations or cities to try the dishes I mentioned above to learn more about the essence of Vietnamese food culture. These dishes are the specialties of each region. These cuisines demonstrate the creativity of the local people and their efforts to offer unique traditional dishes. Enjoy these Vietnamese foods!
RELATED ARTICLES