South-East Asia has a precious jewel – a country with rich history, cultural heritage, traditional temples and pagodas, undisturbed landscapes, colonial charm, and a colorful life in peace. Can you make a wild guess?
Yes, you are right. The touristy country I mentioned is one of the liveliest and the most up-and-coming areas in Southeast Asia – Cambodia. I ensure that your next trip to this beautiful country will live up to your expectations with the top 10 things to do in Cambodia in 2023! Trust me and let's discover together!
Take a sunrise cruise at Angkor Wat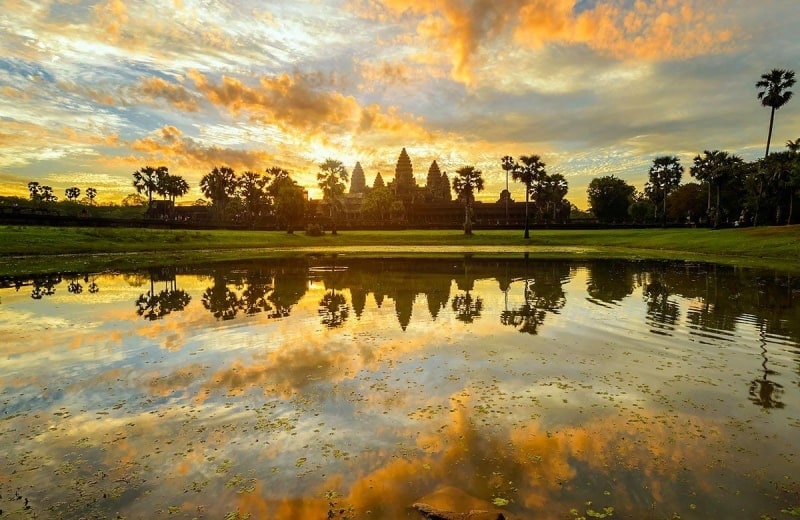 Angkor Wat was built in the 12th century by King Suryavarman, which later became one of the largest and oldest temples in the world. Angkor Wat plays an important role in promoting the country's tourism image. Wandering around the silhouetted towers of Angkor Wat, you can explore numerous layers of history and culture of Cambodian.
It is truly immersive when contemplating the moment streaks of auburn-orange burn covering the old-fashioned roof-tops in the city. It is time for a glorious and vigorous world to wake up in this land.
Witness the stunning Apsara Dance in Phnom Penh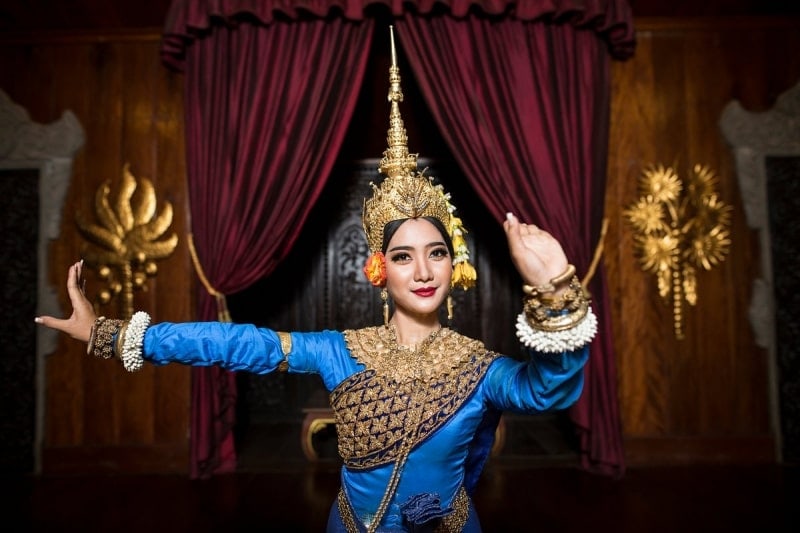 What to do in Cambodia when it rains? Well, we guess the answer would be buying a ticket, sitting still and watching an Apsara Dance show in Phnom Penh, the best way to take a glimpse of Khmer culture.
The Apsara Dance is not only the signature of Cambodia but also one of the most interesting Cambodia highlights for your Vietnam and Cambodia tour packages, which originates from the mythical courts of kings and Gods. You cannot take your eyes off the flexible and attractive movements of performers. Their colorful and eye-catching attires also make the Khmer dances more unique and fascinating.
Watching the Apsara Dance Show with your friends and family must be one of the greatest things to do in Cambodia at night.
Discover heart-wrenching secrets of Tuol Sleng Museum of Genocidal Crimes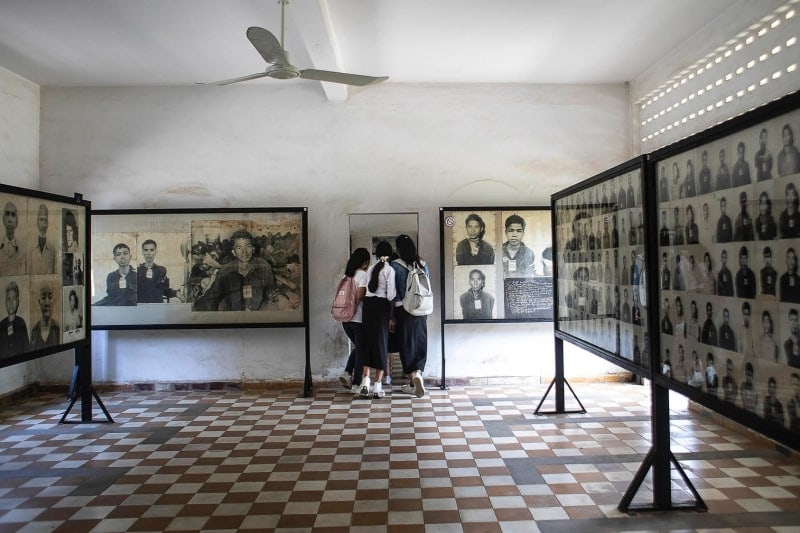 The permanent inhabitants in Cambodia have remembered the mass genocide from 1975 to 1979 as a tragic part of their history.
During the Khmer Rouge period, about 1.7 million Cambodians including women and children were killed in the most horrific ways. The first group of people to die were the intellectuals and revolutionary fighters.
It might be an awful experience, but you will know more about Cambodia's history as well as the brave spirit of its inhabitants. Pay your tribute to the people who lost their lives because of the barbaric execution.
Stare in awe at Phnom Penh Palace architecture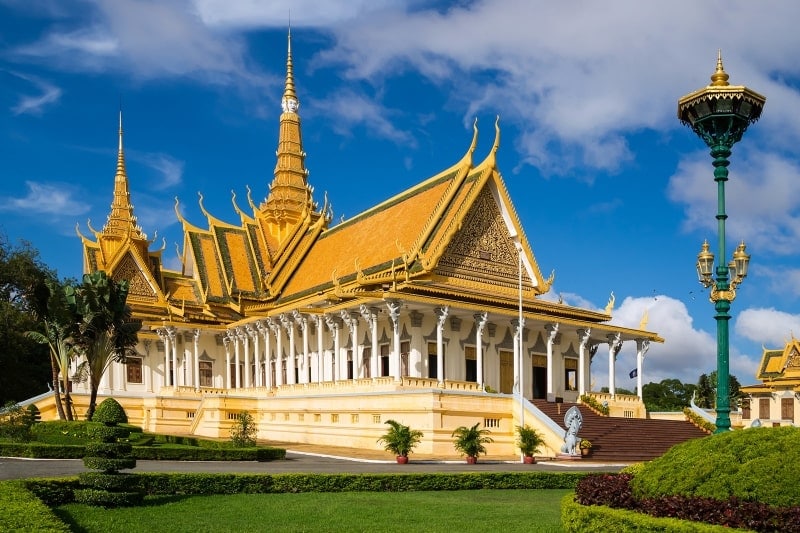 Built back in 1860, Royal Palace in Phnom Penh is considered a reminder of a complex history to every Cambodian's generation. The crown of stupas and towering spires are the highlights of this elegant structure. Head up the stone steps, find yourself in the beautiful tropical garden and take a magnificent view of Silver Pagoda.
Hangout at the laid-back beaches on Koh Rong Island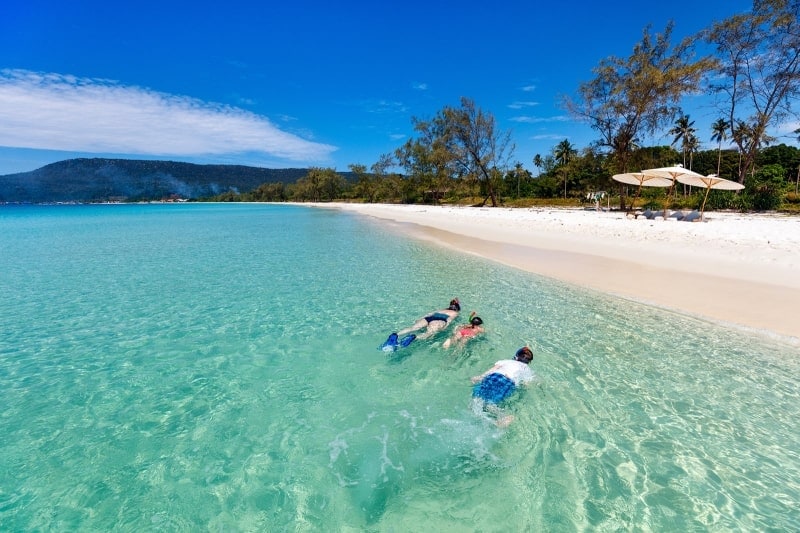 Koh Rong is one of the liveliest travel destinations in Cambodia you will wish to come back again and again. It is a magnificent natural present that the Creator granted people there.
Almost all of 23 white-sand beaches and azure seas in Koh Rong still retain their original features, this is the reason why Koh Rong is called the untouched heaven in the real world – one of the most romantic things to do in Cambodia for worldwide ocean lovers.
In front of a blue aquatic wonderland stretching from horizon to horizon, you will find some peace inside your soul.
>> Want to know what the weather in Cambodia is like? Read more: Best time to visit Cambodia
Check out attractive Khmer artwork in the National Museum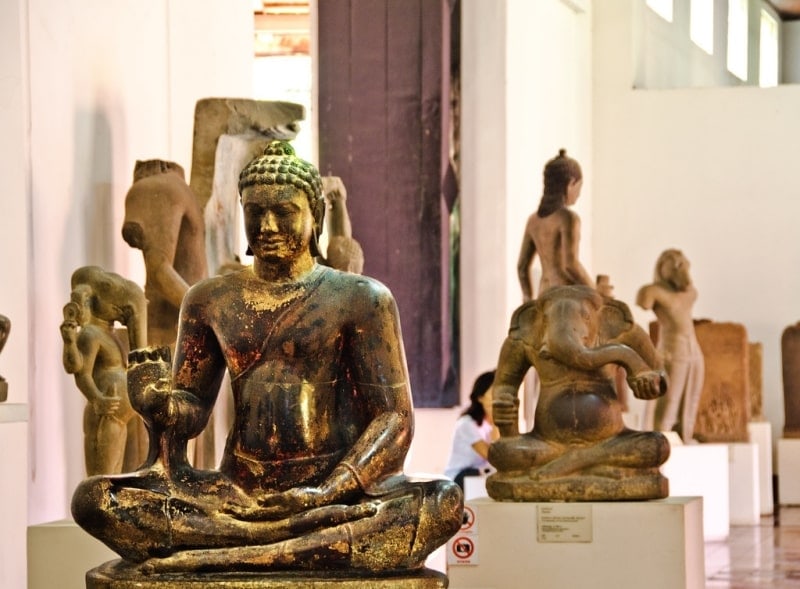 When exploring the unique beauty of Cambodia, you will realize that Khmer cultural signs are expressed in every aspect of life. That's why paying a visit to the famous National Museum is surely one of the quirky things to do in Phnom Penh. More specially, the National Museum where a splendid collection of Khmer artworks are stored carefully is the pride of Cambodians. The exhibition of artifacts and traditional crafts are overwhelmingly impressive.
This is a great opportunity for you to learn more about the unique culture as a long-term history in Cambodia.
Try the street dishes when visiting Siem Reap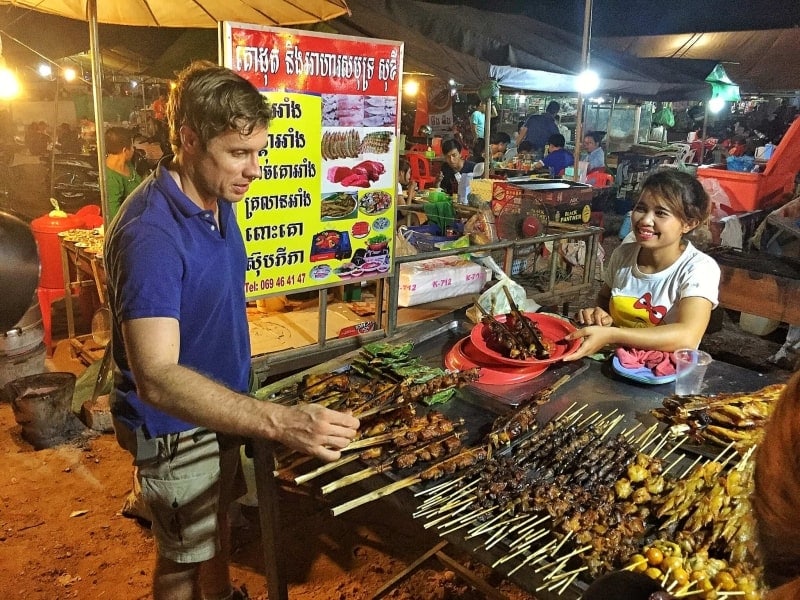 The street food in Cambodia deserves a place on the tourist culinary trail. Cambodia is a cradle of popular cuisine of Southeast Asia that shows the country's culture: a perfect combination of traditional and modern features. Even though you are the most seasoned traveler, you probably cannot resist such delicious dishes of Siem Reap! You can find anything on Earth in the food streets of Siem Reap as there is an astonishing variety of dishes here.
Plop down a plastic chair and enjoy a bowl of fried noodles with egg concoction – give it a try!
Contemplate Battambang Bat Caves at sunset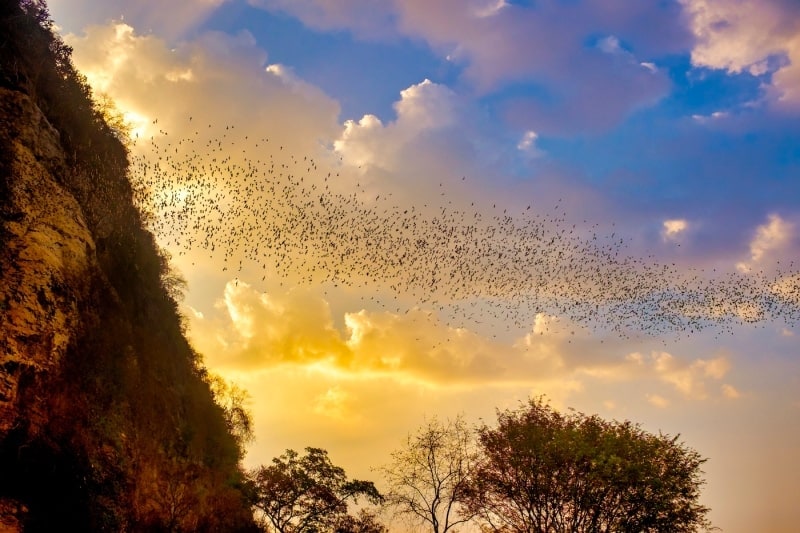 In the evening, at about 5 pm, there are flocks of people, especially visitors and photographers, gathering at the base of Phnom Sampeau mountain.
They have the same goal – contemplating the moment hundreds of bats fly overhead from Battambang caves to start the nightly hunt. The sky is filled with a stream of bats after they burst out of the cave hole. You will find yourself pleasantly overwhelmed by the sound wave motion of these nocturnal animals.
Take part in the water festival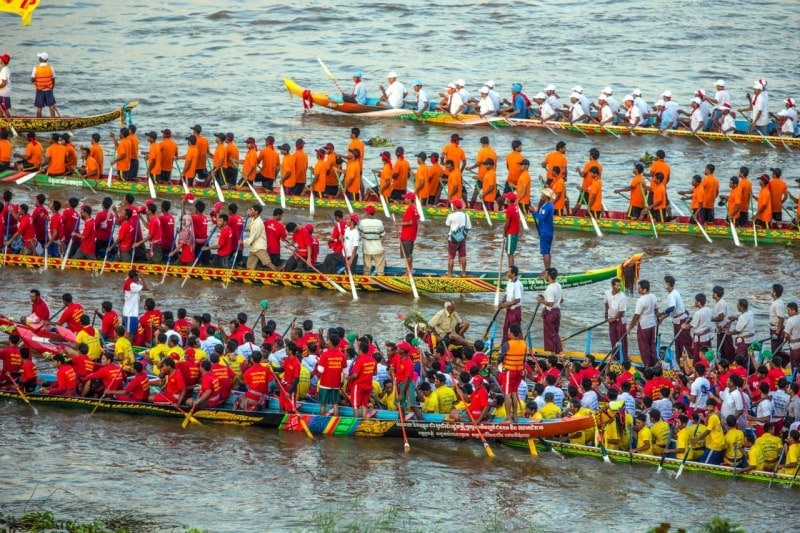 If you're searching for free things to do in Cambodia, then you should look no further than the Water Festival. No matter who you are, or where you come from, this traditional festival must be a great experience for all, including tourists and backpackers, when setting foot in this fascinating country.
From generation to generation, the rice fields irrigated by Tonle Sap and Mekong water are the staple foods of the locals. In November, when the dry season comes, it is time for Cambodians to celebrate nature's divinity. Cambodians will pray for a bountiful harvest in the next year as well as the valuable things in their life such as health, wealth, etc.
In addition, there is a wide variety of interesting activities during the water festival in Phnom Penh. Don't skip a chance to dig deeper into the rich culture of Cambodia!
Engage with the wild in national parks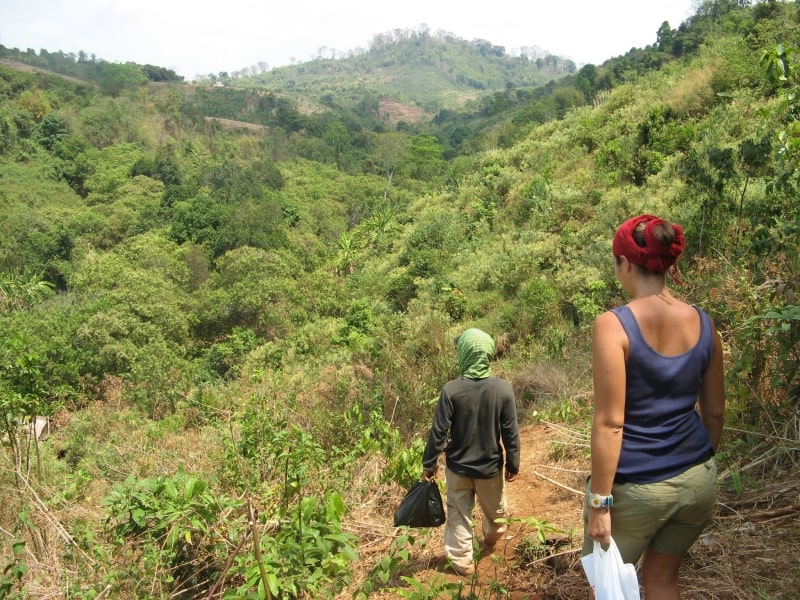 With a diverse system of flora and fauna, national parks in Cambodia will fulfill your dream of discovery. Although Virachey National Park is one of the secret places in Cambodia, it is an ideal destination for adventure seekers and animal lovers. Tigers, elephants, clouded leopards, sun bears, and different kinds of birds choose this park as their natural habitat.
It is a truly refreshing experience and worth your time, right?
Conclusion
The Last Words, exploring Cambodia seems like stepping into another world. With the top 10 things to do in Cambodia I mentioned above, your experience in this picturesque country will be more remarkable. It is time to pack your travel bag and find your heaven in Cambodia!