Hoi An, a picturesque town in Vietnam, known for its well-preserved ancient architecture and rich history, transforms into a completely different world when the sun sets. As daylight fades, the city awakens with a lively and enchanting nightlife. In this guide, Vietnamtour.in take you on a journey through the mesmerizing Hoi An nightlife, where lantern-lit streets, vibrant markets, and riverside gatherings create a truly unique experience.
Stop by the bars
For those seeking a more lively atmosphere, Hoi An has a growing number of bars. You can find everything from trendy cocktail bars to attractive music performances. Grab a drink, listen to talented local musicians, and perhaps even join in the dancing.
Some popular places to check out include:
Velvet Night Club Hoi An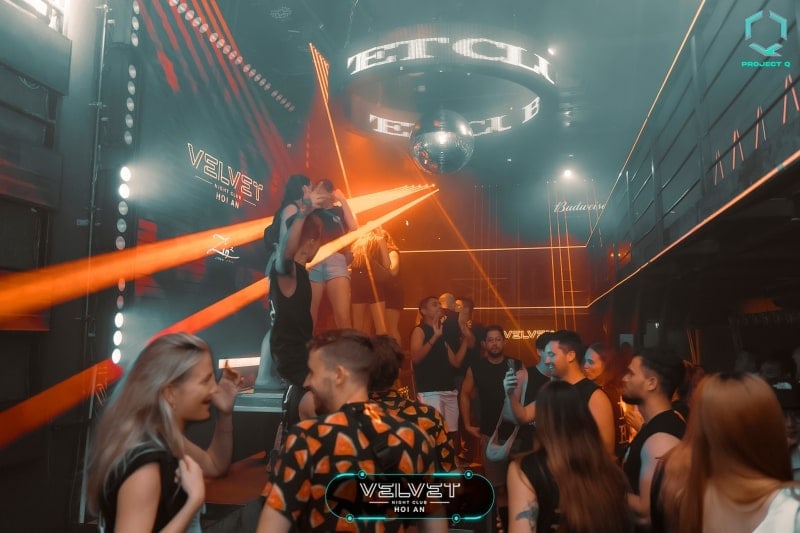 Nightclubs like Velvet often offer a lively and energetic atmosphere with music and a dance floor, making them great for those who enjoy nightlife and dancing. The attractive space and extremely tight sound system are what will bring you into the space to the magical music of the head DJs at Velvet Hoi An.
Address: 16 Thoai Ngoc Hau Street, Minh An Ward, Hoi An
Opening hours: 08:30 PM – 03:00 AM
Dive Bar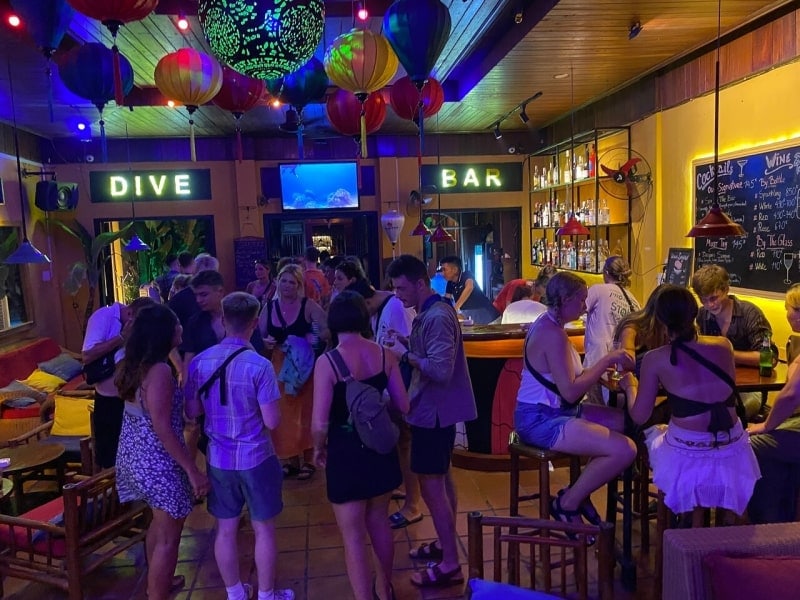 This bar is known for its vibrant and energetic atmosphere. It's a popular destination for visitors and locals looking for a fun night out. The bar serves a wide selection of drinks, including cocktails and beers.
Address: 88 Nguyen Thai Hoc Street, Minh An Ward, Hoi An
Opening hours: 03:00 PM – 11:00 PM
Guitar Hawaii Hoi An Live Music Bar
It offers a more intimate and relaxed atmosphere, perfect for those seeking to unwind and enjoy live music. The bar serves a variety of drinks, allowing you to enjoy your favorite beverage while listening to the music.
Address: 80 Luong Nhu Bich Street, Cam Nam Ward, Hoi An
Opening hours: 08:00 AM – 11:00 PM
Mezcal Cocteleria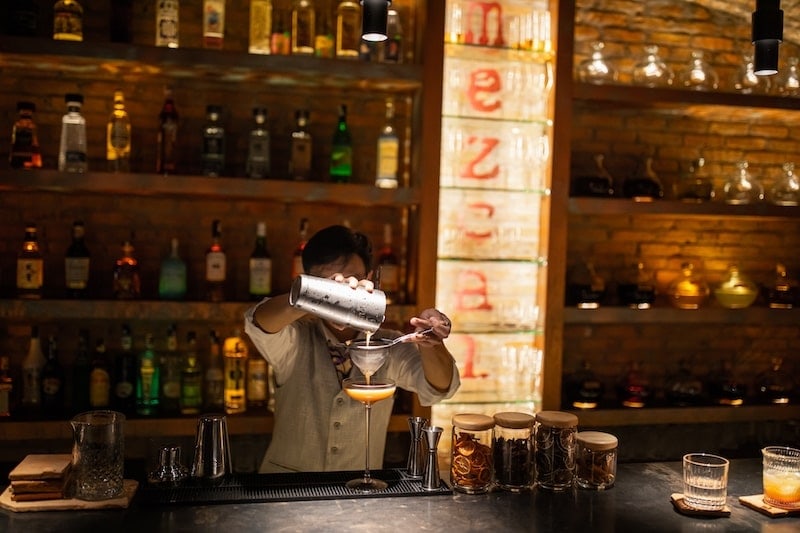 This stylish cocktail bar offers an upscale and sophisticated ambiance, making it a great choice for those looking for a more refined drinking experience. Mezcal Cocteleria specializes in crafting exquisite cocktails. You can expect a menu filled with creative and high-quality drinks, showcasing the art of mixology.
It's an excellent destination for cocktail enthusiasts and those who appreciate a more elegant setting.
Address: 38 Phan Chu Trinh Street, Minh An Ward, Hoi An
Opening hours: 06:00 PM – 11:45 PM
Why Not Club Bar Hoi An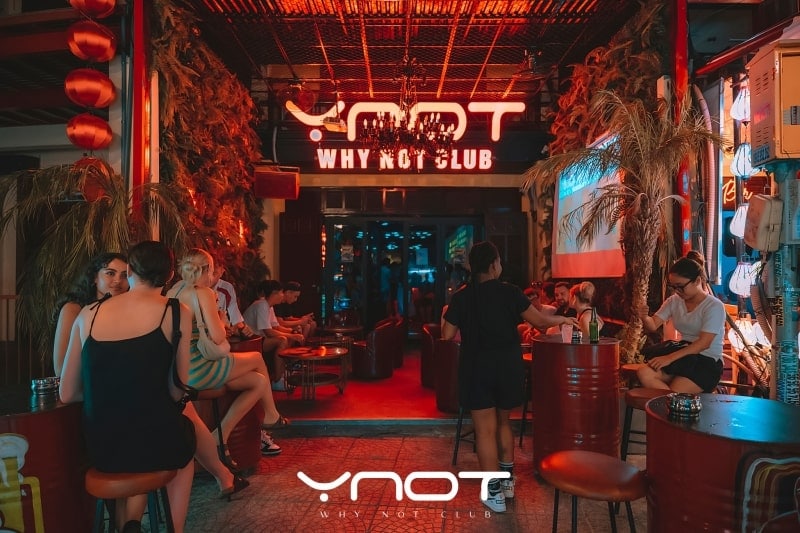 The bar is known for its energetic and fun-loving environment. It's a top choice for those seeking a lively night out, meeting fellow travelers, and enjoying themed parties. Why Not Club Bar offers a range of drinks, from local beers to international favorites. It also hosts themed parties and events, creating a dynamic Hoi An nightlife experience.
Address: 55 Nguyen Phu Chu Street, Minh An Ward, Hoi An
Opening hours: 07:30 PM – 04:00 AM
Sip a cup of coffee & tea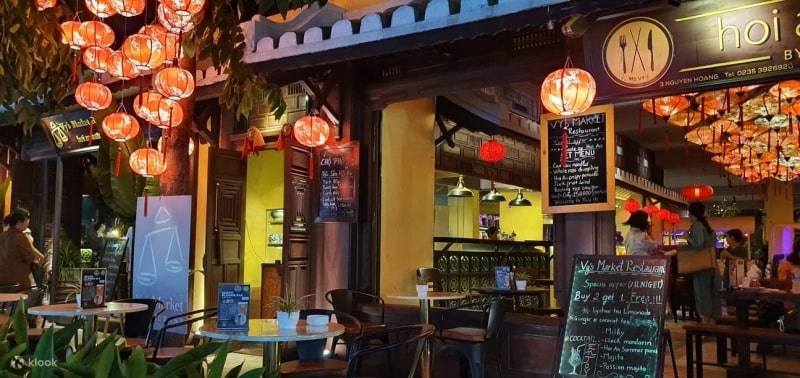 Having coffee in Hoi An at night is an enchanting experience that offers a unique blend of tranquility and romance. The warm glow of lanterns hanging along streets infuses the town with a dreamy ambiance. As you sip your coffee or tea, you're surrounded by the soft whispers of the past, with the historic buildings and riverfront adding to the atmosphere.
Here are some attractive cafes in Hoi An at night:
Hoi An Roastery: It's set in a historic building with a peaceful courtyard lit by lanterns. Enjoy your coffee or a freshly brewed cup of Vietnamese iced coffee while surrounded by the romantic glow of lanterns.
Reaching Out Teahouse: Enjoy a wide range of artisanal teas in a tranquil and contemplative environment. The teahouse's focus on mindfulness and the serene decor make it a unique and calming experience.
Making a simple coffee outing a cherished memory that captures the essence of this historic and romantic destination.
Enjoy "Hoi An Memories" performance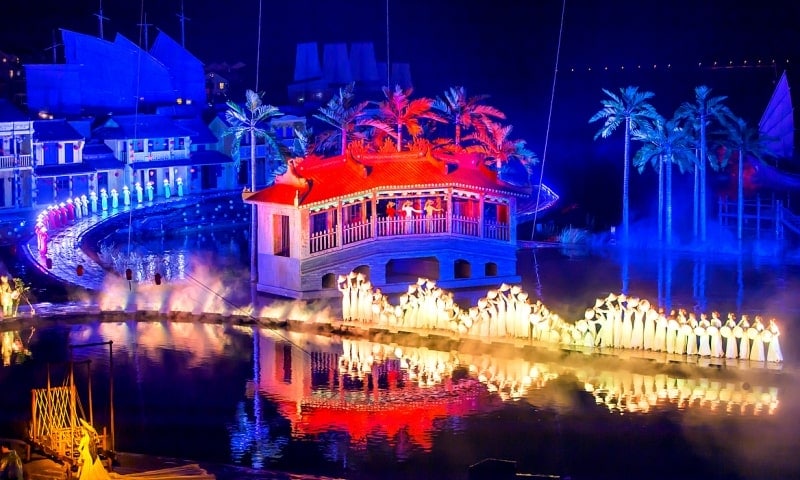 Hoi An Memories" is a breathtaking journey through time and culture in the heart of Hoi An, Vietnam. This remarkable outdoor performance offers a vivid tapestry of history, with hundreds of performers donning exquisite costumes that transport the audience to bygone eras. With a spectacular open-air theater, stunning sets, live music, and a symphony of visual effects. It's one of must things to do in Hoi An for those interested in the history and traditions of this enchanting town in Vietnam.
Walking around the town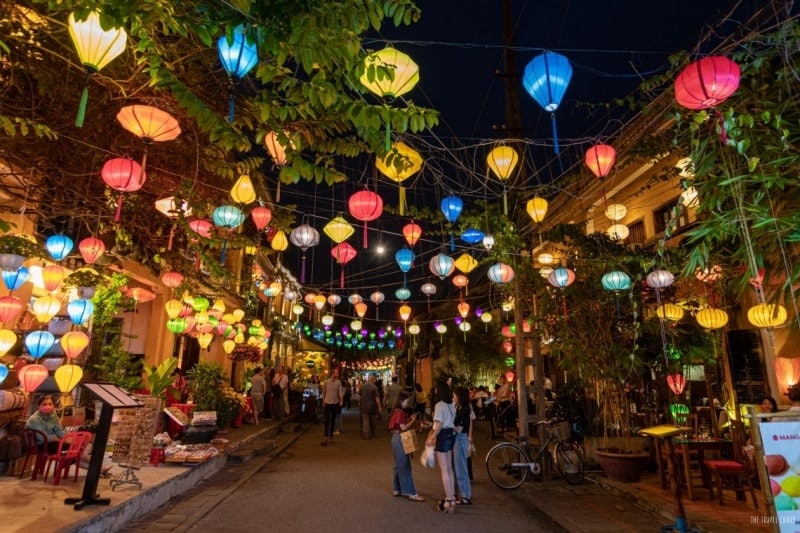 Walking around Hoi An's town at night is truly magical. The streets come alive with the soft glow of lanterns, casting a warm and enchanting light on the old buildings. You'll find local vendors selling traditional snacks, and the night market offers a variety of souvenirs. The riverside is a peaceful spot to enjoy a meal, with lantern-lit boats floating by. Live music from bars and the occasional lantern festival add to the town's vibrant nightlife. It's a time when historical charm meets the allure of the evening, creating a unique and unforgettable Hoi An by night.
Snap a picture with lanterns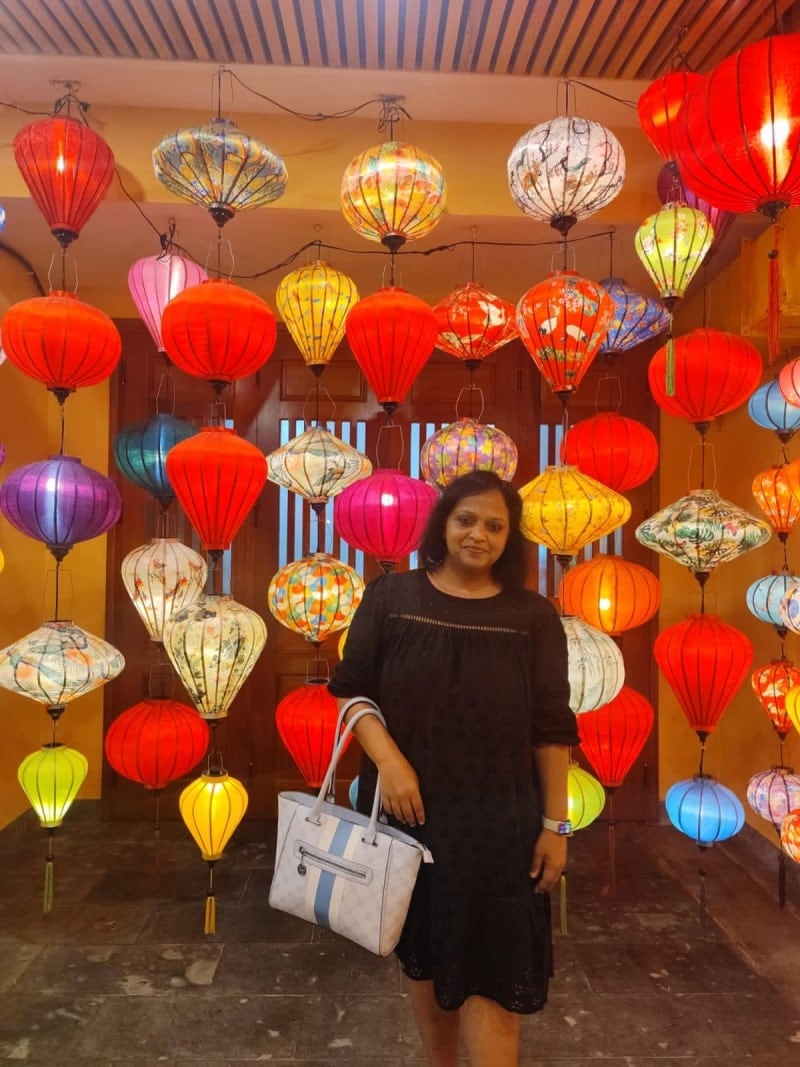 As night falls, the town comes alive with thousands of colorful lanterns adorning its streets, creating a surreal and almost magical atmosphere. Stroll along the cobblestone pathways and take in the intricate architecture of centuries-old buildings illuminated by glowing lanterns. It's a photographer's paradise and the perfect setting for a romantic evening.
Check in at Japanese Covered Bridge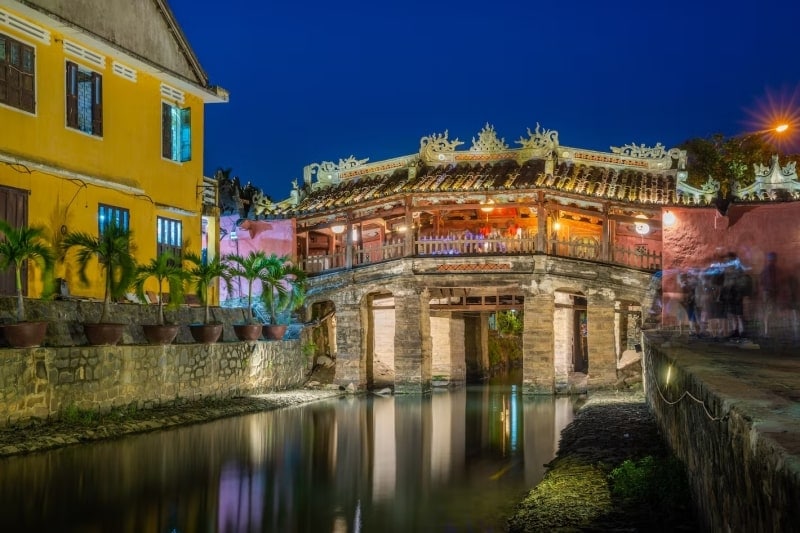 Checking in at the Japanese Covered Bridge in Hoi An at night is a splendid experience. This iconic 18th-century bridge, adorned with lanterns, takes on a completely different charm after dark. The soft, warm lighting enhances the bridge's beauty, and you can take in the tranquil views of the Thu Bon River. It's a wonderful spot for a leisurely evening stroll, capturing photos, and enjoying the serene ambiance of Hoi An at night.
Release flower garlands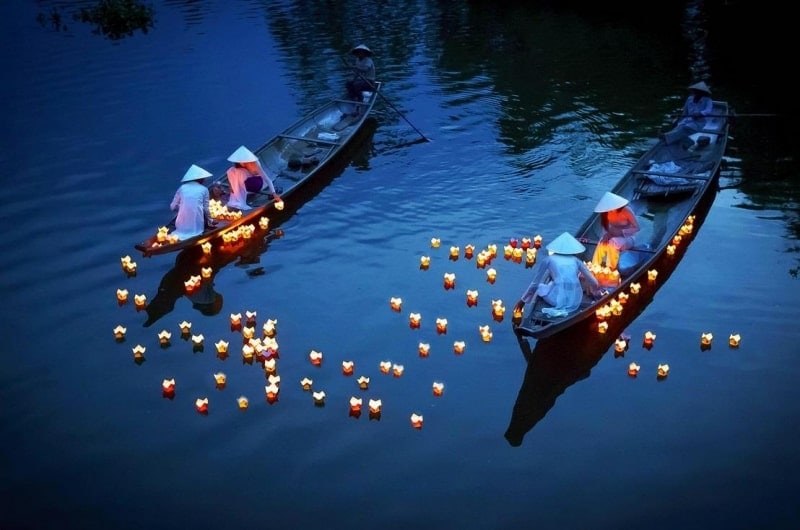 Taking a boat ride on the Hoai River in Hoi An and releasing flower garlands and colored lanterns is a serene and enchanting experience. You'll board a traditional wooden boat, as well as you glide along the river, you can release flower garlands with candles onto the water, creating a beautiful and serene scene.
In addition, you also set lanterns afloat, watching them gently drift downstream, their soft glow adding to the magical atmosphere. This traditional ritual is not only visually captivating but also a symbol of good luck and best wishes, making it a memorable part of the Hoi An experience.
Explore night market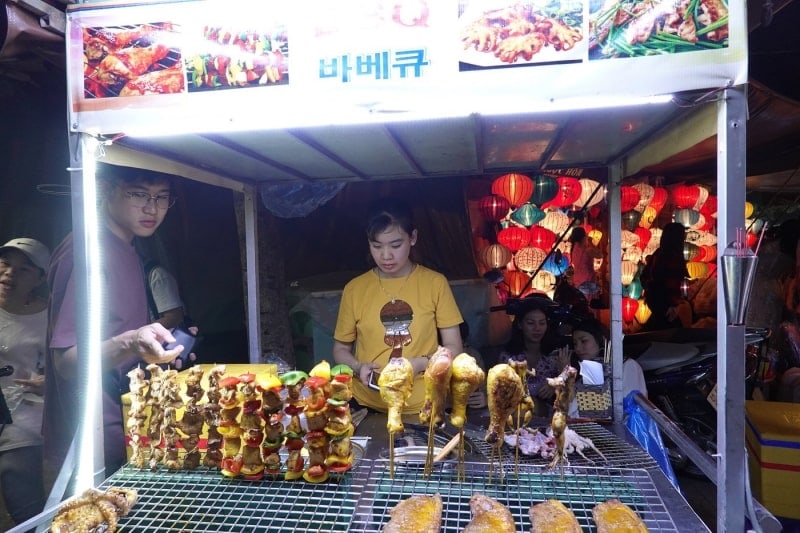 Hoi An's night market, located on Nguyen Hoang Street, is a bustling hub of activity. Open every night, it offers a treasure trove of souvenirs, clothing, and local crafts. Bargain with friendly vendors, sample street food, and immerse yourself in the vibrant energy of the market. Whether you're looking for gifts to take home or just want to soak in the local culture, the night market is a must-visit.
Play Folk Games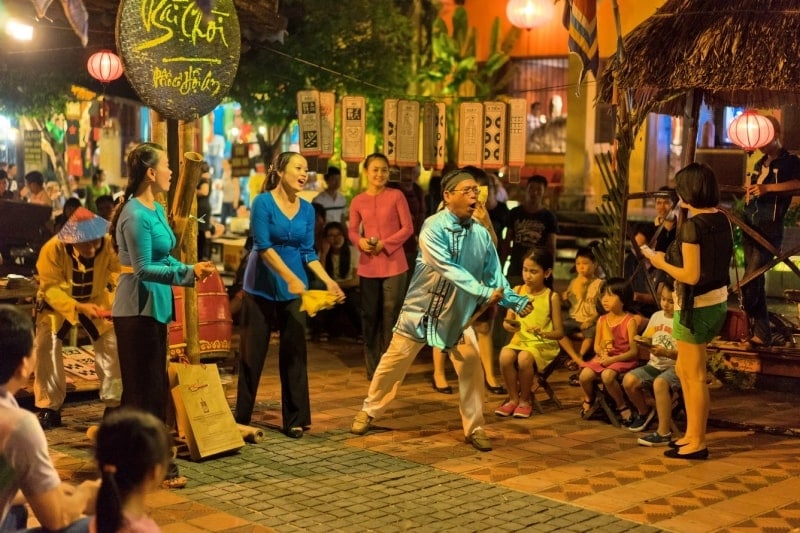 Participating in folk games in Hoi An is a wonderful way to immerse yourself in the local culture. Games like "Bai Choi," a traditional Vietnamese game resembling bingo, or "Bamboo Dancing," where you dance between bamboo sticks, are popular choices. Joining in these folk games is a great opportunity to have fun, connect with locals, and gain a deeper understanding of the traditions and customs of Hoi An and Vietnam.
Walk along beach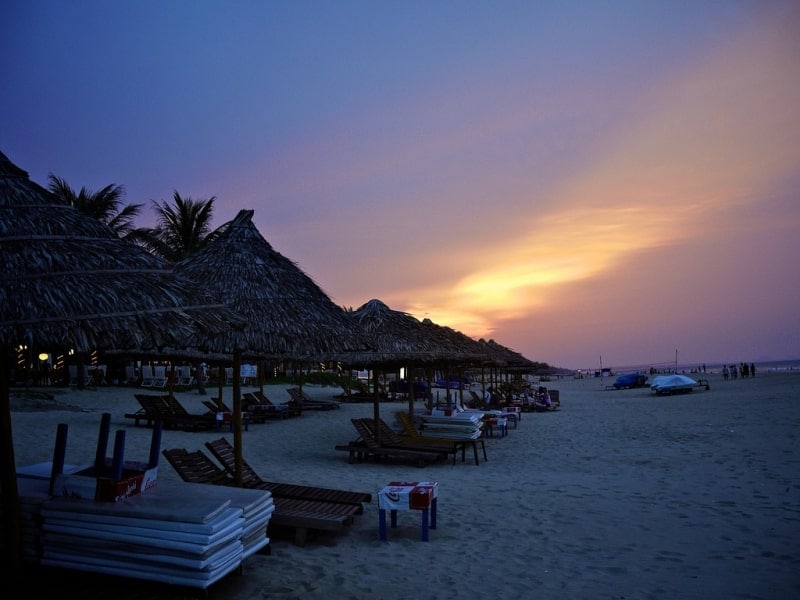 Walking along the beach in Hoi An at night is a romantic experience. The moonlight reflects on the water's surface, and the gentle sound of the waves creates a soothing ambiance. The beach is usually less crowded, allowing for a peaceful and romantic stroll. Many beachfront restaurants and bars also offer a romantic atmosphere with candlelit tables, making it a perfect setting for a seaside dinner or a quiet, moonlit walk with the sand beneath your feet.
Wrapping Up
Hoi An nightlife is a unique blend of cultural richness and modern vibrancy. Whether you're wandering through lantern-lit streets, dining along the river, exploring the night market, enjoying live music, or experiencing the magic of the performances, Hoi An offers an enchanting nightlife that will leave you with unforgettable memories. The town's ability to seamlessly merge its historical charm with a lively evening atmosphere makes it a must-visit destination for your Vietnam tour package.
RELATED ARTICLES