If you intend to travel to central Vietnam, you can create a list of the places to visit in Hoi An. This city construction is inspired by a fusion of Chinese, Japanese, French, and Portuguese architectural styles.
Hoi An is one of the main tourist sites in Vietnam with the abundance of traditional homes, museums, bridges, and pagodas. In addition, you'll find traditional markets and the best street foods.
Let's begin with the following top 11 Hoi An places to visit!
Hoi An Ancient Town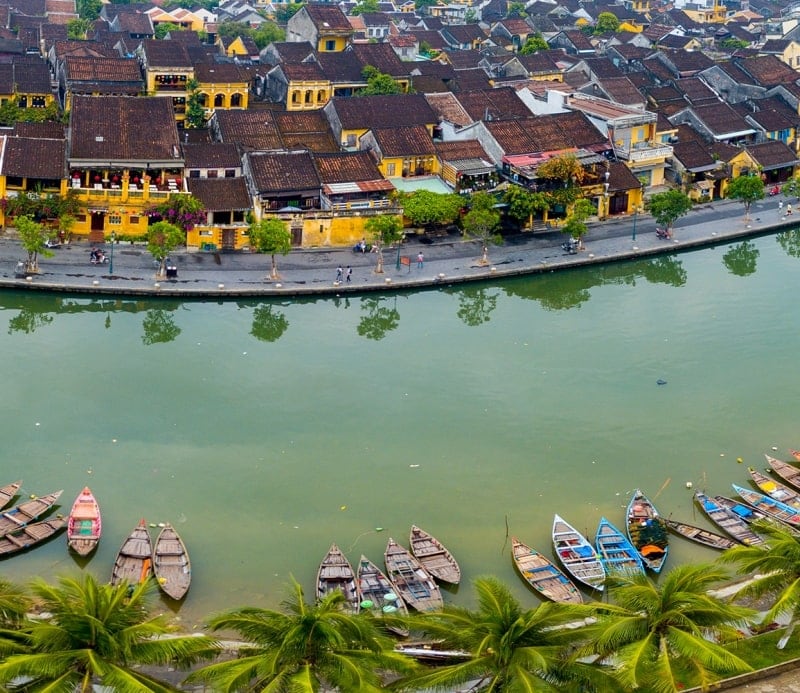 The Ancient Town was historically founded as an important commercial port in 1471. It was one of the busiest trading hubs in Asia and a significant stop along the Silk Road.
People built it from the 15th to the 19th century. It is a beautiful interference with the colonial architecture and fisherman culture then.
Nowadays, the Ancient Town is a UNESCO World Heritage Site. It has changed into a tourist hub that incorporates artisanship and shopping.
The beaches of Hoi An draw tourists because of the warm tropical temperatures and the picturesque coastline. This tranquility will drive away your everyday tiredness. Check out the top three beaches in Hoi An!
Cua Dai Beach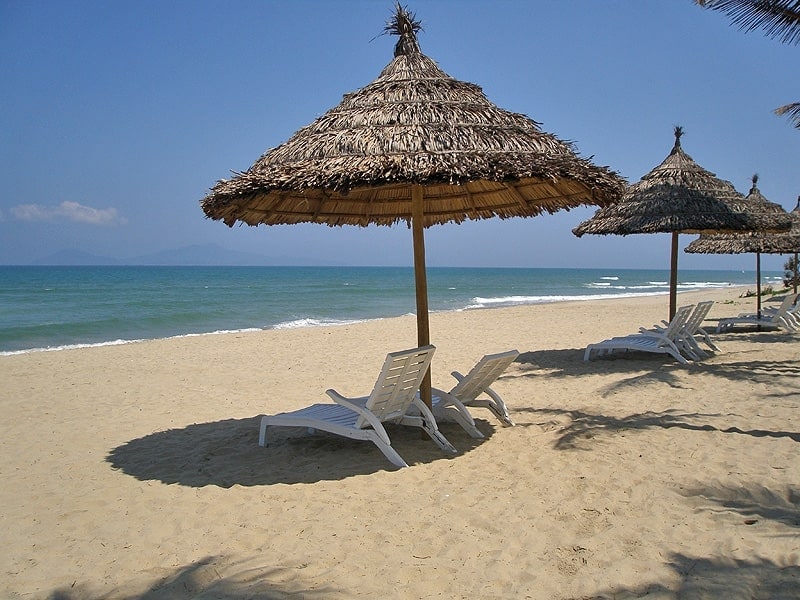 Cua Dai Beach is about 4 miles from the Ancient Town's center. It boasts its immaculate soft white sand, blue ocean, and gentle waves, making it one of the most incredible beaches in Vietnam.
Despite being well-known and drawing thousands of visitors annually, it has escaped the effects of mass tourism. The beach might get busy on the weekends, so you should go to the beach during the week to avoid crowds and enjoy some alone time in the sun.
An Bang Beach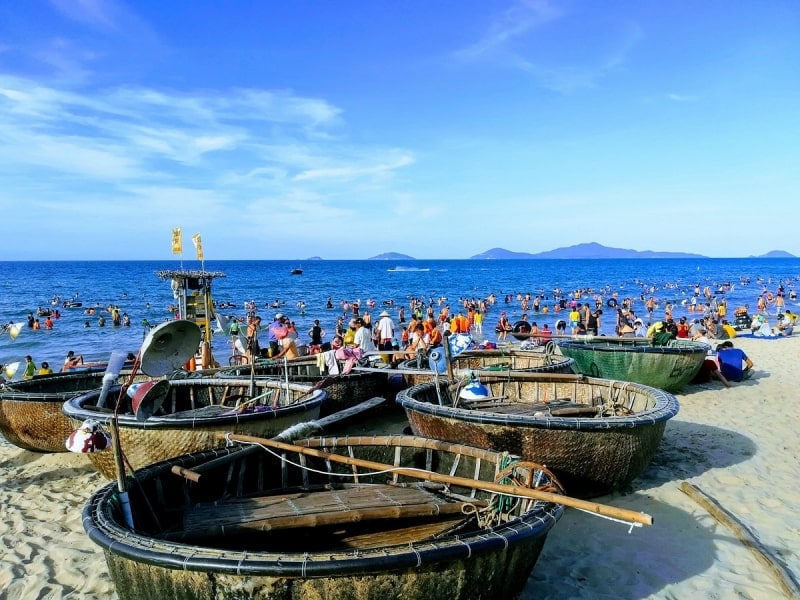 The magnificent An Bang Beach is a 4-kilometer stretch of sand. More people and tourists are visiting it due to its pristine beauty.
It draws an increasing number of visitors yearly because of the eateries, late-night pubs, water sports activities, and live music. The An Bang Beach attracted much media attention in 2016 as one of CNN's Top 100 Best Beaches.
>> Read more: Hoi An Nightlife: Things to Do in Da Nang at Night in 2023
Cam An Beach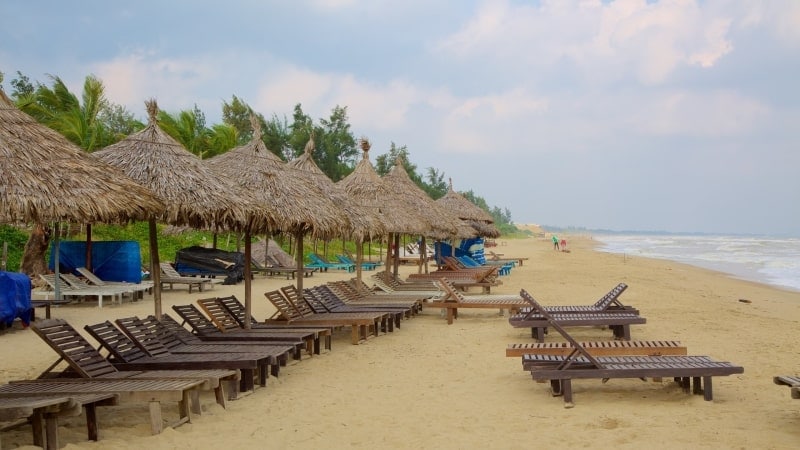 Cam An coastline is unaffected by urbanization. It boasts the most breathtaking island, mountain vistas, and mouthwatering seafood.
Residents and visitors enjoy this tiny corner of heaven all year. The local Vietnamese residents frequent this area primarily for dawn swimming and dusk family beach barbecues.
Cam Thanh Coconut Village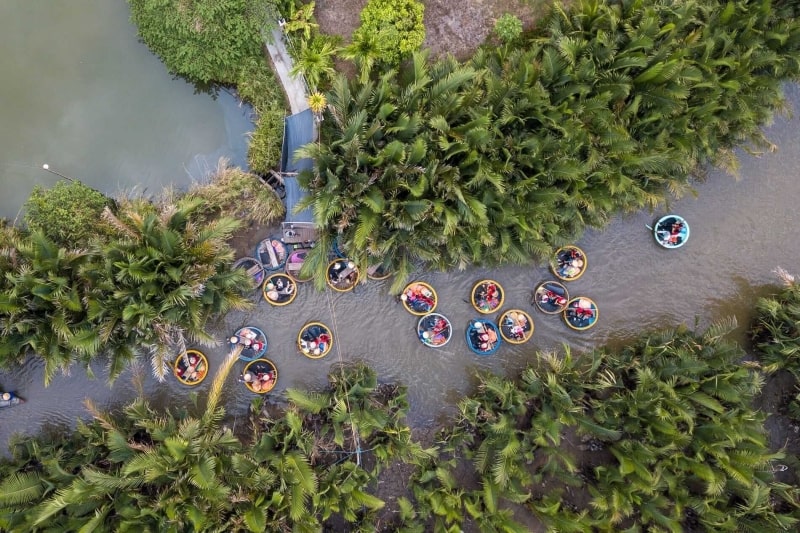 Cam Thanh Village is three kilometers from the Ancient Town. Traveling there, you may experience the natural beauty of handicrafts and the history of this village.
Nowadays, Cam Thanh Village is a well-liked destination for those looking for an ecotourism experience. You'll feel like you're in the Mekong Delta when visiting Cam Thanh hamlet in the Bay Mau palm forest.
When you visit this palm grove, you may try your hand at fishing and participate in various water sports. You may explore the palm forest and take in the sunset over the river if you arrive there in the late afternoon.
Kim Bong Carpentry Village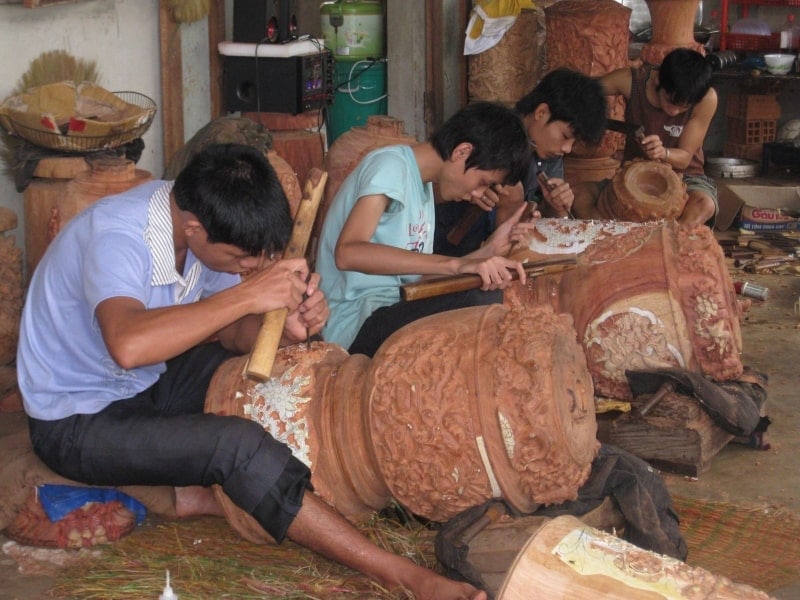 Kim Bong Carpentry Village is ten minutes from the Ancient Town across the Thu Bon River. The village has produced high-quality woodwork for the country for over 600 years.
The locals have organized three groups of artisans: shipbuilding, civil timber furniture, and ancient architectural construction. You can stroll around in the hamlet to buy exquisite woodwork to take home.
Thanh Ha Pottery Village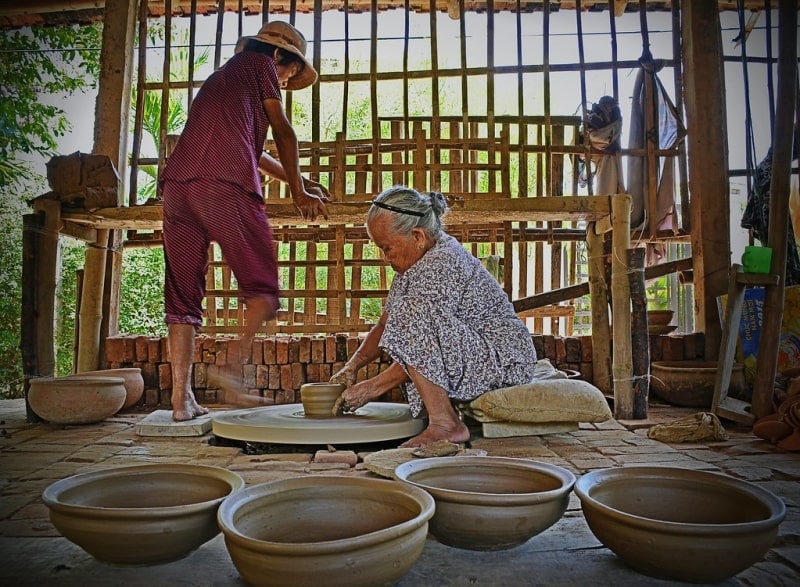 Thanh Ha pottery village was established in the sixteenth century. It is one of the first pottery villages in Vietnam.
Thanh Ha Pottery Village has continued to use classic methods to shape the pottery without molds. This process creates a distinctive value for the pottery goods made in this town.
Nowadays, Thanh Ha ceramic items are mainly used for displays and decorating. In addition, the town offers a variety of visitor-friendly activities, such as pottery-making classes.
Tra Que Vegetable Village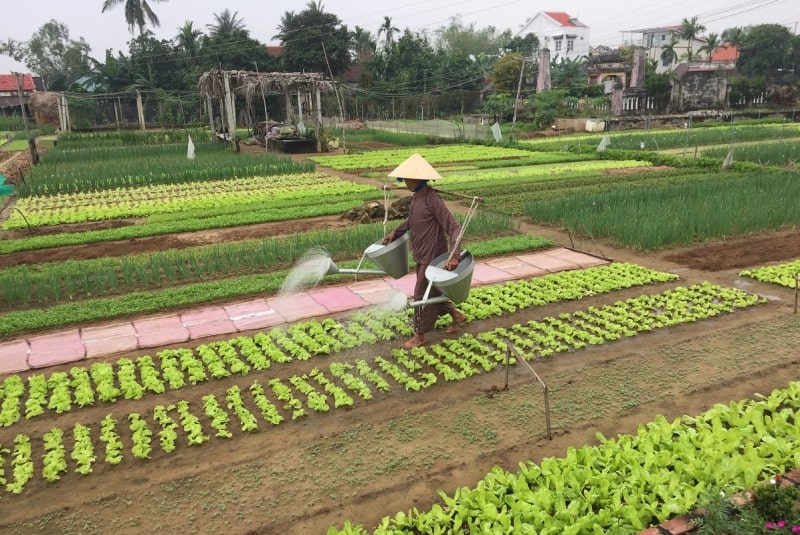 This village was constructed three centuries ago when most of the inhabitants were fishermen. However, after residents realized the benefits of the seaweed manure from the Tra Que lagoon, they started cultivating vegetables and herbs.
The farmers don't use toxic substances, harsh chemicals, or chemical fertilizers. It makes the village an attractive destination for those passionate about organic agricultural products.
Tra Que is also the place to discover inspiration for your artwork. This place will satisfy you with its backdrop of vast grassland, magnificent rice fields, and peaceful lakes.
Fujian Assembly Hall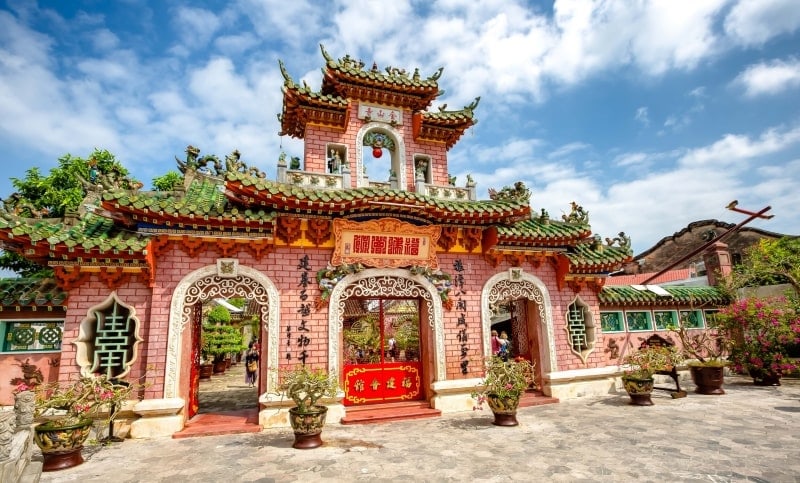 The Fujian Assembly Hall is a popular destination for tourists who want to snap photographs and go sightseeing. It is among the most worthwhile sights to see in Hoi An.
You may come there to pray for good fortune. The young spouses who have infertility might also come there and pray to have kids.
The traders frequently gather at the "Thien Hau Thanh Mau" altar to ask for her blessings on their enterprises. Many people come to the Hall to ask the God of Fortune for good fortune in the new year.
Quan Cong Temple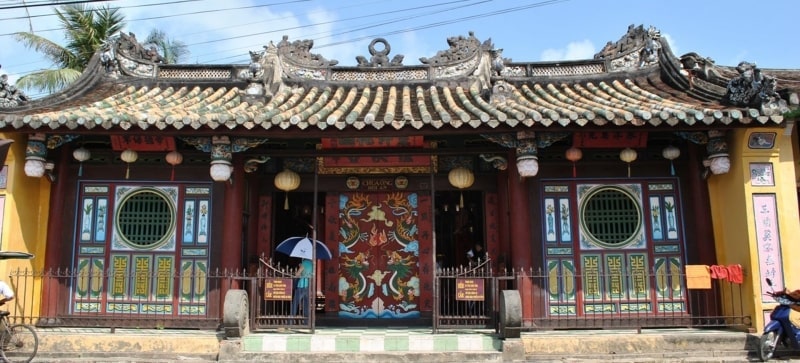 In 1653, Quan Cong Temple was built as a place of devotion for Quan Van Truong. He was a renowned general with intellect, a strong character, bravery, righteousness, and qualities.
The temple draws tourists with its distinctive design etched with traditional Chinese elements. You will learn about local religious practices, folklore, and architecture throughout your visit.
Hoi An Museum of History And Culture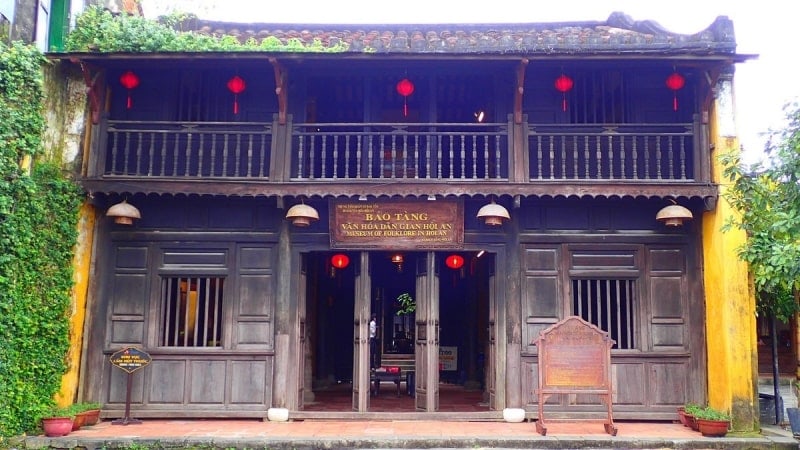 In 1989, the Hoi An Museum of Cultural and History was founded. It exhibits numerous relics and artifacts from every era in Hoi An.
It keeps and witnesses the development of Hoi An through all stages. Before coming to the Ancient Town, you should visit the museum to immerse yourself in the flow of history and feel an entire Hoi An.
Conclusion
Hoi An stands for its old wooden structures and cobblestone alleys. It will make your day when you tour Quan Cong Temple and other beautiful places to visit in Hoi An.
Make sure to go on a tour of the Ancient Town to visit local markets that will be included in your Vietnam tour. If you love swimming and other watersports, the pristine sands of Cua Dai Beach and An Bang Beach will appeal to you.
RELATED ARTICLES