Phu Quoc Island is well-known for its pristine beaches, lively nightlife, iconic cultural landmarks, and vibrant entertainment venues. With its remarkable diversity, this beautiful island caters to travelers of all kinds, whether you're a family on vacation, a solo adventurer, or a honeymooning couple.
The following list is our pick of the best places to visit in Phu Quoc. Let's read and see what sparks your interest!
VinWonders – Entertainment Paradise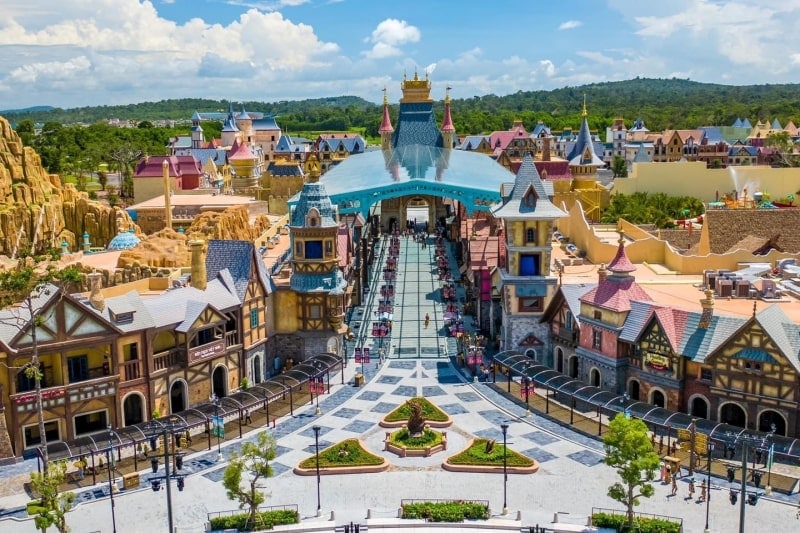 One of the top places to visit in Phu Quoc recommended by Vietnamtour.in is VinWonders. This is the largest theme park in Vietnam located in the Phu Quoc United Center – a resort and entertainment area located at Long Beach.
At VinWonders, you can enjoy adventure games in the adventure world, explore the jungle in the secret village, and go down to the sea with Neptune's Palace. In the evening, you can also witness Vietnamese culture through various festivals.
Address: Bai Dai area, Ganh Dau commune, Phu Quoc, Kien Giang
Ticket Prices:
Guests with a height of 140cm or above: 880,000 VND
Guests with a height between 100cm and 140cm: 660,000 VND
Children under 1 meter or 1-year-old: Free of charge
Vinpearl Safari – Explore the Wild World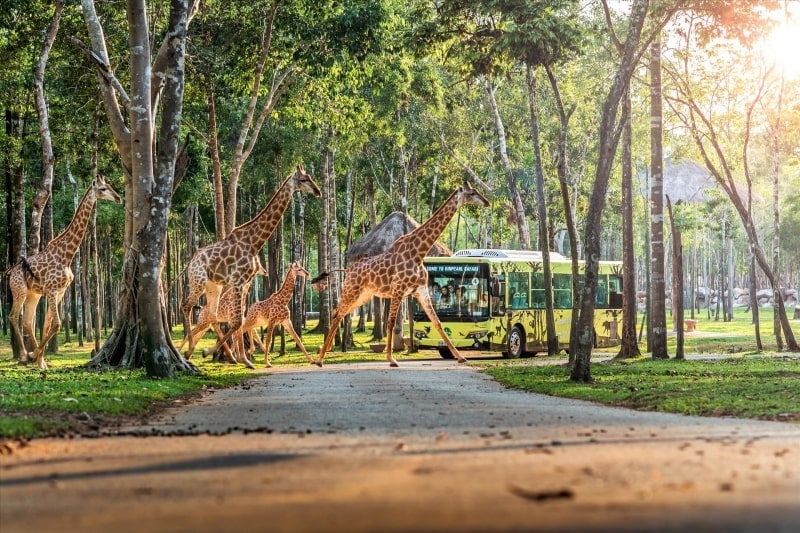 Also located in the Phu Quoc United Center, Vinpearl Safari is another wonderful place to explore while you're in Phu Quoc. Many of our Indian customers have come here and agreed this semi-wild animal park is among the best they've experienced so far!
Vinpearl Safari is a park that cares for and preserves semi-wild animals. You can experience the wild lives here using a specialized vehicle to explore the deep forest and the wild animals. Furthermore, the park also holds many shows with the message of environmental protection.
Address: Bai Dai, Ganh Dau commune, Phu Quoc, Kien Giang
Ticket Prices:
Height above 1.4m: 650,000 VND
Height from 1m to 1.4m: 490,000 VND
Below 1m: Free of charge
Corona Casino – Where Luck Awaits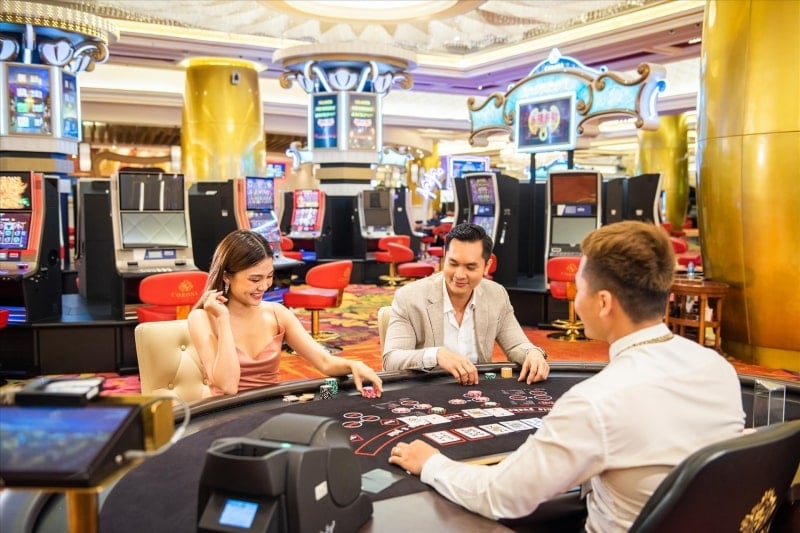 Located at Long Beach, Phu Quoc – one of the six most beautiful beaches on Earth by Forbes, Corona Casino is a gaming destination for you to enjoy and test your luck.
The entire casino area spans 18,000m2, including 100 tables for Baccarat, Roulette, Blackjack and Poker, 1000 slot machines, 32 Fusion Roulette machines, and 125 Stadium Novo Unity II Multi Game Stations… All are made sure to meet international standards, providing you with world-class experiences like being in Singapore or Macau and making Corona one of the best places to visit in Phu Quoc.
Address: Long Beach Area, Ganh Dau Commune, Phu Quoc, Kien Giang
Note: If you are not a Vietnamese citizen, the tax authorities will impose a 5% tax rate if you are a VIP player and a 15% tax rate if you are a regular player.
Grand World Phu Quoc – The Sleepless City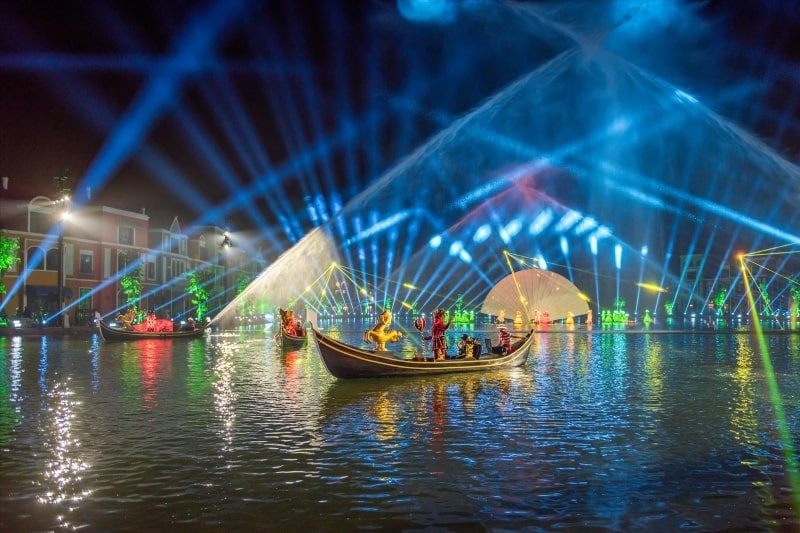 Known as the "city that never sleeps", Grand World presents itself in charming glory, with uninterrupted festivals, even well into the night.
Like a miniature world, at Grand World Phu Quoc, visitors can experience and enjoy numerous captivating sites, such as leisurely voyages on the Venice (Italy) river, the lantern-lit streets of Shanghai (China), and the unique, color-changing light canopies in the style of Clarke Quay (Singapore).
Address: Long Beach, Ganh Dau, Phu Quoc
Opening hours: Grand World welcomes visitors 24/7. However, please note that some activities follow specific performance schedules. You can check out the details on Vinwonders' official website.
Ticket prices: Entry to Grand World Phu Quoc is free, but some shows and attractions may have additional charges. Have a look at Traveloka to see the price list.
SunWorld Hon Thom – Aerial Views of the Pearl Island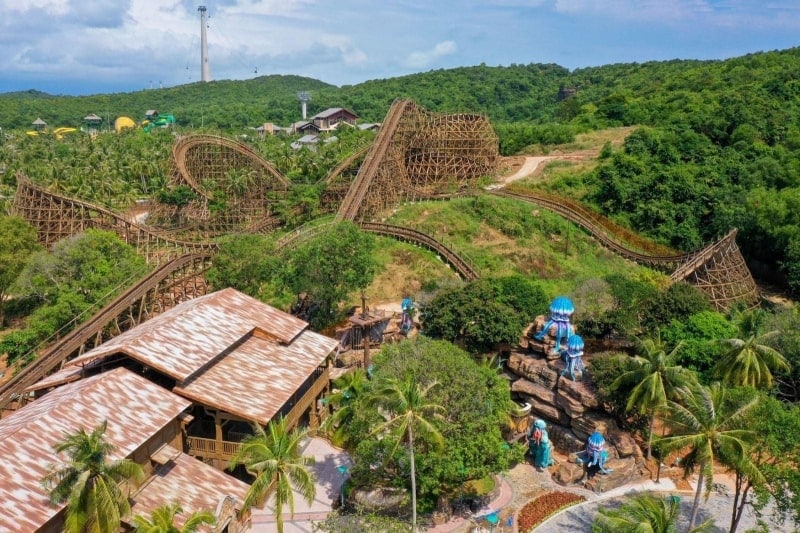 Visiting Phu Quoc, you can also try experiencing Sunworld Hon Thom and the world's longest cable car ride over the sea.
From a high vantage point, visitors can admire the pristine blue sea, witness vast virgin forests, gaze at the expansive sky, and see the golden sands of Phu Quoc's beaches when the sun is shining.
Additionally, Sunworld Hon Thom is one of the most sought-after theme parks on Pearl Island, a perfect blend of abundant natural beauty and creative interactive activities.
Address: An Thoi Town, Phu Quoc District, Kien Giang Province.
Ticket prices: You can find ticket information at the following Traveloka or Klook
Sao Beach – Paradise for Family Retreat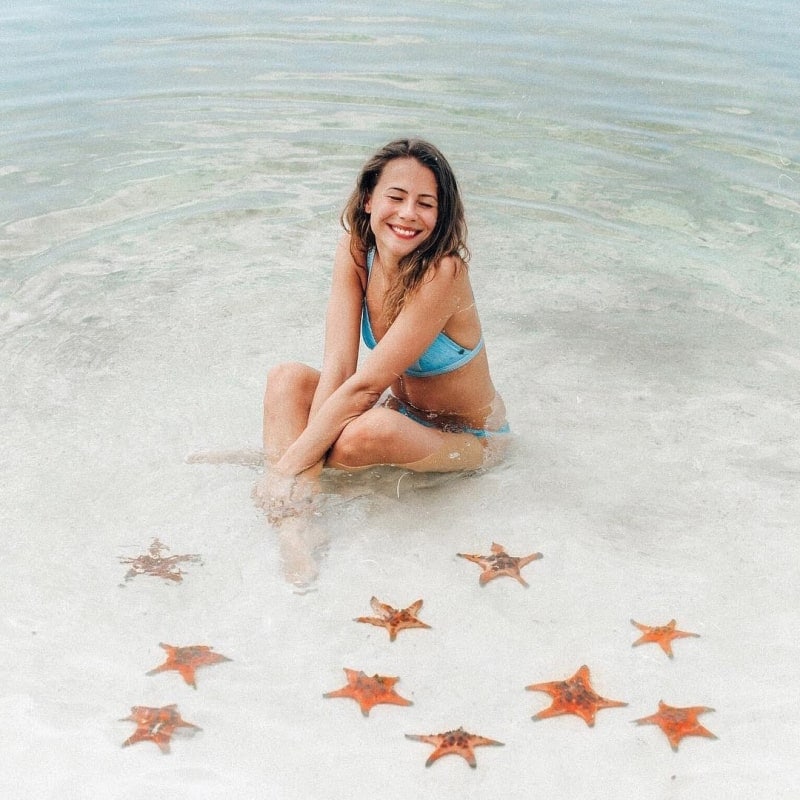 When it comes to the best places to visit in Phu Quoc, it would be a mistake to overlook the island's gorgeous beaches. At the top of our list for the best beaches in Phu Quoc is Sao Beach.
Sao Beach is situated in the An Thoi Ward of Phu Quoc, just a 15-minute drive from the airport. This stunning shoreline is blessed by nature with fine white sands and its crescent-shaped coastline. The sea here is relatively shallow with gentle waves, making it an ideal spot for families with non-swimming children.
Best time to visit: June to October
Highlighted activities: swimming, enjoying the sunset, snorkeling to admire the coral reefs, taking pictures with the starfish, and savoring delicious seafood.
Long Beach – Phu Quoc's Most Beloved Beach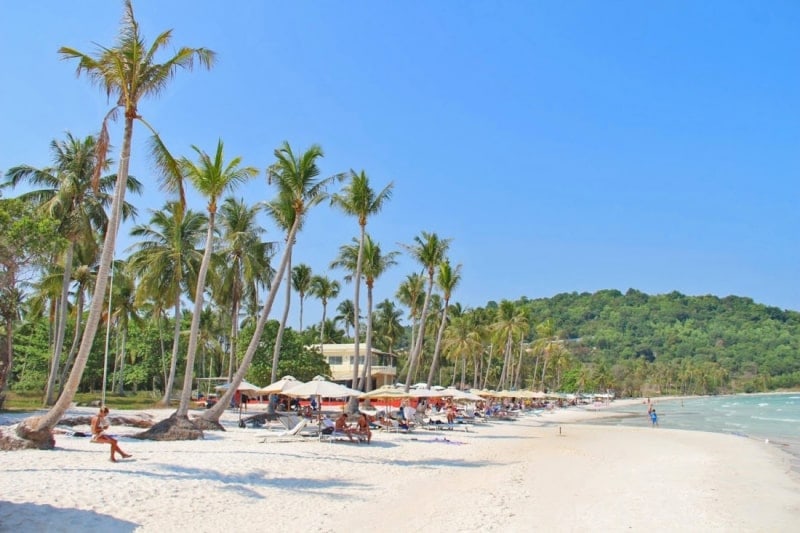 Just a 5-minute drive from Phu Quoc International Airport and a 15-minute drive from Sao Beach, Long Beach has become one of the most favored beaches in Phu Quoc.
Long Beach captivates visitors with its unspoiled beauty, boasting long stretches of smooth, white sands that merge seamlessly with the tranquil blue sea and the green hues of the sky. The pleasant weather provides an ideal backdrop for a variety of recreational activities, making it the number one choice among the best places to visit in Phu Quoc.
Best time to visit: November to April
Highlighted activities: swimming, kayaking, outdoor BBQs, overnight camping, snorkeling, fishing, a visit to Vinpearl Safari Phu Quoc, and budget-friendly beachside massages.
Rach Vem Fishing Village – Starfish Kingdom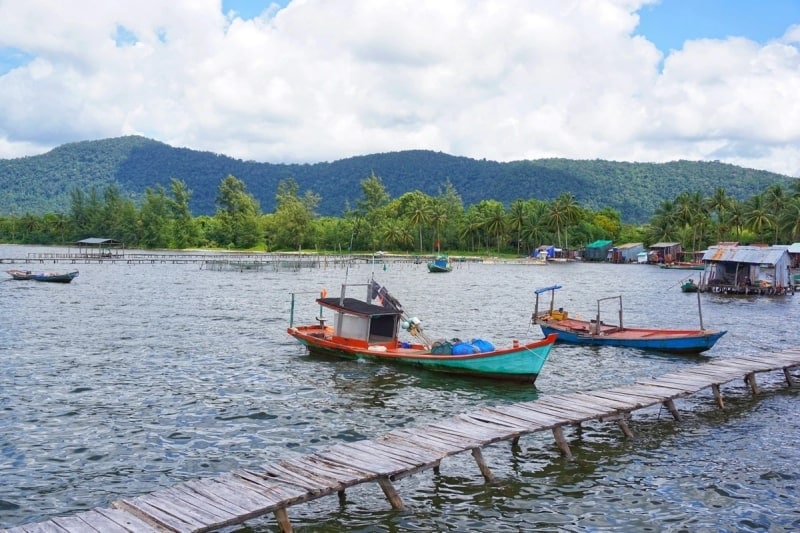 Rach Vem Fishing Village (also known as the Starfish Beach) is a hidden gem you should explore during the starfish season of Phu Quoc. This unique beach offers a rustic and peaceful atmosphere, away from the hustle and bustle of heavy tourism.
Located over 20 kilometers North of Duong Dong town on the island, this beach village features wooden bridges, charming stilt houses, and an enchanting sight of thousands of red starfish "moon bathing" on the shore.
Best time to visit: November to April
Highlighted activities: visiting the Rach Vem stilt houses, taking photos with the starfish, savoring seafood, squid fishing, and enjoying various games at Phu Quoc United Center.
Fish Sauce Factories – Explore the Taste of the Sea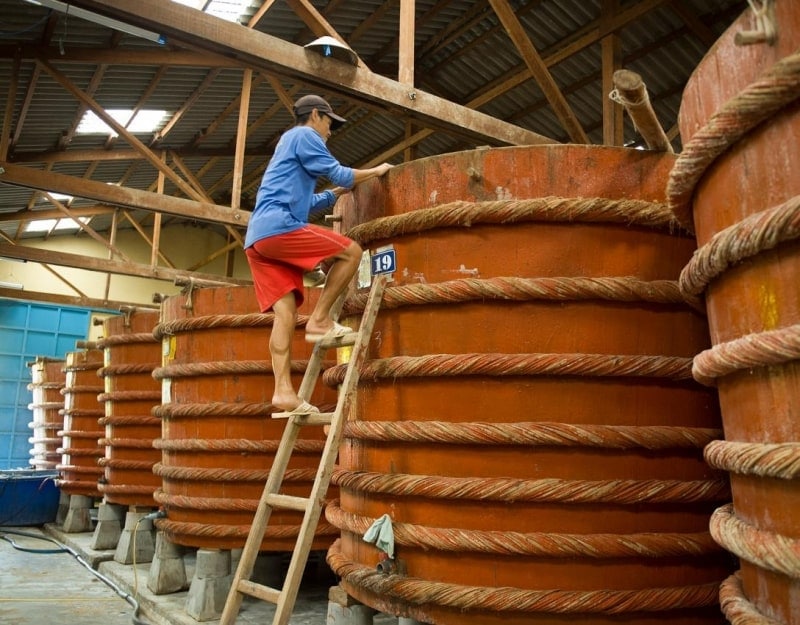 Phu Quoc is famous not only for its pristine beaches but also for its fish sauce factories, with a history spanning over 200 years.
Visiting the fish sauce factories when coming to the island is one of the most interesting experiences. Here, tourists can learn about the production process of the famous fish sauce and purchase unique and one-of-a-kind specialty gifts.
Here are some renowned fish sauce factories you can visit:
Khai Hoang Fish Sauce Factory: 11 Hung Vuong Bridge, Duong Dong Town, Phu Quoc, Kien Giang.
Hung Thinh Fish Sauce Factory: 219, 30th April Street, Duong Dong Town, Phu Quoc, Kien Giang.
Phung Hung Fish Sauce Factory: 201 DDT46 An Thoi, Phu Quoc.
Bach Dang Night Market – Culinary Heaven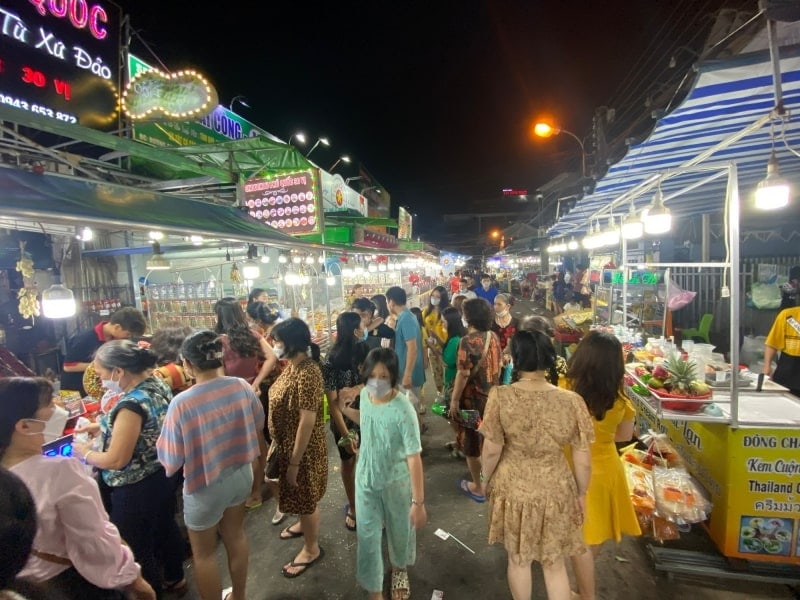 Located right next to the picturesque Duong Dong River and close to Dinh Cau Temple, Bach Dang Night Market is a well-known destination for both local and international tourists.
Operating from 03:00 PM to 11:00 PM, visitors can plan their visit to this market to enjoy entertainment, dining, and shopping at their convenience. In addition to delicious food, the Phu Quoc Bach Dang Night Market also offers a variety of beautiful souvenirs made from marine treasures like pearls and shellfish products.
Address: 6 Bach Dang Street, Duong Dong Town, Phu Quoc.
Opening hours: 06:00 PM to 11:30 PM
Highlighted activities: Enjoy grilled seafood, delicious desserts, shop for pearls, handmade goods, and various souvenirs…
>> Read more: Phu Quoc Nightlife: Must-Try Experiences for Indian Tourists in 2023
Pepper Farms – Authentic Experience in Phu Quoc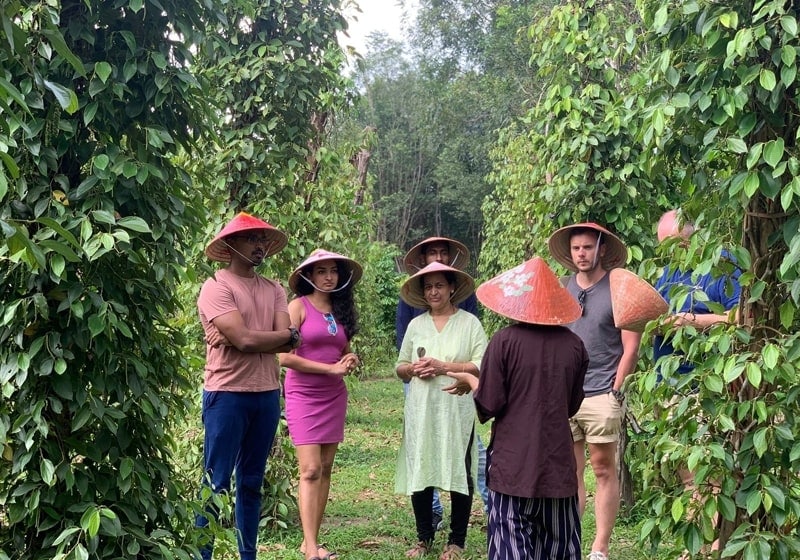 Vietnamtour.in understands that spices are the heart and soul of Indian cuisine. That's why we have these famous pepper farms in Phu Quoc as a next stop in your list of places to visit in Phu Quoc.
Phu Quoc pepper makes for a unique souvenir for every traveler on this island, celebrated not only in Vietnam but around the world. When you explore the Phu Quoc Pepper Farms, you'll not only uncover the intriguing process of cultivating and harvesting these exceptional peppercorns but also have the opportunity to take them home as a precious gift for your loved ones, signifying good health and warm affection.
​​Tieu Khu Tuong Plantation – Largest pepper plantation in Phu Quoc
Address: Hamlet Khu Tuong, Cua Duong, Phu Quoc, Kien Giang
Opening hours: 08:00 AM – 05:00 PM daily
Hong Anh Pepper Plantation
Address: Duong To, Phu Quoc, Kien Giang
Opening hours: Open every day
Bac Dao Pepper Plantation
Address: Located on the way to Ganh Dau commune
Opening hours: 08:00 AM – 05:00 PM daily
Suoi Tranh Waterfall – A Tranquil Paradise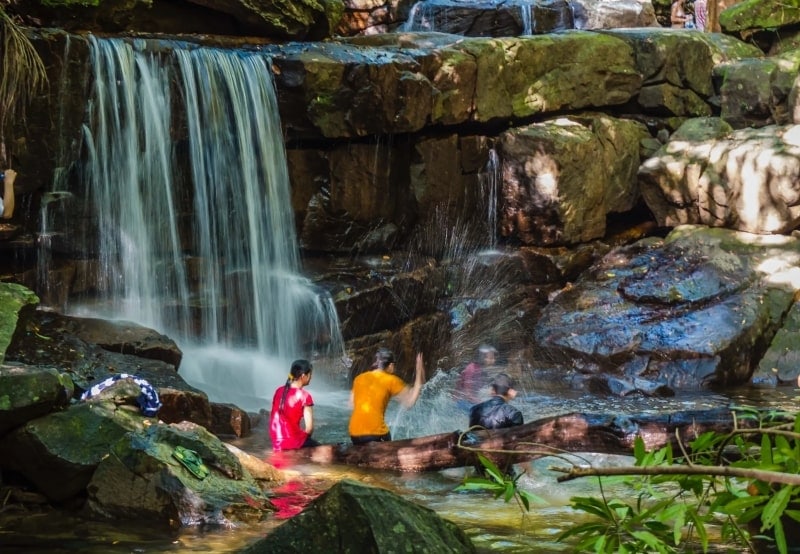 Suoi Tranh Waterfall is another one of the must-visit places in Phu Quoc. This is a famous tourist destination, attracting both domestic and foreign tourists. To reach this 2-meter-high waterfall, you'll need to embark on a 30-minute walk, but the scenery is really worth it.
At the foot of the waterfall, there is a lake about 1 to 1.5m deep where you can bathe. The harmony of mountains, forests, streams, and the sea creates a charming natural picture, suitable for camping and fishing.
Address: Address: Suoi May Hamlet, Duong To Commune, Phu Quoc
Opening hours: 07:00 AM to 09:00 AM
Ticket price: 30,000 VND
Phu Quoc Prison – Historical Landmark
Phu Quoc Prison stands as a cherished historical symbol for the Vietnamese people during the period of resistance against French colonialism and American imperialism. It not only vividly recalls the challenges faced during that time but also embodies the indomitable spirit of our Vietnamese nation in the pursuit of independence.
This prison welcomes all visitors at no cost, so if you're eager to delve deeper into the history and the rich values of the country you're exploring, consider adding Phu Quoc Prison to your list of places to visit in Phu Quoc.
Opening hours: 08:00 AM to 11:30 AM and from 01:30 PM to 05:00 PM
Ticket price: free of charge
Here are the guidelines for visiting Phu Quoc Prison: Dress in appropriate attire., do not touch or handle the exhibited artifacts.
>> Read more: 13 Best Things To Do In Phu Quoc For Indian Tourists: A Journey Through The Island
Ho Quoc Pagoda – Spiritual Scenic Spot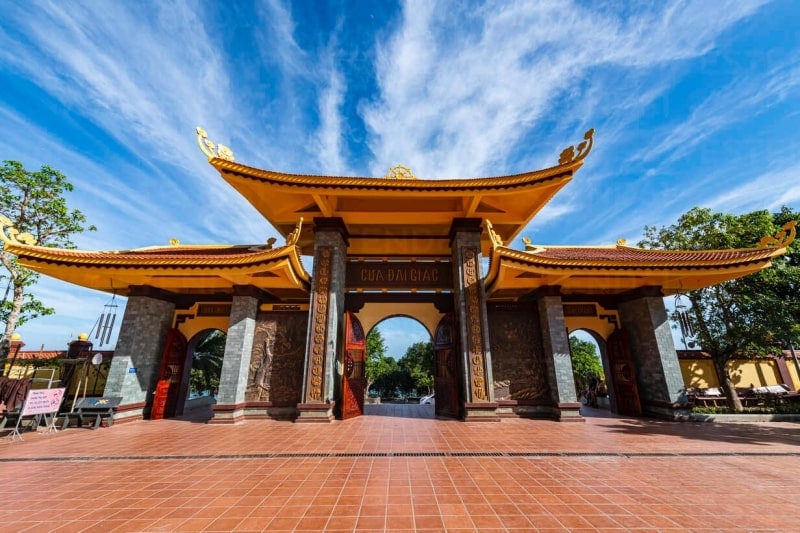 When traveling to Vietnam, you'll encounter numerous pagodas and temples as our country has a rich diversity of faiths and religions. In Phu Quoc, Ho Quoc Pagoda stands as the island's largest spiritual site.
Entering Ho Quoc, you will admire the architectural style of the Ly-Tran dynasties. The landscape of the pagoda is beautifully looking out to the vast ocean, and backed by the lush mountain forest behind, giving visitors a sense of serenity when coming here.
Opening hours (for reference): 06:00 AM to 06:00 PM
Entrance ticket: Free of charge
Note: Choose appropriate attire, maintain order, and have an umbrella and sunscreen ready when visiting the temple during the midday hours.
Dinh Cau Temple – A Landmark of Mysterious Legends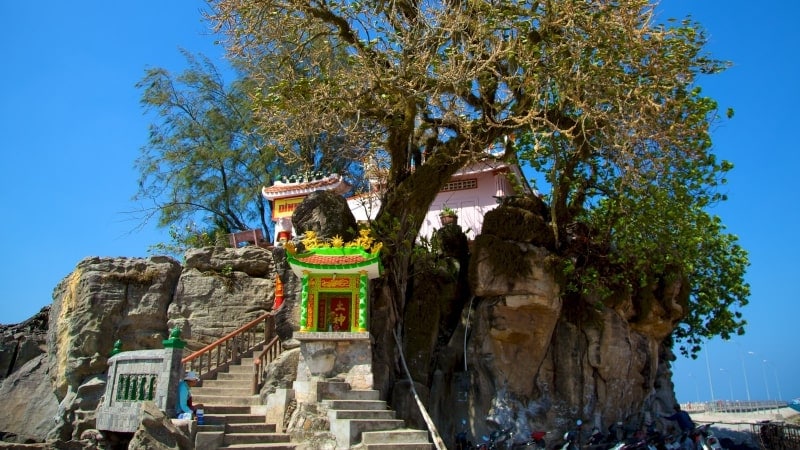 Dinh Cau Temple celebrated for its serene pond, is a true historical treasure and among the must-visit places in Phu Quoc. Constructed in the 17th century, this temple worships local old lords. With a rich history spanning nearly a century.
The temple draws visitors from near and far who come to seek blessings for their families and prosperity in their endeavors. In the evening, you can soak in the lively atmosphere of the night market nearby, savoring local cuisine, refreshing drinks, and picking up delightful souvenirs to remember your visit.
Opening hours (for reference): Open all day
Entrance ticket: Free of charge
Note: As this is a spiritual site, visitors are advised to choose modest and respectful attire, refrain from taking photographs or videos, and avoid littering.
Wrapping Up
Those are the top 15 places to visit in Phu Quoc, especially if you're an Indian traveler planning your Vietnam trip with your family or friends.
You can also discover more about this beautiful island by checking out our related articles below, or reach out to us to create a perfect Vietnam trip based on your needs and preferences. Vietnamtour.in and Phu Quoc are eager to welcome you!
RELATED ARTICLES