Da Nang and Nha Trang are two stunning destinations in Vietnam that offer unique experiences. Whether you're drawn to the pristine beaches, rich culture, or picturesque landscapes, knowing how to navigate between these two cities is essential. In this guide, Vietnamtour.in explores different transportation options for foreigners looking to travel from Da Nang to Nha Trang, providing valuable information on flights, trains, buses, cars, and motorbikes.
The distance between Da Nang and Nha Trang is approximately 520 kilometers by road, which is equivalent to about 336 miles.
By Flight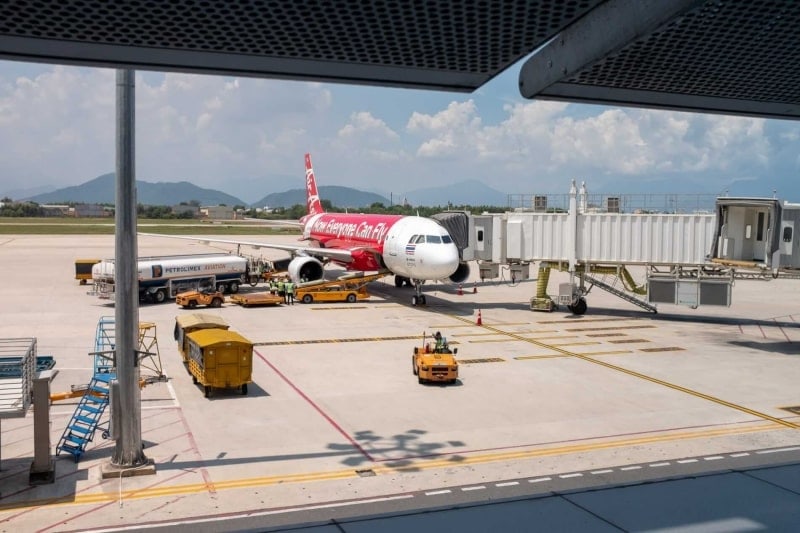 Flying from Da Nang to Nha Trang is the quickest and most convenient option.
Airport: Da Nang Airport (DAD) serves as your departure point, and Cam Ranh Airport (CXR) is the arrival point in Nha Trang.
Duration: The flight duration is approximately 1.5 hours.
Cost: Flight prices can vary significantly based on factors such as the airline, class of service, and how far in advance you book. On average, a one-way flight may cost anywhere from $50 to $150 or more.
Tips: It's advisable to book your flight in advance for the best deals.
Pros:
The fastest way to travel between the two cities, saving you time for other activities.
A quick flight with minimal time spent in transit.
You can choose from several airlines, offering flexibility in terms of schedule and pricing.
Cons:
Flights can be more expensive than other transportation methods, especially if booked last minute.
Be mindful of baggage restrictions to avoid extra fees.
By Train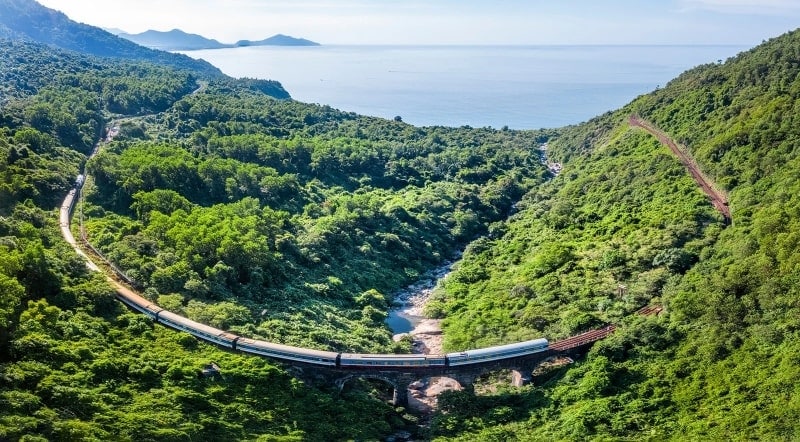 Traveling by train from Da Nang to Nha Trang offers a unique perspective on the country's scenic beauty.
Duration: The journey takes around 10-12 hours, but it's an experience in itself.
Cost: Train ticket prices also vary depending on the class you choose. A soft seat or sleeper ticket can range from $20 to $40, while more luxurious options may be higher.
Tips:
Train tickets may sell out during peak travel seasons, so it's advisable to secure your tickets well in advance, either through online booking or at the train station.
Opting for soft seats provides a more comfortable experience with air conditioning, making it an excellent choice for an enjoyable journey.
The train voyage from Da Nang to Nha Trang offers incredible scenery, so be sure to have your camera ready to capture the breathtaking views of the coast and countryside.
Pros:
The train journey provides an opportunity to admire the picturesque landscapes of Vietnam.
Train travel is generally more economical than flying.
You can interact with locals and fellow travelers, making for a unique cultural experience.
Cons:
The train journey is considerably longer than a flight, so be prepared for a full day of travel.
While some trains offer comfortable seating, others may have more basic amenities.
Tickets can be in high demand during peak tourist seasons, so it's a good idea to book in advance.
By Bus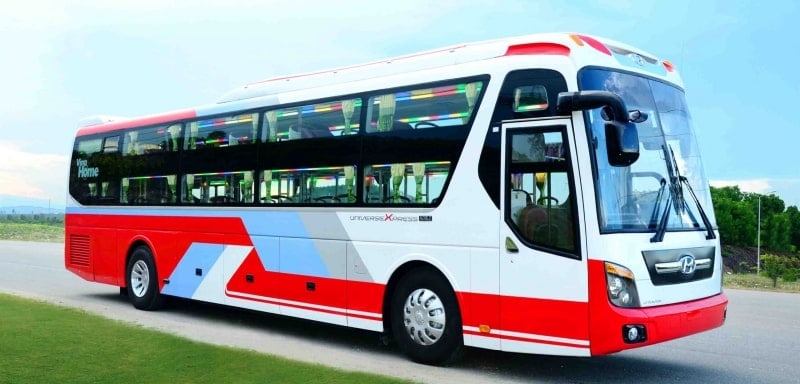 Bus travel is another economical option for getting from Da Nang to Nha Trang.
Duration: Approximately 10-12 hours.
Cost: Bus ticket prices are generally more budget-friendly. A one-way bus ticket can cost between $15 to $30, depending on the type of bus and services offered.
Tips:
Explore various shuttle bus options in Da Nang to find a service that aligns with your preferences in terms of comfort and pricing.
Ensure you confirm the pickup location and time with your selected operator in advance. While they usually offer a door-to-door service, punctuality is crucial.
When traveling from Da Nang to Nha Trang, you have several bus companies to choose from. Here are some options: Techbus VN JSC, Quang Hanh, Ha Linh, Duc Duong Bus.
Pros:
Buses are a budget-friendly option for travelers.
You can choose from various bus classes, including sleeper buses for added comfort.
Buses leave regularly, providing flexibility in terms of departure times.
Cons:
The journey can be quite lengthy, and the comfort level varies by bus class.
Basic buses may not offer the same level of comfort as trains or flights.
Communication with bus staff may be challenging if you don't speak Vietnamese.
By Car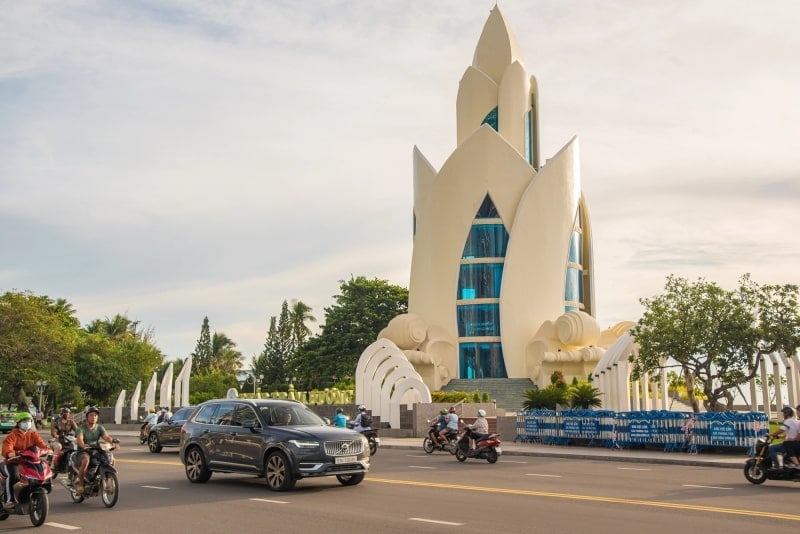 For those who prefer flexibility and independence, renting a car and driving from Da Nang to Nha Trang is an option.
Duration: The journey takes approximately 10-12 hours.
Cost: Renting a car includes the rental fee, fuel costs, and potential tolls. Rental car prices can vary, but you might spend around $40 to $100 or more per day, depending on the car type and rental company.
Tips:
Select a reliable rental company: Rent your vehicle from a trustworthy rental agency with a solid reputation. Check reviews and seek recommendations if necessary, such as AVIS Vietnam or Travel Car Rental.
Ensure you have your valid driver's license, international driving permit (IDP), and all required documentation. Familiarize yourself with local traffic regulations.
Pros: Opting for car rental provides you with the flexibility to explore at your own pace, make stops along the way, and visit off-the-beaten-path attractions.
Cons:
Car rental expenses can add up, factoring in fuel costs, rental fees, and insurance.
Handling traffic, locating parking, and grasping local driving customs can pose challenges, especially for foreign visitors.
You bear the responsibility for driving, navigation, and addressing potential maintenance or breakdown issues.
By Motorbike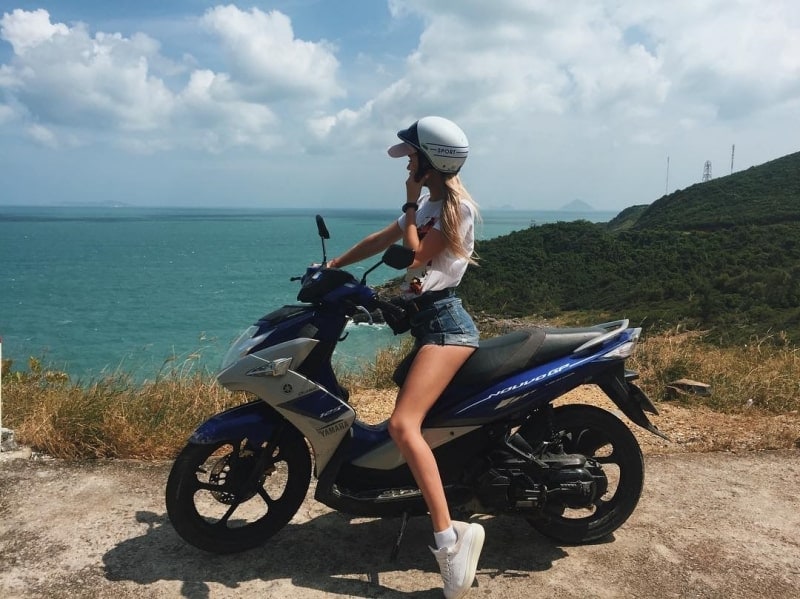 Traveling by motorbike is an adventurous choice, but it's not recommended for everyone.
Duration: The journey can take 15-20 hours, depending on your route and stops
Cost: Renting a motorbike, fuel, and maintenance expenses should be factored in. Renting a motorbike can cost around $10 to $20 per day, and fuel expenses depend on the distance and type of bike you choose.
Tips:
Opting to ride a motorbike from Da Nang to Nha Trang is an adventurous decision, but it's not advisable for beginners. Prior experience with motorbikes is essential.
Consider reputable motorbike rental companies in Da Nang, such as Tigit Motorbikes Danang and The Motorbike Station.
Ensure you wear suitable safety gear, including a helmet, gloves, and protective clothing. This is crucial for your safety, especially on potentially challenging roads.
Pros:
Exploring on a motorbike introduces an adventurous dimension to your journey, enabling a more intimate experience with the open road and local culture.
You enjoy full control over your route, allowing impromptu stops whenever you desire.
Motorbike travel can foster interactions with locals, providing a distinctive cultural experience.
Cons:
Motorbike travel carries additional risks, particularly for inexperienced riders or those unfamiliar with local road conditions.
The safety and comfort of your journey can be influenced by weather conditions.
Extended hours of riding can be physically demanding, potentially leading to fatigue.
It is advisable to contemplate travel insurance, particularly for adventurous choices like motorbikes.
Conclusion
Da Nang to Nha Trang is a fantastic journey, offering a blend of natural beauty, culture, and adventure. The choice of transportation depends on your preferences, budget, and the experience you seek. But let's refer to a Vietnam tour package from Vietnamtour.in is indeed a convenient and worry-free way to travel from Da Nang to Nha Trang.
Travel packages often include transportation, accommodations, guided tours, and other amenities, ensuring a smooth and enjoyable journey. This can be an excellent option for travelers seeking a hassle-free and well-organized trip.
RELATED ARTICLES