Discovering the best places to visit in Sapa is a common interest for Indian tourists. This charming town, nestled at the base of the majestic Hoang Lien Son range, allures visitors with its grand mountain vistas, stunning terraced fields, and the rich culture of Vietnam's ethnic minorities. In this article, we'll delve into the Top 10 places to visit in Sapa, enhancing your travel experience in every way.
Fansipan
With an altitude of 3,143m, Fansipan Mount is the highest mount in Indochina, also known as the "Roof of Indochina". Many climbers and adventurers come to Sapa to conquer Fansipan's summit and admire the grand views of Northwest mountainous areas.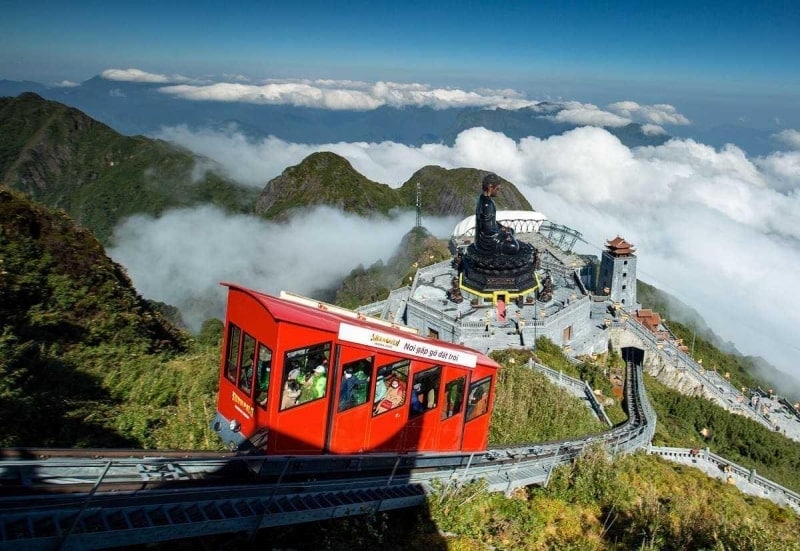 For those without interest in climbing, this place offers a transport service to the summit with two times of transport.
Firstly, you'll buy a ticket to use the cable car at the station. With the world's most modern 6,292.5-meter-long three-wire system, the Fansipan Cable Car can withstand intense wind pressure and harsh weather, ensuring absolute safety for visitors, even the elderly and children. The cable car's round-trip ticket price is between 800,000 and 900,000 VND per person.
Next, you'll get off the cable car at an altitude of nearly 3,000 m. From here, to reach the top of Fansipan Mountain, you have two ways of transport: climbing 600 more steps or using the train service for 150,000 VND per person (one-way).
On the peak of Fansipan, you can watch the panoramic views of Sapa with spectacular mountains and admire the beautiful sea of clouds like a fairyland. Don't miss out on this wonderful destination in Sapa!
Location: 9km southwest of Sapa Town in the Hoang Lien Son Range.
Rose Valley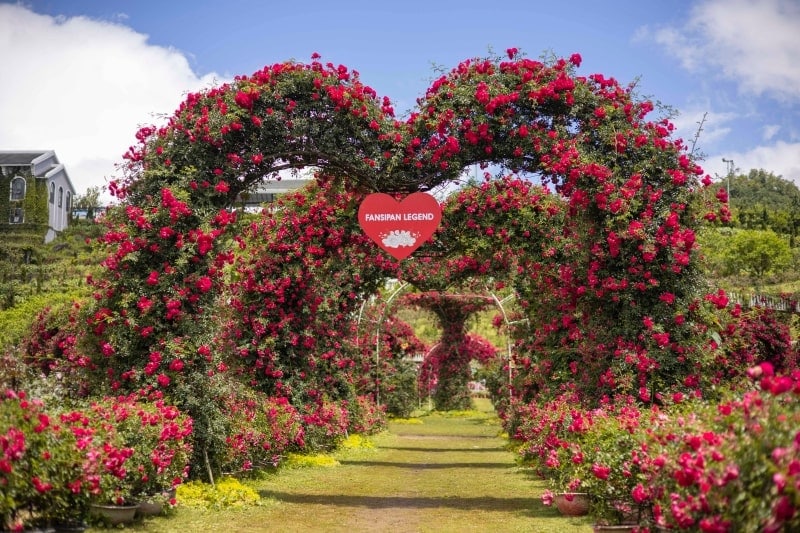 The next captivating place to visit in Sapa is the Rose Valley. This valley is recognized as the largest rose valley in Vietnam. It has an area of up to 50,000 square meters, stretching along the Muong Hoa mountain rail line that connects Sapa Town and the Mount Fansipan cable car station.
Rose Valley contains over 300,000 rose plants, with over 150 popular varieties from Sapa, Vietnam, and worldwide. This destination boasts glowing flower carpets and stunning natural scenery. You'll be mesmerized by its beauty as you set foot in the valley.
Location: Hamlet 1, Muong Hoa Street, Sapa Town
Entrance fee: 70,000 VND/person
Muong Hoa Valley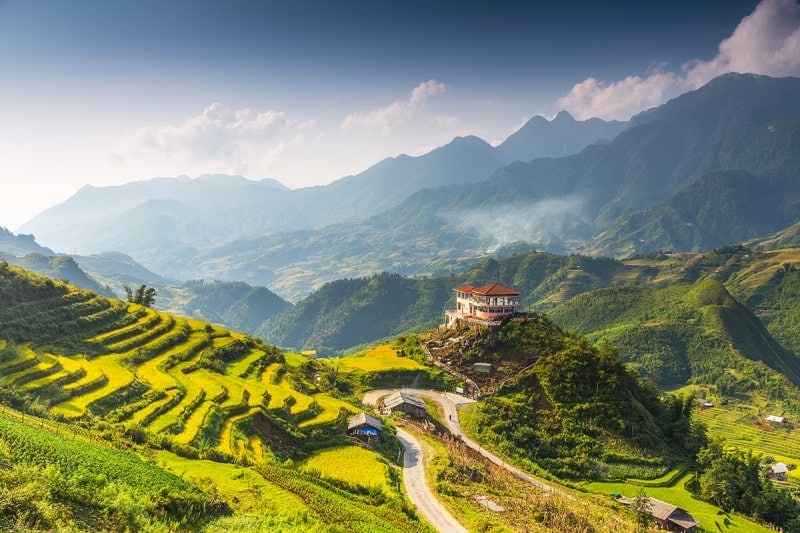 With its breathtaking views, Muong Hoa Valley is one of the best places to visit in Sapa. The valley is famous for the most beautiful terraced fields in the world. These terraced fields will have the lush green of the growing rice and change to a sparkling yellow when it is ripe. The rustic houses of ethnic people are scattered between the fields, creating a calm and peaceful atmosphere.
Muong Hoa Valley is beautiful in all seasons. It's vibrant with fragrant flowers in spring and has grand mountainous beauty in summer. In comparison, the valley in fall is charming with the ripe terraced fields and enjoys the mysterious appeal of foggy and cloudy sky in winter.
In addition, Muong Hoa Valley is the living area of ethnic minorities; you can socialize with them and experience their unique culture. Let's travel to this exciting tourist attraction in Sapa!
Location: Hau Thao Commune, about 8km from Sapa Town center
Entrance fee: 150,000 VND/person
Ta Phin Village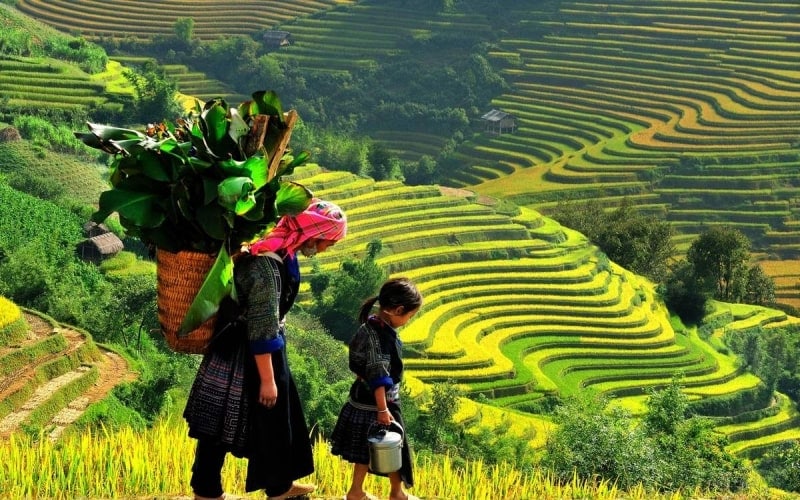 Regarded as one of the best places to go in Sapa, Ta Phin village is favoured by spectacular mountains and splendid rice terraces. Besides, two ethnic minorities – the Red Dao and the Black Mong live in Ta Phin village, creating it ideal for exchanging captivating cultural values.
Coming here, you can feel the peace and relaxation of natural views and witness how the minority make their embroidery and brocade products. These unique garments are the perfect gifts for your trip.
For active-seekers, Ta Phin village is also a good place for trekking tours. You can stay overnight in the village or tour for a day to explore the rice paddies and mountains.
Location: Ta Phin Commune, Sapa Town, Lao Cai Province
Entrance fee: 40,000 VND/person
Ta Van Village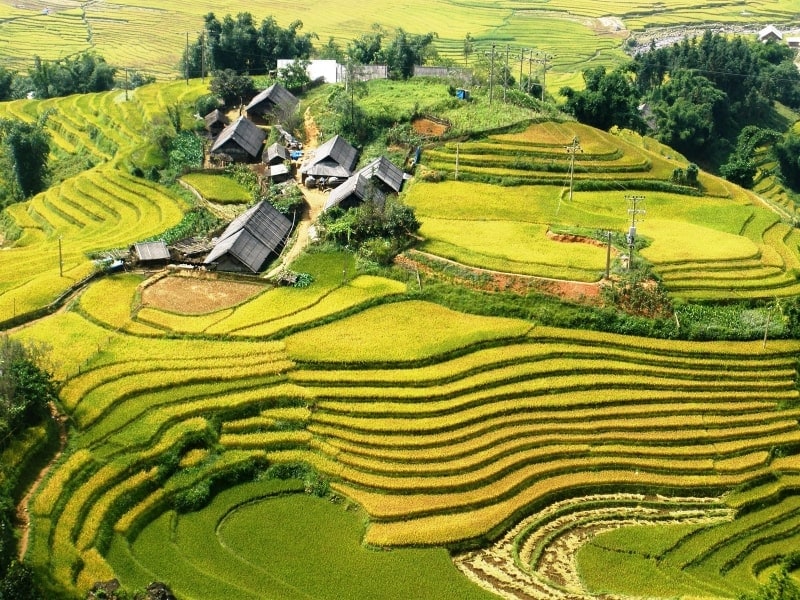 Another charming village you should go to in Sapa is Ta Van. The entrance road of the village is small and narrow, covering the lush green of terraced fields. This peaceful village is the living area of many minorities like Mong, Dao, Giay, etc. You can mingle with ethnic people and savour the local foods.
Like other Sapa tourist attractions, Ta Van Village offers a comfortable atmosphere to enjoy the natural beauty and rustic houses. Take a chance to visit this wonderful place in Sapa!
Location: Ta Van Commune, Sapa Town, Lao Cai Province
Entrance fee: 75,000 VND/person
Silver Waterfall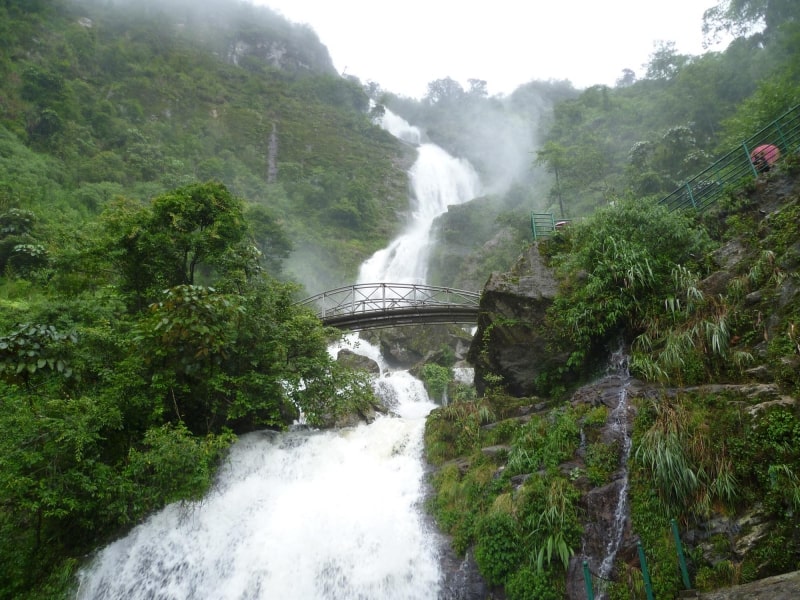 Silver Waterfall is one of the most beautiful waterfalls in Vietnam. This waterfall is over 200 meters high and comes from the Muong Hoa stream. Its surroundings are lush vegetation and breathtaking mountainous views.
Apart from enjoying the natural scenery, you'll feel relaxed with the cool splashing water and lively sounds of powerful running water. Many tourists on TripAdvisor praise this waterfall as one of the best places to visit in Sapa. Take note of the Silver Waterfall in your list of tourist attractions in Sapa!
Address: O Quy Ho Ward, Sapa Town, Lao Cai Province, located 12 km from Sapa Town center
Entrance fee: 20,000 VND/person
Stone Church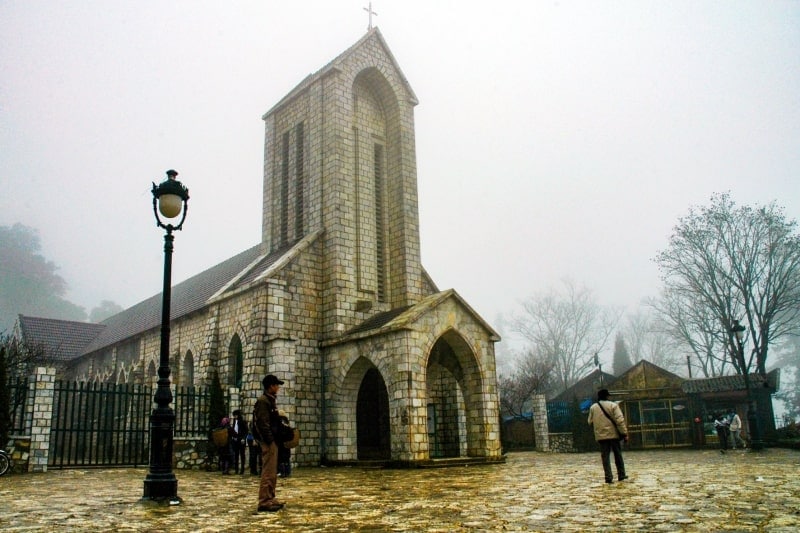 Built-in 1895 by the French, Stone Church has become one of the most renowned destinations in Sapa. According to Roman Gothic architecture, this 500-m² church is cross-shaped and includes seven compartments with a 20-m-high bell tower.
In front of Stone Church is the spacious courtyard, where local ethnic people gather to trade goods and attract visitors. Additionally, Love Market, where ethnic people date and express their feelings, occurs every Saturday. At Christmas, most parishioners flock to the church to pray and sing. The space of the church becomes fanciful, sparkling, and attractive.
Stone Church lures many visitors with its charm and uniqueness. A visit to this church is a must-do in Sapa.
Location: In the center of Sapa Town, Lao Cai Province
Bac Ha Market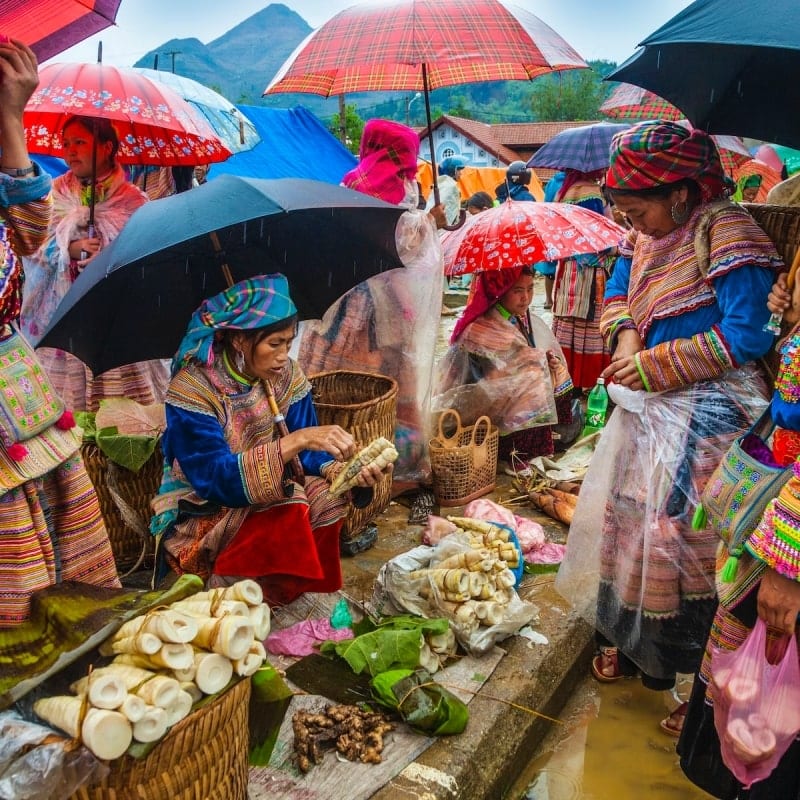 Bac Ha Market is one of the few markets that retains the pristine culture of ethnic minorities like Mong and Red Dao. Therefore, this place attracts lots of local and international tourists.
The market is vibrant with colorful and abundant goods, especially exquisite embroidery and brocade products. Furthermore, you can savor the specialties and drink the local wine, along with hearing the sound of trumpets and flutes of couples calling each other. This special feeling will be a memorable experience on your trip.
Location: Bac Ha Town, Lao Cai Province, located around 100 km from Sapa Town center
Ham Rong Mountain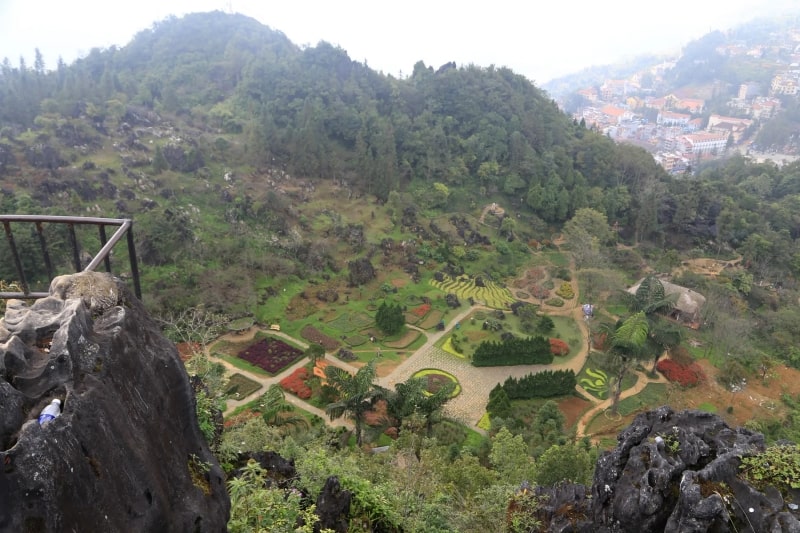 Ham Rong Moutain is a famous place in Sapa to climb mountains and take in landscapes as stunning as fairyland. The mountainous area here looks like the shape of three dragons, so some legends tell about these petrified ancient dragons.
The lowest point of Ham Rong Mountain is 1,450m, and its peak is over 1,800m. From the summit of Ham Rong, you can view all the hot spots of Sapa townlet, such as Muong Hoa Valley, Ta Van Village, Cat Cat Village, and more. The mountain is ideal for outdoor activities and watching glowing flowers in neighboring zones.
Location: In the center of Sapa Town, Lao Cai Province
Entrance fee: 70,000 VND/person
O Quy Ho Pass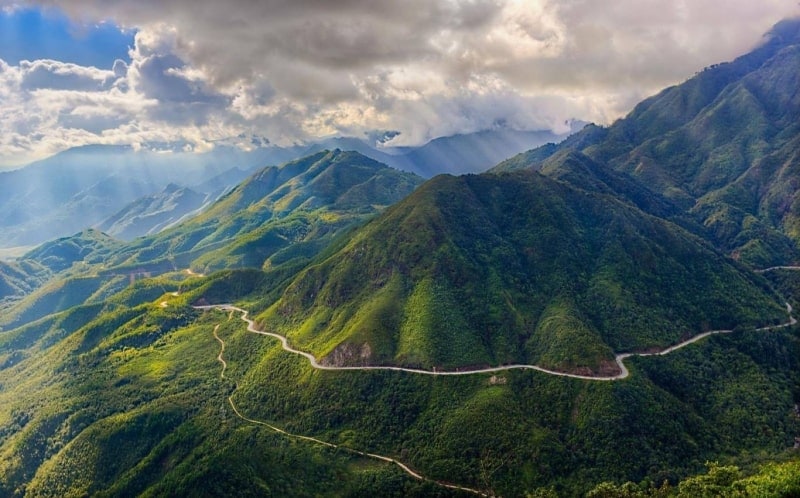 Located 12 km from Sapa Town center, O Quy Ho is one of the four most beautiful passes in Vietnam and also the longest and most dangerous pass. It's known as the "King of Passes", with deep valleys on one side and steep cliffs on the other.
At an altitude of 2,035m above sea level, O Quy Ho Pass is called "Heaven's Gate" by locals because the top is covered with clouds all year round, creating a beautiful and fairy scene. Any tourists traveling to Sapa must visit O Quy Ho Pass because of its stunning beauty.
Location: On National Highway 4D cutting across the Hoang Lien Son range, connecting the two provinces of Lao Cai and Lai Chau
Conclusion
We have already gone through the top 10 best places to visit in Sapa, and now you might understand why Sapa is so famous in Vietnam and worldwide. Booking a tour to Sapa for you and your family will be a fantastic experience. Don't hesitate to call us now; we're here to assist you with the best Vietnam tour package.
RELATED ARTICLES