If you're planning to explore Vietnam's stunning landscapes or vibrant culture, you won't want to miss the journey from Hanoi, the capital city in the north, to Hue, the historical gem in the central region. In this guide, Vietnamtour.in will walk you through the various transportation options and help you make the most of your trip from Hanoi to Hue.
The distance from Hanoi to Hue is approximately 700 kilometers (435 miles) and the timing can vary slightly depending on the specific route and the transportation you take.
Here's a more detailed breakdown of each transportation option for traveling from Hanoi to Hue:
By Flight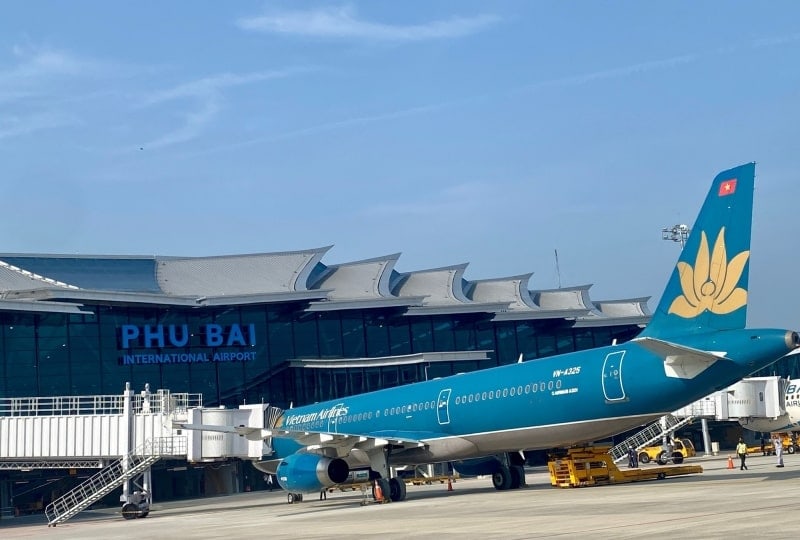 Airports: For those seeking speed and convenience, Noi Bai Airport in Hanoi and Phu Bai Airport in Hue serve this route.
Duration: A direct flight from Hanoi to Hue takes approximately 1.5 hours, making it the fastest option.
Airlines: Several domestic airlines, including Vietnam Airlines and VietJet Air, can book flights online or through travel agencies.
Airfare: Flights are generally the most expensive option. A one-way flight from Hanoi to Hue can cost about $50 to $150 or more, depending on the airline, time of booking, and class of service.
Pros:
The fastest way to get to Hue from Hanoi.
It is more comfortable and convenient than taking a bus or a train, as you can avoid traffic jams, long waits, and crowded seats.
There are many airlines that operate this route.
Cons:
It is the most expensive way to travel, as you have to pay for the flight ticket, airport fees, luggage fees, and transportation to and from the airports.
You will miss out on the views of the countryside.
Weather conditions, flight delays, and cancellations will affect your travel schedule.
By Train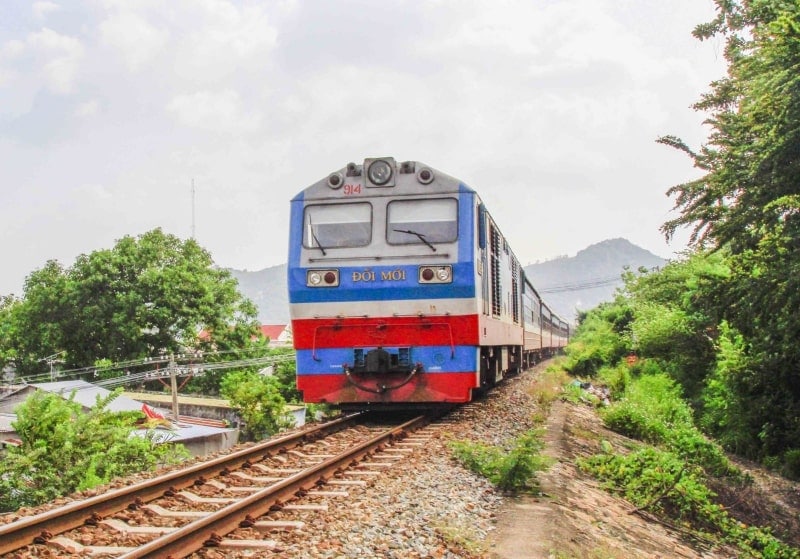 Train Stations: In Hanoi, you can catch a train to Hue from either Hanoi Railway Station or Gia Lam Railway Station. Both stations are accessible and well-connected.
Duration: The train journey from Hanoi to Hue typically takes between 12 to 14 hours. The duration can vary slightly based on the specific train and its stops.
Classes: Trains offer various classes of seating, including hard seats, soft seats, and sleeper berths.
Cost:
Soft Sleeper Berth: Range from $30 to $60, depending on the class and the train you select.
Hard Sleeper Berth: Hard sleeper berths are typically more budget-friendly, with prices ranging from $20 to $40.
Tips:
The sleeper berths are the most comfortable for a long trip
Train tickets can be booked online through the official Vietnam Railways website, at the train stations, or through travel agencies. It's advisable to book in advance, especially if you plan to travel during peak tourist seasons.
Pros:
A great way to enjoy the views of the countryside, the mountains, the coast, and the cities from your window seat.
Meeting and interacting with locals and fellow travelers on the train provides an opportunity for cultural exchange.
Cons:
The train journey takes longer compared to a flight
Trains may not offer as many daily departures as buses or flights, so flexibility in choosing departure times might be limited.
During peak travel seasons, it can be challenging to secure train tickets, and you may need to book well in advance.
By Bus
Bus Terminals: Long-distance buses to Hue depart from various terminals in Hanoi, with Nuoc Ngam Bus Terminal being one of the primary departure points for this route.
Duration: The bus journey from Hanoi to Hue takes approximately 12 to 14 hours.
Ticket Options: Buses offer a range of seat classes, from basic seats to more comfortable options. You can purchase bus tickets through local travel agencies or directly at the bus terminals.
Cost:
Standard Seating: A basic bus seat can cost anywhere from $10 to $25.
Sleeper Bus: The cost for a sleeper bus ticket is usually in the range of $15 to $35, with more comfortable sleeper buses on the higher end of that range.
Tips: Sleeper buses are available for overnight travel, offering reclining seats for a more comfortable journey.
Pros:
Bus travel is generally more budget-friendly than other options, making it suitable for travelers on a tight budget.
Offering a range of seating classes, including sleeper buses for overnight travel.
Buses usually provide a direct route from Hanoi to Hue without transfers.
Cons:
The bus journey takes a similar amount of time as the train.
Delays due to traffic congestion are possible, especially during peak travel times.
By Car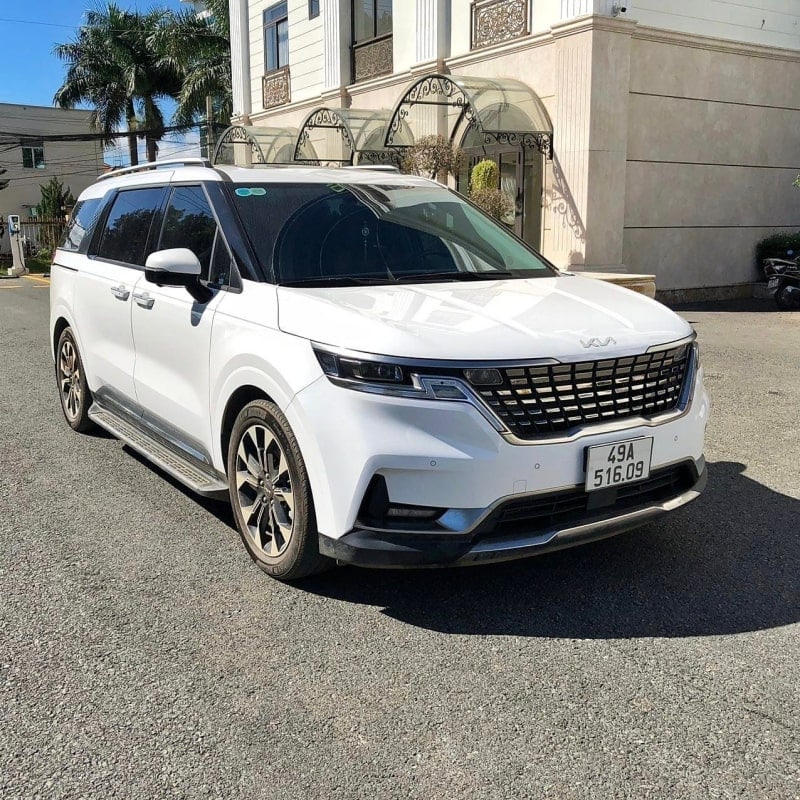 Route: The most common route to drive from Hanoi to Hue is to take National Route 1 (QL1A). The journey is about 700 kilometers (435 miles)You'll pass through various cities and beautiful landscapes, offering opportunities for sightseeing.
Duration: around 12-14 hours of driving time, depending on road conditions and stops along the way.
Vehicle Rental: You can rent a car in Hanoi from various rental agencies. Renting a car in Hanoi can cost around $30 to $100 per day for a standard vehicle such as Otochothuetulai.vn, Mioto.vn, otovina.vn
Additional Costs: You should also budget for fuel, tolls, parking, and potential accommodation if you plan to break the journey into multiple days.
Tips: Prepare necessary driving licenses and insurance, and check the condition of the vehicle before starting your journey.
Pros:
Driving by car allows you to set your own schedule, make stops, and explore areas along the route.
You can visit scenic spots like the Hai Van Pass and historic sites at your leisure.
If traveling with a group, the cost per person can be economical.
Cons:
The drive takes longer than flying.
Road quality may vary, and some sections could be in poor condition.
You need to possess the necessary licenses and have a good sense of direction for navigation.
By Motorbike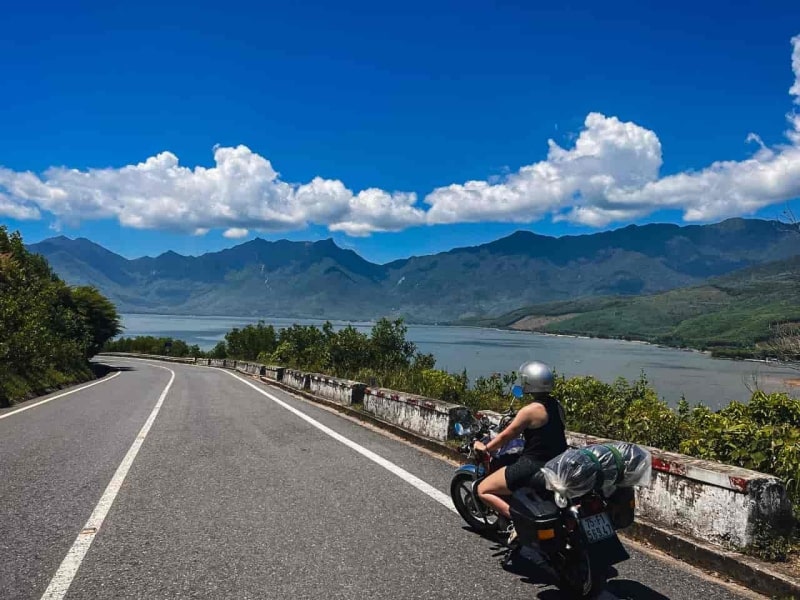 Route: The road trip from Hanoi to Hue by motorbike offers the freedom to explore at your own pace. The route includes the famous Hai Van Pass, which is renowned for its stunning coastal views.
Duration: around 12-14 hours of driving time, depending on road conditions and stops along the way.
Cost:
Rental: Renting a motorbike in Hanoi can cost approximately $5 to $15 per day for a basic scooter. If you prefer a more powerful motorcycle or a more reliable model, the rental cost may be higher.
Fuel: The cost of fuel is relatively affordable in Vietnam. You can expect to spend around $10 to $20 on fuel for the entire journey, depending on the distance and your motorcycle's fuel efficiency.
There are many motorbike rental companies in Hanoi that offer this service, such as Motogo, thuexemayhanoigiare.com
Tips: Ensure you have the necessary licenses to ride a motorcycle in Vietnam. It's crucial to wear protective gear, including a helmet and appropriate clothing. Check the road conditions and traffic conditions in advance, as some roads may require extra caution.
Pros:
Riding a motorbike offers the freedom to explore at your own pace. You can make stops and detours as you wish, allowing for spontaneous adventures.
It's often more budget-friendly than other modes of transportation.
Riding through Vietnam's countryside and coastal areas can provide breathtaking and immersive views. The famous Hai Van Pass is a highlight of the journey.
Cons:
Accidents frequently occur in extremely hectic and hazardous traffic.
Poor road quality in certain areas.
Conclusion
As you can see, there are many ways to get from Hanoi to Hue, each with its own pros and cons. But you are still overwhelmed by the options. That's where Vietnamtour.in comes in. We offer a Vietnam tour package that lets you explore both. You'll get to see the vibrant culture, history, and nature of Vietnam while enjoying comfortable accommodations and transportation without worrying about the costs.
So what are you waiting for? Book your tour package with us today and get ready for an unforgettable adventure!
RELATED ARTICLES