Vietnam is a country of diverse landscapes and vibrant culture, making it a popular destination for Indian travelers. Hanoi, the bustling capital of Vietnam, and Nha Trang, a picturesque coastal city, are two must-visit places. To help Indian visitors navigate this journey, Vietnamtour.in has prepared a comprehensive guide on how to get from Hanoi to Nha Trang using various transportation options, including flights, trains, buses, cars, and even motorbikes.
The distance between Hanoi and Nha Trang is approximately 1,450 kilometers (about 900 miles) when traveling by road. This distance may vary slightly depending on the specific route you take, but it's a long journey regardless of the route chosen. The mode of transportation you select will determine the time it takes to cover this distance.
By Flight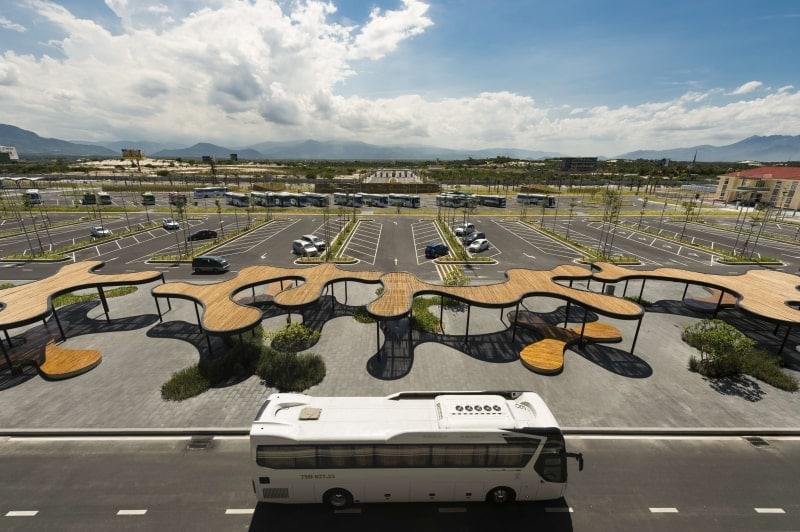 The fastest way to travel from Hanoi to Nha Trang is by taking a direct flight.
Airports: Several airlines offer daily flights between Noi Bai Airport in Hanoi and Cam Ranh Airport in Nha Trang.
Airlines: Vietnam Airlines, Bamboo Airways, and VietJet Air offer this router.
Duration: The flight duration is approximately 1.5 hours, making it a convenient and time-saving option.
Cost: Flight ticket prices can vary widely. On average, you can expect the following price ranges:
Economy Class: $80 – $130
Business Class: $160 – $200
Pros:
Flights are the quickest way to travel.
You can enjoy a more comfortable and less tiring journey.
Airlines offer multiple flights daily, providing flexibility in choosing departure times.
Cons:
Flights can be more expensive than other options.
You miss out on experiencing the scenery and culture along the way.
You need to account for transportation to and from the airports.
By Train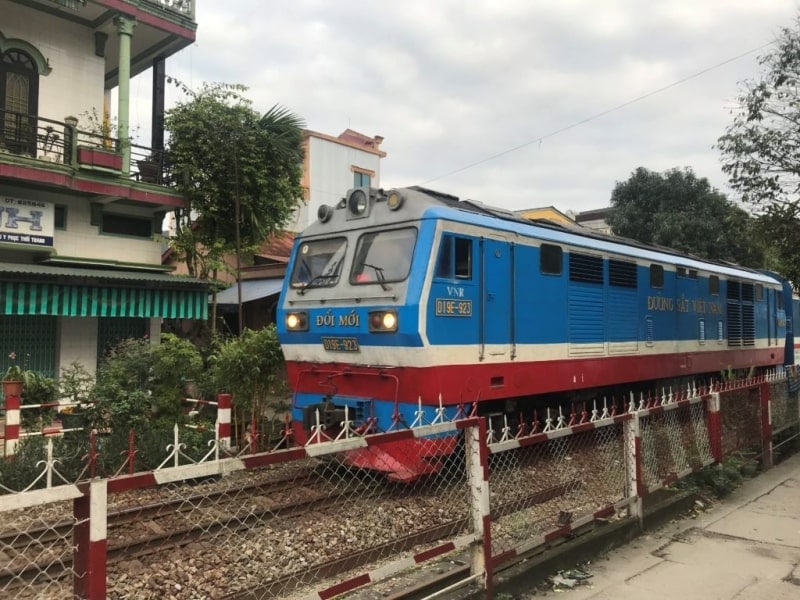 Traveling by train from Hanoi to Nha Trang is a unique experience that allows you to enjoy the scenic beauty of Vietnam's countryside.
Train: The Reunification Express Train, which runs along the coastline, connects Hanoi and Nha Trang.
Duration: The journey takes about 25-30 hours, so be prepared for a long but memorable trip.
Cost: Train ticket prices vary based on the class of service and the type of berth. Here are approximate price ranges:
Hard Seat: $25 – $40
Soft Seat: $45 – $60
Soft Sleeper (4-berth compartment): $60 – $80
VIP Sleeper (2-berth compartment): $80 – $100
Tips:
Opt for sleeper class tickets for a more comfortable journey, especially for long-distance travel.
Bring snacks, water, entertainment, and warm clothing as train cabins can get chilly.
Pros:
Train journeys offer beautiful views of the Vietnamese countryside.
Train tickets are usually budget-friendly.
Sleeper class provides a reasonably comfortable option for long trips.
Cons:
Train travel typically involves a longer duration in comparison to air travel.
Trains may have fewer daily departures available when compared to buses or flights, which could limit flexibility in selecting departure times.
Securing train tickets can be a challenge, especially during peak travel seasons, often requiring advanced booking.
By Bus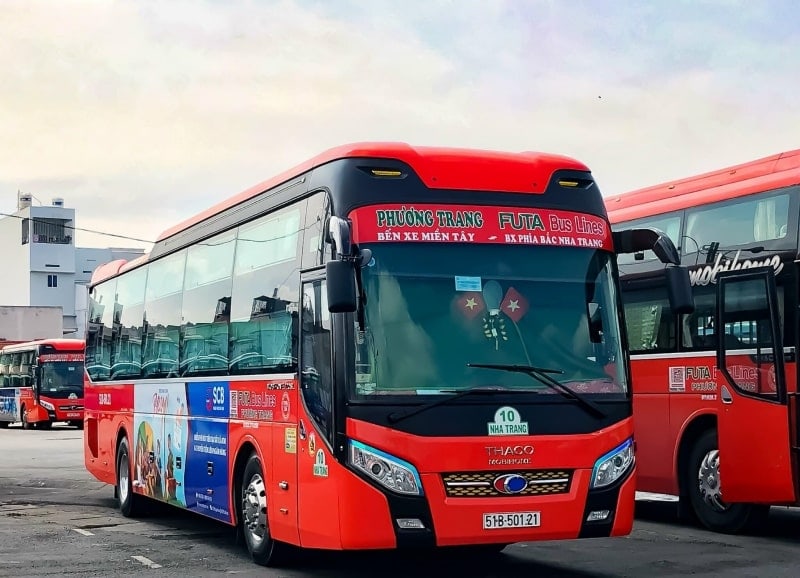 If you're looking for a budget-friendly option, taking a bus from Hanoi to Nha Trang is a viable choice. Numerous bus companies operate on this route, and you can opt for sleeper buses for a more comfortable ride.
Duration: The journey takes around 30-40 hours, and while it's economical, it can be tiring due to the extended travel time.
Cost: Bus tickets are more budget-friendly, with prices as follows:
Standard Seat: $20 – $35
Sleeper Bus: $35 – $50
Tips:
Research and choose well-established and reputable bus companies to ensure a more reliable and comfortable journey. Check vexere.com to chose the route from Hanoi to Nha Trang
Opt for sleeper class tickets for a more comfortable journey, especially for long-distance travel.
Bring snacks, water, entertainment, and warm clothing as bus cabins can get chilly.
Pros:
Buses are typically the most budget-friendly option.
Many bus companies operate this route, offering flexibility in scheduling.
You can select standard or sleeper buses depending on your preference.
Cons:
The journey can be very time-consuming, taking around 30 to 35 hours.
Standard buses may be less comfortable for extended periods.
By Car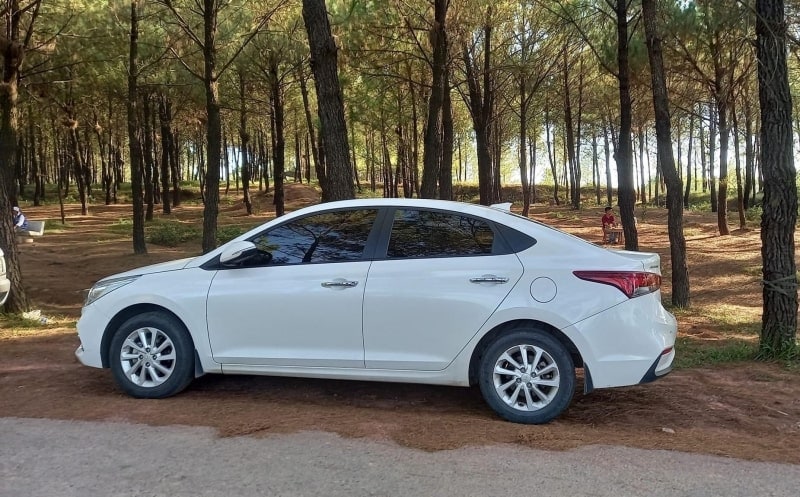 For those who prefer flexibility and are looking to explore the countryside at their own pace, renting a car can be a great option.
Duration: The drive from Hanoi to Nha Trang covers a distance of about 1,450 kilometers and takes approximately 30 hours.
Vehicle rental: You can rent a car in Hanoi from various rental agencies.
Renting a car in Hanoi can cost around $30 to $100 per day for a standard vehicle such as Otochothuetulai.vn, Mioto.vn, otovina.net
Additional costs: You should also budget for fuel, tolls, parking, and potential accommodation if you plan to break the journey into multiple days.
Tips: Prepare necessary driving licenses and insurance, and check the condition of the vehicle before starting your journey.
Pros:
Traveling by car provides the freedom to create your own itinerary, take breaks, and discover new places along your journey.
If traveling with a group, the cost per person can be economical.
Cons:
The car journey requires more time compared to flying.
Road conditions can fluctuate, with certain segments potentially being in subpar shape.
A valid driver's license and a strong sense of direction for navigation are essential prerequisites.
By Motorbike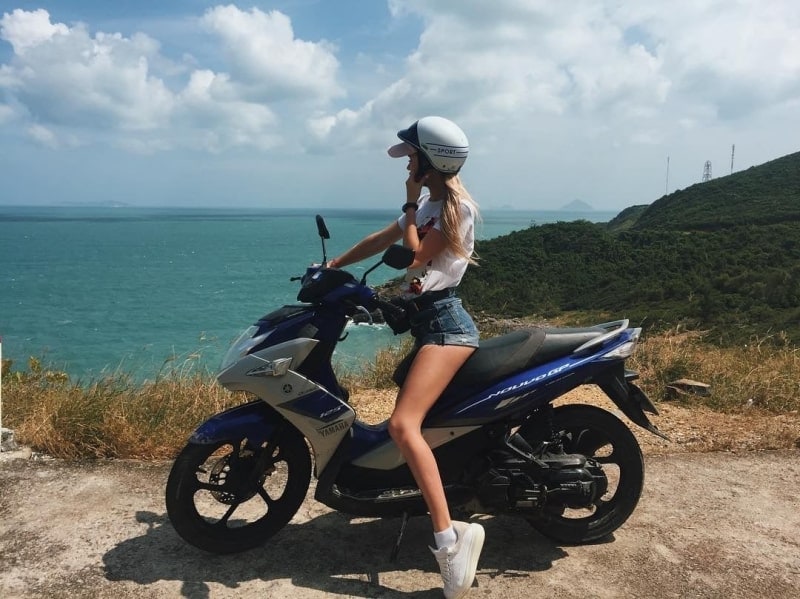 Traveling from Hanoi to Nha Trang by motorbike is an adventurous option for those with experience in long-distance riding.
Duration: around 24 – 28 hours of driving time, depending on road conditions and stops along the way.
Cost:
Rental: Renting a motorbike in Hanoi typically ranges from $5 to $15 per day for a basic scooter. Opting for a more powerful motorcycle or a more dependable model may result in a higher rental fee.
Fuel: Fuel costs are quite economical in Vietnam, with an estimated expenditure of $15 to $25 covering the entire trip. The actual amount may vary depending on the distance traveled and your motorcycle's fuel efficiency.
Numerous motorbike rental companies in Hanoi provide this service, including options like Motogo and thuexemayhanoigiare.com.
Tips: Make certain that you possess the required licenses for motorcycle riding in Vietnam. Prioritize safety by wearing protective gear, including a helmet and suitable clothing. Always stay informed about road and traffic conditions in advance, as certain routes may demand extra caution.
Pros:
Riding a motorbike grants you the liberty to discover at your own leisure.
You have the flexibility to make stops and take detours, creating room for unplanned adventures.
It is frequently a more cost-effective choice in comparison to alternative transportation options.
Journeying through Vietnam's rural and coastal regions offers stunning and immersive vistas.
Cons:
Accidents are a common occurrence in highly congested and risky traffic conditions.
Some regions suffer from inadequate road quality.
Conclusion
Traveling from Hanoi to Nha Trang offers Indian visitors a chance to explore the beauty of Vietnam. Opting for a tour package from Vietnamtour.in is indeed a convenient and worry-free way to travel from Hanoi to Nha Trang. Our Vietnam tour packages often include transportation, accommodations, guided tours, and other amenities, ensuring a smooth and enjoyable journey. This can be an excellent option for travelers seeking a hassle-free and well-organized trip.
RELATED ARTICLES