The journey from Hanoi to Ho Chi Minh City is a mysterious and fascinating route that any visitor would like to experience when coming to Vietnam.
Conquering this route is a great way to enjoy the scenery and culture of this beautiful country. What kind of transportation can you take from Hanoi to Ho Chi Minh City, then?
Whether you choose to travel by plane, train, bus, rental car, or motorcycle, alternatives are available to make your trip relaxing and pleasurable. Which one is the most economical pick? Which one is the fastest?
Each mode of transportation gives a distinctive experience to travelers. Let's consider the recommendation of Vietnamtour.in to choose which best suits your vacation!
How To Get From Hanoi To Ho Chi Minh?
Travelers have five ways to arrive in Ho Chi Minh City from Hanoi. Each has benefits and drawbacks, which we will discuss in more detail.
Distance from Hanoi to Ho Chi Minh City
Ho Chi Minh City is a city in Southern Vietnam, while Hanoi is the Vietnamese capital located in the country's North. A distance of 1.594 kilometers separates Hanoi and Ho Chi Minh along with the 1A national avenue.
Before arriving in Ho Chi Minh City, you'll pass by several provinces, including Hue, Hoi An, Da Nang, and Nha Trang.
The trip along 1A national avenue will take you 30 hours. Traveling from Hanoi to Ho Chi Minh City takes longer than traveling between European nations.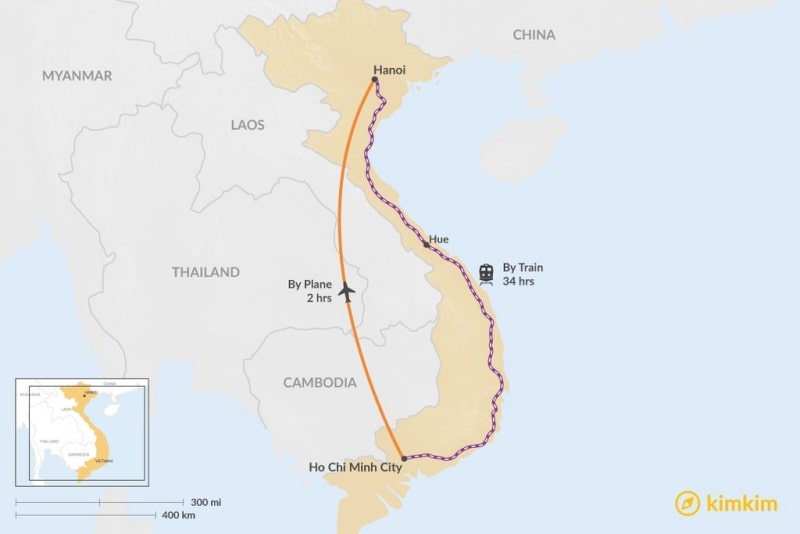 Plane
Taking a flight is the quickest method to go from Hanoi to Ho Chi Minh City. Instead of driving for over 30 hours, it will only take 2 hours on a flight. Four Vietnamese airlines that offer service between the two cities include Vietnam Airlines, Bamboo Airlines, Pacific Airlines, and Vietjet Airlines.
Vietnam Airlines is a state-owned enterprise that runs approximately 21-23 daily flights from Hanoi to Saigon. There will be one flight every 60 minutes. If you are not in a hurry, Vietjet Air and Pacific Airlines will be the ideal choices for you on an economical journey. Vietjet Air offers about 16 flights/day.
It takes about 2 hours and 20 minutes to fly from Hanoi to Saigon. However, the flight time depends on many objective factors, so it may be earlier or later than planned.
Besides choosing the most satisfactory flight itinerary, you should pay attention to the ticket price. Flights from Hanoi to Saigon updated in June 2023 have fares from VND 2,317,256 ($98.68).
Notes
Book your flight about two to three months in advance. It costs more to arrange a trip the closer it is to the departure date.
You may save a lot of money by purchasing the tickets in advance since you can locate the promotional tickets. Early morning or late night flights are also acceptable for a more cost-effective journey.
When booking a ticket, check if it includes the checked baggage. However, some options may consist of something other than checked baggage.
After paying for your ticket, they will send all the flight information to your email. Most airline companies allow online check-in to eliminate long waiting times at the airport.
Pros
Save time
Dedicated service
Various flight times and routes
Many promotions
Cons
Extra charges
No chance to see the scenery along the way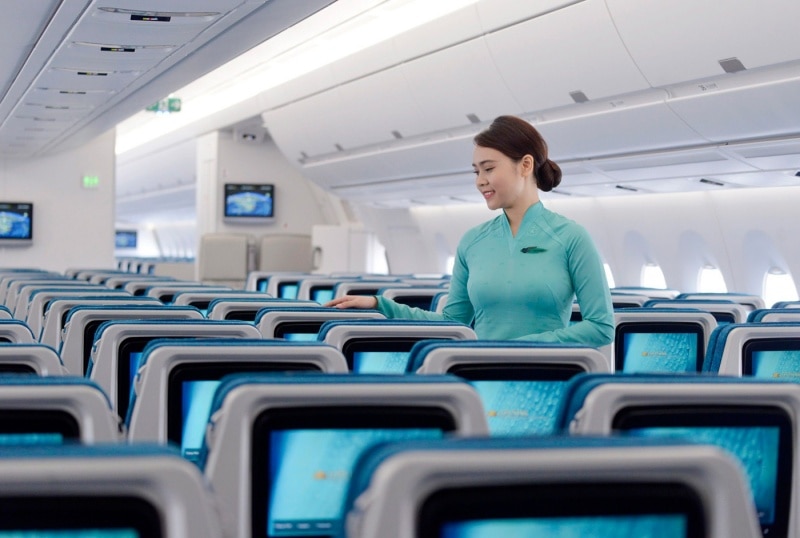 Train
Traveling by train is more economical if you have enough time to spend your vacation in Vietnam. It is far less expensive than a flight and more pleasant than making lengthy road journeys in a cramped bus. You may see Vietnam's varied landscape, including its coast, jungles, mountains, and towns.
The distance between the two stations is 1,726 kilometers. SE3 and SE4 are the fastest north-south trains, taking 31 hours and 20 minutes to travel from Hanoi to Ho Chi Minh City or vice versa.
This number gradually increases in slower trains. It takes you up to 35 hours to sit on SE5 and SE6.
Depending on the kind of seat, the price of a one-way train ticket starts from 927.000 VND ($39,48). You may pick from various ticket options, including soft chairs, hard sleepers, and soft sleepers.
Luxury trains include sleeping quarters with air conditioning, clean bathrooms, and eating spaces. A hot lunch of rice with beef or fish sauce was available at all the food stands, along with bottled water, soda, steaming coffee, and tea.
The Vietnam Railways Corporation is where you may obtain information and up-to-date schedules. However, not all of the information on this page is available in English.
Notes
Book tickets within 1 to 2 months before the trip to hunt for cheap tickets and get your favorite seats.
Train fares often increase sharply on holidays, Tet, or summer holidays.
Show the tickets to the officials before getting on the train.
Avoid purchasing food from street sellers due to the high cost and risk of food poisoning.
When arriving at the stops, you should take good care of your luggage to avoid theft.
Pros
Easy ticket booking
No baggage check
Opportunity to contemplate beautiful Vietnam landscapes
Simple check-in and check-out process
Cons
Foreigners need Vietnamese-issued credit cards to make reservations for rail travel in Vietnam on the DSVN website.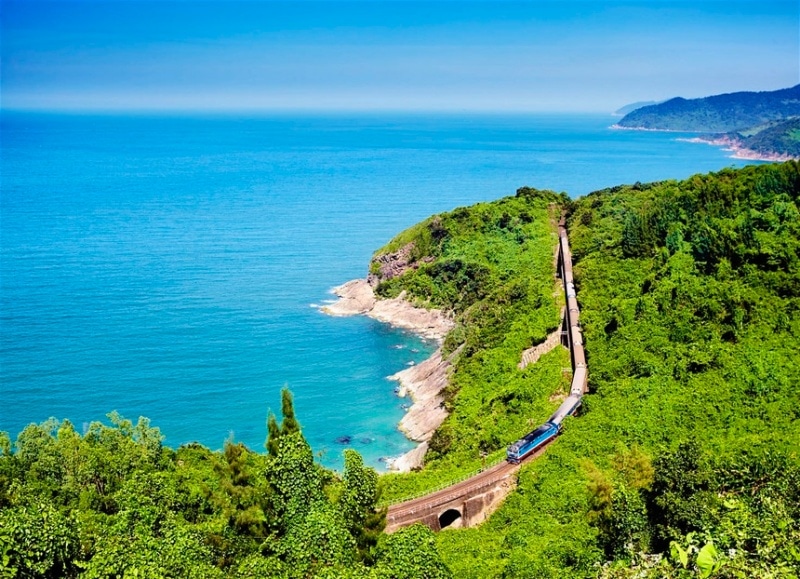 Open Bus
It is easy to get an open bus from Hanoi to Ho Chi Minh City. On average, there are many buses scheduled from 07:00 to 20:00 on this route, such as:
Phuong Trang
Sinh Cafe
Hanh Cafe
Hung Thanh
It takes you about 40 hours to sit on the bus. These buses depart from Giap Bat, Yen Nghia, and Nuoc Ngam stations in Ha Noi to Mien Dong and Nga Tu Ga stations in Sai Gon.
You may board the bus at any location these buses pass by. However, it would help to talk to the ticker seller beforehand for advice on the best place to wait for buses.
Notes
Arrive at the bus stop around 30 minutes before the departure time.
Carefully observe your bus's brand names and license plates because some buses have the exact departure time.
Possibilities of encountering pickpockets on buses. So, you should place your passport and ID card in your luggage.
Set your alarm to prevent oversleeping.
No eating or drinking while on the bus. You may get off and enjoy the food at the stops.
We recommend reserving a hotel room and booking a taxi/Grab car in advance.
Pros
Cost savings
Allow a lot of luggage
Cons
Bus drivers may not be fluent in English
Long travel time
Tired/ Carsick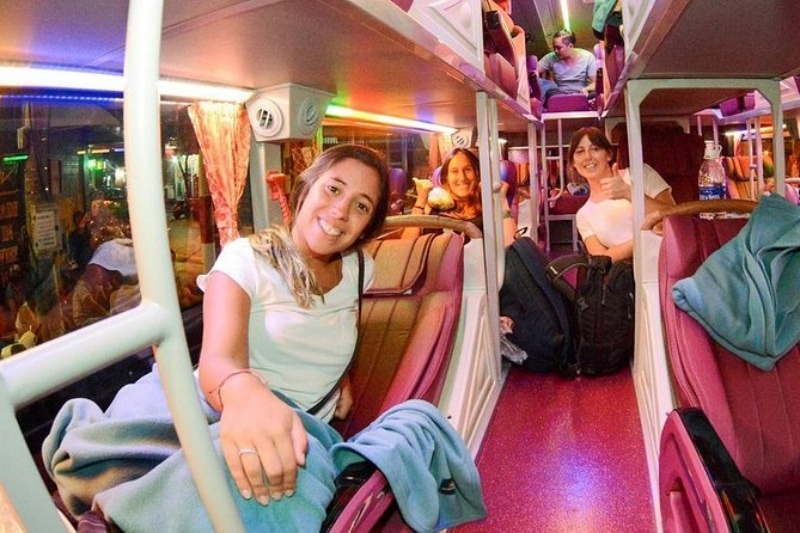 Rental Car
Many travelers shared that using rental cars to travel from Hanoi to Ho Chi Minh City resulted in a fantastic experience and a memorable holiday for them.
Depending on the car model, renting an automobile in Vietnam can cost about 600,000 VND ($25,55). Although there are various picks, 4- and 7-seat cars are the most popular.
The price of self-driving car rental in Hanoi also depends on the car rental shops and the model. In particular, car rental prices also significantly increase during holidays.
It is also challenging to find a car these days. We recommend making a reservation 2-3 weeks before the holiday trip.
In addition to searching for car rental shops in Hanoi, you can book a car through a website or mobile application. You can easily and quickly compare the prices and find a vehicle that suits your needs.
Notes
The minimum age to drive a car in Vietnam is 21 years old
It would help to buy local insurance to legitimate your International Driving Permit.
Pros
A variety of options that meet your demands and financial constraints
Best for group travel
No need to transport your baggage from one place to another
It's absolutely up to you where and when you go
You may stop at any moment to eat, exercise, snap pictures, or visit regions of Vietnam that most people don't
Cons
You are responsible for paying the gasoline costs
Demand upfront payment or a deposit
Traffic chaos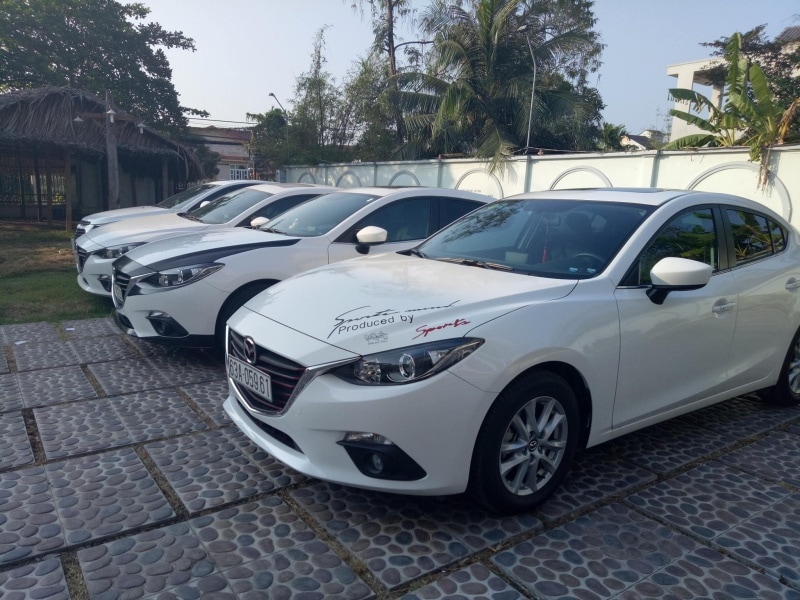 Motorbike
Riding a motorcycle from Hanoi to Ho Chi Minh City may be the best way to see Vietnam's natural beauty, giving a deeper understanding of Vietnamese culture. Passing by crystal-clear beaches, spectacular mountains, and endless rice fields will give you a unique experience.
Renting a motorcycle may cost between 150.000 and 200.000 VND ($6,39 to $8,52) per day or between 2.000.000 and 3.000.000 VND ($85,17 to $127,75) per month. You may also buy a used motorbike in Hanoi and sell it in Saigon.
The semi-automatic Honda Blade, Honda Wave, and Honda Future are excellent options for traveling. The Honda Win is affordable, has manual gear, and has room for your backpack.
The Yamaha Mio and Yamaha Nuovo are also the most often used. They have powerful motors for rough terrain.
There are three motorcycle routes that you may choose from:
It's a peaceful route with spectacular mountain ranges. However, there are few tourist attractions.
The Beaches Motorbike Route
You may reach some lovely coastal towns along this road, including Quang Ngai and Quy Nhon. Nha Trang is a significant tourist destination, making it an ideal route for beach enthusiasts, although it's more crowded.
The Mountains and the Beaches Route
It takes at least an extra day longer than the first two. But this route is best for most travelers because you may visit Quy Nhon, Nha Trang, and Dalat.
Notes
For motorbikes under 50 cc, a driving license is not required.
You must have a Vietnamese A1 license for driving motorbikes between 50 and 175 cc capacity, while an A2 is needed for over 175 cc.
Vietnam does not accept foreign driving licenses for motorbikes.
You must get a blue card from the owner when purchasing or renting a motorcycle. You can face legal difficulty if you are arrested without this blue card.
When riding a motorcycle, helmet use is required.
Alcohol tolerance is from 0 to 0.5 for motorcycle riders.
Pros
Ideal for taking in the scenery and stopping anytime you like.
A distinctive and daring experience.
Quickly and affordably travel.
Cons
Accidents frequently occur in extremely hectic and hazardous traffic.
Please only rely on Google Maps' predicted travel times if they reflect Vietnam's current traffic and road conditions.
Poor road quality in certain areas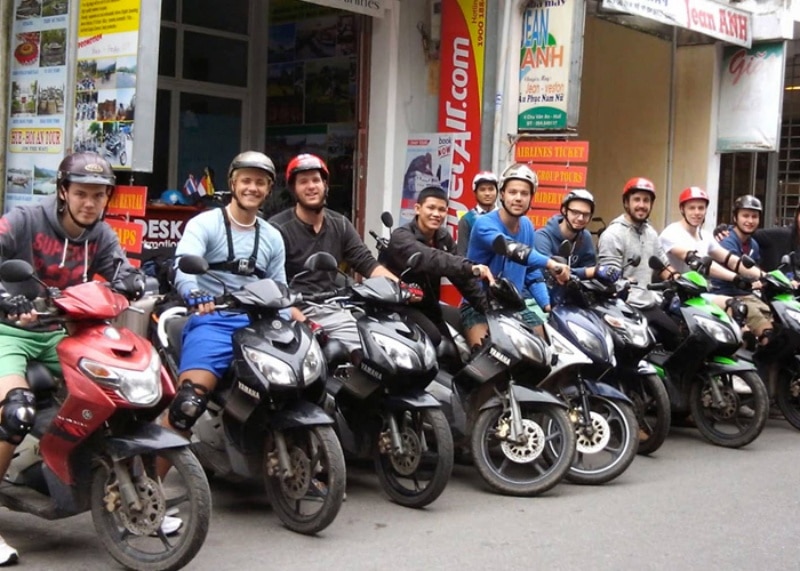 Recommended Itinerary
If you are a foreign traveler coming to Vietnam for the first time, we recommend booking a Vietnam tour package which optimizes the choices of transportation. A package tour can save your quality travel time and provide more opportunities to enjoy the best of Vietnam.
At Vietnamtour.in, there are several itineraries with a Hanoi to Ho Chi Minh City route from which you can select, such as the Six days from North to South Vietnam package and the Five days North and South of Vietnam one. With these tours, you will:
Start the excursion with a ride through the bustling alleys of Hanoi's old district before setting a cruise over the beautiful natural splendor of Halong Bay.
Transfer to Ho Chi Minh City to see the Cu Chi Tunnels and learn about the history of warfare.
Sail on the Mekong River to see the rural area before going home… and so on.
Our customers who took these excursions had positive things to say about these tours. Please don't hesitate to contact us if you require a more specialized tour from Hanoi to Ho Chi Minh City.
Wrapping Up
Vietnam is a stunning nation with a deep cultural history and incredible natural beauty. Take the opportunity to have a great stay if you are considering a trip to Vietnam.
Through this article, we suggest that the most popular modes of transportation from Hanoi to Ho Chi Minh City is by plane, train, open bus, rental car, and motorcycle. Among those, traveling by plane is the quickest and the most expensive option.
Hopefully, this thoughtful guide may help you to plan your itinerary. Hopefully, you will have a memorable experience in the country of wonders!
RELATED ARTICLES