Halong Bay is a famous tourist destination for beach vacations in Vietnam. It is located on the west coast of the Tonkin Gulf in Northeastern Vietnam. With thousands of magnificent islands, Ha Long Bay has been recognized by UNESCO as natural heritage of the world for many years. Therefore, local tourism has attracted both domestic and international tourists with attractive scenery.
Annually, there are thousands of foreigners arriving in Halong Bay. So, transportation in the local and surrounding areas is highly developed to fulfill the demand. Moving from Hanoi to Halong Bay is no longer a problem.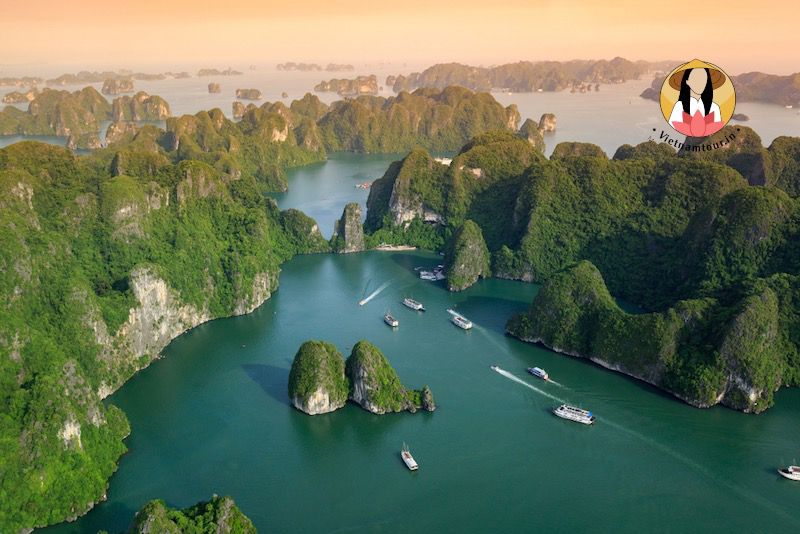 Ultimate Guide on How to get from Hanoi to Halong Bay in 2023
If you are not new to our website, you must have read our Ultimate Guide on How to Reach Vietnam from India. Today, we are introducing you to several ways ranging from cheap to expensive or from slow to fast to get to Halong Bay from Hanoi. Let's go!
By Private Motorbike or Car
Traveling to Halong from Hanoi by motorbike is not an ideal choice for most tourists, but it is popular with the youth who like strong feelings. Although it takes about four hours (Hmm, it is quite long, isn't it?) and you easily get tired during the journey, you can stop everywhere you want to take photos and rest.
However, if you are an amateur driver, this choice of transportation is very dangerous, so please make sure to go by the direct route and follow safety rules. The route starts from Hanoi. Thanks to Bach Dang Bridge, which opened in the middle of 2018, it is now only 130 kilometers long. This is the shortest route from Hanoi to Ha Long. If you move by car, it takes only one hour and a half.
By Bus
In general, commuting by bus is beneficial in convenience and comfort. Tourist buses, owned by travel companies, often focus mainly on foreign tourists. If you have a lot of time, it is great to move by bus because it is more economical and flexible. In case you only have a day for the trip, you should go out before 7 AM to spare time for other activities.
For small groups of visitors, who are not familiar with the local geography, the bus is the best means of transportation. It takes you about three to four hours. Bus routes start from the center of Hanoi. You can take a taxi to the station. Besides, there are also high-qualified transport companies like Hoang Long Express with many buses departing during the day. The frequency is every 15 minutes from Kim Ma bus station on Nguyen Thai Hoc Street.
Besides, at My Dinh bus station, the first bus departs at 6 AM and the last one starts at 5 PM. There is a bus every 5 to 15 minutes. It will stop at Bai Chay station in Ha Long, Quang Ninh Province. The ticket ranges from 100,000 VND /person (for an adjacent seat) to 200,000 VND/person (for a berth seat).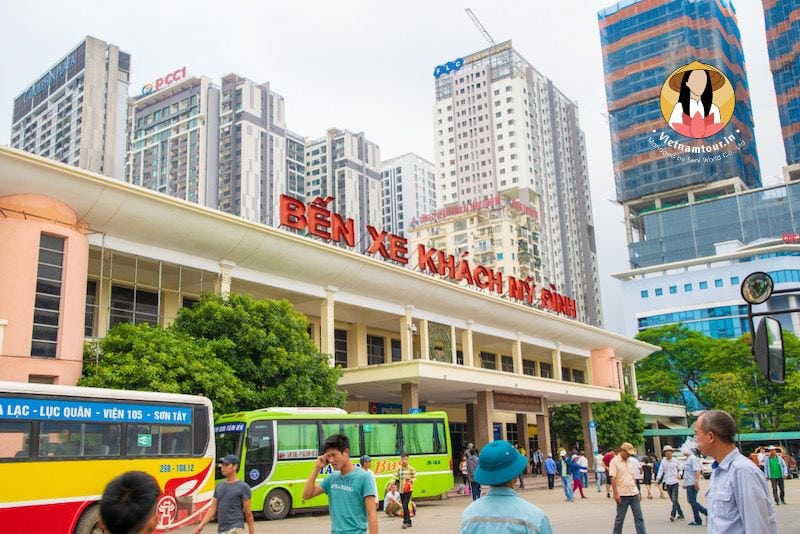 By Train
Domestic tourists often prefer this kind of transportation because of its affordable price. By train, you have chances to enjoy the beautiful scenery along the way. The route lasts 7 hours. So, it is not an appropriate choice for travelers.
From the train station, it will take you some time and money to catch the bus to the city center. You will have to wake up earlier if you want to explore all of the corners of Halong Bay. Do not forget that the bus station is far from the train about 5 kilometers. So, you should make sure to arrive on time. The railway ticket is about 100,000 VND/way/person. You can choose air-conditioned soft seats and hard seats at different prices. The train from Hanoi to Ha Long usually offers the latter option.
By Airplane
Vietnam Airlines has just opened a new flight route from Noi Bai International Airport to Van Don International Airport at the end of 2018.
After landing at the airport of Quang Ninh Province, you keep going on Ha Long – Van Don highway for about 60 kilometers to reach Halong Bay. Therefore, you can save a lot of time. Buy a flight ticket with 500,000 VND and come to the beautiful destination right now!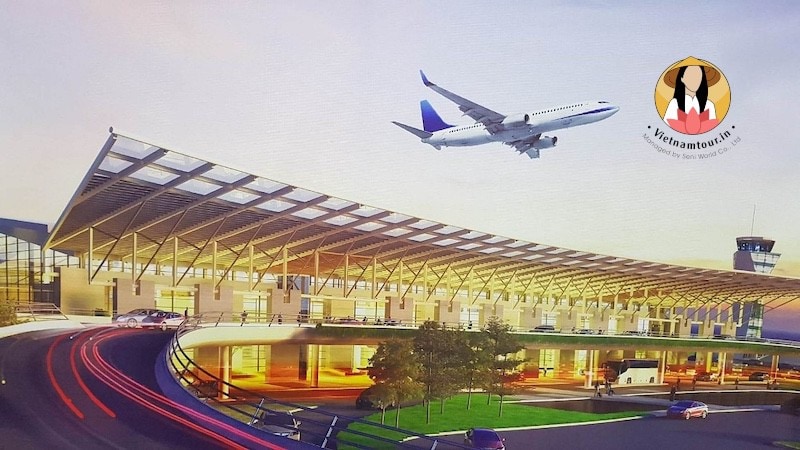 By Helicopter
Moving by helicopter is a new travel mode from Hanoi to Ha Long. But this is a quite risky way. For 45 minutes, you can admire the beautiful scenery of Ha Long from above.
The flight departs from Gia Lam Airport, with a capacity of seven people including pilots and passengers. So, it is only suitable for small groups of tourists. Currently, many travel companies combine this service on their tour so that visitors can move to Ha Long at the most economical price instead of hiring a helicopter with thousands of dollars. Although it is not cheap, it is still risky. However, if you are a risk-taker, you can choose this way to have great experiences.
By Seaplane
The seaplane is an unfamiliar means of transportation. It is because of the fact that it is luxurious and expensive. Like the helicopter, it also takes you 45 minutes to move. However, staying in seaplane creates feeling of surfing on the water surface. These seaplane flights depart from Noi Bai Airport to Ha Long, costing about 275 USD.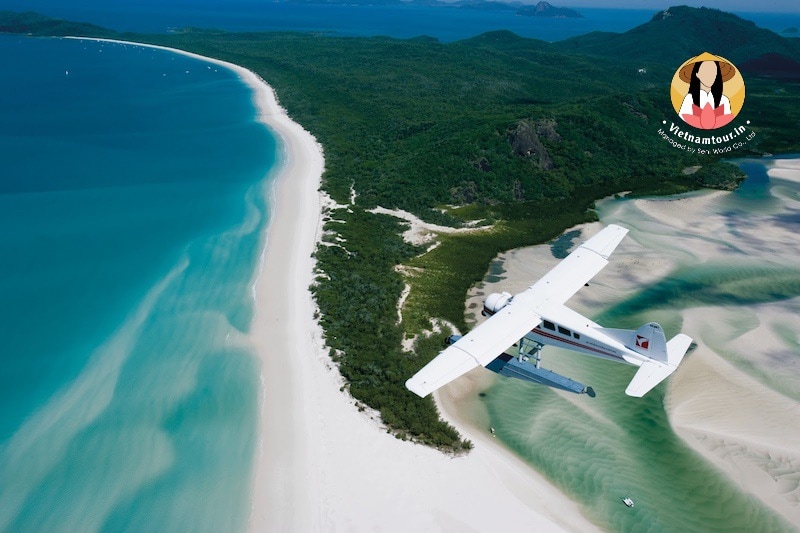 Conclusion
There are many criteria to consider when choosing the travel ways from Hanoi to Halong Bay. It includes budget, time, safety, concerns, etc. Similarly, a great number of means of transportation are available to satisfy you. Private motorbikes, cars, buses, trains, airplanes, and seaplanes are common options.
Knowing how to reach Halong Bay from Hanoi will help you have a fun, economical, and safe trip. Hopefully, the information above is useful for you. For more tips and ideas about your trip to Vietnam, please feel free to read more on our website. Have a great journey!
RELATED ARTICLES