Hoi An is known as a tourist destination that is loved by many Indian travelers. This nostalgic city always has its own ways to attract visitors when anyone has the opportunity to come here.
If you combine visiting Da Nang and Hoi An, you will have a cost-effective travel package full of interesting and exciting experiences. How to get from Danang to Hoi An? What is the most convenient way?
There are several means of transportation for traveling from Da Nang to Hoi An. This comprehensive guide of Vietnamtour.in describes various routes from Da Nang to Hoi An, including timetables, prices, and instructions for purchasing tickets. So, let's dive into the guide below!
How To Get From Danang To Hoi An?
What is the best transportation for traveling between Da Nang and Hoi An? The following instruction will continue to provide the solutions.
Distance from Danang to Hoi An
It will help if you determine the precise distance between Da Nang and Hoi An. Hoi An city is about 30 km from Danang, taking you 40-50 minutes to drive a car.
Several ways enable you to get to Hoi An sooner than anticipated. However, there are some routes that take you a long time.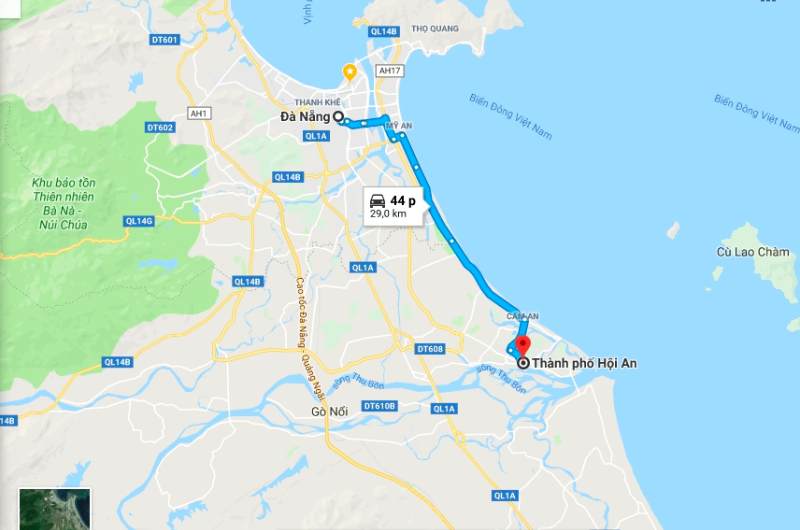 Danang to Hoi An by Public Bus
A bus is a good choice for those who depart from the city's center. The No. 01 route transfers between Da Nang and Hoi An.
Buses from Danang to Hoi An depart from each station every 20 minutes from 5:30 am to 6 pm daily. It takes around 70 – 80 minutes to get from Da Nang to Hoi An or vice versa.
You may buy the ticket after boarding the bus. In Vietnam, there is no online ticketing system for buses.
You need to read the price written on the ticket and pay the appropriate amount. It costs only around 30,000 VND for each passenger at every turn, which is comparatively inexpensive compared to other means of transportation.
Pros
Inexpensive
Flexible timetable
No booking
Cons
Packed crowd
Lack of room for baggage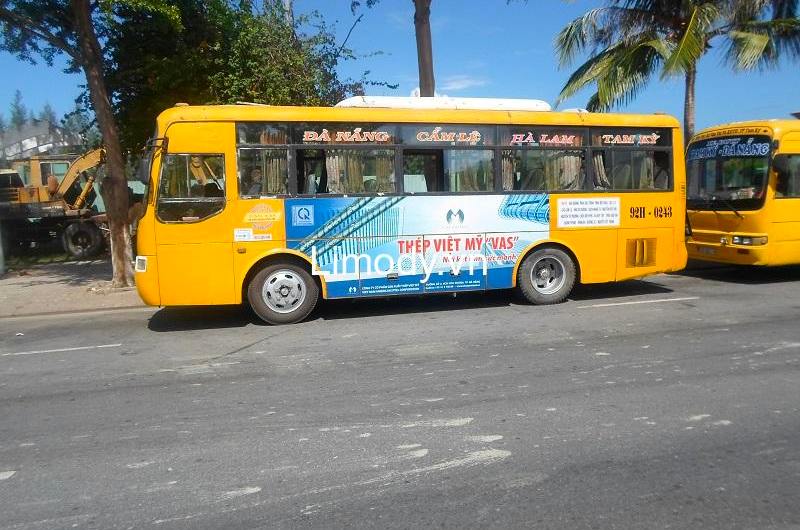 Taxi/Grab
Many international visitors use the taxi or Grab as their favorite means of transportation to travel from Da Nang to Hoi An because it's quick, convenient, and pleasant. You'll arrive in Hoi An in about 40 minutes.
In Danang, taxis are readily available everywhere. The two most popular taxi providers are Vinasun Taxi and Mai Linh Taxi.
Taxi price from Da Nang to Hoi An will be relatively high. The typical cab fare ranges from 350,000 to 430,000 VND ($14,90 to $18,31) for each route.
Grabbing a car is another way to ride from Da Nang to Hoi An. This service allows you to see the cost and itinerary of the journey in advance.
You don't need to book a car in advance. Open the app and type your destination; the driver will take you there.
Pros
Time-saving
A lot of room for luggage
Cons
No stops along the way
Some drivers may be unfamiliar with all the routes
Open Bus
If you want to save money for a fast journey, rent an open bus to move from Da Nang to Hoi An. A ticket costs 130,000 VND ($5.54), cheaper than a taxi or grab.
Many bus companies have luxurious open buses that travel to Hoi An from Da Nang. The vehicle is completely furnished with modern equipment to accommodate passengers' travel requirements.
Pros
Fast
Convenient
Comfortable
Cons
No seat selection
No refund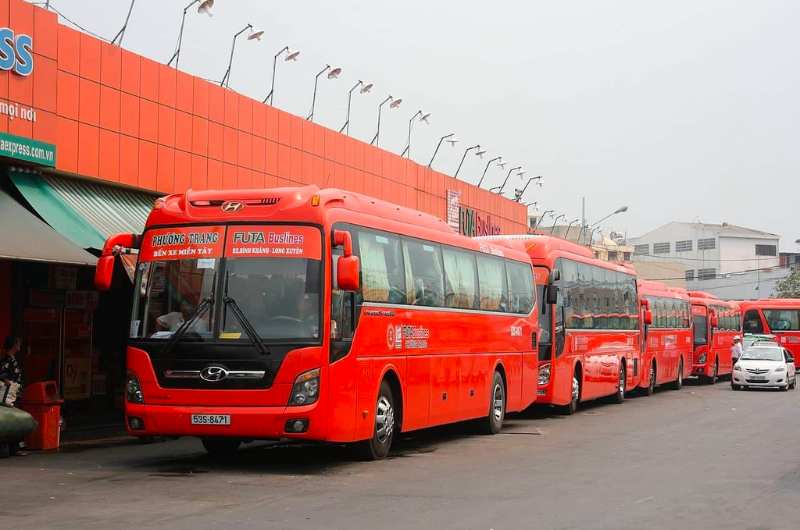 Shuttle Bus/Limousine
Consider using the shuttle bus or limousine bus to guarantee the highest safety and rapid transportation. This kind of transportation is best for families with kids and seniors.
The inside of the limousine buses has been completely refurbished with leather seats. These stylish chairs make long trips more pleasant than ordinary seats.
Numerous modern conveniences are attached to the seats, including a television, a small fridge, a USB port, a reading lamp, and a top-notch sound system. The cockpit is divided from the passenger area by a separate wall.
The ticket for VietNam Travel Bus' limousine bus to Hoi An from Da Nang is 130,000 VND ($5,54). The cost may vary depending on seat preference and promotion.
Pros
Wide and comfortable seats
5-star facilities
Free pick-up and drop-off in Da Nang and Hoi An's inner cities
Suitable for large travel groups
Cons
It's difficult to book tickets during holidays due to the great demand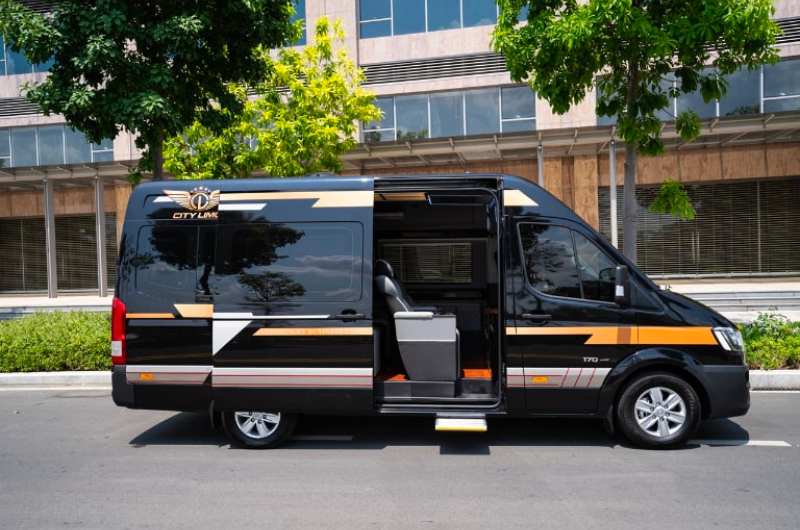 Rental Car
Renting a private car is the best choice to go from Danang to Hoi An. You may stop wherever you want along the journey.
You can ask your hotel receptionist for a car rental service in Da Nang. Depending on your group size and budget, you can rent a 4-seat- or 7-seat automobile.
However, it is the most costly choice, with the total cost varying from 300,000 to 400,000 VND (USD 15.00 to $20.00), depending on the number of seats. However, the advantages of a private car rental make it worthwhile.
Pros
Quickest and most practical
Stop wherever you want
Cons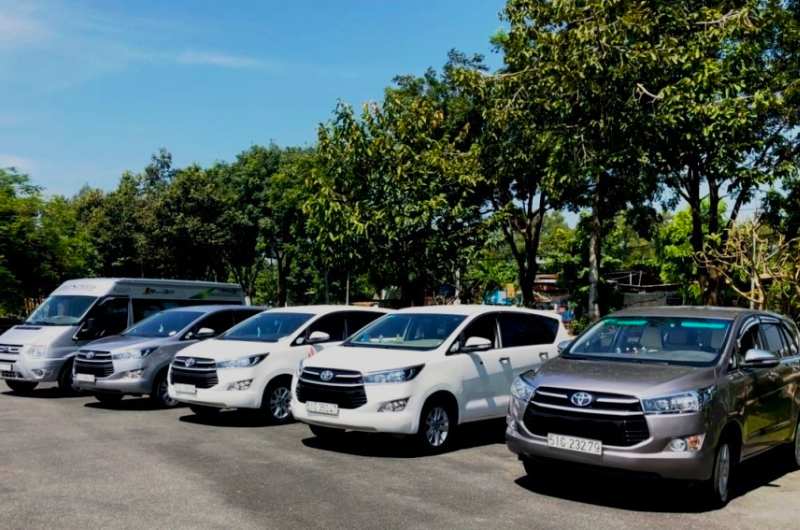 Motorbike
You may ride a motorcycle from Da Nang to Hoi An. Renting a motorbike will save you a lot of money.
You'll encounter other tourist sites and take stunning photos on your journey. You can follow the following route:
Da Nang → Tran Thi Ly → Vo Nguyen Giap → Truong Sa → Lac Long Quan → Hoi An.
The daily rental cost ranges between 80,000 and 180,000 VND. You must leave your ID card or passport while renting a motorcycle and receive it back after returning the motorcycle.
Remember to inspect the vehicle thoroughly while choosing! Additionally, it's crucial to take repair tools along with you.
Pros
Minimal expenses
Be proactive about time and schedule
Cons
Speed slows down when it rains
Hectic Vietnam's traffic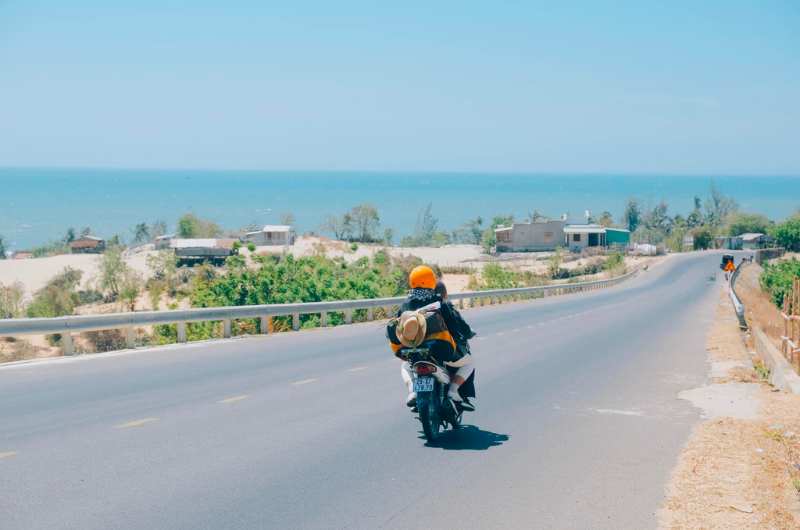 Recommended Itinerary
It might be challenging for you to plan and consider how to go from Danang to Hoi An because there are many things. Therefore, booking a Vietnam tour package will let you have the ideal trip for you and your loved ones.
The following packages are ideal for individuals visiting Central Vietnam for the first time and wanting to know the most fantastic attractions in the area.
This trip is intended for all visitors from India who desire to engage in various exciting activities while visiting the most stunning locations in North and Central Vietnam.
Before traveling north to soak in the fantastic sites, you'll get lost in Danang's pure splendor and dig into the unending romanticism of Hoi An city.
Conclusion
Travel enthusiasts will love Hoi An because it has numerous historical and cultural places. Consider scheduling a Danang to Hoi An excursion to enjoy the irresistible charm of the two attractive tourist attractions.
There are several options for going from Danang to Hoi An. The three most common are the motorcycle, limousine buses, and taxis.
Each option has its own advantages and disadvantages. Hopefully, this post will assist you in making preparations for a fantastic trip from Da Nang to Hoi An.
RELATED ARTICLES