When discussing places to visit in Hue, most people immediately think of its historical architecture and the ancient Vietnamese emperor's tombs. However, Hue also boasts fantastic natural destinations, ranging from beautiful beaches to stunning mountainous areas. In this article, we will unveil the Top 10 places to visit in Hue that will make your trip unforgettable.
Hue Imperial City and Thai Hoa Palace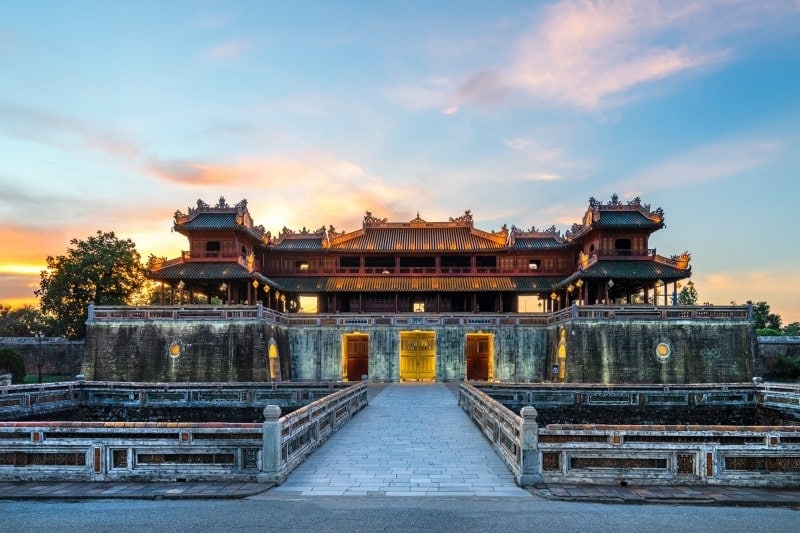 As a part of the Complex of Hue Monuments, which UNESCO recognized as a world cultural heritage in 1993, Hue Imperial City is one of the most attractive places to visit in Hue. It experienced 13 reigns of the Nguyen Emperors and played an essential role in Vietnamese history.
Hue Imperial City comprises an architectural system featuring three significant structures perfectly aligned along a north-south axis
The Citadel: The outermost structure comprises defensive ramparts encircled by a protective moat, serving as the first line of defense for the Hue Imperial City.
The Imperial City: The inside rampart is surrounded by four walls with about 600m long each and four gates. Among these gates, the south entrance, known as Ngo Mon, holds particular significance. The Imperial City is the central part of Hue Imperial City, consisting of palaces, gardens, libraries, residences and theaters for the emperor, royal family, and mandarins to work, study and relax.
The Purple Forbidden City: This structure is the internal part of the Imperial City and the place for emperor and royal habitation. The Purple Forbidden City is the most strictly protected area.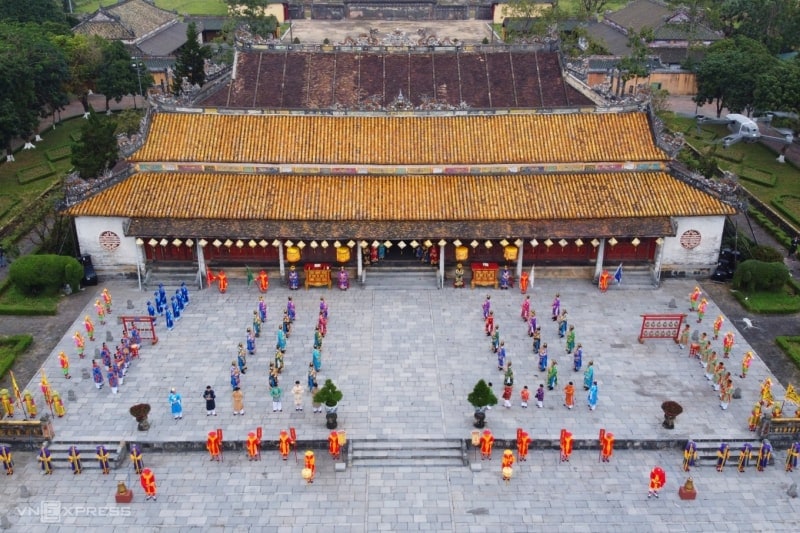 In the Imperial City, the venue after Ngo Mon gate is Thai Hoa Palace – one of the visitors' favourite spots. This place has sophisticated architecture and keeps the significant historical values of Vietnam. Thai Hoa Palace was used to celebrate important court rituals, welcome ambassadors of other countries, or host diplomatic activities.
When touring Hue Imperial City, you'll be captivated by the unique blend of East and West architectures and gain deeper insights into the royal life of Vietnamese feudal society. Undoubtedly, Hue Imperial City is one of the best places to visit in Hue!
Location: 23/8 Street, Thuan Hoa Ward, Hue City, Thua Thien Hue Province
Price ticket: 200.000 VND/ person
Opening hours: 07:30 AM to 05:00 PM (daily)
Khai Dinh Tomb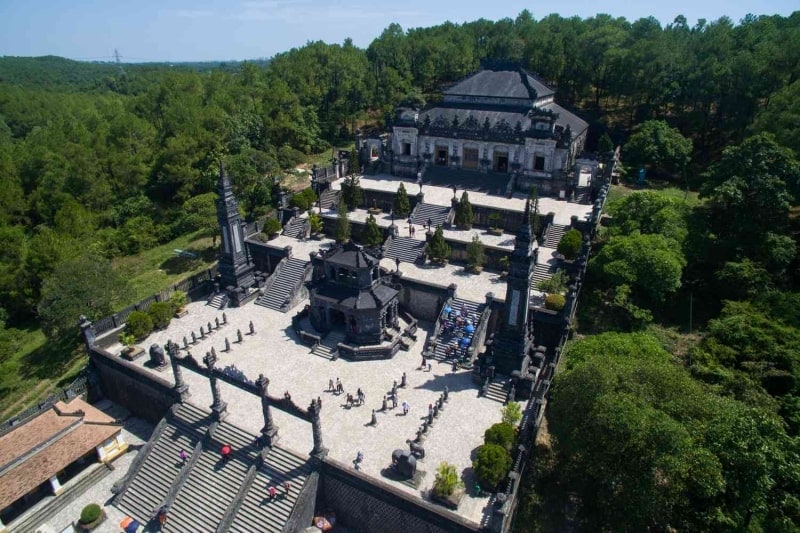 The tombs of the Nguyen Emperors were built to cater to the emperors' pleasures during their lifetimes and to serve as a place of eternal rest after their passing. Therefore, each tomb features unique architecture that reflects the individuality of its owner.
Being crowned in 1916, Khai Dinh was the twelfth emperor of the Nguyen dynasty. His tomb was constructed on Chau Chu Mountain and took 11 years to complete.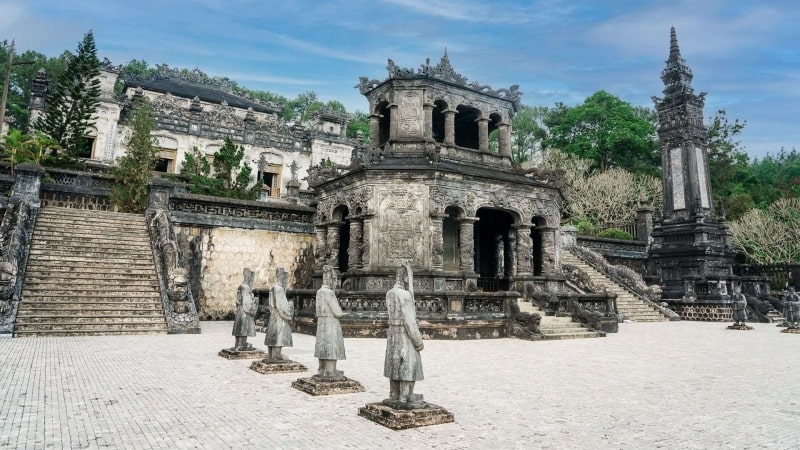 Unlike the styles of other tombs, the Khai Dinh Tomb is considered the most luxurious and elaborate mausoleum, with many materials imported from France and Japan. This tomb's architecture combines classic Eastern culture and modern Western influences. Moreover, the gate's pillars have the taste of Indian temple architecture.
Two standout pieces of art in this tomb are "Cuu long an van" (nine dragons amidst fleeting clouds) on the ceiling of Thien Dinh palace and the art of porcelain mosaics and paintings on the walls at the ultimate and unique level.
Visiting this architectural tomb is one of the things to do in Hue City.
Location: Thuy Bang commune, Hue city, Thua Thien Hue province
Price ticket: 150.000 VND/person
Opening hours: 07:00 AM – 05:30 PM daily
Thien Mu Pagoda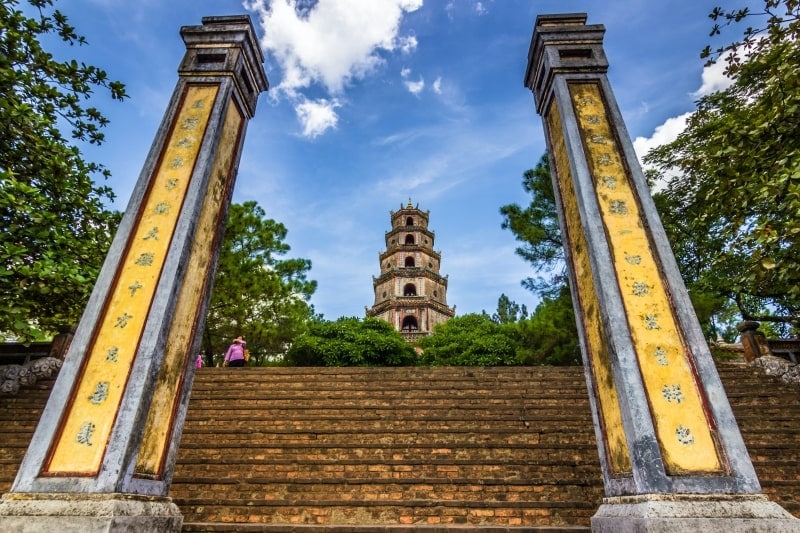 Established in 1601, Thien Mu is a national pagoda with more than four centuries of existence. Under the reign of Lord Nguyen Hoang, this hill area next to the Perfume River was considered the good land, so he decided to construct this pagoda here.
The two main architectures of Thien Mu Pagoda are Phuoc Duyen Tower and Dai Hung Palace.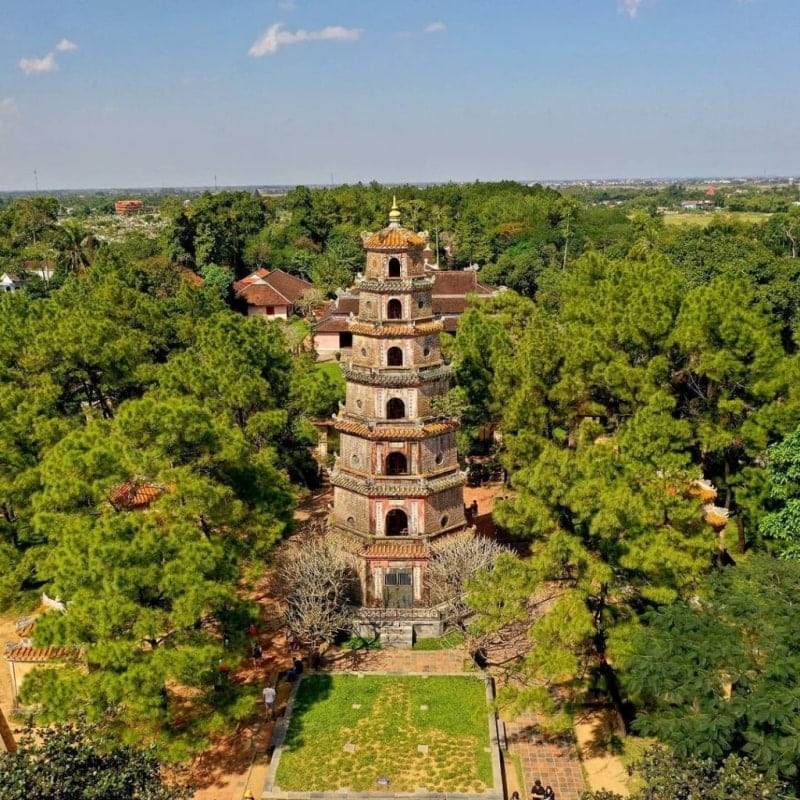 The 21m-high Phuoc Duyen tower has an octagon shape and seven stories, with each story dedicated to a Buddha.
Dai Hung, the main palace of Thien Mu Pagoda, has majestic architecture. Besides the bronze Buddha statue, there are numerous bronze statues and chimes made in 1677 and many unique antiques in this place.
Emperors admire the serene and peaceful beauty of Thien Mu Pagoda; why don't you stop by this destination on your trip to Hue?
Location: Nguyen Phuc Nguyen Street, top of Ha Khe Hill, Huong Long ward, north bank of Huong River, about more than 5km away from Hue city center.
Opening hours: 08:00 AM – 06:00 PM (daily)
Thanh Toan Bridge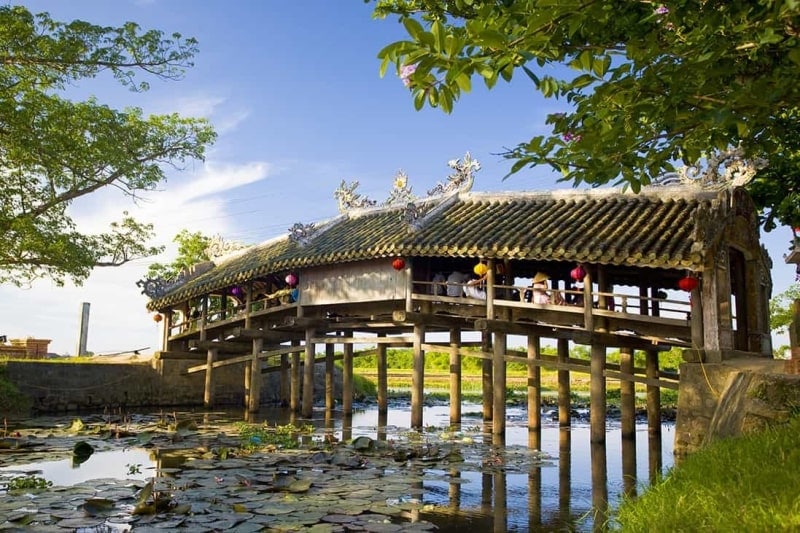 One of Hue's tourist attractions that makes you impressive at first sight is Thanh Toan Bridge. This 18-meter-long ancient wooden bridge with exquisite details has become a historical relic in Hue. It was built in 1776 with the money of a noblewoman who wished to help the villagers cross the river easily.
Tourists on TripAdvisor are highly praised for this bridge's everlasting beauty, making them admire the ancient culture and enjoy the picturesque views. In the neighboring area, a village market offers rustic dishes rich in Hue flavours prepared by local people. Let's take a relaxing time in this captivating spot!
Location: Thuy Thanh commune, Huong Thuy district, Thua Thien Hue province, about 8 km from Hue city center.
Opening hours: 24 hours daily
Thua Thien Hue Historical Museum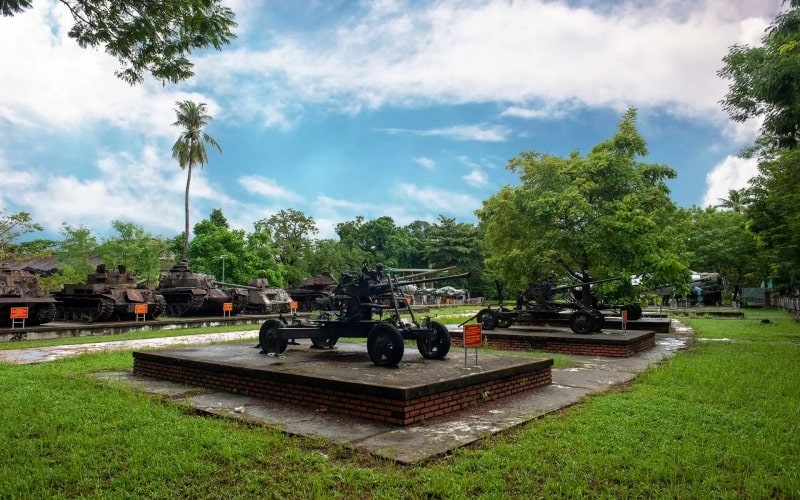 If you want to learn more about the history of the poetic Hue city, head to Thua Thien Hue Historical Museum. It was founded in July 1989 and devoted exclusively to the exhibition and collection of over 30,000 items related to the historical foundation and development of Thua Thien Hue across various periods. Initially, the Museum was the Imperial Academy – the first national university of the Nguyen Dynasty. Remarkably, this impressive building has remained intact until the present.
Location: 23/8 Street, Phu Hau, Hue City
Opening hours: 07:30 AM – 11:00 AM and 01:30 PM – 05:00 PM daily
Perfume River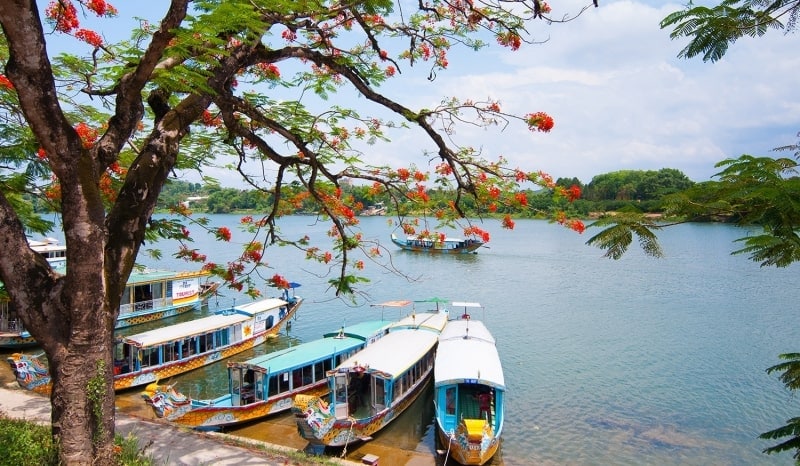 Another thing to do in Hue is taking a cruise on the Perfume River. It can be said that the Perfume River is linked to the life of Hue residents throughout the historical stages. You can see this gentle river in all corners of Hue City, from the Hue Imperial City to Thien Mu Pagoda.
The current of the Perfume River is gentle and slow. Furthermore, the Perfume River also flows through tropical forests, so it exudes the faint scent of natural plants and trees. What could be more wonderful than floating on the water and immersing your soul in Hue royal court music? Note this must-do activity on your journey to Hue!
Price for cruising on the Perfume River: 150,000 – 300,000 VND/person
Time: 07:00 – 08:00 PM, 08:00 – 09:00 PM, 09:00 – 10:00 PM daily
Dong Ba Market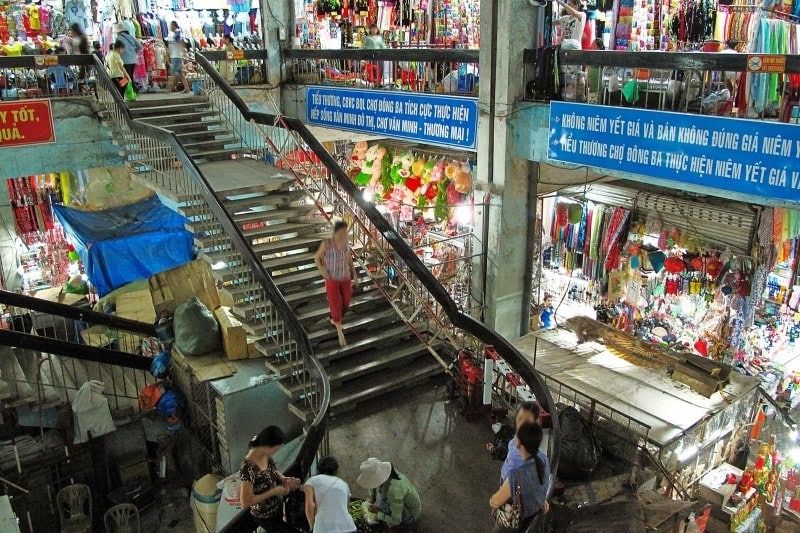 Founded in 1887, Dong Ba Market is a famous traditional Hue market with a rich history. It has three floors with a wide array of stalls and many goods.
1st Floor: daily cooking ingredients, lots of delicious local foods (Bun Bo Hue, Bun Rieu, Banh Bot Loc, Com Hen/ Clam Rice, etc.) and many specialities (fermented anchovy sauce, fresh fish and dried food)
2nd Floor: exquisite handicrafts and souvenirs such as conical hats, sophisticated ornaments, bamboo products, and skillfully sculpted ceramics with the ancient touch.
3rd Floor: colourful stalls of fabrics and clothes, including traditional Vietnamese dress (Ao Dai), casual clothes or pyjamas.
In the list of things to do in Hue, savouring delectable foods in Dong Ba Market is top!
Location: No. 2 Tran Hung Dao Street, Phu Hoa Ward, Hue City
Opening hours: 05:00 AM – 10:00 PM (daily)
Lang Co Beach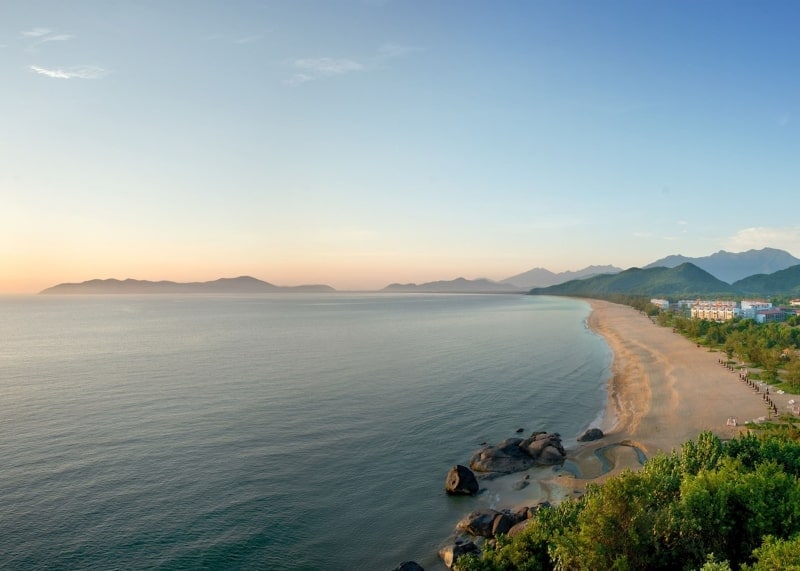 Lang Co is one of the best beaches in Vietnam. It combines all natural beauties with crystal-like water, white sand stretches, and majestic mountains surrounding. Coming to Lang Co Beach, you'll be mesmerized by its breathtaking view and only want to sit on the coastline all day.
Moreover, there are lots of fresh seafood and delectable local dishes here. You can relish steamed crab or grilled oyster with cheese at budget-friendly prices. It'll be your memorable experience to stop by one of the most beautiful beaches in Hue!
Location: Lang Co town, Phu Loc district, Thua Thien Hue province, above 60 km away from Hue city center
Best time to visit: April to July
Bach Ma National Park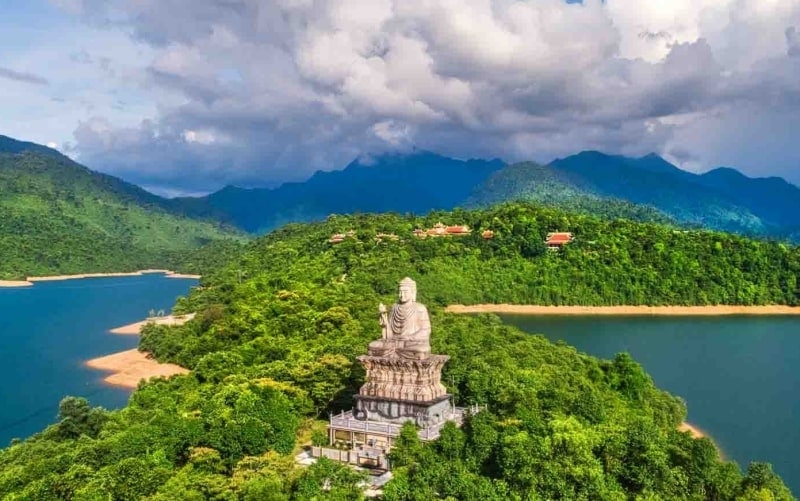 The next top place to visit in Hue is Bach Ma National Park. Stepping into this park, you can't believe that such a wonderful place exists on our planet. Bach Ma National Park is a vast primeval forest with diverse flora and fauna and is home to some endangered animals. Going through lush vegetation and watching exciting wildlife will make you feel like you are in a fairyland.
On TripAdvisor, tourists are really into the majestic beauty of the waterfall of almost 300 meters tall and natural lakes with gin-clear waters. Whether you're seeking a relaxing space or an adventurous escape, Bach Ma National Park will surely give you an unforgettable experience. Don't miss out on this magical place!
Location: in the districts of Phu Loc and Nam Dong in Thua Thien Hue province, about 40 km away from Hue city center
Ticket price: 100,000 VND/person
Best time to visit: December to April
Tam Giang Lagoon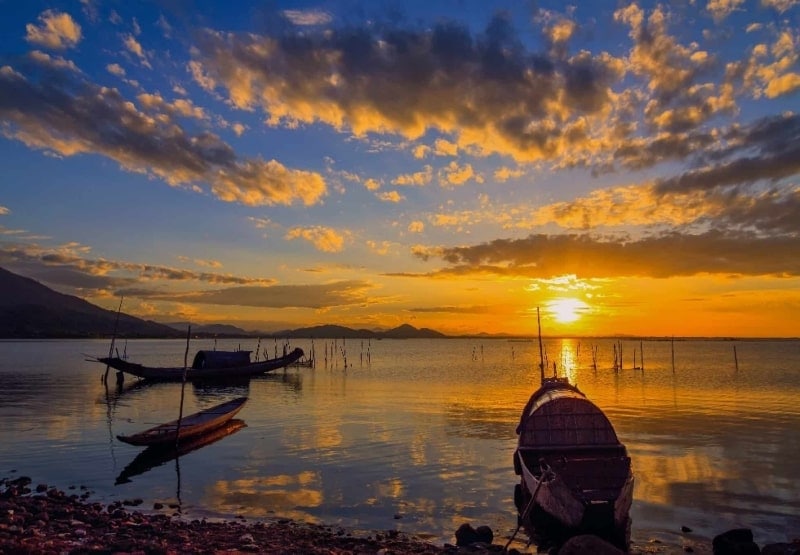 Recognized as one of the largest lagoons in Southeast Asia, Tam Giang Lagoon is the top place to go in Hue. With an area of about 52 km2, this lagoon is renowned for its rustic beauty and peaceful ambience.
If you come to Tam Giang in the morning, you can admire its magical charm. If you come in the afternoon, you'll be stunned by its romantic allure. Moreover, you can relish local delectable foods at cheap prices here.
Many poets and writers headed to Tam Giang Lagoon and created great works. This time is your turn to write the fantastic feeling about this place!
Location: in the districts of Phong Dien, Quang Dien, Huong Tra, and Phu Vang in Thua Thien Hue province, about 30 km away from Hue city center
Wrapping Up
You already explored the Top 10 places to visit in Hue. It's time to choose the Vietnam tour package that suits your expectations. Wish you have an enjoyable trip to Vietnam!
RELATED ARTICLES