How to truly embrace Ho Chi Minh City nightlife and maximize your experiences in this city? This article will provide you with the perfect answer!
To better imagine, Ho Chi Minh City (or Saigon) shares a quite similar vibe to Kolkata, since they are both major economic centers with a fast-paced lifestyle. The city is also often referred to as the "city that never sleeps".
As the night deepens, Ho Chi Minh City brings the city a whole new appearance. With bustling streets filled with sparkling lights that heat through the night, it would be a waste if you come to Ho Chi Minh City without enjoying its vibrant night full of beauty and culture.
In this article, Vietnamtour.in will recommend to you our top favorite and incredibly attractive activities to stay up and enjoy Ho Chi Minh City nightlife. Make sure to take note of these recommendations to make the most of your experience in this vibrant city!
Take a breath-taking city view at a rooftop bar
Social Club Rooftop Bar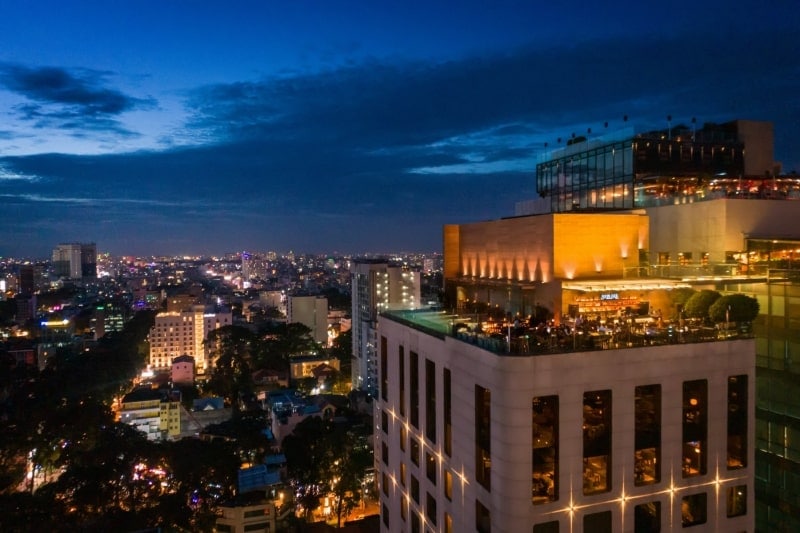 Located on the highest floor of the Hotel De Arts Saigon MGallery Collection, the Social Club Rooftop Bar is a million-dollar view bar situated in the center of the most prominent architecture, offering you an exceptional experience of the Ho Chi Minh nightlife.
The bar's space is beautifully decorated, offering a stunning view of the pool if you come here to enjoy a delicious drink while gazing at the streets of Saigon, making it an unforgettable experience.
Also, The DJ sets at Social Club Rooftop are carefully crafted, and the drink selection is chosen from the finest spirits. They also serve beer, bottled water, and sweet pastries.
The staff at the bar are extremely professional and courteous, with the only downside being that the venue itself is relatively small and narrow.
Address: The 23rd Floor, Hotel des Arts Saigon, 76-78 Nguyen Thi Minh Khai Street, District 3, Ho Chi Minh City
Zion Sky Lounge & Dining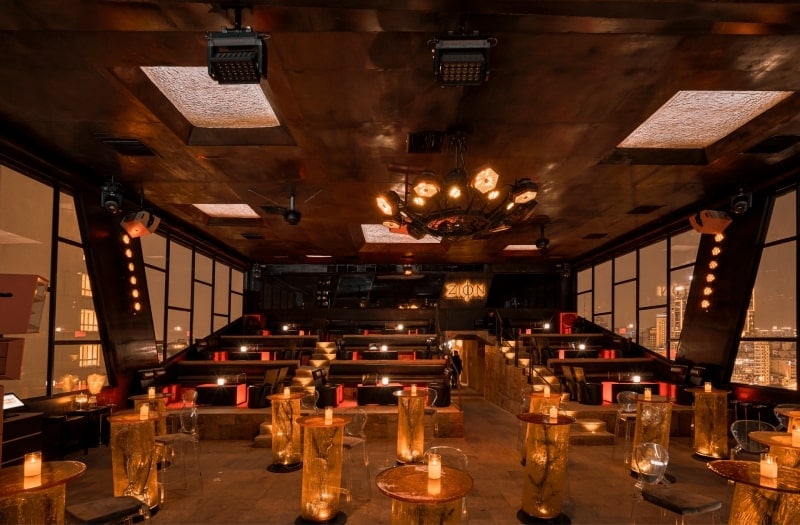 Zion Sky Lounge & Dining is a bar located on the rooftop of the Hôtel des Arts Saigon in the heart of the city. It is an incredibly ideal destination that you must visit to experience the luxurious aspect of Ho Chi Minh City during nighttime, as it is known as the hottest bar in Saigon at present.
The captivating and catchy music, combined with the exquisite taste of cocktails, will allow you to enjoy moments of euphoria and relaxation in a refreshing manner.
Address: The 14th floor at 87A Ham Nghi Street, District 1, Ho Chi Minh City
Chill Skybar Saigon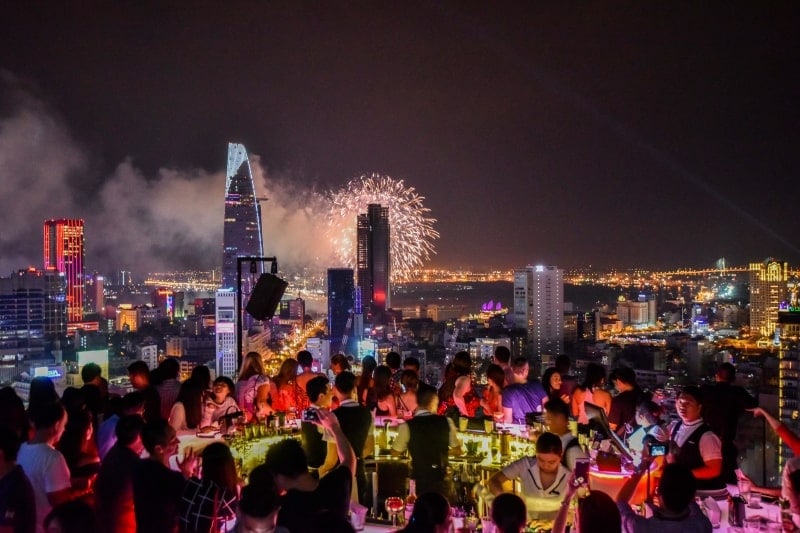 Chill Skybar, located on the 26th floor of the AB Tower, was the first and original sky bar in Ho Chi Minh City. Here, you can have a memorable experience while enjoying great drinks and food alongside panoramic views of the city.
At the rooftop bar, you can indulge in expertly crafted classic cocktails, along with a variety of beers, wines, and sparkling beverages available both by the glass and by the bottle. Additionally, you can enjoy a wide selection of delicious bar bites, including sliders, tapas boards, and sharing platters.
The evening atmosphere at Chill Sky Bar is vibrant, turning it into a great rooftop party venue with DJs playing and a full house dancing the night away under the Saigon night sky.
Address: Level 26 – 27, AB Tower, 76A Le Lai, District 1, Ho Chi Minh City
WOW Skybar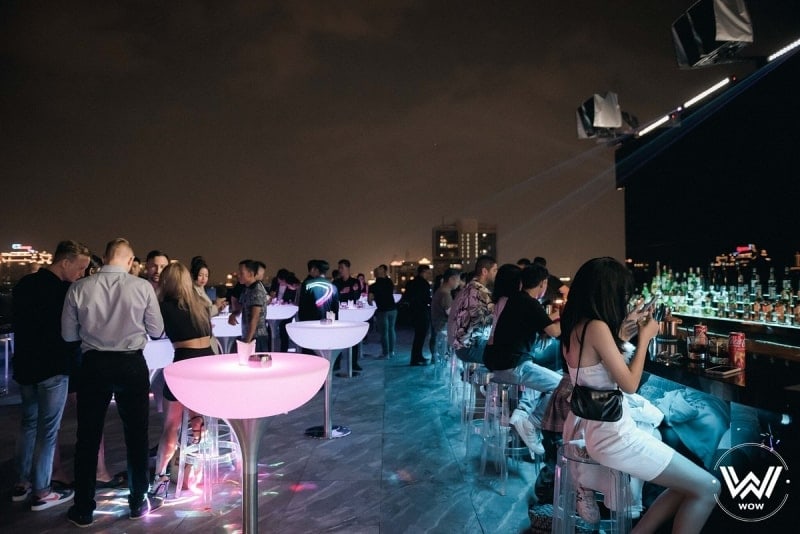 When it comes to experiencing the vibrant Ho Chi Minh City nightlife, Wow Sky Bar is an absolute must-visit destination that you shouldn't miss. Situated in the heart of District 1, this sky bar offers an unforgettable nighttime experience.
As the night falls, the bar truly comes alive, with energetic beats of the music and the vibrant crowd creating an electric atmosphere, making Wow Sky Bar the perfect place to dance the night away or simply enjoy the company of friends.
From the stunning views and refined ambiance to the expertly crafted cocktails and delectable cuisine, this sky bar truly sets the stage for an extraordinary evening in the heart of Saigon.
Address: Rooftop 13th Floor, President Place Tower, 93 Nguyen Du, Ben Nghe Ward, District 1, Ho Chi Minh City
Saigon Saigon Rooftop Bar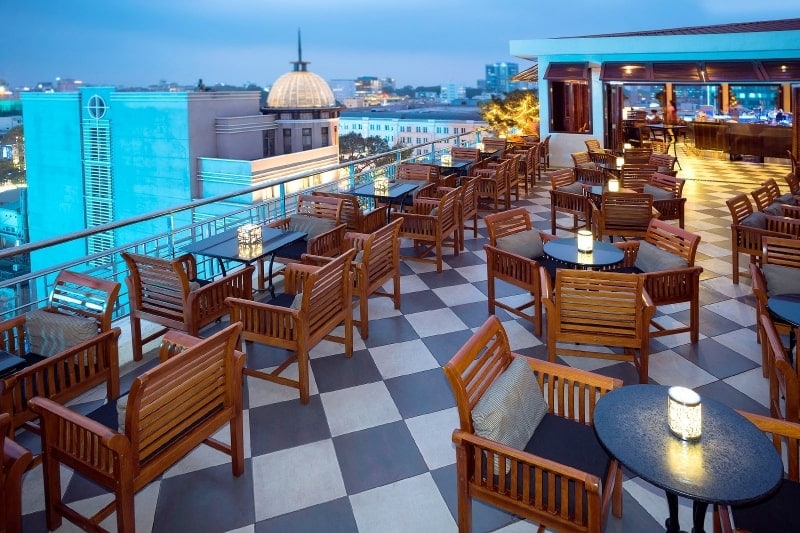 In an era where sky bars in Saigon compete fiercely, one rooftop bar has remained a proud symbol of longevity for over 60 years at the top of the Caravelle Saigon hotel – Saigon Saigon Rooftop Bar.
Recognized by the Department of Culture, Sports, and Tourism as the "most renowned rooftop bar in Saigon" and featured among the top 10 captivating entertainment destinations in the city, Saigon Saigon Rooftop Bar is an experience you shouldn't miss.
So, why not spend your evening at this remarkable sky bar?
Address: 19-23 Lam Son Square, District 1 Rooftop via 9th Floor, Caravelle Saigon, Ho Chi Minh City
Enjoy live music and let loose at bars and clubs
Yoko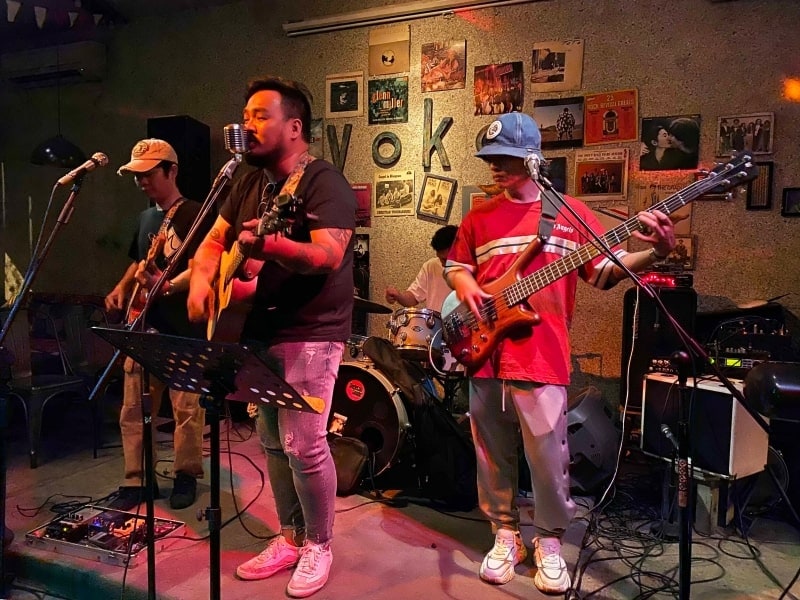 What about a romantic and intimate evening in Ho Chi Minh City? If so, you can try visiting Yoko. Setting itself apart from other live music bars, Yoko has a cozy ambiance that resembles a café more than a traditional bar.
Though the space at Yoko Cafe is not overly spacious, the decor still manages to create a cool and refreshing atmosphere. Yoko Cafe primarily performs English music, with vocals that are pronounced accurately and impressive electric guitar playing. Perhaps that's why Yoko Cafe attracts a significant number of foreigners who come to listen to the music.
Address: 22A Nguyen Thi Dieu, Vo Thi Sau ward, District 3, Ho Chi Minh City
Saigon Outcast
Another ideal Ho Chi Minh City nightlife spot is Saigon Outcast, thanks to its creative and artistic space.
The venue features three stacked shipping containers surrounded by low walls adorned with vibrant and lively graffiti artwork. Saigon Outcast offers a variety of entertainment options that will surely make your night in Saigon memorable. Have you ever experienced live music here?
Address: 188/1 Nguyen Van Huong, Thao Dien, District 2, Ho Chi Minh City
Apocalypse Now Bar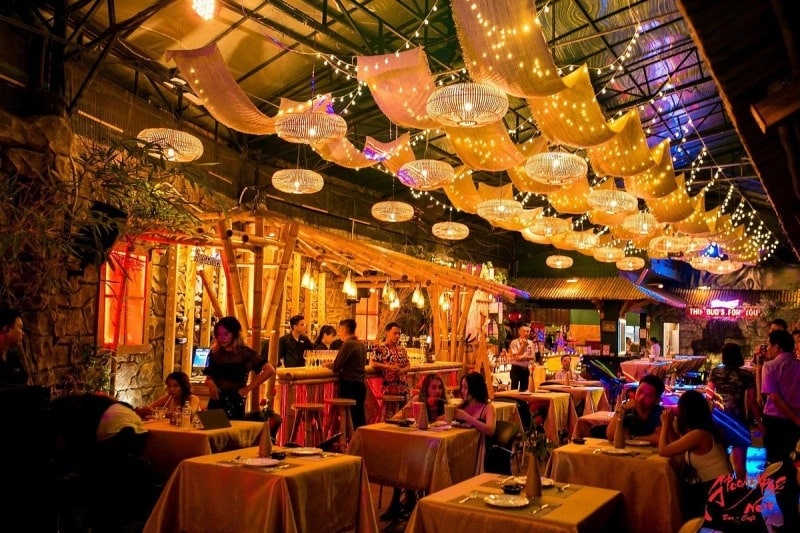 Apocalypse Now Bar is not only the oldest bar in Saigon but also a safe and famous destination for tourists for 28 years.
The bar is definitely a perfect place for immersing yourself in a fulfilling Ho Chi Minh City night. People come to Apo, not to drink, but to meet and enjoy the warm and open atmosphere that is hard to find at any other Saigon bars.
Foreign travelers often say to each other: "If you pay a visit to Ho Chi Minh City but not to Apo, it seems that you have not actually visited this city…".
Address: 2B Thi Sach District 1, HCMC
Lush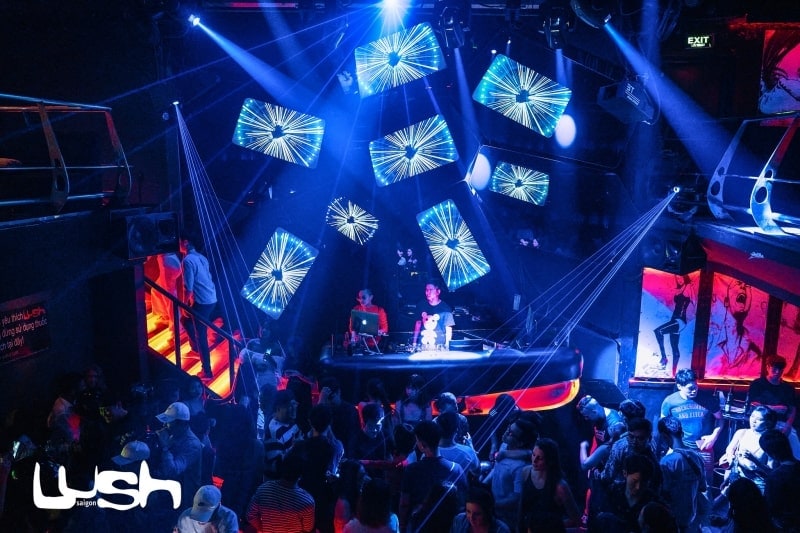 Another bar with live music for you to experience Ho Chi Minh City nightlife is Lush. Located in the heart of District 1, Lush is one of the oldest and most vibrant nightlife destinations in Ho Chi Minh City, exuding the atmosphere of a modern and edgy club.
Regarded as one of the city's best music venues, Lush often hosts top DJs from Vietnam and around the world, including DJ Paul Van Dyk, DJ Droc, and more. Come and immerse yourself in the lively nightlife atmosphere at Lush.
Address: 2 Ly Tu Trong, Ben Nghe Ward, District 1, Ho Chi Minh City.
Envy Club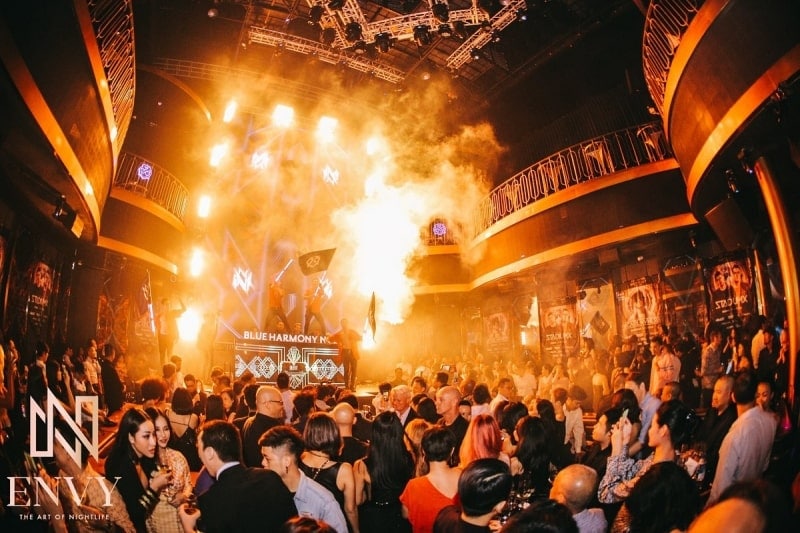 Envy Club was ranked 72 out of the 100 most attractive clubs in the world in 2020. The club was designed with a strong Art Deco style, serving as a sanctuary for top-notch performances, including breathtaking acrobatics, stunts, and circus arts performed by leading dancers.
The sound system here is state-of-the-art, accompanied by the finest DJs from Asia and all over the world. The live music experience here tends to be in a vibrant and energetic style, so if you are into a night immersed with this kind of music, make sure that Envy Club is on your list.
Address: 74 – 76 Nam Ky Khoi Nghia, Ben Nghe ward, District 1, Ho Chi Minh City
Rabbit Hole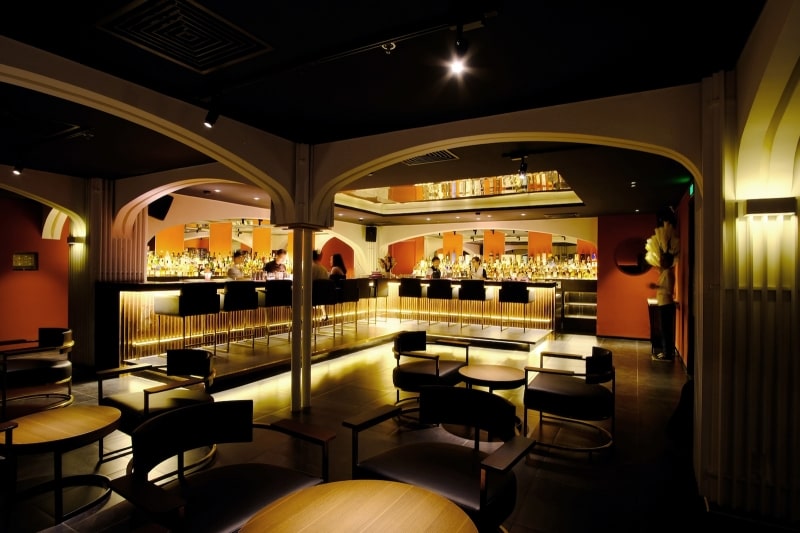 If you're tired of crowded bars with loud, stuffy music, then you should try visiting the Rabbit Hole Bar. This place offers tranquility and privacy for you to escape from the bustling streets and hectic life.
At Rabbit Hole, you can enjoy a truly authentic and relaxing evening by immersing yourself in a space filled with soothing music and enjoy delicious cocktails.
Address: 138 Nam Ky Khoi Nghia, Ben Nghe ward, District 1, Ho Chi Minh City
Try your luck at a casino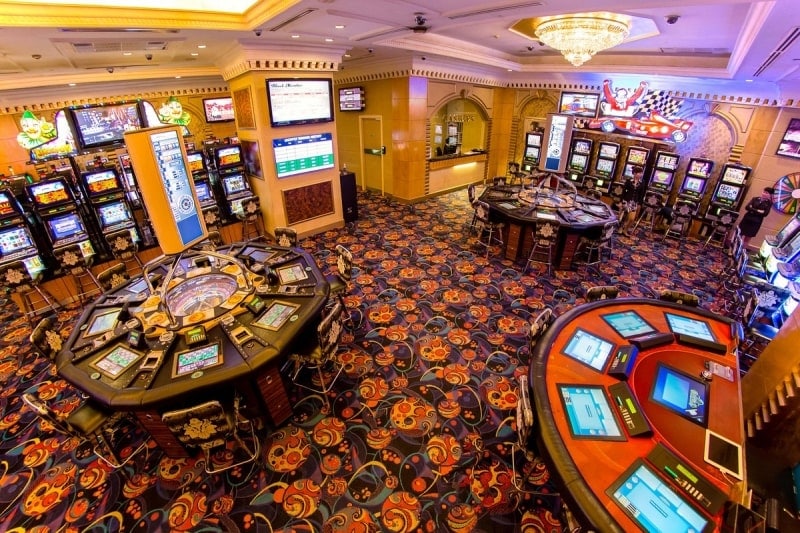 A glamorous Ho Chi Minh City nightlife, just like being in a Hollywood movie set in Las Vegas? That's exactly what it feels like when you spend your time trying your luck at these best casinos in Saigon.
Top Casinos in Ho Chi Minh City
When you visit these casinos, you can expect to find a diverse selection of games to choose from, including popular options such as Texas Hold'em, Blackjack, Roulette, and Slot machines. Let's take note of the following addresses to plan your visit:
Palazzo Club: Officially opened in August 2004, Palazzo Club has built a reputation of the best service in the gaming industry as stated in its slogan – "Best in everything".
Address: 1st floor of Sheraton Hotel & Towers, 80 Dong Du Street, District 1, Ho Chi Minh City
Vegas Club – Caravelle Hotel: An electronic gaming entertainment venue with prizes specifically catering to foreign visitors, with a range of state-of-the-art gaming machines in a 5-star service standard – definitely a must-visit destination to test your luck.
Address: 1st – 2nd Floor, 19 Lam Son Square, District 1, Ho Chi Minh City
M Club – Majestic Hotel: Offering various table games for your gaming pleasure including Black Jack, Roulette, Baccarat and favorite slot machines.
Address: 1 Dong Khoi Street, District 1, Ho Chi Minh City
Monte-Carlo Saigon: A 5-star club located at the Park Hyatt Saigon hotel, providing E-gaming services with prizes for foreign guests.
Address: 101 Hai Ba Trung, Ben Nghe, District 1, Ho Chi Minh City
Some important notes about casinos for foreign visitors in Vietnam
The legal gambling age in Vietnam is 21.
In order to try your luck at a casino in Vietnam, you also need a foreign passport and proper income proof showing that your monthly income exceeds 450 USD prior to which you could be asked to pay appropriate taxes to enter.
Enjoy a show at Saigon Opera House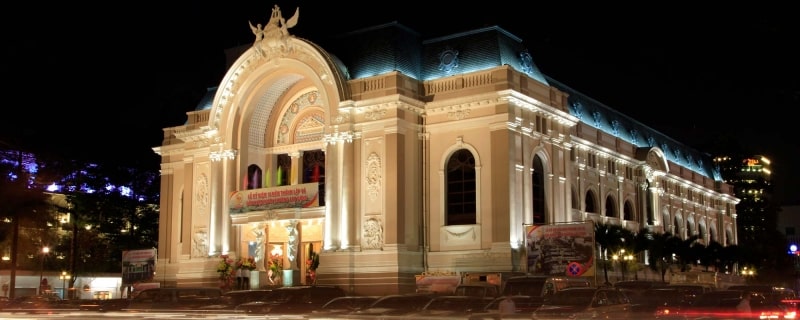 If you are not sure about where to go to explore Ho Chi Minh City at night, the Saigon Opera House, formerly known as the Municipal Theatre, stands out as a fascinating destination and a great choice. This iconic landmark regularly hosts symphony nights featuring renowned composers such as Mozart, Bach, Beethoven and more.
Attending a concert at the Saigon Opera House is a cultural experience that transports you to a world of timeless masterpieces. The graceful and harmonious performances by talented musicians, combined with the theater's opulent atmosphere, create an unforgettable night.
Address: 7 Lam Son Square, Ben Nghe Ward, District 1, Ho Chi Minh City
Opening hours: 9:00 AM – 4:30 PM (Monday – Friday); 9:00 AM – 12:00 PM (Saturday and Sunday)
>> MAY YOU LIKE: Top 15 Fascinating Things To Do In Ho Chi Minh City in 2023 For Indian Travelers
Have a bustling food tour at Ben Thanh night market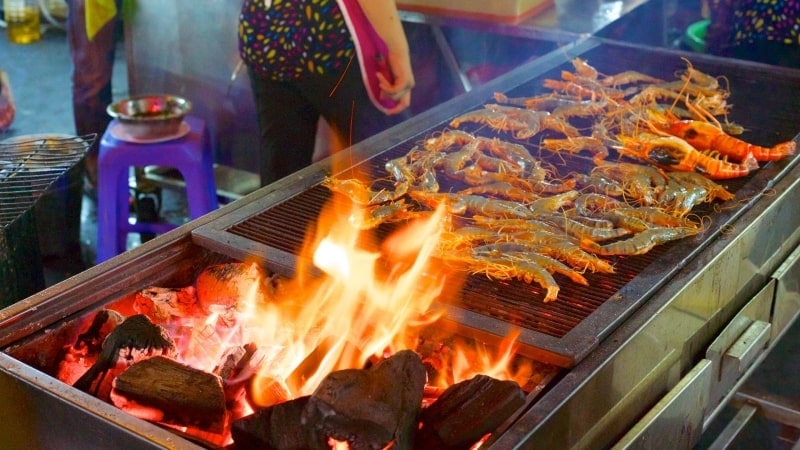 If you're wondering "What to eat in Ho Chi Minh City at night?", then Ben Thanh Street Food Night Market might have the answer for you. The market is considered a culinary paradise located right in the heart of the city and has attracted many tourists since its opening.
The food area of Ben Thanh Night Market stands out with 60 stalls serving a wide variety of street food specialties from Vietnam and around the world. Visitors can indulge in delicious dishes in a spacious and comfortable setting, adorned with trendy elements favored by the young Vietnamese generation, such as colorful graffiti walls and unique wooden tables and chairs.
Address: 26 Thu Khoa Huan, District 1, Ho Chi Minh City
Opening hours: 09:00 AM – 11:00 PM
Stroll along Nguyen Hue walking street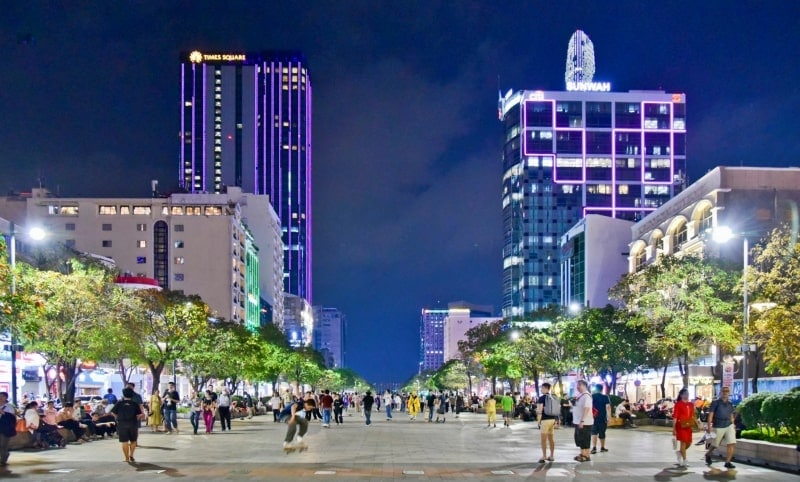 If you haven't experienced the vibrant nightlife of Saigon, then you must visit Nguyen Hue Walking Street.
With its spacious and lively atmosphere, offering a wide range of entertainment activities, shops, eateries, and cafes, Nguyen Hue Walking Street is the most bustling and vibrant spot in the city.
When you come to enjoy the street, you can witness street music performances, fashion shows, hip-hop dances, and various sports activities like walking or rollerblading.
Moreover, the city comes alive at night with its lively bars, pubs, and beer clubs. Additionally, you can indulge in delicious street food such as smoothies, rice paper rolls, animal-shaped ice cream, and more.
Overall, taking a stroll along Nguyen Hue Walking Street is a fantastic way to experience the simple yet vibrant entertainment culture of Ho Chi Minh City nightlife.
Immerse the vibrant vibe of Bui Vien Street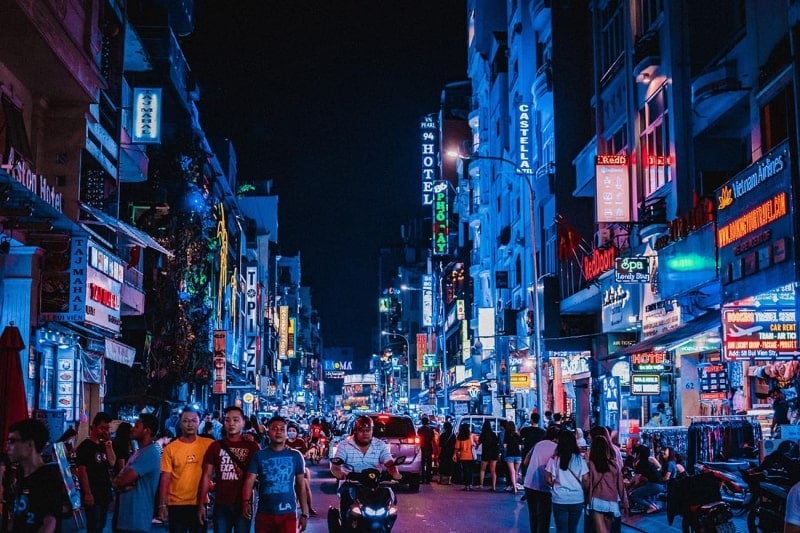 Besides Nguyen Hue Street, Bui Vien Street is also one of the most interesting places to visit in Ho Chi Minh City during the night time.
In August 2017, Bui Vien officially became the second pedestrian street in Ho Chi Minh City.
Since then, this sleepless street presents a completely new appearance, offering various exciting activities such as art performances, peculiar costumes, small bars, and BBQs… for people to entertain.
Moreover, the street attracts many foreigners from all over the world who come to enjoy and experience the bustling and multicultural life. Regardless of their skin color, nationality, or language, everyone can just gather around the "iconic" Vietnamese blue plastic tables, have a sip of beer and start a friendly conversation with each other.
Address: 50-82 Bui Vien, Pham Ngu Lao Ward, District 1, Ho Chi Minh City.
Wrapping up
To sum up, Ho Chi Minh City nightlife offers a vibrant and diverse experience that is difficult to capture in a just single list, as this sleepless city serves as a melting pot of cultural influences and combines the essence of all three regions of Vietnam.
From exploring fascinating attractions to engaging in thrilling activities, there is always something for everyone to enjoy most of Ho Chi Minh nightlife. So, when you visit Saigon, be sure to spend at least one night immersing yourself in those exciting activities recommended by us!
Hopefully, our guide can help you create a journey in Ho Chi Minh City and throughout Vietnam filled with unforgettable moments.
You can book our Vietnam tour packages and enjoy the trip to this bustling city now!
RELATED ARTICLES