Ho Chi Minh City (or Saigon) is the dynamic economic and commercial center of Vietnam. Located on the Saigon River, Ho Chi Minh City is the main trading port and the largest city in Vietnam. Since Vietnam was restored from its difficult period, Ho Chi Minh City has been proving its potential and abilities. Economists have considered Ho Chi Minh to be one of the "Asian Tigers".
Saigon, which is founded in the 18th century, is a relatively young city in Asia. However, the city's history is more than enough to tell the struggles of the Vietnamese people. War victims from the North and Chinese merchants gathered here. Together they quickly make Saigon Become a significant trading center since the 1800s.
The river ports surrounded by the Saigon River are extremely convenient for trading activities. The city has become a middleman in Indochina for goods from China and India to Europe. Therefore, it is not a surprise that Saigon is filled with markets, merchants, Vietnamese foods, shops, and malls. Some impressive places to go are Cho Lon, Pho Hoa (China Town), and Ben Thanh Market.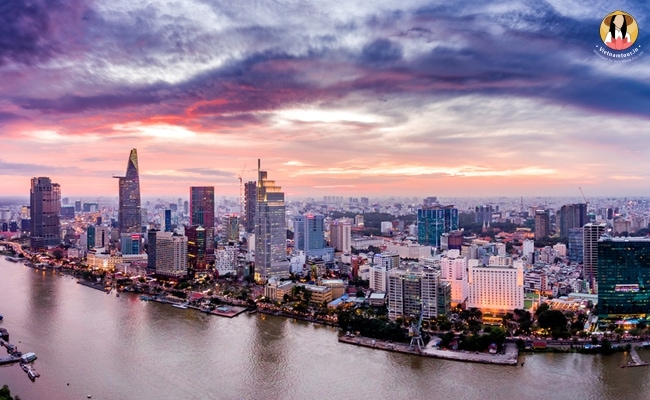 What You Should Buy in Saigon
If you are searching for something in Ho Chi Minh City and unique souvenirs to buy back to India, Vietnamtour.in would like to suggest to you some great ideas:
Ao Dai (Vietnamese National Costume)
'Charming', 'elegant', and 'beautiful' are common words to describe the Ao Dai. Indian Tourists can get Ao Dai from shops on Le Thanh Ton streets or Tan Dinh Market.
Non La (Conical Hat/Straw Hat)
Wearing a Non La with an Ao Dai will make anyone Vietnamese as both of them are iconic and cultural in terms of Vietnam.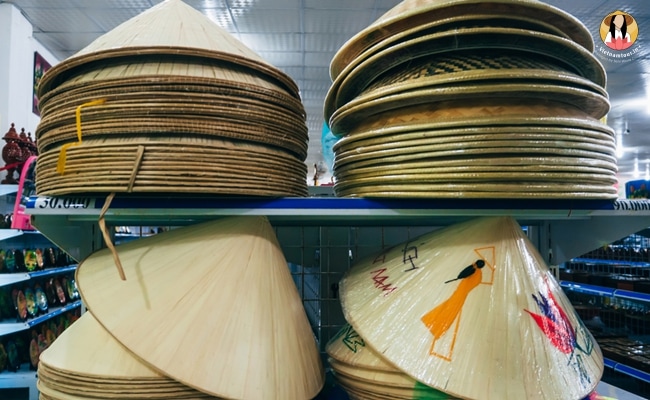 Tea & Coffee
Vietnam has been long ago famous for tea and coffee. And Indian tourists can buy some boxes or packs of Trung Nguyen Coffee as gifts or souvenirs.
Propaganda Art
For people who are into historical and cultural values, propaganda works of art are meant for them. They come in all shape and designs such as calendars, wall decorations, notebooks, etc.
Authentic Ceramics
Besides propaganda art, ceramics also a great thing to buy when visiting Saigon. However, because they are fragile, they must be carefully protected.
Ho Chi Minh Shopping: Places to go
Cho Lon (Cho Binh Tay – Binh Tay Market)
Binh Tay Market also known as Cho Lon Moi, was built during the 1920s. The market is located in an area of more than 17,000 m² and follows an ancient Asian style of architecture.
Binh Tay Market now has more than 2,300 shops and stalls with more than 30 commodity groups. Every year, more than 120,000 foreign tourists visit and shop at the market. Coming to Binh Tay market, visitors will have a chance to take a look at ancient architecture, learn about the history of the market, and shop at suitable prices.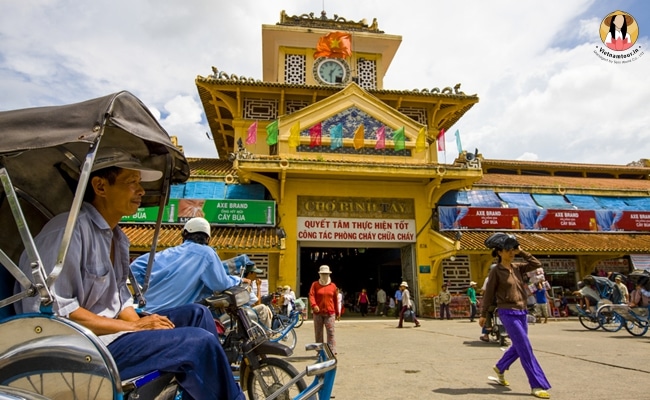 China Town
In Saigon, there is a concentrated area of Chinese people in District 5. In this area, the people here have built streets and houses following Chinese architecture. Therefore, Ho Chi Minh citizens have been calling the place of China Town for years.
Until now, the Chinese people still retain their cultural, architectural and religious values for hundreds of years. The tiled roofs of the street together with the ancient architecture stand out with very classic beauty. Visitors will experience a feeling like they are staying in some old Chinese town from the previous century.
Whenever a Vietnamese talks about China Town, he or she will likely talk about food. Steamed rice balls, wonton balls, or Trieu Chau porridge are the specialized foods here. However, there are also many street foods that can stimulate your appetite.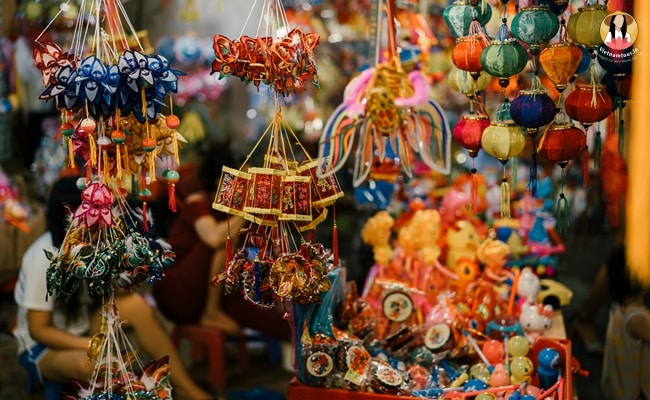 Nguyen Trai Street
Nguyen Trai is a long road connecting districts 1 and 5. The street has been famous for a variety of shops selling many kinds of fashion clothes for a long time ago.
Nguyen Trai can be divided into 3 zones. The first zone is Ward 15, and the target customers of the shops are from 15 to 20 years old. The products here are diversified and multi-original. Ward 15 is considered to have the lowest price among the three zones, which makes it have the highest customer traffic. To be specific, the prices averaged from VND 70,000 to 300,000.
The second zone is from Nguyen Trai – Le Hong Phong crossroads to Nguyen Trai – Ton That Tung crossroads.  The customers of the shops here are mostly young people. The last zone is District 1 area. This zone is only about 200 meters, but there are excellent high-end shops. Their products are priced from VND 500,000 to several million VND.
Ben Thanh Market
Ben Thanh Market was built in 1914 with an area of nearly 13,000 m². The market was repaired and upgraded beautifully and spaciously.  Products in the market are also diversified to meet the demand for consumption, sightseeing, and shopping of domestic and foreign customers.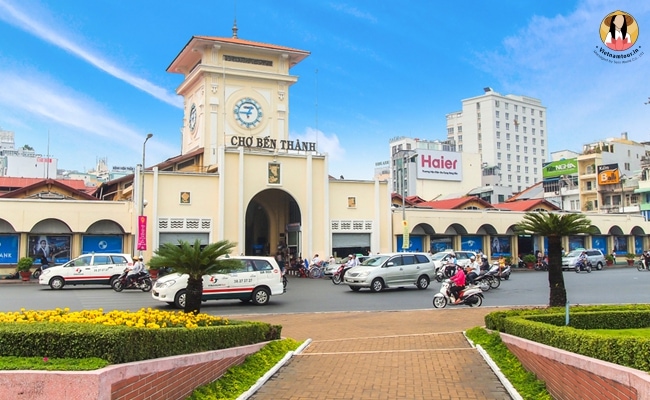 The market also has a courteous and enthusiastic management team. Security and fire prevention ensure safety for everyone coming to the market. Visit Ben Thanh market so that you can feel the attraction of the traditional Vietnamese market in the heart of a civilized and modern city center.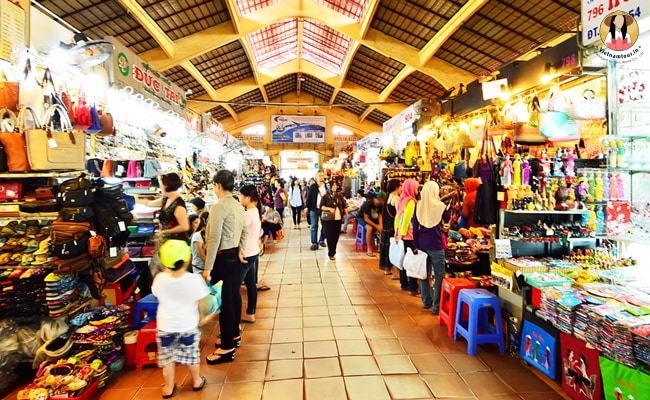 An Dong Market – An Dong Plaza
Founded in 1954, An Dong market is one of the central markets of the city with the main items being cloth, ready-made clothes, shoes, etc. From the ground floor to the third floor is for food and drink, candies, fruits, fresh flowers, utensils, crafts, etc.
An Dong Market is modern, safe, and convenient for market visitors. Next to An Dong Market, there is the newly built An Dong Plaza building. An Dong Plaza commercial center includes a wide range of wholesale and retail businesses of all goods.
Ho Chi Minh City has a lot of places for shopaholics. However, it is better for a foreigner to have a local Vietnamese guide. This is because there are some sellers who increase the prices of their products way higher than their actual values. Besides, having a local guide makes it easier for visitors to know where to go and what to buy.
Besides the aforementioned shopping places, Indian tourists can take a tour around the city by bus, motorbike, or cyclo to have a general view of the lifestyle in Saigon. Moreover, the city is also a good starting point for excursions to the south like the Mekong Delta, Cu Chi Tunnels and Phan Thiet Beach.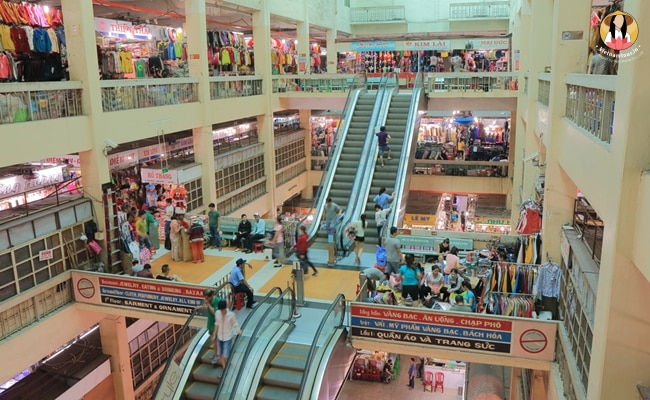 All in all
Indian tourists can discover the markets and shops in a dynamic city like Saigon and choose for themselves great products. However, they should go with a local guide to get good and affordable items. In addition to shopping, tourists can have other activities like eating, sightseeing, and traveling to other placing and returning in a day.
RELATED ARTICLES