Dalat is a picturesque town in Vietnam. It is famous for its cool weather, vibrant culture, and stunning landscapes.
However, it may be overwhelming to plan your itinerary when traveling to this destination because of the numerous activities.
Don't worry! We will recommend the best things to do in Dalat. Scroll down this post to discover incredible experiences!
Things To Do In Dalat
Known as the "City of Flowers," Dalat is a favored destination for national and international tourists. Below are the best activities to add to your itinerary when visiting this stunning city.
Outdoor Activities
With its cool climate, stunning landscapes, and diverse culture, Dalat is an ideal place to explore outdoor activities.
Browse In Dalat Market
Dalat Market is a bustling bazaar in the city center. It is a great place to explore the local culture and taste authentic Vietnamese food.
This market offers flowers, fresh fruits, vegetables, souvenirs, handicrafts, and clothes. You can spend hours wandering through the narrow alleys, bargaining with the vendors, and trying diverse street foods.
Dalat Market is open from early morning until late at night. Hence, you can visit it anytime you want.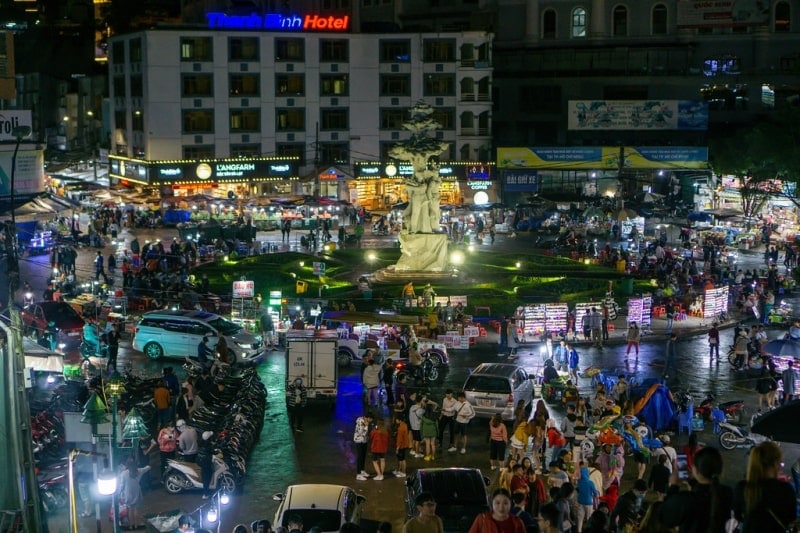 Dalat market
Walk To Datanla Waterfalls
Datanla Waterfalls is among the magnificent waterfalls in this city. It's about 5 kilometers from the city center. You can reach it by motorbike, taxi, or walking.
If you are an adventure lover, we recommend you walk to the waterfall. You can admire lush forests, streams, and bridges surrounding the 1.5-kilometer trail.
You will pass by many scenic spots where you can take photos and enjoy the fresh air. When you arrive at the waterfall, you can take a cable car or slide down the waterfall on a bobsled. The experience is truly unforgettable.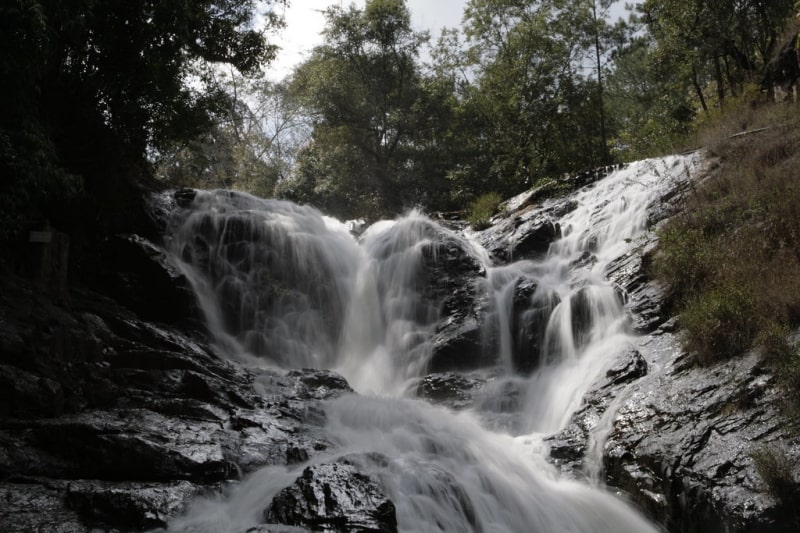 Datanla Waterfalls
Go Out On Xuan Huong Lake
Xuan Huong Lake is a romantic and picturesque lake in the heart of this flower city. You can see surrounding pine trees, gardens, and cafes.
Thus, it is ideal for a leisurely walk or boat ride. You can also rent a swan or paddle boat and explore the lake at your own pace.
The lake is also a famous place for photographers, especially during sunrise and sunset. You can capture stunning photos of the lake, the mountains, and the city skyline.
If you are lucky, you may even see the mist rolling over the lake, creating a dreamy atmosphere.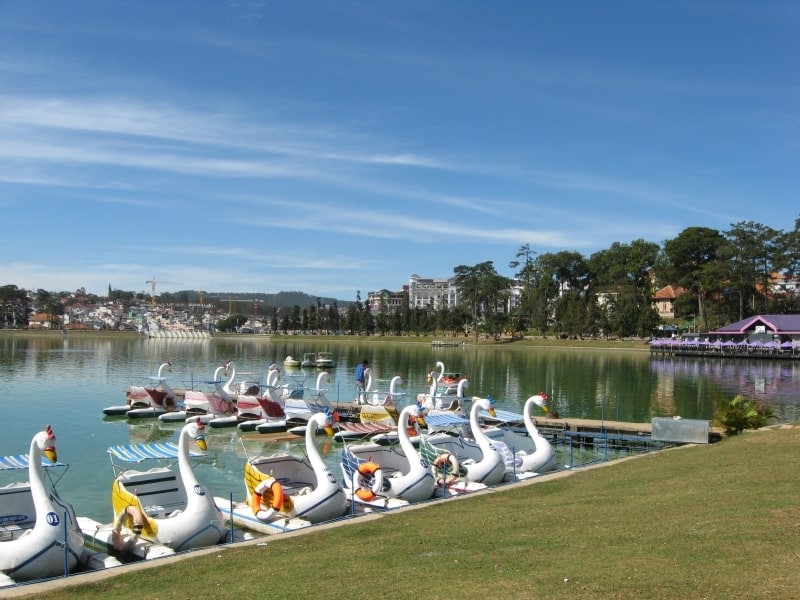 Xuan Huong Lake
Sightseeing
Apart from its natural beauty, Dalat has much to offer regarding sightseeing. Below are some must-visit sites in this city.
Visit Dalat Flower Gardens
The Dalat Flower Gardens is a popular attraction in the city. This vast garden is home to various flowers and plants.
The garden is divided into several sections, each with its unique floral display. Its highlight is its colorful hydrangeas. They bloom during the summer months.
Thus, you can stroll around the garden to enjoy the fresh air and take plenty of pictures.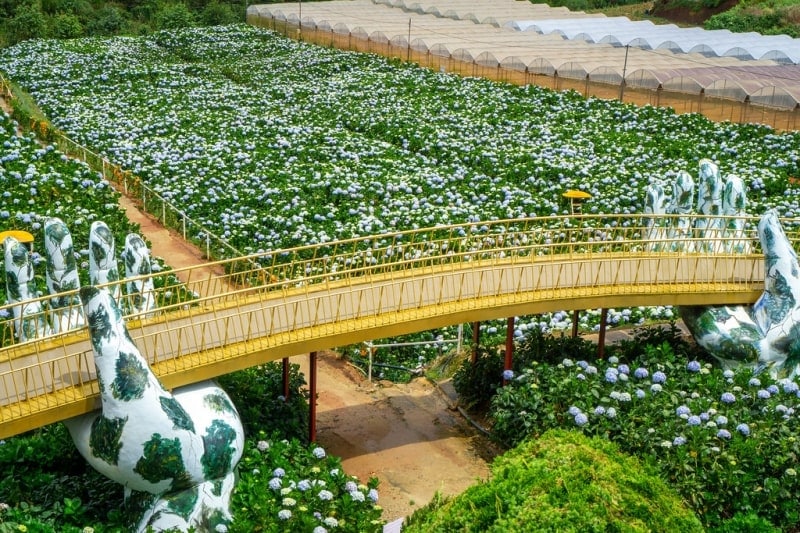 Flower garden
Enjoy Linh Phuoc Pagoda
Linh Phuoc Pagoda is a unique temple famous for its intricate mosaics made from broken ceramics, glass, and porcelain.
The temple is on the city's outskirts. Its centerpiece is a magnificent seven-story pagoda adorned with colorful mosaic tiles.
You can explore the temple grounds and admire the stunning architecture when visiting this temple.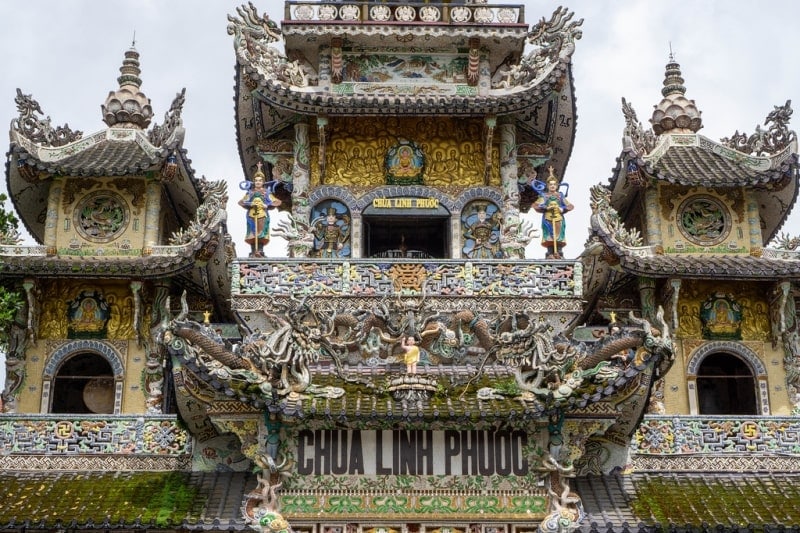 Linh Phuoc Pagoda
Visit Dalat Cathedral
The Da Lat Cathedral, also called the Chicken Church, is in the city's heart. It is a Gothic-style church constructed in the early twentieth century.
You can see stained-glass windows, intricate carvings, and towering spires in this famous cathedral. You also can attend mass at the church or admire its beauty from the outside.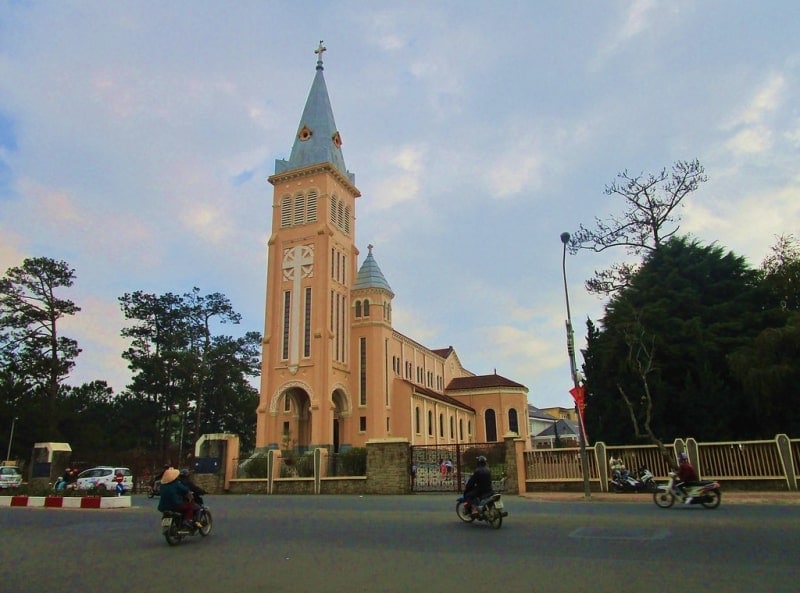 Da Lat Cathedral
Admire The Crazy House
The Crazy House is a unique, unconventional, and bizarre attraction in this flower city. It is an art museum designed to look like a treehouse.
The building has winding staircases, narrow bridges, and twisting corridors. The rooms in the museum are themed and inspired by animals and natural elements.
Visitors can explore the museum, marvel at the architect's creativity, and take plenty of pictures.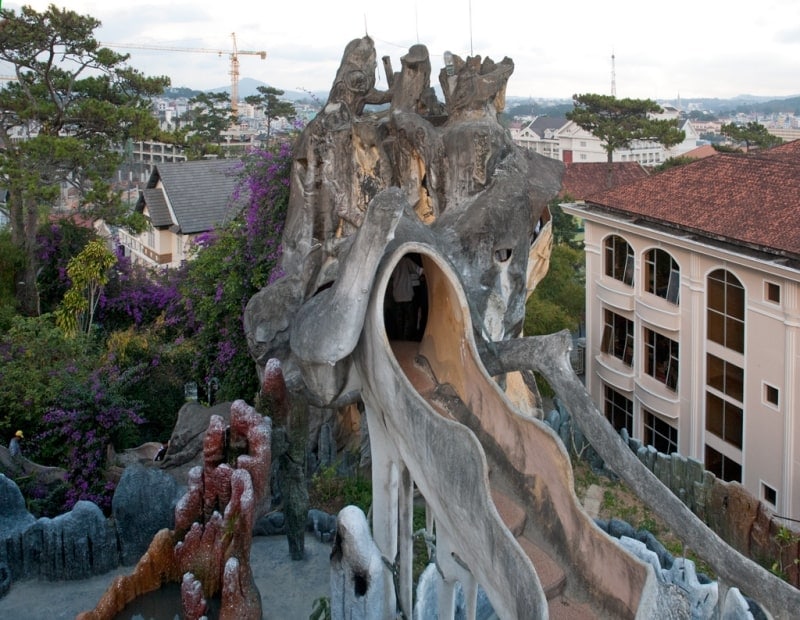 Crazy House
Food & Drink
Dalat is a city full of surprises. It's also true with its food and drink scene!
Have A Drink At 100 Roofs Cafe
One of the most unique and visually stunning cafes in this lovely city is 100 Roofs Cafe. It is in the city's center and resembles a traditional Vietnamese house.
The cafe has a rooftop patio with stunning views of the surrounding mountains. Also, you can admire a waterfall cascading down the building's side.
The menu at 100 Roofs Cafe features a range of coffee drinks, teas, and smoothies. It is the perfect site to unwind and admire the beautiful scenery while enjoying a refreshing drink.
Eat At The Central Market
The Central Market is a bustling hub of activity with various food vendors in the peaceful city. You can find everything from fresh produce to street food and traditional Vietnamese dishes here.
The market is prevalent for its fresh fruits and vegetables, which are grown locally and are incredibly flavorful. Apart from food, the Central Market has diverse handicrafts and souvenirs.
Dine At Dalat Train Cafe
For a truly unique dining experience, head to Dalat Train Cafe. This restaurant is in a vintage train car converted into a dining space.
The train car is on a hillside. The menu at Dalat Train Cafe features a range of Vietnamese and Western dishes and a selection of cocktails and wine.
This cafe is perfect for enjoying a romantic dinner with family members and friends.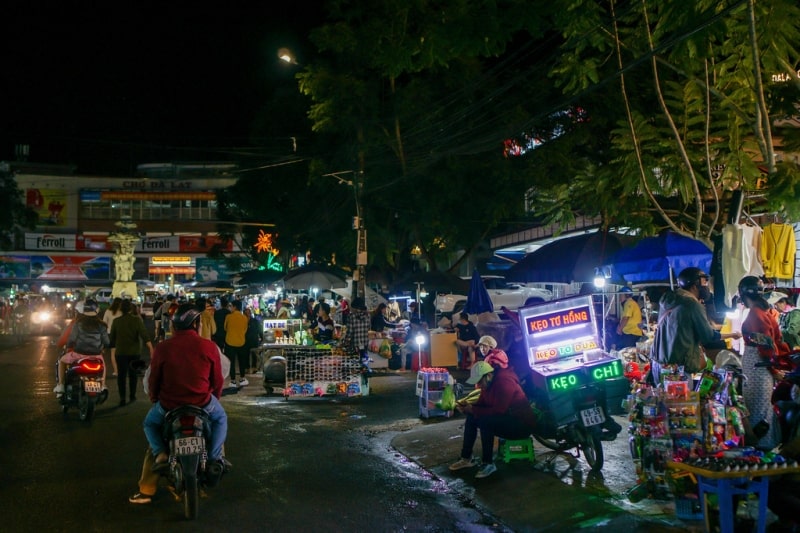 Food & drink
Wrapping Up
Dalat is a fantastic paradise for all visitors. Whether you want to stroll around or enjoy delicious food, this city always has something to explore.
Plan your itinerary, and you will have a memorable experience in this flower city. Hopefully, you can get the best recommendations after reading this article!