Hue is a city in central Vietnam rich in history and culture. This dreamy city is famous for its ancient architecture, delicious food, and outdoor adventures.
This article will highlight some of the top things to do in Hue. Whether an avid history buff or seeking a new adventure, keep reading to discover experiences in this poetic city.
Things To Do In Hue
Hue is a fantastic destination for visitors wanting to experience Vietnam's rich history and culture. If you desire to explore sightseeing, food tours, or outdoor adventures, add activities to your itinerary when visiting this romantic city.
Sightseeing
This ancient capital offers many sightseeing opportunities that take you back to Vietnam's imperial era. Here are some of the must-see sights when visiting Hue.
Take A Journey Back In Time At Hue Imperial Citadel
The Hue Imperial Citadel is a UNESCO World Heritage Site and is a must-see attraction when visiting the poetic city. The citadel once served as the home of Vietnam's emperors and their households from 1802 until 1945.
The Hue Imperial Citadel features various palaces, gates, and temples, each with a unique and fascinating history. Its architecture is remarkable, and it is an ideal place to learn about Vietnam's rich history.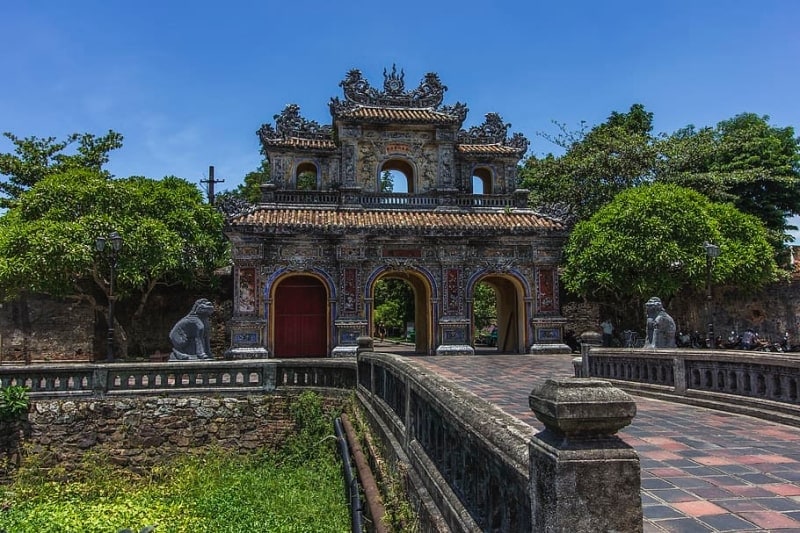 The Imperial Citadel
Visit Thanh Toan Tile-Roofed Bridge
In a peaceful rural village, Thanh Toan Tile-Roofed Bridge is a historic bridge built in the 18th century. The bridge is famous for its unique architecture, with a curved, tiled roof looking like a boat.
You can walk along the bridge and enjoy the tranquil scenery of the surrounding canals and rice paddies.
Visit An Dinh Palace
An Dinh Palace is a beautiful palace in Hue built in 1917 for the Nguyen Dynasty's royal family. It is a perfect example of Vietnamese architecture.
You can wander through the palace's many rooms and gardens. It's a great chance to admire the intricate ornate furnishings and wood carvings.
Visit Thien Mu Pagoda
Thien Mu Pagoda is a Buddhist temple on a hill overlooking the Perfume River. The pagoda's seven-story tower is the tallest in Vietnam. Also, it is an ideal spot to take in the stunning views of this romantic city.
The temple complex is also a beautiful place with many other buildings worth exploring.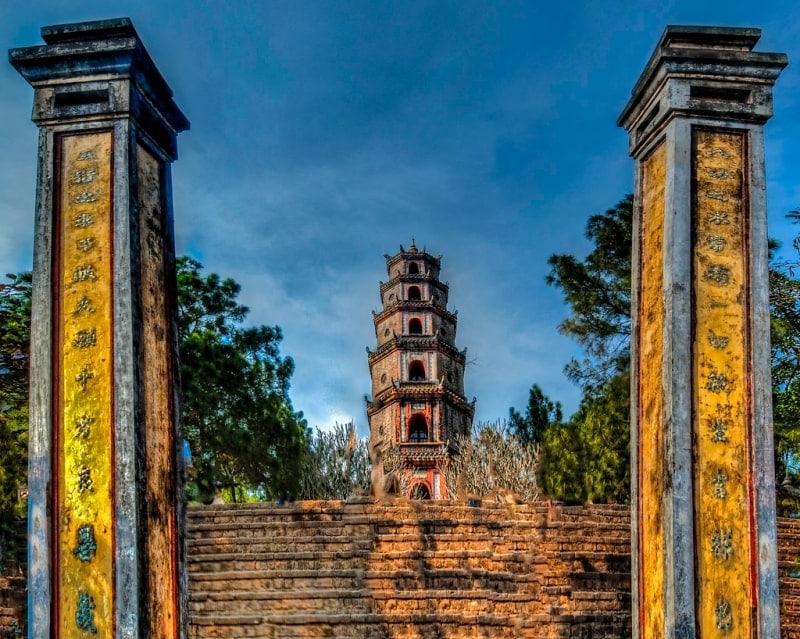 Thien Mu Pagoda
Dragon Boat Trip On The Perfume River
A dragon boat trip along the Perfume River is an excellent way to see the poetic city and surrounding areas. The boat ride takes you past the city's most iconic landmarks, including the Hue Imperial Citadel and Thien Mu Pagoda.
The boat ride is a serene and peaceful experience that offers breathtaking views of natural beauty.
Explore The Mausoleum Of Emperor Khai Dinh & Mausoleum Of Emperor Minh Mang
Hue is also home to several imperial tombs, including the Mausoleum of Emperor Khai Dinh and the Mausoleum of Emperor Minh Mang.
Both tombs feature stunning architecture and intricate details, showcasing the wealth and power of the Nguyen Dynasty.
You can explore the tombs' many buildings, courtyards, and gardens and learn about the emperors' lives and legacies.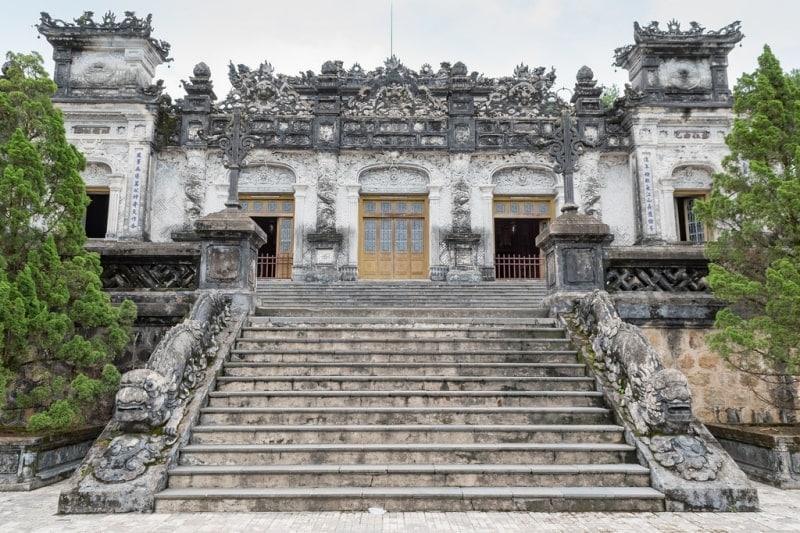 Mausoleum Of Emperor Khai Dinh
Enjoy Nightlife At Nguyen Dinh Chieu Walking Street
For those looking for evening entertainment, Nguyen Dinh Chieu Walking Street is the place to be. The street has bars, restaurants, and shops featuring live music and performances.
It's a perfect destination to enjoy a cold beer, sample some local cuisine, and soak up the lively atmosphere of this bustling street.
Take A Journey To Vietnamese History Through Hue Museums
Famous for its long-lasting history and rich culture, Hue Imperial City is also a hive of museums and galleries scattered around the city. Exploring Hue Museums is properly the best way to dig deeper into the soul of a city and of course one of the things you have to do in Hue.
In fact, Hue is a living space of art, architecture, history, and culture with a plethora of museums of all kinds. If you're an art lover, check out the famous Hue Museum of Royal Fine Arts or La Ba Dang Art Museum with an exclusive collection of paintings, ceramics or royal clothing. For history and culture buffs, a visit to Hue History Museum, Ho Chi Minh Museum or Hue Provincial Museum is a must.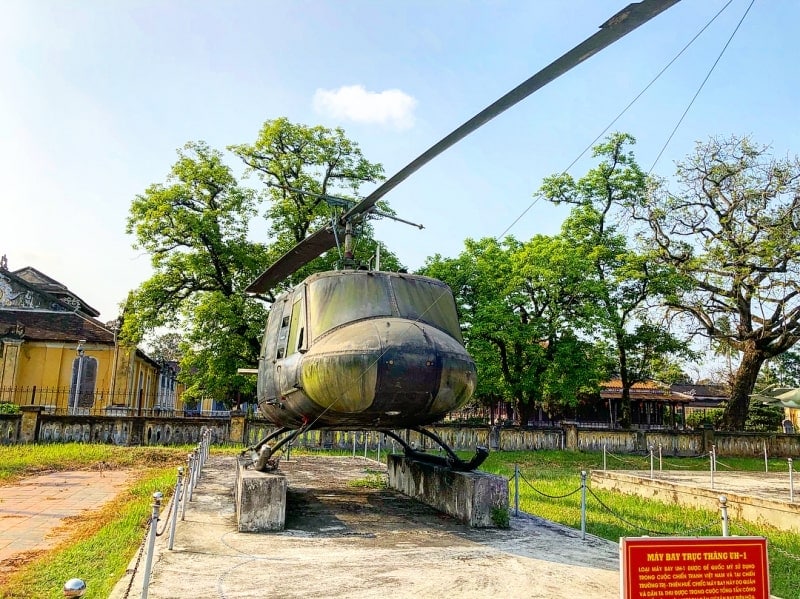 Hue History Museum
Laze On The Pristine Beaches Of Hue
Apart from the historical heritage, colorful festivals and royal food, the Imperial City of Hue is also enchanting for its lovely beaches with white sand, blue sea and sun. Scattered around the city, Hue beaches are an embracing part of any trip to Hue, Vietnam today. If you're in search of free things to do in Hue, make sure to spend some time unwinding on the best beaches in Hue, getting some peace of mind and indulging in the emerald water, you'll forget the time.
Immerse In The Festive Atmosphere Of Colorful Hue Festivals
Anyone with an interest in the city's rich culture and heritage should not miss out the incredibly amazing festivals in Hue. Held every two years in April, May or June, Hue Festival is one of the most unique cultural events in Vietnam for tourists around the world to experience the one-of-a-kind heritage of Vietnam's Imperial City. There is no better way to explore this beautiful culture than through the Hue festival.
During the festival, there is an abundance of activities to see and join including art exhibitions, street performances, cuisine fair, sampan racing and more. Do not miss out the chance to visit Hue during festival months to explore the city at its best.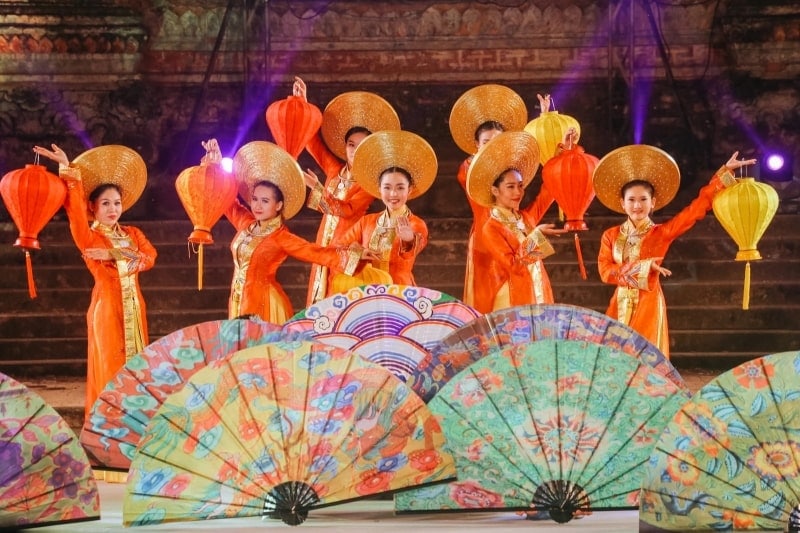 Hue festivals
Food Tours
Apart from history, this dreamy city is also famous for its imperial cuisine. Below are must-try dishes on a walking food tour at Dong Ba Market:
Walking Food Tours At Dong Ba Market
Let's try some of the local dishes:
Bun Bo Hue
Bun Bo Hue is a noodle soup that originated from Hue. It is made with rice vermicelli noodles, pork, and beef and flavored with shrimp paste, lemongrass, and chili oil.
This dish also has a version for vegans. The chefs replace the meat with tofu or mushrooms.
Banh Hue
Banh Hue is a small rice flour pancake filled with shrimp, pork, and bean sprouts.
Local people often serve this dish with a sweet and sour dipping sauce. All ingredients perfectly complement the savory filling.
Com Hen
Com Hen is a unique dish only found in this poetic city. And you can try it at many stalls in Dong Ba Market.
It is a rice dish that is flavored with a variety of herbs and served with baby clams. You can top the dish with roasted peanuts or crispy pork rinds. It perfectly combines sweet, sour, salty, and spicy flavors.
Che Bap
Che Bap is a sweet dessert soup with corn kernels, coconut milk, and tapioca pearls. It is a refreshing and delicious dessert perfect for a hot day.
Salt Coffee
Salt Coffee is a unique coffee drink in the dreamy city. It is made with strong Vietnamese coffee, condensed milk, and a pinch of salt.
The salt enhances the flavor of the coffee and gives it a unique taste.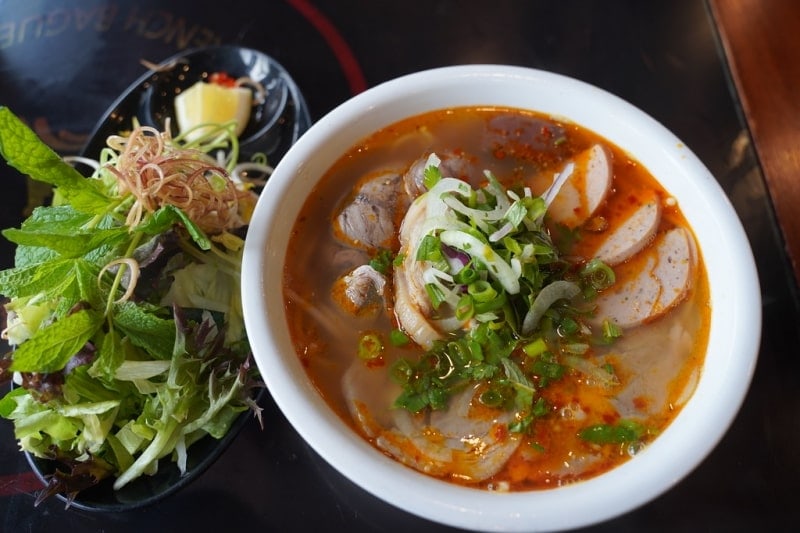 Bun Bo Hue
Adventure
Are you seeking an adventure on your trip to this ancient city? Look no further than these two thrilling activities:
Trekking Bach Ma National Park Overnight
If you're a nature lover, trekking through Bach Ma National Park is a must-do in this romantic city. This park boasts many ecosystems, from lush and dense forests to mountain peaks.
You can book a guided overnight trekking tour. It's fantastic to explore the park's various trails and panoramic views. The overnight tour also allows you to witness the park's stunning sunrise, which is an unforgettable experience.
Ride The Majestic Hai Van Pass
For a thrilling and scenic ride, hop on a motorbike or take a car ride along the Hai Van Pass. This destination is among the most beautiful coastal roads in the world. It offers the ocean's breathtaking views and the surrounding mountains.
If you want something adventurous, consider renting a motorbike and driving it yourself – be sure to take it slow and be mindful of traffic.
Hai Van Pass
FAQs
What Do People Do In Hue?
People may travel to this dreamy city for many good reasons:
Explore the Imperial City
Visit the Thien Mu Pagoda
Take a boat tour on the Perfume River
Is Hue Vietnam Worth Visiting?
Yes! Hue is worth visiting. The ancient city has a rich history, unique culinary scenes, and beautiful natural surroundings.
How Long Do You Need In Hue?
You should stay in this poetic place for at least three days to make the most of your visit.
What Is Hue Famous For?
Here are three things Hue is famous for:
The Imperial City
The Perfume River
Hue Cuisine
And more.
Is Hue A Party City?
No! Hue is less of a party city than other destinations in Vietnam.
The Bottom Line
Hue is a city that offers various activities and experiences for travelers of all interests. Whether you prefer sightseeing, food tours, or adventures, there is something for everyone in this romantic city in central Vietnam.
Thank you for reading!
RELATED ARTICLES