Just a one-hour flight, you can get from Ho Chi Minh to Nha Trang. If you are planning to visit Vietnam this summer, don't forget to put these two loving cities in your Vietnam travel itinerary.
Vibrating with energy, innovation and lots of traffic – Ho Chi Minh City, previously known as Saigon, is the economic heart of Vietnam and the main hub of the southern region. A freewheeling, cosmopolitan metropolis, Ho Chi Minh City's dynamic cityscape draws old and new Vietnam into one, representing the city's nostalgic soul as well as its modern spirit.
Nha Trang is considered one of the most livable cities in Vietnam. Not only known as the seafood capital of Vietnam, the city also offers countless attractive beauties that appeal to anyone who visits, from must-visit attractions, dynamic water activities to a vibrant nightlife.
In this article, we will provide you with detailed instructions on how to travel from Ho Chi Minh to Nha Trang, making your trip effortless and helping you make the most of your time in Vietnam. Let's scroll down!
Distance From Ho Chi Minh To Nha Trang
The Ho Chi Minh City – Nha Trang distance is approximately 450 kilometers (280 miles).
The trip may take you around 8 – 9 hours if you drive. If you are uncomfortable driving, take a bus instead. This journey is 10 – 12 hours, depending on traffic and road conditions.
Besides, you can take the train to Nha Trang from Ho Chi Minh. Traveling between these cities by train takes around 8 – 9 hours.
Continue reading to explore other options and choose the best one to meet your requirements and budget!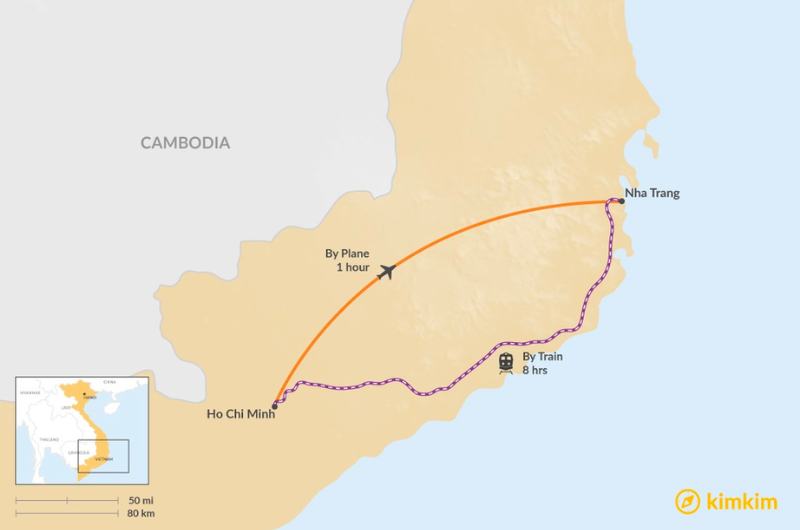 How To Travel From Ho Chi Minh To Nha Trang?
By Flight
The best way to go between the two cities is by air. It's quick, convenient, and offers a comfortable travel experience.
Flying from Ho Chi Minh to Nha Trang takes approximately 1 hour and 15 minutes.
A one-way ticket price from Ho Chi Minh to this stunning coastal city can vary depending on factors such as the season and the airline. It costs from 1,200,000 VND – 2,400,000 VND ($50 – $100) on average.
You can find various airlines that operate flights between these cities. Here are some of the best options to consider:
Vietnam Airlines
Jetstar Pacific Airlines
Vietjet Air
Pros:
Quick and convenient
Comfortable
Cons: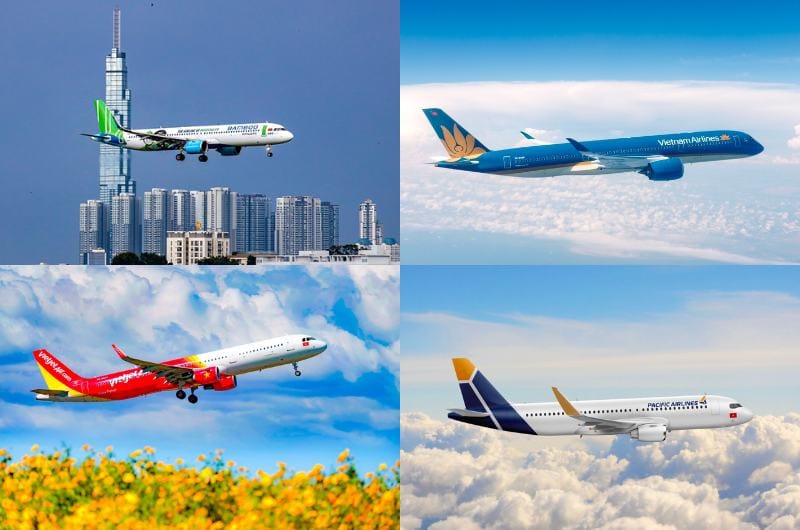 By Train
If you want to see the breathtaking countryside scenes along the road, consider reaching Nha Trang from Ho Chi Minh City by train.
The train ride between these cities is around 7 – 9 hours, depending on your chosen train type.
Depending on the type and class you choose when booking a train from Ho Chi Minh to Nha Trang, the cost varies.
The standard trains are the cheapest, costing around 150,000 VND ($6.5) for a one-way trip. Meanwhile, luxury trains cost up to 1,000,000 VND ($43).
Pros:
Comfortable seats
Scenic views
Convenient
Cons:
Long duration
Unexpected delays
Limited amenities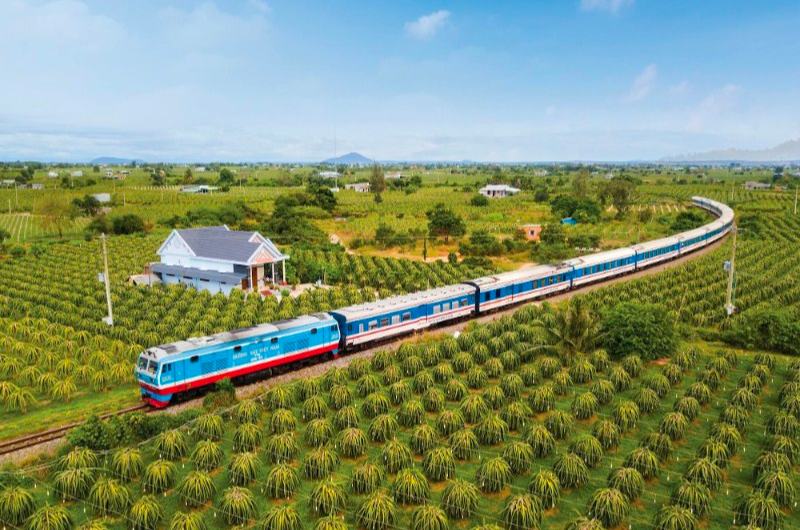 By Open Bus
Do you want a convenient and affordable means of transport to reach Nha Trang from Ho Chi Minh? Consider an open bus!
It may not be the most comfortable means of transfer. Yet, it is a great way to save money and see the countryside views.
An open bus trip between these locations takes approximately 10 – 12 hours. The duration depends on traffic conditions and weather.
An open bus ticket from Ho Chi Minh to Nha Trang costs 200,000 VND to 300,000 VND ($9 – $13).
Pros:
Affordable for those on a budget
Offering scenic views
Cons:
Long journey
Uncomfortable seats
Limited space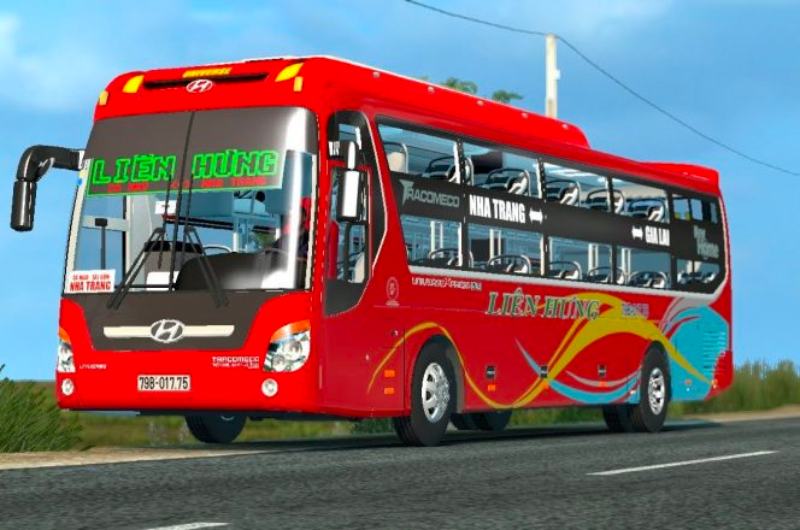 By Limousine
It takes around 8 – 9 hours by limousine (or shuttle bus) to reach Nha Trang from Ho Chi Minh. It seems like a long journey, but the scenic route makes it worth it.
You'll travel through stunning landscapes, bustling cities, and charming towns, giving you a true taste of the beauty of Vietnam.
The price range for a shuttle bus between these locations significantly varies. It depends on the company and the bus type you opt for.
Generally, the cost ranges from 200,000 VND – 400,000 VND ($9 – $17) per visitor.
Pros:
Convenient for tourists who may not be familiar with the area
Allowing you to appreciate the stunning landscapes fully
More affordable than other modes of transportation
Cons:
Not ideal for those who are short on time
Limited schedules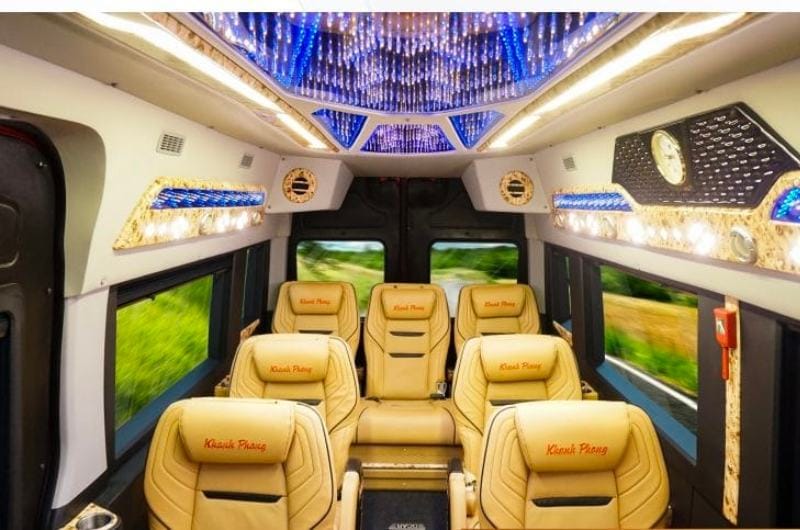 By Rental Car
Renting a car is an excellent option for travelers who want to experience the beauty of Vietnam's countryside and coast on their way to this coastal city.
The drive takes approximately 8 – 9 hours, depending on traffic conditions and the route.
The price range for renting a car from Ho Chi Minh to Nha Trang can vary. You can pay around 1,600,000 VND – 3,500,000 VND ($70-$150)/ day for a rental car.
There are many places to rent a car in Ho Chi Minh, including international car rental chains such as:
Pros:
Flexible schedule
Having chances to admire and explore stunning scenes
Cons:
More expensive than other ways
Stressful driving in unfamiliar territory
By Motorbike
Do you want to experience Vietnam's beauty and culture while traveling? Go by motorbike!
Renting a motorbike can cost 150,000 VND – 250,000 VND ($6 – $10)/day, depending on the vehicle type and the rental company.
Many places offer motorbike rental services. Some of the most popular options include
Tigit Motorbikes
Rent A Bike Vietnam
Flamingo Travel Vietnam
Pros:
Freedom and flexibility to explore at your own pace
Scenic route with stunning views of the coastline and mountains
Opportunity to experience local culture and meet new people
Cons:
Challenging road conditions
Unpredictable weather conditions
Limited storage space for luggage
Recommended Itinerary
Is it still challenging to determine the best means of transport to reach Nha Trang from Ho Chi Minh?
If so, you can reach out to Vietnamtour.in for assistance. Our travel experts will consider your budget and personal preferences to arrange the best-suited transit option for your itinerary. You can also check out our recommended Vietnam tour packages to have an idea about a detailed plan to discover Vietnam:
1/ South of Vietnam With Beach Holiday in Nha Trang 5 Days
2/ Blissful Vietnam with Beach Stay in Nha Trang
3/ Explore North and South of Vietnam 7 Days
Final Thoughts
There are various transportation options from Ho Chi Minh City to Nha Trang, like flight, train, or motorbike. Each has its pros and cons. Select the one that fits your budget and schedule.
Regardless of your choice, the route is scenic, and Nha Trang will surely leave you with unforgettable memories.
RELATED ARTICLES