Widely regarded as "the land of million elephants", Laos is a hidden gem of natural and architectural wonders. There is no exaggeration to say that Laos is the rarest and most exotic travel destination in the Southeast Asian region.
This special country has no difficulty in conquering the hearts of tourists with its "travel-back-in-time" feeling, friendly local people, combined with numerous impressive Buddhist temples, fascinating tourist attractions, and valuable ancient relics.
From the ancient town of Luang Prabang, which was recognized as one of the World Heritage Sites by UNESCO, to the unexplained and mysterious Plain of Jars, all you can do is open your mouth in awe. Vietnamtour.in would like to recommend you 10 best things to do in Laos right below.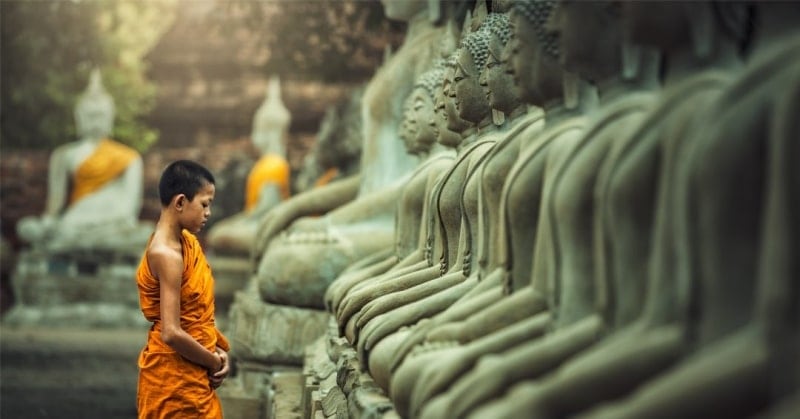 Take a pleasant walk around That Luang Stupa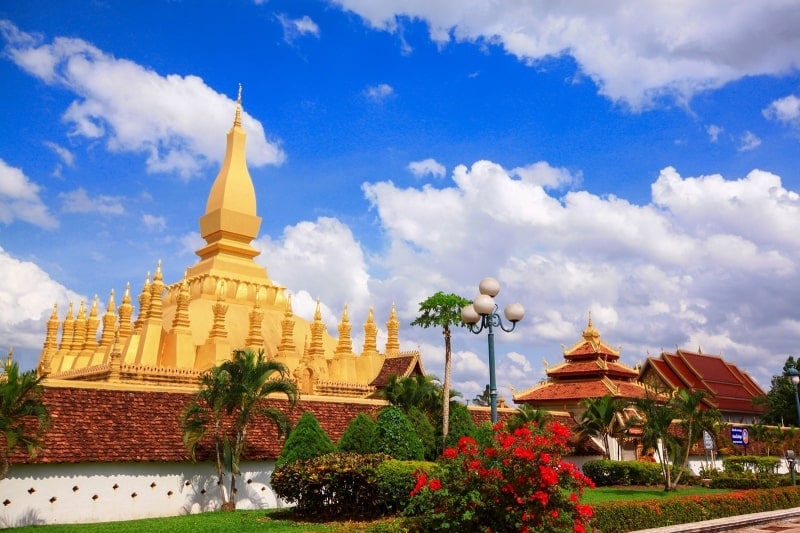 Located in Vientiane – the capital of Laos, That Luang, also known as the Great Stupa, is not only the country's emblem but also the holiest monument in the heart of every Laotian. That Luang owns a fortress-shaped architecture with high walls embracing all sides.
The place also stands out among other tourist attractions in Laos with the two temples and one main stupa, whose top is coated with gold leaf and the height is 148 feet. That Luang has wonderful Laos-style architecture, influenced by Buddhist beliefs, with red-lacquer door and many beautiful Buddha, animals and flower images.
You can always join the festival held here every November which lasts for 3 days (Lunar Calendar). A great number of pilgrims cluster together at That Luang to present offerings to the monks coming from all around Laos. Joining the throngs of pilgrims, giving offerings of candles, flowers, and incense at the altar, or simply taking a stroll around the peaceful yard are not-to-miss experiences for your Laos tours from India.
Visit Wat Phou – the UNESCO World Heritage Site in Champasak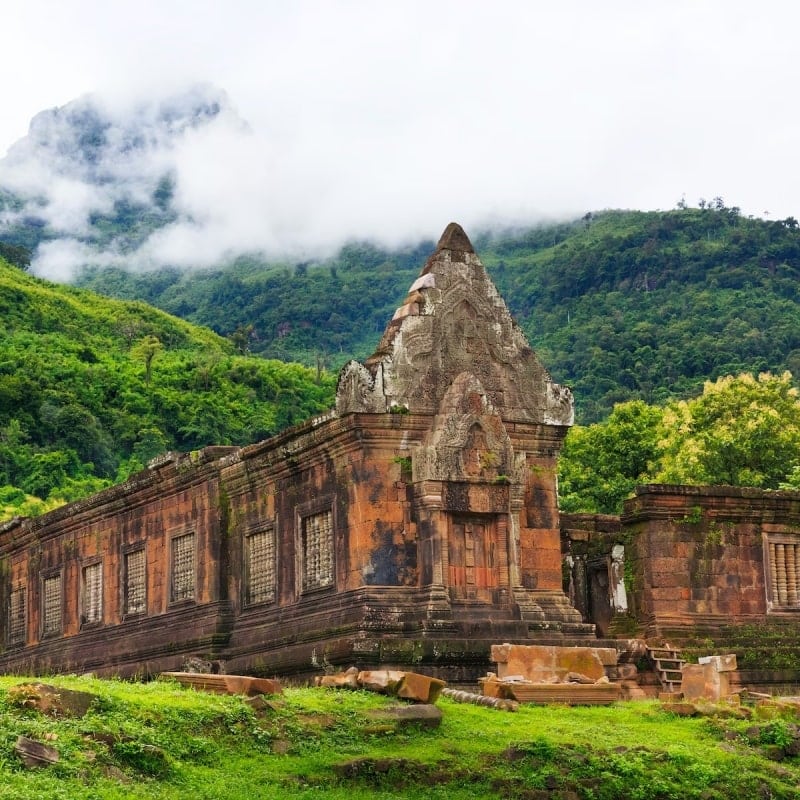 As its name suggests, Wat Phou – the mountain temple – is located on a hillside and is an ideal place for admiring the spectacular views of the Mekong River and its surrounding areas. Wat Phu has become well-known all around the world since the World Heritage Site Recognition in 2001. Tourists who are interested in art and history will be amazed by the excellent workmanship in the temple complex in the form of pillars, a sanctuary, a shrine, and so on.
Besides, don't forget to feel the touch of "holy" water from a natural stream on your lips as well as take part in the one-week annual festival of the temple with a wide variety of rituals and exciting activities. They include blessing rituals of monks, elephant racing, cockfighting as well as a trade fair. These events can't lack the entertainment factors such as live music and traditional Laos dancing.
Live among the majestic nature in Bolaven Plateau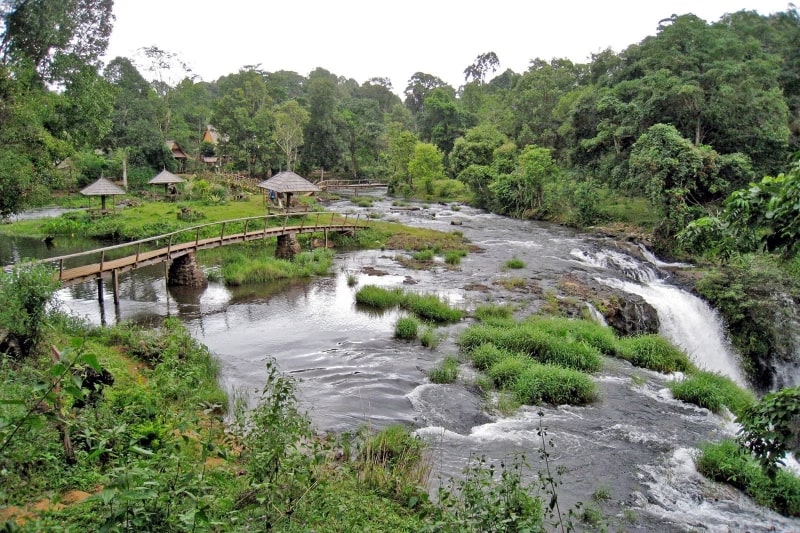 Bolaven Plateau in southern Laos is well-known for its great natural sceneries, cultural villages, and unexplored corners. Besides, this plateau is generously bestowed by Mother Nature for the most gorgeous waterfalls in the world. The plateau lies at an altitude of over 1000 meters above the sea, creating a mild and cool temperature. Thanks to its moist and fruitful plains, Laos is also famous for producing and exporting tea and coffee.
In addition, Bolaven has made good use of the advantages of beautiful landscapes that are bestowed by nature for tourism development. Thus, apart from admiring the stunning natural views, you can also enjoy trekking or going on day trips. Don't forget to pay a visit to Tad Fane twin waterfalls. They create an impressive look of the water falling over 100 meters down the steep cliffs into a gorge. The beautiful rainforest is a part of a huge national park where wild animals call its home.
Read: When is the Best time to travel to Laos
Find peace at the Buddha Park in Xieng Khuan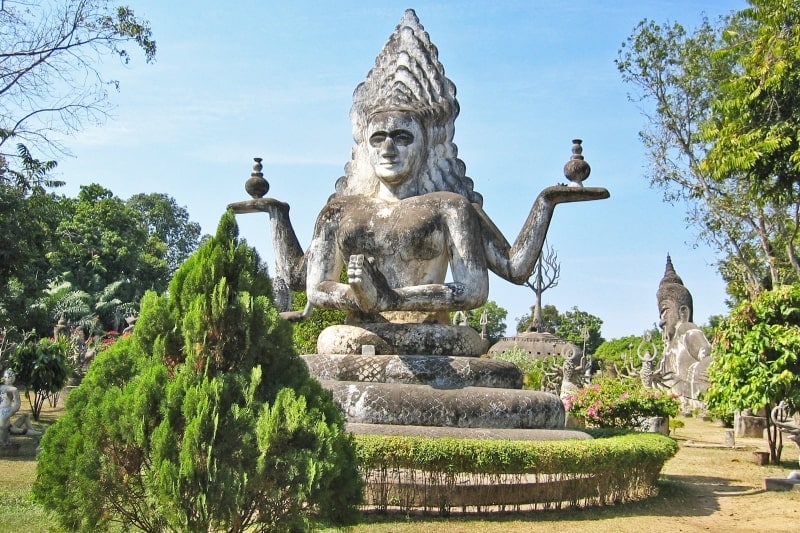 It would be a great mistake not to pay a visit to see the exquisite sculptures in Buddha Park. Also known as Xieng Khuan, the park is situated on the bank of the Mekong River.
A number of up to 200 Buddhist carvings are displayed around the park, along with a huge cupola structure that allows an overview of the park. Buddha Park has a wide range of sculptures reflecting the religious benefits of the founder who established the park in 1958. He took a special interest in consolidating the beliefs between Buddhism and Hinduism. Thus, you are likely to come across carvings of the Hindu Gods, devilish figures, and Buddha images, especially a 40-meter-long lying Buddha.
Moreover, the park impresses visitors with a giant pumpkin sculpture shaped like a giant mouth of a demon opening the doors to health, heaven, and earth.
Cruise along the peaceful river of Bokeo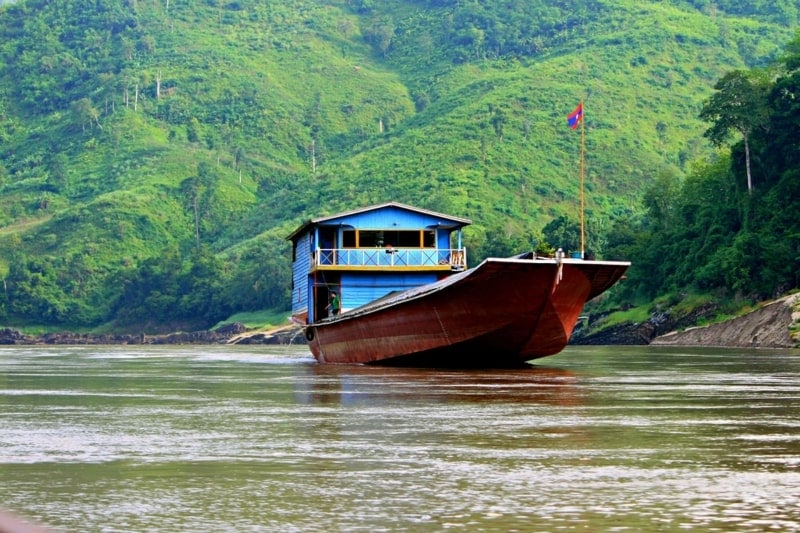 Located in the center of the notorious Golden Triangle, Bokeo borders Thailand, and Myanmar, and is 100km from China. Although Bokeo is the smallest province of Laos, it is an interesting combination of minority groups with unique customs and habits. The name Bokeo is translated as "gem mine" and this city is also called "the land of sapphires". Gold and precious stones digging are one of the main jobs here.
Similar to other small cities in Laos, a number of temples built in earlier centuries and the surrounding villages seem to be the only tourist attractions. But the true economic power of Bokeo lies in tourism. A vacation among a network of hunts and shelters built on trees in primary forests promises to be an unforgettable experience. This is the perfect place to observe the rare and precious animals of the forests from high above.
Apart from this exciting activity, Bokeo is considered the gateway to the rest of Laos, the famous stop for the majority of tourists before boarding a boat and going southeast to Luang Prabang.
Travel back in time at Plain of Jars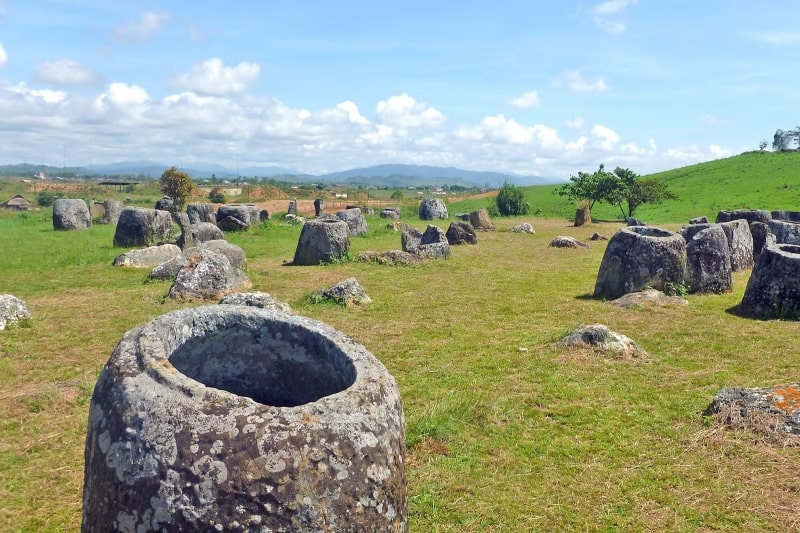 Plain of Jars, stretched over a huge area in the northeast of Laos, is the home of a great number of peculiar jars. It's advisable to have a guide accompany you on your trip to explore different sites of the relic because of its huge area. Don't forget to have a look at the most ancient jar originated from 500 BC.
Numerous evidence prove that the distilled bodies were put into the jars and sealed until only the bones remained. Then these bones were taken out and buried inside either in one of the jars or underground.
Breathe in the unique ambiance in Luang Prabang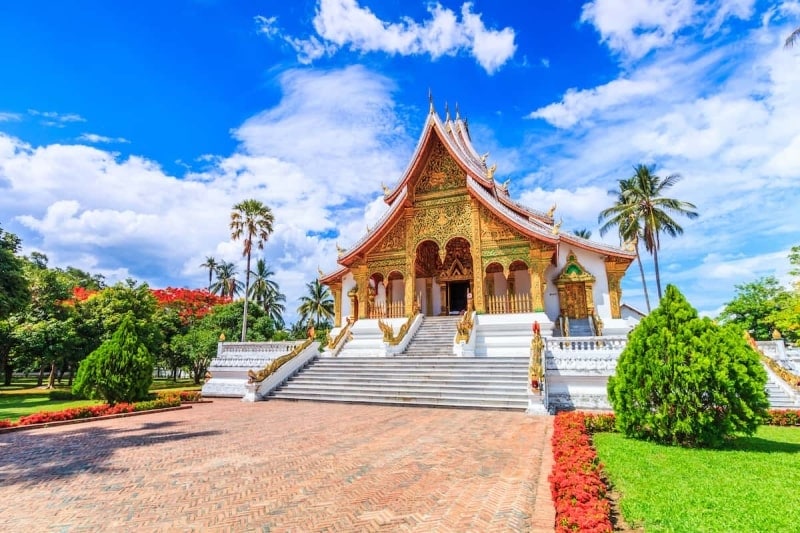 Located in the northern area of Laos, the ancient town of Luang Prabang was recognized as one of the priceless World Heritage Sites at the year of 1995. Regarded as the center of Laos culture by many travelers and writers, this small tranquil town is surrounded by high mountains with an average height of 700 meters.
The Lan Xang Kingdom at first chose Luang Prabang to be its Royal Capital until the decision to move to Vientiane – the capital of Laos – of King Phothisarat was made. No matter what, this place has surpassed Vientiane to be the top destination with the mixture of ruined French architecture, sparkling temples, and gorgeous nature.
All of the historical sites are open for tourism, from the kingly residences to more than 33 temples. This former capital of royalty remains a place where a great number of Buddhists gather to learn and practice their rituals. Thus, there is nowhere better than Luang Prabang on your tours to Indochina to observe and gain insights into spiritual practices, ceremonies, and rituals.
Enjoy Lao typical rural area in Vang Vieng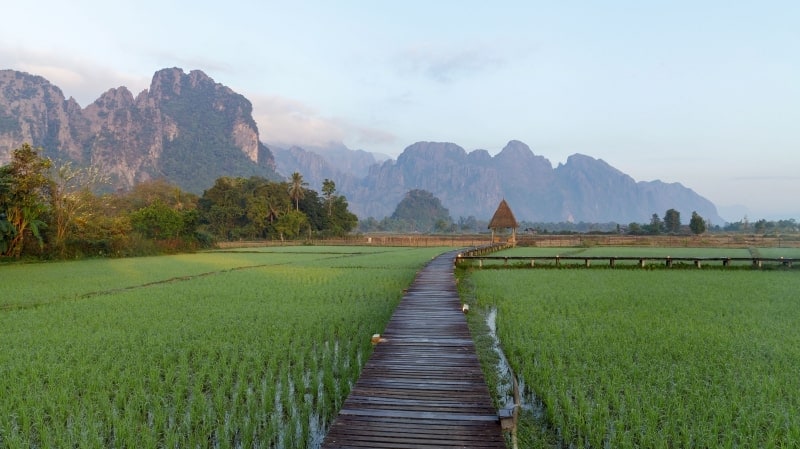 There is no exaggeration to say that Vang Vieng is a heaven on Earth. Granted by nature with stunning sceneries, Vang Vieng has never failed to amaze visitors with its endless stretch of lively green rice fields, majestic limestone ridges, and peaceful rivers.
Nam Song River is the place where you come across the famous tubing with tourists sitting inside the large inner tubes floating down the river. The Tham Poukham Cave is well-known for "Blue Lagoon", where you can enjoy a lazy day without disturbance. Or you can start a journey to discover Tham Norn – the biggest cave in Vang Vieng.
If time permits, stop by the local market to gain an insight into daily activities of Laotians in the countryside.
Learn the local beliefs at Wat Sisaket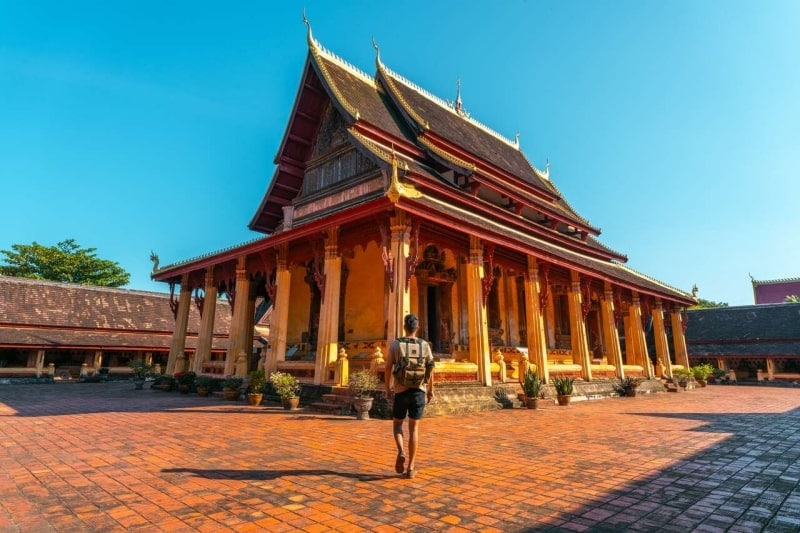 Wat Sisaket has gained favor among travelers by being the home of a great number of Buddha images and sculptures. These images dated from the 16th to 19th centuries with numerous sizes and are made from wood, stone, and bronze. There are 6,800 images and sculptures of Buddhas in total.
In the morning, the throng of locals coming to the pagoda to offer prayers, present offerings to the monks, make merits, and practice other typical rituals has become a common image at Sisaket. Taking a walk around the shady interior with tropical fruit trees and watching the pilgrims come and go is the best way to relax after a day full of activities.
Gain insight into Laos history at That Ing Hang Stupa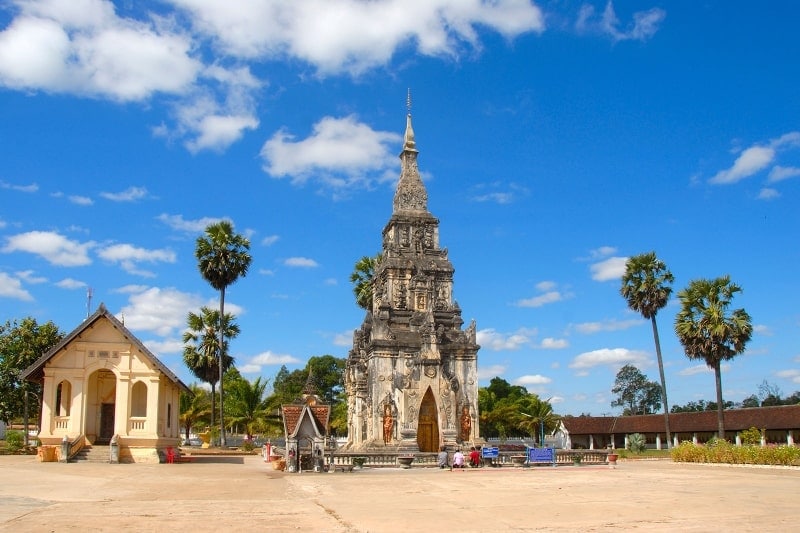 Aside from the great stupa That Luang at Vientiane, That Ing Hang Stupa dates back to the 16th century and is situated in Savannakhet. Savannakhet itself draws a large number of history lovers as the birthplace of famous former Laos leader, Kaysone Phomvihane. This historical place once served as a French trading outpost. Thus, you can easily spot French architectural influences on the buildings here.
That Ing Hang Stupa plays an important part in spreading and nurturing Buddhism. Upon arrival at the temple, wearing a Pahsin – the traditional Lao-style sarong – is compulsory for women.
"The Land of Million Elephants" has never failed to meet the expectations of travelers with its distinctive customs, countless exciting historical sites, bold imprints of Buddhist beliefs, and numerous appealing attractions. Save this guide immediately and let's kick off the brilliant year 2019 with a memorable journey to Laos.
Final Thoughts
You can fully understand the country by using our list of the top things to do in Laos. If you still wonder if it was far to travel to Laos, continue to read our guide How to reach Laos from India to learn more!
RELATED ARTICLES