Nha Trang, a coastal gem located in the Khanh Hoa province of Vietnam, is known for its stunning beaches, clear waters, and a plethora of water-based activities. However, as the sun sets, Nha Trang transforms into a vibrant and lively nightlife hub. In this guide, Vietnamtour.in will take you on a journey through the exciting Nha Trang nightlife, highlighting the best places to visit, the local entertainment options, and the unique experiences it has to offer.
Stop by the bars
Sailing Club Nha Trang
Sailing Club is nestled right on the Nha Trang beachfront, allowing guests to enjoy their cocktails with their feet in the sand. The ambiance is unbeatable, especially during sunset.
This bar is famous for its lively parties and music, attracting a diverse crowd looking for a vibrant Nha Trang by night experience. DJs and live bands often keep the energy levels high.
The Club offers a diverse menu that includes fresh seafood, Vietnamese specialties, and a variety of international dishes.
Address: 72 – 74 Tran Phu Street, Loc Tho Ward, Nha Trang
Opening hours: 07:00 AM – 02:00 AM
Louisiane Brewhouse
What sets Louisiane Brewhouse apart is its on-site brewery that produces a range of craft beers. Visitors can enjoy a tasting experience like no other with unique and fresh brews.
Louisiane Brewhouse frequently hosts live bands and musical performances, creating a lively and entertaining atmosphere. The bar's lush garden and beachfront location provide a serene and picturesque setting, making it an appealing choice for those seeking a more relaxed ambiance
Address: 29 Tran Phu Street (Beach Side), Loc Tho Ward, Nha Trang
Opening hours: 07:00 – 12:00 AM
Skylight Nha Trang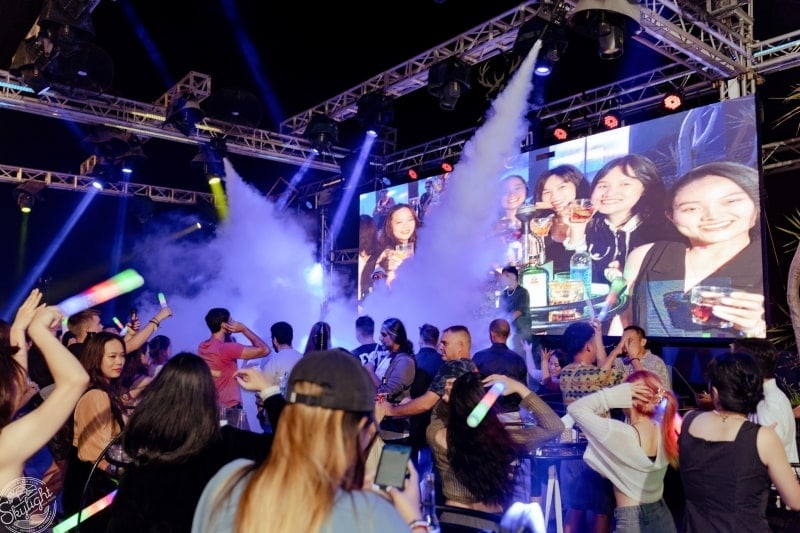 Skylight is renowned for its breathtaking 360-degree views of Nha Trang. Whether you're sipping a cocktail by the pool or dancing under the stars, the vistas are absolutely stunning.
This rooftop bar exudes sophistication and style. With its modern design and comfortable seating, it's an ideal place for a special night out or a romantic evening. Skylight often features international DJs and live music, ensuring that every night is a unique and thrilling experience.
Address: 45th Floor, Havana Hotel, 38 Tran Phu Street, Loc Tho Ward, Nha Trang
Opening hours: 05:30 PM – 01:00 AM (closed every Monday)
Paradise Club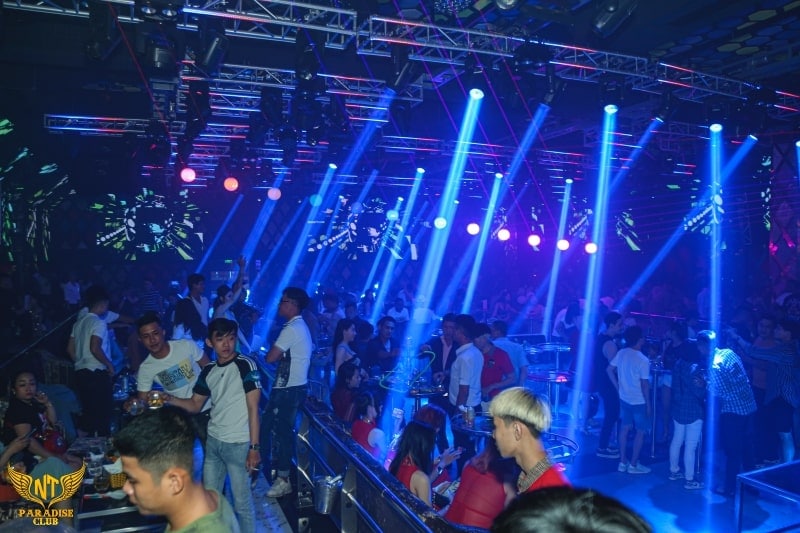 Paradise Club is synonymous with epic beach parties underground. The atmosphere is electric, and the parties often continue into the early hours. It's the ultimate destination for those who love to dance and celebrate. Paradise Club frequently hosts renowned DJs, making it a magnet for partygoers seeking a world-class Nha Trang nightlife scene.
Address: Four Seasons Park (Beach Side), 38 Tran Phu Street, Loc Tho Ward, Nha Trang City
Opening hours: 07:30 PM – 02:30 AM
Secrets Bar and Grill Nha Trang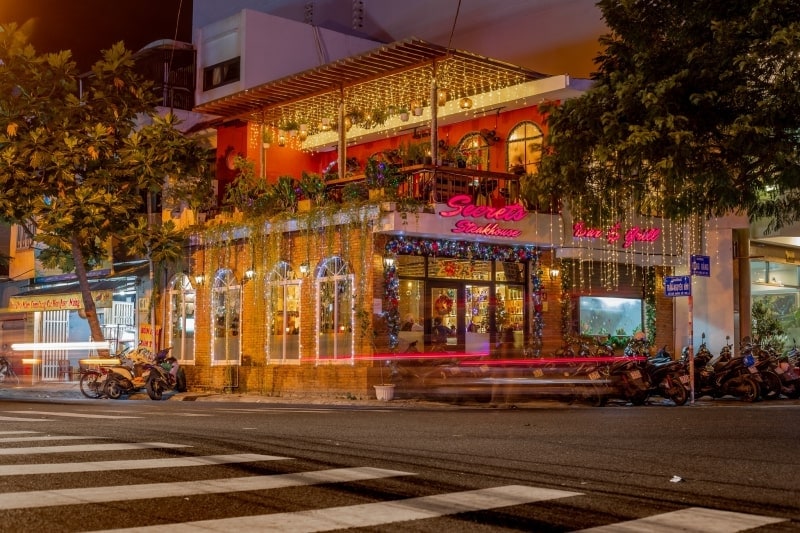 Secrets Bar and Grill provides a cozy and intimate setting, making it a great choice for a quiet night out or a romantic date. The laid-back atmosphere is a refreshing contrast to larger clubs. This bar is known for its culinary prowess, with a focus on serving delectable food, particularly its signature steaks and seafood dishes. It's the perfect spot for food enthusiasts.
Address: 64 Hong Bang Street, Tan Lap, Nha Trang, Vietnam
Opening hours: 04:30 – 10:00 PM (closed every Monday)
Shopping and Street Food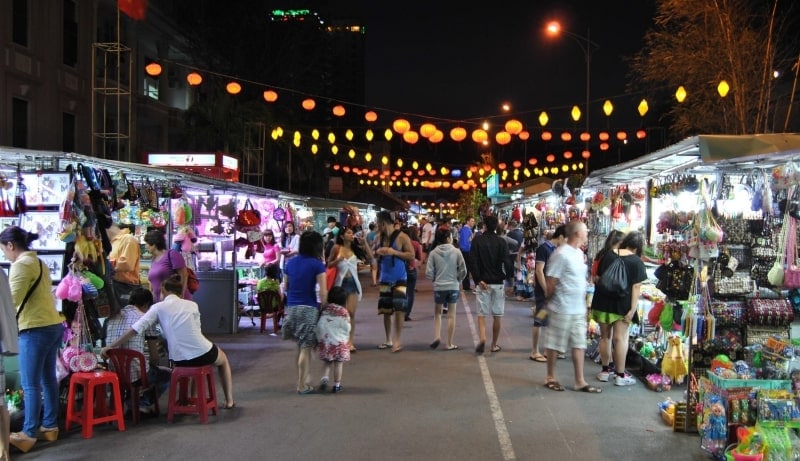 Shopping Extravaganza: The Nha Trang Night Market is a dynamic and colorful spectacle in the evening. The marketplace transforms as vendors set up their stalls, offering an extensive range of products. From fashionable clothing and trendy accessories to intricate handicrafts and souvenirs, there's something for everyone.
Street food exploration: Nha Trang's night market is a haven for food enthusiasts. As twilight descends, an array of street food vendors come to life, preparing delectable Vietnamese dishes. You can savor authentic delicacies like banh mi, fresh seafood, and more. The market is a culinary adventure where you can savor the essence of Vietnamese street food culture.
Stoll around beach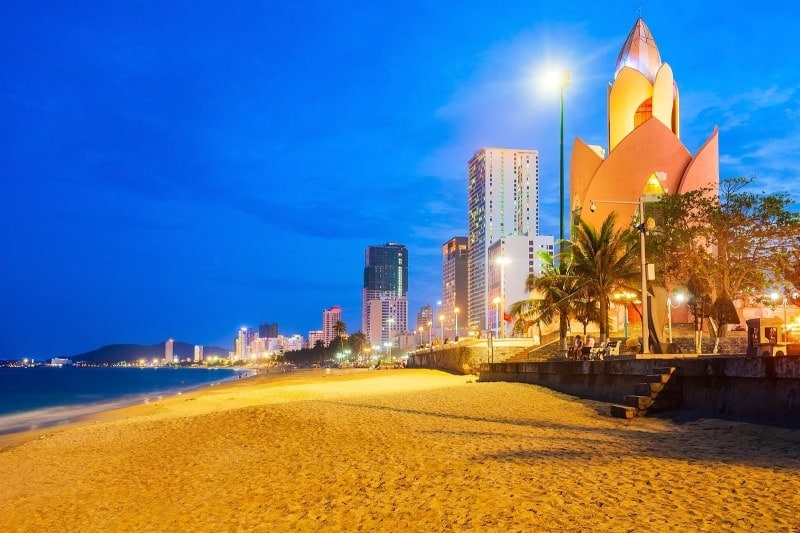 Serenity by the Shore: An evening stroll along Nha Trang's pristine shoreline is a tranquil escape from the hustle and bustle of the city. The gentle lull of the waves, the soft glow of the streetlights, and the starry sky create a soothing atmosphere. It's the perfect setting for relaxation and reflection.
Romantic Ambiance: Nha Trang's beach comes alive with romance after dark. Couples can be seen walking hand in hand or enjoying a quiet moment together. The sight of the moon reflecting on the calm waters adds an extra touch of magic, making it a favored spot for Vietnam honeymoon packages.
Check-in at 2/4 Square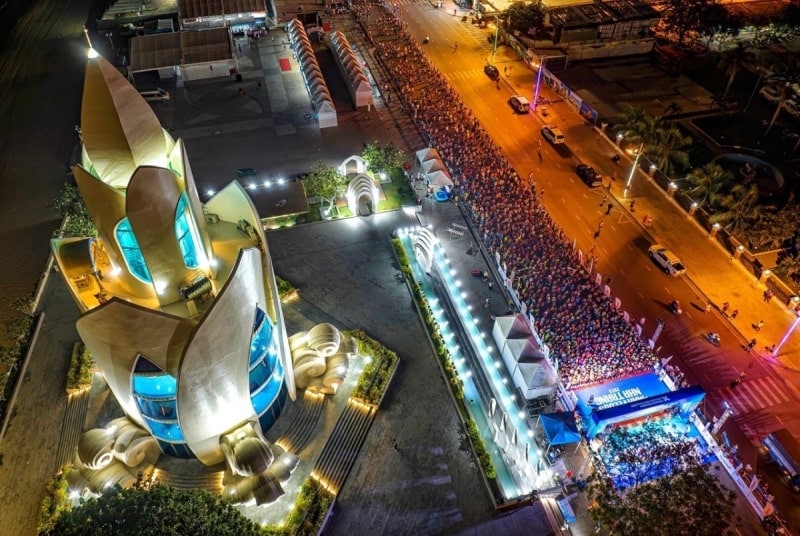 Local Landmark: 2/4 Square is an iconic location in Nha Trang, and at night, it takes on a different charm. Illuminated by a soft, warm glow, the square is a central meeting point for locals and visitors alike. It often hosts cultural events, live music performances, and traditional dance shows, giving you a chance to immerse yourself in the local arts and entertainment scene.
People-watching: This is a must thing to do in Nha Trang at night. You can observe the diversity of Nha Trang's inhabitants, from families enjoying their evenings to street performers showcasing their talents. It's a unique window into the city's culture.
Squid fishing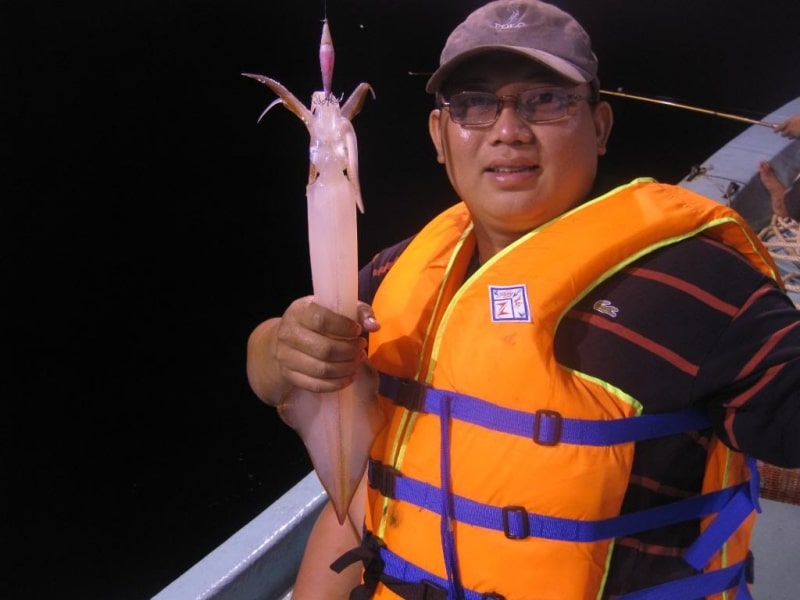 Marine Adventure: Squid fishing is an unforgettable nighttime marine adventure. Guided squid fishing tours take you out into the open sea, where you can try your hand at this age-old fishing technique. Expert fishermen will share their knowledge and assist you in the process. The experience of casting your line and feeling the excitement as you catch squid beneath the starlit sky is truly remarkable.
Educational Experience: Squid fishing tours often include insights into the marine ecosystem and the biology of squid. Grab a Vietnam tour package to join an adventure where you can learn about the creatures inhabiting the waters of Nha Trang.
Conclusion
Nha Trang nightlife is a unique blend of natural beauty, vibrant parties, traditional culture, and relaxation. Whether you're looking to dance the night away, enjoy a quiet beachfront dinner, or experience the rich Vietnamese culture, Nha Trang has something for everyone. As the city awakens after dark, it becomes evident that Nha Trang is not just a daytime paradise but a dynamic and exciting destination for nocturnal adventures as well.
RELATED ARTICLES