The idyllic coastal town of Nha Trang is on the top list of Vietnam's beach destinations. If you're not a beach lover, it's sure not for you. But for those, the beach is a part of their life, it's hard to ignore this little slice of paradise in Vietnam. So, enjoy every moment of your family holidays to Vietnam from India at one of the hotels or beach resorts that line the beach with spectacular views of the blue sea.
Any nature lover can easily get to fall in love with this incredible spot as Nha Trang has more to offer than just stunning beaches. Just gorge on a Vietnam trip, find your own paradise with our suggestion of the best places to stay near Nha Trang Beach for every budget.
Where should you stay in Nha Trang?
Nha Trang City Center
There are a lot of places to stay around Nha Trang's beaches including the city center itself. Depending on your wish and purposes, you could choose to stay in convenient places which give you access to do more things and places to eat within walking distance. For first time travelers, staying around the city could be the best choice to explore the city and the beaches together.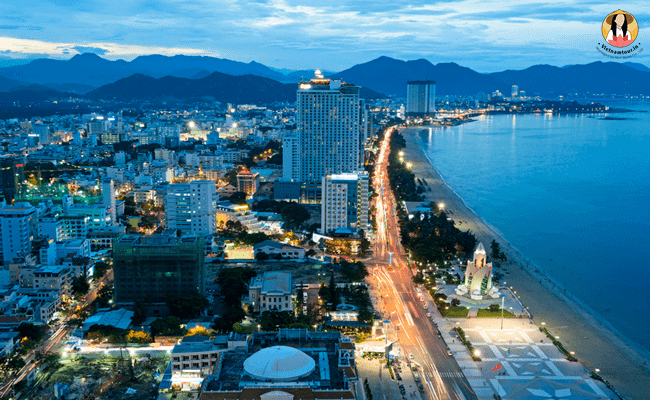 Remote beaches or areas around Nha Trang beach
If you want to spend your stay in a natural setting, there are some other options in Nha Trang surrounding areas. Tran Phu Beach is a good option if you want to be in the center of all the action from parties, beachfront resorts or budget places to eat, etc, generally, everything you want in Nha Trang.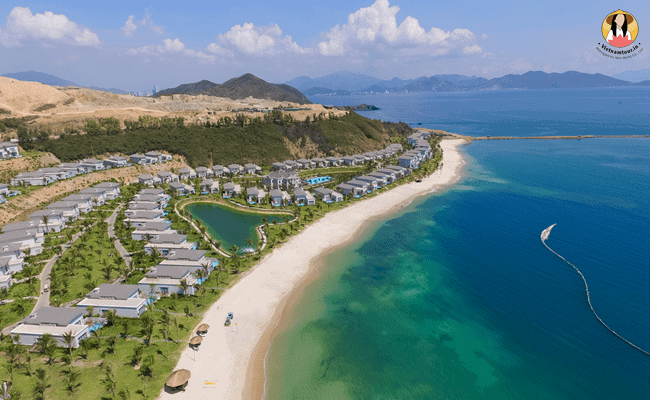 Nha Trang Islands
Staying around the isolated islands is also an ideal experience to take in the grandeur and tranquility of nature. You won't be in the main area of Nha Trang but you will get some peace and quietness. There is a number of islands with beautiful resorts off Nha Trang's coast with the taste of luxury, great for families or couples.
In addition, Nha Trang features a plethora of accommodations ranging from every budget from high-end hotels and beach resorts to budget hostels.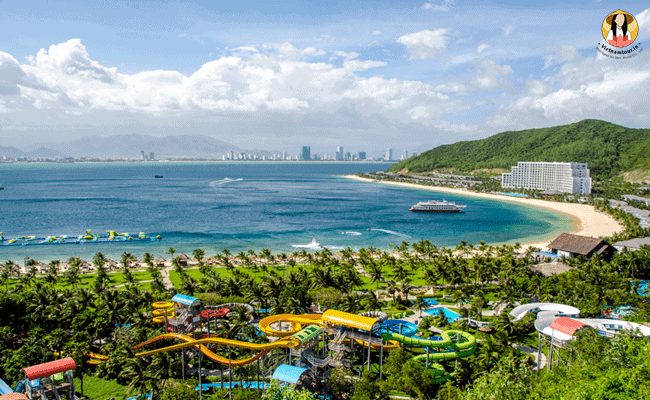 Best resorts and villas near Nha Trang Beach
Six Senses Ninh Van Bay
Just a few kilometers north of Nha Trang Bay is an exclusive high-end accommodation of Six Senses Ninh Van Bay. In addition to the feature of outstanding beauty, unique location, natural materials, and local architectural style, the resorts also show a great concern of sustainability and environment. Featuring different types, all the villas ensure complete privacy, exotic sea views, and world-class amenities and superb services.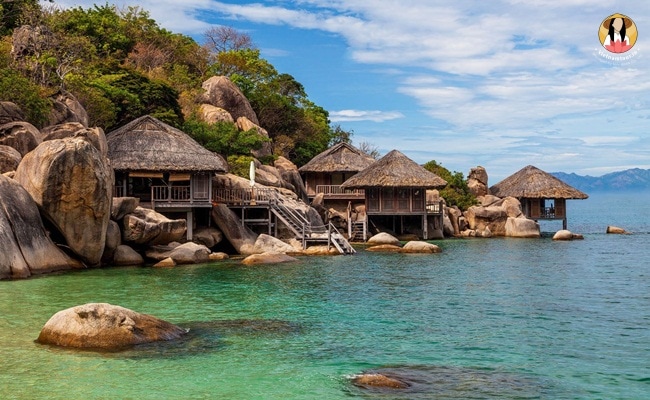 Special features:
Large and secluded villas with ocean views and private pools
Well-designed corner for kids comes with indoor and outdoor equipment
Superb services with world-class facilities
Address: Ninh Van Bay, Nha Trang, Khanh Hoa Province, Vietnam
Tariff: From USD 625
Vinpearl Luxury Nha Trang
Well-connected to other landmarks of Nha Trang, Vinpearl Luxury Nha Trang is one of the finest beach resorts near Nha Trang beach for your beach vacations in Vietnam. With the impressive luxury touch, the resort comes with ultimate privacy and one-of-a-kind experience. All the beach and ocean–view villas come with private pools, superb dining, and unique luxury amenities.
Special features:
Beautifully designed and romantic rooms with impressive interiors and gorgeous décor
High-end spa and services
Fully-equipped with entertainment facilities
Address: Vinh Nguyen, Nha Trang, Khanh Hoa Province, Vietnam
Tariff: From USD 347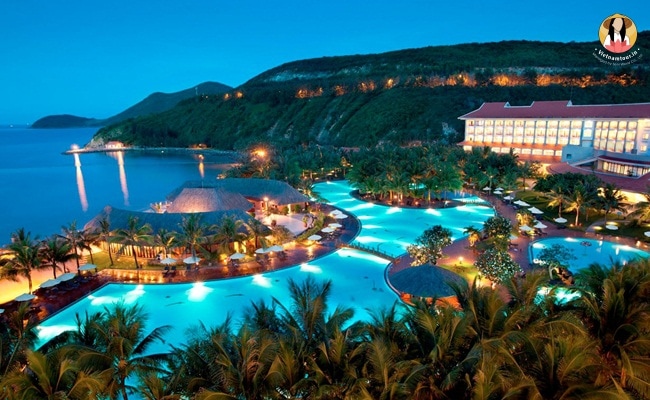 Amiana Resort
Nestled on a secluded bay, this five-star resort overlooks the glittering water of a stunning bay. In the middle of the resort are a massive natural seawater pool, two grand freshwater infinity pools and a private beach offering ultimate beach experience. Its rooms and villas set in tropical gardens and along the stunning beachfront. All the rooms are embraced with a local touch and feature boutique amenities from local coconut products, bamboo to natural stones from the nearby beaches. Guests can also be offered great recreational facilities and private tours of the surroundings.
Special features:
Special spa experience with 'four hands' massage
The huge seawater lagoon to relax in style with a postcard-perfect sea-view
All-inclusive day trips to Nha Trang city and the surroundings
Address: Nha Trang Bay, Pham Van Dong Str, Nha Trang, Khanh Hoa Province, Vietnam
Tariff: From USD 254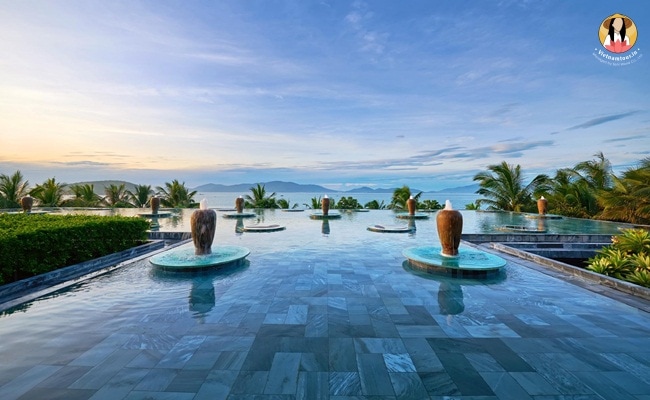 Mia Resort Nha Trang
Lying on the bank of Bai Dong Beach, Nha Trang, the luxurious Mia Resort remains a dream place for luxury and tranquility seekers. It is specially designed in the complete harmony of the natural impression and the luxury touch. With the eco-friendly atmosphere, exclusive pools, modern style interior and exotic ocean waves, Mia Resort is an arguably ravishing place for a dreamy holiday in Nha Trang.
Special features:
Cliff-edge location and plantation-like ambiance, ocean-facing rooms
On-site spa with a range of excellent massages from a breathtaking ocean-view spot
Free buffet breakfast with impressive selections
Address: Bai Dong, Cam Hai Dong, Cam Lam, Nha Trang, Khanh Hoa Province, Vietnam
Tariff: From USD 219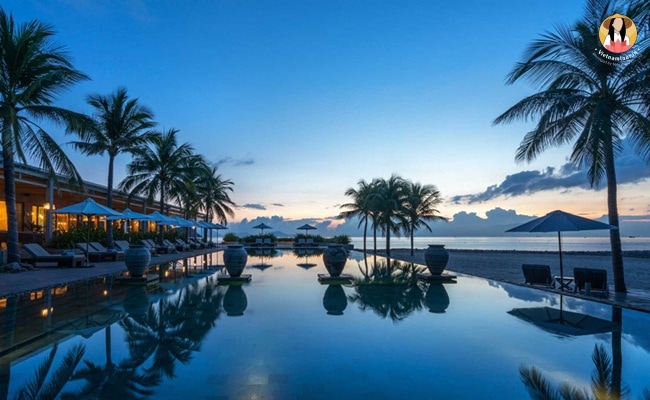 Best hotels near Nha Trang Beach
There is also a number of options for hotels for tourists looking for affordable accommodations
Novotel Nha Trang
Located in the heart of the city, this luxurious hotel is a good retreat with a perfect option for those who are looking for enjoyment and adventure. From the hotel, it just takes tourists a short walk to the beach and the other landmarks of the city and various shopping and dining options. All the 4 star-rated rooms offer a luxurious stay with the enhanced privacy right in the city.
Special features:
Convenient location on the main road within walking distance of restaurants, bars, and shops
Spacious rooms with modern amenities and stunning sea views
Various well-equipped entertainment facilities
Address: 50 Tran Phu Street, Nha Trang, Khanh Hoa Province, Vietnam
Tariff: From USD 102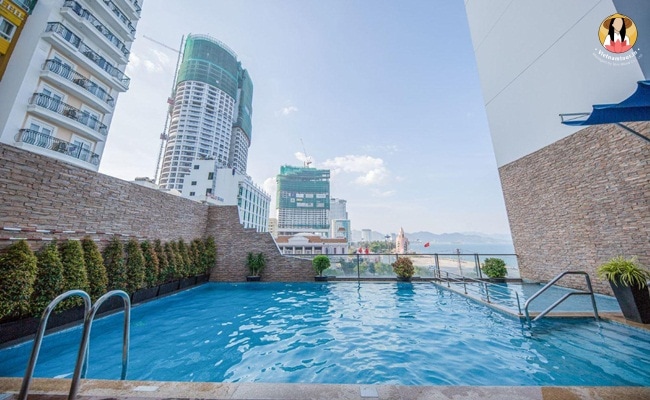 Christina'S Nha Trang Hotel
Christina'S Nha Trang Hotel is a good place to stay during your beach break in Nha Trang. From the property, guests can reach some Nha Trang popular sights including Sailing Club (just 5-minute walk). Plus, the tram stop is near the hotel which is perfectly connected to other parts of the city. All the rooms are well equipped with modern amenities which enhance the guest's comfort.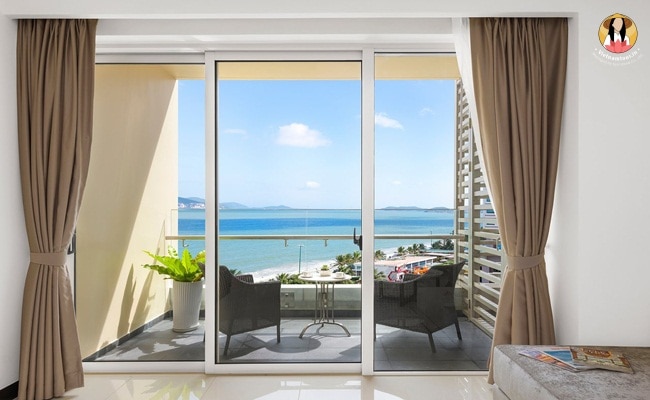 Address: 107A Nguyen Thien Thuat, Nha Trang, Khanh Hoa Province, Vietnam
Tariff: From USD 67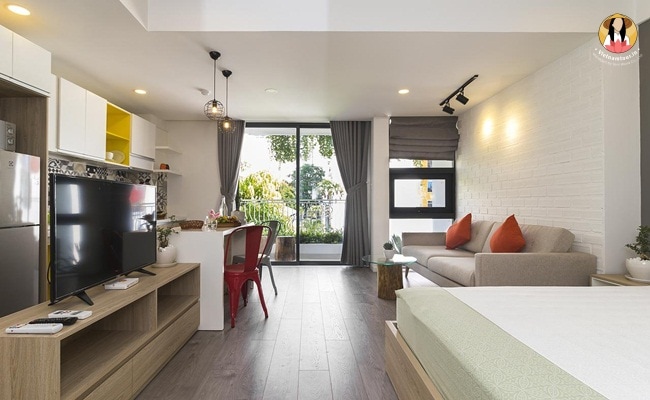 AZURA Hotel
Located right in Tran Quang Khai Street, AZURA Hotel is only a minute away from the beautiful beach and some of the most popular attractions. It offers you special chances to experience shopping and nightlife and saves you much of the time uncovering the charming city.
Address: No 4/3 Tran Quang Khai Street, Loc Tho Ward, Nha Trang City
Tariff: From USD 25
If you are a budget- conscious traveler and want to save as much money on your stay as possible, then the low-cost hostels near Nha Trang beach are for you!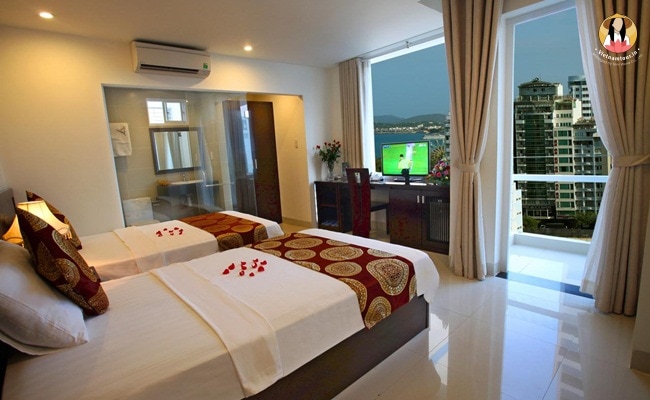 Best hostels near Nha Trang Beach
Mojzo Dorm
Centrally located in the city, Mojzo Dorm is one of the highly-recommended hostels in Nha Trang for its convenient access to the exotic Nha Trang beach, shopping sprees, restaurants, and local attractions. Plus, it is a popular place for foreign teams who will go beyond in helping you have a perfect stay.
Address: 76 Nguyen Thi Minh Khai, Nha Trang, Khanh Hoa, Vietnam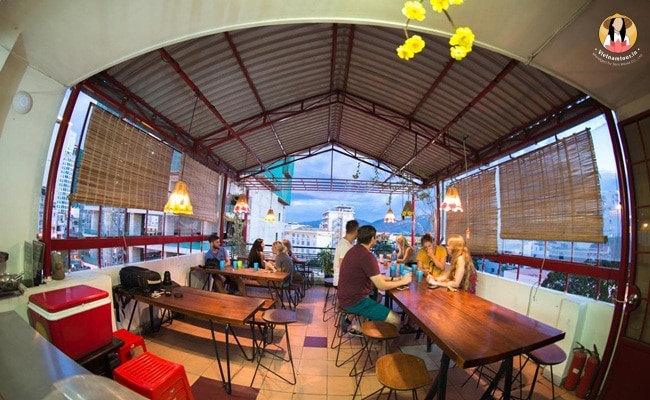 Ihome Nha Trang
If you are looking for a party place with ultimate experience, then iHome Nha Trang will be the last place to consider as it is the only party hostel in the city. With a rooftop bar and free beers every day in one hour, along with cheap drinks, the hostel is a common place for active travelers.
Address: 31/E2 Biet Thu Street, Nha Trang, Khanh Hoa, Vietnam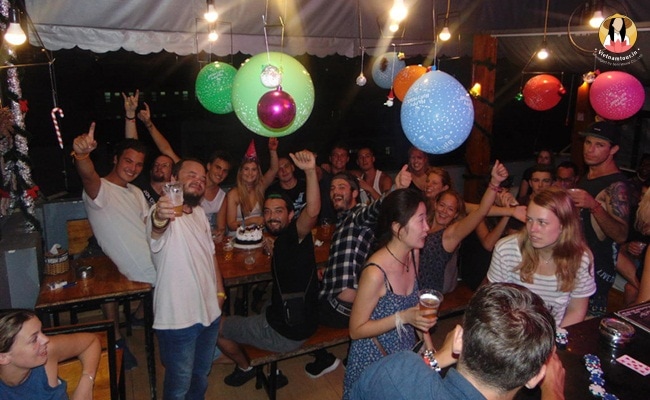 Tabalo Hostel
This hotel is a kind of trendy and modern hotel with friendly designs giving you a homely feel. Each cabin is well-equipped with necessary amenities. The useful 24-hour reception will help you to make clear of all your worries about how to transfer in and around the city, what to do and see. Still, if you just heard its name for the first time, it's quite tricky to find the place.
Address: 34/2/7 Nguyen Thien Thuat, Nha Trang, Khanh Hoa Province, Vietnam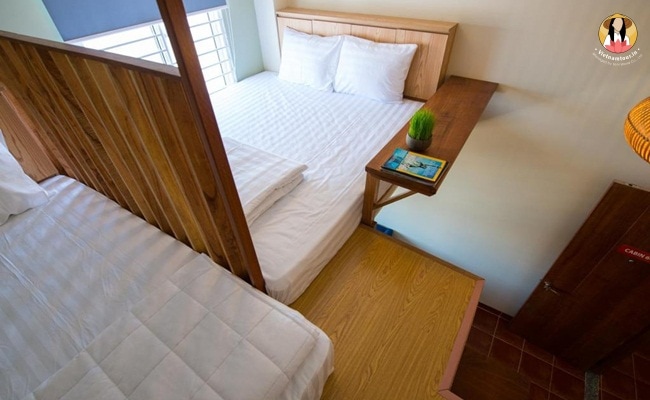 With a number of options for the best places to stay near Nha Trang Beach, you can now get one and enjoy a hassle-free holiday in this gorgeous city town. For more Vietnam travel guide, visit our website: Vietnamtour.in
RELATED ARTICLES