The best time to visit Ninh Binh is in the spring (January to March), with a cool climate and many captivating festivals, and in the summer (May to August), with golden rice paddies and fragrant lotus ponds.
Located 93 km from Hanoi city, Ninh Binh is one of the most renowned tourist attractions in Vietnam. It's beautiful throughout the year, with temperatures ranging from 16 to 38°C. Ninh Binh experiences a tropical monsoon and humid subtropical climate, resulting in four distinct seasons: spring, summer, fall, and winter.
In this article, we'll explore the unique beauty of each season to know why this tourist destination attracts an influx of Indian tourists every year.
Ninh Binh in the Spring (January to March)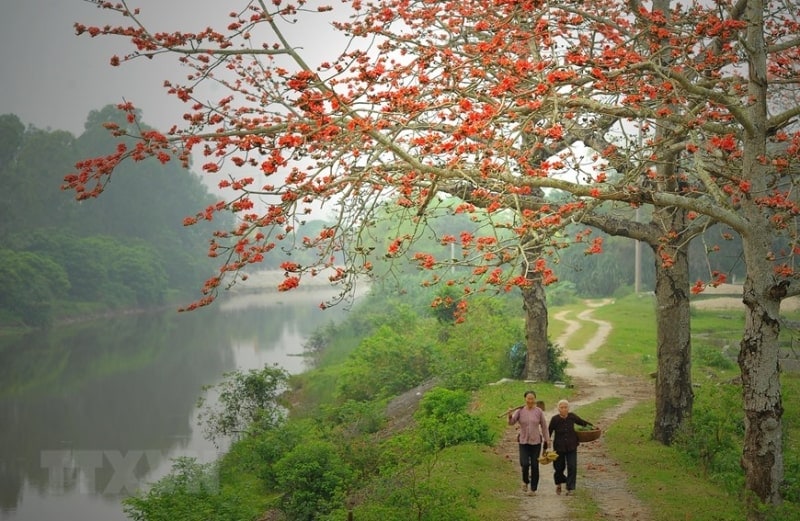 Ninh Binh in the spring offers pleasant weather, with temperatures spanning from 18 to 31°C and humidity around 60 – 98%. Spring is the best time to travel to Ninh Binh; you can expect sunny days and clear blue skies. In addition, the rainfall is low; drizzles might sometimes occur.
What to Do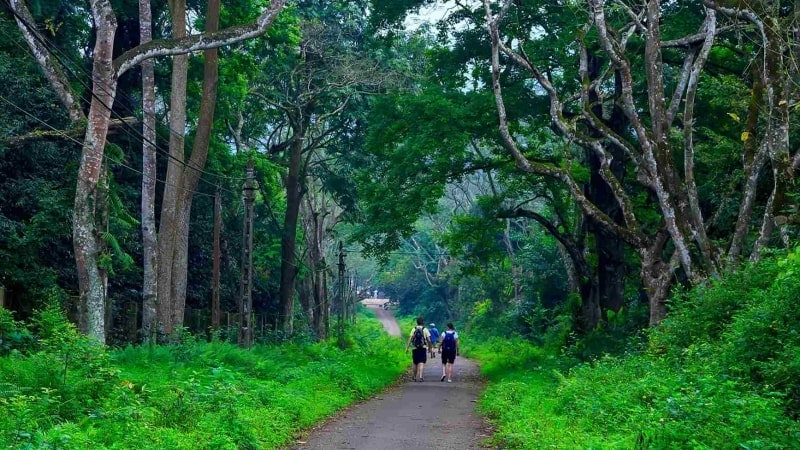 Spring in Ninh Binh provides a favorable climate for outdoor activities. You can explore this fairyland by touring untouched natural landscapes. Trang An and Tam Coc are renowned for the splendid scenery of Ninh Binh with its diverse limestone karsts and caves. Moreover, Cuc Phuong National Park, which spans over 25,000 hectares with various fauna and flora species, is a must-visit destination in Ninh Binh.
Spring is also the season of festivals to welcome the Lunar New Year. Many captivating activities occur in Bai Dinh Pagoda, Hoa Lu Ancient Capital, and Thai Vi Temple, alluring many Indian tourists to come and join. Apart from visiting the attractions, local delectable foods receive much love from travelers, including rice crust, mountain goat meat, and sticky rice with ant eggs.
Travel Tips
When visiting Ninh Binh in the spring, you should prepare warm clothing for sudden cold days and comfortable garments for outdoor activities. Hats, light jackets, and bug spray are necessary for trekking and visiting natural landscapes.
The favorable weather and the festive ambience render Ninh Binh in the spring an ideal setting for tourism activities. Consequently, services such as hotels, transportation, and tour packages are in high demand during this peak season, especially in January and February. You should make reservations at least three months in advance to secure the best options for your visit to Ninh Binh in the spring.
Ninh Binh in the Summer (April to July)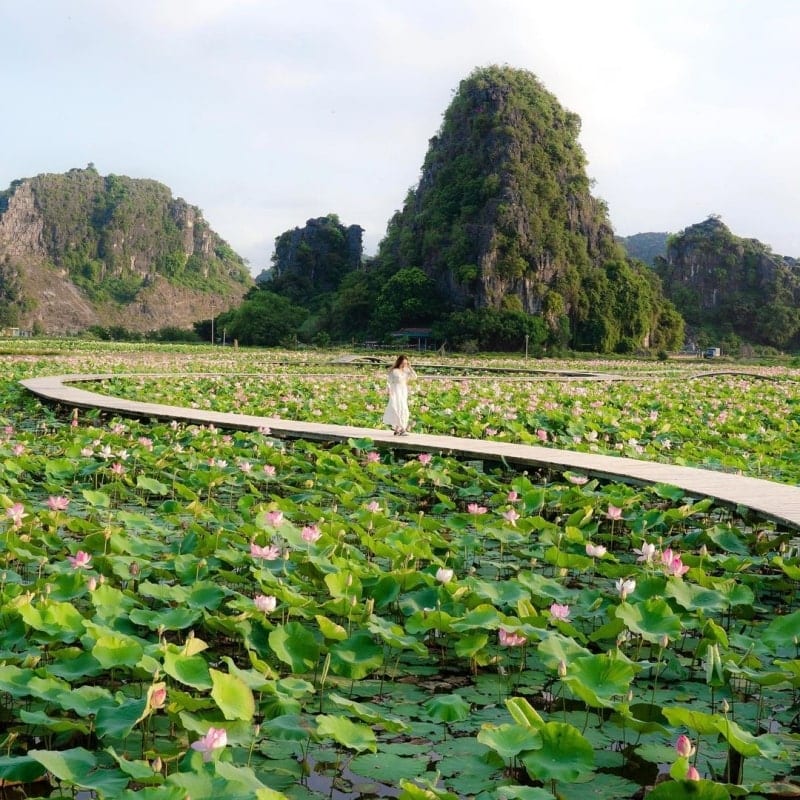 Ninh Binh in the summer has sunny days and even intense heat in some areas. Still, it experiences thundery rains in the evenings and nights. The temperature range during this season varies from 21 to 38°C, with humidity levels hovering around 75%.
What to Do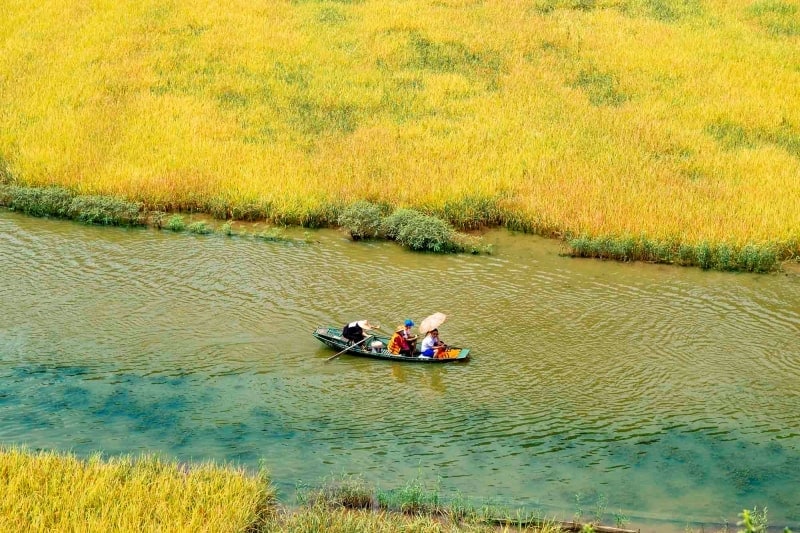 While the weather in summer is a blend of sunny and rainy spells, it still provides a relaxing atmosphere for outside tours. Summer is the best time to visit Ninh Binh, as it unveils a picturesque landscape adorned with golden paddy fields, verdant forests, and fragrant lotus ponds. A visit to Ninh Binh in summer promises to enchant your senses with its natural beauty.
These days, Tam Coc in Ninh Binh Province – renowned for its boat tours through limestone karst mountains – transforms into a golden-hued paradise due to ripening paddy fields during the harvest season, particularly in May and June. Drifting along in a boat, you'll feel like you've stepped into a fairyland.
Moreover, kayaking to explore the UNESCO-recognised Trang An complex or spending a night in Cuc Phuong National Park will be a wonderful experience. Indulging in the natural world with vibrant fauna and flora in the summer brings you relaxation and peace.
Travel Tips
With the hot weather, you should carry an umbrella or wear a hat to avoid the heat. Quick-drying clothes like cotton T-shirts, light jackets, and comfortable pants are recommended on your trip. Furthermore, sunscreen, glasses, and anti-mosquito spray are also necessary.
Summer marks the peak tourism season, particularly in June and July, because this time coincides with the school break, and Vietnamese families plan their vacations. Contact tourist agencies as soon as possible to book the best tour package at reasonable prices.
Ninh Binh in the Fall (August to October)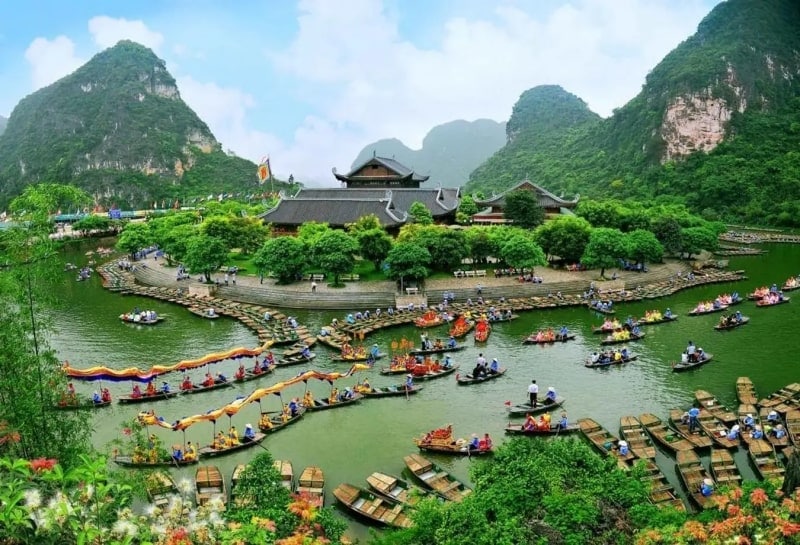 August to October are the best months to visit Ninh Binh. The climate in the fall is favorable and mild, making it ideal for outdoor activities. The temperature varies from 23 to 33°C, and the humidity is around 75%. Ninh Binh in the fall has cloudy and sunny days, but it goes through showers and fog early in the morning and night.
What to Do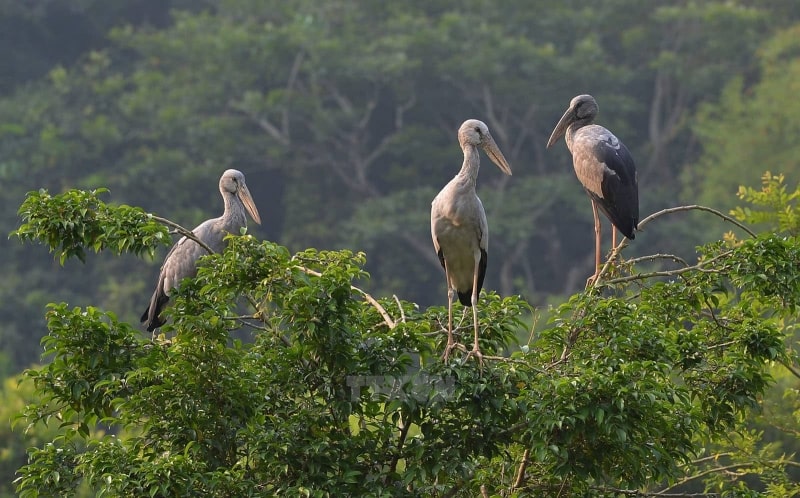 In the fall, you can discover mysterious caves such as Trang An, Tam Coc, and Tuyet Tinh Coc to take in the majestic beauty of Ninh Binh. Moreover, Cuc Phuong National Park and Thung Nham Bird Park are great destinations to immerse yourself in nature and observe endangered animals.
Besides the natural tourist attractions, Ninh Binh offers a rich historical tapestry to explore. Hoa Lu ancient capital – once the capital of Vietnam in the 10th century – has traces of a large citadel with many temples and historical landscapes. Another captivating option for your tour is Bai Dinh Pagoda. This pagoda is a colorful Buddhist temple complex on a hill with beautiful scenery.
Remember to try its specialties when coming to Ninh Binh in the fall. Swamp eel salad and mountain goat meat are famous dishes in Ninh Binh that give you a memorable culinary experience.
Travel Tips
Given the pleasant climate during the fall, dressing comfortably in T-shirts, light trousers, shorts, and lightweight jackets is recommended. Be sure to pack a few warm clothing items for cooler nights. Sunscreen, hats, and anti-mosquito spray are essential items for your trip.
Although the fall is not the peak of tourism, many international tourists, especially Indian travelers, still arrange their time to travel to Ninh Binh during this relaxing season. So, booking the services soon is advised for the best options.
Ninh Binh in the Winter (November and December)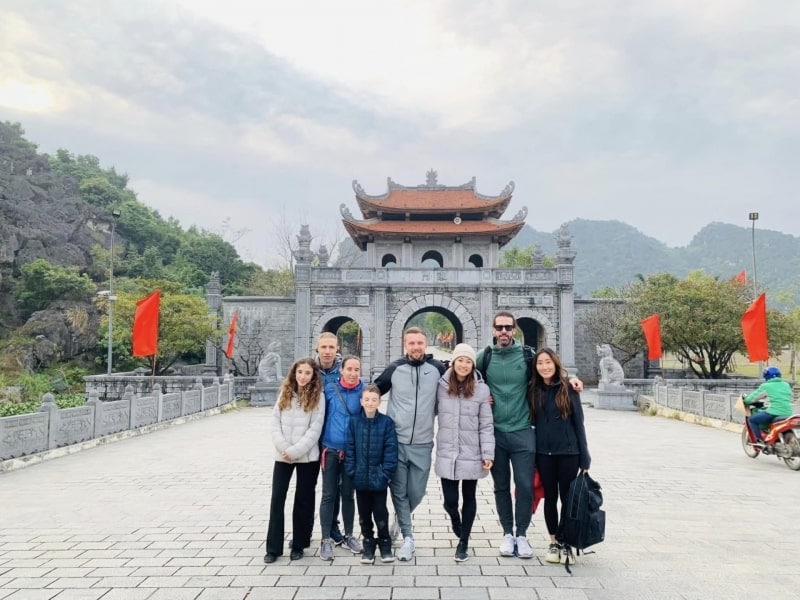 In the winter, Ninh Binh has a cold climate with temperatures varying from 16°C to 25°C and humidity around 70%. Most days are cloudy and foggy, and thundery showers occasionally occur. Despite being the coldest season, Ninh Binh still captivates a steady stream of Indian tourists with its enticing outdoor activities.
What to Do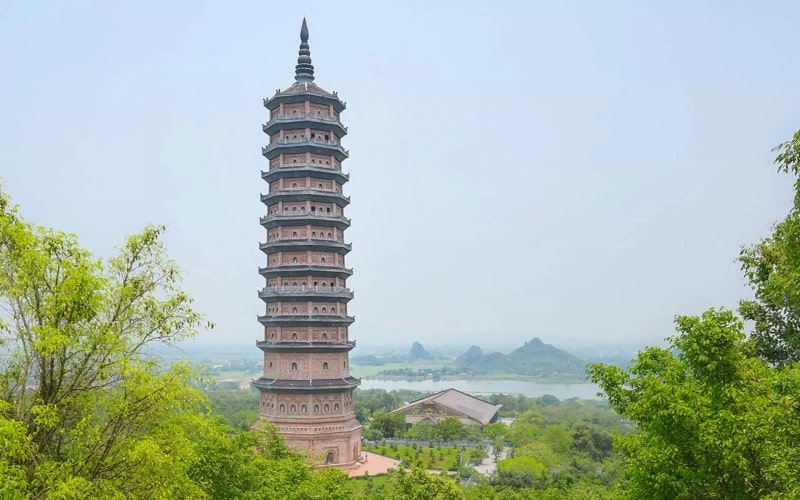 What distinguishes the winter season in Ninh Binh is the enchanting bloom of reed flowers, blanketing the landscape in a pristine white, adding a unique charm to the region.
Winter is also an ideal time to explore Trang An Landscape Complex, Bai Dinh Pagoda, or Hoa Lu Cave to relish the serene atmosphere and poetic beauty amidst the chilly days.
Ninh Binh is renowned for its specialties in winter, including the Gao fruit, rice crust, mountain goat meat, and eel noodles, making it a culinary haven for visitors.
Travel Tips
As for travel tips during a winter visit to Ninh Binh, it's advisable to pack warm clothing such as long-sleeved shirts, jeans, sweaters, and jackets to stay comfortable in the cold. Moisturizers, hats, scarves, socks, and gloves are other necessary things for your trip. Booking your Vietnam tour package soon is a must-do to access the best options.
Conclusion
Ninh Binh is beautiful in all seasons, but the best time to visit Ninh Binh is still in the spring and summer. With its captivating natural landscapes and historical sites, Ninh Binh will surely provide an unforgettable trip. Contact us soon for the best advice for your trip to Ninh Binh!
RELATED ARTICLES