As one of the buzzing cities in Vietnam, Quy Nhon is a popular one to live among the luxury in the country. Its stunning beaches packed with posh beach resorts and hotels has become an indispensable part of beach-loving travelers. 
Are you searching for a nice place to settle down in Quy Nhon for a few days? Get it free of care. This article will make it a bit easier with a lot of choices offering good value. Whether you want to feel the full taste of luxury or going to spend your stay in casual place, you can find your own choice with our useful guide of where to stay near Quy Nhon beaches.
SOME OPTIONS FOR STAYING NEAR QUY NHON BEACH IN GENERAL
City center- the optimal opt for tourists traveling on a budget
With the hidden potential, Quy Nhon attracts tourists from across the globe for its intact landscapes, secluded beaches, friendly locals and low price services. For these reasons, the accommodation industry has become a key factor of the city with increasing choices of resorts, hotels, hostels, and homestays with varied kinds of budget.
Most of the first time – travelers choose to stay around the city center to explore both its pristine beaches and the vibrant city itself. With this option, the most preferred is staying at the budget hotels or hostels scattered around the city.
Almost all the hotels are located in the heart of the city with the proximity to the local restaurants, cafes, shops, and markets- which can be an endless passion of many sightseers. More important, it saves them a significant amount of money compared to luxurious resorts.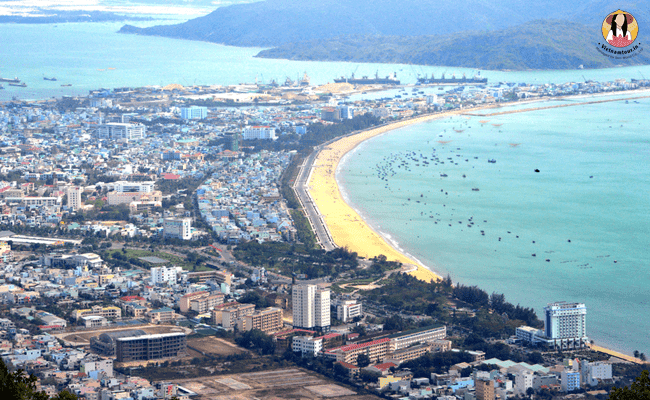 Staying on the beach- full taste of luxury and beach experience
For travelers with the endless love for the beach, staying at the beachfront resorts or villas is the best for your Vietnam luxury tours. The ultimate beach experience and a unique touch of luxury are inclusions of any beach resorts.
The majority of resorts in Quy Nhon set right on the beach with a panoramic ocean view through days and nights. All boast private and fulfilling experience with exceptional facilities and excellent services which ensure to come to perfection.
If you can figure out what kinds of accommodation you're going to choose, then continue with our detailed information of best places to stay near Quy Nhon Beach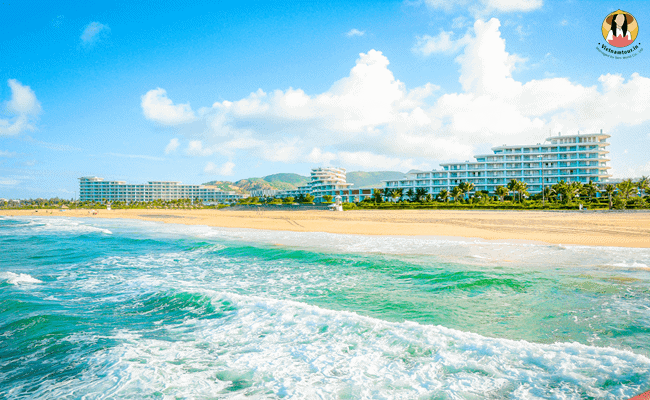 BEST RESORTS AND VILLAS TO STAY NEAR QUY NHON BEACH
AVANI Quy Nhon Resort & Spa 
Perfectly designed for beach vacations in Vietnam, Avani Quy Nhon Resort & Spa is truly a hidden gem of the endless elite in Quy Nhon. Set a bit further away from the city, this resort is a luxurious retreat of your dream holiday with pristine and private beaches, excellent cuisine, all-inclusive service and ravishing spa. There are much more the resort has to offer: enjoy a delightful picnic on a nearby island, get some steam off in its emerald water, snorkel in the ocean or chill under the shady palm trees.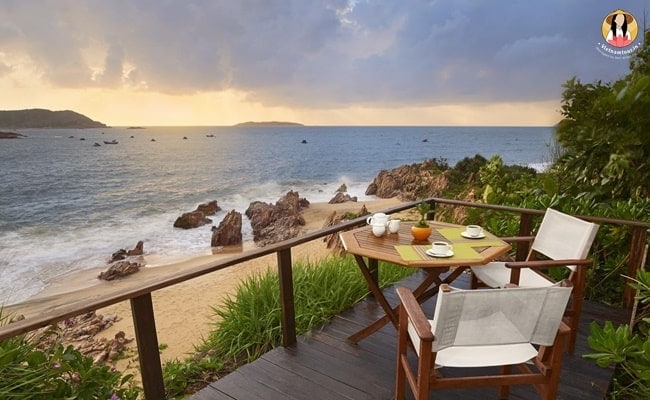 Aurora Villas & Resort
Situated quite close to the city and nestled behind a lush green land, Aurora Villas & Resort is an ideal place for your family holidays to Vietnam from India. It offers you and your family tranquil experience for a dream getaway. While parents can get some peace in their minds, kids can have some fun with healthy activities at the kid's club. Plenty of adventure from sports activities such as visiting the organic farm or growing trees to other leisure activities is what makes the resort a standout compared to others of its kind. Enjoy your quality time with your loved ones in this idyllic beach resort.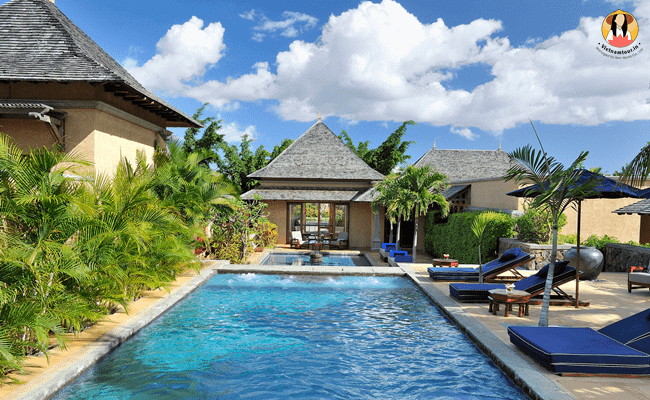 FLC Beach & Golf Resort Quy Nhon
If you are looking for a heavenly retreat for a one-of-a-kind experience, then FLC Beach & Golf Resort Quy Nhon is exactly the place for you. Its exceptional complex with loads of leisure activities will keep you busy for days even without venturing out. It has all kinds of bars and pubs, restaurants, golf courses, oceanic activities, and even a Safari Park. All of its 327 spacious and comfortable rooms and suites come with traditional culture and modern decors with artful interiors and luxurious amenities which ensure to bring guests the maximum relaxation and experience. If you're finding somewhere rich stay and play, it's the place for you.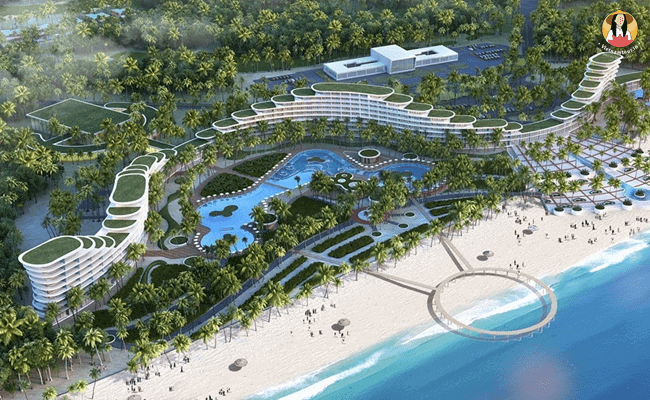 STANDARD HOTELS TO STAY NEAR QUY NHON BEACH
Seagull Hotel
Seagull Hotel is a 4-star luxurious seaside beach located right on the romantic boat. Embraced by the breathtaking ocean views, it is counted as an oasis of this coastal city. From the hotel, tourists can take a leisurely stroll along its stretching sandy beach and under the cool shady trees and soak up the appealing splendor of nature. All the high standard rooms are designed with European architecture and fully equipped with modern amenities to bring tourists a cozy yet private space.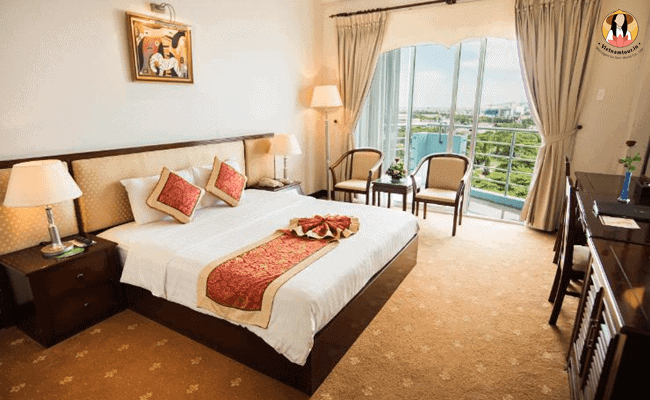 Muong Thanh Quy Nhon Hotel
Muong Thanh Quy Nhon is a great stopover to explore this charming beach city. Compared to other international hotel chains, Muong Thanh is standout with good standards and competitive price. It is a good option for medium-budget travelers without seeking luxurious experiences. You can get even more than what you pay for. In addition to standard facilities, the property also comes with a swimming pool, spas, and massages and a tennis court for you to rest yourself in the leisure time.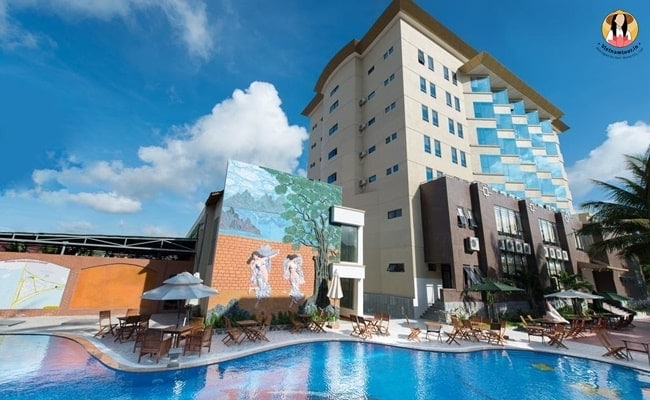 Hoang Yen Hotel
Hoang Yen Hotel is a great budget option for beach lovers looking for beachside accommodation in Quy Nhon. It has a quite convenient location, centrally located in the city which offers tourists a special chance to enjoy the beach and indulge in some shopping in the center or visit attractions of interest. Apart from the basic and simple amenities, its swimming pool and a beautiful terrace and a garden-view coffee add some enjoyment during your stay.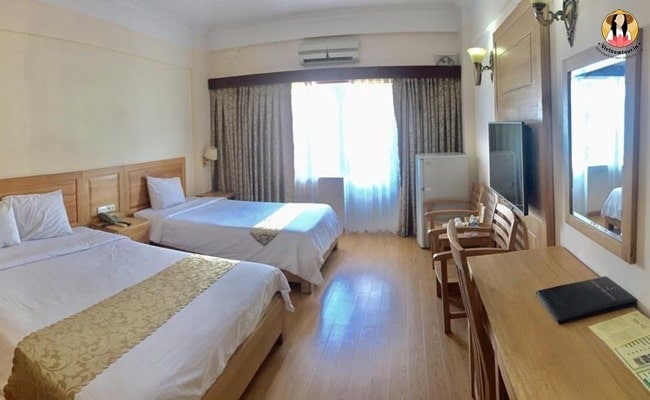 BEST HOSTELS NEAR QUY NHON BEACH
John & Paul Hostel
This is an amazingly crazy hostel where you can find a cheap cold beer and the best burgers in town. The friendly staff is willing to answer all the questions to ensure the best experience during your stay in the city. There are several reasons to choose the hostel as your enjoyable stay: cozy atmosphere, super clean and sociable space, free beer for in house guests with daily Happy Hour, cool bar and excellent live music. This is the only hostel with good taste of music. In addition, it just takes a 3-minute walk from the beach, 5-minute walk from the local restaurants and markets- just everything you can find.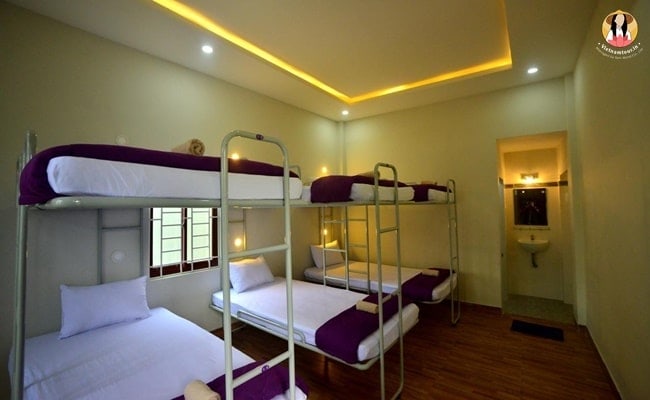 Tu Casa Hostel
This small hostel is a great solution for budget travelers. It provides accommodation with a shared lounge. All the rooms are fully equipped with basic and necessary amenities: air conditioner, shared bathroom, tables and chairs, sitting area. The 24/7 service provides assistance at any time of the day to meet all your needs.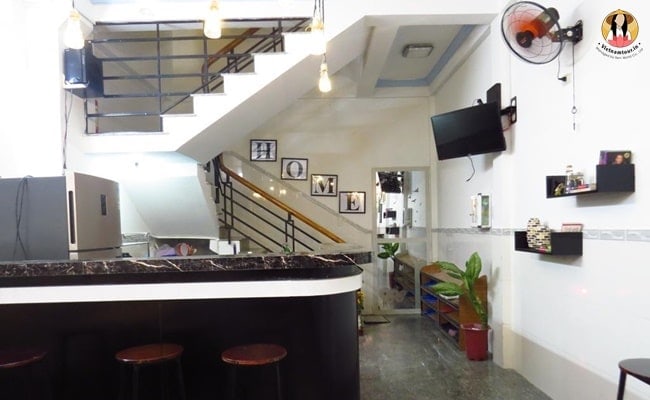 Santorino coffee & tea homestay Quy Nhon
Santorino coffee & tea homestay Quy Nhon is one of the most favorite accommodations among tourists traveling on a budget. It features elegant and boutique décor and a lovely Santorini-style café on the ground floor. The place is super clean, airy and friendly with a lot of shared spaces for sociable activities. One can find a grand rooftop with cool beers for chilling and talking.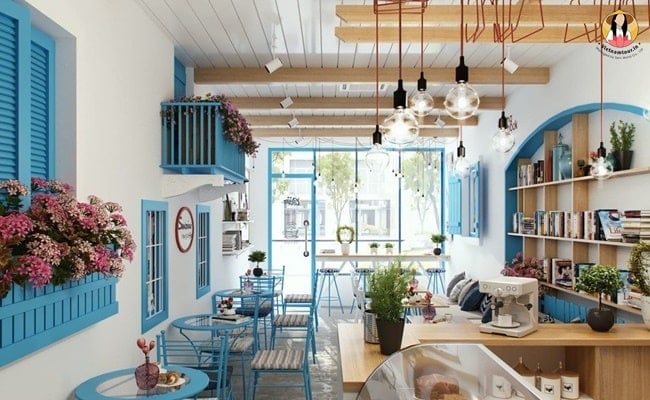 Quy Nhon is such a bewitching city to explore with the well-kept charm of pristine beaches that let you get some steam off and simply enjoy the present moments. After choosing your suitable place to stay, your next step is just to plan your dreamy holiday with anything that you have dreamt of. For other parts of Vietnam, you could also find our ultimate travel guide with Vietnam Tours from India.